Celebrity Cruises Takes Delivery Of The Groundbreaking Celebrity Edge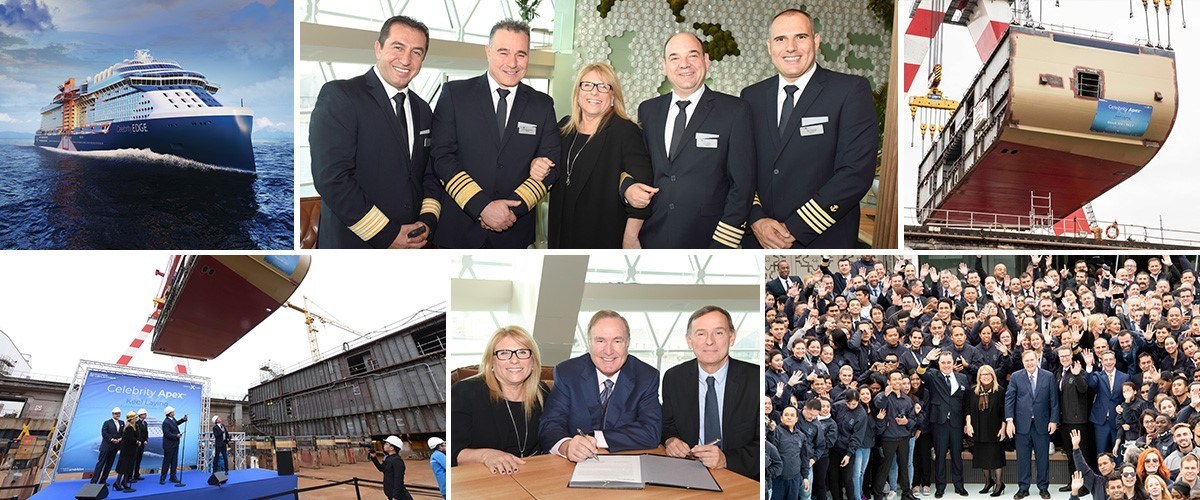 Reading Time:
2
minutes
The historic delivery ceremony was underscored by another major milestone as the keel was laid for the second-in-series Celebrity Apex
Following more than four years of planning and 23 months of construction at the skilled hands of thousands of engineers, architects, artisans, designers, contractors, shipyard employees, and the newbuild and Celebrity Cruises teams, today the brand officially took delivery of Celebrity Edge, representing a truly historic occasion for Celebrity and the industry.
As part of the monumental moment, Royal Caribbean Cruises Ltd.'s Chairman and CEO Richard D. Fain and Celebrity's President and CEO Lisa Lutoff-Perlo hosted a ceremony aboard Celebrity Edge, while docked in the Chantiers de l'Atlantique shipyard in Saint-Nazaire, France. The Celebrity Executive Team were also in attendance along with shipyard officials, including General Manager Laurent Castaing, and 1,377 crew members from 72 different countries.
"The Celebrity team has done an outstanding job and I cannot thank the Chantiers de l'Atlantique team enough for delivering this game-changing ship and for their ongoing partnership," said Fain. "Their work continues to transform the way our guests experience the world."
"Today is a very special day for all of us as we have been eagerly anticipating this moment for more than four years," said Lutoff-Perlo. "There are so many aspects of Celebrity Edge that are more groundbreaking than we could have ever imagined, and it is all a testament to the hard work, creativity and talent of everyone who helped bring this magnificent ship to life."
"Thanks to the confidence Celebrity Cruises granted us and to the exceptional level of cooperation between our respective teams, we are proud to have designed and built one of the most innovative cruise ships ever," added Castaing. "This achievement demonstrates once again our capacity to deliver right on time ships of the highest quality to our most demanding customers."
Following the Celebrity Edge check-signing and delivery ceremony, attendees made their way across the Chantiers de l'Atlantique shipyard for the ceremonial keel laying of Celebrity Apex, where a 762-ton block was lifted in the air and a lucky coin was placed on the dock before the block was lowered into position.
On November 6, 2018, Celebrity Edge will begin her transatlantic voyage to her home port at T25 at Port Everglades in Fort Lauderdale, Fla. Her inaugural season will be spent sailing alternating seven-night eastern and western Caribbean cruise itineraries, with her Maiden Western Caribbean voyage departing on December 9, 2018, and her Maiden Eastern Caribbean voyage departing on December 16, 2018. Then, in spring of 2019, Celebrity Edge crosses the Atlantic again to offer guests stunning vistas of the Mediterranean with a range of seven- to 11-night sailings visiting iconic cities, including Barcelonaand Rome.
Bookings for Celebrity Edge are now open at www.celebritycruises.com/edge or through a travel agent. Celebrity Edge will be joined by her sister ship, Celebrity Apex, in 2020, and two additional ships in the Edge Series will follow in 2021 and 2022.
World-class sounds of L-Acoustics K2 now in Arena of Stars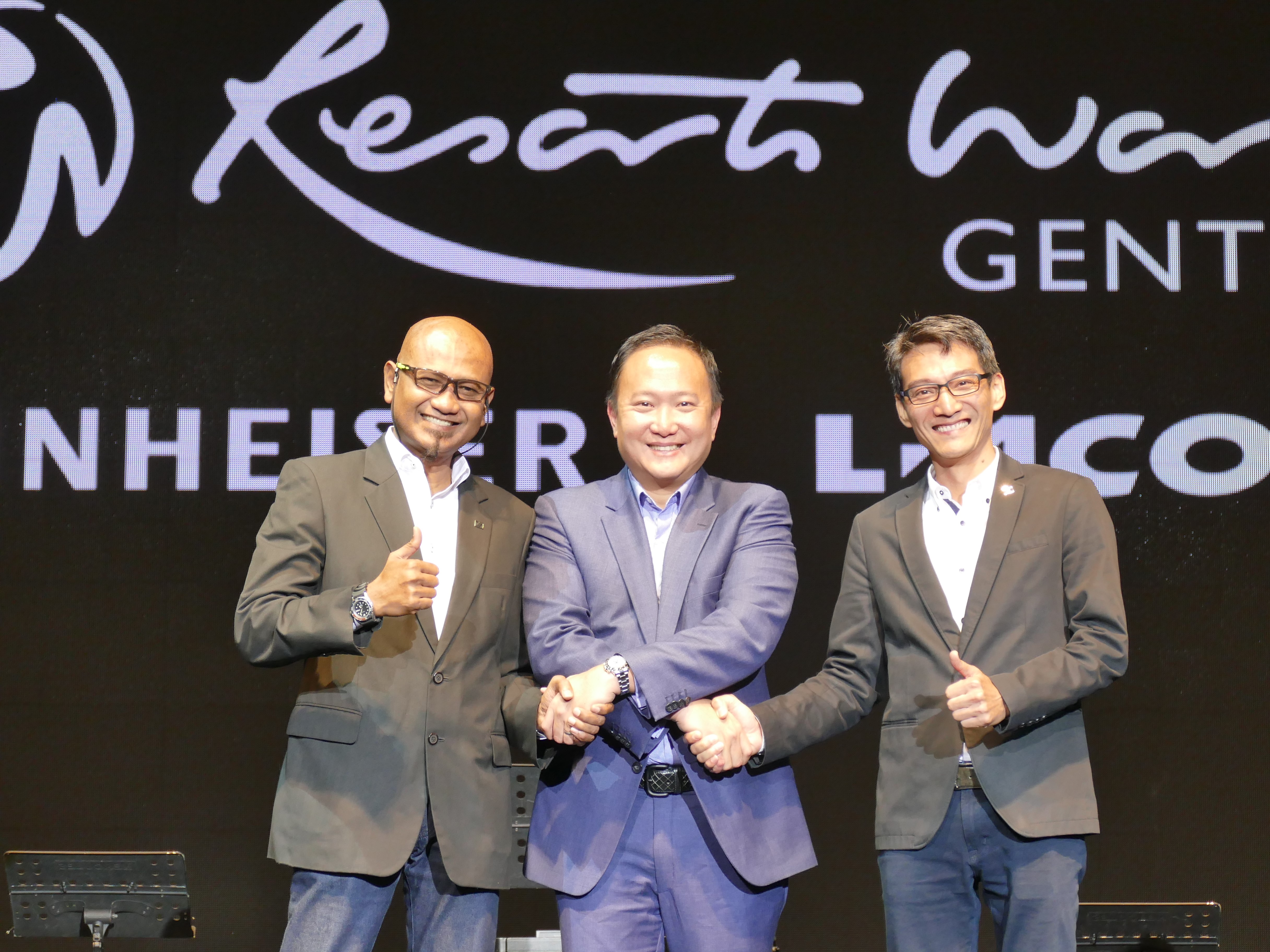 Reading Time:
4
minutes
Music, it has been said, is the universal language of mankind. Which is why is it all the more important that the music that we bask in is rousing and magnificent. With the recent installation of the new L-Acoustics K2 sound system at the Arena of Stars, Resorts World Genting is once again raising the bar for sonic bliss in Malaysia, ensuring that the music delivered by the arena's star-studded list of international performers is clear, crisp and comprehensive.
Having made its public debut at the recent Il Divo Timeless Tour Live in Genting last month, a few select guests of Resorts World Genting got a chance to experience this state-of-the-art sound system up close and personal. Represented by Sennheiser Asia in Singapore and Malaysia, L-Acoustics is a French professional audio specialist that is driven to continuously engineer an unforgettable audio experience for listeners through equipment under its L-Acoustics, L-ISA, Blububbles and Simea brands. Guests were introduced to the technical prowess and full product range of L-Acoustics through a captivating presentation, with a specific focus on the L-Acoustics K2 system adapted for Arena of Stars which showed how the venue was mapped out with the system.
The installation of the L-Acoustics K2 system into the Arena of Stars took incredibly meticulous planning to create and integrate, since it had to conform to the existing layout and infrastructure of the cherished stage. Four K2 array clusters — two 12-box arrays at the front, and two 10-box arrays at the sides — ensure that the sound of musical superstars such is projected outwards to the audience with beautiful precision. Four stacks of L-Acoustics K1-SB subwoofers bring the music's bass to life, while eight KARA enclosures placed in line with KS-28 subwoofers ensure that sound fills the arena evenly and marvellously, with no feedback, reflection or dead spaces no matter where the listener is. The entire system is driven by four LA4X and twenty LA12X amplified controllers, the most powerful equipment available in the L-Acoustics family.
"We are thrilled that Resorts World Genting chose L-Acoustics for the Arena of Stars to deliver outstanding sound quality for their musical shows and live concert events," said Vince Tan, Vice President of Sales for Pro Audio Solutions at Sennheiser Asia. "We have worked very closely with L-Acoustics for many successful years, and their reputation for delivering powerful, precise and consistent audio quality to our customers and audiences across Asia is second-to-none. The K2 sound system installed here at the Arena of Stars is the very same state-of-the-art system used in international music festivals such as Coachella and Tomorrowland, and the choice of top touring artistes like Adele, Pink and Jacky Cheung. With a stellar track record for technical riders and impeccable audio quality, the L-Acoustics K2 sound system will raise performances here to glorious new heights."
To put the system to the test, guests were then treated to a 30 mins musical performance by the band "John Thomas & Friends". John Ashley Thomas, one of Malaysia's most in-demand drummers delivered a performance that filled the arena along with his bandmates playing the bass, guitar, saxophone, keyboard and a lead vocalist who hit all the right notes with her raspy vocals. John has performed with several international acclaimed artists, including A-Mei, Jacky Cheung, David Tao, Lo Ta-yu, Jonathan Lee. Moving from the classic funky R&B hit 'Ain't Nobody' by the legendary Chaka Khan to delicate acoustic arrangements 'Chinese Dude from Cheras', an original composition by John Thomas & Friends as well as electro funk number 'Chunky' by Bruno Mars, the session proved the quality and the versatility of the system in transforming the energy of the musicians into musical reproductions of unsurpassable clarity.
"The Arena of Stars averages eight international concerts and eight corporate events each month, a demanding schedule that requires a first-rate sound system that is as reliable as it is outstanding," said Kevin Tann, Vice President of Promotions and Entertainment for Resorts World Genting.
"The L-Acoustics K2 sound system has already debuted to rave reviews in our recent concerts, and the feedback has been amazing. At the recent sold-out Kenny G concert held here, I found that someone could enjoy the system from every single section in the arena. Our audiences can now hear the difference clearly, able to pick out every change in timbre, modulation in pitch or subtleties of cadence clearly as the musical wave sweeps and reverberates around our arena without a single note of dissonance. This is the best arena sound system that money can buy, and we have made this significant investment because we believe that our audiences deserve only the best and Arena of Stars is the only concert hall in Malaysia that has this system offering our audience the best sounds. We've found that over the years, artistes have started to demand more in terms of the quality delivered through the sound system and we've fulfilled that with L-Acoustics," said Kevin.
The L-Acoustics K2 sound system showcase at Arena of Stars, Resorts World Genting was supported by Tegas Broadcast & Multimedia Sdn Bhd – a leading systems integration service provider for the broadcasting sector in Malaysia and long-term logistics partner of Sennheiser Asia. Tegas Broadcast & Multimedia Sdn Bhd offers a comprehensive range of broadcasting services and solutions across Promotional Tools, Planning & Design, Network Management & Maintenance, Onsite Systems Integration, and Technical Support.
Guests at the event included notable concert organisers such as Unusual, Biz Trends, JS Entertainment, IMC Live and Macpiepro.
For more information, please visit www.rwgenting.com or call +60-3-2718 1118.
Perfect Ending of the NUO LOVE Wedding Show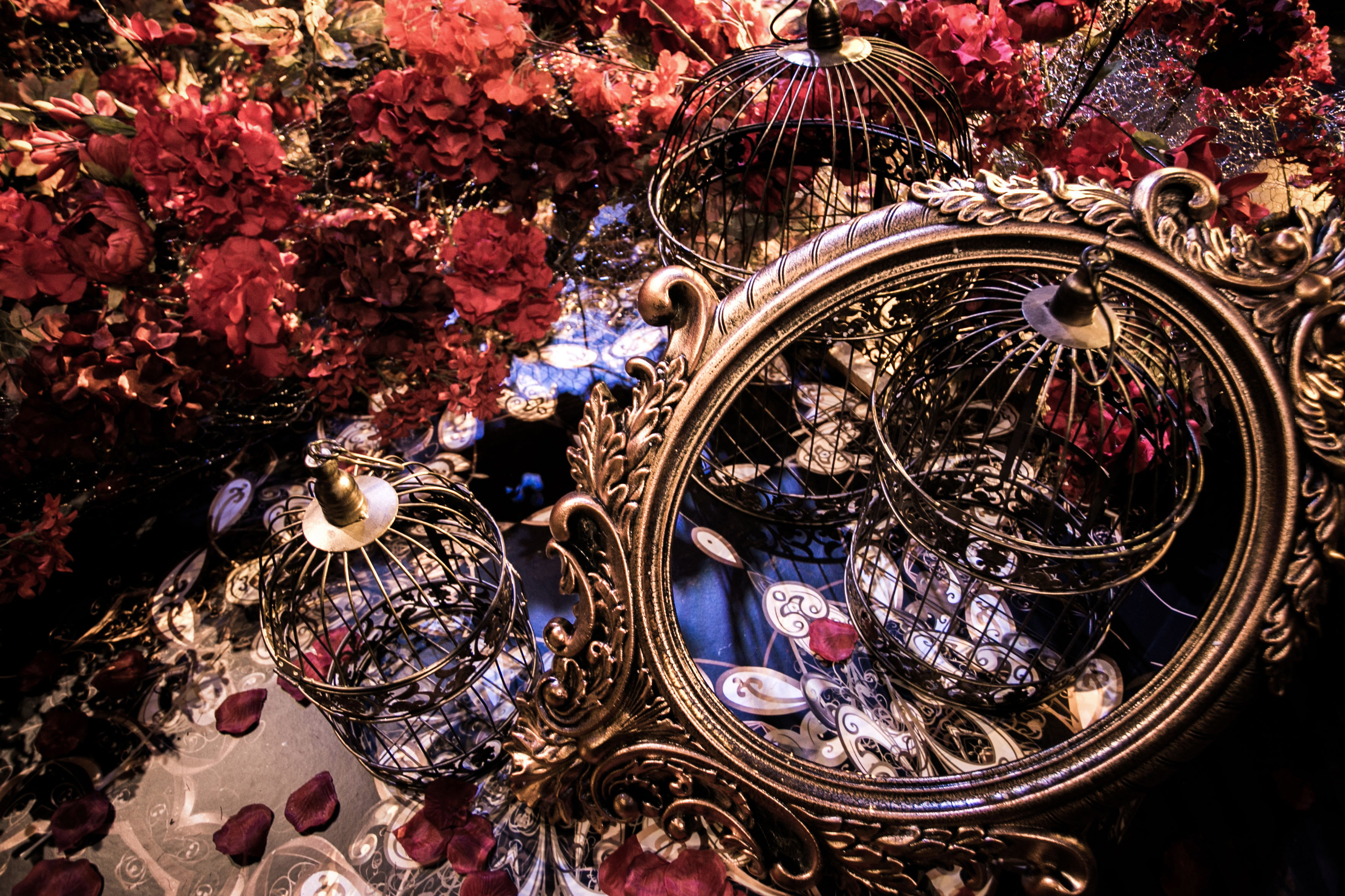 Reading Time:
1
minute
NUO Hotel Beijing successfully held their NUO LOVE Wedding Show, partnered with 'Dream Park' and 'Notting Hill'.
The wedding show featured red and champagne colours as the theme, and the Yongle Grand Ballroom, NUO's 1,600-square metre, pillar-free exhibition space, was decorated in gorgeous retro colours with a flower pattern background.
At 2pm, the wedding show officially began. Hotel Manager Michael Tan gave an opening speech and warmly welcomed all the guests. The wedding show included a wedding dress show, exquisite jewellery show, an exhilarating tango show, and a surprise lucky draw, but the highlight was the wedding show itself. Guests were invited into a photobooth and placed with a real wedding scene featuring front-projected holographic display setup to help them choose a dream wedding style that suited them.
NUO Hotel Beijing deployed its team of world-class culinary professionals headed by founding chef and Director of Culinary Nikolaos Lekkas to design and create a delicious spread of food and drink for the occasion.
Before the show, guests enjoyed an outdoor cocktail reception experience at O'Bar, NUO Hotel Beijing's bar with a large outdoor terrace space that can also be used for weddings and other events. Snacks were served and a special cocktail was created by hotel beverage Manager Attila Balint.
After the show, hotel staff showed guests to the top floor of the hotel, introducing NUO's Bridal Suite, with its Ming Dynasty style interiors and luxurious features.
NUO's dedicated wedding event teams will help clients plan their event in fine detail, and ensure their wedding is a huge success.
Sansiri strengthens its global vision by driving The Standard's aggressive international expansion of an additional 15 hotels in 5 years and the launch of One Night app in Asia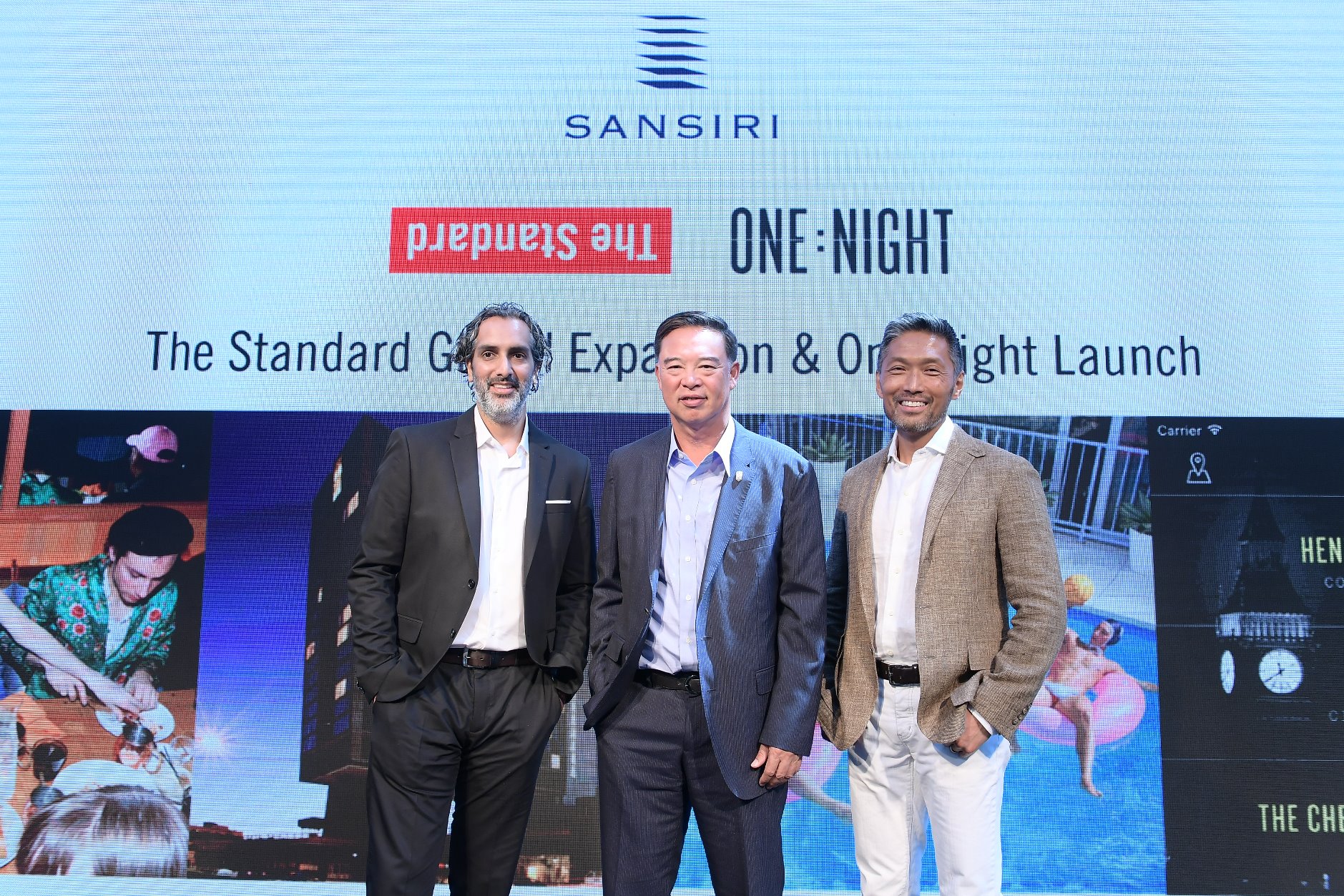 Reading Time:
3
minutes
As part of its recent expansion into the global hospitality, technology and lifestyle industries through an investment worth US$80 million in six global brands, Sansiri has announced the arrival in the Thai market of The Standard Hotels and Residences as part of its wider global expansion and Asia's first launch of the One Night spontaneous hotel booking app in Bangkok. The brands' move to Asia followed a rapid growth fueled by significant investments from Sansiri last year.
Apichart Chutrakul, Chief Executive Officer, Sansiri Public Company Limited, said: "In November 2017, we announced our investments in several global brands that are leaders in the hospitality, technology and lifestyle businesses as part of Sansiri's move to expand our collaborative, multi-disciplinary portfolio beyond real estate development. I'm delighted to share that only one year on, the investment has helped to fuel impressive growth that will see two of the brands — The Standard and One Night — expand into the lucrative Asian markets, with Thailand as their first port of call."
The Standard, considered the most powerful brand in the boutique hotel business, doubled its secured global footprint following Sansiri's acquisition of a 35% stake in the parent company for US$58 million. Ten properties are slated to open across the world including two in Thailand over the next few years, as part of its five-year plan to develop 20 hotels globally in thriving urban and intriguing resort locations, including London (opening Q1:2019), Paris, Milan, Berlin, Lisbon, Prague, Madrid, Chicago, Las Vegas, New Orleans, Atlanta, Dubai, Singapore, mainland China, Hong Kong, Taiwan, Bangkok, Phuket, Hua Hin, Jakarta and Bali.
Amar Lalvani, CEO, Standard International, said: "The arrival of The Standard brand in new locations across the world, including Thailand, will bring our unique approach to hospitality to many more people to enjoy. We create spaces that are culturally relevant to each market brought to life through our thoughtfully designed spaces and experiences for guests and locals alike."
"Our first hotel in Thailand will be in Phuket where we will also introduce the first Standard Residences product in partnership with Sansiri. Thailand is a particularly attractive market with the growth in visitor, and the fit with The Standard brand giving its thriving culinary, fashion and arts scene. We have chosen to open our regional office in Bangkok to oversee all of our operations in Asia and the Middle East."
With its existing portfolio of six properties and a combined 1,200 rooms (including the soon to open London property), The Standard generates annual property level revenue of approximately US$200 million, with an average occupancy rate of 85%, and 121% revenue per available room (RevPar) relative to its comparable set of hotels. Standard also has a very high percentage of direct bookings and repeat guests which are further indicators of the brand's strength relative to its competitors.
Jimmy Suh, President and Co-founder of One Night, said, "We are excited to announce the launch of Bangkok, marking One Night's expansion into Asia. As a 24×7 city that works hard and plays hard, Bangkok represents the ideal market for One Night – a last-minute hotel booking app offering a highly curated collection of the most sought-after independent hotels at the lowest rates."
"One Night celebrates spontaneous living and experiential travel catering to today's on-demand service economy. Moreover, hotels are becoming increasingly popular by locals who wish to escape their daily routine with a 'staycation' in their own cities."
In addition to Bangkok, One Night is operating in 15 major cities in the United States and London with over 170 independent hotels. One Night is projected to be in 30 cities by year-end 2019, including more cities in Asia and Europe.
"The strategic partnerships with such strong and exciting brands will strengthen Sansiri's core real estate business. Consumers will also benefit from having access to services provided by truly world-class leaders. The arrival of both The Standard and One Night in the Thai market marks another important step to be followed by several more in the future," concluded Chutrakul.