COLLEGE MEETING: Brexit: European Commission intensifies preparedness work and outlines contingency action plan in the event of a no deal scenario with the UK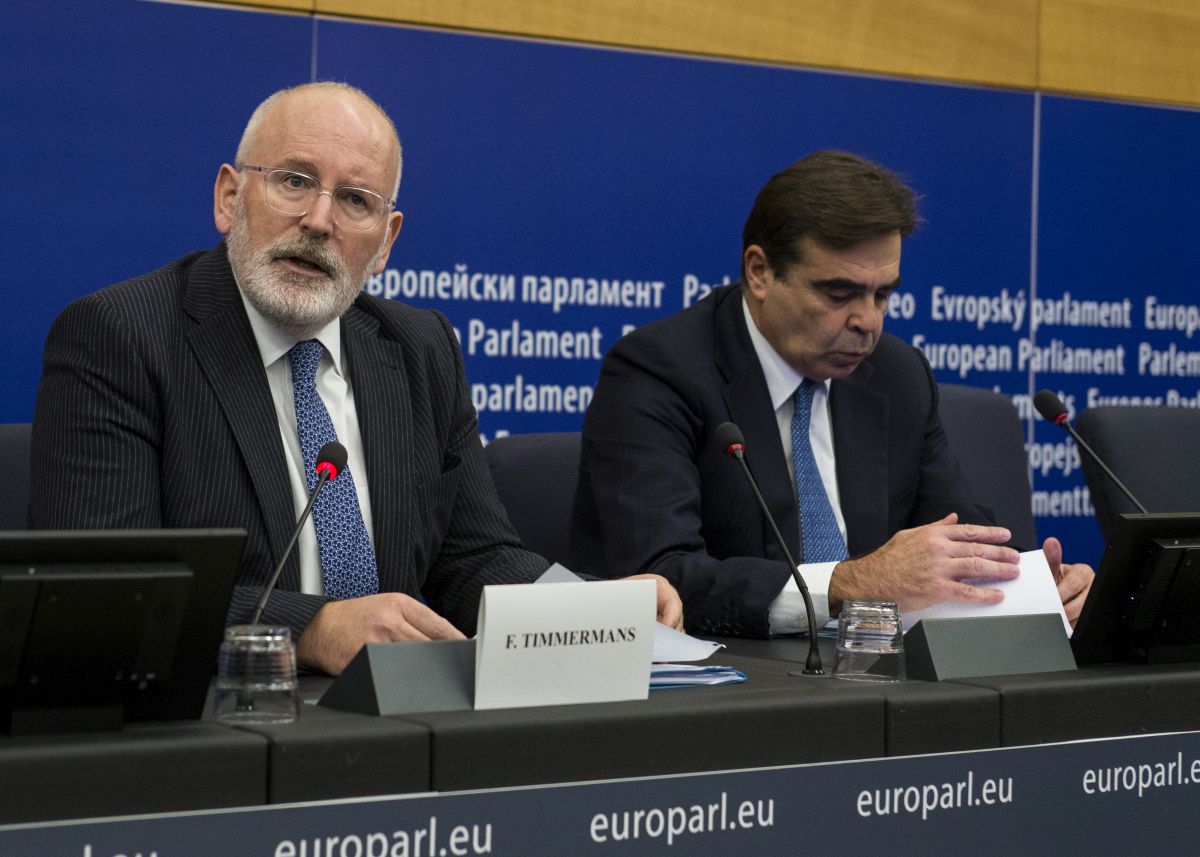 Reading Time:
2
minutes
The European Commission has today published detailed information on its ongoing preparedness and contingency work in the event of a no deal scenario in the Article 50 negotiations with the United Kingdom.
First, the Commission has published a Communication, which outlines a limited number of contingency actions in priority areas that could be implemented if no agreement is reached with the United Kingdom. This follows a first preparedness Communication published on 19 July 2018. Secondly, the College of Commissioners has adopted two legislative proposals to amend existing EU law in the area of visas and energy efficiency to take account of the UK's withdrawal.
These targeted legislative adaptations are necessary, irrespective of the outcome of the withdrawal negotiations.  Thirdly, a notice has been published providing extensive information on the changes that will occur – in the event of no deal – for persons travelling between the EU and the UK, and vice versa, after 29 March 2019, or for businesses providing services in relation to such travel. It includes information on such things as border checks and customs controls, driving licences and pet passports, amongst others.
While the European Commission is working hard for a deal, and continues to put citizens first in the negotiations, the UK's withdrawal will undoubtedly cause disruption – for example in business supply chains – whether or not there is a deal. Contingency measures cannot remedy the full effects of this disruption. In the event of a no deal scenario, these disruptions will be even more significant and the speed of preparations would have to increase significantly.
Contingency measures in narrowly defined areas may, exceptionally, be needed in order to protect the interests and the integrity of the EU.
For more information, see here. (For more information: Margaritis Schinas – Tel.: +32 229 60524; Mina Andreeva – Tel.: +32 229 91382; Alexander Winterstein – Tel.: +32 229 93265; Daniel Ferrie – Tel.: +32 229 86500)
8 Best Family Vacations in the UK
Reading Time:
5
minutes
Filled with breathtaking coasts, rolling landscapes, fascinating historic landmarks, and adventurous activities, the United Kingdom (UK) is a sure fun place for families to visit. No doubt, with so many options available, finalizing your vacation destinations here is time-consuming and challenging.
Here are the 8 best family vacations in the UK
1) Blackpool
If you're keen on a low-priced and cheery family weekend along the seashore, Blackpool is the place to be! To start with, there's "Blackpool Pleasure Beach", the United Kingdom's most exemplary theme park, which is full of exciting roller coasters, magic shows, and fun-filled arcade games.
The Blackpool Tower offers a stunning seaside view and houses the opulent, glittering Ballroom and the spooky Blackpool Dungeons. If you're a family of celebrity fans, head straight to the town's Madame Tussaud's Museum and find your favorite stars!
At Blackpool's fun-filled Penny Farm, you can get your toddlers to meet lovely horses at close range! Also, the farm's coffee shop is a great place to indulge in delicious beverages and homemade cakes.
2) Dorset
Home to a 95-mile long, fossil-packed coastal stretch known as the Jurassic Coast, the county of Dorset is full of fascinating trails, breathtaking views and tourist hotspots like the Jurassic Coast's Lulworth Cove. Another of Dorset's highlights and a world-famous landform is the captivating Durdle Door, a naturally-formed hard limestone arch.
Brownsea Island, situated in the large, natural Poole Harbour makes for a great fun outing, what with its numerous trails and the chance to spot red squirrels while you walk.
Visit an intriguing aquarium in Bournemouth, Dorset's largest town to get hands-on with aquatic flora and fauna. Also, don't miss out on the Victorian Bournemouth Pier's thrilling zip-line, letting you glide above the sea and descend on the sandy beach.
3) Cornwall
With heaps of tourist attractions and interesting activities, Cornwall is an all-rounder in family vacations. You can laze around sandy beaches, or explore the Eden Project, the world's biggest indoor rainforest, or even spend your vacation exploring the county's stunning coast.
Truro, the sole city in Cornwall has breathtaking rural landscapes encompassing it and rising cathedral spires dominating miles of its skyline. An ultimate foodie destination packed with quaint streets you'll love to explore, Truro has numerous family-friendly attractions, including Loe Beach's watersports and riding a steam train in the middle of the forested Lappa Valley.
4) The Lake District
Locally known as "Lakeland", the Lake District is the most famous national park in the UK. This region's postcard picture of rocky hilltops and glacial lakes is sure to stir your imagination, making you want to stay here for days together!
The Lake District offers a large variety of water sports and is full of hiking trails. Take an exciting lake cruise on Ullswater Lake, running an eight-mile serpentine course through extensive landscapes of Lake District's highest mountains.
The scenic region is full of charming towns, friendly locals and comfy accommodations. Head to the small town of Bowness-on-Windermere where kids can delight in the amazing "World of Beatrix Potter" that brings Peter Rabbit to life through 3D scenes and offers plenty of kid-friendly activities.
5) Scottish Highlands
Providing tourists with wonderful countryside photography opportunities and a generous share of Scottish charisma, the Scottish Highlands are all about impressive mountains, floating mist-covered lakes or "lochs", tumultuous history, and ancient forests.
Loch Lomond, one of Scotland's most iconic places, makes an ideal family vacation getaway. With charming villages and rolling hills surrounding the 190-metre deep lake, you're sure to find countless accommodation options around the place. Book your stay at a cosy country lodge, or camp right at the lakeside. Indulge in the several waterside activities found here and savour a traditional Scottish meal at the 300-year-old Drovers Inn.
You'll love to drive through the Highlands, especially into Glen Etive, a narrow, scenic valley well-known for wild camping. You can also enjoy kayaking around the icy cold Loch Etive. While travelling to Glen Etive, make sure to rent a car with sturdy roof racks to carry your camping and kayaking gear.
6) London
A world-class city full of family-friendly attractions, London can keep families busy for years together! Home to lovely parks such as Hyde Park, free museums, and classical monuments, the capital city of the UK offers public transport like tube trains and buses to get around here easily. Kids will surely love to ride in a London double-decker, enjoying the sights of the vibrant city.
Among London's several tourist attractions are the British Museum, Buckingham Palace, and strolling by the Thames River. The British Museum holds artefacts representing nearly every culture across the globe.
Don't miss out on the "Changing of the Guard" ceremony at Buckingham Palace, occurring in line with specific timetables. The city's Hamleys Toy Store is a must-visit if you're travelling with children, especially at Christmas time.
7) Yorkshire
A perfect countryside retreat, the coastal town of Yorkshire is full of breathtaking landscapes, museums, farms, friendly locals, cosy hotels, and pubs offering authentic British food.
In fine weather, head straight to the 5 mile-wide, golden Filey Beach. You can take sailing lessons and explore rock pools here. You can also enjoy pony rides along with kids on the sandy beach.
Yorkshire's countless family-friendly attractions include the medieval York Minster Cathedral, the Yorkshire Wildlife Park housing a variety of animals like lemurs, lions, and polar bears, the 900-year-old Skipton Castle, and the National Railway Museum housing some of history's largest locomotives.
8) Devon
A beach-fringed landscape dotted with ancient houses, lively cities, and untouched moorlands, Devon easily lets you enjoy a full-fledged family holiday. Kids can enjoy themselves in the swim-friendly waters by the shore, and at theme parks like Woodlands Leisure Park.
On a rainy day, you can spend some time at historic castles as well as museums in Devon. The tourist hotspots of this historic county include the Lundy Island, where you can interact with puffins and seals, Dartmouth, a charming town with ancient streets and scenic countryside, and the deep Lydford gorge, surrounded by dense forests.
Conclusion:
So, now you know some of the UK's best family vacation destinations. These places are sure to offer both kids and adults truly memorable experiences, making you want to visit them again and again.
Venture Capital Investment in FinTech: A Visualisation
Reading Time:
2
minutes
Right after the 2008 World Financial Crisis, a new sector has dominated the financial industry scene. We're talking about the FinTech sector. The financial technology industry, an ensemble of financial services that span from banking to loans to insurance technology, regulatory technology, payments, mobile banking, among other types of technology has grown immensely in the past decade, and we appear to have entered the apex of this growth right before the start of the year 2020.
But what has been the impact of FinTech on job creation, money transfer, consumer experience, taxation in Europe and Switzerland, and in various other areas of society?
To help draw some interesting conclusions and answer a few of these questions, visualising the data on investment in the financial technology industry can be extremely helpful.
In the EU FinTech map and graph we can clearly observe the decline in investment in the UK following the divisive 2016 Brexit vote. The reason for the decline could be the uneasiness in investing money in the UK when the situation is uncertain at a political level. Yet, financial trends suggest that this decline, which reflects data based on venture capital investment, is perfectly in tune with a consolidating industry, where the investment comes more from later rounds of funding.
The decrease in capital invested is still most certainly due to investor's uncertainty. The changes in the banking, insurance and loaning industries are shaking the foundations of what used to be regarded as a solid sector before the 2008 WCF.
In this climate, one of the most interesting insights the map offers is the slow but steady rise of Germany as a dark horse in the FinTech sector. Germany has long been second to the UK in financial technology investment and start-up creation, yet there could be a shift in trends that might make Germany the leading European power in this booming industry.
The UK has always attracted new business through well-placed regulations aimed at facilitating the creation of new opportunities for all. Separation from the EU and the subsequent immigration policies that may be implemented could drive international talent away from the British territory.
To have a better understanding of the data, you can check the below interactive map and time graph:
About the author: Nicola Clothier is CEO of Accurity GmbH, a Swiss-based employment service provider. Nicola has an Honours degree in English Literature from Stirling University and more than 20 years' experience in Swiss employment, and personnel leasing up to executive level throughout Europe.
Investors' confidence in P2P lending is growing in Europe
Reading Time:
2
minutes
According to a survey by the platform Robo.cash, 64.9% of the European P2P investors have full confidence in P2P lending. Remarkably, 52.3% of respondents mentioned that P2P loans take a considerable share of their investment portfolio – over 25%.
The fully-automated P2P service Robo.cash surveyed 600 European P2P investors. According to the findings, 45.4% of respondents consider P2P lending reliable for investments, although they were hesitant at first. Another 19.5% of investors have trusted this sector from the very beginning.
The level of confidence in P2P lending is also observed in the distribution of funds in the investment portfolios. It's no secret that most investors look for diversification by investing in various assets – stocks, bonds, cryptocurrencies etc. It is remarkable that 52.3% of respondents said that investments in P2P loans take more than 25% of their portfolios. 7% of respondents mentioned investing only in P2P lending.
Commenting on the results of the survey, Sergey Sedov, Chief Executive Officer of Robocash Group, added: "The expertise of online lending platforms is one of the factors influencing the degree of investors' confidence. We see this by the example of our own P2P platform. In 2017, when Robo.cash was just launched, the average monthly number of new investors joining the platform was 140. In 2019, it has grown to 360. Investors' trust is also reflected in the volume of invested funds. Today, we have 382 users who have allocated the maximum possible amount compared to 125 at the end of 2018. Looking at the European P2P lending on the whole, it is clear that its volumes keep growing from year to year. Developing at a fast pace, this segment will continue gaining trust of the increasing number of investors."
About RoboCash:
Robo.cash
is a Croatia-based fully automated P2P platform with a buyback guarantee on investments operating within the European Union and Switzerland. Launched in February 2017, the platform belongs to the financial holding Robocash Group that unites non-bank consumer lending companies in seven markets in Europe and Asia. As a part of the group, Robo.cash works according to a "peer-to-portfolio" model providing an opportunity to invest in short-term loans issued by the affiliated companies. For the time of operation, it has attracted over €9 mln of investments, which has allowed to finance €115 mln worth of loans.