COLLEGE MEETING: European Commission reports on progress in Bulgaria and Romania under the Co-operation and Verification Mechanism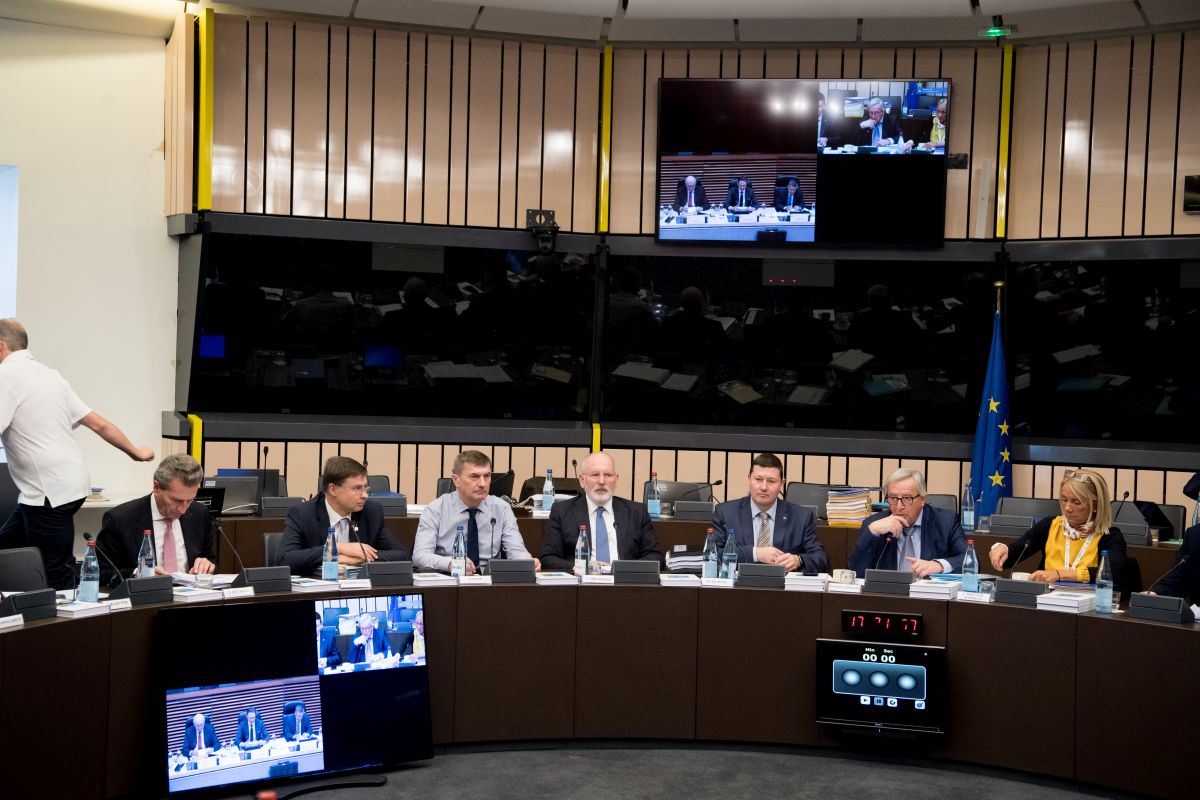 Reading Time:
2
minutes
The European Commission issued its latest reports on steps taken by Bulgaria and Romania to meet their commitments on judicial reform and the fight against corruption, and in the case of Bulgaria organised crime, in the context of the Cooperation and Verification Mechanism (CVM).
The report on Bulgaria looks at the progress made over the past year to meet the final 17 recommendations issued by the Commission in the January 2017 report and positively notes Bulgaria's continued efforts and determination to implement those recommendations.
Reference: I-163293 Date: 13/11/2018 Duration: 02:32
Languages: ORIGINAL © European Union, 2018 / Source: EC – Audiovisual Service
The Commission is confident that Bulgaria – if it pursues the current positive trend – will be able to fulfil all the remaining recommendations and thereby the outstanding benchmarks. This will enable the CVM process for Bulgaria to then be concluded before the end of this Commission's mandate – in line with the orientation given by President Jean-Claude Juncker when he started his term of office.
For Romania, the report notes that while the country has taken some steps to implement the final 12 recommendations issued by the Commission in January 2017, recent developments have reversed the course of progress and called into question the positive assessment made back in January 2017.
The recommendations are no longer sufficient to meet the orientation given by President Jean-Claude Juncker to conclude the CVM process before the end of this Commission's mandate. Therefore, today's report sets out a number of additional recommendations for immediate follow up. The immediate implementation of the additional measures is essential to put the reform process back on track and resume the path towards the conclusion of the CVM as set out in the January 2017 report.
Press releases are available online on the reports for Bulgaria and Romania, and a Memo provides more information about the CVM process and the benchmarks and recommendations.
The CVM Reports are available online here. (For more information: Christian Wigand – Tel.: +32 229 62253; Kasia Kolanko –Tel.: +32 229 6344)
Polish cryptocurrency exchange Coinquista goes live
Reading Time:
2
minutes
Coinquista S.A., a company offering cryptocurrency trading, which in January this year was entered into the register of small payment institutions of the Polish Financial Supervision Authority, has officially opened its exchange.
After the testing phase and the successfully implemented demo version, cryptocurrency trading on the newly opened Coinquista exchange is now available to all users in Poland and around the world. The product has been developed since 2017 and on January 22nd this year the company was entered in the register of small payment institutions kept by the Polish Financial Supervision Authority. Coinquista S.A. is one of the first companies providing cryptocurrency trading platform, which were included in the register.
"Our main goal was to create a safe and easy-to-use product. Standards defined by the Polish Financial Supervision Authority are quite rigorous compared to other countries, so the very fact of registering in Poland will require us to maintain the highest standards.
 Currently, the benefits of trading in cryptocurrencies are reserved mainly for people who have been dealing with the financial world for a long time. However, you do not need to be an expert to use our exchange. Cryptocurrencies and the technology behind them is a future that one does not need to be afraid of." says Ireneusz Pukin, CEO of Coinquista.
To further encourage users to try their hand at cryptocurrency trading, everyone receives 100 CoinquistaCoins during registration. The virtual coins give a number of benefits, such as trade with a lower commission, the use of additional products at preferential prices, as well as the priority care of the adviser. Other bonuses, such as physical carriers of cryptocurrency portfolios, are also provided for the most active.
In addition, Coinquista lowered maker fees to 0%. It means that traders can set as many orders as possible and derive benefits from the market potential to the maximum.
Introducing a ready-made product to the market, however, is only the beginning of the company's ambitious plans. Despite the rapid changes in Bitcoin prices in recent years, the number of users of blockchain wallets is growing faster and faster. To keep pace with the development of the market, Coinquista plans to prepare a modern mobile application with a payment card, open a school of investment and apply for a license of a domestic payment institution in Poland.
All questions regarding the product can be directed to hello@coinquista.com.
World Robot Olympiad: SMART Cities Theme to Drive Global Robotics Tournament in 2019
Reading Time:
3
minutes
World Robot Olympiad is a challenging and fun way to interest young people in robotics. Now, a new season of global competitions is being announced with the support of premium sponsors LEGO® Education and Juniper Networks, an industry leader in scalable and secure networking technology.
The competition consists of a range of different categories aimed at young people and university students. Robots in each category must complete a series of challenges in line with a topical theme that changes each year. The overall mission is to promote STEM subjects – science, technology engineering and math – and to inspire the innovators of tomorrow.
Visit: wro2019.org to know more about the event in Hungary.
There will be more than 27,000 teams taking part in the 2019 competition and the national winners will compete in the International Final in November, to be held this year in Hungary for the first time. The theme will be SMART Cities, where data can improve transport, street lighting and deliver a host of other solutions to make the environment more liveable. The Hungarian government has selected Győr as host city.
When teams qualify for the Final they join 400 other elite teams from more than 65 countries who are competing in four main categories. The competitions have different age groups, ensuring that competitors tackle appropriate challenges that are designed to test their skills and stimulate their creativity.
Key takeaways
More than 27,000 teams will participate in 2019.
The international Final attracts 400 teams from 65 countries.
There are several special awards made at each International Final. These include the Juniper Networks Engineering Simplicity Award and the LEGO Education Creativity Award.
The competition initially became popular in South East Asia, but has now gone worldwide.
Previous finals have visited New Delhi in India, San Jose in Costa Rica and Chiang Mai in Thailand.
Recent countries that have joined World Robot Olympiad include the UK, Cambodia, the Netherlands and Pakistan.
Each International attracts around 3,000 international visitors.
Teams consist of two to three young people supervised by a coach.
World Robot Olympiad held its first International Final in 2004 in Singapore.
Claus Ditlev Christensen, Secretary General of the World Robot Olympiad Association Limited stated:
"From small beginnings, World Robot Olympiad has become a way to get young people interested in robotics, no matter where they live in the world. For example, children from Costa Rica, Palestine and from townships in South Africa have successfully taken part in past International finals and brought their unique perspective to the common challenges being addressed . This is a way to promote robotics to diverse audiences, while building an interest in the STEM subjects and in working together to solve a problem. We all learn together and  create an experience to remember."
"At LEGO Education, we strongly believe in the power of playful, hands-on learning. We deliver amazing learning experiences that will prepare today's children for the world and careers of tomorrow. We deliver STEM based learning that encourages children to get hands on with the learning experience, engaging both hands and minds. Through WRO, students get a learning experience they will remember for the rest of their lives, and we are proud to be part of enabling this. Participating in WRO really helps students develop confidence in STEM, as well as many of the 21st century skills that are so important for the workforce of the future, such as collaboration, critical thinking, problem-solving, communication and creativity. The rules of the WRO categories encourage students to create unique approaches, and the idea that there is not one single "right" answer or solution to a problem really fits our learning philosophy. The same can be said of the international aspect of WRO, enabling students to connect across boarders through STEM and Innovation."
–  Camilla Bottke, Head of Afterschool and Competition, LEGO Education
"Juniper Networks is focused on engineering simplicity to solve some of the world's most challenging networking issues at a time when automation and digital transformation are revolutionizing many aspects of our daily lives. In World Robot Olympiad, we see teams of young people using technology to simplify, problem-solve and innovate in a similar fashion. Juniper is therefore convinced that the young people who take part in these competitions, at every level, are being given a unique opportunity to nurture key skills that will help transform the world of tomorrow."
–  said Mike Marcellin, Chief Marketing Officer, Juniper Networks
"As the reindustrialization of Hungary has reached a new level with turning the focus of investments towards high tech industries, a new level of need for highly trained human capital has also been reached, recognized by the Digital Success Program of the Ministry of Innovation and Technology. Sectors of the economy related to Industry 4.0 are seeking employees with new sets of skills and knowledge. Problem solving, cooperation and creativity are in the highest demand, but first of all, coding, algorithmic thinking and engineering have become general requirements in most of the economic sectors, not only in IT. World Robot Olympiad has them all. The WRO competition simultaneously develops these skills in an engaging way. WRO can show purpose and opportunity for children and can prove that robotics, engineering and coding can not only be fun, but at the same time a fantastic career option. I am proud that our government supports this incredible competition which paves the way for the future."
–  stated Dr. László Palkovics, Ministrer of Innovation and Technology, HUNGARY
SOURCE: World Robot Olympiad Association
V24 Media, the Publisher of Vogue in Czech Republic and Slovak Republic, Releases Audited Results Confirming Its Market Leadership
Reading Time:
3
minutes
Vogue CS reinforces the brand's status as the fashion bible and authority in the Czech Republicand Slovak Republic
V24 Media the publisher of Vogue CS announced today the results of an audited report prepared by the Audit Bureau of Circulations – ABC CR Media Publishing verifying its leading position in the Czech Republic and Slovak Republic. During the period of August 2018 to February 2019,
Vogue CS ranked among the best-selling titles focused on fashion, art and beauty and in a short period of time has overtaken its competitors in key performance indicators including monthly subscribers and social media and online followers.
Verification Circulations of Vogue CS for the six months (September 2018 – February 2019) according to the Audit Bureau of Circulations, Czech republic – ABC CR:
The average monthly print run: 28,632 copies
The average number of copies sold: 20,447 copies
V24 Media confirms the actual numbers up to Match 13th, 2019:
The number of subscribers of Vogue CS: 4,670
The number of followers of Vogue CS on Facebook and Instagram: 89,697
Michaela Seewald, V24 Media Owner and Director commented:
"I am very pleased that the independent audit confirmed what we already announced at the beginning of the year. Vogue CS is the leader in luxury fashion, as evidenced by not only the number of subscribers and followers on social networks, but also a large number of luxury brands that work together with us."
"Vogue CS has created a publication that is truly differentiated from its competitors in the Czech and Slovak markets where innovation in the fashion and lifestyle segment has been lacking for many years. We will continue to strengthen our print and digital platform as well as events where we are partnered with other global leaders in fashion and design. Most importantly, we will continue to deliver what our readers have been craving – fresh inspiration and innovation that is produced in house in Prague as opposed to relying only on syndicated content."
Karina Dobrotvorskaya, Executive Director, Editorial Development at Condé Nast International added:
"Conde Nast International is very proud of the success of Vogue CS and the work it is done in such a short time."
"Vogue CS is exactly what print publication should be today – hand-made, beautiful, provokable, collectible and memorable. Every issue and every cover is a surprise, that's exactly what Vogue should do – surprise the audience. It is also great to see how closely Vogue CS is connected with Czech and Slovak culture. It promotes local photographers, stylists, designers and cultural heroes."
Over the past year, Vogue CS rapidly filled a gap in the Czech and Slovak market as the voice of authority on luxury fashion while delivering a highly acclaimed and distinctive product to its readers. The overarching concepts of fashion, beauty, jewellery craftsmanship, design and a world class editorial team delivering stunning content and visuals in print and online.
In the April 2019 issue Vogue CS features twenty-three year old American model Grace Hartzel on its cover shot by famed German photographer Dan Beleiu. The beautiful Swan Issue shows costumes that were created for the new staging of Swan Lake at the Czech National Theatre with choreography by the legendary John Cranko. Vogue magazine readers can admire costumes by Josef Jelinek exclusively before the premiere of Swan Lake in Prague later this spring and a photo editorial by Tono Stano.
V24 Media would like to thank its clients, partners, readers, followers, contributors, the leading fashion brands in the world, the talented models that grace our pages, the terrific photographers and our world class staff for helping build a truly unique product in Vogue CS. Our promise is that the best is yet to come.
SOURCE: V24 Media