European Commission launches the adoption of its adequacy decision on Japan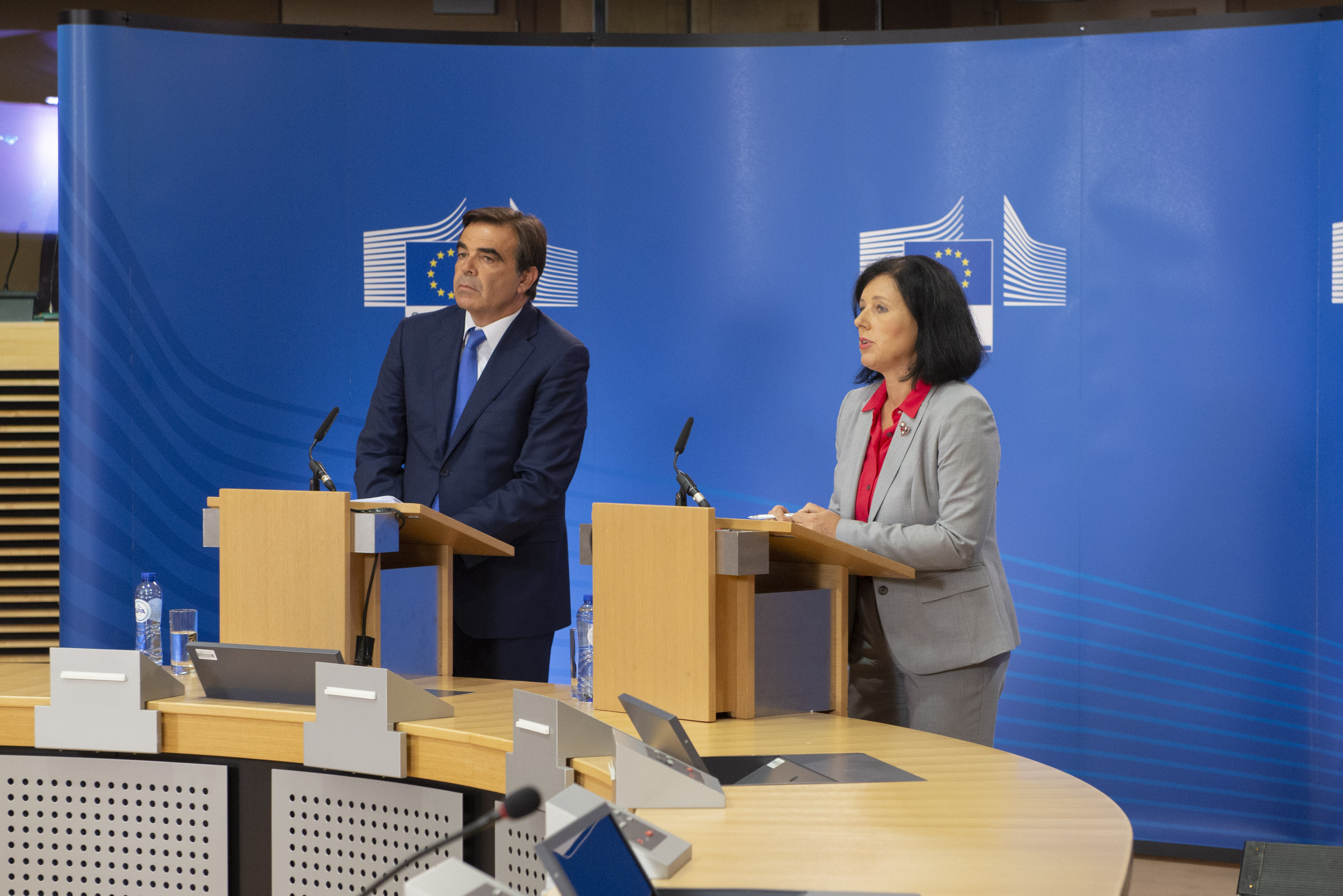 Reading Time:
3
minutes
Following the conclusion of the EU-Japan talks on personal data protection in July 2018, the Commission launched today the procedure for the adoption of its adequacy decision.
Commissioner Jourová today briefed the College on the next steps and the Commission is publishing the draft adequacy decision and the related documents. This includes the additional safeguards that Japan will apply to EU personal data transferred to Japan, as well as commitments regarding access to personal data by Japanese public authorities for law enforcement and national security purposes, guaranteeing that their level of data protection is adequate to that of the EU's. Japan is also going through a similar process to recognise the EU's data protection framework.
Věra Jourová, Commissioner for Justice, Consumers and Gender Equality said: "We are creating the world's largest area of safe data flows. Personal data will be able to travel safely between the EU and Japan to the benefit of both our citizens and our economies. Our partnership will promote global standards for data protection and set an example for future partnerships in this key area."
Each side is now going through its internal procedures towards the final adoption of its reciprocal adequacy finding. For the EU, this involves obtaining an opinion from the European Data Protection Board (EDPB) and the green light from a committee composed of representatives of the EU Member States. Once this procedure will have been completed, the Commission will adopt the adequacy decision on Japan.
The key elements of the adequacy decision
To guarantee a level essentially equivalent to European standards, Japan has committed to implementing the following additional safeguards to protect personal data transferred to Japan, before the Commission formally adopts its adequacy decision:
A set of rules providing individuals in the EU whose personal data are transferred to Japan, with additional safeguards that will bridge several differences between the two data protection systems. These additional safeguards will strengthen, for example, the protection of sensitive data, the conditions under which EU data can be further transferred from Japan to another third country, the exercise of individual rights to access and rectification. These rules will be binding on Japanese companies importing data from the EU and enforceable by the Japanese independent data protection authority (PPC) and courts.
The Japanese government also gave assurances to the Commission regarding safeguards concerning the access of Japanese public authorities for criminal law enforcement and national security purposes, ensuring that any such use of personal data would be limited to what is necessary and proportionate and subject to independent oversight and effective redress mechanisms.
A complaint-handling mechanism to investigate and resolve complaints from Europeans regarding access to their data by Japanese public authorities. This new mechanism will be administered and supervised by the Japanese independent data protection authority.

Europeans will benefit from strong protection of their personal data in line with EU privacy standards when their data is transferred to Japan. This arrangement will also complement the EU-Japan Economic Partnership Agreement as European companies will benefit from free data flows with this key commercial partner, as well as from privileged access to the 127 million Japanese consumers. The EU and Japan affirm that, in the digital era, promoting high privacy and personal data protection standards and facilitating international trade must and can go hand in hand.
Next steps
The draft adequacy decision will now go through the following procedure:
Opinion from the European Data Protection Board (EDPB)
Consultation of a committee composed of representatives of the Member States (comitology procedure)
Update of the European Parliament Committee on Civil Liberties, Justice and Home Affairs
Adoption of the adequacy decision by the College of Commissioners.
Background
As announced in January 2017 in its Communication on Exchanging and Protecting personal data in a globalised world, the Commission launched a dialogue with the aim of reaching an adequacy decision with Japan.
On 17 July 2018, the EU and Japan successfully concluded their talks on reciprocal adequacy. They agreed to recognise each other's data protection systems as adequate, which will allow personal data to be transferred safely between the EU and Japan.
The processing of personal in the EU is based on the General Data Protection Regulation, which provides for different tools to transfer personal data to third countries, including adequacy decisions.
For More Information   
Press release on the conclusions of the adequacy talks (17 July 2018)
Questions & Answers on the Japan adequacy decision
Link to draft adequacy decision and related documents
IP/18/5433
New Gluten-free Kaiseki, Vegan Menus, and More at Hotel Chinzanso Tokyo
Reading Time:
2
minutes
Hotel Chinzanso Tokyo, known for its majestic Japanese garden and cultural heritage, has introduced vegan and gluten-free menu items including "kaiseki," a traditional Japanese multi-course dinner, for international guests with dietary requirements.
According to the Japan National Tourism Organization (JNTO), the number of international visitors to Japan has been rising significantly, hitting a record-high of 31 million in 2018, and is expected to grow further for the 2020 Tokyo Olympics. The number of international guests staying at Hotel Chinzanso Tokyo also grew over 30% from 2017 to 2018.
"Japan is often described as a gastronomic heaven, and international visitors express a keen interest in trying various foods during their stay," said Hiroshi Izumi, General Manager of Hotel Chinzanso Tokyo. "As a leading hotelier, we constantly try to offer more and better culinary options for our guests, while satisfying their dietary requirements. We are happy to introduce new menus including gluten-free kaiseki, which remains authentic and will delight your palate and eyes." Fujita Kanko, the hotel's owner/manager, also opened a halal Japanese restaurant, Origami Asakusa, in 2018, offering authentic Japanese cuisine that meets halal requirements.
Two restaurants are now serving special menus:
Gluten-free Kaiseki at Miyuki (Japanese Restaurant):
An exquisite eight-course Japanese dinner is now available gluten-free, including soy source made with rice instead of wheat. For more details and reservations, visit:
https://www.hotel-chinzanso-tokyo.com/events/gfkaiseki/
Vegan and Gluten-free Menus at The Bistro (Casual Dining):
Both vegan and gluten-free four-course lunch and five-course dinner are available. For more details and reservations, visit:
https://www.hotel-chinzanso-tokyo.com/events/vegangf/
The hotel also serves vegan and gluten-free breakfast options.
Whether visiting Tokyo for business or fun, Hotel Chinzanso Tokyo, with its vast green oasis and a wide range of amenities and activities, is the perfect urban resort for those who want to enjoy a summer retreat in the city. The hotel's one-of-a-kind rooftop space becomes a "Champagne Garden" during the summer.
About Hotel Chinzanso Tokyo
Hotel Chinzanso Tokyo opened in January 2013, and is owned/managed by Fujita Kanko Inc., a publicly-traded tourism industry corporation headquartered in Tokyo, which operates 70 properties/facilities throughout Japan. The hotel's facilities include 267 guest rooms/suites, nine restaurants, 38 meeting/banquet rooms, and the largest hotel spa in Tokyo. Its renowned garden contains a wide variety of botanical species including 120+ cherry trees and 1,000+ camellia trees.
SOURCE: Hotel Chinzanso Tokyo
New Project – "Think RICE, Think THAILAND"
Reading Time:
3
minutes
Thai Rice Standards Create the Global Confidence in Quality of the National Crop
The Department of Foreign Trade, Ministry of Commerce, Thailand has introduced a project called "Think RICE, Think THAILAND" to encourage international community to pay attention to consumer health and to raise awareness on the national crop by providing a wider range of knowledge, ranging from national agricultural history, standards and Thai rice quality.
Thailand, as a global leader in rice exports, established its first Thai Rice Standards on May 20, 1957, with the issuance of the Announcement of the Ministry of Commerce on the Establishment of the Thai Rice Standards. Subsequent amendments included the Thai Rice Standards 1974, the Thai Rice Standards 1997, and the Thai Rice Standards 2016 which has set up Thai Hom Mali Rice Standards, Thai Fragrance Rice Standards, and Thai Rice standards. Most recently, the Thai Colored Rice Standards were established in early 2019. These now serve as the benchmarks for the quality of Thai rice with definitions for both minimum composition and maximum limits.
The aforementioned Thai rice standards apply not only to the country's rice exports but also to domestic rice trading and other stipulated matters. These criteria facilitate trade negotiations: There is no need for buyers and sellers to extensively detail specifications, including rice variety and grade, in their agreement; they simply have to refer the existing guidelines for the particular kind of rice they would like to trade.
To determine whether the quality of rice traded conform with trade agreements or established standards, a randomly selected sample of rice must be analysed. If the sample passes the inspection, the whole batch of rice is deemed in compliance with the accepted standards; however, if the sample fails, the entire batch is deemed unfit. This sampling method is an international practice across the globe. Substandard rice can never be exported because it fails to comply with the provisions of an agreement made with overseas buyers. At home, rice that deviates slightly from the standard will still be sold, albeit at a lower priced based on a set of predetermined criteria. Nevertheless, if the sample is found to diverge too far from the requirements, the whole batch will be returned to its point of origin.
Thai Rice Standards that had been in use since 1957 never prescribed any sampling and inspection instructions, except for the Thai Hom Mali Rice Standards, which stipulated such guidelines in 1997. Therefore, sampling and quality inspection of Thai rice for export have adhered to customary practices from overseas, as well as local practices. For example, samples are taken randomly from at least 2–3% of the total number of sacks in one batch. This sample size is comparable to requirements of the ISO and the IRRI, which mandate that the number of sampled sacks be the square root of the total number of sacks in a batch.
Based on the information above, good quality rice refers to rice that buyers at home and overseas are willing to accept, as well as rice that meets quality requirements. Determining the quality of rice relies not at all on an individual's personal perception but the results of a scientific analysis of randomised samples collected by a neutral party. The samples must be completely random instead of deliberately selected.
The establishment of these Thai rice standards augments the potential of Thai rice exports. It allows buyers to have more options for buying and importing Thai rice, not only the unique strain of Thai fragrant rice known as Thai Hom Mali rice, but also many other types and varieties to suit the needs of consumers in importing countries. These standards also boost consumer confidence in the quality of Thai rice.
SOURCE: Department of Foreign Trade, Ministry of Commerce, Thailand
Hozpitality India Joins Hands With Indian Horeca EXPO as Media Partners
Reading Time:
2
minutes
Indian Horeca EXPO will be held in two prime cities, Coimbatore and Hyderabad in India in 2019
Hozpitality Group had announced the media partnership with one of the most awaited hospitality EXPO in India, India HoReCa Expo 2019, a successful B2B Exhibition focusing on the supply chain for the Hotel, Restaurant, Catering & Café Industry. Health Care, Office management systems and solutions will also be highlighted in the expo. The 3-day business networking event will be a good platform for the buyers, purchase initiators, end users and the decision makers to meet suppliers and plan their sourcing to fulfill their current & future requirements.
The 3rd edition of Indian Horeca Expo will be hosted at Codissia Trade Fair Complex from 5-7th July in Coimbatore, TamilNadu and 4th edition will be hosted at the HIEX exhibition center in Hyderabad. This will be a one stop shop for hotel suppliers and hospitality companies. "We are extremely happy and excited to be a part of the largest and renowned Trade shows in India. This will be our first Media partnership with an exhibition in Indiathough we are media partners of most of the reputed trade shows and expos in Middle East, Africa and India. We would be excited to work with more industry partners in India in upcoming future," added Raj Bhatt, CEO and Founder of Hozpitality Group.
The BUSINESS CONNECT is planned to facilitate the meetings with project planners along with their department heads to identify innovative products & to understand the functional aspects. IHE 2019 will be the perfect PROCUREMENT HUB for the Hospitality & Food service industry as it is carefully designed & scheduled for procurement professionals to source products within a limited time frame at the expo.
STARTUPS and Investors get an opportunity to discuss with senior industry professionals from the HoReCa sector. Experienced Culinary & Hospitality Consultants will be available to share their knowledge at the Consultants lounge. One may register on the official website to fix a prior appointment with the professionals on specific business topics.
BUSINESS MATCHMAKING: On understanding the actual requirement of the buyer the organizer will schedule meetings with relevant exhibitors to facilitate B2B meetings at the Business lounge.
NETWORKING SCHEDULE definitely helps the attendees to spend quality time with their vendors and in return business conversions are a proven factor.
HOSPITALITY TREND TALK is a mix of seminars, workshops, panel discussions and other activities which is of key interest to the industry. The FACILITY MANAGEMENT CONCLAVE will steer the admin and space management professionals to come out with the innovative sustainable solutions and share BEST PRACTICES of the FM world.
HOSPITALITY DESIGN CONCLAVE will involve senior designers, architects and young professionals to give the decor business a fresh & trendy twist. It will be a golden opportunity to learn about material, fabrics, concepts and cost-effective solutions.
The attendees who were part of the previous editions of India HoReCa Expo were highly satisfied with the mix of products, the quality & service of the suppliers. This year at IHE 2019 HoReCa Professionals will be able to identify innovative and effective product range from F&F, Interiors, Laundry, Housekeeping, Food Service, Engineering, IT, Commercial Kitchen Solutions, Consumables & Gourmet Food.
Besides India business delegation from over 10 Asian countries have planned to make this event an effective sourcing platform. Specific Pavilions for the exhibitors have been planned to facilitate delegates to identify their required segment.
Attendees are requested to preregister on www.indiahorecaexpo.com
SOURCE: Hozpitality Group