Malta AI & Blockchain Summit throwing massive show in May
Reading Time:
3
minutes
The first edition of the Malta AI & Blockchain Summit in November 2018 turned out to be a monumental success – no less than 8500 people attended the event. This year, the same team is throwing a massive show in May.
The Malta AI & Blockchain Summit has announced a stellar show for 2019. The highly anticipated show is expected to follow the monumental success of the November summit in 2018, which brought W. Scott Stornetta, John McAfee, the Winklevoss Twins and Sophia the Robot to Malta's shores and took the scene by storm even in times of a burdensome bear market.
"I came to talk about the early work that we did, laying the foundations pre-Bitcoin for the blockchain. It is a little frenzied and very crowded. I think they succeeded a little too well in attracting people here," said W. Scott Stornetta, known as the 'Founding Father of Blockchain', commenting upon the show in November 2018.
The next show taking place on May 22nd-24th of 2019 is themed around Social Impact, and is aimed at reigniting the Satoshi Vision for blockchain technology to advance social impact across societies through a truly decentralised ecosystem for transactions. The event is cordially inaugurated with a Social Impact Awards ceremony on the eve of the summit.
The unexpected success of last year's show has turned the organisers' eye towards expansion. For the show in May 2019, they have chosen Hilton as the venue. This also enables the Malta AI & Blockchain Summit to host a first class expo floor suitable for a truly global crowd of exhibitors. Eman Pulis, the Founder of the Malta AI & Blockchain Summit is eager to up the game:
"I wish to thank everyone who attended Malta in November and for the overwhelming feedback we received. The Blockchain community accepted me and my team as part of the family. I look forward to contribute and help drive this technology forward by doing what I love the most – events! This year, we are raising the bar with a stellar line-up of speakers and we expect an even larger crowd to attend our show."
The speaker line up for May is far from filled but already feature top names within the industry such as Roger Ver, Tim Draper, Ben Goertzel of SingularityNET along with Sophia the Robot, making her second visit to the island. The Maltese Prime Minister Joseph Muscat and Junior Minister for Financial Services, Digital Economy and Innovation, Silvio Schembri, will also speak at the event. With the quality recorded in 2018, attendees can put their expectations high for the second edition of the Malta AI & Blockchain Summit. This spring edition of the summit includes a lavish VIP dinner, networking drinks in the midst of the warm Mediterranean spring, an ICO Pitch and two conferences spanning over the 22nd-24th of May.
2018 was the year Malta cemented itself as The Blockchain Island with the launch of the Three Bills regulating blockchain and cryptocurrencies during the Malta AI & Blockchain Summit in November. In 2019, the Blockchain Island is moving beyond the hype. The Maltese Government will enact another world first: a Fourth Bill, giving a D.A.O. its own legal personality. In addition, a task force is also working around the clock on a set of incentives that will support businesses in Artificial Intelligence.
This is why the organisers of the Malta AI & Blockchain Summit has expanded their scope to invite stakeholders in AI, Big Data, IoT and Quantum Technology – to join the show and engage in riveting discussions about the world changing potential application of such technology. The Malta AI & Blockchain Summit is a landmark event that nobody in the field can afford to miss.
The new Ericsson operations engine based on AI simplifies the management of services
Reading Time:
2
minutes
Ericsson (NASDAQ: ERIC) has launched a new Artificial Intelligence (AI)-based managed services offering for communications service providers – the Ericsson Operations Engine. The solution is an end-to-end managed services operating model that, through Artificial Intelligence, automation, and the power of data, reimagines network and IT operations, network design and optimization, and applications development and maintenance.
The Ericsson Operations Engine directly and proactively addresses service providers' managed services complexity challenges as the industry moves to the reality of 5G and IoT.
The Ericsson Operations Engine has three building blocks:
Service-centric business model based on business outcomes: Using AI, automation and data insights, the Ericsson Operations Engine addresses targeted business outcomes for service providers such as enhanced customer experience, revenue growth and efficiency.
End-to-end capabilities: delivering on business outcomes through AI-based design, planning and optimization, data-driven operations, dynamic deployment, applications development, and collaborative innovation.
Components: Best-in-class tools and processes that leverage data, AI and automation as well as expertise and investments in the service provider domain.
Peter Laurin, Senior Vice President, Head of Managed Services, Ericsson, says: "Networks are quickly becoming significantly more complex to operate as we introduce IoT and 5G at scale, and virtualize core networks, while aiming to enhance user experience at the same time. The Ericsson Operations Engine enables us to create sustainable differentiation for our managed services customers as it evolves operations from being network-centric to user experience-centric. It fundamentally changes our way of operating networks from reactive to proactive, leveraging data, automation and artificial intelligence."
Curtis Price, Program Vice President, Infrastructure Services, IDC, says: "Managed services will play a significant role in the service providers transformation initiatives taking place worldwide. Nearly 65 percent of service providers indicate that managed services will be key in addressing their main operational concerns around customer satisfaction – improving customer experience is the number one factor that will influence service providers use of managed services – revenue growth and cost efficiency. It's also clear that advanced technologies like AI, automation and analytics represent the underlying pillars for supporting and enabling operational transformation through managed services partnerships."
The Ericsson Operations Engine, as well as the latest trends and future of managed services, will be showcased by Ericsson at Mobile World Congress 2019 in Barcelona, Spain.
RISE Education Launches One-stop Intelligent Learning Platform
Reading Time:
2
minutes
Platform leverages technology to empower learning, teaching and operations
RISE Education Cayman Ltd (NASDAQ: REDU) ("RISE" or the "Company"), a leading junior English Language Training ("ELT") provider in China, launched a one-stop intelligent learning platform, which leverages digital technologies to empower teachers and parents to improve the learning experience for students.
Aiming to build a new English learning model, the platform includes a teacher-end app, "Rise Teacher", and a parent-end app, "Rise+". With access to RISE's online tutoring tools, the platform can facilitate efficient one-on-one communication among teachers, parents and students, to create a one-stop learning and teaching experience.
"The launch of the intelligent learning platform is part of RISE's strategy to empower education with technology," said Sun Yiding, CEO of RISE. "RISE is making efforts to create an intelligent and adaptive teaching system, based on Artificial Intelligence and Big Data technologies. We hope to develop customized and personalized teaching service for each student with the goal of nurturing global talents with strong leadership."
With the "RISE+" app, parents of RISE students can easily connect with RISE teachers to have real-time one-on-one communication to learn about their child's progress. Teachers can also post videos and photos of classes to show the child's performance to their parents. The "Rise+" app includes project-based exercises designed for students of different ages, and will add other popular RISE tutoring tools to improve students' ability to think and solve practical problems in English.
To empower teaching, the "Rise Teacher" app provides one-stop service to RISE teachers. They can quickly give exercise assignments to students, save students' homework online, and offer learning feedback to improve teaching efficiency. With a standardized management process, RISE intends to further improve the tutoring experience and quality.
RISE will continue to improve the intelligent learning platform by adding more functions and features. It plans to add a live streaming function in the "RISE+" app, so parents can watch their children learning in classes in real time and, participate in the education process.
LG shares unique insight at AI summit and LG ThinQ Forum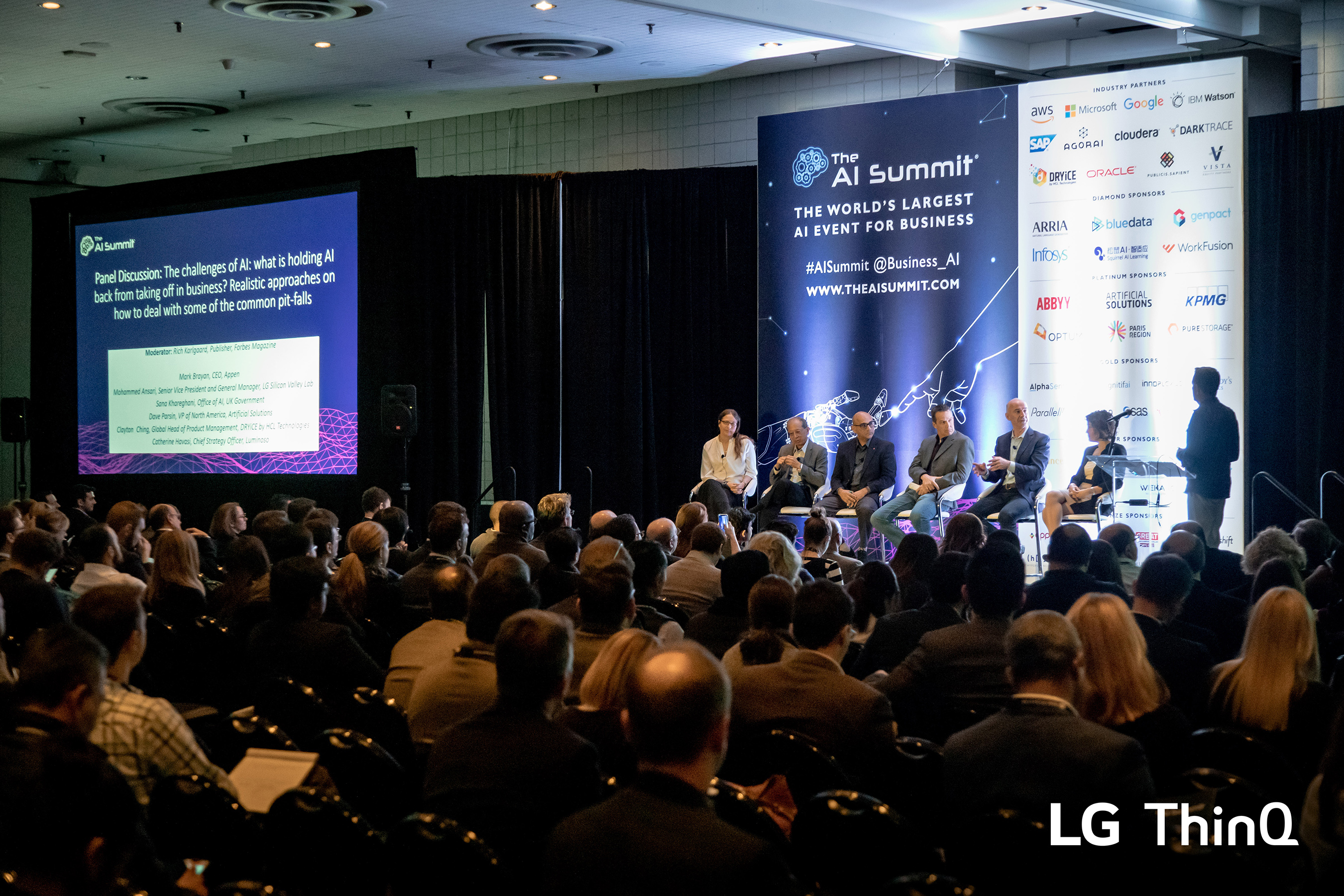 Reading Time:
2
minutes
LG, the South Korean business conglomerate, has impressed everybody with its unique insights on the impact of artificial intelligence (AI), presented at the Artificial Intelligence Summit held in New York on December 5–6. The company presented a clear picture of providing considerable insight on the current state of AI technology and its potential impacts on life, both inside and outside the workplace. LG conducted its own LG ThinQ Forum during the summit as well, triggering a lively talk and demonstrating the strength of LG ThinQ, the company's own AI platform.
Mohammed Ansari, senior vice president and general manager of the LG Silicon Valley Lab, participated along with some global AI experts in a panel discussion titled, The Failures of AI: What is holding AI back from taking off? Realistic approaches on how to deal with some of the common pitfalls. He observed that progress in creating relevant technologies, or lack thereof, is largely determined by specific factors in each sector. He pointed to shortage of data and insufficient knowhow as key issues preventing many companies from advancing and deploying AI solutions.
He said: "Epitomizing the values of 'Evolve, Connect, Open', LG ThinQ products are designed to provide a more personalized experience the more they are used, offer a seamless connection for the user both throughout their homes and beyond, and are compatible with different platforms in order to meet the diverse needs and preferences of our customers, making their lives freer and easier. We hope to implement next-generation AI technologies to provide for a fully integrated digital-physical environment," said Mohammed Ansari, senior vice president and general manager of the LG Silicon Valley Lab.
"The company's unique strategy is what makes LG ThinQ stand out from the crowd. LG's innovative AI solutions for the home have the potential to transform daily life for the better. It was a pleasure to be involved in the forum and help communicate the benefits that AI can offer," added Carley Knobloch, digital lifestyle influencer.
At a time when more fiction is presented as fact about artificial intelligence, such pragmatic and hard-nosed views on AI must be well appreciated.