IoT Forum Africa 2019 to Showcase Latest Innovations in IoT
Reading Time:
2
minutes
The IoT Forum Africa 2019 is hosted by IT News Africa
Internet of Things Forum Africa returns to Johannesburg for the third year on 26 and 27 March 2019 at the Gallagher Convention Centre in Johannesburg, South Africa. Hosted by IT News Africa, IoT Forum Africa 2019 is shaping up to be bigger and better than ever and is set to feature an exciting list of visionaries, thought leaders and industry experts who will explore the benefits and challenges of IoT in key industries.
The Internet of Things is becoming the backbone of every industry, allowing users to make intelligent decisions without feeling overwhelmed by technology. Its ability infuse operational efficiency is the next step of the IoT evolution as it improves business processes using AI and machine learning to analyse past behavior, whilst gleaning insights to change the future. #IOTFA19, through insightful presentations, panel discussions, industry focused break-away sessions and interactive case-studies, will take an in-depth look at how organisations can harness true "business value" from IoT.
#IOTFA19 will also offer Africa's biggest IoT players a platform to showcase some of the latest IoT solutions to a diverse audience drawn from the public and private sectors.
This year, IT leaders and senior business executives will have the opportunity to hear from local and international expert speakers who will dissect topics such as:
The Future of IoT – Predictions for a Connected World
Selecting the Right Platform for your IoT Project
Transforming Rural Africa with the Power of IoT
Smart City Ecosystems and Sustainability
The Internet of Things – A Service Provider's Perspective
Future of IoT Simulation: Internet of Virtual Things
Assessing the Role of Smart Devices as a Critical Entry Point to the IoT Ecosystem
IoT in Public Transportation
Looking at The New World of Connectivity: 5G and the Internet of Things
How to Participate:
Join as an attendee: Join hundreds of Africa's entrepreneurs, IOT solution providers and technology leaders – for two days of top-level content, case studies, live demos, and plenty of networking opportunities
Join as a speaker: Showcase your thought-leadership. Share your insights and experience. Shape solutions to critical business challenges.
Join us as an exhibitor: Showcase your brand and present your solutions to a select audience. Position your organisation at the forefront of Africa's IoT revolution. Find new partnerships, investors, leads, and opportunities.
For more information, visit www.iotforumafrica.com
SOURCE IT News Africa
Blockchain, Augmented Reality and Virtual Reality Highlighted as Emerging Trends at Frost & Sullivan's 2019 ICT Predictions Road Show
Reading Time:
3
minutes
2018 saw spectrum release discussions for a faster LTE network, increasing communication reach in rural areas and enterprises across industries embracing innovative technologies such as Industrial Internet of Things (IIoT) and Artificial Intelligence (AI). However, 2019 will be the year when South Africa start-ups lead the innovation in IIoT and AI, and their cross-industry integration, according to Saurabh Verma, head of ICT for Frost & Sullivan's Middle East and Africa Region.
Verma presented the 2019 ICT trends for South Africa at Frost & Sullivan's ICT predictions road show. He said companies will need to revisit their competitive strategy to acquire new skill sets to remain competitive. At the State of the Nation address on 7 February, President Cyril Ramaphosa also stressed the need to develop skills for the "fourth Industrial Revolution" and called for a major shake-up in education to prepare the country to compete in the digital global economy.
With the government reaffirming the importance of ICT, specifically in the communication sector, Frost & Sullivan identified seven ICT predictions for 2019.
Prediction 1: The rise of the telecommunications sector
The telecommunications sector revenue will reach 149.5 billion in 2019. The ICT industry revenue is expected to reach R305 billion in 2019, with the telecommunications sector contributing the most at 49.6%. The cloud services market will contribute the least at 0.6%.
Telecommunications providers will strengthen digital content offerings, including OTT messaging, VOD, pay TC and triple-pay services. They will also actively acquire and partner with IT service providers to strengthen their in-house resources and capabilities to compete in the ICT services ecosystem.
Prediction 2: Multi-tenanted data centres
Multi-tenanted data centres will drive growth in data centre revenues. The data centre (DC) revenue contributes 8% toward the overall ICT industry and is estimated to reach R8.0 billion in 2019 with a growth of 10.6%.
While a 1.8% growth in DC's revenue is expected in 2019, the growth of DC services via cloud will take longer than expected due to consumer protection regulations and the fact that large enterprises' transition to cloud is hampered by legacy infrastructure.
A potential business model would be for cloud services to target SMEs as they have the potential to improve efficiencies and reduce costs.
Prediction 3: 5G will take longer than anticipated; 3G is the present reality for South Africa
Expensive data packages and delays in spectrum release are hampering subscriber base growth for 5G. While mobile operators are ready to develop 4G networks and deploy 5G services, 3G will be the dominant technology over the next three years.
5G promises significantly higher speed than 3G and 4G; however, there are still concerns about the immediate reliance on 5G for industries. 5G will be appropriate for industries requiring real-time decision making.
Prediction 4: South African start-ups will lead the innovation in IIoT and its cross-industry integration
With start-ups focussing on innovative IoT solutions to reach 6.2 million in M2M subscriptions, non-voice services, especially mobile data (3G and 4G), will continue to drive IIoT market growth in 2019.
Telecommunications providers will become end-to-end solutions providers, growing beyond offering connectivity services to provide sensors, hardware, software, platforms, cloud, analytics and security.
Prediction 5: AI-powered business applications to increase productivity and efficient customer support and services
AI solutions that address regionally relevant challenges such as poaching and accessible healthcare and education services will grow steadily, improving the quality of life in South Africa.
Hospitality, manufacturing and mining will use AI services in 2019.
Prediction 6: Digital transformation to improve customer experiences
Customers are demanding self-service, and companies aiming to improve the customer experience will focus on the digitisation of processes such as AI-enabled customer touch points.
An omni-channel strategy will ensure a consistent, high-quality customer experience, regardless of how, where or why a customer chooses to interact with an organisation.
Prediction 7: Incumbents and fintech firms will continue to enjoy a (mostly) good relationship
With the exception of direct competitors, South African banks will continue to attempt to work with fintech start-ups and encourage innovation in this area.
South Africa's fintech ecosystem is becoming steadily more innovative and dynamic with South African banks attempting to work with fintech firms either through acquisitions or partnerships to capitalise on innovations.
Blockchain, augmented reality and virtual reality are the emerging technologies that Frost & Sullivan believes will disrupt the South African ICT industry in 2019.
Blockchain has the potential to greatly increase the efficiency of data transfer between multiple parties, significantly reducing delays and costs, despite cryptocurrency price clashes and regulations, which will prompt exploration of other applications of blockchain technology.
Augmented reality will be largely used in facilitating training and education and in industrial maintenance in the engineering services industry. It will also be used to enhance customer engagement and branding in the banking and retail industries through gamified mobile app-based platforms.
"Lastly, virtual reality will redefine the training, marketing and advertising service delivery models across various sectors and provide customers with an immersive and interactive experience while helping to reach a wider audience to establish deep-rooted relationships with existing and potential new customers," said Verma.
SOURCE Frost & Sullivan
Hengtong Aberdare Recommits to Assisting Students in South Africa
Reading Time:
2
minutes
Hengtong Aberdare (Aberdare), a subsidiary of Hengtong Group, an innovation leader in China that focuses on fiber optic, electrical and technical network construction and operations, has pledged to donate a hi-tech computer center ("the Center") to the Siqongweni Secondary School in Imbali Township, Pietermaritzburg, South Africa. The announcement came during a visit to the school by Cyril Ramaphosa, President of South Africa, along with a high-level delegation.
Dr. Haiyan Song, Chairperson and Chief Executive Officer of Aberdare, was part of the delegation and said, "Aberdare is committed to improving the lives of the people in the areas that we operate. The donation of the Center is an expression of our wish to see young people from these communities thriving in their studies, particularly in the critical STEM subjects. In addition to helping students, our partnership with the local government will also serve to help further the professional development of the teachers there."
Aberdare launched its "Aber-school Project" in April 2017 in cooperation with the Siqongweni Secondary School with the goal of helping to address the low mathematics and science pass rates in the country, as well as encouraging more students to take these subjects. In the nearly 2 years since it began, the Project has helped 85 students including 25 in Grade 10, 30 in Grade 11 and 25 in Grade 12, achieve excellent results in this year's college entrance examination, with 12 of them being admitted to universities. As part of this initiative, in August 2018, Aberdare donated e-learning tablets to several schools in Pietermaritzburg including Siqongweni Secondary School.
President Ramaphosa accepted Aberdare's pledge and acknowledged and expressed his gratitude to the company for the work that they are doing to support local schools and youth through the Aber-school Project, and further encouraged students to take advantage of the opportunities afforded by the Project and the new Center to improve their performance.
Africa Investment Forum ends on a high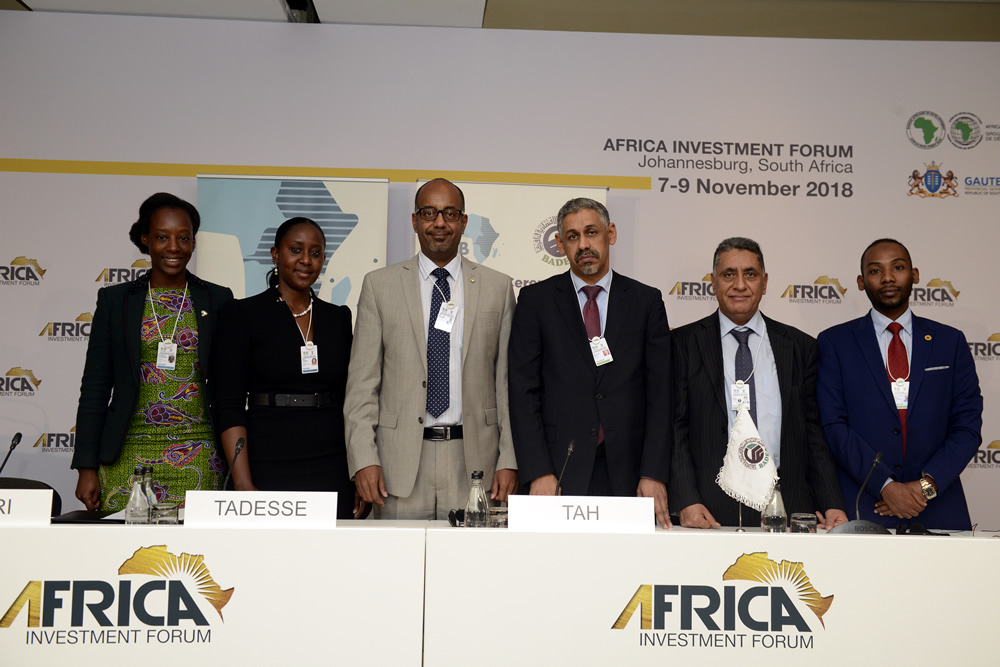 Reading Time:
1
minute
The just concluded, first-of-its-kind Africa Investment Forum, held in Johannesburg, South Africa, would provide a much needed impetus for the economic and industrial growth of the continent. The heads of Development Finance Institutions (DFIs) that participated in the event, praised the event, for its exceptional gathering that "exceeded all expectations."
President of the African Development Bank, Akinwumi Adesina, said: "The needle is shifting, pointing to the right direction, pointing to Africa. I am thankful for the investors, I am thankful for the confidence they have in Africa. Africa has grown up. Africa is not going to be developed by aid. It will be developed by investment and I think you are beginning to see it.¨
Apart from DFIs, the other key financial players like institutional investors, sovereign wealth, equity and private sector CEOs from across the continent participated in the meeting.
During the summit, 61 transactions valued at US$40.4 billion were tabled for discussions in boardroom sessions and, of which, 45 deals worth over US$32 billion obtained investment interest.
President Adesina termed the $32 billion worth of transactions as a big success. "I could not be happier…but we don't want to congratulate ourselves. The responsibility that lies on our shoulders is so huge. This is just the beginning.¨
The presence of seven African heads of state and heads of governments also sent positive notes to global investors that Africa's leadership is committed to creating a conducive business environment for investment to land on a smooth runway. President Cyril Ramaphosa of the Republic of South Africa; President Sahle-Work Zewde of Ethiopia, President Alpha Conde of the Republic of Guinea; President Macky Sall of Senegal; President Nana Dankwa Akufo-Addo of Ghana made the trip to South Africa for the Forum. Other officials included the Vice President of Nigeria, Yemi Osinbajo; the Prime Ministers of Rwanda, Edouard Ngirente and Cameroon, Philémon Yang, as well as ministers representing the Kingdom of Morocco, Cote d'Ivoire, Tanzania, Niger, and Gabon. In attendance also were Governors and Board members of the African Development Bank.