Celebrities, Musicians, and Thought Leaders Join Al Gore for a Special Presentation of 24 Hours of Reality: Protect Our Planet, Protect Ourselves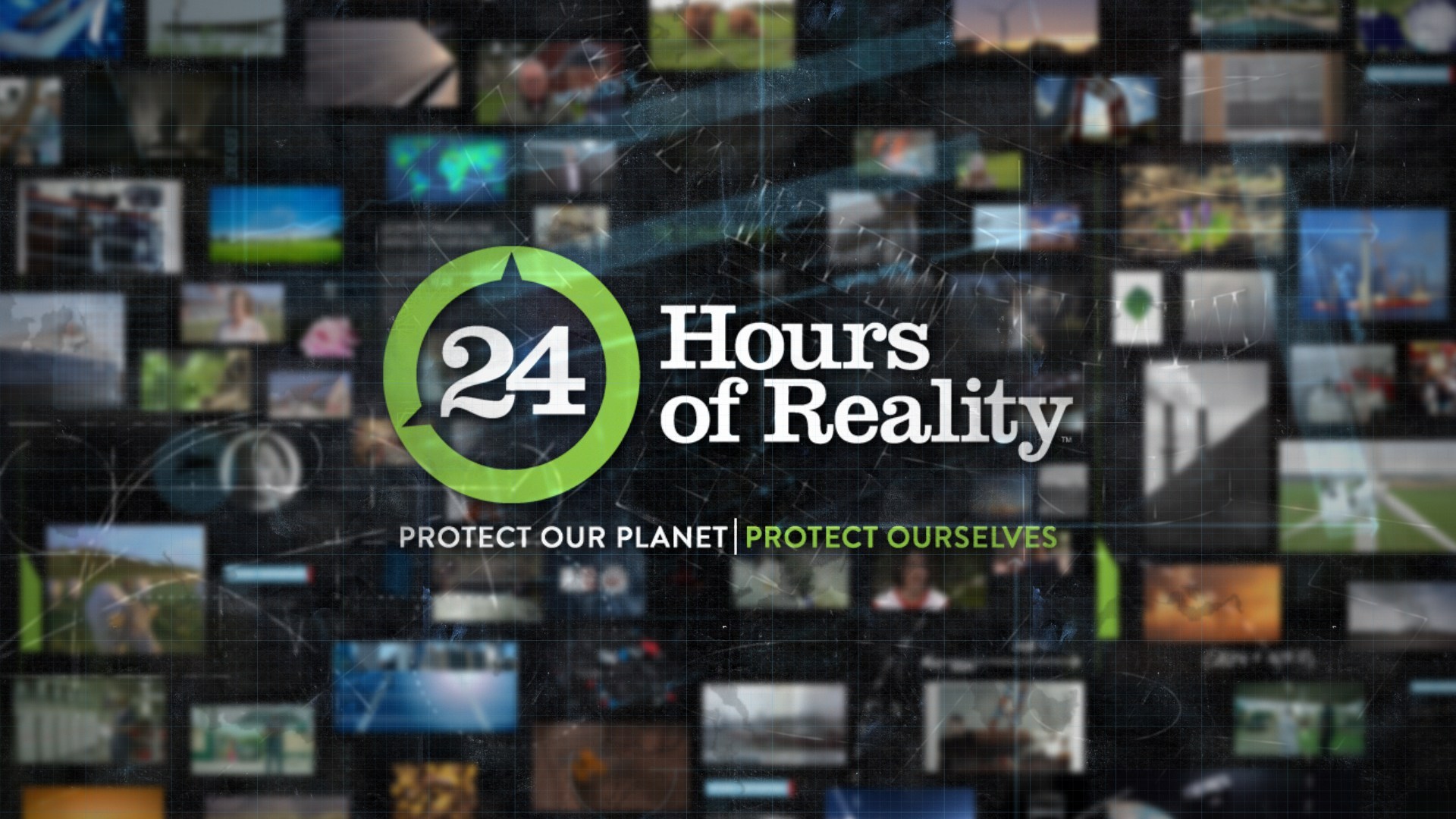 Reading Time:
1
minute
Former US Vice President Al Gore will host a one-hour special broadcast of The Climate Reality Project's 24 Hours of Reality: Protect Our Planet, Protect Ourselves, which will explore how the climate crisis threatens human health worldwide. The special will premiere on Nat Geo WILD on Thursday, December 20, 2018, at 7 PM ET.
Celebrities, musicians, elected officials, and thought leaders will join the broadcast to highlight the climate-health connection around the world, including an exclusive video from U2, special appearances from Claire Danes, Bryan Cranston, Tea Leoni, Mandy Patinkin, Bill Nye, and Jaden Smith. Also, thought provoking interviews with former US EPA Administrator Gina McCarthy, Mayor of Los Angeles Eric Garcetti, and First Minister of Scotland Nicola Sturgeon will round out this special presentation of 24 Hours of Reality: Protect Our Planet, Protect Ourselves.
"Our health depends on the health of the planet," said Vice President Gore. "The climate crisis is not an abstract issue; it has direct impacts on us and the people we love the most. I'm looking forward to exploring the climate and health connection on this broadcast and to discussing how we can take bold and ambitious action to ensure that future generations can live long, healthy lives full of opportunity and promise."
A production of The Climate Reality Project and produced by Peter Green, Danielle Addair, and Steve Addair of ShoulderHill Entertainment, this special will highlight unique regional health impacts and celebrate local, national, and international efforts to implement meaningful climate solutions.
For more information, visit 24HoursofReality.org, and watch a preview of the broadcast here.
The Canary Islands Create a Video to Replace Blue Monday With True Monday
Reading Time:
2
minutes
The international #TrueMonday campaign is being launched from the Canary Islands to advertise this initiative
For years the Canary Islands has been battling Blue Monday, a fake news story that claims that this is the saddest day of the year. As part of its effort to get back and stand up for good vibes, the Canary Islands want to turn this non-existent event into a day to combat fake news.
The goal is to kill off Blue Monday once and for all and turn it into True Monday. To do so, the Canary Islands have created an informative video with messages as blunt as "Don't let any comments, any news, any made-up formula manipulate your feelings. It's time for us all to start improving the climate".
In addition, in coming months, officials in the Canary Islands will work to turn the third Monday in January into the International Day Against Fake News, a day to combat all the lies and untruths that sow tension, discord and bad vibes.
The stopbluemonday.com website describes this commitment through a manifesto and includes tips for identifying fake news, measures for getting back the good vibes and a quiz so users can check their knowledge.
Goodbye Blue Monday, hello True Monday
In 2005, using a completely made-up formula, Professor Cliff Arnall, from Cardiff University (United Kingdom), declared that the third Monday in January was the year's saddest day. This initiative was part of an advertising campaign for a travel agency.
Even though its credibility was called into question from day one, to the point that even Cardiff University called it "a farce", the media, including social media, continued to spread the news year after year.
The Canary Islands managed to get none other than Professor Arnall himself to publicly disavow his Blue Monday creation and join the #StopBlueMonday movement. "It's time to finally stop letting made-up comments, news or formulas manipulate our feelings and for everyone to start improving the climate", said the professor.
In short, the goal of the initiative is to remove the day devoted to sadness from the calendar once and for all and, in its place, to raise society's awareness of the fight against the type of fake news that created it.
Dr. Batra's™ Foundation Hosts the 9th Year of 'Yaadon Ki Bahaar'
Reading Time:
2
minutes
The 9th year of 'Yaadon Ki Bahaar' was held on January 17th at Sofia Bhabha Auditorium at Cumballa Hill in Mumbai. The event is singing concert featuring a foot-tapping medley of yesteryear songs rendered by Dr. Mukesh Batra. The event was graced by Zeenat Aman as chief guest and saw the who's who of the society, including Juhi Chawla, Simi Garewal, Varsha Usgaonkar, Tara Deshpande and Sabira Merchant to name a few. They attended the event to lend their support to this noble cause. The renowned homeopath and the recipient of the prestigious Padma Shri award conceptualized this annual concert to provide residents of the Shepherd Widows Home with much needed aid.
The Shepherd Widows Home, managed by the Bishop of Mumbai – CNI, takes care of old widows and provides them with free housing, medical care and other necessities. Dr Batra's™ Foundation has been associated with Shepherd Widows Home for over 30 years and has been instrumental in providing a means for alternative and affordable healthcare to the beneficiaries. For over three decades, Dr Batra's™ has been committed to providing free lifetime healthcare treatment to the residents of Shepherd Widows Home. 'Yaadon Ki Bahaar' is a highly anticipated event for the ladies of the home.
Dr. Mukesh Batra instituted the musical concert with the view to move beyond cheque book philanthropy. The ladies of the Home are remarkable, having gone through so much in lives. This concert is not about the money that goes to them or the charity but pays homage to their spirit.
Speaking about the initiative, Dr. Mukesh Batra said, "Over the years, we have always been committed to providing holistic healthcare treatments to all our patients. Through Dr Batra's™ Foundation it has been our constant endeavor to extend this vision to the underprivileged and ensure that no one who is in need of medical intervention is left unattended. 'Yaadon Ki Bahaar' is one such initiative to involve the community to support a worthy cause. We believe it is our duty to see that they do not spend their twilight years in isolation, pain and misery. They do not need our pity but they need our love, care and support. It fills our hearts with pride and a sense of fulfillment to see the lovely ladies at Shepherd Widows Home participate whole-heartedly in 'Yaadon Ki Bahaar'. We remain steadfast in our efforts to ensure that the residents of Shepherd Widows Home not only receive a meaningful donation, but also continue to receive appropriate healthcare, and most importantly, have the time of their lives at this concert."
ICMEI Will Promote Business With Bosnia and Herzegovina
Reading Time:
2
minutes
A standing ovation was given to H.E. Muhamed Cengic Ambassador of Bosnia And Herzegovina on his signing the Memorandum of Understanding with International Chamber of Media And Entertainment industry where India and Bosnia have decided to work together to promote art and culture of both the countries.
The event took place at Asian Academy of Film and Television at Noida Film City.
"The MOU covers development of Journalism, Radio, Television, Cinema, Tourism, Animation, Hospitality, Fashion, Design, Performing and Fine Arts, Skill Development, Environment, Solar Energy etc. in both the countries India and Bosnia," informed Dr. Sandeep Marwah President of ICMEI.
"We have been interacting with Dr. Marwah and ICMEI from the last four years. We have full confidence in his capacity and capability. His experience in these fields will bring faster results in building up powerful relations between the two countries," said H.E. Muhamed Cengic Ambassador of Bosnia to India.
"It is a privilege to honor Dr. Sandeep Marwah an international personality by presenting this memento of appreciation for his deep interest in the country of Bosnia," said the Ambassador while honoring Dr. Marwah in the presence of many media persons who were present on the occasion.
Dr. Marwah informed that a special committee of students has been formed by the Asian Education Group and are doing research work on subjects like fashion, tourism, cinema for Indo Bosnia Film and Cultural Forum which was created by H.E. Dr. Sabit Subasic the former Ambassador to India. A copy of the report was also handed over to Mr. Cengic.
A poster was released as a mark of respect on the completion of first year of formation of Indo Bosnia Film And Cultural Forum. Ashok Tyagi Secretary General ICMEI briefed the Ambassador about the last activities with IBFCF along with their details.
A visit of media delegation to Bosnia, festival of films from Bosnia, an AAFT scholarship for a deserving student from Bosnia and participation in 7th Global Festival of Journalism were the salient points discussed in the meeting.
"I am happy to be nominated by the Government of Bosnia to Chair the Indo Bosnia Film and Cultural Forum and assure you that we will leave no stone unturned to make it a popular and powerful organization," thanked Dr. Sandeep Marwahand presented the Patronship of IBFCF to the new Ambassador H.E. Muhamed Cengic.