Celebrities, Musicians, and Thought Leaders Join Al Gore for a Special Presentation of 24 Hours of Reality: Protect Our Planet, Protect Ourselves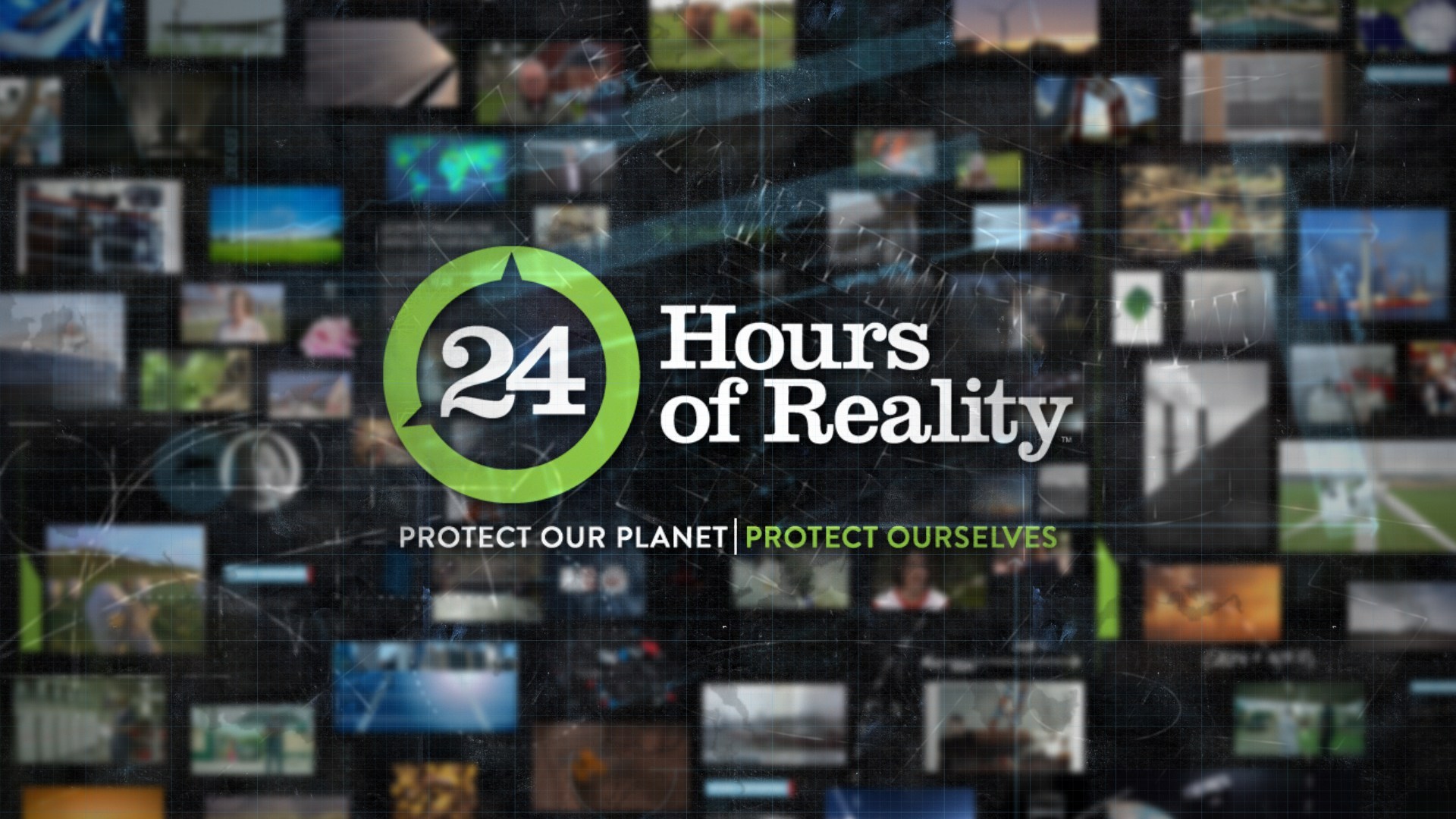 Reading Time:
1
minute
Former US Vice President Al Gore will host a one-hour special broadcast of The Climate Reality Project's 24 Hours of Reality: Protect Our Planet, Protect Ourselves, which will explore how the climate crisis threatens human health worldwide. The special will premiere on Nat Geo WILD on Thursday, December 20, 2018, at 7 PM ET.
Celebrities, musicians, elected officials, and thought leaders will join the broadcast to highlight the climate-health connection around the world, including an exclusive video from U2, special appearances from Claire Danes, Bryan Cranston, Tea Leoni, Mandy Patinkin, Bill Nye, and Jaden Smith. Also, thought provoking interviews with former US EPA Administrator Gina McCarthy, Mayor of Los Angeles Eric Garcetti, and First Minister of Scotland Nicola Sturgeon will round out this special presentation of 24 Hours of Reality: Protect Our Planet, Protect Ourselves.
"Our health depends on the health of the planet," said Vice President Gore. "The climate crisis is not an abstract issue; it has direct impacts on us and the people we love the most. I'm looking forward to exploring the climate and health connection on this broadcast and to discussing how we can take bold and ambitious action to ensure that future generations can live long, healthy lives full of opportunity and promise."
A production of The Climate Reality Project and produced by Peter Green, Danielle Addair, and Steve Addair of ShoulderHill Entertainment, this special will highlight unique regional health impacts and celebrate local, national, and international efforts to implement meaningful climate solutions.
For more information, visit 24HoursofReality.org, and watch a preview of the broadcast here.
Blockmason Link, Korea Mobile Game Association and Korea Blockchain Content Association Partner to Advance Korea's Blockchain Software Development Industry
Reading Time:
1
minute
Blockmason, a leading developer of foundational, base-layer blockchain technologies, the Korea Mobile Game Association ("KMGA") and the Korea Blockchain Content Association ("KBCCA"), today announced the signing of a three-party Memorandum of Understanding ("MOU") and collaboration to advance the blockchain-based game development industry in Korea. Per the terms of the MOU, the companies are aiming to reduce the barriers faced by small and mid-size game developers when building games based on blockchain technologies.
"We are excited to join forces with two organizations that are working hard to support and grow the nascent blockchain game and software development industries," said Michael Chin, CEO of Blockmason. "The KMGA and KBCCA represent hundreds of startups employing thousands of developers. Together, we can help their member companies build innovative new games and other software products faster while also encouraging user adoption."
Blockmason's Link is a new blockchain infrastructure-as-a-service that allows blockchain-based game developers to use programmatic blockchains in their applications without requiring any blockchain experience. With Link, developers can create games that interact with smart contracts and blockchains like any other web or mobile API. There are no cryptocurrencies to acquire, browser plugins to install or servers to maintain or monitor. A developer simply adds their smart contracts to Link and uses the resulting APIs in their game or app. At the heart of Link is BLINK, the utility token which provides Link users with API transaction capacity.
To learn more about the Link project, visit https://blockmason.link. To learn more about the KMGA, visit http://www.k-mga.or.kr. To learn more about the KBCCA, visit http://k-bcca.or.kr.
SOURCE Blockmason
Maruti Suzuki Arena Devils Circuit Season 2018-19 Culminates in Delhi NCR to Become the Toughest Obstacle Race in Asia
Reading Time:
3
minutes
The 36th Edition of Maruti Suzuki Arena Devils Circuit, the toughest obstacle running event in Asia and a unique running concept introduced to India by Volano Entertainment Pvt Ltd., came to a glorious end in Delhi NCR last weekend at Unitech Golf Course, Noida, marking the most successful season of the obstacle racing event in six years. Held in sprawling 30-acre venues across 8 cities, this season saw the participation of over 42,000 runners.
Maruti Suzuki Arena Devils Circuit prides itself in being able to bring participation from an audience across a wide fitness spectrum, and as such, the season hosted everyone from young fitness enthusiasts, running and gym groups, corporates, elite athletes and Indian army officers to expats, homemakers, retired professionals, and college students.
For the uninitiated, Maruti Suzuki Arena Devils Circuit offers a spectacular obstacle racing track of 5 kms interspersed with 15 obstacles of varying difficulty levels. There are three categories of participation: The Legends Cup for elite athletes, the Competitive Category for fitness enthusiasts, and the Non-Competitive Category for pure enjoyment. That's not all though; after runners complete the muddy run, they enter the expansive Expo area to enjoy dance fitness sessions, mini obstacles at the Maruti Suzuki Swift and Apollo Fitness Zones, food trucks, photo booths — it's one big after-party. The event is often termed by runners as 'a once-in-a-lifetime experience'.
The Legends Cup is the biggest amateur sporting event in the country where runners compete in the races in at least six of eight cities to accumulate points based on the number of obstacles they complete, and the time taken to finish the race. The gratification for the highest scorer in the men's and women's category is a brand new Maruti Suzuki Swift – the biggest prize in an amateur sports event – along with a cash prize of INR 75,000. The first and second runners up in men's and women's categories receive cash prizes of INR  60,000 and INR 45,000.
Delhi NCR being the season Finale and the home-ground, always sees maximum participation (10,500 runners this season) and witnesses the outcome of the Legends Cup. This year, Sukchain Singh and Sunil Kumar, both Indian Army Officers, won the first and second positions respectively, with Vishal Choudhary clinching the third spot. The women's category in Legends Cup saw many ups and downs through the season with Diksha Kapoor, a runner from Kashmir, winning the top spot on the leader board. She was followed by Jyoti Singh and Tamanna Sharma, who clinched the second and third spots respectively.
The time taken to complete the circuit varies across cities and is dependent heavily on the topography and the weather. The shortest time it took to complete the circuit this season was 21 minutes by Sunil Kumar in Delhi from the men's category and 42 minutes 55 seconds by Diksha Kapoor in Mumbai from the women's category. A special mention should be made of S. Kholi, a Legends Cup participant who not only participated in LC but followed it up with seven more Competitive and Non-Competitive races on the weekend in Delhi itself. He ran a total of 23 races through the season, showcasing his commendable strength and stamina.
As the title sponsor of the property, Maruti Suzuki India Limited continues to explore the synergies between brand Swift with its focus on performance and thrill, and the Devils Circuit. Together, they promote the theme of 'Being Limitless' which is epitomised by each participant on the circuit. This season of Maruti Suzuki Arena Devils Circuit also hosts Apollo Tyres and Wild Water as associate sponsors. With a tagline of 'Go the Distance', Apollo Tyres has the same DNA as that of Devils Circuit with a focus on overcoming challenges.
Adnan Adeeb, Managing Director & Co-Founder, Volano Entertainment Pvt. Ltd. was ecstatic with the response that the country had given the MSADC, said, "I want to dedicate this season of the Maruti Suzuki Arena Devils Circuit to the spirit and the indomitable attitude of the participants who signed up to enjoy an experience of a lifetime. We aim to make Maruti Suzuki Arena Devils Circuit a landmark race and will continue to engage with our Swift Devil Slayers to make it a bigger and better experience every year. We are also confident that we'll receive a greater response with each passing year, thereby making Devils Circuit one of the most sought-after races in India."
SOURCE Volano Entertainment Pvt Ltd
Taiwanese Startup ioeX Partners with QUUBE to Develop World's First Blockchain TV (QuuMoney TV) with Decentralized Applications
Reading Time:
1
minute
Taiwanese startup ioeX extends partnership with QUUBE to further their global partnerships. After the conclusion of CES2019 in January, ioeX has officially announced a partnership with QUUBE to combine QUUBE software with the ioeX network to build the world's first blockchain TV product line (QuuMoney TV) with decentralized applications. QUUBE software will be loaded on JVC smart TVs starting in the second half of 2019.
QuuMoney TV is built upon Android TV Platform (Android 9.0) and provides decentralized, point-to-point communications and applications. Users can use QuuMoney TV to watch designated programming. The blockchain series of QuuMoney TVs will be developed with functions including: QuuShare — allows users to use QuuMoney TV as a private cloud for remote data access and backup; QuuChat — allows users to chat privately without any intermediaries using decentralization; QuuMoney TV will create a platform where users can watch and share user generated content (UGC).
ioeX founder and CEO Aryan Hung stated: "Our partnership with QUUBE will help ioeX accumulate additional experience, abilities, and the energy required for building smart lifestyles. We expect to truly integrate blockchain technology into daily life in a way undetectable to users so that true value of blockchain can be presented."
QUUBE CEO Richard Houng stated: "QUUBE and ioeX will release the world's first TV with blockchain applications in August 2019 throughout the U.S. market. I'm very confident in the strong technical abilities of the team at ioeX and I look forward to the results of this partnership."
Throughout 2019, ioeX will complete development on various application functions for users to truly experienced smart decentralized applications. ioeX will be integrated into the smart products of major brands through strategic partnerships and bring decentralized mechanisms to traditional functions and effectively scale networks through the sale of branded products to provide even better services.
SOURCE ioeX