Stellar Launches new-age 'Data Recovery' Solutions to Mark its 25th Anniversary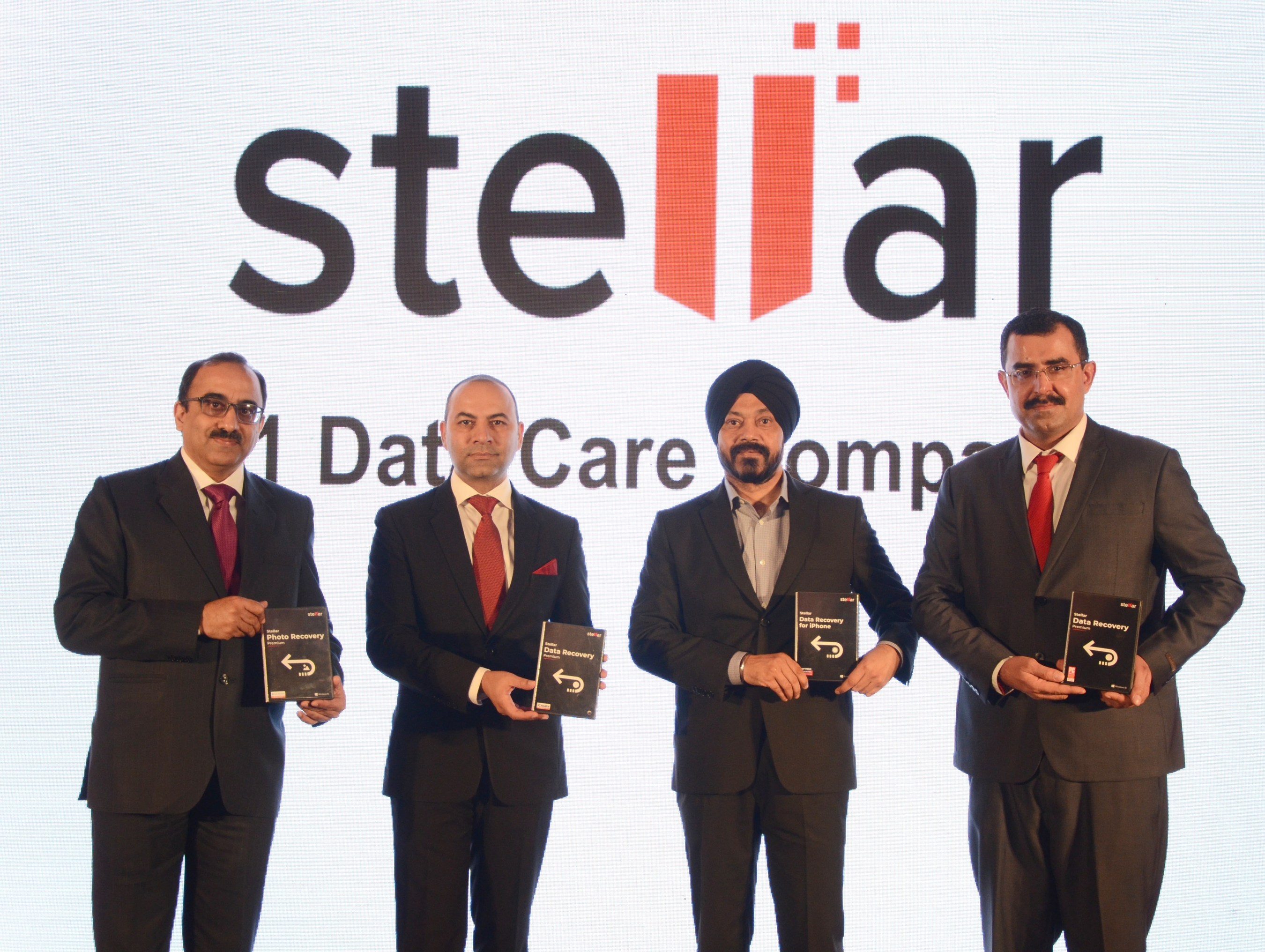 Reading Time:
3
minutes
Stellar has today announced the global launch of new versions of their four flagship 'B2C' software, Stellar Data Recovery for Windows®, Mac®, iPhone® and Stellar Photo Recovery. The new suite of software draws strongly from the company's 25 year leadership in data care domain. These DIY software feature a modern and easy user interface coupled with enhanced performance, recovery speed and reliability for any data loss situation – from simple to the most complex and catastrophic.
Stellar Photo Recovery is world's first software with both Repair and Recovery capabilities for Photo & Video. These new software versions are highly efficient to recover lost files, pictures, documents, videos, and more from accidental deletions, formatting errors, partition losses, Operating System crashes, virus attacks, and other data loss scenarios. They are capable of finding and locating the missing partitions on a drive, which may have been lost due to corruption or accidental deletion. The software generates and displays a preview of all the lost or deleted files while scanning a storage media. It is especially helpful to repair photos & videos that get corrupt during the process of transfer, editing or conversion.
"The global launch coincides with 25th anniversary of Stellar and we have now a new brand identity to commemorate the same. Today, we step into a new era of data care as Stellar 2.0, with a renewed focus on Innovation, Customer Care and Trust," said Manoj Dhingra, Director, Stellar.
"These brand new versions of our 4 flagship products bring increased recovery speeds, enhanced performance, simplicity of use, reliability and functionality to our already impressive range of B2C data recovery software," said Kuljeet Singh, Director, Stellar.
"From our humble beginning in 1993, today Stellar is acknowledged globally as a leader in Data Care Category offering solutions for data recovery, file repair, data migration and data erasure. The new Product roll out today reaffirms our long term commitment to our valued customers, building upon our 25 year experience as data care experts. We will continue to innovate and offer world-class solutions to our customers to enable them to get maximum from their digital lifestyle," said Sunil Chandna, CEO, Stellar.
Key features of the new data recovery software range
All 4 software products are built with innovative features for simplicity of use, effectiveness, speed, and overall value for the customers. These products are available with special India pricing across the website and also at all leading e-tailers and resellers. Customers can enjoy Free Trial of these softwares by downloading & scanning from the website http://www.stellarinfo.co.in.
Stellar Photo Recovery Premium edition is the world's first software that not just recovers photos, videos, and audio files, but also repairs videos and photos. The DIY software recovers photos lost from digital cameras, memory cards, SD cards, USB Sticks/Flash drive, external/internal hard drives. It supports recovery and repair of RAW file formats of all leading camera brands. (Starting at INR 2,499 and available in 3 editions: Standard, Professional and Premium)
Stellar Data Recovery a powerful DIY software to recover data from all types of Windows® devices – PCs, laptops, ultrabooks etc. Suitable for recovering documents, emails, photos, videos, and audio files, quickly and easily. (Starting at INR 2,999 and available in 4 editions: Standard, Professional, Premium and Technician)

Most promising features includes; Optical Media Recovery (a powerful feature to recover data from a scratched, corrupt or partially burnt optical media such as CDs and DVDs)and SMART Drive Monitoring and Cloning (tracks the key attributes – temperature, drive health, and performance – of a hard drive to help avoid data loss due to impending failure)

Stellar Data Recovery for Mac is World's easiest DIY Mac data recovery software for tough data loss situations. Highly capable to recover lost or deleted data from any type of Mac devices; iMac, MacBook Air, MacBook Pro, Mac Pro and compatible storage media- hard drives, fusion drives, SSDs, SD cards, USB flash drives, and more. Now also supports the APFS file system for macOS Mojave, High Sierra and previous versions. Most advanced features include Disk Imaging for Quick Recovery and Customized Scanning. (Starting at INR 5,999 and available in 3 editions: Professional, Premium and Technician)
Stellar Data Recovery for iPhone DIY software to recover Photos, Text, Videos, Chat, Contact, etc. from any iPhone, iPad and iPod running the latest iOS 11. User can also restore files from iTunes and iCloud backup by directly logging in to iCloud account. (Starting at INR 2,499 and available in 3 editions: Standard, Standard Plus and Technician.)
For more details Stellar Data Recovery | Stellar Data Recovery for Mac
Stellar Photo Recovery | Stellar Data Recovery for iPHONE
Ric Edelman's Advisor Blockchain and Cryptoassets Council Kicks off Barron's Independent Advisor Summit
Reading Time:
1
minute
Ric Edelman, one of the nation's most prominent financial advisors and creator of The Advisor Blockchain and Cryptoassets Council, held the third meeting of this growing group of influencers on March 20 at the Grand America Hotel in Salt Lake City.
Firms presenting at the event included Multicoin Capital, Bitgo, Digital Assets Data, FRST Corporation, ZenLedger, Gemini and Perkins Coie.
Immediately following the morning meeting, ABCC partnered with Barron's to stage the Blockchain and Cryptoasset pre-event, in conjunction with the Barron's Top Independent Advisor Summit. The event offered Continuing Education Credits to those in attendance.
Nearly 80% of the financial advisors attending the event said they know little to nothing about blockchain and cryptoassets, and 97 percent said they do not recommend cryptoassets to clients.
"The lack of knowledge by so many of the nation's leading financial advisors demonstrates the urgency of teaching advisors about this important emerging asset class," said Edelman, who has been named three times by Barron's as the nation's #1 Independent Financial Advisor. He noted that 80 percent of the advisors surveyed said clients are asking them about cryptoassets and added, "Advisors who can't answer their clients' questions about bitcoin will lose credibility with their clients, and they may end up losing the clients."
Edelman gathered experts from many of the leading firms in the field. Kingdom Trust was the premiere sponsor. Additional sponsors included Bitwise Investments, Blockforce Capital, Fidelity Digital Assets, Grayscale Investments, Orion Advisor Services, Pantera Capital, State Street Global Advisors and Van Eck.
ABCC is developing additional conferences. To learn more, go to www.advisorbcc.com.
SOURCE Advisor Blockchain and Cryptoasset Council
Leonovus Raises $2.2 Million CAD Through Successful Warrant Exercise
Reading Time:
2
minutes
Leonovus Inc., ("Leonovus or the Company") (TSXV: LTV) (OTC: LVNSF) today announces since September 30, 2018 it has received gross proceeds of $2,201,550 CAD from the exercise of warrants prior to their expirations on March 10 and March 20, 2019. All warrants issued by the company that matured on March 10 or March 20, 2019 have now been exercised or expired.
"Leonovus is privileged to have strong support from our investor community as demonstrated by the successful warrant exercise with over 92% of the warrants being exercised," said Michael Gaffney, CEO of Leonovus. "This additional capital will help our efforts to grow revenues and become a major provider of software solutions for the distributed storage market."
The March 2019 warrants, that were exercised or expired, eliminated the overhang on the Company's capital structure, positioning the structure for clean appreciation as revenues increase. There remain 13,750,000 warrants that expire on December 8, 2019 at an exercise price of $0.65 CAD.
This press release may contain forward-looking statements and information, which may involve risks and uncertainties.  The results or events predicted in these statements may differ materially from actual results or events. Factors that might cause a difference include, but are not limited to, competitive developments, risks associated with Leonovus' growth, the state of the financial markets, regulatory risks and other factors. There can be no assurance or guarantees that any statements of forward-looking information contained in this release will prove to be accurate. Actual results and future events could differ materially from those anticipated in such statements.  These and all subsequent written and oral statements containing forward-looking information are based on the estimates and opinions of management on the dates they are made and expressly qualified in their entirety by this notice. Unless otherwise required by applicable securities laws, Leonovus disclaims any intention or obligation to update or revise any forward-looking statements, whether as a result of new information, future events or otherwise.  Readers should not place undue reliance on any statements of forward-looking information that speak only as of the date of this release.  Further information on Leonovus' public filings, including its most recent audited consolidated financial statements, are available at www.sedar.com.
Neither TSX Venture Exchange nor its Regulation Services Provider (as that term is defined in policies of the TSX Venture Exchange) accepts responsibility for the adequacy or accuracy of this release.
SOURCE Leonovus Inc.
Suzy Says: Consumers Are More Likely To Learn About Healthy Food Trends From Social Media Than News Sources
Reading Time:
2
minutes
Suzy, a leading consumer insights platform that provides "actionable insights at the speed of culture," asked U.S. consumers where they are most likely to first hear about the latest in healthy food trends. The results, powered by the platform's on-demand network of more than one million consumers, may surprise you. Regardless of their interest in health, all survey respondents are most likely to hear about the latest in healthy food trends from their friends, family or social media, as opposed to television, blogs, magazines or online news sources.
Below are Suzy's in-depth findings on the ways consumers are most likely to first hear about healthy food trends.
Suzy says healthy eaters are most likely to learn about the latest healthy food trends via the following:
Facebook – 17 percent
Instagram – 15 percent
Friends or Family – 13 percent
Blogs – 8 percent
Television – 8 percent
Non-healthy eaters are most likely to learn about the latest healthy food trends via the following:
Facebook – 20 percent
Friends or Family – 19 percent
Instagram – 10 percent
Online News Sources – 10 percent
Television – 10 percent
"These results highlight the power that the collective voice of consumers has in today's marketplace," said Matt Britton, founder & CEO of Suzy. "When social networks play a larger role in alerting consumers to healthy food trends than traditional media outlets, you can see how important it is to create products, packaging, brands and advertisements that truly resonate with your target audience, and inspire them to share the information with others."
Called the "Siri for brands," Suzy is a consumer intelligence platform that unlocks critical consumer insights to help organizations make better and more informed decisions—faster. Like having a focus group right in your pocket, Suzy brings the voice of real consumers directly to brands within minutes, so they can better understand their customers.
The platform currently serves some of the biggest brands in the world, including Coca-Cola, Procter & Gamble, Johnson & Johnson, Citibank, Verizon, Nintendo and Nestle. These leading companies validate critical assumptions with Suzy, so they can focus on creating compelling new products, developing effective marketing strategies, and validating direct offers that increase conversions and drive growth.
This survey was conducted online within the United States by Suzy on survey was run from Feb 27-28. This online survey is not based on a probability sample and therefore no estimate of theoretical sampling error can be calculated. To download the full white paper with additional results, click here. For complete survey methodology please contact Kyle Kim-Hays at kylek@suzy.com.
SOURCE Suzy