The Legendary Hyatt Regency Bali is Relaunched After a Five-years Facelift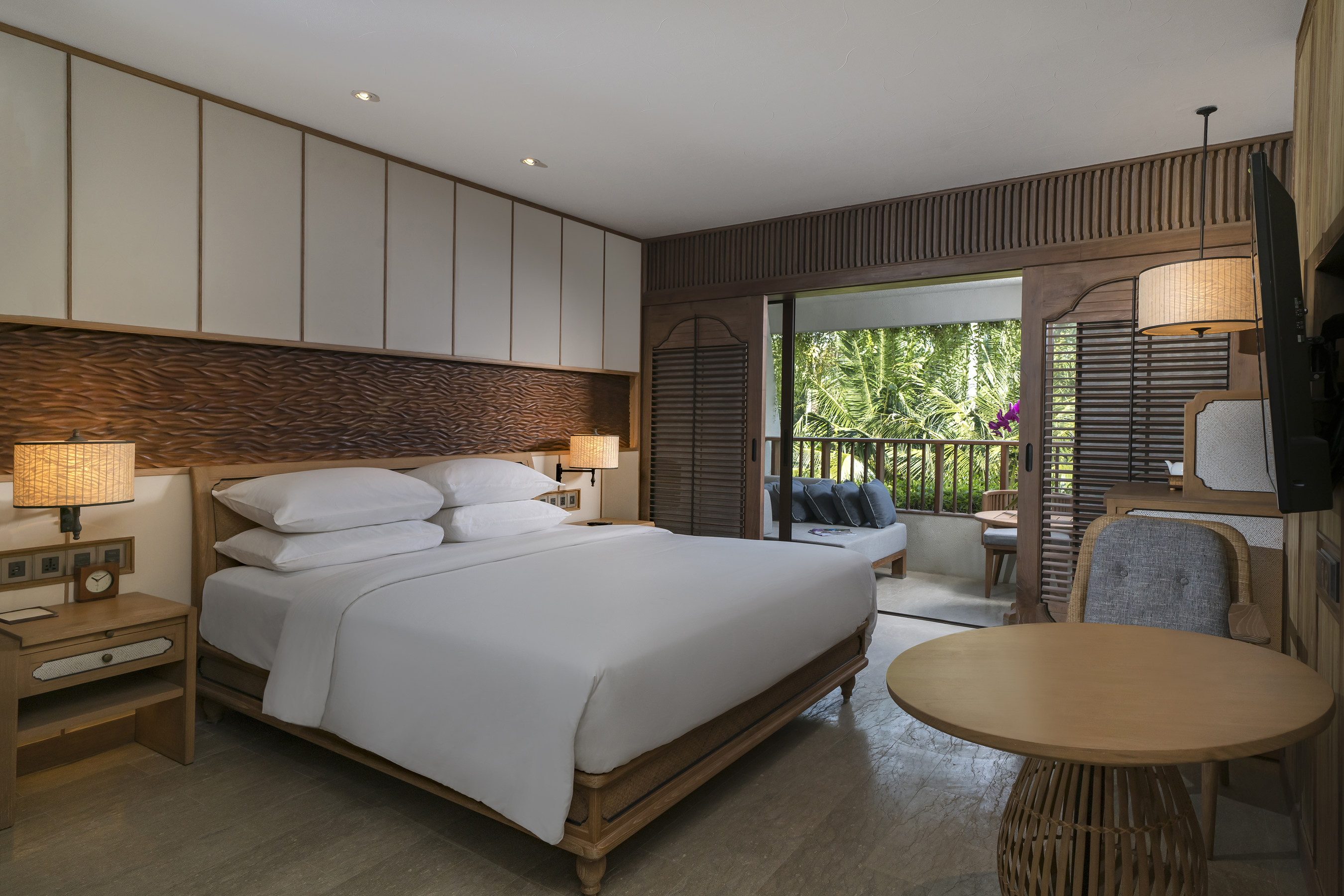 Reading Time:
3
minutes
On December 20, 2018, the 45-year-old Grande Dame of Balinese hospitality Bali Hyatt reopens as Hyatt Regency Bali.
To view the full multimedia release, click here: https://www.prnasia.com/mnr/hyatt_2018.shtml
When the original Bali Hyatt opened in November 1973, it was the very first international hotel to open on the island and a pioneer of Indonesian-style architecture.
Once considered the most luxurious and stylish hotel on the island the hotel had gone through multi-million dollar extensive upgrade and modernisation. Hyatt Regency Bali is aiming to evoke the same sense of awe and admiration in its guests as it did 45 years ago, while maintaining the much-loved Balinese aesthetic of the original.
"After this period of extensive renovations, we are thrilled to be able to reveal a new and improved Hyatt Regency Bali to the public," says General Manager Zulki Othman. "We look forward to greeting new guests and also welcoming back our former guests who we believe will appreciate that we've managed to upgrade all the structures and facilities while retaining the hotel's original Balinese design and spirit. We are truly blessed to occupy this incredible beachfront location surrounded by lush greenery and it's great that it can be fully enjoyed once again."
Location
A mere 22-minute drive from Ngurah Rai International Airport, spread across nine hectares of land, Hyatt Regency Bali is one of the largest hotel development in Sanur, known for its gardens originally designed by the famed tropical landscape artist Made Wijaya. Featuring over 500 plant species, the hotel gardens have graced the pages of multiple landscaping and coffee-table books and during the renovations, all mature trees and as much of the plants as possible were preserved.
In addition, Hyatt Regency Bali fronts onto 500 metres of beach — among the widest beachfront in Sanur.
Design
The overall design mimics the style of Bali Hyatt. The lobby for example, is almost identical with Bali Hyatt's with its terracotta tiles, chandelier, statues, and stairs. Throughout the hotel,old design elements of Bali Hyatt are integrated in fresher, new setting – carvings placed behind check-in desk, batik stamps from old guestrooms are repurposed into artwork at Regency Club Lounge.
Rooms
Hyatt Regency Bali houses 363 rooms spanning 27-81 square metres, each featuring a private balcony overlooking the lush gardens or Indian Ocean. The hotel further includes 39 one-bedroom suites with spacious balconies up to 70 square metres in size. With a separate living room that can accommodate an extra bed and an additional powder room with a shower, the suites are ideal for families and groups. In addition, booking a suite include access to the Regency Club Lounge offering a private concierge and complimentary breakfast, all-day snacks and evening cocktails and canapés.
Drinking and dining venues
Hyatt Regency Bali showcases three open-air drinking and dining venues, each aiming to offer authentic, competitively priced food and drink utilising the freshest and finest ingredients available, local and organic wherever possible. The entire resort aims to minimise its environmental impact and the venues use minimal plastic, opting instead for paper straws, recyclable coffee cups and bags made from bagasse (sugar-cane pulp).
Omang Omang is the hotel's all-day dining space offering comfort food from Indonesia and around the world. Alongside views of the gardens and pools, Omang Omang will serve a buffet breakfast, resort favourites all day and charcoal-grilled seafood and prime cuts come evening, as well as what it considers the best Es Campur (coconut shaved ice) in town.
For stunning sea views and sundowners, Pizzaria is hard to beat. The casual drinking and dining venue overlooking Sanur Beach specialises in pasta cooked a la minute, pizza baked in wood-fired ovens, frozen cocktails and Italian sodas muddled with fresh fruit and herbs.
Against a backdrop of rindik (Balinese music) musicians by day and piano accompaniment by night, Piano Lounge is ideal for a quiet drink, casual business meeting or social gathering. Continuing the Indonesia tradition of arisan, where ladies congregate, a signature afternoon tea will be served alongside barista-made Indonesian coffee and loose-leaf tea.
Activities
Being Bali, there is of course no shortage of ways to enjoy the verdant natural surroundings. Hyatt Regency Bali offers three swimming pools right by the beach: a Lap Pool; a shallow Children's Pool; and a Main Pool surrounded by bounteous overhanging bougainvillea where guests can swim through a replica of Goa Gajah — the 9th-century 'elephant cave' temple near Ubud — carved out of volcanic rock.
Meanwhile, guests will feel their stresses slip away even before they arrive at Shankha Spa, as they approach the venue via open-air walkways surrounded by ponds. The vast complex comprises ten spa suites — each a mini spa within itself — housing a treatment area, relaxation area, shower, changing room, vanity area and private garden with an outdoor whirlpool ideal for watsu (aquatic massage) treatments.
Elsewhere, guests will discover a second lap pool overlooked by a reclining statue of Ganesh; an open-air Juice Bar where they can replenish lost electrolytes after an intense workout; a Yoga Studio; outdoor hot and cold plunge pools; and a relaxation area.
For the young ones, Hyatt Regency Bali offers Camp Hyatt. Once inside, kids will discover an outdoor playground, an indoor playroom filled with toys and games, and a programme designed to both entertain and educate with Balinese arts, crafts and cultural activities.
Shankha Spa and Camp Hyatt are due to open on 1st quarter of 2019.
Half Moon Jamaica Kicks Off 65th Anniversary Celebration
Reading Time:
2
minutes
Half Moon, the legendary destination resort and 400-acre beachfront oasis in Jamaica, is kicking off its 65th anniversary celebrations with new packages, culinary offerings, experiences and more. For 65 years, Half Moon has been the chosen resort for royalty, presidents, world-class entertainers and generations of loyal guests seeking privacy, luxury and tranquility.
What began as a 35-acre property with a hotel and modest cottages is now one of the Caribbean's most iconic destinations, offering guests award-winning accommodations, exceptional dining and warm hospitality. This unique brand of hospitality translates to personal and heartfelt service from Half Moon's team of more than 830 associates. Many members of the Half Moon family have been with the resort for decades, including Wordsworth Watson, the longest-serving tourism worker in Jamaica who was acknowledged by the Jamaica Tourist Board and recently celebrated his 60thanniversary at Half Moon.
"Since opening our doors in 1954, Half Moon has been known for its warm Jamaican hospitality infused with superlative comfort and luxury, and now it is time for us to honor our iconic Caribbean resort," said Guy Steuart III, Chairman of Half Moon. "We've attracted the world's discerning travelers by offering the finest experience in the Caribbean as well as the utmost privacy, intimacy and distraction and we are thrilled to welcome future generations of guests as we celebrate our 65 years of heritage."
Half Moon will celebrate its 65th anniversary throughout 2019, which is set to include a range of special promotions and property updates. As a nod to the anniversary, guests can take advantage of Half Moon's  special 6 for 5 promotion stay six nights for the price of five. The package includes a complimentary round of golf at Half Moon's 18-hole championship course, designed by Robert Trent Jones Sr., and a complimentary spa treatment at the Fern Tree Spa, an award-winning natural oasis. Guests booking this special offer can also experience a variety of activities including the thrilling Positive Empowerment equine experience, outdoor yoga pavilion, a meditation labyrinth and more.
The resort has also unveiled the newly-opened Ital Café. This vegan café is a naturist's dream where guests can enjoy a menu of freshly-made smoothies desserts and dishes including Viva Pizza made with sunflower spelt crust, cashew cheese and tomato mulberry marinara sauce, as well as Jerk Eggplant Steak battered in Cheesy Pumpkin Seed and Sweet Spice Seasoning.
As part of the transformation in celebration of Half Moon's 65th anniversary, debuting in 2019, Half Moon will additionally welcome 57 new guestrooms and suites, an expanded beachfront with a natural swimming cove, an adults-only swimming pool, three new bars and two new restaurants—the elegantly-appointed seafood restaurant Delmare, and The Great House Restaurant, specializing in buffet and freshly prepared dishes for breakfast, lunch and dinner.
For the latest updates and information on Half Moon's 65th anniversary please visit Half Moon's newly launched blog www.halfmoon.com/65th-anniversary.
SOURCE: Half Moon
"Artist in Hotel" Project B2F Elevator Hall Completed at Park Hotel Tokyo
Reading Time:
2
minutes
 Park Hotel Tokyo announced on February 19 that the elevator hall which was created as an extra production of the "Artist in Hotel" project is complete.
The "Artist in Hotel" project is Park Hotel Tokyo's version of "Artist in Residence" programs, whereby Japanese artists stay at the hotel and paint on walls and ceilings in guest rooms based on the concept "beauty of Japan." In 2017, the project was honored at the Japan Tourism Awards.
Artist OZ-Yamaguchi Keisuke, who worked on "Artist Room Kabuki" for the "Artist in Hotel" project, painted the second-basement floor elevator hall under the theme of "HAZAMA (interstitial space)." This means that the "spatial beauty" unique to Japan can now be enjoyed in the key space that welcomes guests to the hotel.
Park Hotel Tokyo General Manager Takayuki Suzuki said:
"The entrance connecting the mundane to 'Infinite time and space amid cognizant Japanese beauty' has been reborn. We invite guests to feast their eyes on the uniquely Japanese aesthetics of 'HAZAMA'."
Park Hotel Tokyo Art Project Manager Yoshitomo Fujikawa said:
"The completion of this art installation of the elevator hall is indeed befitting of an art hotel. We hope that all visitors will enjoy this."
Park Hotel Tokyo hopes that more guests will enjoy the "beauty of Japan" through this new art work in the form of an elevator hall.
Park Hotel Tokyo, opened in 2003, is located on the 25th floor and above in the Shiodome Media Tower. The 25th floor has the lobby and reception desk besides restaurants and a bar. The city's view can be enjoyed through the windows behind the reception desk. There are 270 guest rooms, located from the 26th to 34th floors. In 2013, Park Hotel Tokyo put forth a new concept, "Infinite time and space amid cognizant Japanese beauty." In line with this, every room on the 31st floor is decorated and turned into Artist Rooms, based on the theme "Beauty of Japan." To offer a memorable experience in various parts of the stay, Park Hotel Tokyo will continue to maximize the role of Japanese aesthetics and hospitality.
SOURCE: Park Hotel Tokyo
IHG® Welcomes Six Senses Hotels Resorts Spas to its Family of Brands
Reading Time:
3
minutes
IHG® (InterContinental Hotels Group), one of the world's leading hotel companies, has welcomed a new family member to its portfolio of brands, with the acquisition of Six Senses Hotels Resorts Spas.
Six Senses is renowned for its focus on wellness and sustainability, with each hotel and resort set in locations of incredible natural beauty that will stop you in your tracks, delivering an uncompromising level of service that will stay with you long after you've left. All of which has been recognized through a host of industry awards and accolades* including Travel+Leisure (World Best Award, Top Hotel Brand for two years in a row), TIME Magazine, Conde Nast Traveler and Skift to name a few.
Featuring properties in 12 countries, Six Senses is behind some of the world's most enticing hotels, resorts and spas, including: a 19th-century wine estate in the Douro Valley (Portugal), breathtaking island resorts in the Seychelles and Maldives, beach-side retreats in Indonesia, Thailand, Vietnam and Oman, a city escape in Singapore, and residences in the mountains of Courchevel (France).
Six Senses joins a growing number of luxury brands in the IHG family, including:
InterContinental® Hotels & Resorts, the world's largest luxury hotel brand, which recently celebrated the opening of its 200th hotel and was named World's Leading Hotel Brand title for the 12th time at the World Travel Awards (WTA). This is a brand dedicated to those who appreciate and enjoy The InterContinental Life – the glamour and exhilaration of fascinating places, mixed with international know-how and local cultural wisdom.
Regent® Hotels & Resorts, also recently acquired and now undergoing a repositioning which celebrates the brand's deep luxury heritage and revered legacy. Born in 1970, this collection of modern hotels and resorts is rooted in extraordinary living, with a legacy of luxury that endures to this day.
Kimpton® Hotels & Restaurants, the industry pioneer that first introduced the boutique concept to the U.S. The brand is now set to open in 20 new global destinations including 

Mexico City

, 

Paris

, 

Barcelona

, 

Bali

 and 

Shanghai

, each of which will showcase bold, playful design, award-winning dining and surprising amenities to ensure guests have the ultimate boutique hotel stay.
Across IHG's four leading luxury brands, guests can now enjoy nearly 300 luxury hotels around the world, with more than 100 set to open in the coming years.
As part of the IHG family, Six Senses is expected to expand to 60 properties within the next 10 years. This includes incredible new Six Senses hotels and resorts from a restored 14th-century fort in Rajasthan, to villas on a private island in Cambodia, and the brand's first hotel in North America – a contemporary duo of twisting towers designed by Bjarke Ingles near the High Line in Manhattan's West Chelsea.
IHG's Chief Executive Officer, Keith Barr, said: "IHG's growing portfolio of luxury brands is a collection of the very best in the travel industry. Each one offers something unique to our guests, and together they offer an unparalleled choice of locations and experiences. We're incredibly proud to welcome Six Senses into our family of brands and look forward to opening more stunning hotels, resorts and spas – each one staying true to Six Senses' world-renowned reputation for wellness and an unwavering commitment to purposeful travel."
Core to every Six Senses hotel and resort is a Six Senses Spa, where guests can relax, reconnect, and completely refresh. Guests are guided on a personal path to finding harmony and balance, to ensure positive and lasting benefits. Unique to the hospitality sector, Six Senses has also taken wellness out of the spa and integrated it across the entire stay, helping guests learn something new and reconnect with themselves, others, and the world around them.
"This is an exciting new era for Six Senses," said Six Senses Chief Executive Officer, Neil Jacobs. "IHG believes in our purpose to merge the two platforms of wellness and sustainability to promote personal health, and the health of the planet. Joining forces with IHG means we can use a wealth of systems and operational excellence to grow our brand and reach new markets without losing our quirky personality and playful touch."
In the near future guests will be able to book their Six Senses stay through IHG's booking platforms, such as the ihg.com website and the company's leading mobile app, and benefit from the advantages of the IHG® Rewards Club loyalty programme.
With 15 of the world's leading hotel brands and more than 5,500 hotels around the world, IHG offers travelers and members of its global loyalty programme IHG® Rewards Club, a hotel stay for all travel occasions.
SOURCE IHG (InterContinental Hotels Group)