iChongqing: Direct Flight Launched Between Paris and Chongqing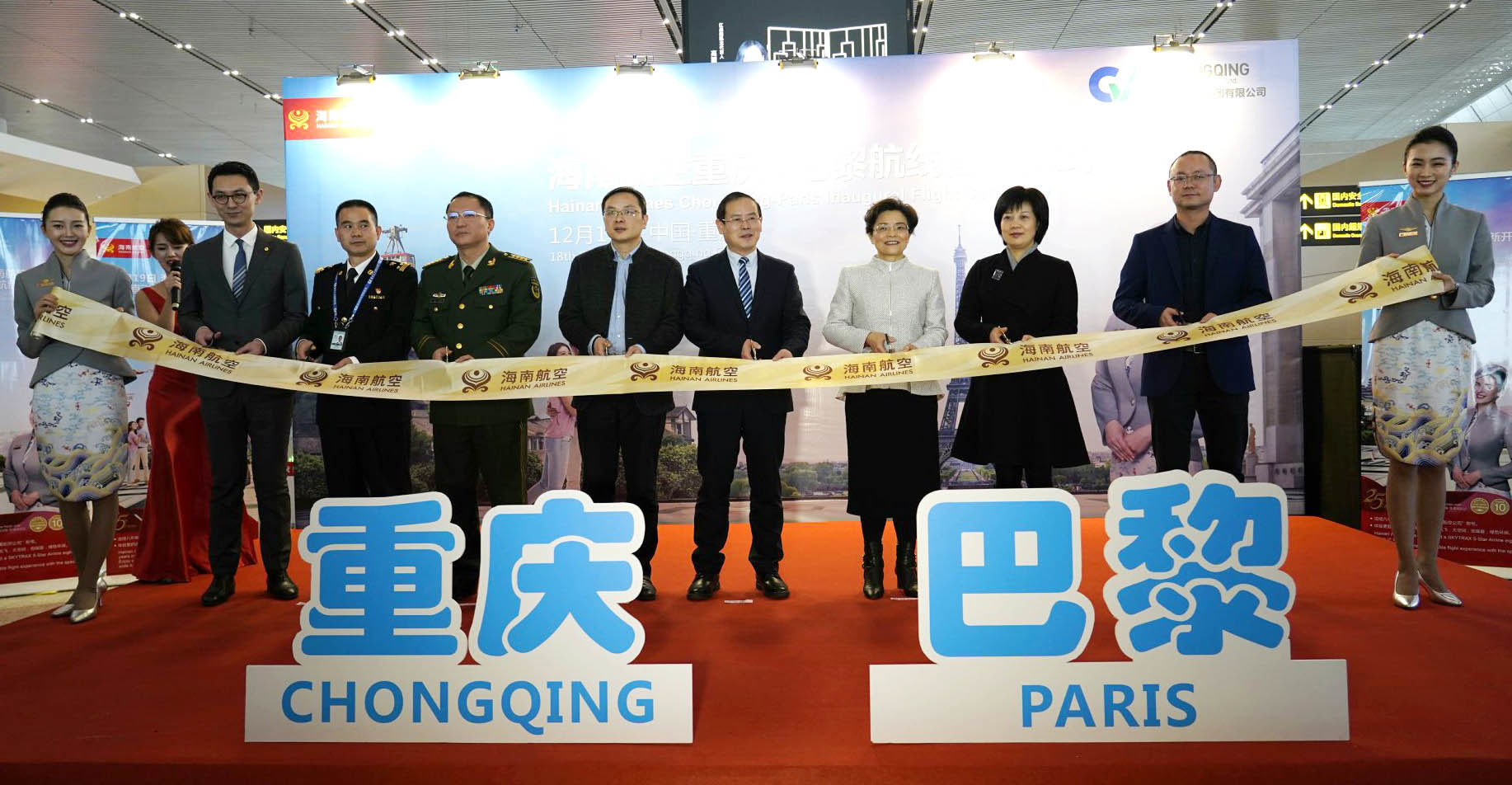 Reading Time:
2
minutes
At 1:30 am Beijing time on December 19th, a Boeing 787 carrying more than 100 passengers left Chongqing Jiangbei International Airport and started its 12-hour flight to Paris. This was the first flight on the new non-stop route between the two cities. At 1 pm local time in Paris, another Boeing 787 took off from Charles de Gaulle Airport headed towards Chongqing, one of China's southwest megacities.
Save Time and Money
This new route is operated by Hainan Airlines, one of the largest carriers in China. The 12-hour non-stop flight will make traveling between Chongqing and Paris much easier, saving both time and money for Chinese passengers wanting to experience Paris' famed romance. This route is the second direct international flight from Chongqing to Europe by Hainan Airlines, their first being to Rome, Italy.
There are now six direct flights between Chongqing and European destinations, and you can now fly directly to Chongqing, China, from London, Rome, Helsinki, Paris, Moscow and Irkutsk, making traveling between Europe and Chongqing much easier and more efficient.
100 International Air Routes by 2020
According to the Chongqing Municipal Transportation Bureau, Jiangbei International Airport has already opened routes from Chongqing to Seattle, and Boston via Shanghai earlier in this month. In addition, we are likely to see two non-stop flights and four connecting flights soon from Chongqing to North America, forming a network of 2-4 routes, with up to 18 flights weekly, connecting Chongqing to both the east and west coasts of North America.
Additionally, Chongqing has added more flights to Southeast Asia and other surrounding destinations closer to China. By the end of 2018, the total number of international routes from Chongqing will exceed 80 and should reach more than 100 by 2020, creating a comprehensive network of flights reaching destinations in Europe, the United States and Australia.
By 2020, it is estimated that Chongqing Jiangbei International Airport will handle upwards of 50 million passengers a year, with 5 million traveling internationally, while cargo volume will increase to about 1 million tons. The airport is set to become one of the largest transportation hubs for passengers as well as cargo in China.
Win a Free Trip to Chongqing
For this occasion, the Chongqing International Media Center (www.iChongqing.info) is hosting a lucky draw, offering a free trip to Chongqing that includes a round-trip ticket provided by Hainan Airlines, three nights of free hotel and visits to six of Chongqing's most famous and spectacular attractions. To enter the lucky draw, please follow iChongqing's twitter account @iChongqing_CIMC and retweet this message: https://bit.ly/2S40zsA. You can also read more about the campaign at iChongqing: https://bit.ly/2Br394H.
Automotive Digital Cockpit Market Worth $35.9 Billion by 2025 – Exclusive Report by MarketsandMarkets™
Reading Time:
2
minutes
According to the new market research report "Automotive Digital Cockpit Market by Equipment (Digital Instrument Cluster, Advanced Head Unit, HUD, Camera Based Driver Monitoring System), Vehicle Type (Passenger & Commercial Vehicle), EV Type (BEV, HEV, & PHEV), and Region – Global Forecast to 2025″, published by MarketsandMarkets™, the Automotive Digital Cockpit Market is projected to grow at a CAGR of 13.59% during the forecast period, to reach USD 35.9 billion by 2025 from an estimated USD 14.7 billion in 2018. The demand for convenience and comfort features in automobiles has grown steadily. Growing consumer awareness and demand for personalized user experience are expected to drive the growth of the Automotive Digital Cockpit Market.
Get 10% Free Customization on this Report:
https://www.marketsandmarkets.com/requestCustomizationNew.asp?id=56470878
Browse in-depth TOC on "Automotive Digital Cockpit Market"
81 – Tables
52 – Figures
151 – Pages  
Advanced head unit, by equipment, is estimated to hold the largest market share during the forecast period.
The advanced head unit is estimated to be the largest segment of the Automotive Digital Cockpit Market during the forecast period. OEMs have started offering this feature as a standard fit in their mid-priced and luxury vehicle segments. This is fueling the growth of the Automotive Digital Cockpit Market for advanced head unit. Moreover, advanced head unit in luxury and ultra-luxury vehicles offers premium features such as gesture recognition and voice recognition. Increasing sales of premium vehicle segment is a key factor driving the market for automotive digital cockpit.
Passenger vehicle segment of the Automotive Digital Cockpit Market is estimated to be the fastest growing segment, by vehicle type, from 2018 to 2025
The passenger vehicle segment of the Automotive Digital Cockpit Market is estimated to be the fastest growing segment. The increasing adoption of advanced digital cockpit equipment such as a digital instrument cluster, advanced head unit, head-up display, and camera-based driver monitoring, especially in luxury and mid-sized vehicles in North America and Europe, will boost the demand for automotive digital cockpit.
Europe to be the largest market for automotive digital cockpit in 2025
Europe is projected to be the largest market for automotive digital cockpit in 2025. Regulations related to E-call and rising demand for a digital experience inside the vehicle cockpit are expected to drive the market for automotive digital cockpit. The trend of electronic control unit (ECU) consolidation and use of domain controller to operate modern cockpit features are the other factors driving the market for automotive digital cockpit.
Buy Now:
https://www.marketsandmarkets.com/Purchase/purchase_reportNew.asp?id=56470878 
The Automotive Digital Cockpit Market is dominated by globally established players such as Visteon (US), Continental (Germany), Robert Bosch (Germany), Denso (Japan), Garmin (US), and Magna (Canada).
 Browse Related Reports:
Automotive HUD Market by Technology (AR-HUD, Conventional HUD), HUD Type (Combiner, Windshield), Vehicle Class (Economy, Mid-Segment, Luxury Car), Dimension (2D and 3D), Vehicle Type, and Region: Global Forecast to 2025
Automotive Hypervisor Market by Type (Type 1 and Type 2), Vehicle Type (PC, LCV, and HCV), End User (Economy, Mid-Priced, and Luxury), Level of Autonomous Driving (Autonomous and Semi-Autonomous), Bus System, and Region – Global Forecast to 2025 
SOURCE MarketsandMarkets
Winnipeg Richardson International Airport Unveils North America's First Autonomous Airport Snowplow
Reading Time:
1
minute
Winnipeg Richardson International Airport introduced 'Otto', the first autonomous airport snowplow in North America. The plow is the result of a partnership with Manitoba companies Northstar Robotics Inc. and Airport Technologies Inc. (ATI).
'Otto' is a specially designed ATI Snow Mauler configured to operate autonomously using Northstar Robotics technology. The plow performs snow clearing tasks by following predetermined routes and controlling the plow blade at specific locations.
Today marks a significant milestone for the project, as the vehicle can now operate autonomously in less complex areas of the airport. Research and development continue, with the next step being the operation of the plow in additional areas of the airport.
Otto is equipped with 3D LIDAR and RADAR that can sense its surroundings and detect obstacles.  The plow is also equipped with a fault tolerant wireless emergency stop system, a further safety enhancement.
"Launching North America's first autonomous snowplow is a great achievement for Winnipeg Richardson International Airport," said Barry Rempel, President and CEO of Winnipeg Airports Authority. "Our success is a direct result of bringing together partners who are committed to lead transportation innovation and growth."
"Autonomous technology is changing how we work," added Shawn Schaerer, President and Founder of Northstar Robotics. "It is exciting to partner with companies that are ready to adapt and pioneer this cutting-edge technology."
"ATI is proud to be part of the team breaking new ground in snow clearing technology," said ATI's President, Brendon Smith. "We are excited to continue to find new ways to incorporate autonomous technology into our equipment."
SOURCE Winnipeg Airports Authority Inc.
Prestige Imports and ICON Aircraft Partner to Showcase the ICON A5 in South Florida
Reading Time:
2
minutes
ICON Aircraft, maker of the revolutionary ICON A5 Light Sport Aircraft, today announced a partnership with Brett David and Prestige Imports, a leading luxury car dealership in North Miami Beach, FL. The ICON A5 will be available in the Prestige Imports 2.0 showroom as part of the Prestige Aviation division.
Together, ICON Aircraft and Prestige Imports will introduce adventure flying and personal aviation to customers who until now had likely never considered becoming pilots. The plane will be displayed in the dealership showroom alongside high-end exotic vehicles such as Paganis and Lamborghinis, with dedicated specialists ready to engage with customers.
"Our customers crave ways to enjoy life and unlock what was believed to be unattainable adventures," said Brett David, CEO of Prestige Imports. "Since 1977, we have come to deeply understand the South Florida luxury lifestyle and the ICON A5 fits perfectly. The partnership with ICON reinforces Prestige Imports' dedication to luxury transportation on land, air and sea."
"This partnership with Prestige Imports reinforces our mission to redefine what it means to be a pilot and expand the bounds of personal aviation," said Mike Farley, VP of Sales and Marketing for ICON Aircraft. "Much like the exotic cars in the showroom, the ICON A5 is unreal. Flying with the windows out, wind in your hair, is a visceral experience. The ICON A5 enables you to explore the planet in ways you've only dreamed about."
To inspire a new generation of flyers, ICON designed the A5 to reconnect people with the pure joy of flying. Much like the exotic cars on the Prestige Showroom floor, the A5 is painstakingly crafted for performance, from its industry-leading safety features such as a full plane parachute to a cockpit that minimizes complexity.  And the A5 requires only a sport pilot license to fly, which takes about half as long as a private pilot license to earn.
Prestige Imports is located at 14800 Biscayne Blvd, in the heart of North Miami Beach. Through the end of April, ICON is offering a special Mentor Pilot Program that includes up to $15,000 of credit toward an ICON Flight Instructor in the first year of ownership with the purchase of an A5. Terms and conditions apply. For more information, email iconaircraft@prestigeimports.com.
Photo source: SOURCE ICON Aircraft