iChongqing: Direct Flight Launched Between Paris and Chongqing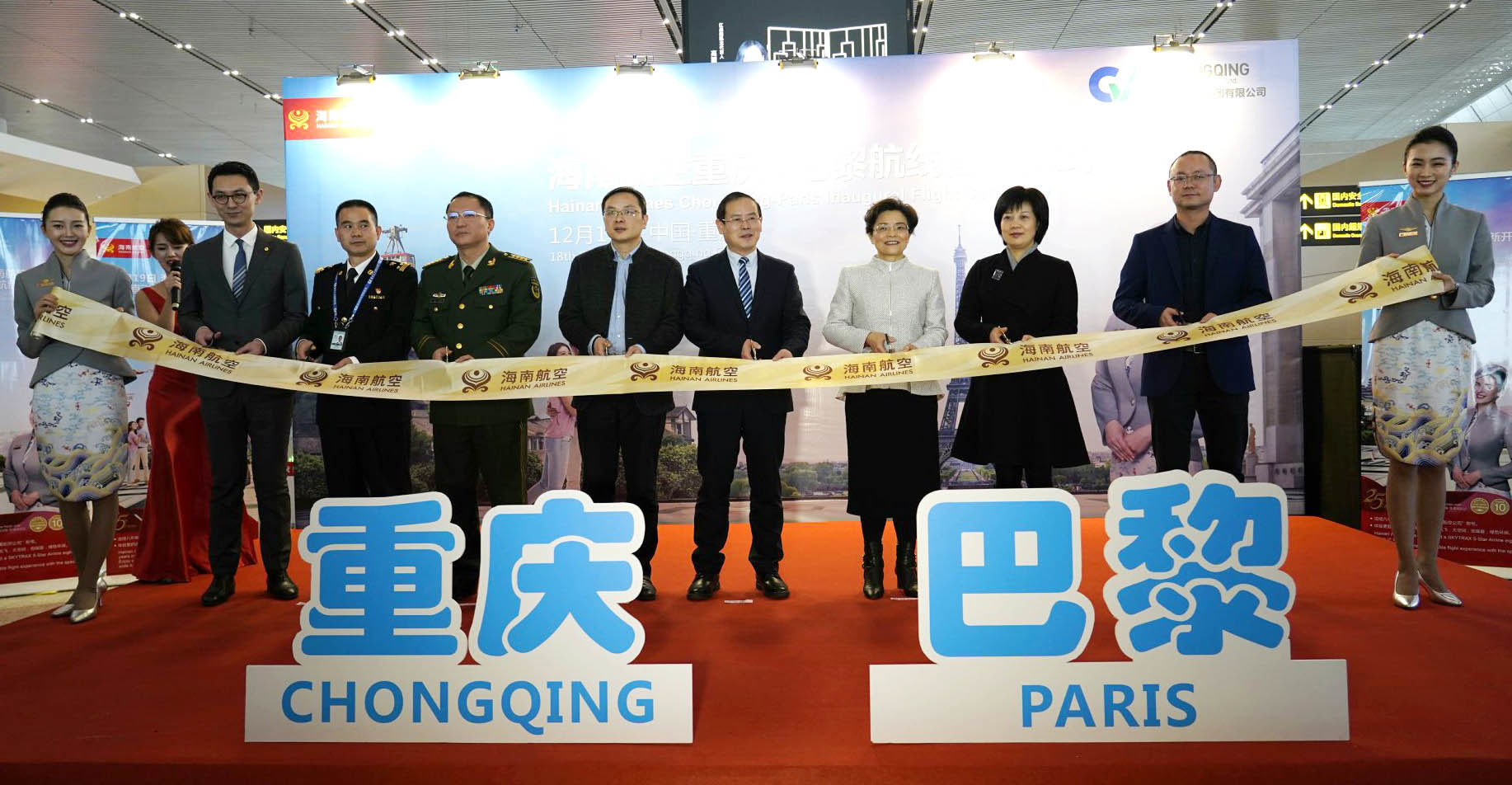 Reading Time:
2
minutes
At 1:30 am Beijing time on December 19th, a Boeing 787 carrying more than 100 passengers left Chongqing Jiangbei International Airport and started its 12-hour flight to Paris. This was the first flight on the new non-stop route between the two cities. At 1 pm local time in Paris, another Boeing 787 took off from Charles de Gaulle Airport headed towards Chongqing, one of China's southwest megacities.
Save Time and Money
This new route is operated by Hainan Airlines, one of the largest carriers in China. The 12-hour non-stop flight will make traveling between Chongqing and Paris much easier, saving both time and money for Chinese passengers wanting to experience Paris' famed romance. This route is the second direct international flight from Chongqing to Europe by Hainan Airlines, their first being to Rome, Italy.
There are now six direct flights between Chongqing and European destinations, and you can now fly directly to Chongqing, China, from London, Rome, Helsinki, Paris, Moscow and Irkutsk, making traveling between Europe and Chongqing much easier and more efficient.
100 International Air Routes by 2020
According to the Chongqing Municipal Transportation Bureau, Jiangbei International Airport has already opened routes from Chongqing to Seattle, and Boston via Shanghai earlier in this month. In addition, we are likely to see two non-stop flights and four connecting flights soon from Chongqing to North America, forming a network of 2-4 routes, with up to 18 flights weekly, connecting Chongqing to both the east and west coasts of North America.
Additionally, Chongqing has added more flights to Southeast Asia and other surrounding destinations closer to China. By the end of 2018, the total number of international routes from Chongqing will exceed 80 and should reach more than 100 by 2020, creating a comprehensive network of flights reaching destinations in Europe, the United States and Australia.
By 2020, it is estimated that Chongqing Jiangbei International Airport will handle upwards of 50 million passengers a year, with 5 million traveling internationally, while cargo volume will increase to about 1 million tons. The airport is set to become one of the largest transportation hubs for passengers as well as cargo in China.
Win a Free Trip to Chongqing
For this occasion, the Chongqing International Media Center (www.iChongqing.info) is hosting a lucky draw, offering a free trip to Chongqing that includes a round-trip ticket provided by Hainan Airlines, three nights of free hotel and visits to six of Chongqing's most famous and spectacular attractions. To enter the lucky draw, please follow iChongqing's twitter account @iChongqing_CIMC and retweet this message: https://bit.ly/2S40zsA. You can also read more about the campaign at iChongqing: https://bit.ly/2Br394H.
Unbabel supports easyJet to create international customer service 'super agents'
Reading Time:
2
minutes
Unbabel, the AI-powered, human-refined Translation-as-a-Service platform, has partnered with easyJet, Europe's leading airline, to drive new efficiencies and improved service to its customers across multiple languages.
Unbabel is enabling the airline to offer near real-time translation of customer chat and enquiry tickets, in up to 29 languages, via its unique machine translation technology. This is opening up more languages to easyJet and increasing customer satisfaction within existing customer bases.
The translation platform is also equipping easyJet to deal effectively with a wider customer base ensuring their queries are handled quickly and efficiently without the need to wait for human translators or relying on internet translations.
Since late 2018, all of easyJet's Dutch and German live chat has been handled by English speakers using the AI-powered platform and during that time customer satisfaction has increased 4.2% when compared to languages served by native speakers. Additionally, German rose from 5th to 2nd in terms of popularity of language within easyJet customer enquiries.
An initial pilot project ran over two months in 2017, coinciding with easyJet's busiest annual period, and challenged Unbabel to provide near real-time translation of customer enquiries. Through adopting the translation-as-a-service platform, easyJet observed an improvement in average handling time for enquiries.
Karen Cox, Director of Ground Operations & Customer Management Centres, at easyJet, said: "Unbabel's solution helps to maintain a high level of quality and customer satisfaction and provides us with flexibility during language spikes. Our Unbabel-powered 'super agents' are ensuring that we stay agile as a company and means that we are now able to offer everyone the same high-level customer journey. With a major drive to deliver value on behalf of the customer, we feel confident that Unbabel offers the best solution."
Vasco Pedro, CEO of Unbabel, commented: "In 2019, more and more businesses are waking up to the fact that they are operating in an ever more multilingual market. When customer satisfaction is at the top of the business agenda, being able to serve customers immediately in their native language represents a great competitive advantage. We're delighted to partner with easyJet, and have already seen a demonstrable impact on customer satisfaction and customer retention metrics."
Cox added: "Knowing that Unbabel has the integrated AI and human platform to support the user journey really demonstrated the warmth and care we look for in our customer service."
Looking to the future, Unbabel is set to help easyJet move into further new markets, with plans to accommodate customers from countries such as China and the Nordics. The airline will also invest in messaging to a far greater degree, serving customers through channels like WhatsApp, Facebook Messenger, and Apple Business Chat. As a result of Unbabel's, easyJet customer advisers will continue their exposure to new geographies and markets, as well as building experience with disruptive new technologies like AI and Machine Learning.
Flight Centre Becomes Largest Individual Shareholder in The Upside Travel Company
Reading Time:
2
minutes
Flight Centre Group (ASX:FLT), continues to strengthen its rapidly growing global corporate travel business, today announcing a strategic investment in The Upside Travel Company ("Upside"), the corporate travel company launched in 2017 by Priceline founder Jay Walker.
FLT's investment is for a 25% interest in Upside which will see it become the business's largest individual shareholder providing access to Upside's travel technology platform and software development resources. As part of the agreement, the parties also entered into a commercial deal that covers cooperation on various distribution initiatives that combine FLT's deep understanding of the corporate travel space with Upside's powerful technical assets.
With this deal, FLT improves its technology capabilities, specifically in the small-and-midsize corporate market. FLT plans to leverage Upside's technology platform to continue the digital enablement of its Corporate Traveler business, pairing the proficiency of its people with cutting edge artificial intelligence and machine learning models. The investment also adds Washington, DC to the expanding global list of FLT "Lab" locations following the recent investment in Bangkok-based 30SecondsToFly, and the acquisition of the award-winning mobile app Sam :] in Barcelona last month.
"We have been impressed by the capability and flexibility of Upside's technology and team to improve the business traveler experience. Its use of machine learning models to dynamically price business travel packages in real-time to save clients money while increasing traveler options is just one example of Upside's best in class technology," according to Dean Smith, President of FLT's Americas operations.
For Upside, the deal substantially bolsters the company's product offering to the small corporate market, where it will continue to operate under the Upside brand. Access to FLT's supplier relationships and global reach expands Upside's inventory and enhances its ongoing software development with a broader set of travel data inputs.
"FLT is the perfect partner for Upside as we get aggressive in serving small corporate clients. Not only does FLT's global scale, content, and experience immediately make our product more complete, but FLT's people and expertise also make us smarter, which is key as we accelerate into the future." said Jay Walker, CEO of Upside.
The Upside product will soon take advantage of the emerging standards called Next-Generation Storefront, which are being developed by ATPCO in collaboration with airline and industry leaders. Incorporating the new standards for product display is a top post-investment priority for both parties and is expected to take place in Q2 of 2019. "It's promising to see FLT and Upside work together on providing the best traveler experience possible by making NGS a priority so flight shoppers can compare like-type products on third party channels. We're inspired to see so many channels taking a step forward to transform flight shopping" said Gianni Cataldo, Head of Research & Development, at ATPCO.
Jefferies LLC served as the sole financial advisor to Upside.
SOURCE Flight Centre Travel Group (Canada) Inc.
Global Survey Shows Travellers Still Struggle With Lack of Information About Delayed and Cancelled Flights, Says Cirium
Reading Time:
3
minutes
New survey reveals well over a third of travellers have had to pay more to make alternative travel plans following a delayed flight
Nearly two thirds would be likely to use an app which alerted family, friends and work colleagues if their flight was disrupted
Cirium, the aviation data and analytics experts, say flight delays and cancellations cost airlines over 

US$30bn

 a year
Over a third of global travellers (36%) say they don't get enough information about delayed and cancelled flights, according to aviation and data analytics experts at Cirium.
A new survey for Cirium reveals the impact of flight delays and cancellations and the need for better management of flight disruption, with more communication via proactive flight updates for affected passengers.
Almost two thirds (61%) of those surveyed said that they would be likely to use an app which alerted their friends, family or company about their delay.
In 2018, approximately 3.9 million flights – or 10,700 a day – were delayed by over 30 minutes or cancelled globally, affecting more than 470 million passenger journeys around the world.
Flight delays and cancellation cost airlines globally US$30bn a year in lost revenue, in addition to costs borne by their passengers.
Airline flight delays and cancellations are caused by a wide range of factors, such as technical issues with aircraft, bad weather, air traffic control problems, strikes, medical diversions and congested airports, among many others.
The global YouGov study conducted for Cirium in the UK, US, UAE and China, showed more than a third of travellers worldwide (35%) who had experienced a delayed or cancelled flight, did not find it easy to change their travel plans, with well over a third (40%) left out of pocket after being forced to pay more to make alternative travel plans.
Airlines also had to bear the massive cost of disruption with flight delays and cancellations costing the equivalent of US$7 for every departing passenger – slightly less than the airline's net profit per person per departing flight.
Jeremy Bowen, Cirium Chief Executive Officer, said: "Flight delays and cancellations are an unfortunate aspect of modern air travel and can have a big impact on travellers, whether flying for business or leisure. We recognize that the cost of disruption for airlines is also a significant problem. While our survey reveals well over a third of passengers still have to pay more for alternative travel plans, airlines can proactively issue flight alerts ahead of travel and re-allocate tickets without fees to take the sting out of flight disruption. We all want to travel stress free and get people to where they want to go, which is why at Cirium we work closely with airlines around the world on initiatives which reduce the impact of disrupted flights."
The survey revealed nearly two thirds (57%) of those polled only found out about their flight delay or cancellation once they had reached the airport. When asked 29% said that they would prefer to be informed about a delay through a text alert with another two thirds (61%) saying they would use an app which alerted their friends, family or company about their delay.
More than double (48%) said that they would be most frustrated if their leisure flight was delayed or cancelled compared to the 21% who would be most frustrated if a business flight was cancelled.
Over a third of global travellers would be most sympathetic if a flight was disrupted due to bad weather (35%) followed by technical issues with their aircraft (30%). However, only a tiny 5% would be most sympathetic with delays or cancellations due to problems caused by air traffic control.
Cirium enables the wider travel industry to manage the impact of disruption with intelligent data and analytics solutions. For example, Cirium analyzes more than 70 million passenger journeys annually to provide meaningful insights and keep the travel industry in motion.
This data is used by a wide range of customers, such as airlines and airports, to improve the travel experience by smart devices and metasearch engines, like Google, Amazon and Expedia, to provide information directly to passengers, enabling them to make more informed choices when on the move.
Cirium's data and analytics divisions have been the first to bring innovative solutions to market, such as the first to automate the ticket waiver process during times of flight delays and cancellations.
It employs over 400 technologists, analysts, data scientists and market experts in the UK, US, Europe, Middle East, Indiaand Asia-Pacific.
The group has significantly grown in recent years with the acquisition of leading data intelligence companies, including Ascend, Innovata, Diio and FlightStats.
SOURCE Cirium