New Cinebeam Laser 4K Projector From LG With Ultra Short Throw Technology Debuts At CES 2019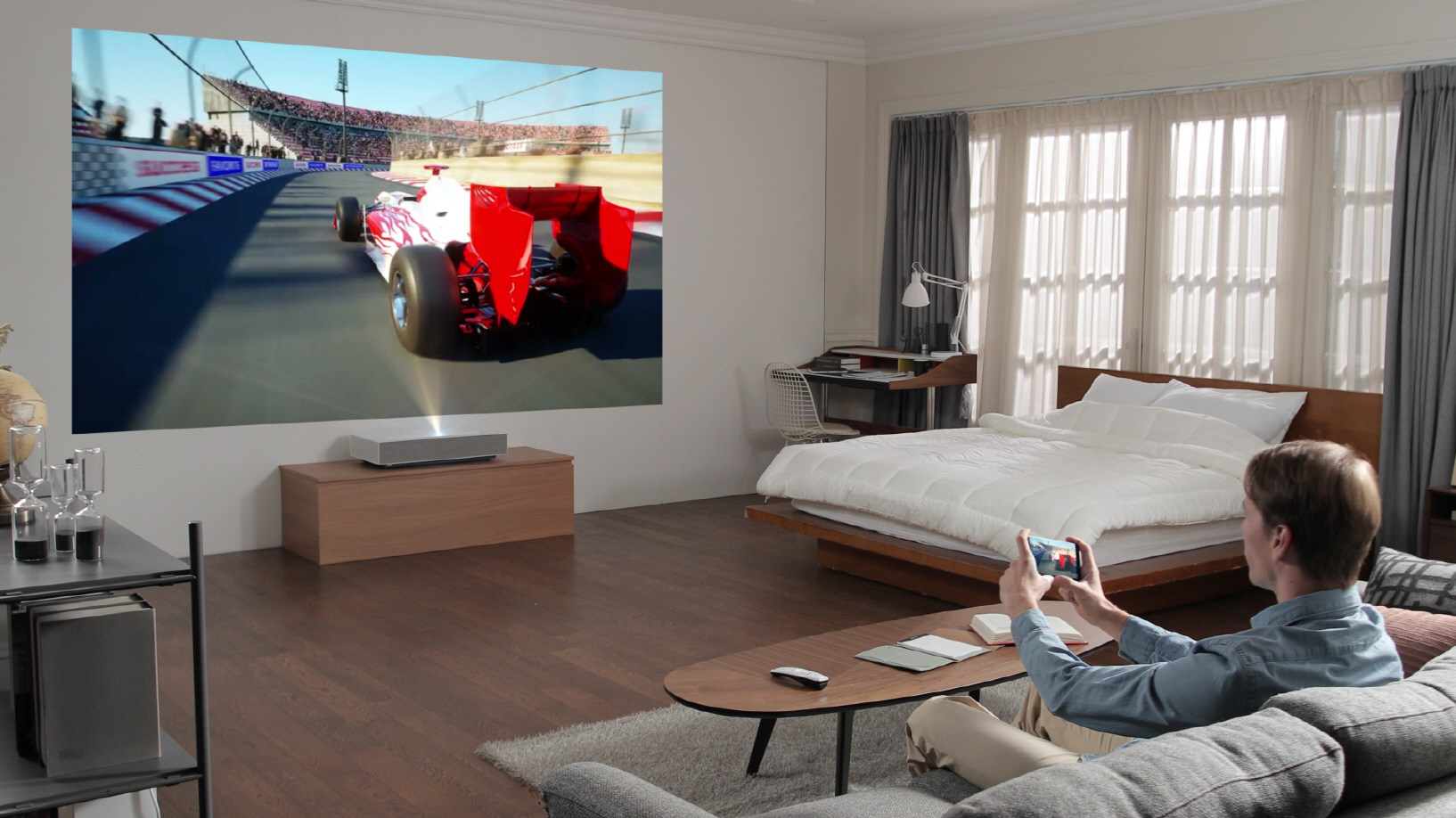 Reading Time:
2
minutes
LG's Latest CineBeam Offers Astonishing Image Quality, Ultimate Convenience and AI Technology for a Superior Viewing Experience
LG Electronics (LG) is set to unveil its second-generation CineBeam Laser 4K projector (model HU85L) with Ultra Short Throw (UST) technology at CES™ 2019. This CES 2019 Innovation Award winner builds upon the success of LG's first 4K projector (model HU80K) and continues to stand out from the crowd with its minimal space requirement and compact design that can project stunningly sharp 4K images on practically any flat surface – a wall, floor or ceiling.
With UST technology, LG CineBeam Laser 4K can be placed a little more than 2 inches from the wall to project a 90-inch diagonal image. Placed 7 inches away, the projector produces a much larger and still bright 120-inch image. Simple and efficient to set up, the space-friendly unit provides stunning viewing experiences on a truly cinematic scale.
Delivering 2,500 ANSI lumens and 4K UHD resolution, LG CineBeam Laser 4K ensures exceptionally bright and clear images and superb black level, enhancing the viewer's sense of immersion. LG model HU85L can reproduce highly accurate colors courtesy of its wide color gamut, which further increases the realism of every picture displayed.
Extremely compact, the projector can be easily moved and adjusted for any environment, saving time in order to get right down to the business of viewing. The LG CineBeam Laser 4K is smaller than other leading 4K projectors and has a subtle design that won't distract or interfere with the viewing experience – and makes the LG HU85L an attractive addition to any space. The advanced projector offers enhanced visual accuracy with a 12-point keystone adjustment feature, eliminating the image distortion that often affects other UST projectors. LG 4K UHD projector owners will have no shortage of content to watch, as the projector's webOS 4.5 function offers convenient access to Netflix, Hulu and other 4K streaming services. The device comes equipped with standard connectivity options for USB, Ethernet and HDMI ports, as well as wireless support for external devices such as a keyboard and mouse, offering endless access to high-quality content.
The LG CineBeam Laser 4K brings maximum user convenience through the inclusion of AI technology*which enables customers to use voice commands to access the natural language processing capabilities of LG's AI solution, ThinQ. Viewers can control the operation of the projector by saying, "turn off projector after the movie has finished" or narrow the content to view by telling the projector to "play yoga videos on YouTube". Viewers can access a list of movies starring their favorite actors then select the content by speaking into the included Magic Remote. The Magic Remote also recognizes gestures and features backlit buttons for easy navigation which turn on automatically when motion is detected.
"The new CineBeam Laser projector marries spectacular 4K viewing experience with the convenience of AI technology," said Jang Ik-hwan, head of LG's IT business division. "There is no other product like this on the market, illustrating how LG continues to deliver unique value to consumers."
Visitors to CES can see LG's award-winning CineBeam Laser 4K for themselves at the LG booth (#11100) located in the Central Hall of the Las Vegas Convention Center from January 8-11.
For additional CES news, visit ces2019.lgusnewsroom.com.
* Not available in all markets.
Ric Edelman's Advisor Blockchain and Cryptoassets Council Kicks off Barron's Independent Advisor Summit
Reading Time:
1
minute
Ric Edelman, one of the nation's most prominent financial advisors and creator of The Advisor Blockchain and Cryptoassets Council, held the third meeting of this growing group of influencers on March 20 at the Grand America Hotel in Salt Lake City.
Firms presenting at the event included Multicoin Capital, Bitgo, Digital Assets Data, FRST Corporation, ZenLedger, Gemini and Perkins Coie.
Immediately following the morning meeting, ABCC partnered with Barron's to stage the Blockchain and Cryptoasset pre-event, in conjunction with the Barron's Top Independent Advisor Summit. The event offered Continuing Education Credits to those in attendance.
Nearly 80% of the financial advisors attending the event said they know little to nothing about blockchain and cryptoassets, and 97 percent said they do not recommend cryptoassets to clients.
"The lack of knowledge by so many of the nation's leading financial advisors demonstrates the urgency of teaching advisors about this important emerging asset class," said Edelman, who has been named three times by Barron's as the nation's #1 Independent Financial Advisor. He noted that 80 percent of the advisors surveyed said clients are asking them about cryptoassets and added, "Advisors who can't answer their clients' questions about bitcoin will lose credibility with their clients, and they may end up losing the clients."
Edelman gathered experts from many of the leading firms in the field. Kingdom Trust was the premiere sponsor. Additional sponsors included Bitwise Investments, Blockforce Capital, Fidelity Digital Assets, Grayscale Investments, Orion Advisor Services, Pantera Capital, State Street Global Advisors and Van Eck.
ABCC is developing additional conferences. To learn more, go to www.advisorbcc.com.
SOURCE Advisor Blockchain and Cryptoasset Council
Leonovus Raises $2.2 Million CAD Through Successful Warrant Exercise
Reading Time:
2
minutes
Leonovus Inc., ("Leonovus or the Company") (TSXV: LTV) (OTC: LVNSF) today announces since September 30, 2018 it has received gross proceeds of $2,201,550 CAD from the exercise of warrants prior to their expirations on March 10 and March 20, 2019. All warrants issued by the company that matured on March 10 or March 20, 2019 have now been exercised or expired.
"Leonovus is privileged to have strong support from our investor community as demonstrated by the successful warrant exercise with over 92% of the warrants being exercised," said Michael Gaffney, CEO of Leonovus. "This additional capital will help our efforts to grow revenues and become a major provider of software solutions for the distributed storage market."
The March 2019 warrants, that were exercised or expired, eliminated the overhang on the Company's capital structure, positioning the structure for clean appreciation as revenues increase. There remain 13,750,000 warrants that expire on December 8, 2019 at an exercise price of $0.65 CAD.
This press release may contain forward-looking statements and information, which may involve risks and uncertainties.  The results or events predicted in these statements may differ materially from actual results or events. Factors that might cause a difference include, but are not limited to, competitive developments, risks associated with Leonovus' growth, the state of the financial markets, regulatory risks and other factors. There can be no assurance or guarantees that any statements of forward-looking information contained in this release will prove to be accurate. Actual results and future events could differ materially from those anticipated in such statements.  These and all subsequent written and oral statements containing forward-looking information are based on the estimates and opinions of management on the dates they are made and expressly qualified in their entirety by this notice. Unless otherwise required by applicable securities laws, Leonovus disclaims any intention or obligation to update or revise any forward-looking statements, whether as a result of new information, future events or otherwise.  Readers should not place undue reliance on any statements of forward-looking information that speak only as of the date of this release.  Further information on Leonovus' public filings, including its most recent audited consolidated financial statements, are available at www.sedar.com.
Neither TSX Venture Exchange nor its Regulation Services Provider (as that term is defined in policies of the TSX Venture Exchange) accepts responsibility for the adequacy or accuracy of this release.
SOURCE Leonovus Inc.
Suzy Says: Consumers Are More Likely To Learn About Healthy Food Trends From Social Media Than News Sources
Reading Time:
2
minutes
Suzy, a leading consumer insights platform that provides "actionable insights at the speed of culture," asked U.S. consumers where they are most likely to first hear about the latest in healthy food trends. The results, powered by the platform's on-demand network of more than one million consumers, may surprise you. Regardless of their interest in health, all survey respondents are most likely to hear about the latest in healthy food trends from their friends, family or social media, as opposed to television, blogs, magazines or online news sources.
Below are Suzy's in-depth findings on the ways consumers are most likely to first hear about healthy food trends.
Suzy says healthy eaters are most likely to learn about the latest healthy food trends via the following:
Facebook – 17 percent
Instagram – 15 percent
Friends or Family – 13 percent
Blogs – 8 percent
Television – 8 percent
Non-healthy eaters are most likely to learn about the latest healthy food trends via the following:
Facebook – 20 percent
Friends or Family – 19 percent
Instagram – 10 percent
Online News Sources – 10 percent
Television – 10 percent
"These results highlight the power that the collective voice of consumers has in today's marketplace," said Matt Britton, founder & CEO of Suzy. "When social networks play a larger role in alerting consumers to healthy food trends than traditional media outlets, you can see how important it is to create products, packaging, brands and advertisements that truly resonate with your target audience, and inspire them to share the information with others."
Called the "Siri for brands," Suzy is a consumer intelligence platform that unlocks critical consumer insights to help organizations make better and more informed decisions—faster. Like having a focus group right in your pocket, Suzy brings the voice of real consumers directly to brands within minutes, so they can better understand their customers.
The platform currently serves some of the biggest brands in the world, including Coca-Cola, Procter & Gamble, Johnson & Johnson, Citibank, Verizon, Nintendo and Nestle. These leading companies validate critical assumptions with Suzy, so they can focus on creating compelling new products, developing effective marketing strategies, and validating direct offers that increase conversions and drive growth.
This survey was conducted online within the United States by Suzy on survey was run from Feb 27-28. This online survey is not based on a probability sample and therefore no estimate of theoretical sampling error can be calculated. To download the full white paper with additional results, click here. For complete survey methodology please contact Kyle Kim-Hays at kylek@suzy.com.
SOURCE Suzy