Live Nation Acquires Argentina's Leading Concert Promoter DF Entertainment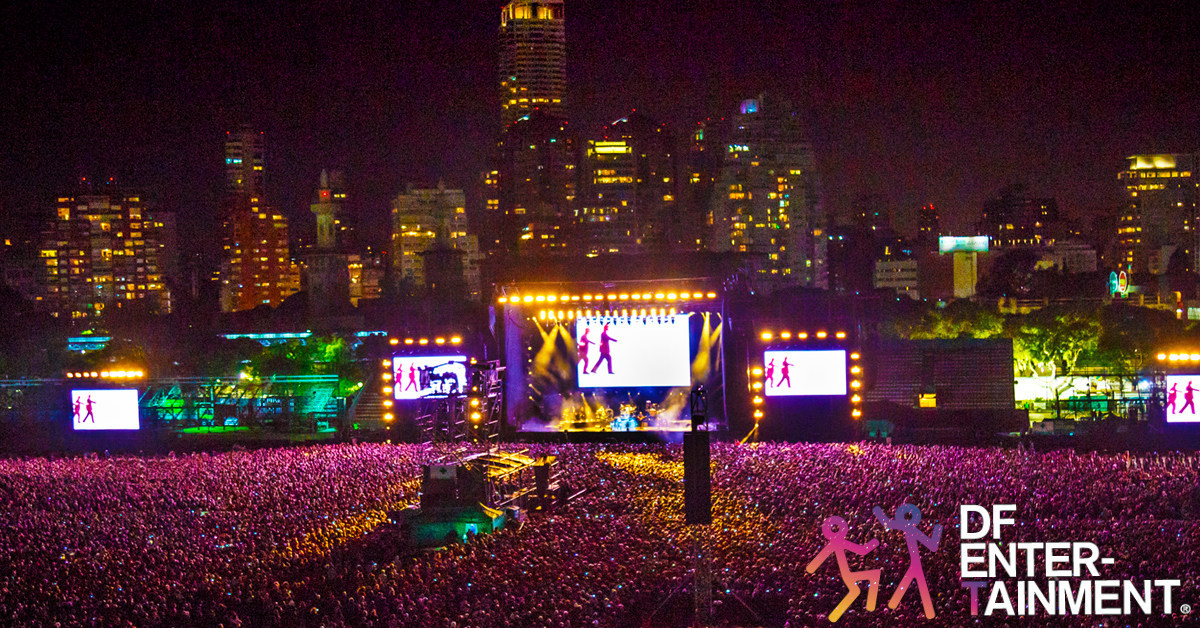 Reading Time:
2
minutes
Live Nation Entertainment, the world's leading live entertainment company, announced today that it has acquired a majority stake in DF Entertainment, one of Argentina's top independent concert promoters. The companies plan to combine DF Entertainment's broad reach and regional expertise with Live Nation's extensive resources to continue growing live entertainment offerings throughout Argentina. The Buenos Aires-based company sold more than 500,000 tickets to events in 2018, and oversees a rapidly growing lineup of artists for both concerts and festivals.
Founded and owned by Diego Finkelstein, DF Entertainment helped pioneer the Argentinian live music industry. DF Entertainment will continue to oversee all operations throughout its varied portfolio, ranging from concert promotion, music festival production, ticketing services, and equity in local venues.
Over the past several years, DF Entertainment and Live Nation co-promoted many shows, bringing big name international acts such as Coldplay, Bon Jovi, Foo Fighters, Ariana Grande and Phil Collins to the region. DF also serves as the trusted local partner, promoter, and ticketing provider for Lollapalooza Argentina, in partnership with C3 Presents, a Live Nation Entertainment owned company.
"The demand for concerts and live events across South America has never been higher, and the local insight of Diego and the DF Entertainment team will help us connect more artists and fans throughout Argentina than ever before," said Michael Rapino, President and CEO, Live Nation Entertainment. "DF Entertainment has proven to be an amazing partnerand the premier promoter in Argentina, and we're glad to have them join the Live Nation family after many years working together."
"Argentina's live music industry continues to flourish, and together with Live Nation, so will DF Entertainment," said Finkelstein. "I'm very proud of our team and can't wait to see our event lineup grow even more with the support and resources of Live Nation behind us."
Live Nation has continued to see a growing demand for concerts throughout Latin America, with more global tours traveling to, and selling out shows, in the region each year. The company has been actively focused on building its profile and scope in the region through local business development and tour booking teams.
For a full list of DF Entertainment's upcoming tours and concert dates visit: http://dfentertainment.com/events.
Thor Industries Provides Update On Erwin Hymer Group Acquisition
Reading Time:
1
minute
Thor Industries, Inc. (NYSE:THO) today provided an update on its pending acquisition of the Erwin Hymer Group (EHG). The Company announced that Thor and the sellers are finalizing discussions to exclude EHG's North American operations from Thor's purchase of EHG. Thor and EHG are currently negotiating appropriate revisions to the terms of the stock purchase agreement including adjustments to the purchase price and assumed liabilities as a consequence of the exclusion of EHG's North American operations.
Upon completion of the current negotiations, Thor will provide an update regarding the changes to the financial terms of the agreement resulting from the exclusion of the EHG's North American operations from the transaction. The revised terms are expected to include, among other things, both a reduction in the purchase price and a reduction in the obligations the Company would have otherwise assumed under the terms of the original stock purchase agreement, as well as a reduction in the acquisition financing debt the Company has syndicated to fund the purchase. The equity consideration component of the purchase price is not anticipated to change and the negotiated adjustments are expected to be made within the terms of the Company's committed acquisition debt financing agreements.
The combination of Thor and EHG will create the world's largest RV manufacturer, with leading positions in both North America and Europe. EHG's European operations, which represent the vast majority and core of EHG's operations, were and are the driving strategic rationale for the acquisition. The acquisition of EHG will provide attractive growth opportunities for the Company, both in the near and long term, through EHG's access to the growing European RV market.
Thor noted that it has received all requisite regulatory approvals. Thor expects that its purchase of EHG will be completed within the Company's fiscal third quarter
Objectway Acquires Algorfin From Unione Fiduciaria
Reading Time:
2
minutes
Objectway, the leading Fintech group in Italy and one of the premier European players in software and services for the wealth, investment and asset management industries, acquired Algorfin, the software and services division of Unione Fiduciaria S.p.A.
Algorfin is specialised in IT and administrative outsourcing services for Asset Management Companies, Custodian Banks and other financial operators, through the Archimede, Diogene and Archimede Governance software platforms.
Archimede is the leading solution for the complete management of open-end and closed-end investment funds, including investors' management, NAV calculation, compliance and any type of regulatory compliance required. Diogene supports the management of all the activities of a Custodian in the fund management area. Archimede Governance allows Asset Management Companies to perform all the checks required by the European UCITS V regulations. Moreover, Algorfin provides administrative services for back-office management and accounting to some of the premier Italian Asset Management Companies.
A team of over 100 Milan-based, highly specialised professionals from Algorfin join the Objectway Group, which reaches approximately €75 million of annual consolidated revenues following this latest acquisition.
In addition to its core business, Unione Fiduciaria will continue to carry out IT and administrative services for trust companies and to provide its own application software to support control functions and whistleblowing managers.
"This is a significant acquisition for our Group – declared Luigi Marciano, CEO of Objectway – as it consolidates our position as leader in the Italian market for Banks, Asset Management companies, Brokers and Custodian Banks, with a comprehensive offer that covers their application needs and opens new growth opportunities in Italy and other markets."
"Unione Fiduciaria has identified in Objectway a solid and reliable partner to pass the baton for the development of the Algorfin business. With this sale, the process of focusing on fiduciary activity, the company's core business, continues and accelerates. This operation allows Unione Fiduciaria to invest additional resources for expansion and thus continue a path already started several years ago," commented Filippo Cappio, Managing Director of Unione Fiduciaria.
Objectway partially financed the operation, with the support of UBI Banca and Unicredit, as lending banks, and with the assistance of Marco Carbonara from Hi.lex and of Simmons & Simmons, as legal advisors. For the execution of the deal, Objectway was assisted by: UBI Banca, as financial advisor; Giovannelli e Associati, as legal advisor; Russo De Rosa Associati, as tax advisor; Accuracy for carrying out the financial due diligence. Unione Fiduciaria was assisted by Synpulse, as strategic advisor; by KPMG Advisory as financial advisor, KPMG for the vendor due diligence, and by Grimaldi as legal advisor.
Now, Get Free Access to Indian Tenders at TendersOnTime
Reading Time:
5
minutes
TendersOnTime is breaking new ground by providing detailed information of Indian Tenders, EOI (Expression of Interest), E Procurement, E Tender, RFP, EOI, bidding, online auctions and RFQ on daily basis. TendersOnTime, the most trusted and authentic source of Global Tenders updates its subscriber with various information, related with Public Procurement, in a timely manner.
Through its professional team, partners and experts in public procurement domain, TendersOnTime also makes it possible that key information is processed efficiently and in timely manner.
Sanjay Vyas, Co-founder and CEO of Global Tenders Services Pvt. Ltd., the company behind TendersOnTime, says, "We offer free web access to all Indian firms for Tenders that are floated in India. We believe a free web access will help five crore SMEs and large Indian firms grow faster. We firmly believe in India's growth story. Our end-to-end Bid Facilitation and Consultancy Services that we provide with the help of our local agents in 40+ countries is created to empower our clients from India." Mr. Vyas further informed that apart from serving individual suppliers, contractors, consultants; they also provide tenders and other procurement opportunities in bulk to entities like: Associations, Chamber of Commerce, Industry specific portals/verticals, Content aggregators, Export Promotion Councils/organizations, trade bodies etc. The information is available to content syndication industry as well, on very nominal charges.
Need for One Stop Shop
If there is one customer who will keep buying at all times, it is the government. Typically, governments across the globe spend 10-20% of their GDP on public procurement. The total GDP of the whole world in 2017 was around 128 Trillion USD (as per World Bank report 2017). If the average public procurement spend is calculated at 15% of GDP, it translates in to a whopping 19.20 Trillion USD worth of business opportunities every year. This is huge.
All government buying is more specifically called Public Procurement. The word 'Public' implies that the procurement is being done for the public from money received in the form of taxes. Since the procurement officers have to deal with public money, it is imperative for them to maintain transparency and efficiency. Thus, it ensures that the procurement activity is undertaken with sufficient caution, and that the funds are utilized judiciously and efficiently.
Every country has its own set of rules/legislations for public procurement. Procurement methods adopted by the World Bank are supposed to be the best; and adopted by many other funding agencies and local governments, may be with a few modifications/localizations.
Almost across all countries, it is mandatory for all governments and quasi-government organizations to publish their procurement information in local newspapers, national newspapers, own website, funding agency websites etc. The objective is to get maximum circulation of their buying requirement and hence attract wider participation. The first such notice published is known as the 'Tender Notice'.
In the pre-Internet era, these buying requirements/tenders/opportunities could not be circulated to a wider supplier base, and hence the competition used to be very thin. Common methods used to be: faxes, embassies, local agents etc. But with the advent of the Internet, collection, collation and dissemination of this information to suppliers as per their profile, have not only become faster, but also easier.
The question here is should the businesses from India, the sixth largest economy of the world, be looking only for local demand? If the business unit is good enough to be a vendor to the government of India, it should be good enough for most other countries as well. There are going to be similar opportunities in other parts of the world, particularly the developing nations of Asia and Africa. There is a need to access the information about opportunities, with complete details and on right time.
In India alone, one will be surprised to know that the Indian government (including all PSUs, Ministries, State Governments, etc.) spends whopping 470 billion USD through Public Procurement (18% of India's Total GDP of 2.6 Trillion as per IMF). Considering the fact that India's GDP is among the fastest growing in the world and the governments have a sizeable social agenda, this is expected to be even bigger in future. Whether it is the setting up of oil extraction units or the toilet units as a part of 'Clean India Mission', most of these public procurements would be sourced by way of Public Tenders.
Technology has been a great enabler in this. It is not even a couple of decades ago that the companies in oil exploration and marketing such as ONGC, Indian Oil, Hindustan Petroleum, Bharat Petroleum and IBP together spent close to Rs. 100 Crores every year in Tenders advertisement. Major national dailies had 3-4 pages of Tender advertisements almost every day. This was brought down to below 20% after the government allowed these companies to put the Tenders on their websites and a mere announcement, through much smaller advertisements, was made through newspapers. Tax payers' money was saved.
As the tax payers' hard-earned money was being saved, another service segment was born – Online Tenders. At a fee, Tenders were made available to subscribers of these services by a host of vendors. Over time and after advancements in Internet technologies, though these services attained a bit of finesse, none of them were complete. Some lacked the depth in service while the others were performing a part of the task manually and therefore struggled to keep their businesses viable. Almost all of them have their business models based on subscription fees and were unable to match up with rising costs. This forced them to compromise on service quality. Most of them were trapped in this vicious cycle.
Change Coming Here Too
Sanjay Vyas adds, "I was talking to a small manufacturer of moulded plastic toilets with governments and various agencies in India as the main clients. He mentioned that the price of each toilet, what was sold above Rs. 30,000 a piece some years ago has come down to Rs. 12,000 or even less. He also mentioned that higher volume and innovation in production has brought the costs down. Now, imagine how many countries can he export these pre-fabricated toilets. All that he needs is the free, timely and unhindered access to governments' tenders. He is capable of supplying a toilet at USD 169 a piece, a decent toilet at a world-class price. Give him the Tender Notice information, project information, business news, contract award information, any corrigendum, etc. and he is confident of beating all globally."
Governments generally purchase products/services like construction work, infrastructure projects, medicines, hospital equipment and supplies, school text books, control and automation products, power plants, software, electrical projects, highways, roadways, airports, plants and machineries, consultancy services etc. MRO items are also purchased by governments. Mr. Vyas also informed about the unique Tenders Publishing services offered to government purchasers around the world. Publishing tender notices on Tendersontime, brings larger publicity among the target supplier group, which in turn brings more competition, increased procurement efficiency and hence ultimate saving of tax payers money.
There are more than 500,000 organizations from around the world of different sizes, who are selling to governments through the tendering process. Very few of these are from India. They need to have a larger participation.