Turn Up The Joy This Holiday Season With UMe's Festive Multimedia Mood Creator Soundtracked With An Eclectic Playlist Of Beloved Holiday Hits Past And Present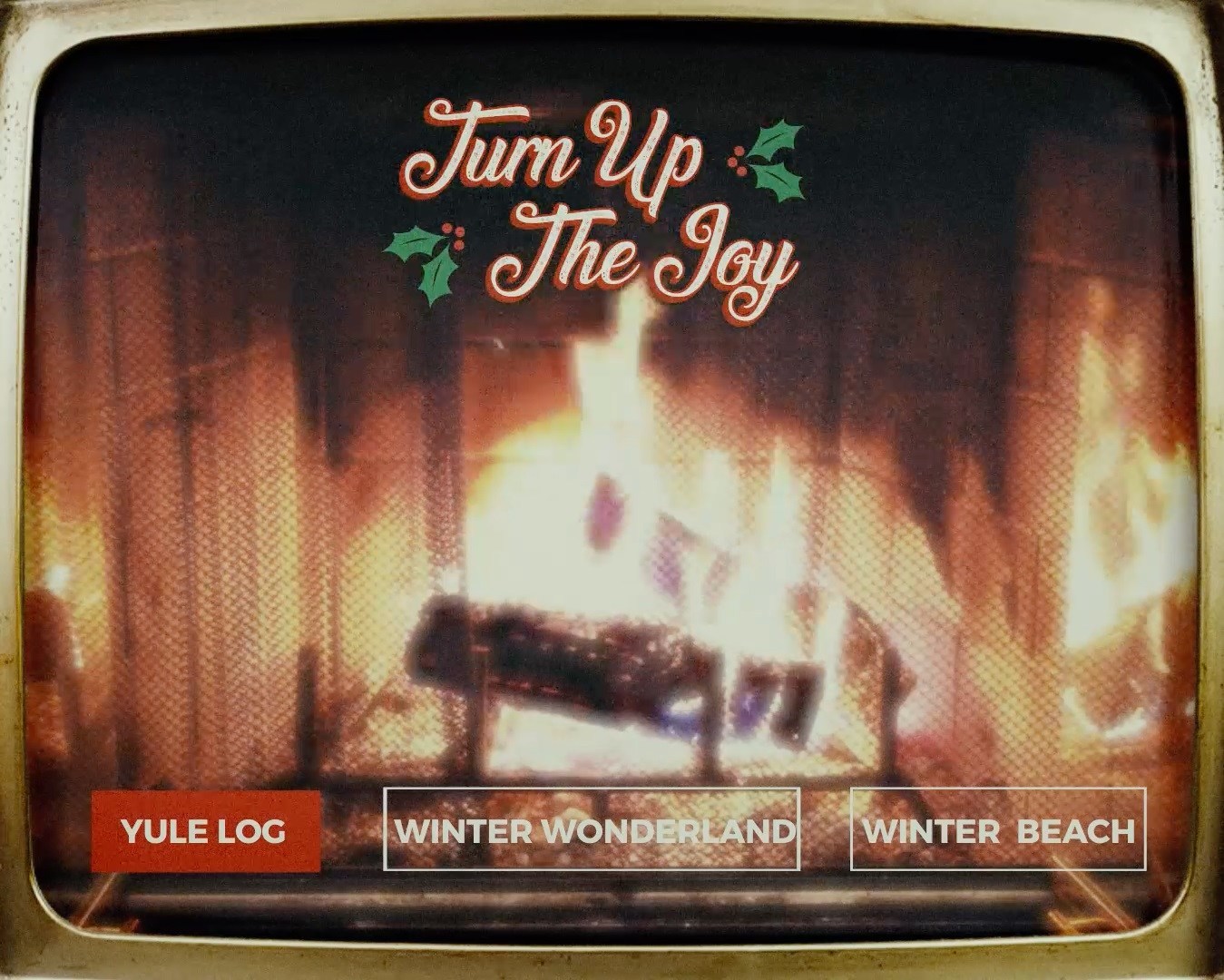 Reading Time:
2
minutes
A traditional Yule log video is fine and all but after a while the incessant crackling, pops and dull roar of the fire can get monotonous and lull you and your guests to sleep, not very ideal for getting the party started. This holiday season, UMe has taken the Yule log to the next level and created several ways for you to Turn Up The Joy and set the perfect ambiance with their multimedia mood creator that combines festive environments with their eclectic Christmas Music playlist filled with beloved holiday hits past and present.
Available at TurnUpTheJoy.com, users can choose from one of three moods they want to set with a "live broadcast" of a Yule Log, which features a roaring fire framed by a picturesque stone fireplace; Winter Wonderland, an inviting home at night with twinkling lights, falling snow and wintery trees; or Winter Beach, a tropical paradise with aquamarine waves lapping on a white sand beach that will add some warmth into the most frigid climes. Once selected, users are then able to synch it up to their music streaming service and if preferred can then stream the audio and video to their TV to create the immersive holiday atmosphere of their choice. It can also be watched at your desk as you count down the days to Christmas.
Soundtracking the yuletide backdrops is an expansive and eclectic playlist that is sure to please even the most discerning crowds with its wide range of artists that spans genres and eras. Simply titled Christmas Music, the playlist features some of the biggest songs and artists in the holiday music canon and pairs timeless classics with modern hits ranging from Bing Crosby to Gwen Stefani. There really is something for everyone and together with the unique festive scenes it's guaranteed to help you Turn Up The Joy this holiday season.
Ric Edelman's Advisor Blockchain and Cryptoassets Council Kicks off Barron's Independent Advisor Summit
Reading Time:
1
minute
Ric Edelman, one of the nation's most prominent financial advisors and creator of The Advisor Blockchain and Cryptoassets Council, held the third meeting of this growing group of influencers on March 20 at the Grand America Hotel in Salt Lake City.
Firms presenting at the event included Multicoin Capital, Bitgo, Digital Assets Data, FRST Corporation, ZenLedger, Gemini and Perkins Coie.
Immediately following the morning meeting, ABCC partnered with Barron's to stage the Blockchain and Cryptoasset pre-event, in conjunction with the Barron's Top Independent Advisor Summit. The event offered Continuing Education Credits to those in attendance.
Nearly 80% of the financial advisors attending the event said they know little to nothing about blockchain and cryptoassets, and 97 percent said they do not recommend cryptoassets to clients.
"The lack of knowledge by so many of the nation's leading financial advisors demonstrates the urgency of teaching advisors about this important emerging asset class," said Edelman, who has been named three times by Barron's as the nation's #1 Independent Financial Advisor. He noted that 80 percent of the advisors surveyed said clients are asking them about cryptoassets and added, "Advisors who can't answer their clients' questions about bitcoin will lose credibility with their clients, and they may end up losing the clients."
Edelman gathered experts from many of the leading firms in the field. Kingdom Trust was the premiere sponsor. Additional sponsors included Bitwise Investments, Blockforce Capital, Fidelity Digital Assets, Grayscale Investments, Orion Advisor Services, Pantera Capital, State Street Global Advisors and Van Eck.
ABCC is developing additional conferences. To learn more, go to www.advisorbcc.com.
SOURCE Advisor Blockchain and Cryptoasset Council
Leonovus Raises $2.2 Million CAD Through Successful Warrant Exercise
Reading Time:
2
minutes
Leonovus Inc., ("Leonovus or the Company") (TSXV: LTV) (OTC: LVNSF) today announces since September 30, 2018 it has received gross proceeds of $2,201,550 CAD from the exercise of warrants prior to their expirations on March 10 and March 20, 2019. All warrants issued by the company that matured on March 10 or March 20, 2019 have now been exercised or expired.
"Leonovus is privileged to have strong support from our investor community as demonstrated by the successful warrant exercise with over 92% of the warrants being exercised," said Michael Gaffney, CEO of Leonovus. "This additional capital will help our efforts to grow revenues and become a major provider of software solutions for the distributed storage market."
The March 2019 warrants, that were exercised or expired, eliminated the overhang on the Company's capital structure, positioning the structure for clean appreciation as revenues increase. There remain 13,750,000 warrants that expire on December 8, 2019 at an exercise price of $0.65 CAD.
This press release may contain forward-looking statements and information, which may involve risks and uncertainties.  The results or events predicted in these statements may differ materially from actual results or events. Factors that might cause a difference include, but are not limited to, competitive developments, risks associated with Leonovus' growth, the state of the financial markets, regulatory risks and other factors. There can be no assurance or guarantees that any statements of forward-looking information contained in this release will prove to be accurate. Actual results and future events could differ materially from those anticipated in such statements.  These and all subsequent written and oral statements containing forward-looking information are based on the estimates and opinions of management on the dates they are made and expressly qualified in their entirety by this notice. Unless otherwise required by applicable securities laws, Leonovus disclaims any intention or obligation to update or revise any forward-looking statements, whether as a result of new information, future events or otherwise.  Readers should not place undue reliance on any statements of forward-looking information that speak only as of the date of this release.  Further information on Leonovus' public filings, including its most recent audited consolidated financial statements, are available at www.sedar.com.
Neither TSX Venture Exchange nor its Regulation Services Provider (as that term is defined in policies of the TSX Venture Exchange) accepts responsibility for the adequacy or accuracy of this release.
SOURCE Leonovus Inc.
Suzy Says: Consumers Are More Likely To Learn About Healthy Food Trends From Social Media Than News Sources
Reading Time:
2
minutes
Suzy, a leading consumer insights platform that provides "actionable insights at the speed of culture," asked U.S. consumers where they are most likely to first hear about the latest in healthy food trends. The results, powered by the platform's on-demand network of more than one million consumers, may surprise you. Regardless of their interest in health, all survey respondents are most likely to hear about the latest in healthy food trends from their friends, family or social media, as opposed to television, blogs, magazines or online news sources.
Below are Suzy's in-depth findings on the ways consumers are most likely to first hear about healthy food trends.
Suzy says healthy eaters are most likely to learn about the latest healthy food trends via the following:
Facebook – 17 percent
Instagram – 15 percent
Friends or Family – 13 percent
Blogs – 8 percent
Television – 8 percent
Non-healthy eaters are most likely to learn about the latest healthy food trends via the following:
Facebook – 20 percent
Friends or Family – 19 percent
Instagram – 10 percent
Online News Sources – 10 percent
Television – 10 percent
"These results highlight the power that the collective voice of consumers has in today's marketplace," said Matt Britton, founder & CEO of Suzy. "When social networks play a larger role in alerting consumers to healthy food trends than traditional media outlets, you can see how important it is to create products, packaging, brands and advertisements that truly resonate with your target audience, and inspire them to share the information with others."
Called the "Siri for brands," Suzy is a consumer intelligence platform that unlocks critical consumer insights to help organizations make better and more informed decisions—faster. Like having a focus group right in your pocket, Suzy brings the voice of real consumers directly to brands within minutes, so they can better understand their customers.
The platform currently serves some of the biggest brands in the world, including Coca-Cola, Procter & Gamble, Johnson & Johnson, Citibank, Verizon, Nintendo and Nestle. These leading companies validate critical assumptions with Suzy, so they can focus on creating compelling new products, developing effective marketing strategies, and validating direct offers that increase conversions and drive growth.
This survey was conducted online within the United States by Suzy on survey was run from Feb 27-28. This online survey is not based on a probability sample and therefore no estimate of theoretical sampling error can be calculated. To download the full white paper with additional results, click here. For complete survey methodology please contact Kyle Kim-Hays at kylek@suzy.com.
SOURCE Suzy