REC Solar Panels Bring Clean Energy to Remote Himalayan Communities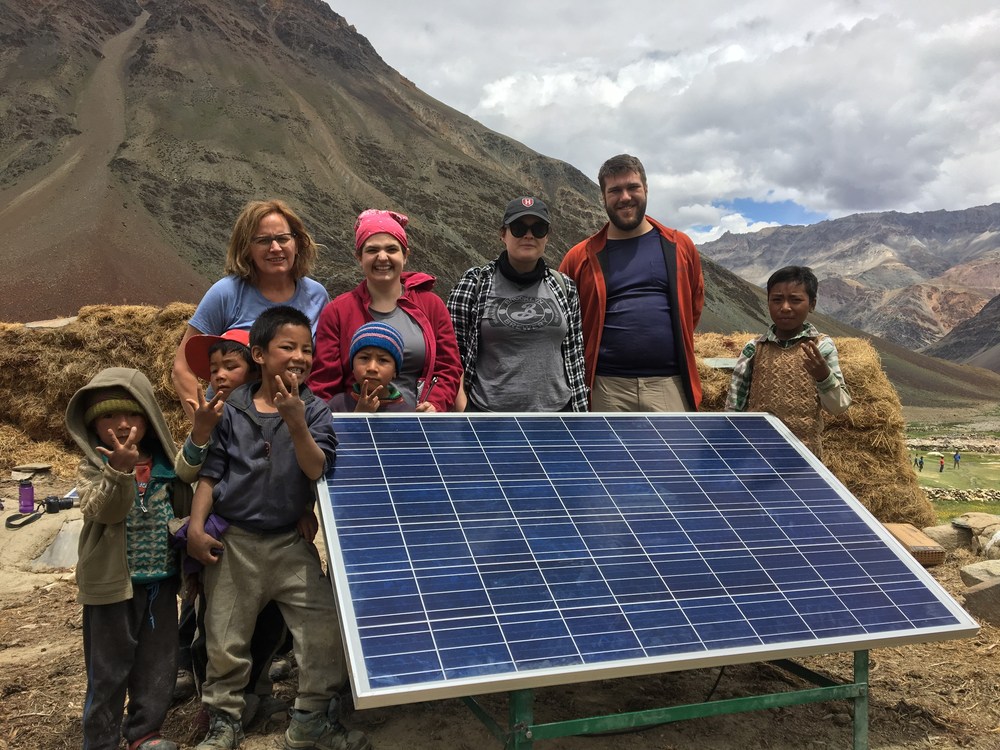 Reading Time:
2
minutes
Marking the recent United Nations Global Climate Summit in Katowice, Poland, REC Group, the leading European brand for solar photovoltaic (PV) panels, reports on its own initiatives to bring clean energy to communities that were previously reliant on polluting sources of power. In cooperation with Global Himalayan Expedition (GHE), which leverages tourism to provide clean energy and digital education access to remote communities, REC Group contributed its solar panels that now generate energy in remote villages and schools in the Ladakh and Zanskar regions of India. Many of the communities in these sparsely populated regions have no access to grid-based power, and therefore rely on either very old solar lanterns or kerosene lamps for lighting. Thanks to the REC solar panels, every household in the villages now has basic access to energy, including LED lights in all rooms, street lights for the common areas and much better lighting in schools.
Challenges and operating model
The remoteness of the regions presented a major challenge in terms of logistics. With many of the villages around four or five days' trek distance from the nearest motorable road, the villagers themselves carried panels and the rest of the equipment to the installation sites. The 50 REC solar panels were installed on the ground and on villager's roofs by GHE engineers.
However, apart from the initial installation, the objective is to put the villagers firmly in charge (also due to the cost of getting skilled maintenance engineers to the remote areas). The operating model is designed to keep communities independent. Three villagers from each village were trained to operate and maintain the system, and a Village Electricity Management Committee of two to three villagers serves as a single point of contact for activities related to the grid, including collecting rentals. A service centre is also setup in the nearest city to service all the grids with trained engineers.
Better light, better education, cleaner air
The efforts of REC and GHE have delivered impressive results, directly impacting over 1,500 people. 12 kW (50 Panels) of clean solar energy has replaced polluting sources: the initiative is expected to eliminate 9,000 liters of kerosene per year and 22.8 tons of CO2 emissions. 100% of the population now have basic energy access for lighting that is not just cleaner, but also brighter: the overall improvement in lighting in both households and schools is 500%. In schools, the solar installations also power computers and displays, giving students access to offline internet content as well as interactive video content and TED talks. Schools already report a 30% increase in the learning aptitude of their students and their knowledge of basic concepts.
Clean energy: UN goals on sustainable development
This December's UN Global Climate Summit in Katowice, Poland, underscores the urgency of efforts to combat climate change. "With this and other initiatives, we are making our contribution to one of the United Nations' 17 declared goals on sustainable development", says Rohit Kumar, Director, REC Solar for Indian Subcontinent." Goal number 7 unequivocally commits 'to ensure access to affordable, reliable, sustainable and modern energy for all.'
In its own COP21 study, REC Group has shown how solar energy can make a significant contribution to limiting the global temperature rise. However, for the 1.5°C target, the global ramp-up of solar installations has to be up to 9 times above recent forecasts. The company remains committed to providing renewable energy that is not just clean, but also flexible enough to meet energy needs in off-grid locations that rely on decentral power generation.
4NEW Teams up With Evolution Global for 4,400 Peta Hash of Bitcoin Mining
Reading Time:
1
minute
4NEW Ltd has signed a contract with Evolution Global AS, a provider of a new innovative Bitcoin mining solution, to site their mining rigs at low cost energy production sites globally. The Evolution Global mining rigs are expected to have a 75% energy saving compared to other mining rig providers, which will lead to a much lower cost of Bitcoin production.
On signing the deal Varun Datta, founder and director of 4NEW Ltd, stated, "We are extremely happy to have managed to close this deal which represents and upholds the values of 4NEW and integrates extremely well in his vision of a lower cost of energy to produce Bitcoin. The deal will allow 4NEW to position itself as a truly eco-friendly producer of bitcoin."
Evolution Global's new chip represents a new leap in both energy consumption and speed. The current set-up has been designed with leading chip designers from USA and the ASICs are expected to be in production by April. Evolution Global expect to be able to deploy in excess of 20,000 Peta Hash worth of mining over the coming year. The system also uses a proprietary water-cooled solution which is much simpler to handle than other immersive solutions being tested.
Erik Solberg, CEO of Evolution Global AS, has stated, "This deal makes it possible for us to faster scale up. We look forward to work together with 4NEW when delivering the world a much more energy efficient and environmental friendly way of mining cryptocurrency."
The first phase of the 4NEW mining will require 545 Peta Hash and then an expansion of 525 Peta Hash every 2-3 months thereafter. Sites have already been identified for the mining production facilities.
4NEW is currently in discussion with several institutional investors to provide the additional capital for the mining equipment which they expect to close by mid-April 2019.
SOURCE 4NEW
Sungrow Presents New PV Inverters and Storage Systems at the 9th Smart Grid Expo in Tokyo
Reading Time:
2
minutes
Sungrow, the global leading inverter solution supplier for renewables, unveiled its new PV inverter solutions, turnkey energy storage systems (ESS) as well as floating PV systems tailored for Japanese solar market at the 9th Int'l Smart Grid Expo in Tokyo. Backed by the "Basic Energy Plan", solar energy is one of the main pillars of renewable energy in Japan. Sungrow is now providing a comprehensive product portfolio to address the large market demand.
The PV inverter series showcased 1500Vdc systems, in particular a turnkey station SG3400HV-MV, which was introduced at the Tokyo show for the first time and has been deployed at gigawatt volume globally. The solution is designed for higher yield with three-level topology innovation and maximum conversion efficiency up to 99%. Featuring a high DC/AC ratio of 1.5, the turnkey solution integrates a 3.4 MW central inverter, MV transformer and switchgear in a 20-foot container, which significantly saves on initial investment and future operating and maintenance costs. Complimented by a virtual central solution, the Company's 1500Vdc string inverter SG111HV has garnered wide attention at the show as well.
As an important supplement to Sungrow string inverter pipeline led by SG49K5J and SG33K3J, Sungrow's new string inverter SG5K5J is designed for 50kW solar systems. The 5.5kW string inverter with 2 MPPTs is equipped with an exceptional DC/AC ratio of up to 220%, fulfilling local grid demands.
Given the power constrictions in the Japanese market, Sungrow also presented its DC-coupled turnkey ESS, which features the integration of energy storage converters, lithium-ion battery banks and advanced battery management systems. In 2018, Sungrow shipped its turnkey ESS to a 30MWh PV plus storage project in Japan, achieving 24 hours of continuous power yield. With over 720 application cases, Sungrow ESS is highly appreciated by customers worldwide.
Sungrow's floating systems, covering one third of the global market share, were also on display as the organization expands its innovation portfolio. Its flexible solutions have been well received and applied in several projects, including a floating solar plant in Fukushima, Japan.
"We are determined to explore new solar markets while consolidating our leading role in the established ones, in particular Japan, Europe and the US. Meanwhile, we will keep relentlessly pursuing technical innovations to maximize LCOE even though Japan's FIT cuts has reached another critical point," said Jack Gu, President of Sungrow PV & Energy Storage Division. "Defined by superior quality and unprecedented service, our products are installed in over 6 continents," he added.
SOURCE Sungrow Power Supply Co., Ltd
New Agreement – Recyclable Cap Format for Water Coolers
Reading Time:
4
minutes
Celsius Holdings, Inc. (Nasdaq: CELH), maker of the leading global fitness drink, CELSIUS® has announced an agreement with Lavit, LLC ("Lavit"), an eco-friendly, beverage technology company, to offer its energy drinks for Lavit's cold, still and sparkling water coolers in select office locations.
Under the terms of the agreement, Celsius will initially offer its orange flavor in Lavit's EcoCaps™, a recyclable variation on Keurig's single-use disposable K-Cup model that are designed to work specifically with Lavit's water coolers. Lavit's on-demand beverage coolers eliminate the need to stock office refrigerators with bottles and cans of beverages and offer healthier alternatives to sugary sodas. The EcoCaps will utilize the same formula as Celsius' popular powder format. Each EcoCap is made from 100% aluminum, and thus 100% recyclable.
Celsius' energy drink includes no artificial preservatives or flavors, no aspartame or high fructose corn syrup and is clinically-proven to accelerate metabolism, burn calories and body fat and provide healthy energy, making it an excellent alternative to coffee or energy drinks.
"Our relationship with Lavit further adds to our distribution network and represents a powerful way for us to increase brand awareness and exposure of our beverages, reaching a population of consumers in a new environment," commented John Fieldly, President and Chief Executive Officer of Celsius Holdings, Inc. "With Lavit, we are able to offer our energy drinks conveniently to offices nationwide and meet the growing demand for alternative beverages in the workplace."
"Lavit is thrilled to add CELSIUS® healthy energy drinks to our growing cold still and sparkling platform," commented Sam Murray, CEO of Lavit. "Their refreshing and functional line fits perfectly with Lavit's goal of providing better for you beverages and enhanced waters for workplaces that are striving to provide healthy hydration and sustainable solutions."
Lavít (pronounced "LA-veet"), founded in 2011 and headquartered in New York City, is an eco-friendly, beverage technology company seeking to disrupt the multi-billion-dollar bottling industry. The company's Water Cooler™ helps personalize the way people stay hydrated by allowing them to craft the cold beverage of their choice in seconds with just a push of a button. Beverage options include still or sparkling water or they can choose from a growing roster of popular brands and flavors – all with zero preservatives and just 10 calories or less per 12-ounce serving. Users craft their beverages by inserting fully recyclable aluminum flavor capsules (EcoCaps™) into a Lavit cooler and then adjusting flavor intensity and carbonation level. For every EcoCap sold, Lavit donates to onedrop.org, providing clean drinking water for those in need around the world. Learn more at www.drinklavit.com.
Celsius Holdings, Inc. (Nasdaq: CELH) was founded in April 2004, and it is a global company that has a branded portfolio consisting of two beverage lines; each offering proprietary, functional, healthy-energy formulas that are clinically-proven to offer significant health benefits to its users. The CELSIUS® Original Line comes in nine delicious sparkling and non-carbonated flavors in sleek 12oz cans and is also available in single-serve powder packets in four on-the-go, enjoyable flavors. The CELSIUS® Stevia Line is an extension of the original line offering naturally-caffeinated and naturally-sweetened and is available in five refreshing sparkling and non-sparkling flavors.
New to the portfolio is CELSIUS HEAT™, which offers an additional 100mg of caffeine than the Original and Stevia extension, for a total of 300mg per can. It also contains 2,000mg of L-citrulline, a vasodilator. CELSIUS HEAT™ is sold in 16oz cans, is available in five carbonated flavors and was developed for those seeking a bolder version of the Original and Stevia line extension – which are sold in 12oz cans and appeal to the masses as an active lifestyle brand. As with all CELSIUS® products, CELSIUS HEAT™ is a thermogenic and is an ideal 16oz energy drink given it is proven-to-function and is healthier than competitive 16oz traditional energy drinks with high sugar content. CELSIUS HEAT™ targets millennial fitness enthusiasts, avid gym goers, professional trainers, competitive athletes, the military and first responders.
CELSIUS® has zero sugar, no preservatives, no aspartame, no high fructose corn syrup, and is non-GMO, with no artificial flavors or colors. The CELSIUS® line of products is Certified Kosher and Vegan. CELSIUS® is also soy and gluten-free and contains very little sodium. CELSIUS® is sold nationally through dominant fitness channel distributors and retailers, The Vitamin Shoppe, GNC, Amazon.com, Walmart.com, Target, 7- Eleven, Sprouts, The Fresh Market and other key regional retailers such as HEB, Publix, Winn-Dixie, Harris Teeter, Shaw's, Food Lion, CVS and many more.
*CELSIUS®' functional claims are backed by six published university studies. The first study was conducted in 2005 and additional studies from the University of Oklahoma were conducted over the next five years. The studies were published in peer-reviewed journals and validate the unique benefits that CELSIUS® provides.
Forward-Looking Statements 
This press release may contain statements that are not historical facts and are considered forward-looking within the meaning of the Private Securities Litigation Reform Act of 1995. These forward-looking statements contain projections of Celsius Holdings, Inc.'s future results of operations and/or financial position, or state other forward-looking information. In some cases, you can identify these statements by forward-looking words such as "anticipate," "believe," "could," "estimate," "expect," "intend," "may," "should," "will," "would," or similar words. You should not rely on forward-looking statements since Celsius Holdings' actual results may differ materially from those indicated by forward-looking statements as a result of a number of important factors. These factors include, but are not limited to: general economic and business conditions; our business strategy for expanding our presence in our industry; anticipated trends in our financial condition and results of operation; the impact of competition and technology change; existing and future regulations affecting our business; and other risks and uncertainties discussed in the reports Celsius Holdings has filed previously with the Securities and Exchange Commission. Celsius Holdings does not intend to and undertakes no duty to update the information contained in this press release.
SOURCE: Celsius Holdings, Inc.