FreeCoin BASS Platform by E.F.H Co., Ltd. Integrates 8 major industries with blockchain to create billions of business growth and opportunities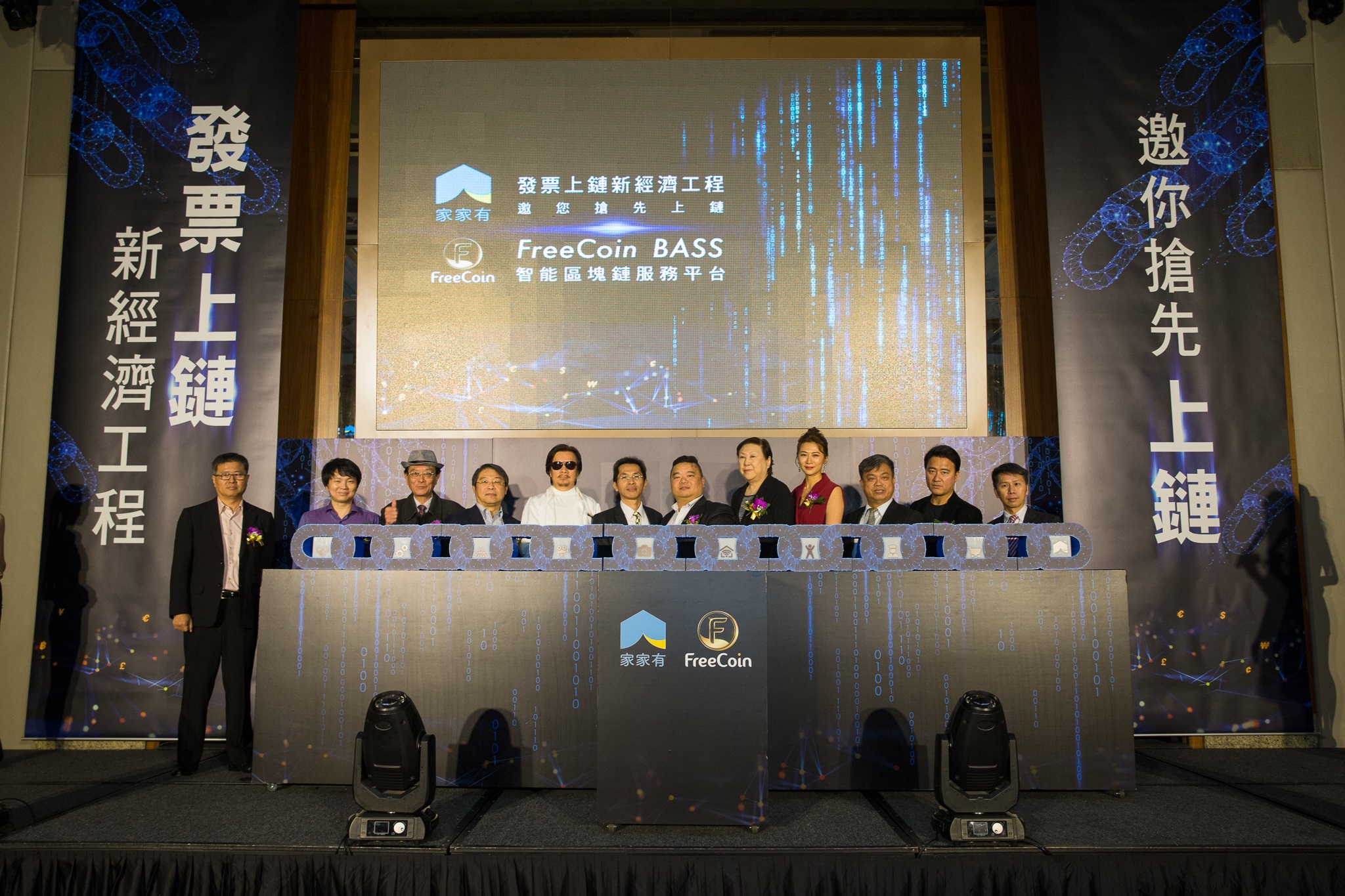 Reading Time:
4
minutes
Talking about the most eye-catching innovation trend this year, BLOCKCHAIN is definitely in the top. Many have agreed that 2018 is the first year of commercialization of blockchain. E.F.H Co., Ltd. combines electronic invoice, blockchain and FinTech to create FreeCoin cryptocurrency reward mechanism and FreeCoin BASS (Blockchain As Service), a blockchain-based service platform. With blockchain technoloy as the core, 8 major businesses will be connected as a whole. Another highlight of the FreeCoin ecosystem is the mechanism of double rewards for using e-invoices. In response to the Ministry of Economic Affairs' "paperless transation" policy, the real application of blockchain will be implemented and matured into a "blockchain economy" blueprint.
High efficiency with low cost, win-win-win situation for consumer, business and government
FreeCoin BASS has three major functions: one is to help businesses with blockchain technology, and optimize from the three aspects of cost, technology and service to achieve low-cost and high-efficiency/adaptability benefits. Second, through the FreeCoin BASS connecting industries to create a blockchain ecosystem. In the end, it will fully integrate online and offline financial transactions, and achieve a win-win-win situation for consumers, businesses and the government. In the FreeCoin blockchain ecosystem, consumers can get different amount of FreeCoin rewards based on various activities such as scanning electronic invoices, participating in activities, sports and fitness, charity and other events. In addition to traditional discount/coupon services, FreeCoin provides cross-platform, cross-enterprise and cross-nation integration of coupon/cryptocurrency conversion.
Consumers holding FreeCoin can enjoy any services in the ecosystem; while the store and the company accept FreeCoin as the transaction standard, replacing the discounts and profit deductions caused by the original loyalty program, bringing new business models for consumers, stores and enterprises. In addition, consumer's behavior and consumption details can be aggregated into reliable big-data, database, providing companies/enterprises as the basis for R&D, marketing, and CRM operations; The combination of electronic invoice and blockchain is a complete fiscal and taxation control system that realizes the concept of smart taxation and directly enhances national taxation and tax efficiency.
FreeCoin BASS platform greatly enhances corporate value in all directions
The FreeCoin BASS (blockchain as service) platform launched by E.F.H Co., Ltd. provides a total solution and assists enterprises in optimizing products and services from three major aspects: cost, technology and service. It aims to make enterprises embrace the blockchain without groping from scratch, and only needs to focus on improving corporate value and provide better products and services for customers and markets.
FreeCoin BASS provides a complete, documented, open and friendly API service, which is mainly based on the underlying services of the fcBlockchain and its extended services, including fcToken (Payment Service), fcWallet (Account, Transaction and Authorization Services), fcCredit (Credit, Credit Rating, Loan, Insurance Services), fcTax (Full-Automation and Smart Taxation) and fcInsight (Business AI Consultant) modules. FreeCoin BASS has a full-stack platform solution with general blockchain and cloud advantages, eventually bringing all industries to a new era with this new business model and achieving a wonderful smart lifestyle for the society.
Invite all industries to create a win-win situation and join the new age of global blockchain economic
E.F.H Co., Ltd. has launched the FreeCoin BASS platform, inviting major industries to use the innovative core technologies of the blockchain to jointly create a smart ecosystem with great commercial value and to expand the huge international business opportunities of various industries. E.F.H Co., Ltd. currently covers several business units, including blockchain business with FreeCoin, a business model that revolutionizes global consumption, and FreeCoin BASS; FreeCoin BASS platform also optimizes system hardware, construction, smart home, agricultural and fishery production and marketing, leisure sports, entertainment, education, medical care, e-commerce industry and form the E.F.H Co., Ltd. Holdings. Strategy partners include many high-quality enterprises such as entertainment investment platform – Fansdaq Co., Ltd., Beijing Tianfu Cloud Information Science Research Institute, Taiwan Health and Medical Industry Association, Taiwan Agriculture and Fisheries Alliance, China Product Quality Retrospective Policy Association, Global International News Media, etc.
With blockchain technology, it aims to create a world-class smart ecosystem with transparency, trustworthiness. It is also worth mentioning that FreeCoin BASS platform provides a total solution, which enables enterprise to use one-stop service in the application of blockchain and the practice of integrated technology management; it assists in integration and internalization. With the help with blockchain technology, each industry can create a win-win situation and fight for the economic miracle of the new generation.
E.F.H Co., Ltd.dedicates to promote the innovational blockchain-based invoice system, also aims to bring a good applications of blockchain economic services. And everyone is invited to take the lead.
E.F.H Co., Ltd. has deployed services based on FreeCoin BASS platform in Taiwan, mainland China, Southeast Asia and the US market. At the same time, it plans to launch a listing in the US and expects to complete the listing and go public in the next one or two fiscal years. Our sufficient funds will help to promote the various stages of planning including social welfare and charity, and will also establish charity and youth entrepreneurship support programs supported by the FreeCoin blockchain surplus, and it's honored to have the Queen of Taiwanese dramas — Joanne Lien, to be our charity ambassador.
E.F.H Co., Ltd. expects to continue putting business models that contribute to the market and society in practice in the future, and invites all industries to join to make the future better and brighter, contributing back to the society with the core concept of "welfare, entrepreneurship, sharing, and love" hold by E.F.H Co., Ltd., inviting home and abroad industries to promote shared economic lifestyle.
Ric Edelman's Advisor Blockchain and Cryptoassets Council Kicks off Barron's Independent Advisor Summit
Reading Time:
1
minute
Ric Edelman, one of the nation's most prominent financial advisors and creator of The Advisor Blockchain and Cryptoassets Council, held the third meeting of this growing group of influencers on March 20 at the Grand America Hotel in Salt Lake City.
Firms presenting at the event included Multicoin Capital, Bitgo, Digital Assets Data, FRST Corporation, ZenLedger, Gemini and Perkins Coie.
Immediately following the morning meeting, ABCC partnered with Barron's to stage the Blockchain and Cryptoasset pre-event, in conjunction with the Barron's Top Independent Advisor Summit. The event offered Continuing Education Credits to those in attendance.
Nearly 80% of the financial advisors attending the event said they know little to nothing about blockchain and cryptoassets, and 97 percent said they do not recommend cryptoassets to clients.
"The lack of knowledge by so many of the nation's leading financial advisors demonstrates the urgency of teaching advisors about this important emerging asset class," said Edelman, who has been named three times by Barron's as the nation's #1 Independent Financial Advisor. He noted that 80 percent of the advisors surveyed said clients are asking them about cryptoassets and added, "Advisors who can't answer their clients' questions about bitcoin will lose credibility with their clients, and they may end up losing the clients."
Edelman gathered experts from many of the leading firms in the field. Kingdom Trust was the premiere sponsor. Additional sponsors included Bitwise Investments, Blockforce Capital, Fidelity Digital Assets, Grayscale Investments, Orion Advisor Services, Pantera Capital, State Street Global Advisors and Van Eck.
ABCC is developing additional conferences. To learn more, go to www.advisorbcc.com.
SOURCE Advisor Blockchain and Cryptoasset Council
CoinAll Launches a New-User Campaign to Expand Community
Reading Time:
2
minutes
CoinAll has today announced the launch of a new user campaign which will last a month and features a 10,000 USDT bonus pool. Users who complete the two-task mission will have a chance to share in the bonus. The campaign comprises two tasks. In task one, new users have to register on CoinAll and pass KYC1 verification. In the second task, new users need to deposit CoinAll-listed cryptocurrencies into their accounts. Upon completion of the two tasks, they will get the bonus. The campaign is open to all digital asset traders from around the world.
"Community is the foundation of CoinAll. We hope to make it larger and stronger. Together with our users, we endeavor to make the industry better in the near future," said Katherine Deng, General Manager of CoinAll.
CoinAll is a community-driven exchange, which means the users of the CoinAll community have the power to influence the development of the exchange. CoinAll also launches various promotions for the community as well.
For example, the blockchain quiz show "Who Wants to Be a COINALL-inaire" hosted in March, featured the industry's first "decentralized question bank" and attracted hundreds of thousands of participants. By answering 10 questions correctly, users could take home hundreds of USDT in prizes. While enjoying the fun and bonuses, users also broadenedtheir knowledge about blockchain technology.
By offering a variety of campaigns, CoinAll has rapidly established a community of tens of thousands of members.
Besides community development, CoinAll also spares no effort in offering high-quality blockchain projects to traders. For example, COSM, which will be supported by Samsung's latest flagship smartphone and is the first dApp partner of Samsung, was one of the very first offerings by the exchange. CoinAll has also listed other well-received projects such as BTT, ZIL, ONT, and Grin.
As an fast-emerging exchange, CoinAll was recognized as the first strategic partner of OKEx, the top-class exchange in the world. CoinAll is showing great ambition, pledging to become top-20 exchange in the world within 1 year with the help of OKEx.
"We feel grateful to our users," said Katherine Deng. "And we want to give back to our community and make it larger and stronger. This time, our new campaign also reflects our great determination that CoinAll will continuously offer projects of high quality and good trading experience to global users."
SOURCE CoinAll
Maxonrow Invites Developers to Build their Own Wallet
Reading Time:
2
minutes
Maxonrow is inviting the global developer community to participate in its Maxonrow Community Wallet Contest. Through the contest, participants will get a unique chance to become a part of the Maxonrow Developer Community and have their work featured in their upcoming official wallet release.
Up To 5,000 USDT Reward for Developers
Signing up to the contest is now available through the contest page and submissions will be accepted starting April 24th. Consequently, the winners will be announced on May 15th. The first place winner will receive 5,000 USDT, the second place winner 4,000 USDT and the third place winner will receive 3,000 USDT. There are also two spots for fourth place which will receive 2,000 USDT each and ten consolation prices at 500 USDT each. The contest submission date is subject to change depending on the number of applications submitted.
The Maxonrow Community Wallet Must Be Developed using the Maxonrow Beta SDK V1.0
Maxonrow is asking participants to build a wallet that can run on both iOS and Android, preferably developed using an UI Framework and have excellent user experience navigation.
The wallet must be built using the Maxonrow Beta SDK V1.0 available for download on the contest landing page. In addition, the Wallet App needs to have at least the following functions and features: Wallet Creation (protected by PIN/Password/Fingerprint), basic KYC, get free Token (Faucet), Wallet Account Summary, ability to send and receive tokens, a transaction history, and user profile. Any additional wallet features will be a bonus point.
Maxonrow is Looking for Developers to Stand a Chance to Become a Part of Their Team
"We would like to invite talented and passionate developers with creativity to join our Wallet contest, and stand a chance to be part of our excellent team," said Carlo Chung, Maxonrow's Technical Director. He added "participants need to add a source code submission via public GitHub repository link with readme.md (Build, Installation, Run), all libraries used must follow Open Source License (GNU, MIT, etc.) and if you want bonus points, provide us both APK download link and test flight link (or either one)."
SOURCE Maxonrow