Substrate, Parity Technologies' Highly-anticipated Blockchain-Building Framework, has Arrived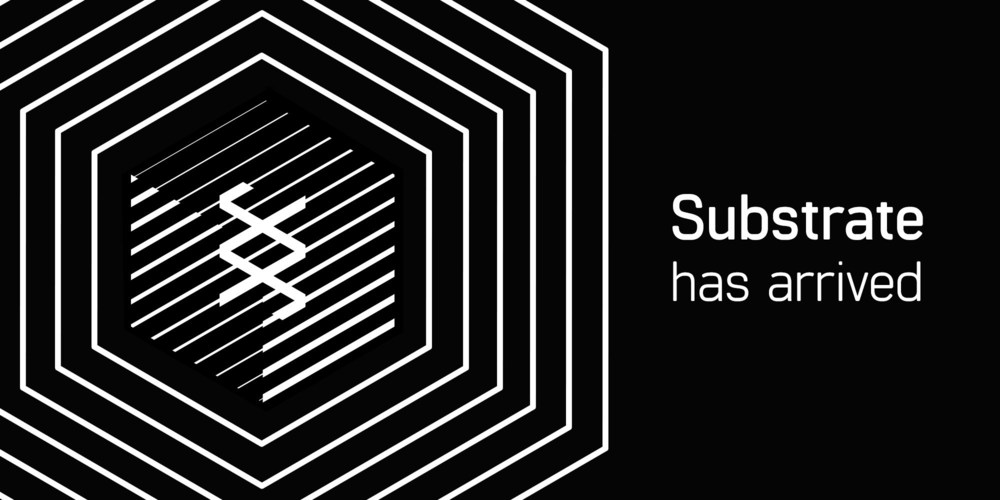 Reading Time:
4
minutes
Substrate 1.0 Beta is out now, opening the door to a new wave of innovation in blockchain and decentralised application development. Substrate is an open-source tech stack that makes it simple to create a blockchain customised for your application.
"Substrate takes all of our lessons learned in building Ethereum and Polkadot and distills that down into a stack of tooling that allows you to get all of those same rewards… for free," —Dr. Gavin Wood(Co-founder of Parity Technologies, Polkadot and Ethereum)
Designed for maximum freedom and ease
Substrate is architected to be as generic as possible and provide maximum technical freedom when designing your blockchain. It has a one hundred percent abstract 'execute block' function encoded in WASM that can be targeted from a number of languages, including C++ and Rust. The execute block function is hot-swappable, meaning you can upgrade your chain's logic without executing a hard fork.
Consensus is also generalised. The API provided lets you roll your own consensus system if you want, and it can handle most consensus algorithms out there. Substrate 1.0 Beta offers a combined Aura/GRANDPA consensus, with additional consensus algorithms coming subsequent releases. Down the road, consensus will be hot-swappable, meaning you can start your blockchain with one consensus mechanism and switch to another down the line – again avoiding a potential hard fork.
Substrate integrates the best in cutting-edge blockchain technology. You get a light client out-of-the-box so your blockchain can work natively on mobile devices, and pooled security and interoperability via integration with the Polkadot protocol. Substrate is authored in Rust, and there is also a JavaScript implementation for a Substrate client that runs directly in the browser.
Substrate allows you to easily configure your blockchain, but also take complete control over the code should you need to. This flexibility between ease and technical freedom is achieved through a modular design: Substrate is separated into Substrate Core and Substrate Runtime Module Library (SRML) and comes with a pre-assembled Substrate Node that is simple to configure.
Substrate Core
Substrate Core is the minimal Substrate base for building blockchains. Substrate Core gives you a foundation that is far easier than building a blockchain from scratch, though you don't get a finished blockchain. It includes:
Pervasive and secure networking via libp2p
Storage
Telemetry
Light client
Block synchronisation
Extensible JSON-RPC API endpoints
Low-level JavaScript utils
Transaction queue and block production mechanism
Sandboxed WebAssembly interpreter
Interchain connectivity via the Polkadot protocol
Crypto primitives library
Chain specification and versioning
Pluggable consensus
Substrate Runtime Module Library (SRML)
The core architecture of Substrate separates the basic functionality of a network blockchain node and the chain-specific implementations by executing the latter in a separate WebAssembly environment. You have absolute freedom to write the chain logic in any language that can compile down to WebAssembly (Rust, C/C++, C#, Go, etc). You can add modules from the Substrate Runtime Module Library, or SRML. With SRML, you can take off-the-shelf components, plug them together, and build a blockchain that does what you want it to do. Modules include:
Accounts & Balances – basic cryptocurrency, including account management and viewing
Assets – simple, secure additional on-chain fungible assets
Consensus – setting and modifying runtime code and storage (i.e. the set of authorities as a list of session keys on-chain), and reporting offline or misbehaving validators
Contracts – turbo-charged Wasm-based smart contracts
Council – council election and proposals
Democracy – public proposals and referendums
Sessions – key rotation for authorities
Staking – Proof-of-Stake logic, including both staking and nominating of validator accounts
Timestamp – have your chain know about time
Treasury – decentralised grants, similar to a DAO
So, for example, if you want to create a Proof-of-Stake smart contract blockchain, you would take Substrate Core and plug in the Accounts & Balances, Staking, and Contracts modules. Once Polkadot launches, you could also make it interoperable by plugging it into Polkadot.
Substrate Node
Finally, Substrate Node allows you to deploy a blockchain with maximum ease. Soon you will be able to configure Substrate Node with a JSON file.
Peripheral support infrastructure
Peripheral support infrastructure has been built by Parity and open-source contributors to provide additional functionality to Substrate and Polkadot. This infrastructure includes:
Apache 2.0v License
Substrate 1.0-beta is currently licensed under GPLv3, but in keeping with the ideal that Substrate should allow for maximum developer freedom, the Substrate repo will transition to be licensed under Apache 2.0. The widely permissive nature of the open-source license allows for commercial use, distribution, modification, patent use, and private use and opens the door for Fortune 500 companies to adopt the technology. We offer professional services to organisations looking to build with Substrate.
We're hard at work making Substrate the most developer-friendly blockchain framework. We have started a developer hub where you can:
As the developer hub is a work in progress, please feel free to ask questions in the Substrate Technical chat.
Start hacking today!
"I really hope that by pushing out Substrate, we can create a whole new class of sort of development teams and development applications that sit right in the sweet spot between the two where you don't have to know everything, you don't have to do everything to develop your whole new blockchain, but you can do just enough that you do have a domain-specific chain, that has its own parameterization, and its own features that allow you to get a particular job done, and done well, that wouldn't have been possible before because smart contracts are too bloaty, and writing your own chain is too much work," — Dr. Gavin Wood (Co-founder of Parity Technologies, Polkadot and Ethereum)
Get started quickly by downloading Substrate and build your own custom chain.
Further resources:
Ric Edelman's Advisor Blockchain and Cryptoassets Council Kicks off Barron's Independent Advisor Summit
Reading Time:
1
minute
Ric Edelman, one of the nation's most prominent financial advisors and creator of The Advisor Blockchain and Cryptoassets Council, held the third meeting of this growing group of influencers on March 20 at the Grand America Hotel in Salt Lake City.
Firms presenting at the event included Multicoin Capital, Bitgo, Digital Assets Data, FRST Corporation, ZenLedger, Gemini and Perkins Coie.
Immediately following the morning meeting, ABCC partnered with Barron's to stage the Blockchain and Cryptoasset pre-event, in conjunction with the Barron's Top Independent Advisor Summit. The event offered Continuing Education Credits to those in attendance.
Nearly 80% of the financial advisors attending the event said they know little to nothing about blockchain and cryptoassets, and 97 percent said they do not recommend cryptoassets to clients.
"The lack of knowledge by so many of the nation's leading financial advisors demonstrates the urgency of teaching advisors about this important emerging asset class," said Edelman, who has been named three times by Barron's as the nation's #1 Independent Financial Advisor. He noted that 80 percent of the advisors surveyed said clients are asking them about cryptoassets and added, "Advisors who can't answer their clients' questions about bitcoin will lose credibility with their clients, and they may end up losing the clients."
Edelman gathered experts from many of the leading firms in the field. Kingdom Trust was the premiere sponsor. Additional sponsors included Bitwise Investments, Blockforce Capital, Fidelity Digital Assets, Grayscale Investments, Orion Advisor Services, Pantera Capital, State Street Global Advisors and Van Eck.
ABCC is developing additional conferences. To learn more, go to www.advisorbcc.com.
SOURCE Advisor Blockchain and Cryptoasset Council
Leonovus Raises $2.2 Million CAD Through Successful Warrant Exercise
Reading Time:
2
minutes
Leonovus Inc., ("Leonovus or the Company") (TSXV: LTV) (OTC: LVNSF) today announces since September 30, 2018 it has received gross proceeds of $2,201,550 CAD from the exercise of warrants prior to their expirations on March 10 and March 20, 2019. All warrants issued by the company that matured on March 10 or March 20, 2019 have now been exercised or expired.
"Leonovus is privileged to have strong support from our investor community as demonstrated by the successful warrant exercise with over 92% of the warrants being exercised," said Michael Gaffney, CEO of Leonovus. "This additional capital will help our efforts to grow revenues and become a major provider of software solutions for the distributed storage market."
The March 2019 warrants, that were exercised or expired, eliminated the overhang on the Company's capital structure, positioning the structure for clean appreciation as revenues increase. There remain 13,750,000 warrants that expire on December 8, 2019 at an exercise price of $0.65 CAD.
This press release may contain forward-looking statements and information, which may involve risks and uncertainties.  The results or events predicted in these statements may differ materially from actual results or events. Factors that might cause a difference include, but are not limited to, competitive developments, risks associated with Leonovus' growth, the state of the financial markets, regulatory risks and other factors. There can be no assurance or guarantees that any statements of forward-looking information contained in this release will prove to be accurate. Actual results and future events could differ materially from those anticipated in such statements.  These and all subsequent written and oral statements containing forward-looking information are based on the estimates and opinions of management on the dates they are made and expressly qualified in their entirety by this notice. Unless otherwise required by applicable securities laws, Leonovus disclaims any intention or obligation to update or revise any forward-looking statements, whether as a result of new information, future events or otherwise.  Readers should not place undue reliance on any statements of forward-looking information that speak only as of the date of this release.  Further information on Leonovus' public filings, including its most recent audited consolidated financial statements, are available at www.sedar.com.
Neither TSX Venture Exchange nor its Regulation Services Provider (as that term is defined in policies of the TSX Venture Exchange) accepts responsibility for the adequacy or accuracy of this release.
SOURCE Leonovus Inc.
BLOCKStrain Technology Appoints Dr. James LaValle as Chief Medical Manager
Reading Time:
2
minutes
BLOCKStrain Technology Corp. (TSX:V: DNAX.V) (OTC: BKKSF) ("BLOCKStrain"), creator of the first Blockchain-secured, fully-integrated IP tracking platform for the cannabis industry, today announced it has appointed Dr. James LaValle as it Chief Medical Manager. In this new role, Dr. LaValle will provide leadership and direction with respect to scientific and medical aspects of the core software of the company, as well as areas of additional product and business development.
Dr. James LaValle has more than 40 years of experience in the natural products industry as a clinician, industry consultant and educator.  He has dedicated his professional career to becoming a voice for the emerging value of the natural product industry, with particular emphasis on the need for quality standards and transparency of ingredients in order to ensure consumer safety and efficacy.
"While Cannabidiol from hemp and cannabis products are taking the consumer and medical markets by storm, to date, this market segment has been fraught with quality and contamination issues that have tarnished the enormous value that these compounds can provide consumers. The BLOCKStrain technology represents a necessary evolution in ensuring product quality by tracking and reporting CBD and Cannabis ingredients starting from the soil all the way to the products on the store shelf", stated Dr. LaValle. "The CBD/Cannabis industry must deliver quality finished goods to a level that inspires consumer confidence and provides them with safe products.  Verification of the level and type of active ingredients as well as absence of impurities should be simple, but the industry is riddled with inconsistent and in some cases dangerous final products.  I firmly believe BLOCKStrain has the potential to become a new standard for testing and reporting purity and content safety of not just cannabis, but other natural products as well."
"Dr. LaValle's immense expertise in the nutraceutical industry, and his dedication to ensuring high quality product standards is directly in line with BLOCKStrain's mission of bringing transparency and integrity to the cannabis industry. With our technology, licensed producers, craft growers, other industry participants and most importantly patients and customers, can take affirmative action to ensure their products are as advertised." said Robert Galarza, CEO of BLOCKStrain. "Dr. LaValle's valued insight and well-established brand presence in the nutraceutical industry is unquestioned, and we are excited to have him as a key part of our growth strategy in cannabis and beyond."
Dr. LaValle is the recipient of many prestigious awards. He was one of nine Americans chosen for the Inaugural Dietary Supplement Information Bureau Board, and was also awarded the Clinician of the Year Award from the Natural Products Association. He has authored 4 databases on natural products and teaches application of natural compounds in clinical practice to health care professionals around the world.  In addition, he has 35 years of clinical practice in integrative medicine.
In connection with this appointment BLOCKStrain has agreed to grant Dr. LaValle stock options to acquire up to 250,000 common shares in the capital of BLOCKStrain, subject to the terms of a stock option agreement to be entered into by the parties.
SOURCE BLOCKStrain Technology Corp.