GIIS Chinchwad Amongst 0.1% Schools in India to Receive Cambridge Affiliation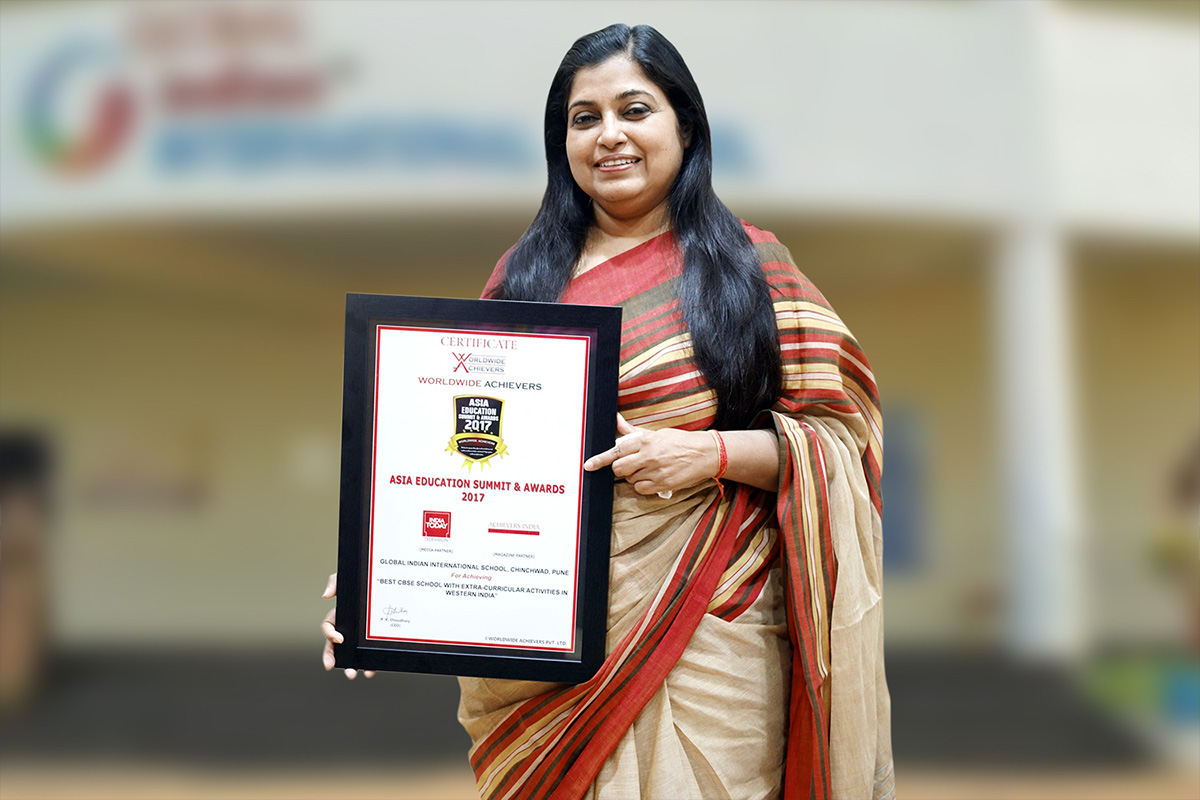 Reading Time:
2
minutes
GIIS now becomes a part of select 400 Cambridge schools with this affiliation nationwide and a part of 10,000 Cambridge schools in 160 countries across the globe
Global Indian International School (GIIS), Chinchwad recently recognised as 'Future 50 Schools Shaping Success in the country' is a leading chain of schools known for its quality education and academic excellence. GIIS Chinchwad's announces their affiliation to the Cambridge Assessment International Education Board. The School proudly joins the Cambridge community of 0.1% out of 3,39,000 private schools in India. GIIS Chinchwad offers a distinctive range of world-class educational facilities for the holistic development of students in curricular and co-curricular studies. Under the leadership of Dr. Amrita Vohra, Principal, GIIS Chinchwad, the school is set to discover new skylines and cater to the students from Grade 1 to Grade 12.
The Cambridge curriculum at GIIS is based on the fundamental ethos of creating learners who accept challenges with the confidence of a critical thinker. The Cambridge International opens itself to a global mind-set which transcends boundaries drawn by political lines where students take up collaborative projects across borders as part of their core syllabus.
It also prepares students whose first language is not English to competently and confidently function as an English language user which is the principal language of international exchange and business. As a consequence, Cambridge programs are recognized all over the world for preparing students for their higher education, careers and forthcoming lives.
Expressing her thoughts Dr. Amrita Vohra, Principal, GIIS Chinchwad, said, "We are very glad toannounce our association with Cambridge Boardwhich will take the school to newer horizons. This association will address the increasing demand for educational institutionstoimpart quality education with a wider outreach. There are about 10,000 Cambridge schools across 160 countries and it gives us immense pride to be a part of this league. A unique focus that the board emphasizes is the development of knowledge base of students rather than their marks. Our assessments are designed in a way that evaluates students' oral and problem-solving skills, in addition to the written examinations. GIIS-Cambridge curriculum will provide programs, resources and events that will help students prepare best for their future livesas global citizens."
Some extracurricular activities added to the curriculum are martial arts, chess, contemporary dance, music/singing, sports, yoga, art, speech and drama. Professionals and industry experts across these diverse activities will be imparting their valuable insights and expertise in these areas.
Global Indian International School (GIIS) Chinchwad, a CBSE-based ISO certified institute is a part of Global Schools Foundation. In their early achievements, the school has also been ranked as the second best school in Pune City by the Education World India Ranking 2017 in the Day Coed category. The school is a proud recipient of the prestigious International School Award bestowed upon by the British Council, UK. The school has also been awarded by the India Today Group for excellence in CBSE education, Pune and also by the Worldwide Archivers Group for Best school in Western India for Extracurricular activities.
Michael Patrick Partners Completes Marketing Program for $1 Billion Fundraising Campaign
Reading Time:
2
minutes
Michael Patrick Partners, a nationally recognized creative agency, announced today that it has completed work to help promote a $1 billion fundraising campaign for Santa Clara University. The campaign (campaign.scu.edu), announced on January 19, is the most ambitious in the university's history — far exceeding all previous endeavors.
Santa Clara University is California's oldest operating institution of higher learning. Established in 1861 and located in the heart of Silicon Valley, it blends high-tech innovation with social consciousness grounded in the Jesuit educational tradition.
Michael Patrick Partners worked for more than a year on the campaign's creative strategy, writing and design — to develop a multilevel marketing communications program to heighten awareness of the need to support future generations of SCU students, who will continue to transform lives, shape society and aspire to make the world a better place.
The campaign theme, "Innovating with a Mission," was selected to emphasize the university's location in Silicon Valley and that it too is a respected incubator of ideas and ideals that embody the region's spirit.
The campaign included myriad digital, print and social media tactics. Anchored by an innovative case statement (campaign overview brochure), the approach reflects the agency's trademark creative strategies that attract both education and mainstream clients.
Robert Maidens, the agency's associate creative director, says, "Not to be cliché, but the marketing literature our staff developed is groundbreaking for an education fundraising campaign. It's a highly visual and engaging story of a university forging solutions to help resolve the world's most pressing challenges."
Keith Pacoma, senior designer, adds, "We had endless material to work with, including renowned SCU alumni from Leon Panetta to Steve Nash — we got out of the way and let the story unfold."
The case statement is also featured on the website of Mohawk Fine Papers as an example of outstanding design and innovative use of paper. Visit michaelpatrickpartners.com to see the work.
During the past 20 years, Michael Patrick Partners has produced award-winning fundraising, admission enrollment and brand development programs for the education market. It landed the Santa Clara University work based on its participation in University of Portland's highly successful RISE fundraising campaign — one of the largest funding campaigns ever for a Pacific Northwest independent college or university — that resulted in a Gold Award from the Council for Advancement and Support of Education.
SOURCE Michael Patrick Partners
WPP India CSR Foundation Hosts its Annual Music Recital
Reading Time:
1
minute
WPP Foundation, the CSR entity of WPP India, in collaboration with Furtado's School of Music, today hosted its Annual Music Recital, an annual music program at the a Mumbai suburban auditorium. The recital saw 400 children across two of WPP Foundation's adopted schools perform a two-hour long recital, as they completed the first academic year of their school music program.
The school music program was launched in 2018 by WPP Foundation across four schools adopted by the WPP Foundation. So far, 1000 children have been taught to read musical notes, rhythms and chords as well as trained in playing a key instrument based on their interests like an acoustic guitar or keyboards. Besides imparting professional music training to the children, who otherwise may not have access to these opportunities, the program also aims to instill confidence in these young children to take up performing arts.
On the occasion, Rama Iyer – Director General, WPP Foundation, said, "At WPP India Foundation and our flagship Education to Livelihood (E2L) program, we envision to create varied interventions to open doors of opportunities for our children in both mainstream and diverse livelihoods by providing them with holistic development. Aligned to this vision, we develop future skills in the field of professional music enabling our children to explore professional career options in music. It is a proud moment to see our children performing together in such large numbers and stage such mesmerizing performances."
SOURCE WPP Foundation
NXM Labs Funds Cybersecurity Research Lab in Multi-Year Agreement with Ryerson University
Reading Time:
2
minutes
NXM Labs Inc., a leader in autonomous security and data integrity technology, and Ryerson University today announced NXM's funding of the Cybersecurity Research Lab (CRL) at Ryerson University in Toronto. The multi-year agreement will be managed under the auspices of the Center for Autonomous Security and Data Integrity (CASDI), NXM's corporate research laboratory.
NXM and Ryerson will research advanced agile crypto- and quantum-safe solutions for 5G IoT device networks. Dr. Atty Mashatan, a leading cybersecurity researcher who heads up the Cybersecurity Research Lab at Ryerson, will collaborate on research initiatives that combine NXM's investment with those of other research funders to further accelerate research efforts.
"We are thrilled to be working with NXM to address the impact of quantum computing and AI on security," said Dr. Mashatan, a professor of Information Technology Management at Ryerson's Ted Rogers School of Management. "The company already has a strong intellectual property foundation in autonomous security and we aim to enhance it quickly with our academic research resources on crypto agility, quantum computing and quantum-resistant technologies. This is a win-win for NXM and Ryerson as we focus our expertise on one of the hottest technology sectors."
Dr. Mashatan excels in the world of information security and has worked for many years with financial institutions where her application of mathematics has had financial ramifications and success. In addition, she is an expert in blockchain technology and IoT security.
"In our opinion, Dr. Mashatan is one of the finest cybersecurity researchers around, given her extensive academic credentials as well as industry experience," said Jay Fallah, CTO and co-founder, NXM Labs, and Chief Research Officer of CASDI. "She's ideally suited to do this type of research and complements our work with distributed ledgers. We're looking forward to some early successes with Dr. Mashatan and her research team to enhance our IP portfolio."
The Cybersecurity Research Lab is an academic research lab at the Ted Rogers School of Management at Ryerson University. It conducts cutting-edge information security research, trains the next generation of cybersecurity experts and is spearheading a crucial and ongoing dialogue with the Information and Communications Technology (ICT) industry. Its mission is to help organizations, large and small, to find innovative and cost-effective cyber risk mitigation strategies and solutions. The lab's research expertise is in Cryptography, Blockchain Technology, Quantum-Resistant Solutions, Machine Learning and its applications in Cybersecurity, Enterprise Security Architecture, and IoT Security.
SOURCE NXM Labs Inc.