GIIS Chinchwad Amongst 0.1% Schools in India to Receive Cambridge Affiliation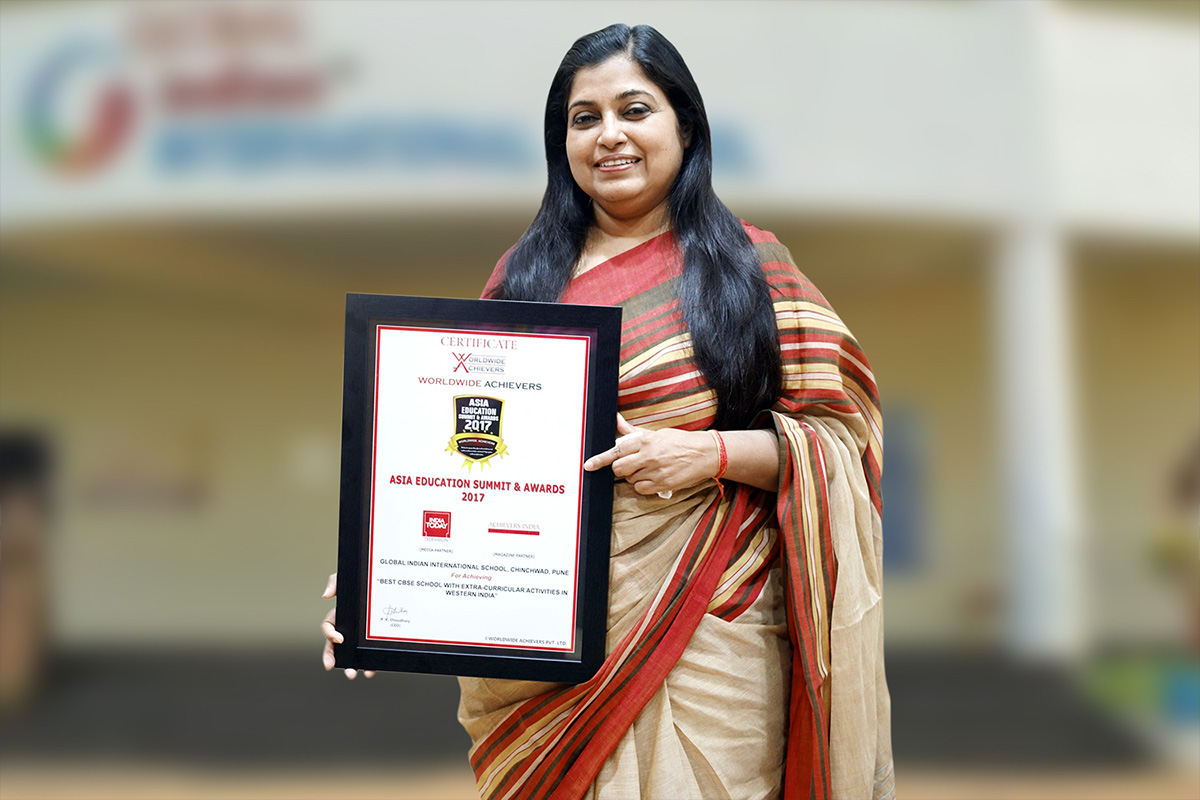 Reading Time:
2
minutes
GIIS now becomes a part of select 400 Cambridge schools with this affiliation nationwide and a part of 10,000 Cambridge schools in 160 countries across the globe
Global Indian International School (GIIS), Chinchwad recently recognised as 'Future 50 Schools Shaping Success in the country' is a leading chain of schools known for its quality education and academic excellence. GIIS Chinchwad's announces their affiliation to the Cambridge Assessment International Education Board. The School proudly joins the Cambridge community of 0.1% out of 3,39,000 private schools in India. GIIS Chinchwad offers a distinctive range of world-class educational facilities for the holistic development of students in curricular and co-curricular studies. Under the leadership of Dr. Amrita Vohra, Principal, GIIS Chinchwad, the school is set to discover new skylines and cater to the students from Grade 1 to Grade 12.
The Cambridge curriculum at GIIS is based on the fundamental ethos of creating learners who accept challenges with the confidence of a critical thinker. The Cambridge International opens itself to a global mind-set which transcends boundaries drawn by political lines where students take up collaborative projects across borders as part of their core syllabus.
It also prepares students whose first language is not English to competently and confidently function as an English language user which is the principal language of international exchange and business. As a consequence, Cambridge programs are recognized all over the world for preparing students for their higher education, careers and forthcoming lives.
Expressing her thoughts Dr. Amrita Vohra, Principal, GIIS Chinchwad, said, "We are very glad toannounce our association with Cambridge Boardwhich will take the school to newer horizons. This association will address the increasing demand for educational institutionstoimpart quality education with a wider outreach. There are about 10,000 Cambridge schools across 160 countries and it gives us immense pride to be a part of this league. A unique focus that the board emphasizes is the development of knowledge base of students rather than their marks. Our assessments are designed in a way that evaluates students' oral and problem-solving skills, in addition to the written examinations. GIIS-Cambridge curriculum will provide programs, resources and events that will help students prepare best for their future livesas global citizens."
Some extracurricular activities added to the curriculum are martial arts, chess, contemporary dance, music/singing, sports, yoga, art, speech and drama. Professionals and industry experts across these diverse activities will be imparting their valuable insights and expertise in these areas.
Global Indian International School (GIIS) Chinchwad, a CBSE-based ISO certified institute is a part of Global Schools Foundation. In their early achievements, the school has also been ranked as the second best school in Pune City by the Education World India Ranking 2017 in the Day Coed category. The school is a proud recipient of the prestigious International School Award bestowed upon by the British Council, UK. The school has also been awarded by the India Today Group for excellence in CBSE education, Pune and also by the Worldwide Archivers Group for Best school in Western India for Extracurricular activities.
Casio Receives 2019 EdTech Breakthrough Award
Reading Time:
2
minutes
Casio America, Inc., a leader in the electronic musical instrument industry, is excited to announce that its Privia PX-S1000 and PX-S3000 digital pianos are officially winners of the 2019 EdTech Breakthrough Awards in the "Music Education Solution of the Year" category. The EdTech Breakthrough Awards program is run by the Tech Breakthrough market intelligence organization, which conducts several awards programs in many of the most competitive technology sectors such as IoT, Cybersecurity, Wireless, FinTech and of course now – EdTech!
"We are honored our new PX-S1000/3000 digital pianos were recognized as EdTech Breakthrough Award winners." said Stephen Schmidt, Vice President of Casio's Electronic Musical Instrument Division. "At Casio, our goal is to develop products that provide educators and students with the most innovative and affordable instruments, and this award reaffirms our product offerings strike the right chord."
Casio's new Privia PX-S1000/S3000 models deliver innovations that make playing piano more enjoyable than ever. While their slim profile makes them the slimmest digital pianos in the world, these pianos earn the Privia moniker by providing authentic grand piano sound and feel. The newly developed Smart Scaled Hammer Action Keyboard is what makes the slim depth possible. With such a slim profile, users can easily transport and use the piano in a variety of environments with ease. Going beyond the accepted standards for hammer-action keyboards, the new design reproduces the individual response characteristics of each of the 88 keys on a grand piano. The AiR Sound Source delivers the natural tone of a grand piano with string and damper resonance, and even includes mechanical damper and key sounds.
Both models also offer a Bluetooth audio playback feature, allowing the user to connect to their device, utilizing the powerful built-in speaker system to listen or play along with their favorite songs. The PX-S1000 includes 18 Tones with 192 notes of polyphony, with layer/split/duet functionality. The PX-S3000 boasts 700 Tones with effects editing plus 200 accompaniment rhythms. The PX-S3000 also includes a backlit LCD display, a pitch bend wheel, and two control knobs that give players control over powerful DSP effects and more. Both models are also supported by Casio's free iOS and Android app Chordana Play for Piano which offers remote control over piano features and also provides a sheet music viewer as well as educational features to help the user learn to play.
The Privia PX-S1000 (MSRP: $899.99) and PX-S3000 (MSRP: $1199.99) portable keyboards are available now at select music dealers nationwide. For additional information on Casio's Privia series of keyboards or full portfolio of digital keyboards and pianos, please visit www.CasioMusicGear.com.
SOURCE Casio America, Inc.
Great Learning Expands to Europe, Asia Pacific, Africa and the Middle East
Reading Time:
2
minutes
Great Learning, India's leading Ed-tech platform for working professionals today announced that it is expanding its geographic footprint globally to Europe, Asia Pacific, Africa and the Middle East. The company will offer three of its most popular programs in Data Science & Business Analytics (PGP-DSBA – a special international variant of its business analytics program PGP-BABI ranked #1 in India for the last 4 years), Artificial Intelligence & Machine Learning (PGP-AIML) and Cyber Security (SACSP – Stanford Advanced Computer Security Program) in these geographies. Offered in association with two of the top universities of the world, Stanford Universityand The University of Texas, Austin, these online programs have already attracted learners from 17 countries including the UK, Singapore, South Africa, UAE, etc.
These programs, designed and developed by the top-notch faculty of UT Austin and Stanford, are delivered online by Great Learning, utilizing its unique mentored-learning model where personalized mentorship is provided by expert instructors from Great Learning's 750+ Global Guru network. The mentors include industry veterans from companies like Google, Microsoft, Amazon and Walmart.
Mohan Lakhamraju, Founder and CEO, Great Learning, said, "Our programs, delivery processes, technology platform and learning outcomes are among the best in the world. Over the last few years we have seen significant demand for our courses from learners outside of India. That led us to expanding to newer geographies to offer in-depth, specially designed programs and a more impactful learning experience to our global students. Over the next 3-5 years, we expect to deliver cutting-edge and impactful learning over 100,000 learners from international geographies."
Great Learning is India's leading Ed-tech company for working professionals and has trained over 10,000 learners in the last 5 years in career critical skills like AI, Data Science, Cloud Computing, Cyber Security, Full Stack Development and more. Great learning's programs have a high course completion rate of over 90%, among the best in the world. 66% of Great Learning alumni have achieved career transitions within six months of completing the program, demonstrating the practical relevance and industry acceptance of its programs.
The programs from Great Learning are extremely hands-on in nature with learners being exposed to skills through numerous projects, where they apply their learning to real-world problems and build an extensive professional portfolio, making them industry ready. The platform also offers career support services, access to a personalized job board, career mentorship sessions from industry experts and the opportunity to participate in live projects and industry-sponsored hackathons.
SOURCE Great Learning
Ping An Good Doctor Launches Groundbreaking 'Private Doctor' Service
Reading Time:
3
minutes
Ping An Healthcare and Technology Company Limited ("Ping An Good Doctor", or the "Company"; stock code: 01833.HK), the world's leading one-stop healthcare ecosystem platform, has launched the innovative "Private Doctor" service in the Ping An Good Doctor App to mark a new era of medical and healthcare practices. The one-stop platform offers comprehensive, high quality medical and healthcare services, including health management, real-time medical consultations, second opinions by experienced doctors and offline medical consultations for more than 200 million people in the emerging middle class.
Riding on Ping An Good Doctor's extensive premium medical resources in China and overseas network as well as its world leading artificial intelligence (AI) technology, the Private Doctor service will transform the traditional practice of medical consultation that involved patients travelling to find medical resources. The dedicated Private Doctor approach enables users to find quality medical and healthcare resources at their fingertips, by employing innovative mobile medical technology that customizes medical services.
New features fulfil users' all-round demand for medical and healthcare services
The newly launched Private Doctor service by Ping An Good Doctor caters to the needs of adults, the elderly and children by appointing dedicated doctors to conduct one-on-one consultations. The system operates round the clock to satisfy holistic medical and healthcare demands, such as real-time medical consultations and offline appointments for outpatient services at hospitals. Doctors employed by Ping An Good Doctor are from mostly Class III Grade A hospitals with over 10 years of professional practice experience each.
Besides, the dedicated Private Doctors are also "health butlers" that integrate the services in medical and healthcare sectors. Through developing an electronic health profile, customizing a physical check-up plan, compiling medical reports, tracing abnormal health indicators and managing weight for users, the Private Doctor service will be able to monitor users' health, thus preventing possible diseases. According to the World Health Organization, the costs of disease prevention, treatment and emergency rescue have a proportion of 1:8.5:100, indicating that investment in health management can substantially save on medical costs.
Behind the Private Doctors service is a professional team made up of reputable doctors from the top 100 hospitals in China, enabling users to efficiently match with selected doctors to seek second opinions and find the best medical solution.
For the elderly who have difficulty seeking medical services, Ping An Good Doctor's Private Doctor has introduced a "Comfort x 5" service to help them make appointments, escort them to medical consultations, settle fees, undergo examinations and collect medicine with the help of trained professional caretakers. The comprehensive service enables a swift process for medical consultation and hospitalization.
Private Doctor starts a new era in medical practice
In recent years, health consciousness and demand for medical and health services have been increasing, especially among the 200 million people in the emerging middle class. There is now a pressing need for higher quality and more personalized medical and health services. However, there are pain points like a lack of healthcare knowledge, repeated check-ups without an accurate diagnosis and long waiting times at hospitals. Thanks to Ping An Good Doctor, a medical partner who is familiar with a person's health and offers immediate assistance can now fill the gap.
Ping An Good Doctor's Private Doctor platform enables easy access to interactions between doctors and users to help doctors monitor people's health. It is also easier for users to obtain more accurate, ongoing medical and healthcare services.
At the same time, the Private Doctor platform partners with insurance agents, banks, consumption and health sectors through its own ecosystem to integrate resources for the provision of diversified "Medicine + Health" solutions, creating a one of its kind ecosystem for medicine and health. It is another giant leap forward following Ping An Good Doctor'sannouncement of its strategic partnership with Wyeth to offer high quality and Private Doctor services for 12 million members in the Wyeth Mothers' Club.
A spokesperson for Ping An Good Doctor said, "The 200 million Chinese people in the emerging middle class have been longing for high quality medical and health services. Therefore, the Company aims to provide Private Doctors who are highly professional and resourceful in personalizing and customizing services for our users. The new practice will set new standards for the diversified and standardized medical practices catering to those in the emerging middle class."
SOURCE Ping An Good Doctor