Robotic Exoskeletons for Industrial Production: German Bionic Debuts Its Award-Winning Power Suit at RoboDEX 2019 in Tokyo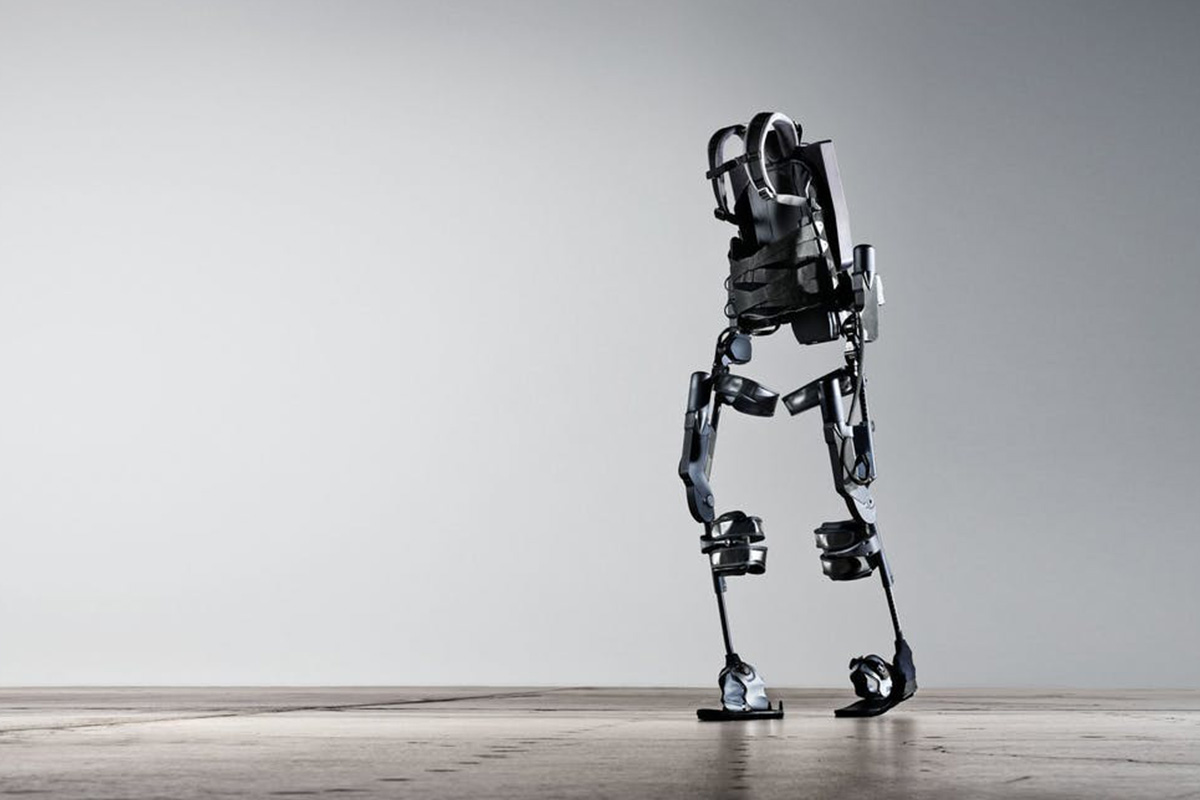 Reading Time:
2
minutes
Europe's leading producer of robotic exoskeletons, German Bionic from Augsburg, will present its multiple award-winning 'Cray X' active power suit for the first time at an Asian industry fair. Exoskeletons or power suits are human-machine systems that combine human intelligence with machine power by supporting or strengthening the wearer's movements, thereby reducing the risk of workplace accidents and load-bearing injuries. The high-tech company from Bavaria is the first European manufacturer to mass-produce the innovative robot worn directly on the body.
"Following our successful market entry in Japan in 2018, we will now debut our multiple award-winning Cray X at Asia's most important trade fair for robotics. At RoboDEX, we are excited to present our industry leading power suits and offer insights to most recent developments of Europe'stechnology leader for robotic exoskeletons," explains Hideo Yamashita, Director Japan at German Bionic.
Award-winning exoskeleton enters Asian market
Nominated for the prestigious Hannover Messe Hermes Award 2018 and recently decorated with the Land of Ideas and Automatica award, the German Bionic Cray X model has been specially designed for the manual handling of goods and tools. As it supports or strengthens the wearer's movements, it reduces compression pressure in the lower-back area while lifting heavy loads. The Cray X thereby significantly reducing the risk of workplace accidents and loadbearing injuries. It is particularly useful for situations in which human work cannot be fully replaced by robotic systems. This includes industrial production working processes, such as in the automotive sector, as well as in physically demanding logistics or construction work.
A technology on the rise
According to a recent study by market research and consulting firm ABI Research, more than 7000 exoskeleton systems will be in use worldwide by the end of 2018. In 20 years, it is expected to be over 300,000 devices. The analysts expect an average annual growth rate of almost 40 percent. Sales will grow from US$192 million to US$5.8 billion in the same period. The largest buyers will be the manufacturing sector, which accounts for more than 50 percent of global revenues.
German Bionic at RoboDEX / Tokyo Big Sight
German Bionic will be represented at Asia's most important robotics trade fair, from 16-18 January 2019, with its own booth in West Hall #2, A133.
Oracle Applauds Creators of Legendary Customer Experiences
Reading Time:
2
minutes
MODERN CUSTOMER EXPERIENCE — To celebrate the creators of truly great experiences across the entire customer journey, Oracle today announced the winners of the Markie Awards. The awards showcase Oracle Customer Experience (CX) Cloud customers who have delivered standout customer experiences across marketing, sales, service and commerce. This year's winners include Bonnier News, Samsung Business, Things Remembered, Movember Foundation and the City of Albuquerque, New Mexico.
"The Markie Awards have celebrated the art and science of digital marketing for more than a decade and to reflect the changing way customers interact with brands, we have expanded their scope to celebrate sales, service and commerce professionals as well," said Christina Cavanna, vice president, Corporate Marketing, Oracle. "The Markies are our way to recognize the people and organizations that push the boundaries of innovation to create outstanding experiences. The results achieved are incredible and Oracle congratulates all of this year's winners."
Spanning several categories, the Markie Awards recognize the movers, shakers and experience-makers from across industries. The winners of the 2019 Markie Awards are:
The Apex Award for Best Overall Customer Experience: Panasonic Computer Products Europe
The Thinker Award for Best Innovation in CX:

Best Innovation in Marketing: Snap Tech
Best Innovation in Sales: Aon
Best Innovation in Service: 

City of Albuquerque, New Mexico

The Insight Award for Best Use of Data: Cisco
The Heartstrings People's Choice Award: Health Resources in Action
The Upshot Award for Best Demonstrated ROI:

Best Demonstrated ROI in Marketing: 

Bonnier News

Best Demonstrated ROI in Sales & Service: Kenya Revenue Authority

The Cultivator Award for Best Lead Management Program: Samsung Business
The Omni Award for Best Omnichannel Experience: Things Remembered
The Borderless Award for Best International Marketing Campaign: Movember Foundation
The Pinpoint Award for Best Account-Based Marketing Strategy: Hewlett Packard Enterprise
The Convert Award for Best Commerce Experience: Livelo
The 2019 Markie Awards were presented on Wednesday, March 20, during Oracle Modern Customer Experience in Las Vegas. Every year, Modern Customer Experience brings together thousands of leading brands, industry visionaries, product experts and customer experience professionals to discuss the latest trends and best practices in marketing, commerce, sales and service.
SOURCE Oracle
Nexteer Recognized as Manufacturing Leadership Awards 2019 Winner for Enterprise Integration & Technology Leadership
Reading Time:
2
minutes
Nexteer Automotive, a global leader in intuitive motion control, recently announced that it has been recognized as a Manufacturing Leadership Awards winner for its outstanding achievement in Enterprise Integration and Technology Leadership.
"We are honored to be recognized by the National Association of Manufacturers for the second straight year for our commitment and leadership in manufacturing excellence," said Dennis Hoeg, Vice President and North America Division President, Nexteer Automotive. "This latest award demonstrates the impact that our Digital Trace™ Manufacturing effort is having on redefining global manufacturing processes, tools and predictive analytics."
Nexteer's Digital Trace™ Manufacturing is one of the most advanced, holistic, integrative approaches to design and manufacturing systems ever seen in the automotive industry. The system uses the latest technologies and data analytics within one common, global architecture. Digital Trace™ Manufacturing gives Nexteer a more intimate understanding of its global operations at any given minute. Furthermore, any improvement in design or production made at one location can quickly be replicated globally.
In addition to Digital Trace™ Manufacturing, Nexteer created a virtual factory portal called 1Link to quickly and easily connect people and data on the factory floor. 1Link allows simple, mobile access to the plant documents that employees need to perform their jobs on the plant floor (such as instructions, control plans, prints, etc.). It also allows employees to view the latest released documents, training status of operators and previous revisions.
"We embarked on this innovative process to create a digital manufacturing solution to support global manufacturing engineering processes, Manufacturing 4.0 initiatives and manufacturing operations document control and accessibility. Ultimately, these new technologies are optimizing manufacturing processes, enhancing quality and improving product performance," said Hoeg.
Nexteer will be recognized at the 15th Annual Manufacturing Leadership Awards Gala, which is to be held on the last day of the Manufacturing Leadership Summit, June 10-12, 2019 in Huntington Beach, CA.
SOURCE Nexteer Automotive
WirelessCar's Successful Platform-based Services for the European Telematics Market Commended by Frost & Sullivan
Reading Time:
2
minutes
Based on its recent analysis of the European telematics services market, Frost & Sullivan recognises Sweden-based WirelessCar with the 2018 European Market Leadership Award. From a provider of customer-specific solutions, WirelessCar has repositioned itself as a platform-based service provider, earning itself several long-term partnerships with major automakers. It skillfully manages data and serves as a telematics service provider (TSP) for multiple automakers by adapting to their requirements. The company currently serves more than 75 markets.
"The ability to quickly adjust to automakers' requirements with high-quality services and technologies has set WirelessCar apart from competitors," said Krishna Jayaraman Industry Analyst. "Its collaboration with Amazon Web Services (AWS) has allowed it to offer distinctive value-added services by leveraging car Internet of Things (IoT) technologies which could enable cars to safely communicate and sync data in a connected ecosystem. WirelessCar's expertise in data management, authorisation, authentication, and integration with numerous touchpoints of automakers' legacy systems has made it the TSP of choice for connected vehicles."
One of WirelessCar's major strengths is its ability to form long-standing partnerships with leading brands such as Mercedes-Benz, Jaguar Land Rover, Volvo Cars, Subaru, and Nissan. It had been a wholly owned subsidiary of Volvo Group since 2007, but it recently announced that the Volkswagen Group would acquire majority stakes. Among its successes are Volvo On Call safety, security, and convenience services, which have been implemented in Volvo cars in North America, Brazil, China, Russia, and 30 other markets. It already has close to 10 percent of the market share, or 4 million active connected vehicles; Thanks to the impending acquisition by VW and the rapid volume growth with existing and new customers the ambition now is to provide digital services to more than 100 million cars 2025. its, is expected to take it past the 100 million mark by 2025.
In addition rapid development of EV services , WirelessCar is looking to stake a claim to the shared mobility market as well. Automakers in all these categories prefer WirelessCar to other TSPs as it can work with multiple telecom vendors and machine-to-machine providers. It has also developed in-house expertise in managing all the complex processes of a connected car programme, including integrations with OEM legacy systems for customer relationship management, dealership management, production and ordering systems, and financial systems. Moreover, it seamlessly integrates with automakers' servers, both regionally and globally.
"While its competitors are mostly one-off solution providers or off-the-shelf product companies, WirelessCar has set itself apart with its platform strategy," noted Jayaraman. "It has gained entry into every major automaker's digital ecosystem by offering functionalities such as open application programming interfaces (APIs), partner APIs, and subscription management through its telematics platform. Overall, its industry-leading ability to address connectivity requirements and transform automakers' business processes make it the ideal future-proof solution."
Each year, Frost & Sullivan bestows this award upon the company that demonstrates excellence in growth and customer value. Attaining loyal customers who became brand advocates allows the company to grow and achieve a market leadership position. By committing to the customer at each stage of the buying cycle and continuing to nurture the relationship, this Award recognises a company's increased market share over time.
Frost & Sullivan Best Practices awards recognise companies in a variety of regional and global markets for demonstrating outstanding achievement and superior performance in areas such as leadership, technological innovation, customer service, and strategic product development. Industry analysts compare market participants and measure performance through in-depth interviews, analysis, and extensive secondary research to identify best practices in the industry.
SOURCE Frost & Sullivan