The League of Arab States Launches the Common Vision for Arab Digital Economy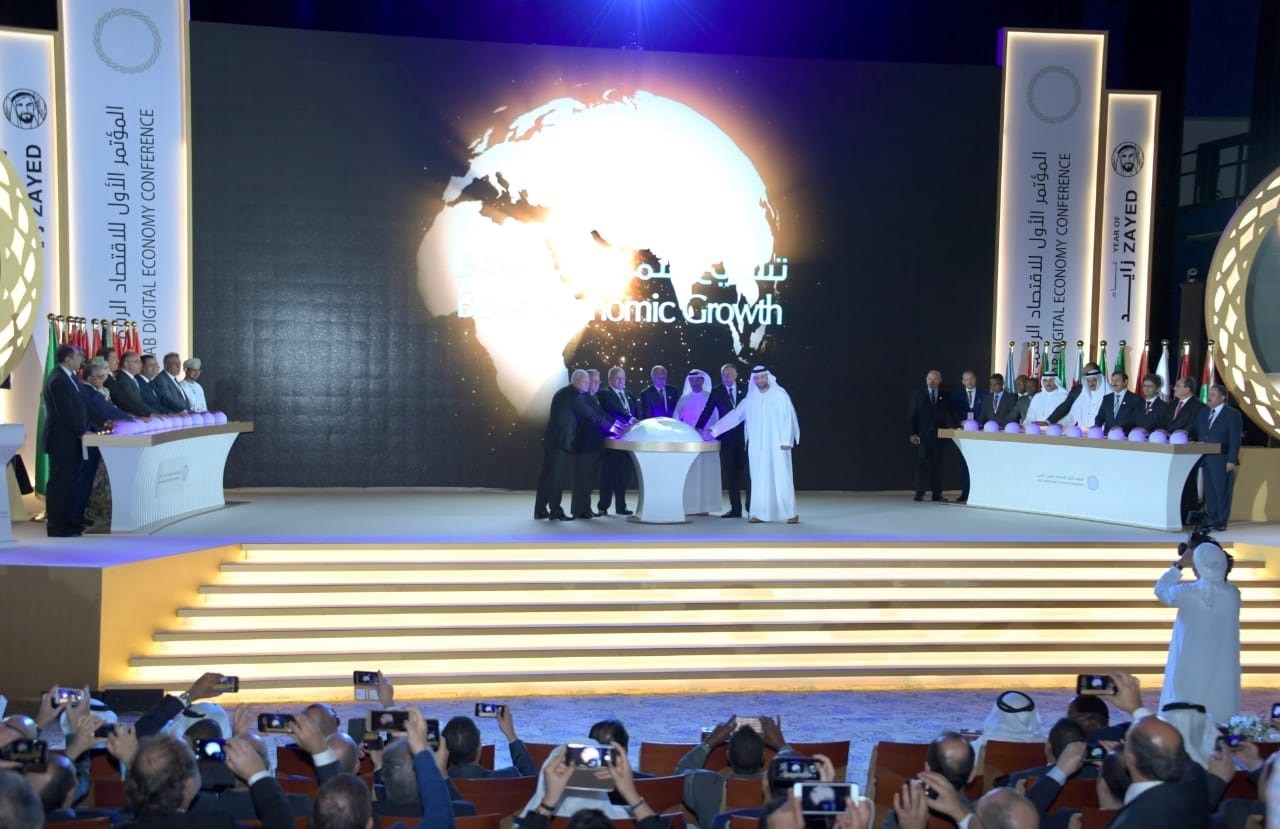 Reading Time:
2
minutes
Under the patronage of Mohammed bin Zayed and the presence of Saif bin Zayed
Digital economy strategy to almost double Arab countries' GDP by 2030
333 billion USD a year would be the potential contribution to the Arab world GDP in adoption of the strategy at full maturity
Under the patronage of HH Sheikh Mohammed bin Zayed Al-Nahyan, Crown Prince of Abu Dhabi and Deputy Supreme Commander of UAE's Armed Forces, the League of Arab States launched the common vision for the Arab Digital Economy during the first day of the Arab Digital Economy Conference held from 16 to 17 December 2018 at the Emirates Palace in Abu Dhabi. The launch of the vision was headed by Ahmed Aboul Gheit, the Secretary General of the League of Arab States, and members of Arab States from Arab Ministers visiting Abu Dhabi and attending Arab Ambassadors to the UAE.
The conference, designed as panel discussions from experts participating from around the world with the endorsement of international organizations including the UN, World Bank, and OECD for the Arab Digital Economy Strategy.
Dr. Hesham O. Dinana, Head of Research for the Arab Digital Economy Strategy said during his presentation: "By 2030 the Arab countries adoption of the digital economy strategy could grow GDP from 2.6 trillion USD up to 4.15 trillion and the total digital growth effect at full maturity could reach up to 333 billion USD a year."
Stefano Manservisi, Director General European Commission during his participation stated: "Digital transformation is an opportunity for bilateral and also global cooperation, for peace, stability and progress to be pursued across the region and neighboring continents," as he presented alongside Major General Gert-Johannes Hagemann, Deputy Commander, NATO HQ Rapid Reaction Corps France and Tarek Amer, Governor of Central Bank, Egypt.
Dr. Gérald Santucci, Ambassador, Interop-VLab and Former Adviser on Cross-cutting Policy /Research Issues, EU Commission on Monday's session titled 'Developing the policy framework for the Arab digital economy' also highlighted: "At the same time as the digital economy conference is developing inspiring discussions, 2019 has been proclaimed by the UAE as the Year of Tolerance, one of the tools of empowering civilisations and ensuring stability and flourishing of nations."
The Digital Economy Conference will continue tomorrow 17th December at Emirates Palace.
SOURCE The League of Arab States
Renewed support from the community: $1,763,200 raised for the 16th edition of the Guignolée du Dr Julien
Reading Time:
2
minutes
The community once again showed its support for the 16th Guignolée du Dr Julien which ended this week. A total of $1,763,200 was raised benefiting the Fondation du Dr Julien's three centres of expertise: the Assistance d'enfants en difficulté (AED) centre in the Hochelaga neighbourhood, the Garage à musique (GAM) in the Maisonneuve neighbourhood, and the Centre de services préventifs à l'enfance (CSPE) in the Côte-des-Neiges neighbourhood.
This amount represents approximately 40% of the funds required to offer free quality care and professional services to children and their families living in vulnerable environments where our centres are located.
"Once again this year, we are deeply touched and grateful for the unwavering support and generosity of the community. On behalf of the Fondation's three centres of expertise and training, I would like to extend heartfelt thanks to everyone who has supported us and continues to do so. The ongoing support of the community is a crucial element that allows us to care for and empower these children and youths whose development has been compromised by difficult life circumstances," said Dr. Gilles Julien, Clinical Director, Founding President and Chief Executive Officer of the Fondation du Dr Julien.
The Fondation team would like to give special thanks to the many volunteers who took part in this 16th edition of the Guignolée du Dr Julien, and all its partners: the co-founders Ève Christian (also godmother of the event) and Caroline Lafrance, the godfather of the event, Christian Bégin; Santa Claus, Louis Émond; the team from Samedi et rien d'autre, which was hosted for the 13th consecutive year by Joël Le Bigot and broadcast on ICI Radio-Canada Première; Jean-Charles Lajoie for hosting the traditional children's street hockey game for the 10th time; TELUS for its help with the call centre; and the Jean Coutu Group for its ongoing support with the downloadable Fondation du Dr Julien sticker pack. The Fondation would also like to thank 91.9 Sports and the RNC Media network for its support throughout Quebec.
Other community social pediatrics centres certified by the Fondation du Dr Julien or in the process of being certified also held their own guignolées on December 15, raising a total of $996,595. The funds collected by each centre will be used to provide care and services to children in their community, in addition to the services already offered in each region.
NYC Home Surplus Builds as Overpriced Inventory Lingers on Market
Reading Time:
3
minutes
The sales market's turbulent year ends with inventory close to peak levels citywide, according to the Q4 2018 StreetEasy Market Reports
Last quarter, the number of homes for sale grew at double-digit rates in all five boroughs for the first time ever. In Manhattan, sales inventory rose 15.4 percent year over year, the fastest annual rate of growth in the fourth quarter since the financial crisis. As a result, fourth-quarter inventory was at its highest level since 2010, according to the Q4 StreetEasy Market Reportsi. Brooklyn and Queens also saw significant annual increases in inventory, up 22.0 percent and 30.8 percent, respectively.
Although the listing of new for-sale homes slowed in the fourth quarter from the record highs reached earlier in the year, total inventory rose as overpriced homes lingered on the market. Homes that were fairly priced, however, sold in a similar timeframe as in 2017. Units that went into contract in Manhattan during the fourth quarter of 2018 spent a median of 86 days on the market, an increase of nine days from the previous year. In Brooklyn, homes took a median of 68 days to sell, down two days from the same period a year earlier. In Queens, homes spent 78 days on the market, just two days longer than in the fourth quarter of 2017.
"The glut of unrealistically priced homes in the city has been a main driver of the slow-moving market that ended 2018 – causing more and more homes to pile up before the new year and heightening competition among sellers," said StreetEasy Senior Economist Grant Long. "Heading into 2019, sellers who are unwilling to budge on price are going to face an unforgiving market. Many sellers will have to make difficult pricing decisions in early 2019, particularly with another wave of inventory set to hit the market as the home-buying season heats up in the spring."
See below for additional sales and rental market trends across Manhattan, Brooklyn and Queens.
Q4 2018 Key Findings — Manhattan
Prices dropped for the fourth consecutive quarter. The StreetEasy Manhattan Price Indexii dropped 3.0 percent to $1,132,214, its lowest level since 2015.
The Upper West Side saw the lowest number of recorded sales since the financial crisis. There were 405 recorded salesiii in the Upper West Sideiv in the fourth quarter of 2018 – a 23.7 percent annual drop.
More than a quarter of homes had their price cut. The share of homes with a price cut in Manhattan increased by 4.9 percentage points year over year, reaching 26.8 percent. The median price cut amount remained unchanged, at 5.7 percent of the home's total price.
Rents rose in all submarkets. The StreetEasy Manhattan Rent Indexv increased 2.4 percent annually, reaching $3,207. Rents rose the most in Upper Manhattanvi, up 2.4 percent to an all-time high of $2,380.
The share of units offering rental concessions dropped. In the fourth quarter of 2018, 14.9 percent of rentals in Manhattan offered a concessionvii, down 7.3 percentage points from last year — the largest annual drop since 2010.
Q4 2018 Key Findings — Brooklyn
Prices rose after dipping briefly in the third quarter. The StreetEasy Brooklyn Price Index increased 2.6 percent annually to $711,578. Prices in South Brooklyn[viii] rose the most, reaching $724,055, an increase of 5.5 percent year-over-year.
Recorded sales fell to 2012 levels. The number of recorded sales in Brooklyn dropped 18.8 percent annually, matching levels last seen in 2012.
Homes came off the market two days faster. The median number of days on market dipped to 68 in Brooklyn, down two days from last year. Brooklyn was the only borough where median days on market dipped.
Rents continued to climb. The StreetEasy Brooklyn Rent Index increased 1.5 percent to $2,584. Rents rose the most in Northwest Brooklyn, increasing 3.3 percent annually to $3,058.
Only 1 in 10 rentals offered concessions. Concessions were harder to find in Brooklyn, with the share of units offering concessions down 8.7 percentage points from a year prior.
Q4 2018 Key Findings — Queens
Prices continued to rise. The StreetEasy Queens Price Index increased 5.0 percent to $520,312. Home prices rose in every Queens submarket, led by growth in Central Queens[ix], where prices rose 6.9 percent to $539,006.
There were more than 1,000 more homes on the market than in the fourth quarter of 2017. Total sales inventory increased 30.8 percent in Queens. Sales inventory jumped the most in Long Island City, on the heels of the Amazon HQ2 announcement — up 45.2 percent annually.
More Queens sellers offered price cuts. The share of homes with a price cut rose 5.6 percentage points year-over-year to 19.3 percent in the borough. The median price cut amount remained unchanged at 4.5 percent.
Rents reached an all-time high. The StreetEasy Queens Rent Index increased 2.6 percent annually, reaching $2,164.
Landlords advertised concessions on fewer units. The share of rentals advertising concessions fell to 9.6 percent in Queens – down 5.6 percentage points annually.
The complete StreetEasy Market Reports for Manhattan, Brooklyn and Queens, with additional neighborhood data and graphics, can be viewed at streeteasy.com/blog/research/market-reports/. Definitions of StreetEasy's metrics and monthly data from each report can be downloaded at https://streeteasy.com/blog/data-dashboard/.
Media and entertainment companies must look beyond Gen Z to compete amid shifting customer demographics
Reading Time:
3
minutes
Media and entertainment companies must adopt a multigeneration strategy and challenge perceptions around the behaviors of older generations, or risk conceding huge growth potential. This is according to EY study, Ten opportunities and threats for media and entertainment companies | 2019, which shortlists the most pertinent risks and opportunities facing the industry in the next 12 months.
In recent years, the industry has placed younger generations at the heart of content and channel strategies. But while Gen Z and millennials are regarded as digital natives, baby boomers (born 1946-1964) typically have more disposable income and are becoming increasingly adept in how they consume content and embrace technology. EY research1indicates that boomers are more loyal than younger generations, and with people aged 65 and older set to exceed the number of children under the age of five by 20202, this demographic offers an emerging growth opportunity. The report states that companies must now take steps to better understand boomers' unique preferences.
John Harrison, EY Global Media & Entertainment Leader, says:
"As a demographic group, the older generation is simply too big to ignore and will only become more influential over time as they ascend the technology ladder. With competition intensifying, to get closer to the customer, media and entertainment companies must now broaden their focus beyond younger demographics if they are to succeed in an increasingly complex landscape. A data-driven approach will be essential for companies to understand how older generations are adopting technology, and to help facilitate the development of personalized experiences across the right channels – thereby unlocking huge opportunities for growth."
Striving to compete with digital natives
Looking beyond age demographics, the report also cites "obsessing about the customer" as one of the top ten themes for 2019. While media companies are continually reinventing products to compete with digital natives, complexity breeds inconsistency that can deliver a poor customer experience. In particular, many companies lack the infrastructure to gather relevant information from multiple channels and feed it back into their ecosystem. To mitigate this, the report states that companies must deploy technology more like digital natives to enable better customer experiences.
Another key theme, "re-calibrate for growth," indicates that one way to achieve this may be through investing in new digital ventures. With many of the leading digitally native companies turning traditional business models on their heads, the report highlights that in order to keep pace, radical change is required around how more traditional media companies raise, invest and optimize capital. Indeed, nearly a quarter (23%) of media and entertainment respondents to the 19th EY Global Capital Confidence Barometer indicate that they are now reviewing their portfolios every quarter – up from 1% in April 2018.
With such rapid advancements in technology, and with media companies amassing huge volumes of personal data, cybersecurity also features as a critical threat facing the sector. The report highlights how the Internet of Things and a growing number of connected ecosystems have multiplied the potential threat level in recent years. In response, companies need to take steps to devise a multilayered cybersecurity strategy, with a particular focus around brand-related assets.
Harrison says: "We have known for some time that media and entertainment companies are at the center of disruption, driven by the inception of new technologies and changing consumer attitudes. As ecosystems continue to shift at an even greater pace across the industry, the imperative to act is now as companies place their bets on new technologies, business models and mergers and acquisitions to improve how they interact with their customers. But in doing so, they must not overlook the urgency to build higher levels of cyber resilience across what is becoming a much wider content delivery chain."
A perfect storm of geopolitical trends
The report further identifies unprecedented disruption across the tax landscape as presenting both a huge opportunity and threat to the industry. A range of macro trends, including Brexit, trade disputes and a global drive toward increased transparency, are playing into a deepening sense of uncertainty. Meanwhile, the biggest revision to the US corporate tax code in 30 years could mean greater upside for companies that host their intellectual property in the US. Media companies must build digital tax functions that are sufficiently agile to respond to this turbulence.
Other opportunities and threats cited in the report include intelligent automation, which can help companies achieve tangible benefits on both the bottom and top lines; the prospects of building direct to consumer business models; and the intensifying battle for content.