Confucius Institute Headquarters/Hanban signs strategic MOU with Sichuan Provincial Department of Culture and Tourism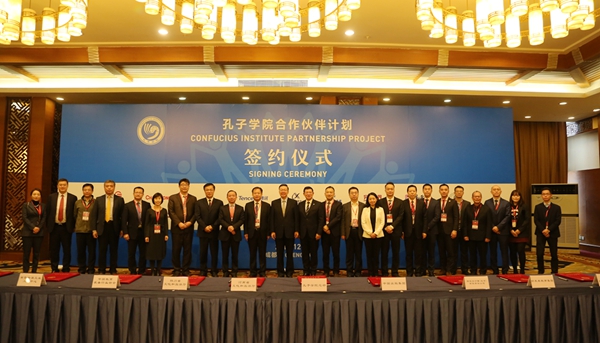 Reading Time:
2
minutes
On December 5, Confucius Institute Headquarters/Hanban launched the "Confucius Institute Partnership Project" during the 13th Confucius Institute Conference held in Chengdu. As one of the partners of the project, the Sichuan Provincial Department of Culture and Tourism signed a strategic Memorandum of Understanding (MOU) with Confucius Institute Headquarters/Hanban and hosted the launch ceremony for the Project.
The cooperation is aimed at heightening the importance of the role of the global Confucius Institute platform, promoting the virtues of Chinese culture, introducing the world to the charismatic qualities of China and of Sichuan Province through cultural tourism activities, and stimulate innovation to drive the development of Sichuan's cultural tourism industry.
According to the MOU, the two sides will jointly organize cultural exchanges and collaborations involving language, culture and tourism between China and other countries. Confucius Institute Headquarters/Hanban will assist the Sichuan Provincial Department of Culture and Tourism in setting up information desks at Confucius Institutes and Overseas Chinese Test Centers around the world in a move to promote Sichuan Province's cultural tourism destinations, organize promotional events for Sichuan's cultural tourism industry in certain countries according to actual needs as well as invite directors, teachers and students of Confucius Institutes to Sichuan to assist in research into cultural tourism.
The Sichuan Provincial Department of Culture and Tourism plans to develop textbooks and courses on Bashu culture (the predominant culture in Sichuan Province), according to the needs of Confucius Institutes, and promote their use in Confucius Institutes around the world following approval. At the same time, the Department will approach local governments, businesses and social organizations across Sichuan province to raise funds for the building of more Confucius Institutes through voluntary donations and other forms of support. With the consent of Confucius Institute Headquarters/Hanban, the Department may use the Confucius Institute platform to launch international marketing campaigns.
This Memorandum of Understanding is valid for 3 years.
SOURCE Sichuan Provincial Department of Culture and Tourism
Michael Patrick Partners Completes Marketing Program for $1 Billion Fundraising Campaign
Reading Time:
2
minutes
Michael Patrick Partners, a nationally recognized creative agency, announced today that it has completed work to help promote a $1 billion fundraising campaign for Santa Clara University. The campaign (campaign.scu.edu), announced on January 19, is the most ambitious in the university's history — far exceeding all previous endeavors.
Santa Clara University is California's oldest operating institution of higher learning. Established in 1861 and located in the heart of Silicon Valley, it blends high-tech innovation with social consciousness grounded in the Jesuit educational tradition.
Michael Patrick Partners worked for more than a year on the campaign's creative strategy, writing and design — to develop a multilevel marketing communications program to heighten awareness of the need to support future generations of SCU students, who will continue to transform lives, shape society and aspire to make the world a better place.
The campaign theme, "Innovating with a Mission," was selected to emphasize the university's location in Silicon Valley and that it too is a respected incubator of ideas and ideals that embody the region's spirit.
The campaign included myriad digital, print and social media tactics. Anchored by an innovative case statement (campaign overview brochure), the approach reflects the agency's trademark creative strategies that attract both education and mainstream clients.
Robert Maidens, the agency's associate creative director, says, "Not to be cliché, but the marketing literature our staff developed is groundbreaking for an education fundraising campaign. It's a highly visual and engaging story of a university forging solutions to help resolve the world's most pressing challenges."
Keith Pacoma, senior designer, adds, "We had endless material to work with, including renowned SCU alumni from Leon Panetta to Steve Nash — we got out of the way and let the story unfold."
The case statement is also featured on the website of Mohawk Fine Papers as an example of outstanding design and innovative use of paper. Visit michaelpatrickpartners.com to see the work.
During the past 20 years, Michael Patrick Partners has produced award-winning fundraising, admission enrollment and brand development programs for the education market. It landed the Santa Clara University work based on its participation in University of Portland's highly successful RISE fundraising campaign — one of the largest funding campaigns ever for a Pacific Northwest independent college or university — that resulted in a Gold Award from the Council for Advancement and Support of Education.
SOURCE Michael Patrick Partners
Suzy Says: Consumers Are More Likely To Learn About Healthy Food Trends From Social Media Than News Sources
Reading Time:
2
minutes
Suzy, a leading consumer insights platform that provides "actionable insights at the speed of culture," asked U.S. consumers where they are most likely to first hear about the latest in healthy food trends. The results, powered by the platform's on-demand network of more than one million consumers, may surprise you. Regardless of their interest in health, all survey respondents are most likely to hear about the latest in healthy food trends from their friends, family or social media, as opposed to television, blogs, magazines or online news sources.
Below are Suzy's in-depth findings on the ways consumers are most likely to first hear about healthy food trends.
Suzy says healthy eaters are most likely to learn about the latest healthy food trends via the following:
Facebook – 17 percent
Instagram – 15 percent
Friends or Family – 13 percent
Blogs – 8 percent
Television – 8 percent
Non-healthy eaters are most likely to learn about the latest healthy food trends via the following:
Facebook – 20 percent
Friends or Family – 19 percent
Instagram – 10 percent
Online News Sources – 10 percent
Television – 10 percent
"These results highlight the power that the collective voice of consumers has in today's marketplace," said Matt Britton, founder & CEO of Suzy. "When social networks play a larger role in alerting consumers to healthy food trends than traditional media outlets, you can see how important it is to create products, packaging, brands and advertisements that truly resonate with your target audience, and inspire them to share the information with others."
Called the "Siri for brands," Suzy is a consumer intelligence platform that unlocks critical consumer insights to help organizations make better and more informed decisions—faster. Like having a focus group right in your pocket, Suzy brings the voice of real consumers directly to brands within minutes, so they can better understand their customers.
The platform currently serves some of the biggest brands in the world, including Coca-Cola, Procter & Gamble, Johnson & Johnson, Citibank, Verizon, Nintendo and Nestle. These leading companies validate critical assumptions with Suzy, so they can focus on creating compelling new products, developing effective marketing strategies, and validating direct offers that increase conversions and drive growth.
This survey was conducted online within the United States by Suzy on survey was run from Feb 27-28. This online survey is not based on a probability sample and therefore no estimate of theoretical sampling error can be calculated. To download the full white paper with additional results, click here. For complete survey methodology please contact Kyle Kim-Hays at kylek@suzy.com.
SOURCE Suzy
Oracle Applauds Creators of Legendary Customer Experiences
Reading Time:
2
minutes
MODERN CUSTOMER EXPERIENCE — To celebrate the creators of truly great experiences across the entire customer journey, Oracle today announced the winners of the Markie Awards. The awards showcase Oracle Customer Experience (CX) Cloud customers who have delivered standout customer experiences across marketing, sales, service and commerce. This year's winners include Bonnier News, Samsung Business, Things Remembered, Movember Foundation and the City of Albuquerque, New Mexico.
"The Markie Awards have celebrated the art and science of digital marketing for more than a decade and to reflect the changing way customers interact with brands, we have expanded their scope to celebrate sales, service and commerce professionals as well," said Christina Cavanna, vice president, Corporate Marketing, Oracle. "The Markies are our way to recognize the people and organizations that push the boundaries of innovation to create outstanding experiences. The results achieved are incredible and Oracle congratulates all of this year's winners."
Spanning several categories, the Markie Awards recognize the movers, shakers and experience-makers from across industries. The winners of the 2019 Markie Awards are:
The Apex Award for Best Overall Customer Experience: Panasonic Computer Products Europe
The Thinker Award for Best Innovation in CX:

Best Innovation in Marketing: Snap Tech
Best Innovation in Sales: Aon
Best Innovation in Service: 

City of Albuquerque, New Mexico

The Insight Award for Best Use of Data: Cisco
The Heartstrings People's Choice Award: Health Resources in Action
The Upshot Award for Best Demonstrated ROI:

Best Demonstrated ROI in Marketing: 

Bonnier News

Best Demonstrated ROI in Sales & Service: Kenya Revenue Authority

The Cultivator Award for Best Lead Management Program: Samsung Business
The Omni Award for Best Omnichannel Experience: Things Remembered
The Borderless Award for Best International Marketing Campaign: Movember Foundation
The Pinpoint Award for Best Account-Based Marketing Strategy: Hewlett Packard Enterprise
The Convert Award for Best Commerce Experience: Livelo
The 2019 Markie Awards were presented on Wednesday, March 20, during Oracle Modern Customer Experience in Las Vegas. Every year, Modern Customer Experience brings together thousands of leading brands, industry visionaries, product experts and customer experience professionals to discuss the latest trends and best practices in marketing, commerce, sales and service.
SOURCE Oracle