Innovate and Win the Future through Intelligence, P-MEC China 2019 to "Set Sail" Intelligently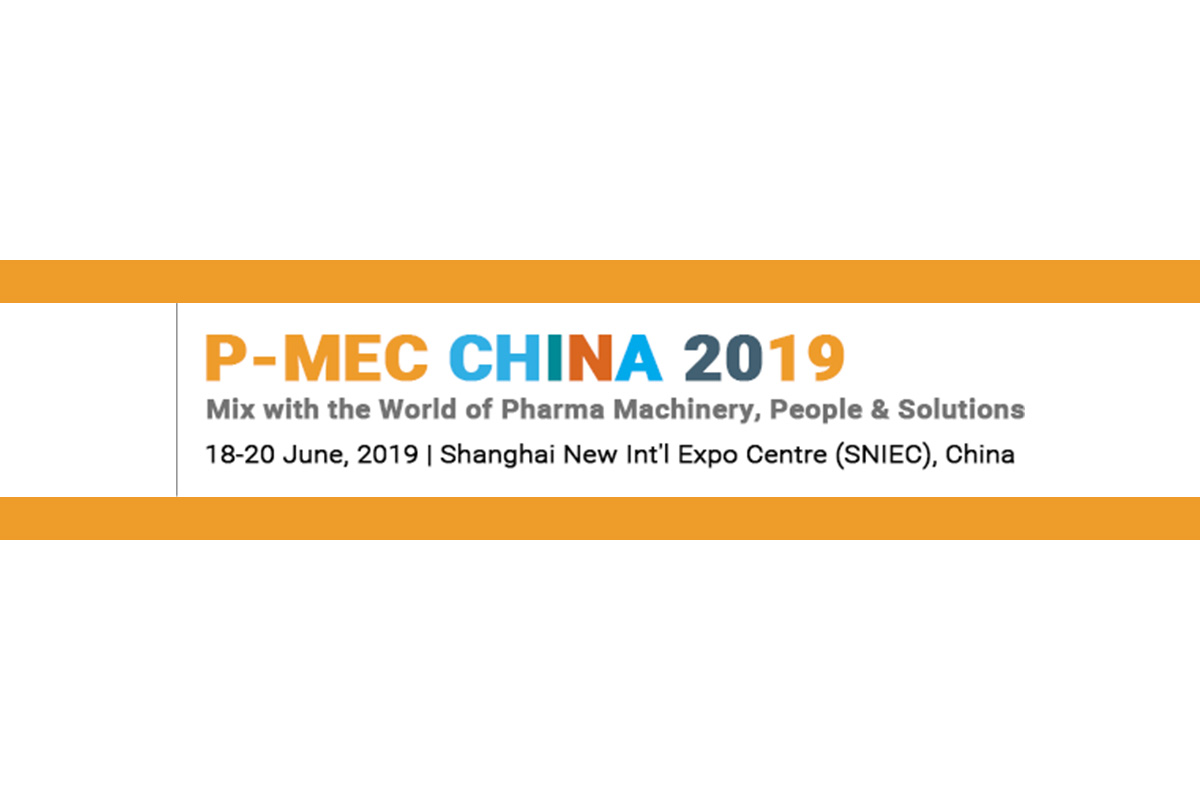 Reading Time:
3
minutes
The National Medical Products Administration of China officially issued the Guiding Opinions on Building Information Technology-Enabled Drug Traceability Systems in Nov. 2018. The introduction of this Guiding Opinions marks the return of the drug traceability system after the electronic supervision code system was halted in 2016. Tracking and source tracing of information in pharmaceutical production, circulation, and use, etc. through information-technology-enabled means to form an organic whole will become a development trend of the industry in the future. Chinese pharmaceutical enterprises have attached greater importance to the improvement of enterprise information management as successive favorable policies are introduced.
P-MEC China 2019, a grand international party for the industry exchange and cooperation, and common development in the pharmaceutical field that is hosted by China Chamber of Commerce for Import & Export of Medicines & Health Products (CCCMHPIE) and UBM EMEA and co-sponsored by Shanghai UBM Sinoexpo International Exhibition Co., Ltd. (UBM Sinoexpo), will "set sail" intelligently on June 18-20, 2019 at Shanghai New International Expo Centre. The exhibition will further upgrade and optimize the Pharma Automation & Information Zone first launched in 2018 – it will be located in Hall N1 to co-locate with global leading pharmaceutical equipment manufacturers. The "Automation and Informatization Forum" will also be held concurrently, to provide pharmaceutical enterprises and pharmaceutical equipment enterprises with an efficient platform for display, exchange, cooperation, and learning.
To help the Chinese pharmaceutical producers welcome the new era of intelligent production
Tang Jiliang, a former researcher of Shanghai Institute of Pharmaceutical Industry, said in an interview, "The real intelligent manufacturing can effectively shorten product development, increase production efficiency, improve product quality, and reduce resource and energy consumption. All those advantages are what traditional pharmaceutical industry lacks and urgently needs. In the coming years, intelligent manufacturing will become a development trend of the global pharmaceutical industry that serves as a part of the manufacturing industry."
P-MEC China is a prestigious event of the pharmaceutical engineering and machinery industry in China and Asia-Pacific region. The host, in order to accurately show the current situation of pharmaceutical automation and informatization in China and assist pharmaceutical enterprises to achieve compliant and efficient development, will make every effort to increase promotion of the Pharma Automation & Information Zone in 2019, so as to attract industry top enterprises to join. The zone will cover three aspects: system integration (providing overall project solutions and implementation schemes), automatic products (robots, manipulators, mechanical transmission products, AGV automatic logistics equipment and systems, mechanical lifting and handling equipment, packaging and sorting products, sensors, controllers, inverters, and instruments and valves, etc.), and information system (MES, ERP system, cGMP management system, CaaS, IDC-internet data center, and industrial big data service), to give visitors a close look at the leading techniques in the global intelligent manufacturing field.
To focus on the pharmaceutical intelligent manufacturing and achieve upgrading and transformation of traditional industry
Besides the product display, there will be a 1.5-day "Automation and Informatization Forum" held in the Pharma Automation & Information Zone, to directly touch upon core elements of pharmaceutical intelligent manufacturing. The host will invite international top technology providers and representatives of Chinese leading pharmaceutical enterprises, to share and discuss the most popular information applications presently in use as well as automatic production process upgrading, bringing visitors a deluge of intelligent knowledge. The forum will cover fascinating topics including "Multi-place Coordinated Production of Pharmaceutical Enterprises based on Digitalization and Informatization", "From R&D to Production–How to Largely Increase Efficiency through Transparent and Complete Information Data", "A Focus on Pharma 4.0–What Do We Lack for Achieving Intelligent Pharma?", and "How to Achieve Robustness Improvement of the Production Process through Perfection of Data Integrity".
What P-MEC China 2019 will bring is not only the application of global intelligent technology in the pharmaceutical industry, but also an important step in leading the Chinese and even Asian pharmaceutical industry towards comprehensive intelligent manufacturing.
For more information, please visit the official website: http://en.pmecchina.com/
Qatar Science & Technology Park Awards Young 'Techpreneurs' at Finale of the Arab Innovation Academy
Reading Time:
4
minutes
The second edition of the Arab Innovation Academy (AIA), a collaboration between Qatar Science & Technology Park (QSTP) – part of Qatar Foundation Research, Development and Innovation (QF RDI) – and the European Innovation Academy (EIA), concluded with a grand pitching and graduation ceremony at QSTP on Tuesday, January 15.
AIA is the first and largest entrepreneurship program in the region, aimed at equipping entrepreneurs in Qatar, the MENA region, and the global community with the skillset to build their start-up in just 10 days. The accelerated mode of experiential learning introduced participants to cutting-edge methods and tools in entrepreneurship, from team formation and idea creation to pitching to venture capitalists and angel investors. During the competition, participants developed and launched new tech ventures in a real marketplace, with genuine customer feedback.
The program, which began on January 2, brought together world-renowned technology collaborators; more than 160 participants selected from a pool of over 900 applicants; 25 speakers; and 37 mentors and investors, representing 30 different nationalities. The second edition of AIA also witnessed even greater participation in the program from Arab women.
Commenting on the success of the event, Yosouf Abdulrahman Saleh, Executive Director, QSTP, said: "I'm very proud of what we've achieved in the second edition of AIA, with the majority of the teams completing their projects throughout their journey with us.
"Arab Innovation Academy is one of QSTP's flagship initiatives, by which we follow through on our commitment to support tech-based entrepreneurship ventures in Qatar – through incubation, funding, training, mentorship, and connections to regional and global tech innovation ecosystems. We believe that this program contributes enormously to expanding the economic diversity of Qatar, and in developing its human capital.
"We look forward to educating the public and raising further awareness about the substantial benefits of the AIA program, while encouraging greater participation from the youth of Qatar and the region in our third edition of AIA next year.
Alar Kolk, President, EIA, said: "All of us at the Arab Innovation Academy are proud to have run the second edition of the program, in cooperation with QSTP and Qatar Foundation. This year, we have welcomed a record number of participants from all corners of the MENA region.
"Here, students develop the skills and confidence needed to develop start-ups from scratch, and learn to create unique value in the world of entrepreneurship and innovation.
"This unique, world-changing program is only possible through the vision and leadership of Qatar Foundation and QSTP. Our collaboration promises to empower young people to further the development of essential skills needed to transform the long-term prospects of the region."
The start-up ideas produced by the participating teams addressed many global problems – from retaining children's interest in reading and re-utilizing industrial wastes, to simplifying the search for blood donors – and spanned several industries, including health, education, construction, real estate, and tourism.
Two days before the graduation ceremony, the techpreneurs presented their start-up ideas to other participants, mentors, and visitors in a public Startup Expo, answering questions about their products, services, and business concepts. The expo served as a dry run for the teams ahead of the final grand pitching day, where the top 10 teams presented their start-up ideas to investors, received valuable input from the attendees, and were directed toward areas where their business concepts should be further developed.
AIA 2019 first place winner was team 'Salamat-e', who developed a mobile app that serves as a 'health passport'. The app is connected to GPS, and contains information about epidemic diseases in the region of a particular travel destination, as well as prevention methods and necessary vaccinations. The team is composed of Bashar Shawar from Palestine Polytechnic University; Chaimae El Mahdaoui from Mohammed VI University of Health Sciences, Morocco; Polina Ladchenko from Higher School of Economics, Russia; Tareq Osman Babiker from Al Neelain University, Sudan; and Yafa Abd AlRahim from Birzeit University, Palestine.
The second place award went to team 'Fly Stories', who created a platform that provides children with an interactive reading experience, and authors with an outlet to publish their stories. Members of the team include Aboubakr Aqle, Ghadeer Abuoda, and Omer Abad from Hamad Bin Khalifa University, a member of Qatar Foundation, Qatar; Jalila Rashid Al Sharqi from Sultan Qaboos University, Oman; and Tasneem Ismail from Doha Institute for Graduate Studies, Qatar.
Teams 'EyeTalk' and 'WheelsOnClick' tied in third place. 'EyeTalk' presented a concept of a software-hardware system that can help people with disabilities communicate using just their eyes, by blinking. Team members include Abdelkader Keddar and Samia Cherifi from the University of Abou Bakr Belkaïd, Algeria; Abdullah Abdulwakil and Doğukan Aksu from Istanbul University, Turkey; and Shaikha Alsubaey from Qatar University, Qatar.
'WheelsOnClick' created a platform that connects owners of underutilized cars with people in need of cars for a short period. The platform follows the popular Airbnb concept, which users can use to look for, or list cars, for rent. Members of the team include Abhimanyu Saini from Indian Institute of Science, India; Fathalrhman Adam from Al Neelain University, Sudan; Garima Natani from Indian Institute of Technology, India; Omaiyma Hilal Alkathiri from Ibri College of Technology, Oman; and Wisal Ahmed Khatir Bakhat from Alzaiem Alazhari University, Sudan.
Speaking about her AIA experience, winning team member Mahdaoui said: "This opportunity is a life-changing experience for us. It was amazing to meet mentors and people who will support and work with us.
"Even if we just met each other, our harmony was amazing, and I think it's what helped us win first place. We are now a team of entrepreneurs who will work on one project, develop, grow it, and make an impact in our respective countries."
One of the investors, Sander van der Blonk, Venture Partner at Heywood & Sons, commented: "I have great respect for the people who came here as individuals and, after two weeks, came out as members of a team, and have thought through some very interesting and difficult issues, developing solutions and cultivating the beginnings of a start-up. I think the presentations that they gave were fascinating and, if this is what these teams are capable of, then this region has seen nothing yet. There's much more to expect for the future."
Mentors also expressed gratitude for the opportunity to participate in AIA. Ali Al Sahli, a Senior Assistant Engineer involved in software development at Qatar Petroleum, said: "I enjoyed interacting with the participants, from different backgrounds and with different ideologies. The chance to help them improve and seeing their progress were very rewarding."
For more information about the Arab Innovation Academy and a complete list of winners, please visit: aia.inacademy.eu.
Wirecard Issues Multi-currency Visa Cards for United Money, Leading Currency Exchange Company in China
Reading Time:
2
minutes
– United Money manages around 100 exchange offices in major airports, business districts and upscale communities in China and is serving millions of Chinese consumers with the new solution
Wirecard, the global innovation leader for digital financial technology, has partnered with United Money, one of China'slargest currency exchange companies, to digitize payment processes and offer multi-currency Visa travel cards. The so-called Travel Cashcard is an ideal alternative to traveler's checks and cash. Wirecard's solution for United Money targets Chinese nationals who plan to travel abroad and are seeking a widely-accepted and convenient payment method, which can be managed via an online account. Currently, United Money manages close to 100 exchange offices in major airports, business districts and upscale communities nationwide and serves millions of consumers.
Jiang Zhongmo, founder of United Money, said "We are delighted to offer our customers a reliable and secure payment solution, which is backed by trusted industry leaders Wirecard and Visa. As experts in the field of foreign currency exchange, we are confident that Wirecard's digital payment solution will fulfill the expectations of our customers, whether they are first-time or experienced travelers. We welcome this innovative and forward-thinking solution by Wirecard."
The digital card supports currencies from the most-visited regions of the world: Australia, Hong Kong, Japan, Singapore, the UK, US and Eurozone. Consumers can load the cards before traveling, locking in exchange rates. United Money, one of the first officially recognized currency exchange companies in China, offers additional services in VAT refund processing and banknotes wholesale.
"As a global company at the forefront of digital financial innovation, we understand the barriers that are faced when paying in a foreign currency," said Grigoriy Kuznetsov, EVP of Global Financial Services at Wirecard. "This is why we are proud of the collaboration with United Money, a market leader in China in the area of currency exchange. We look forward to developing further innovative solutions for United Money."
"Multi-currency Visa travel cards are a great option for consumers travelling internationally who want a convenient, secure payment alternative to cash," said Rajiv Ramanathan, Head of Products, Asia Pacific, Visa. "Visa's role as a global payments network is about creating the right industry standards for people to pay digitally wherever they choose to travel, and we're proud to work with United Money and Wirecard on this new solution."
The multi-currency cards allow users to lock in favorable exchange rates before traveling, presenting an attractive opportunity for millions of Chinese travelers currently fulfilled by cash or traveler's checks. A study by Coresight Research on Chinese outbound tourists found that foreign exchange rate fluctuations, especially unfavorable ones, will affect frequent travelers' decisions when choosing a destination. By using the Wirecard-issued multi-currency Visa card, travelers can avoid this problem and take advantage of favorable exchange rates instead.
VCB Kenya Goes Live With Corporate Banking Solution Powered by i-exceed's Appzillon
Reading Time:
2
minutes
Victoria Commercial Bank (VCB), Kenya has gone live with an Appzillon-based omni-channel corporate banking solution to cater to the ever dynamic needs of their tech savvy corporate clients. VCB selected i-exceed over several other vendors due to its proven expertise in delivering digital banking solutions globally and strong technical capabilities. The application will be made available on mobile, Internet, SMS, and USSD channels.
VCB Kenya wanted a solution to address everyday needs of their clients while being future ready at the same time. Appzillon Digital Banking is a one-stop solution that makes the best use of technology to create delightful banking experiences. It leverages the technical prowess of Appzillon Digital Experience Platform, an award-winning omni-channel low-code application development platform that featured in Gartner's Magic Quadrant and Forrester's Wave reports. Appzillon Digital Banking ranked #2 in IBS Intelligence's Sales League Table 2018 and 2017 for Digital Banking Solutions.
Dr.Yogesh Pattni, CEO at VCB commented, "Since inception, we have always strived to promote a culture of client servicing through the implementation of smart solutions that have been designed based on a comprehensive understanding of our client's banking needs. We are confident that the corporate digital banking solution from i-exceed will help us in achieving our goals, expand our client base, and meet client expectations. We have used i-exceed's Appzillon solution for last four months and have seen considerable benefits in our business with usage of the solution. We are extremely pleased to be associated with i-exceed and pleasingly satisfied with the implementation approach of i-exceed and the technical functionalities of the Appzillon based product."
Joseph John, Managing Director at i-exceed commented, "This is our first omni-channel solution in Kenya and we expect this to open up further opportunities in the region. We have always dedicated our efforts into constantly evolving our product as a leading-edge digital offering that empowers our clients with future ready solutions and helps them stay ahead of the digital race."