14 Ski Areas, 15,000 Acres of Terrain and the Country's Best Snow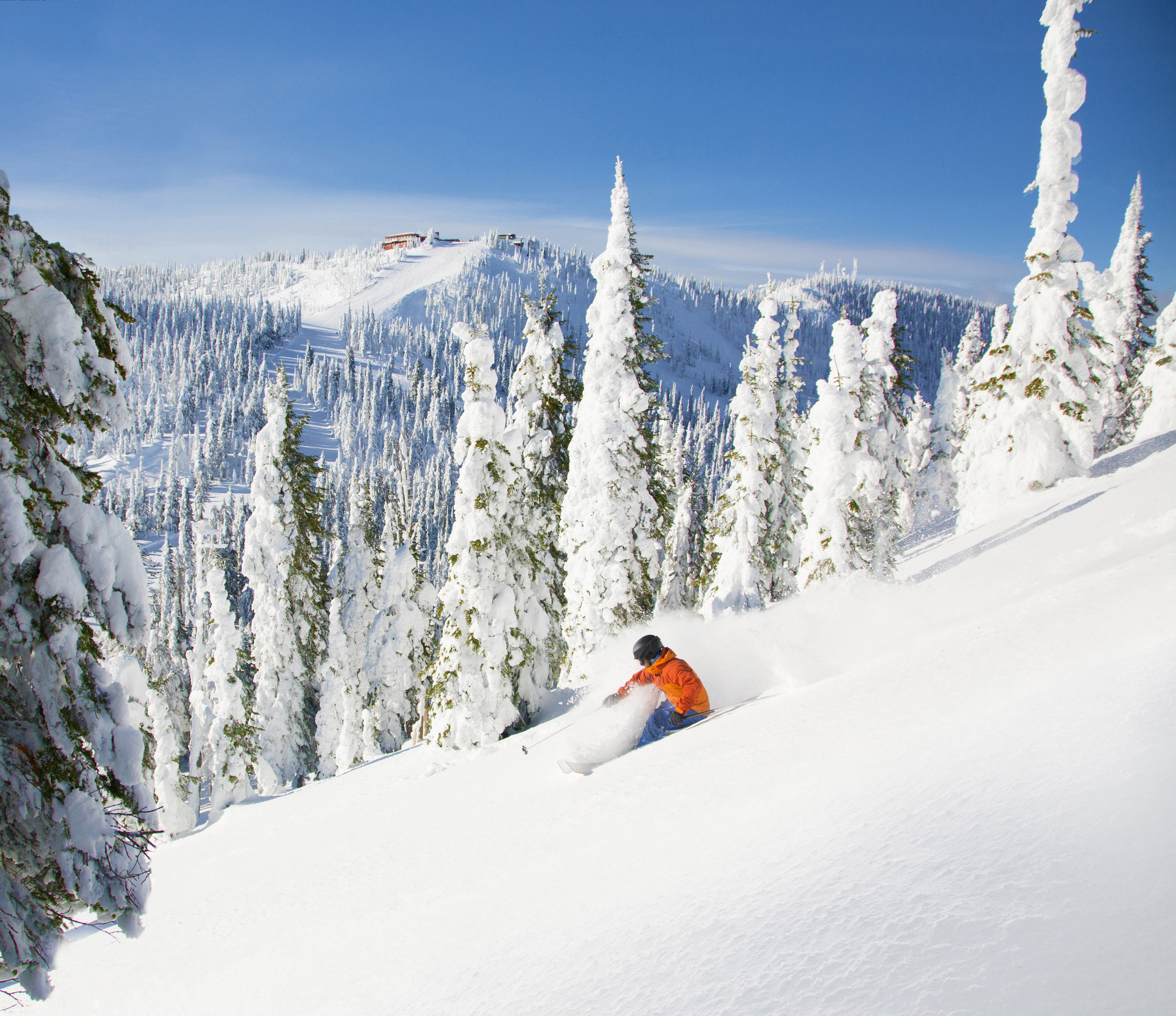 Reading Time:
3
minutes
While much of the West is home to great skiing, there's only one place that has more acres per skier than anywhere else in the continental United States—Montana. Anchored by two world-class ski destinations, Big Sky Resort and Whitefish Mountain Resort, Montana's well-rounded ski scene, charming mountain communities and cozy amenities make it one of the best locations for a winter ski trip.
Known for the "biggest skiing in America," Big Sky Resort has 5,850 skiable acres, 36 lifts and 4,350 vertical feet, providing plenty of room for skiers and snowboarders of all levels and abilities. New this year is the Ramcharger 8, the new 8-seat, high-speed D-line chairlift is the first of its kind in the world. Plus, even on its busiest days, the resort's wide terrain still offers two acres per skier. While skiers and snowboarders can find everything from lodging to shopping and dining at the resort, abundant hospitality services are also available in the mountain town of Big Sky, located just down the road from the resort.
More world-class skiing can be found at Big Sky's neighbor to the north, Whitefish Mountain Resort. Home to 3,000 skiable acres and with jaw-dropping views of the Flathead Valley and Glacier National Park, Whitefish Mountain Resort is known for the beautiful snow ghosts (trees covered in a thick ice called rime) that cover the slopes of Big Mountain, making skiing through many of the runs like gliding though a beautiful snow-covered wonderland. In addition, the resort has plenty of onsite amenities—including lodging, shopping and dining—but it's also located a short 15-minute drive from the charming town of Whitefish.
If you're looking for off-the-beaten-path skiing and deep powder, head to Lost Trail Powder Mountainand Discovery Ski Area.
Situated on U.S. Highway 93 south of Darby in the Bitterroot Valley, Lost Trail Powder Mountain is celebrating its 80th ski season this year. A local Montana favorite, Lost Trail welcomes snow early in the season, with fresh powder falling all winter long for an average of 325 inches of snow annually. No lodging is available on the mountain, but the nearby communities of Sula, Darby and Hamiltonprovide a wide variety of accommodations, dining options and local libations.
Located about halfway between Big Sky Resort and Whitefish Mountain Resort—and one of the earliest mountains to open this ski season—is Discovery Ski Area near Philipsburg.
Home to three faces that encompass 2,200 acres, Discovery has a variety of terrain that includes gentle runs, advanced groomed cruisers, mogul skiing and steep drops with deep powder. Its on-mountain lodge provides dining, drinks and rental gear. When skiing Discovery, be sure to plan time to explore the revitalized mining town of Philipsburg and wash your ski day down with chocolate from The Sweet Palace and a locally brewed beer from Philipsburg Brewing Company.
An easy drive over the mountains will take you to Great Divide, Montana's sunniest ski area. Situated on the Continental Divide near the state's capital city of Helena, Great Divide is a favorite among families with graceful groomers and wide-open bowls. This ski area rounds out its offerings with six terrain parks and live music every Friday night, making it a great location for a winter weekend of family skiing, especially when combined with an overnight stay in Helena, a visit to the city's carousel and a soak in Broadwater Hot Springs.
A scenic drive from Great Falls, Montana's Little Belt Mountains are home to one of the state's best skiing secrets, Showdown Montana. Big Sky Country's oldest ski area, Showdown has 640 acres of mixed terrain for beginner, intermediate and expert experience levels and is known for its friendly atmosphere and all-natural snow.
Additional skiing can be found at Bear Paw Ski Area south of Havre, Blacktail Mountain in Lakeside, Bridger Bowl Ski Area in Bozeman, Lookout Pass Ski & Recreation Area west of St. Regis, Maverick Mountain near Dillon, Montana Snowbowl in Missoula, Red Lodge Mountain in Red Lodge and Turner Mountain near Libby.
And while there's plenty of skiing to be found in Montana, there's more to a winter getaway than cruising down tree-lined slopes, conquering moguls or dropping into powder-filled bowls. Ski trip itineraries—combining downhill ski and snowboarding with dog sled adventures, natural hot springs and road trips—can be found at www.visitmt.com/places-to-go/trip-ideas/ultimate-ski-trips.html.
For more information on skiing in Montana, check out VISITMT.COM.
AED Program Renewed for the 2019 Arkansas River Whitewater Rafting Season
Reading Time:
2
minutes
The Arkansas River Outfitters Association (AROA) has implemented an additional layer of safety for its industry by placing Automated External Defibrillators (AED) at key points along the Arkansas River from Memorial Day Weekend through Labor Day, 2019.
"Nothing is without risk. AROA is constantly looking for ways to help make the river safer. We want to be prepared for any situation," said Brandon Slate, President of AROA – a trade organization made up of 30 river outfitters within the Arkansas Headwaters Recreation Area (AHRA).
AEDs are high-tech, life-saving, medical devices that deliver an electrical shock to re-establish the heart's rhythm in the event of sudden cardiac arrest. The sophisticated device gives visual and even audible instructions to talk users through the process until medical professionals arrive.
This groundbreaking program started last year but will be further enhanced this season. AROA will rent and place 12 AEDs – up from eight last year – along 100 miles of the river to coincide with Colorado Parks and Wildlife backboard locations.
"This is a model program. We are the first to do it to this extent," said Slate. "There are buildings near rivers that have AED's inside, but none that are set up in wilderness areas like we're doing that are specifically designated for boaters to use."
Encased in waterproof boxes, the AEDs are posted along the Arkansas River from Leadville to Cañon City from Memorial Day Weekend to Labor Day. A notable partner is Colorado Parks and Wildlife through the AHRA. Rangers will deploy the devices, and regularly check and maintain them. Northwest River Supply (NRS) also collaborated with this program by providing water-proof boxes at a discount.
"Of course, we hope we never have to use the AEDs, but having them there is important for overall river safety," said Slate.
"At AROA, we are proud to be a leader in promoting safety on the river and throughout the river communities," said Slate.  "AROA's overall efforts on safety issues make the Arkansas River a great place to take your family and friends whitewater rafting."
SOURCE Arkansas River Outfitters Association
RVshare Launches National Parks Guides
Reading Time:
2
minutes
RVshare, the world's largest RV rental marketplace, has launched in-depth guides to all 60 of the United States' National Parks. According to RVshare customer data, more than half of RV renters are headed to national parks. In response, RVshare's team of travel experts created these guides to serve as an easy-to-use online resource to navigate the ins and outs of national parks. They provide valuable tips in one place, including the best hiking trails, nearby towns and entertainment, where to camp, and more. Explore the guides at www.rvshare.com/national-parks.
"We want to change the way people experience our National Parks," says Megan Buemi, Sr. Content Marketing Manager at RVshare. "Taking an RV trip lets travelers really get up close and personal with what the parks have to offer. Being able to camp right in the park under the stars, or step out of your RV to start hiking up a mountain or along a beach is a pretty incredible and unique experience."
According to the National Park Service, an estimated 331 million people visited National Parks in the U.S. in 2017. With 60 parks spanning across the country, adventure-seekers in every region have access to explore at least one of the scenic, preserved lands. In addition to popular destinations like the Grand Canyon, the RVshare National Park guides spotlight lesser-known parks, such as Wind Cave in South Dakota, and the remote North Cascades in Washington.
With the guides, RVshare's goal is to highlight the breathtaking views, incredible wildlife and endless adventure of the parks and encourage travelers to explore the beautiful escapes in an unparalleled experience, quite different than staying at a hotel and driving in for the day. In addition to being immersed in nature and having immediate access to campfires and beautiful trails, RVs offer the added benefit of bringing more family members and pets along.
Other features to enhance the experience include RV delivery options in select cities, roadside assistance and 24/7 customer service and insurance.
For additional information and to book your next rental, visit rvshare.com.
SOURCE RVshare
Los Angeles Area Girls Prepare For Launch Of Scouts BSA
Reading Time:
1
minute
Girls from across Los Angeles are gearing up to join the Boy Scouts of America (BSA) in its most iconic program this February.
"I can't wait to go camping, earn merit badges, and go on adventures with my friends," said Alexis Shrewsbury, a future Scout from Santa Clarita.
Alexis and countless other girls will join local troops next month thanks to the BSA's historic decision to open the Boy Scout program, which will be called Scouts BSA, to both boys and girls ages 11-17.
Troops will be single-gender and will meet independently. Numerous Troops have already formed in anticipation for the launch of Scouts BSA, from Beverly Hills and Culver City, to the San Fernando Valley, and Lancaster.
"The experiences and skills that Scouting provides are incredibly valuable to all youth– not just boys. I'm honored to help offer this opportunity to the girls and young women in our community," said Troop 2019 adult volunteer leader Jessica Pazdernik.
Some of the girls who plan to join Troop 2019 are coming from the BSA's Cub Scout program, which opened to girls age 5-10 in 2018. Since then, more than 77,000 girls have joined the program, but the troop is also seeing interest from young women in the community who would be joining a BSA program for the first time.
"When I heard it would be possible for me to join Scouting and work to become an Eagle Scout, I knew I had to find a Scouts BSA troop to join," explained Anna Fineberg. "I can't wait for our troop's adventures – this is something I have been excited to do for a long time."
Girls and families who are interested in learning more about Scouts BSA can find a unit near them by visiting BeAScout.org.