F.N. Souza Expected to Break a Record Again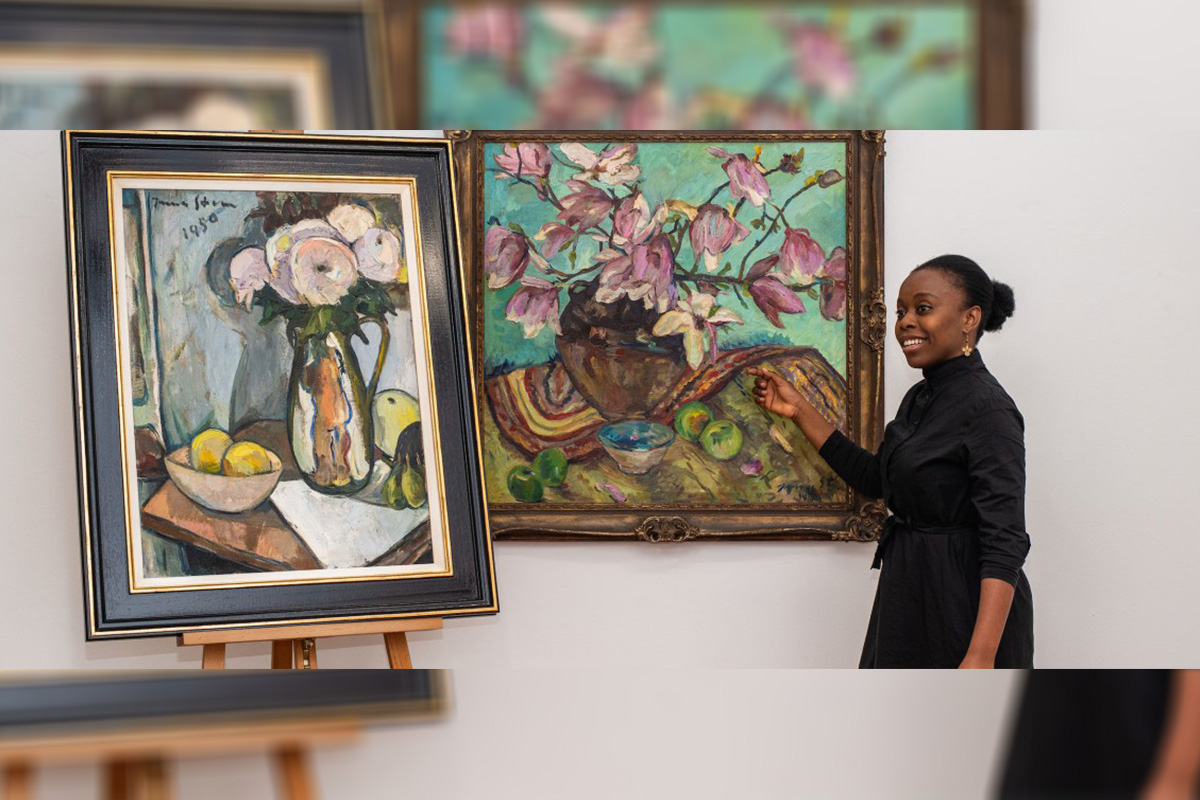 Reading Time:
2
minutes
~International Aspire Art Auction (December 7 – 15, 2018) and 'Honeymoon in Goa' series at Cymroza Art Gallery~
While one is overwhelmed with art day-in and day-out, there are a few special p ieces that have transcended time and culture and have slated their place in art history, such is the work of F.N. Souza. Born in Goa, F.N. Souza created his own place in this world through canvases. His artwork comprised of static life, landscape and nudes. A man with a contemporary viewpoint explored stimulating subjects. Francis Newton Souza is back to set another mark at the Aspire Auctions, which holds Francis Newton Souza (1965) – 'Vision of Multiple Heads' for public online auction from December 7 – 15, 2018. Other paintings available for a private sale are Lamani Woman, impressions of European cities in 50s and 60s, portraits of tribal woman, the relatives of Mr. Souza's chain and shades of village.
The much awaited masterpiece 'Honeymoon in Goa' series by Francis Newton Souza is available at Cymroza Art Gallery (Mumbai). 'Honeymoon in Goa' is the unseen art work of late master modernist Francis Newton Souza. The diverse sides of an intricate artist are explored with the brilliance, elegance and insight in Mr. Souza's love life. An acrylic and oil canvas portrait displayed at Cymroza Art Gallery, Mr. Souza has expressed his love towards his wife and cherished their beautiful memories of their first honeymoon in Goa. Gather to witness a maker's yearning and desire in the form of a dynamic array of artery. Other paintings available for sale are Chess Series 4, Portrait of Evange Listo, Portrait of Francisco and Portrait of Jerome.
The F.N. Souza International Fine Arts Foundation and Family Trust owns a large collection of art by the late master modernist Francis Newton Souza namely: Likeness of Two Headed Man, Vatican Cityscape, Vasco Cityscape, Nobra Andre De Souza, Tiatr Style Portrait of Doc Jose Senior, Multicoloured Villagescape, Souza 68, Souza 1961 and many more.
Authenticity certificate signed and notarized by F. N. Souza are available with the painting.
In 2008, his painting 'Birth' (1955) set a world auction record for the most expensive Indian painting sold till then by selling for US$2.5 million (INR 11.3 crore) at a Christie's auction. In 2015, the painting 'Birth' was resold at Christie's in New York, fetching more than US$4 million.
Don't miss the big chance to own a F.N. Souza painting.
Link: http://www.fnsouzafoundation.com/
Vision of Multiple Heads at Aspire Auctions
Link to the Aspire Auction: https://www.aspireauctions.com/#!/upcoming_auction/371
Date: December 7 – 15, 2018; Catalog posted Tuesday, Dec. 04.
Contact Person at the auction:
Katya Kondratov
Paintings and Luxury Accessories Specialist
+1-216-8168651/katya
'Honeymoon in Goa' at Cymroza Art Gallery
Where: Cymroza Art Gallery, 72 Bhulabhai Desai Road, Breach Candy, Mumbai, Maharashtra
Time: 11 am to 7 pm
Contact: Mr. G. Kumar
Call: +91-9833551991
Entry: Free
The Canary Islands Create a Video to Replace Blue Monday With True Monday
Reading Time:
2
minutes
The international #TrueMonday campaign is being launched from the Canary Islands to advertise this initiative
For years the Canary Islands has been battling Blue Monday, a fake news story that claims that this is the saddest day of the year. As part of its effort to get back and stand up for good vibes, the Canary Islands want to turn this non-existent event into a day to combat fake news.
The goal is to kill off Blue Monday once and for all and turn it into True Monday. To do so, the Canary Islands have created an informative video with messages as blunt as "Don't let any comments, any news, any made-up formula manipulate your feelings. It's time for us all to start improving the climate".
In addition, in coming months, officials in the Canary Islands will work to turn the third Monday in January into the International Day Against Fake News, a day to combat all the lies and untruths that sow tension, discord and bad vibes.
The stopbluemonday.com website describes this commitment through a manifesto and includes tips for identifying fake news, measures for getting back the good vibes and a quiz so users can check their knowledge.
Goodbye Blue Monday, hello True Monday
In 2005, using a completely made-up formula, Professor Cliff Arnall, from Cardiff University (United Kingdom), declared that the third Monday in January was the year's saddest day. This initiative was part of an advertising campaign for a travel agency.
Even though its credibility was called into question from day one, to the point that even Cardiff University called it "a farce", the media, including social media, continued to spread the news year after year.
The Canary Islands managed to get none other than Professor Arnall himself to publicly disavow his Blue Monday creation and join the #StopBlueMonday movement. "It's time to finally stop letting made-up comments, news or formulas manipulate our feelings and for everyone to start improving the climate", said the professor.
In short, the goal of the initiative is to remove the day devoted to sadness from the calendar once and for all and, in its place, to raise society's awareness of the fight against the type of fake news that created it.
Education leaders to celebrate school choice, diversity and culture in Brooklyn community
Reading Time:
1
minute
To celebrate the school choice, diversity, and culture in the Brooklyn community, education leaders are going to join together. The event will include speakers and presenters, as well as workshops for the children, including African drumming and an International Children's Film Festival. The event will feature more than 40,000 school choice events across all 50 states.
"School is more than a place where you go to learn academics. Our school is a community that honors the special talents of each individual – one where we learn to work together to form a global perspective surrounded by values of social justice, service, and faith. Because our families are able to choose to participate in a values-based education here at the academy, we are able to nurture the growth of active, global citizens who are prepared to enter college, career, and beyond with intellectual vigor and a strong moral compass," said Manuela Adsuar-Pizzi, principal of St. Francis Xavier – Queen of All Saints Catholic Academy.
Green sustainable development is the key for shared globalisation
Reading Time:
2
minutes
Green Sustainable Development Conference was successfully held in Beijing earlier this month, which was co-hosted by Chinese People's Association for Friendship with Foreign Countries (CPAFFC) and China Urban-townization Promotion Council (CUPC), with the Nordic Council of Ministers as the partner. The theme of the conference is "Sustainable Development and Global Cooperation on Green Urbanization". Organisations and enterprises in relevant fields from United Nations, Nordic Council of Ministers, China and Sweden, Denmark, Finland and Iceland conducted a wide and deep discussion.
Mr. Sishe Hu, Vice President of Chinese People's Association for Friendship with Foreign Countries delivered an opening speech on behalf of the organisers. He pointed out that under the current economic, social development situation and the background of the new scientific and technological revolution, the green sustainable development is the golden key to open a new round of shared globalisation.
Laurent Fabius, Chairman of the French Constitutional Council, former Prime Minister said that the global eco-environment is facing "red alerts" and threats in various fields, and we must tackle the challenges with cooperation.
Mr. Svein Berg, Managing Director of Nordic Innovation, delivered a keynote speech on behalf of Mr. Dagfinn Høybråten, Secretary-General of the Nordic Council of Ministers. His speech addressed the topics on the current cooperation between China and Nordic countries, Nordic solutions to global challenges and the future cooperation potentials between China and Nordic countries. He pointed out that technology, innovation and trade are important driving forces for the development of Nordic countries in the 21st century, driving the rapid growth of the economy and cultivating many world-class Nordic enterprises in various fields. Nordic experience in dealing with global challenges can facilitate further and deeper cooperation with China in the future.
Mr. Xinli Zheng, Executive Vice-President of China Urban-townization Promotion Council, Former Vice Director of the Policy Research Office of the CCCPC, delivered a speech on promoting international cooperation in the field of green sustainable development. He pointed out that China's urbanisation will be the largest, fastest and most far-reaching urbanisation in the world, forming a huge market.