F.N. Souza Expected to Break a Record Again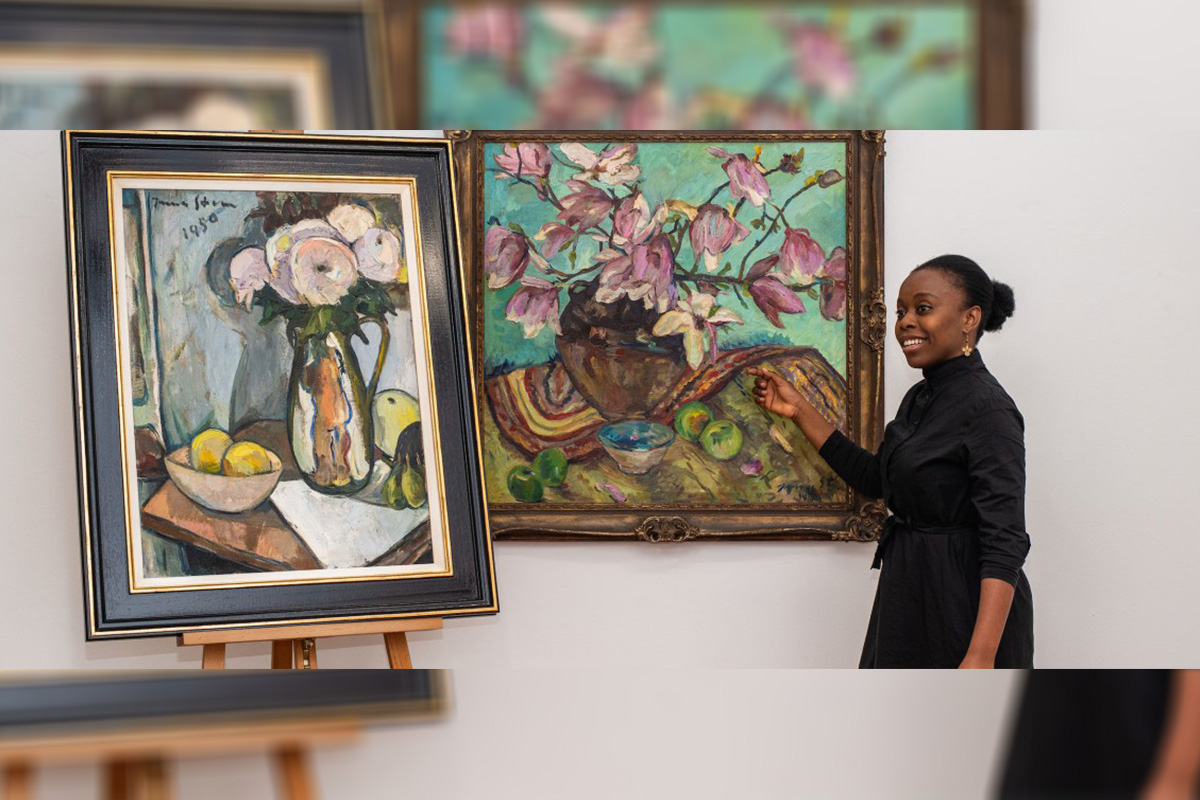 Reading Time:
2
minutes
~International Aspire Art Auction (December 7 – 15, 2018) and 'Honeymoon in Goa' series at Cymroza Art Gallery~
While one is overwhelmed with art day-in and day-out, there are a few special p ieces that have transcended time and culture and have slated their place in art history, such is the work of F.N. Souza. Born in Goa, F.N. Souza created his own place in this world through canvases. His artwork comprised of static life, landscape and nudes. A man with a contemporary viewpoint explored stimulating subjects. Francis Newton Souza is back to set another mark at the Aspire Auctions, which holds Francis Newton Souza (1965) – 'Vision of Multiple Heads' for public online auction from December 7 – 15, 2018. Other paintings available for a private sale are Lamani Woman, impressions of European cities in 50s and 60s, portraits of tribal woman, the relatives of Mr. Souza's chain and shades of village.
The much awaited masterpiece 'Honeymoon in Goa' series by Francis Newton Souza is available at Cymroza Art Gallery (Mumbai). 'Honeymoon in Goa' is the unseen art work of late master modernist Francis Newton Souza. The diverse sides of an intricate artist are explored with the brilliance, elegance and insight in Mr. Souza's love life. An acrylic and oil canvas portrait displayed at Cymroza Art Gallery, Mr. Souza has expressed his love towards his wife and cherished their beautiful memories of their first honeymoon in Goa. Gather to witness a maker's yearning and desire in the form of a dynamic array of artery. Other paintings available for sale are Chess Series 4, Portrait of Evange Listo, Portrait of Francisco and Portrait of Jerome.
The F.N. Souza International Fine Arts Foundation and Family Trust owns a large collection of art by the late master modernist Francis Newton Souza namely: Likeness of Two Headed Man, Vatican Cityscape, Vasco Cityscape, Nobra Andre De Souza, Tiatr Style Portrait of Doc Jose Senior, Multicoloured Villagescape, Souza 68, Souza 1961 and many more.
Authenticity certificate signed and notarized by F. N. Souza are available with the painting.
In 2008, his painting 'Birth' (1955) set a world auction record for the most expensive Indian painting sold till then by selling for US$2.5 million (INR 11.3 crore) at a Christie's auction. In 2015, the painting 'Birth' was resold at Christie's in New York, fetching more than US$4 million.
Don't miss the big chance to own a F.N. Souza painting.
Link: http://www.fnsouzafoundation.com/
Vision of Multiple Heads at Aspire Auctions
Link to the Aspire Auction: https://www.aspireauctions.com/#!/upcoming_auction/371
Date: December 7 – 15, 2018; Catalog posted Tuesday, Dec. 04.
Contact Person at the auction:
Katya Kondratov
Paintings and Luxury Accessories Specialist
+1-216-8168651/katya
'Honeymoon in Goa' at Cymroza Art Gallery
Where: Cymroza Art Gallery, 72 Bhulabhai Desai Road, Breach Candy, Mumbai, Maharashtra
Time: 11 am to 7 pm
Contact: Mr. G. Kumar
Call: +91-9833551991
Entry: Free
Mercari Opens Cambridge Engineering Offices
Reading Time:
1
minute
Mercari, The Selling App, today announced the opening of engineering offices in Cambridge, MA, advised by two renowned professors at the adjacent Massachusetts Institute of Technology (MIT).
Mercari is the number-one marketplace in Japan. Since entering the U.S. in 2014, more than 45 million Americans have downloaded the app.
At the moment, Mercari's team in Cambridge is focused on better understanding sellers and buyers, and predicting their intentions ahead of their actions. This helps Mercari deliver a more personalized experience using its recommendation engine. The team is applying machine learning on massive amounts of data to better personalize the user experience based on their preferences, history and interactions.
More broadly, this team is pursuing applied research projects in machine learning, computer vision and other emerging technologies that can help Mercari to make selling even easier than buying.
"Opening the Mercari engineering offices in Cambridge is an important addition to our global technology centers in Palo Alto and Tokyo," said Dr. Mok Oh, chief technology officer for Mercari U.S. "The expectations of Mercari sellers and buyers are always evolving, so it's vital that we harness emerging technologies to continuously improve our app and services."
Advising the team are Dr. Frédo Durand and Dr. Wojciech Matusik of MIT.
Dr. Frédo Durand is a renowned researcher and professor in computer vision and computational photography. He is a professor of Electrical Engineering and Computer Science at MIT, and a member of MIT's Computer Science and Artificial Intelligence Laboratory (CSAIL).
Dr. Wojciech Matusik is widely-recognized professor and entrepreneur in machine learning, 3D vision, and 3D fabrications. He is a professor of Electrical Engineering and Computer Science at the Computer Science and Artificial Intelligence Laboratory (CSAIL) at MIT, where co-directs the Computer Graphics Group and teaches machine learning courses
Mercari is looking for talented people to join its technology teams in Palo Alto and Cambridge. A list of all current U.S. openings is here.
SOURCE Mercari
Chinsay's Intelligent Contract Platform Enables Rio Tinto & Cargill to Complete the First Fully Digitalised Iron Ore Trade
Reading Time:
1
minute
Chinsay, the leading provider of contract digitalisation solutions in the commodity and freight markets, is announcing today the completion of the first fully digitalised iron ore trade, through a trial achieved in partnership with Rio Tinto and Cargill's Metals business on Chinsay's Intelligent Contract Platform (ICP).
In using ICP, Rio Tinto and Cargill collaborated on a single platform to dramatically reduce the time it takes to create, issue and approve commodity contracts from several days to under two hours. The digitalisation of this fundamental trade process creates the opportunity to automate and deliver post-trade efficiencies by linking front-, middle- and back-office functions.
Colin Hayward, Chinsay CEO, said: "This is a technological milestone for the industry, and we are delighted Rio Tinto and Cargill Metals chose to partner with us and use our ICP as the core technology to create this advance. We are constantly collaborating with clients, market participants, tech vendors and industry consortia to extend digitalisation further along the commodity trade lifecycle."
"The Intelligent Contract Platform is a great tool that has the potential to benefit the entire ferrous industry," said Lee Kirk, Managing Director for Cargill's Metals business. "This is a great example of how we can leverage advancements in technology to benefit from increased speed, transparency and efficiencies that enable us to serve our customers and suppliers better."
ICP is state-of-the-art technology which allows companies to digitalise pre-trade processes early in the deal lifecycle, creating an agreed contract dataset that can be seamlessly integrated with other operational systems, functions and processes, enabling transparency and traceability across the supply chain.  ICP prepares clients for the use of technologies such as blockchain, ML, AI and electronic trade documentation solutions.
SOURCE Chinsay
Trulieve CEO Kim Rivers Named to Florida Medical Marijuana Advisory Committee
Reading Time:
1
minute
Trulieve Cannabis Corp. ("Trulieve" or the "Company") (CSE: TRUL) CEO Kim Rivers has been appointed to the newly-established Medical Marijuana Advisory Committee for the State of Florida. This committee will collaborate with the Florida Department of Agriculture and Consumer Services to help enhance the medical marijuana policies of the state.
"Every day, our Trulieve team helps to bring relief to thousands of people suffering from a range of debilitating ailments and improve their quality of life," said Kim Rivers, CEO of Trulieve. "I am honored to be a part of this important initiative led by Commissioner Nikki Fried to further develop patient access and advance policies related to medical marijuana in Florida."
The Florida Department of Agriculture and Consumer Services has stated that the committee will convene telephonically and in-person bi-monthly to work through ways to expand patient access, increase innovation and technology in the industry, and make recommendations to the Legislature and the Department of Health's Office of Medical Marijuana Use to improve Florida's medical marijuana policies and programs. The 18-member committee is comprised of representatives with a diverse range of backgrounds, including medical marijuana production and sales, science and medicine, law, medical marijuana patients, cannabis activists, and public affairs.
SOURCE Trulieve Cannabis Corp.