F.N. Souza Expected to Break a Record Again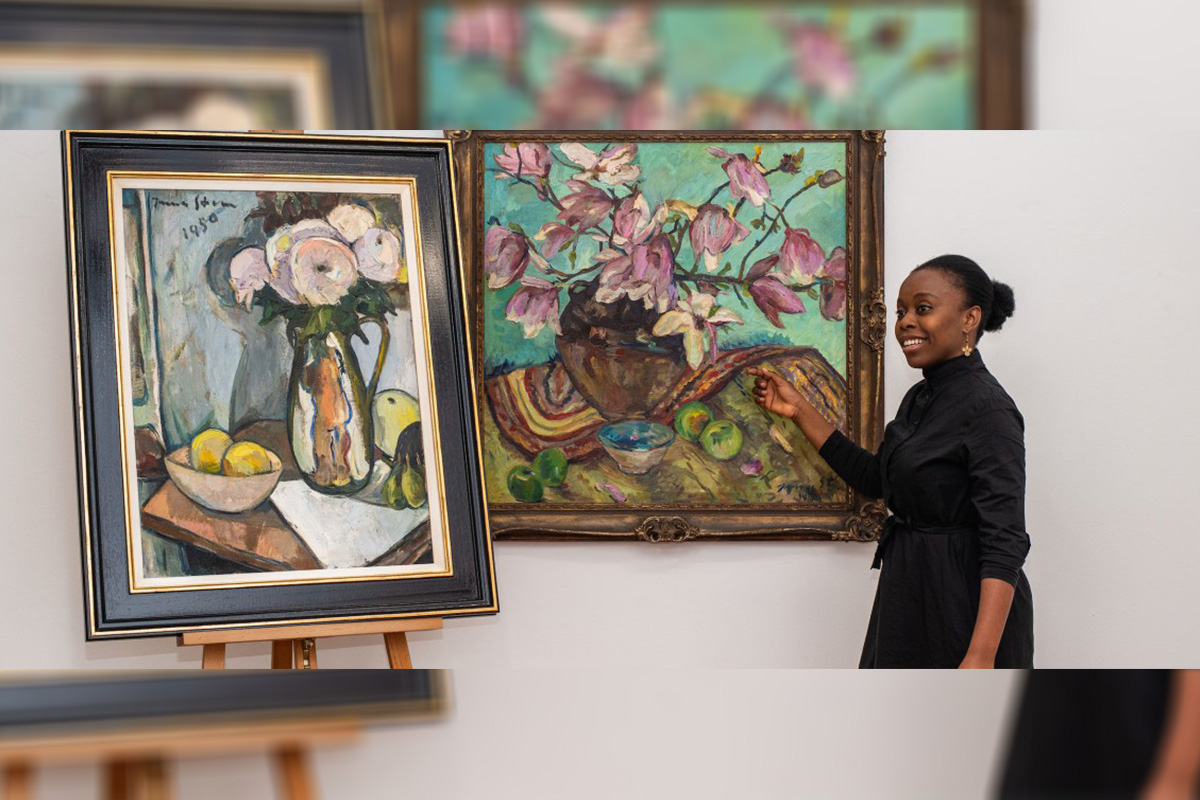 Reading Time:
2
minutes
~International Aspire Art Auction (December 7 – 15, 2018) and 'Honeymoon in Goa' series at Cymroza Art Gallery~
While one is overwhelmed with art day-in and day-out, there are a few special p ieces that have transcended time and culture and have slated their place in art history, such is the work of F.N. Souza. Born in Goa, F.N. Souza created his own place in this world through canvases. His artwork comprised of static life, landscape and nudes. A man with a contemporary viewpoint explored stimulating subjects. Francis Newton Souza is back to set another mark at the Aspire Auctions, which holds Francis Newton Souza (1965) – 'Vision of Multiple Heads' for public online auction from December 7 – 15, 2018. Other paintings available for a private sale are Lamani Woman, impressions of European cities in 50s and 60s, portraits of tribal woman, the relatives of Mr. Souza's chain and shades of village.
The much awaited masterpiece 'Honeymoon in Goa' series by Francis Newton Souza is available at Cymroza Art Gallery (Mumbai). 'Honeymoon in Goa' is the unseen art work of late master modernist Francis Newton Souza. The diverse sides of an intricate artist are explored with the brilliance, elegance and insight in Mr. Souza's love life. An acrylic and oil canvas portrait displayed at Cymroza Art Gallery, Mr. Souza has expressed his love towards his wife and cherished their beautiful memories of their first honeymoon in Goa. Gather to witness a maker's yearning and desire in the form of a dynamic array of artery. Other paintings available for sale are Chess Series 4, Portrait of Evange Listo, Portrait of Francisco and Portrait of Jerome.
The F.N. Souza International Fine Arts Foundation and Family Trust owns a large collection of art by the late master modernist Francis Newton Souza namely: Likeness of Two Headed Man, Vatican Cityscape, Vasco Cityscape, Nobra Andre De Souza, Tiatr Style Portrait of Doc Jose Senior, Multicoloured Villagescape, Souza 68, Souza 1961 and many more.
Authenticity certificate signed and notarized by F. N. Souza are available with the painting.
In 2008, his painting 'Birth' (1955) set a world auction record for the most expensive Indian painting sold till then by selling for US$2.5 million (INR 11.3 crore) at a Christie's auction. In 2015, the painting 'Birth' was resold at Christie's in New York, fetching more than US$4 million.
Don't miss the big chance to own a F.N. Souza painting.
Link: http://www.fnsouzafoundation.com/
Vision of Multiple Heads at Aspire Auctions
Link to the Aspire Auction: https://www.aspireauctions.com/#!/upcoming_auction/371
Date: December 7 – 15, 2018; Catalog posted Tuesday, Dec. 04.
Contact Person at the auction:
Katya Kondratov
Paintings and Luxury Accessories Specialist
+1-216-8168651/katya
'Honeymoon in Goa' at Cymroza Art Gallery
Where: Cymroza Art Gallery, 72 Bhulabhai Desai Road, Breach Candy, Mumbai, Maharashtra
Time: 11 am to 7 pm
Contact: Mr. G. Kumar
Call: +91-9833551991
Entry: Free
Ric Edelman's Advisor Blockchain and Cryptoassets Council Kicks off Barron's Independent Advisor Summit
Reading Time:
1
minute
Ric Edelman, one of the nation's most prominent financial advisors and creator of The Advisor Blockchain and Cryptoassets Council, held the third meeting of this growing group of influencers on March 20 at the Grand America Hotel in Salt Lake City.
Firms presenting at the event included Multicoin Capital, Bitgo, Digital Assets Data, FRST Corporation, ZenLedger, Gemini and Perkins Coie.
Immediately following the morning meeting, ABCC partnered with Barron's to stage the Blockchain and Cryptoasset pre-event, in conjunction with the Barron's Top Independent Advisor Summit. The event offered Continuing Education Credits to those in attendance.
Nearly 80% of the financial advisors attending the event said they know little to nothing about blockchain and cryptoassets, and 97 percent said they do not recommend cryptoassets to clients.
"The lack of knowledge by so many of the nation's leading financial advisors demonstrates the urgency of teaching advisors about this important emerging asset class," said Edelman, who has been named three times by Barron's as the nation's #1 Independent Financial Advisor. He noted that 80 percent of the advisors surveyed said clients are asking them about cryptoassets and added, "Advisors who can't answer their clients' questions about bitcoin will lose credibility with their clients, and they may end up losing the clients."
Edelman gathered experts from many of the leading firms in the field. Kingdom Trust was the premiere sponsor. Additional sponsors included Bitwise Investments, Blockforce Capital, Fidelity Digital Assets, Grayscale Investments, Orion Advisor Services, Pantera Capital, State Street Global Advisors and Van Eck.
ABCC is developing additional conferences. To learn more, go to www.advisorbcc.com.
SOURCE Advisor Blockchain and Cryptoasset Council
Sustainable Finance: High-Level Conference takes global cooperation on sustainable finance to the next stage
Reading Time:
3
minutes
The European Commission is today hosting a high-level conference on a global approach to sustainable finance.
In March 2018, the European Union committed to lead the way in reforming the financial system to support the transition towards a sustainable economy, with the adoption of the first ever Action Plan on Financing Sustainable Growth and the successful first edition of the High-Level Conference on sustainable finance. One year on, today's conference provides the opportunity to foster international cooperation, explore synergies, and demonstrate strong commitment towards a coherent international financial system that supports channelling private capital towards sustainable projects. This is also part of the Capital Markets Union's (CMU) efforts to connect finance with the specific needs of the European economy, thereby contributing to the EU's carbon-neutral agenda.
President Jean-Claude Juncker said: "This conference sends a strong signal about the need to scale up sustainable finance globally. It shows the determination of the EU and its partners to enable the transition to a climate-neutral and circular economy, supported by private capital. The establishment of an international network on sustainable finance would support this goal beyond the EU. Given the urgency and importance of this project, I hope this momentum continues well into the next years."
Valdis Dombrovskis, Vice-President responsible for Financial Stability, Financial Services and Capital Markets Union said: "The European Union will stand by its commitments made under the Paris Climate Agreement. As part of this agenda, the EU was an early mover on sustainable finance by recognising that boosting private capital is essential for supporting the transition towards a climate-neutral and sustainable economy. By now, other countries have made substantial progress in this area. It is time for us to join forces and make sustainable finance go global."
In its recently adopted Reflection Paper Towards a Sustainable Europe by 2030, the Commission considered that it would be opportune to establish an international network of jurisdictions from emerging markets, developed and developing countries that are committed to advancing sustainable finance.
Already yesterday, Vice-President Dombrovskis held informal discussions with high-level representatives from leading non-EU jurisdictions, notably Argentina, Canada, China, India, Japan, and Morocco to explore the way forward for establishing such a Network. These discussions were also attended by representatives from international organisations and initiatives. A follow-up meeting at a working-level will be organised shortly.
In this vein, the Commission also welcomes and supports the initiative for a Coalition of Finance Ministers for Climate Action, co-led by Finland and Chile, and supported by the World Bank. The Coalition's work on accelerating the transition to a climate-neutral economy through fiscal and economic policies is much needed and matches with the Commission's ambition to achieve transition to a climate-neutral economy by 2050. It would complement the Network on sustainable finance, which would focus on coordinating on national and regional financial services policy initiatives that embed sustainability in the financial sector.
Next steps
Given that about €6.2 trillion of annual investment in low-carbon infrastructure, such as energy, transport, buildings and water is needed globally until 2030 to limit global warming to 2 degrees Celsius, the objective of scaling up of sustainable finance is of particular importance. In the European Union alone, the achievement of the Paris-aligned energy and climate policy targets will require an additional annual investment of €180 billion between 2021-2030 compared to business as usual. Increasingly stretched public funds will not meet those investment needs alone. The Commission will continue its efforts to maintain strong international cooperation on sustainable finance by working very closely with all relevant international partners, with the aim to achieve greater alignment of the various financial services policy frameworks and tools that embed sustainability in the financial sector.
EU budget: Tax cooperation between EU Member States receives welcome boost following funding agreement
Reading Time:
2
minutes
The Commission has welcomed today's provisional agreement to provide funding for the EU's tax cooperation programme ('Fiscalis') during the next EU budget period of 2021-2027.
This agreement paves the way for Fiscalis to continue its key contribution in supporting and ensuring close tax collaboration between Member States. In turn, it helps to establish fairer and more efficient tax systems and lower administrative burdens for citizens and businesses in the EU's Single Market.
Commissioner for Economic and Financial Affairs, Taxation and Customs, Pierre Moscovici said: "Today's agreement will allow the Fiscalis programme to continue supporting Member States to work together to find innovative solutions to the problems facing our tax administrations. When coupled with new technology, this work can have a hugely positive effect in our overall fight against tax avoidance and tax evasion, thereby protecting our Single Market. The Fiscalis programme may have a small budget, but it has a big added value."
The programme will support cooperation between Member States' tax administrations and better contribute to the fight against tax fraud, tax evasion and tax avoidance, by:
Putting in place better and more connected IT systems, which each Member State would otherwise have to develop individually. This includes developing and maintaining interoperable and cost-effective IT solutions to support tax authorities in implementing EU legislation;
Sharing good practices and training to boost efficiency: this includes helping prevent unnecessary administrative burdens for citizens and businesses (including SMEs) in cross-border transactions and significantly adding to the 423,000 tax professionals trained since 2014;
Continued and enhanced support for deep cooperation between tax authorities, in particular joint actions in risk management and audits – 1,000 of which have been organised between Member States since 2014;
Fostering Union competitiveness and fair competition, boosting innovation and facilitating the implementation of new economic models.
Next steps
This provisional agreement now has to be formally approved by both the European Parliament and the Council, while the budgetary aspects are subject to the overall agreement on the EU's next long-term budget, proposed by the Commission in May 2018.
Background
The EU's Fiscalis Programme has proven itself indispensable in helping tax administrations to cooperate better across the EU to improve tax collection and fight tax fraud. First designed in 1993 purely as a training and exchange programme for tax officials, Fiscalis has become a game-changer for the EU's taxation landscape over the last 20 years. It offers a flexible and simple environment for tax cooperation, with substantial benefits and impact despite its relatively limited size. In one year alone (2015), it helped Member States to assess over €590 million in taxes for possible recovery through joint EU controls.
Today's agreement comes at a time where public sentiment against tax avoidance runs high, with 74% of EU citizens calling for EU action against tax avoidance and tax evasion, and with EU governments needing to recoup more than €50 billion a year lost to Value Added Tax (VAT) fraud alone. A strengthened programme will help address this issue. The Fiscalis programme will also offer support in the upcoming challenges of the next decade, such as the digitalisation of taxation activities, new economic models or the internationalisation of financial instruments, which go well beyond the Union borders.