Venture Global LNG Secures $220 Million in New Capital with Credit Facility from Morgan Stanley Senior Funding, Inc.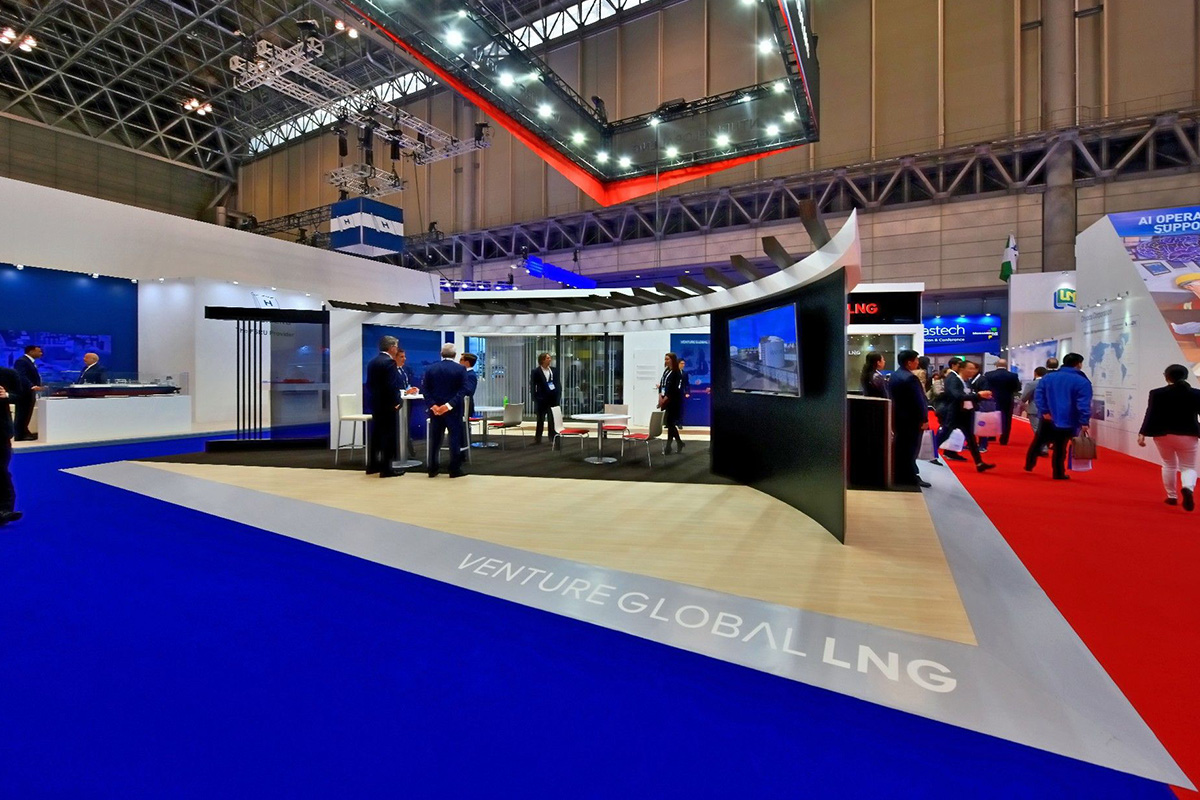 Reading Time:
2
minutes
Venture Global LNG, Inc. announces that it has entered into a $220 million bridge loan facility with Morgan Stanley Senior Funding, Inc. and associated lenders. Subject to the satisfaction of customary conditions precedent, the loan proceeds will be available immediately in full and will be used to finalize engineering work and commence site construction activity for the company's 10 million tonnes per annum (MTPA) Calcasieu Pass LNG export project upon receipt of regulatory approvals and prior to a formal FID.
Co-CEOs Mike Sabel and Bob Pender jointly stated, "From the beginning, Morgan Stanley recognized our innovative strategy and exacting execution, and they have been a highly valued long-term partner to our team. This $220 million, along with the $635 million of equity capital we have raised to date, allows us to finalize advanced engineering, purchase equipment, and commence construction activities at our Calcasieu Pass facility in the near term, reducing schedule risk for our offtake customers."
The 10 MTPA Calcasieu Pass facility will employ a comprehensive process solution from GE Oil & Gas, LLC, part of Baker Hughes, a GE company (BHGE) and will utilize mid-scale, modular, factory-fabricated liquefaction trains. Calcasieu Pass LNG's selected EPC contractor, Kiewit, will commence construction of the facility following the receipt of all required regulatory approvals, including the Final Order from the U.S. Federal Energy Regulatory Commission (FERC), which is currently scheduled to be issued no later than January 22, 2019. The project has executed binding 20-year offtake agreements with world-class partners including Shell, BP, Edison S.p.A., Galp, Repsol and PGNiG.
The company is also developing the 20 MTPA Plaquemines LNG export facility in Plaquemines Parish, Louisiana, which has executed its first binding 20-year offtake agreement with PGNiG. Venture Global LNG expects to take formal final investment decisions (FID) on both its Calcasieu Pass and Plaquemines LNG projects in 2019.
Credorax Partners With Cisco to Boost Payments Gateway to the Next Level
Reading Time:
2
minutes
Today, Credorax announced that it has partnered with Cisco to upgrade its data-center network's capabilities, capacity and latency. The agreement enables Credorax to adopt Cisco's advanced data-center networking technology, including an automation, visibility and management system. Credorax has also agreed to beta-test Cisco's advanced and future monitoring and management products.
Credorax's system is already considered one of the fastest in the world with its cutting-edge high throughput, low latency, and multi-continent redundancy, and Cisco's technology will allow Credorax to push the envelope even further in terms of decreasing transaction latency and increasing throughput. Cisco's software solution for centralized management and monitoring of network components will play a significant role in Credorax's solutions, simplify their roll-out of new products and reduce ongoing cost of ownership.
As a licensed merchant acquiring bank, Credorax helps merchants accept payments easily with its recently launched Source gateway. The platform offers telecom-grade (99.999%) availability for processing payments as well as a host of payments products and services, including cards and alternative payment methods, hosted payment pages, advanced KYC screening, smart fraud solutions, and sophisticated business intelligence and data tools.
Cisco is at the forefront in building the network platform that can now deliver a connected, autonomous, and programmable digital platform for Credorax customers.
Cisco-Israel General Manager, Oren Sagi said about the collaboration: "Cisco is committed to do its utmost to provide its customers with the most innovative technologies while maintaining uncompromising quality. We are excited to collaborate with Credorax and help them develop the fastest and most reliable payments gateway possible. I am confident that this project is the first milestone for a successful cooperation between the two companies."
Moshe Selfin, Credorax CTO & COO stated: "We're thrilled join forces with Cisco. We have always strived to provide best-class service to our customers, and are confident that by incorporating Cisco's network platform for data capacity and processing speed into our NextGen payments and acquiring platform, we are offering our merchants the best technology on the market."
In an era of demanding customers and changing expectations, e-commerce merchants simply can't survive without the best-in-class cross-border payments processing capabilities. Being both a technology company and an acquiring bank, Credorax has built a full suite of NextGen products and services to help merchants grow their business online. And now with Cisco's support, Credorax has augmented its offering even further.
SOURCE Credorax
MetricStream Wins "GRC Product of the Year" at the 2019 Risk Technology Awards Hosted by Risk.net
Reading Time:
2
minutes
MetricStream, a market leader in governance, risk, and compliance (GRC) apps and solutions, announced today that its Enterprise GRC Solution has been awarded the "GRC product of the year" at the 2019 Risk Technology Awards, hosted by Risk.net.
"We're honored to win this award," said Gaurav Kapoor, Chief Operating Officer, MetricStream. "We believe that it validates the strength, breadth, and depth of our GRC/IRM offerings, as well as our focus on continuous innovation—reflected most prominently in our GRC cloud, advances in predictive analytics, automation, and AI. Our mission is to enable organizations to 'Perform with Integrity™'. To that end, we're deeply committed to forging long-term partnerships with our customers and supporting them throughout their integrated GRC journeys."
The annual Risk.net awards recognize the need for innovative technology solutions to manage risk in a highly dynamic and complex business environment. The average financial services firm faces a plethora of risks, ranging from cyber threats and regulatory pressures, to fintech related disruptions and money laundering issues. As these risks grow more interconnected, siloed approaches to GRC are rapidly giving way to more integrated solutions.
The MetricStream Enterprise GRC platform provides a single, unified system to manage, coordinate, and track multiple types of GRC activities. The solution cuts across organizational silos, enabling a holistic and collaborative approach to GRC. Users can efficiently roll up operational risk, audit, compliance, Cyber and third-party risk information from across the enterprise, and transform it into actionable business intelligence to support decision-making. With support for mobility, real-time reporting, advanced risk analytics, and regulatory notifications, the MetricStream solution helps users manage complex risk requirements in an efficient manner.
Top industry analysts have consistently recognized MetricStream as a leader in GRC/IRM. The company's wide range of solutions and underlying GRC platform are leveraged by leading financial services firms worldwide, including large global banks, mid-sized banks, private equity investors, investment banks, wealth managers, insurance firms, asset management companies, federal financial agencies, and clearing corporations.
SOURCE MetricStream
MPOWER Financing rated Top international student lender by Nerdwallet and U.S. News
Reading Time:
2
minutes
MPOWER Financing, a mission-driven fintech that provides financial access to higher education for high-promise international and DACA students, was recognized by both Nerdwallet and U.S. News & World Report as the top student loan provider for international students.
Nerdwallet, a comparison website for personal finance products, awarded MPOWER a 5-star rating for its student loans, indicating that its products are "among the very best for consumer-friendly features." Nerdwallet also commended MPOWER for offering loans that are "ideal for international and DACA students without a co-signer or U.S. credit history." MPOWER's loans are available to students from around the world for both graduate and undergraduate degrees at more than 350 top universities in the U.S.and Canada.
U.S. News & World Report recognized MPOWER Financing as the "best lender for international students." This determination was made on the basis of MPOWER's product offerings, cost, customer servicing ratings, eligibility, and other features. U.S. News also detailed that MPOWER's underwriting process considers a student's academic success and career path – a process that is enabled by MPOWER's use of big data analytics and artificial intelligence.
"I was having a tough time obtaining education loans from India without collateral," wrote Kaushik Krishnan, one of MPOWER's early students. "MPOWER was truly life changing for me. I've since graduated from my Masters program, found a job, and paid off my loan."
"MPOWER allowed me to achieve my dream," said Sol Bee, a South Korean student. "I was admitted to Berkeley in Fall 2016, but I couldn't afford it at the time. MPOWER empowered me to be who I wanted to be by allowing me to take control of my finances and my life."
"We're honored by the industry recognition we've received, and the hundreds of heartfelt stories we get from students whom we have the privilege to serve," says Manu Smadja, Co-founder and CEO of MPOWER. "We're working hard to further improve our customer experience and to remain the best international student lending product on the market."
MPOWER Financing, headquartered in Washington, D.C., and with offices in Bengaluru, New York City, and Toronto, is a mission-driven fintech company and provider of global educational loans. It is the only student lender in the world that leverages both overseas and domestic credit data, as well as future earning potential, to serve high-promise international and DACA students. MPOWER Financing works with over 350 top universities and colleges across the U.S. and Canada to provide financing to students from over 200 countries. Since 2014, it has received over $1B in loan application volume on its platform. MPOWER Financing helps students build their credit histories and provides them with personal finance education and career support to help prepare for life after school. The team is backed by Zephyr Management, Goal Structured Solutions, Gray Matters Capital, Lloyd Crescendo Advisors, 1776, Village Capital, Potentia, Breega, VARIV, DreamIt, Fresco, Chilango, Common Sense Fund, K Street, and University Ventures.
SOURCE MPOWER Financing