Venture Global LNG Secures $220 Million in New Capital with Credit Facility from Morgan Stanley Senior Funding, Inc.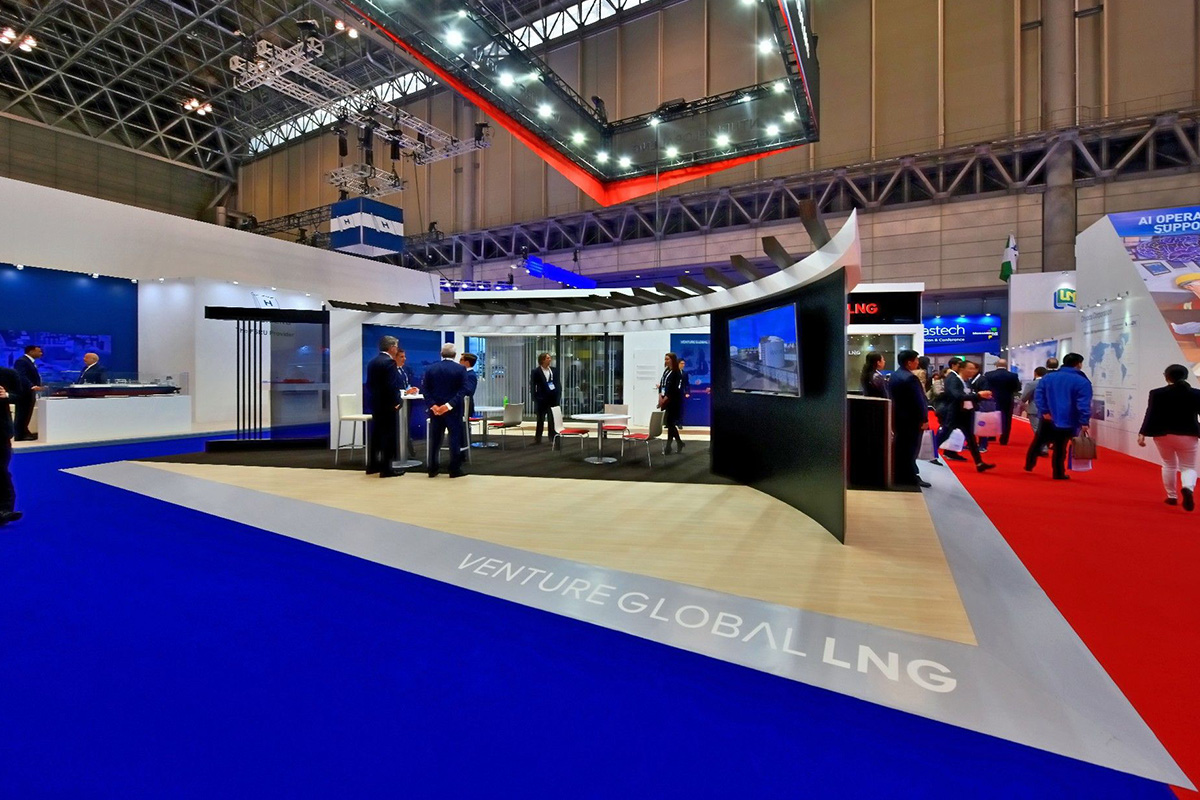 Reading Time:
2
minutes
Venture Global LNG, Inc. announces that it has entered into a $220 million bridge loan facility with Morgan Stanley Senior Funding, Inc. and associated lenders. Subject to the satisfaction of customary conditions precedent, the loan proceeds will be available immediately in full and will be used to finalize engineering work and commence site construction activity for the company's 10 million tonnes per annum (MTPA) Calcasieu Pass LNG export project upon receipt of regulatory approvals and prior to a formal FID.
Co-CEOs Mike Sabel and Bob Pender jointly stated, "From the beginning, Morgan Stanley recognized our innovative strategy and exacting execution, and they have been a highly valued long-term partner to our team. This $220 million, along with the $635 million of equity capital we have raised to date, allows us to finalize advanced engineering, purchase equipment, and commence construction activities at our Calcasieu Pass facility in the near term, reducing schedule risk for our offtake customers."
The 10 MTPA Calcasieu Pass facility will employ a comprehensive process solution from GE Oil & Gas, LLC, part of Baker Hughes, a GE company (BHGE) and will utilize mid-scale, modular, factory-fabricated liquefaction trains. Calcasieu Pass LNG's selected EPC contractor, Kiewit, will commence construction of the facility following the receipt of all required regulatory approvals, including the Final Order from the U.S. Federal Energy Regulatory Commission (FERC), which is currently scheduled to be issued no later than January 22, 2019. The project has executed binding 20-year offtake agreements with world-class partners including Shell, BP, Edison S.p.A., Galp, Repsol and PGNiG.
The company is also developing the 20 MTPA Plaquemines LNG export facility in Plaquemines Parish, Louisiana, which has executed its first binding 20-year offtake agreement with PGNiG. Venture Global LNG expects to take formal final investment decisions (FID) on both its Calcasieu Pass and Plaquemines LNG projects in 2019.
Geoswift Secures SVF Licence as Hong Kong Steps Closer Towards a Cashless and Digital Payment World
Reading Time:
2
minutes
Geoswift, a leading provider of cross-border payment solutions between China and the rest of the world, announced today that its Hong Kong entity has been granted a coveted Stored Value Facilities ("SVF") Licence by the Hong Kong Monetary Authority. With the SVF licence, Geoswift can provide greater convenience and a better experience for consumers and merchants and move closer to providing a seamless cashless, digital payment world.
Stored value facilities are changing the fintech landscape in Hong Kong, and as more companies such as Geoswift hold SVF licences, it is creating a competition which is innovating the marketplace. This increase in diversity will result in new services which will bring more convenience and choice to both consumers and merchants.
Geoswift has been recognised as the leading global payments specialist, providing value-added, one stop payment solution for the e-Commerce, education and travel sectors. With the acquisition of an SVF licence, Geoswift can now integrate its product offerings and craft more comprehensive and diverse payment solutions to bring even greater convenience and better payment experience to consumers and merchants, alongside its other regional licences.
"With Hong Kong's proximity to China and its position as the gateway to China, Hong Kong is one of the most well-connected fintech hubs in the world. Obtaining the SVF licence in Hong Kong does not only allow us to meet our future growth plans within Asia Pacific and the Greater Bay Area in particular, but also enable us to expand our current set of product offerings to offer more comprehensive cross-border payments solutions globally."
Raymond Qu, Founder and CEO of Geoswift, said, "As a market-leading provider of cross-border payments solutions in and out of China, Geoswift takes a long view on all of our product developments and actively seeks opportunities to deliver sustainable value for our partners and clients today and tomorrow. With our new SVF licence as well as our other regional licences, we have a very solid foundation to deliver more comprehensive payment solutions to foster a truly cashless and digital payment world."
SOURCE Geoswift
Financial Institutions Utilize Diverse and Maturing Fintech Solutions
Reading Time:
7
minutes
The evolution of technology has completely reshaped many industries around the world. Now, almost every industry has incorporated technology into their business models in order to thrive among the competition. Sectors ranging from communication, food, education, business, to even finance have all integrated innovative and advanced technology. Specifically, the financial world has been deeply impacted by the growth of technology. Moreover, banks and firms have been heavily investing in financial technology or "fintech" solutions to provide their consumers with exceptional services. Fintech is described as a technology that seeks to improve or potentially automate financial services. For instance, many banks have launched mobile banking services which eliminate the need for consumers to physically go to a bank. Instead, consumers can now access their bank accounts, make payments, and deposit funds in the palm of their hand. A large majority of global banks, insurers, and investment managers have already dove into the fintech industry, however, within the next 3 to 5 years, even more are expected to enter into the market. Furthermore, with the adoption of fintech solutions, companies can expect a 20% average return on investment on their innovation projects. Through the use of these technologies, companies are able to create and deploy low-cost personalized products for consumers. And as a result, the innovative products are having a significant impact on the consumer, pressuring traditional firms to adapt to the competition. According to data compiled by Mordor Intelligence, the global fintech market is expected to register a CAGR of 13.2% during the forecast period from 2019 to 2024. CLPS Incorporation (NASDAQ: CLPS), First Data Corporation (NYSE: FDC), Overstock.com, Inc (NASDAQ: OSTK), BGC Partners, Inc. (NASDAQ: BGCP), LendingClub Corporation (NYSE: LC)
Primarily, infrastructure-based technologies, through platformification and open application interfaces (APIs) are reshaping the fintech industry. Other operation advancements such as robotic process automation, chatbots, and Distributed Ledger Technology are all enabling greater agility, efficiency, and accuracy. According to Capgemini's 2018 World Payments Report, there were approximately 600 billion total digital transaction. Furthermore, the report suggests that digital transactions are on pace to grow by 46% over the next four years, growing to 876 billion transactions by 2021. Capgemini also notes that the Asian markets are expected to lead the pack, exhibiting a CAGR of 29% during the period. Other developing markets include regions like Central Europe, the Middle East and Africa, which are expected to register a CAGR of 20%. However, concerns over fraud and security are expected to undermine the industry as consumers fear that cyber attackers can access their accounts or e-wallets and steal personal information or even digital currency. Nonetheless, tech companies and financial institutions have partnered together in order to provide more secure platforms. "If you have not heard about the Fintech revolution that is happening right now, you need to get out from under your rock. These revolutionary advancements are not just impacting the financial industry. They have the potential to change the way we conduct transactions in all aspects of business," said Daniel Newman, Chief Executive Officer of Broadsuite Media Group and Principal Analyst at Futurum. "Technology has driven us to where we are. As an industry with a heavy focus on technology, it is obvious that changes will happen rapidly and frequently. With the Fintech revolution being the newest disruptor of choice, the banking industry and its consumers will need to hold on for the ride. It will take some time for this technology is gain enough speed to become widely accepted. However, it is definitely on the horizon. Only time will tell what we can expect when we visit our local bank for this is only the beginning."
CLPS Incorporation (NASDAQ: CLPS) earlier this week announced, "a strategic investment in Economic Modeling Information Technology Co., Ltd. ("EMIT"), a financial big data company. Upon closing of the transaction, CLPS will hold a 30% ownership stake in EMIT.
Established in 2017, EMIT was founded by a team of PhD faculty members from Shanghai University of Finance and Economics ("SHUFE") in cooperation with SHUFE's Fintech Research Institute. EMIT provides financial modeling and analysis services to financial services companies and delivers a full range of value-added data mining and data analytics IT solutions to its clients that include intelligent investment systems, risk warning systems, and credit card decision engine core systems. EMIT's "financial data modeling platform + financial risk warning platform" business model provides its customers with comprehensive financial data services, such as financial data strategic planning, service mode design, and risk control.
Mr. Raymond Lin, Co-Founder and Chief Executive Officer of CLPS, commented, 'Big data has become an important area of technological advancement in the financial industry. Our strategic investment in EMIT allows us to expand upon our expertise in providing the financial industry with applications of industry-leading technologies. EMIT's expertise in data modeling, deep learning and machine learning, and blockchain technology will benefit CLPS's future development by further expanding our client network. In addition, by offering applications of data mining, we will be able to extend our competitive edge in the banking, insurance and financial sectors.'
About CLPS Incorporation: Headquartered in Shanghai, China, CLPS Incorporation (the "Company") (Nasdaq: CLPS) is a global leading information technology ("IT"), consulting and solutions service provider focusing on the banking, insurance and financial sectors. The Company serves as an IT solutions provider to a growing network of clients in the global financial industry, including large financial institutions in the US, Europe, Australia and Hong Kong and their PRC-based IT centers. The Company maintains ten delivery and/or research & development centers to serve different customers in various geographic locations. Mainland China centers are located in Shanghai, Beijing, Dalian, Tianjin, Chengdu, Guangzhou and Shenzhen. The remaining three global centers are located in Hong Kong, Singapore and Australia. For further information regarding the Company, please visit: http://ir.clpsglobal.com."
First Data Corporation (NYSE: FDC) is a global leader in commerce-enabling technology, serving approximately 6 million business locations and 4,000 financial institutions in more than 100 countries around the world. First Data Corporation and Fiserv (NASDAQ: FISV) recently announced that their boards of directors had unanimously approved a definitive merger agreement under which Fiserv will acquire First Data in an all-stock transaction. The transaction unites two premier companies to create one of the world's leading payments and financial technology providers, and an enhanced value proposition for its clients. This highly complementary combination will offer leading technology capabilities that enable a range of payments and financial services, including account processing and digital banking solutions; card issuer processing and network services; e-commerce; integrated payments; and the Clover™ cloud-based point-of-sale solution. The combined company will offer comprehensive distribution channels and have deep expertise in partnering with financial institutions, merchants and billers of all sizes, as well as software developers. "I have long admired what Fiserv has achieved over the years, and I look forward to working with the talented associates of both companies as we set a higher standard of innovation and service in the industry," said First Data Chairman and Chief Executive Officer Frank Bisignano. "Our goal at First Data has always been to provide our clients with the most comprehensive suite of innovative, highly-differentiated solutions and services, and I am excited by the significant value that the combination with Fiserv creates for all stakeholders."
Overstock.com, Inc (NASDAQ: OSTK) is an online retailer and technology company based in Salt Lake City, Utah. Overstock.com, Inc. and its subsidiary tZERO Group, Inc. recently announced that Hong Kong-based private equity firm GSR Capital has retained tZERO to develop a smart contract token that will be utilized for an upcoming sale of cobalt. Subject to compliance with applicable regulatory requirements, the sale is expected to offer recurring tranches of electric vehicle (EV) battery-grade cobalt, with up to USD 200 Million of the material projected to be available for sale in 2019, with more planned for 2020. tZERO Group, Inc. is a majority owned subsidiary of Overstock.com, focusing on the development and commercialization of financial technology (FinTech) based on cryptographically-secured, decentralized ledgers – more commonly known as blockchain technologies. Since its inception, tZERO has pioneered the effort to bring greater efficiency and transparency to capital markets through the integration of blockchain technology. tZERO and GSR Capital intend to build an ecosystem in Asia for tokenized commodity purchase contracts that would simplify the process of identifying, purchasing and tracking the supply of rare minerals. The companies also envision adding a security token trading platform in the region, subject to compliance with applicable regulatory requirements. "We are excited to work with GSR and their partner on this innovative cobalt token offering," said Overstock Chief Executive Officer and tZERO Executive Chairman, Patrick M. Byrne. "Smart contract automation of these transactions will significantly reduce overall costs while effectively improving transparency in rare earth metals purchases throughout the supply chain process. We look forward to bringing the future of commodities purchasing to the global marketplace."
BGC Partners, Inc. (NASDAQ: BGCP) is a leading global brokerage and financial technology company.  BGC Partners, Inc. recently announced that it has completed the acquisition of Ed Broking Group Limited, an independent Lloyd's of London insurance broker with a strong reputation across Accident and Health, Aerospace, Cargo, Energy, Financial and Political Risks, Marine, Professional and Executive Risk, Property and Casualty, Specialty and Reinsurance. Ed will become part of BGC's insurance division, which was established in 2017 with the acquisition of Besso Insurance Group Limited. Steve Hearn, currently Group Chief Executive Officer of Ed, will become Head of BGC's insurance division. Mr. Hearn will report directly into Mr. Lynn. Under the terms of the agreement, BGC acquired 100% of Ed, which includes broking operations under the Ed brand in the UK, Singapore, Hong Kong, Dubai, Miami and China; Ed's German marine broking arm Junge & Co. Versicherungsmakler GmbH; Ed's managing general agent (MGA) operations Globe Underwriting Limited based in the UK; Epsilon Insurance Broking Services Pty Ltd in Australia; and Cooper Gay (France) SAS, which is based in Paris. Shaun D. Lynn, President of BGC Partners, commented on the announcement: "We are delighted to complete the purchase of Ed, a company with a great reputation, a global footprint and an excellent management team that will continue to build on BGC's success in growing the insurance brokerage business."
LendingClub Corporation (NYSE: LC) was founded to transform the banking system to make credit more affordable and investing more rewarding. Leading fintech analytics platforms, dv01 recently announced an expanded reporting partnership with LendingClub, securing its role as loan data agent for all completed CLUB Certificate transactions. Prior to this partnership, dv01 has provided reporting services for USD 2.75 Billion of LendingClub securitizations. As loan data agent, dv01 will receive loan data directly from LendingClub, which it will normalize, validate, and roll up for monthly servicer reporting. The company will also prepare and provide monthly loan tapes; reconcile the monthly remittance report; and provide approved investors access to the data through dv01's portal, which features a suite of reporting, analytics, and cashflow tools designed specifically for the online lending asset class. "LendingClub's previous work with dv01 has made it clear that investors appreciate the ability to conduct deep analysis into structured products, both before and after purchase," said Valerie Kay, Chief Capital Officer of LendingClub. "The unique structure of these CLUB Certificate transactions appealed to a new investor audience, and we're excited to offer these investors access to dv01's reporting and analytics portal as part of their introduction to the online lending asset class."
SOURCE FinancialBuzz.com
MaxiMine Forms Strategic Partnership With Jinse Finance as Salon Series Hits Chengdu
Reading Time:
2
minutes
Distributed cloud-based pool mining platform, MaxiMine, is honoured to announce that it will be joining the incoming Jinse Salon Series as a strategic partner this May. MaxiMine's CTO and Operations Executive (China), Mr. Yao Kunhua, has been invited to be a guest speaker at this event and will be speaking on the ecosystem of MaxiMine's mining farm that promises to invigorate the crypto mining scene.
Mr. Yao is an early investor of Bitcoin and has always believed in its innate potential. As an expert on blockchain technology and its technical infrastructure, Mr. Yao is well-versed with fintech and has had seven years of experience in the blockchain field. Mr. Yao was also one of the earliest business partners of the mining pool, antpool.com, that was reported to be the largest Bitcoin mining pool in 2018 based on its Bitcoin network hash rate.
Following the successful launch of the Avalon Mining Rig 1st Generation in 2013, Mr. Yao started his own mining farm that has since expanded quickly in both scale and capacity. With multiple branches across the region such as in Inner Mongolia and Sichuan, its unrivalled growth has broadened the scope of its services and strengthened its research and development sector. Presently, the farm claims ownership of over 20 patents with many new proprietary technology under its belt.
A common saying circulating in the crypto mining circle goes like this: "Success hinges entirely on the riding of the tide."
To those familiar with the crypto mining industry, a rise in tidal waters is a cause for celebration as it signifies a greater electricity output with lowered utility costs and wider margins of profits.
During the wet season each year, it is a race among miners to scour the land for the lowest cost of electricity to ensure a smooth sailing ride into monetary victory. As the wet season is just right around the corner, what can people expect the outlook for miners to be this year?
The theme of the upcoming salon in Chengdu — Mining: Riding the Wave of the Market into the Future — seeks to address the above question and will delve deeper into the infrastructure and ecosystem behind a successful mining farm. The event is set to begin on 23rd May 2019 at 1 pm and will be graced with the presence of several industry representatives from renowned blockchain corporations.
In addition to MaxiMine CTO, Mr. Yao, who will be speaking at the event, a few other illustrious names in the industry are also been added to the list of guest speakers.
Some of these speakers include BTC.com CTO, Zhuang Zhong, Blockin co-founder and Operations Executive, Zhu Fa, Antpool.com co-founder, Tian Xin, Tomorrow co-founder and Vice President, Weng Ziyao, Head of Chouge Mining, He Kan, Canaan Blockchain Business Unit general manager, Shao Jianliang and F2pool Marketing Executive, Liu Chao.
A panel discussion themed "Pushing Boundaries During the Wet Season and Seeking Where the Future Lies"  will also be held, and will be helmed in with invaluable insights and contributions from the distinguished guest speakers.
With such an exciting line-up, one cannot help but stay tuned for more.
SOURCE MaxiMine