Venture Global LNG Secures $220 Million in New Capital with Credit Facility from Morgan Stanley Senior Funding, Inc.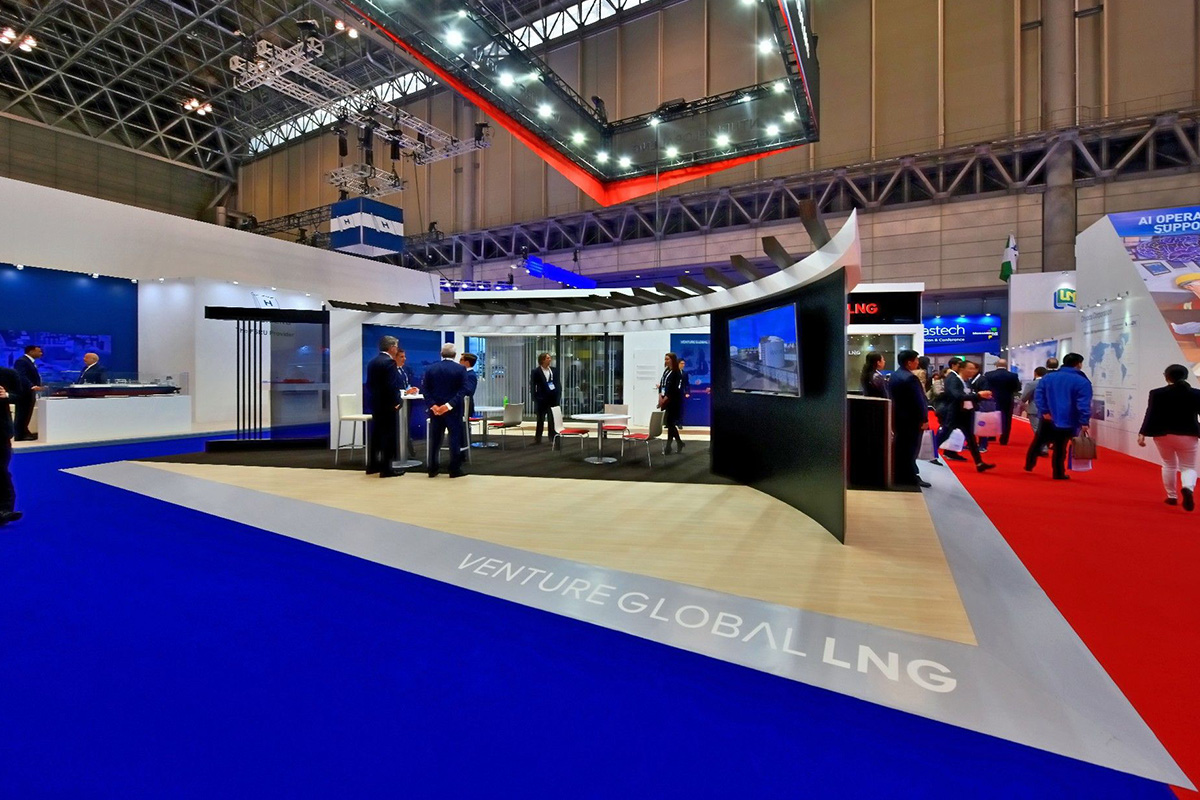 Reading Time:
2
minutes
Venture Global LNG, Inc. announces that it has entered into a $220 million bridge loan facility with Morgan Stanley Senior Funding, Inc. and associated lenders. Subject to the satisfaction of customary conditions precedent, the loan proceeds will be available immediately in full and will be used to finalize engineering work and commence site construction activity for the company's 10 million tonnes per annum (MTPA) Calcasieu Pass LNG export project upon receipt of regulatory approvals and prior to a formal FID.
Co-CEOs Mike Sabel and Bob Pender jointly stated, "From the beginning, Morgan Stanley recognized our innovative strategy and exacting execution, and they have been a highly valued long-term partner to our team. This $220 million, along with the $635 million of equity capital we have raised to date, allows us to finalize advanced engineering, purchase equipment, and commence construction activities at our Calcasieu Pass facility in the near term, reducing schedule risk for our offtake customers."
The 10 MTPA Calcasieu Pass facility will employ a comprehensive process solution from GE Oil & Gas, LLC, part of Baker Hughes, a GE company (BHGE) and will utilize mid-scale, modular, factory-fabricated liquefaction trains. Calcasieu Pass LNG's selected EPC contractor, Kiewit, will commence construction of the facility following the receipt of all required regulatory approvals, including the Final Order from the U.S. Federal Energy Regulatory Commission (FERC), which is currently scheduled to be issued no later than January 22, 2019. The project has executed binding 20-year offtake agreements with world-class partners including Shell, BP, Edison S.p.A., Galp, Repsol and PGNiG.
The company is also developing the 20 MTPA Plaquemines LNG export facility in Plaquemines Parish, Louisiana, which has executed its first binding 20-year offtake agreement with PGNiG. Venture Global LNG expects to take formal final investment decisions (FID) on both its Calcasieu Pass and Plaquemines LNG projects in 2019.
LGT opens wealth management office in Thailand for high net worth investors
Reading Time:
2
minutes
LGT, the international private banking and asset management group owned by the Princely House of Liechtenstein, today announced the opening of its wealth management business in Thailand, following the successful award of regulatory approvals. Located in downtown Bangkok, LGT will offer a unique set of investment and wealth management services to high net worth individuals and corporates in the country.
Commenting on the announcement, H.S.H. Prince Max von und zu Liechtenstein, CEO LGT said, "We are delighted to start operations in Thailand and look forward to offering full-fledged wealth management services to high net worth individuals, their families and corporates here in Bangkok. We see Thailand as an important growth market, and the establishment of an onshore presence reflects our ambition to continue our growth path in Asia."
Headquartered in Vaduz, Liechtenstein, LGT is the largest private banking and asset management group in the world that is wholly-owned by an entrepreneurial family, the Princely House of Liechtenstein. As per mid-2018, LGT managed assets under management of USD 207.5 billion on behalf of wealthy private individuals and institutional clients. In Asia, LGT is ranked the 12th largest Private Bank with over USD 60 billion assets under management.
H.S.H. Prince Max von und zu Liechtenstein added, "Our stable ownership structure, our international network, personal approach, as well as our advisors' comprehensive experience in managing substantial family assets, is what distinguishes LGT. Our clients can invest like the Princely Family, and thus benefit from our investment expertise. This results in a natural alignment of interests between ourselves and our clients."
LGT's subsidiary in Thailand will be known as LGT Securities (Thailand) Limited. A team of investment consultants and investment planners will provide investment and wealth management services to Thai clients from the Bangkok office and complement LGT's existing private banking efforts in Hong Kong and Singapore.
"The opening of our office in Bangkok is another strategic milestone for our steady development in Asia," commented Henri Leimer, CEO LGT Private Banking Asia. "We have recorded very pleasing growth in recent years in the region and significantly increased our assets under management. Thailand is a rapidly growing market with extremely interesting opportunities. With our local presence in Bangkok, we can now advise and support our Thai customers even better on-the-ground."
LGT's Thai market expansion is overseen by industry veteran Karn Karuhadej, who has close to 20 years' experience in private banking. The local office in Thailand will be led by CEO, Ekkapob Makeguljai, a homegrown career banker who has over 16 years' experience in financial services and wealth management. The team will consist of experienced local and international wealth managers.
LGT in brief
LGT is a leading international private banking and asset management group that has been fully controlled by the Liechtenstein Princely Family for over 80 years. As per 30 June 2018, LGT managed assets of CHF 206.0 billion (USD 207.5 billion) for wealthy private individuals and institutional clients. LGT employs over 3000 people who work out of more than 20 locations in Europe, Asia, the Americas and the Middle East. www.lgt.com
SOURCE LGT
The BBVA Foundation recognizes Ivan Sutherland for revolutionizing human-machine interaction through computer graphics and virtual reality
Reading Time:
5
minutes
The BBVA Foundation Frontiers of Knowledge Award in the Information and Communication Technologies category has gone in this eleventh edition to American computer engineer Ivan Sutherland, for "pioneering the move from text-based to graphical computer displays," in the words of the citation. Almost sixty years ago, at a time when computers took up an entire room, Sutherland not only invented the first system supporting graphical interaction with these machines, he also developed the first virtual reality headset, which he nicknamed the "Sword of Damocles."
In a career spanning more than six decades, Sutherland has paired "a deep knowledge of technology with an understanding of human behavior to transform computer interaction," the citation continues. Nowadays, "everybody using a computer or smartphone benefits from his vision and contributions."
Sutherland gave notice of his visionary talent with his doctoral thesis, presented at the Massachusetts Institute of Technology (MIT) in 1963 under the supervision of Claude Shannon, the "father" of information theory. It described the Sketchpad program, which showed that computer graphics could provide a more natural interaction between user and machine, and is generally regarded as the predecessor of the graphical interfaces we know today, from the windows system begun by Apple to the icons of our smartphone apps. It is in honor of these achievements that the committee describes him as "the father of computer graphics."
At a time when punch cards were the norm, the ideas behind Sketchpad were "revolutionary," says the awards committee. The program "laid the foundations for intuitive and powerful human-computer interaction through drawing and manipulating shapes and icons rather than through typing commands. Sketchpad provided a light pen and commands to draw directly on a computer display, to zoom in and out, and to transform objects."
In conversation yesterday after hearing of the award, Sutherland gave thanks to Wesley Clark, builder of "what was then the world's biggest computer, the TX-2" for letting him use it "for hours at a time" to develop Sketchpad. "Being able to draw on a computer screen was totally unusual and unexpected, and awakened a lot of people to the possibility of using computer graphics," the new laureate remarked.
Asked if he could imagine then the kind of applications his work would inspire, Sutherland admitted he had "no idea what it would lead to. I did it because it was interesting to do. I was given access to a computer. I wanted to make drawings on that computer, because I liked drawings, and I liked to make them neat, and the computer delivered that. I did what I did because each step was interesting and technically possible, and clearly gave us access to information in a new way that would obviously be useful, even if how it would be used was not clear."
The first virtual reality headset
A few years later, as a professor at Harvard University, Sutherland created the first virtual reality headset "with potential to track the user's gaze," the committee explains. This device, which he built with his students in 1968, was nicknamed "The Sword of Damocles" due to its weight, and is referred to in the citation as the precursor of "today's virtual and augmented reality systems such as HoloLens, Rift and Vive."
In the original paper describing the device, Sutherland explained that his goal was "to surround the user with three-dimensional information," an image that "must change in exactly the way that the image of a real object would" when the observer moves their head. The objects projected "appear to hang in the space all around the user," writes Sutherland, for whom "the biggest surprise" was the enthusiastic response of the device's initial public and the "realism" of its images. He ends the report confessing that at the outset he had "no idea how much effort would be involved."
As with Sketchpad, Sutherland had no inkling of the world that virtual reality would open up. Nor is he willing now to hazard predictions about its future uses: "If you want to know the future, you have to ask the people who make it not the people who started it. I have no idea what other people will do."
More than 60 patents
Sutherland's influence has spanned academia and industry. Not only does he himself hold over 60 patents, but a number of his students have gone on to found some of the sector's most thriving companies.
In 1968 he moved to the University of Utah, where he incorporated Evans & Sutherland, a firm that pioneered the development of 3D graphics hardware, and was accompanied by "brilliant students," he remarked yesterday. "Their excellence enabled several of them to be involved in entrepreneurial companies, some of which did marvelous things. For instance, Edwin Catmull started Pixar, which makes very entertaining films. And John Warnock was one of the founders of Adobe. I am pleased to have known those people and made some small contribution to their education."
His next academic appointment, in the 1970s, was at the California Institute of Technology, where he worked closely with Carver Mead, winner of the Frontiers of Knowledge Award in the fourth edition. Sutherland's name was put forward for the award by another Frontiers laureate, Leonard Kleinrock, honored in the seventh edition.
The latest awardee makes just one assertion about the future; that it will depend entirely on the next generation's spirit of inquiry: "Young people are wonderful. They don't know what they can't do, so they go ahead and do it."
Bio notes
Ivan Sutherland (Hastings, Nebraska, United States, 1938) earned a Bachelor of Science degree in Electrical Engineering at Carnegie Mellon University, then went on to complete an MS and PhD in the same subject at California Institute of Technology (Caltech) and Massachusetts Institute of Technology respectively.
His research and teaching career began at the University of Maryland, followed by appointments at Harvard and Utahuniversities, Caltech (where he set up the Department of Computer Science), Carnegie Mellon University, Imperial College London, the University of California, Berkeley, and Portland State University, where he is currently a Visiting Scientist.
He has founded a number of companies, including Evans & Sutherland Computer Corporation, Picture Design Group and Sutherland, Sproull & Associates, the latter acquired by Sun Microsystems to form Sun Microsystems Laboratory, where Sutherland would remain for several years as Vice President and Sun Fellow (the firm's most senior technical post).
An intensive research enterprise in both the university and corporate sectors has earned him numerous patents; the first in 1956, when he was just 21 years old, followed by another seventy-four.
He combines his post at Portland State University with consulting work for the U.S. Government and firms like Oracle Laboratory and ForrestHunt
Information and Communication Technologies committee and evaluation support panel
The rigor, quality and independence of the judging process have earned these awards the attention of the international scientific community and a firm place among the world's foremost prize families.
The jury in this category was chaired by Joos Vandewalle, Honorary President of the Royal Flemish Academy of Belgium for Science and the Arts, with Ron Ho, Director of Silicon Engineering at Facebook (United States) acting as secretary. Remaining members were Liz Burd, Pro Vice-Chancellor in Learning and Teaching at the University of Newcastle(Australia), Georg Gottlob, Professor of Informatics at the University of Oxford (United Kingdom), Oussama Khatib, Professor of Computer Science at Stanford University (United States), Rudolf Kruse, Emeritus Professor in the Faculty of Computer Science at the Otto von Guericke University Magdeburg (Germany), and Mario Piattini, Professor of Computer Languages and Systems at the University of Castilla-La Mancha (Spain).
The BBVA Foundation is aided in the evaluation process by the Spanish National Research Council (CSIC), the country's premier public research organization. The Foundation and CSIC jointly appoint the evaluation support panels charged with undertaking an initial assessment of the candidates proposed by institutions across the world and drawing up a reasoned shortlist for the consideration of the award committees. CSIC is also responsible for designating each committee chair.
The evaluation support panel in this category was coordinated by María Victoria Moreno, the Council's Deputy Vice President for Scientific and Technical Areas, and formed by: Carmen García, Coordinator of the Physical Science and Technologies Area and Research Professor in the Institute of Corpuscular Physics (IFIC); Manuel Lozano, Research Professor at the Barcelona Institute of Microelectronics (IMB-CNM); Pedro Meseguer, Scientific Researcher at the Institute of Research in Artificial Intelligence (IIIA); Federico Thomas, Research Professor in the Institute of Robotics and Industrial Computing (IRII); and Roberta Zambrini, Tenured Researcher in the Institute of Interdisciplinary Physics and Complex Systems (IFISC).
SOURCE BBVA Foundation
BizClik Media Announces the Launch of FinTech Magazine
Reading Time:
1
minute
Innovative Norfolk-based digital media company, BizClik Media, has launched its latest brand, FinTech Magazine.
As the finance industry continues to be disrupted by the advent of blockchain and cryptocurrencies, cashless payments and open banking, this new platform, based on the success of Gigabit Magazine, aims to bring you the latest insights from top-tier CTOs, CIOs and more.
FinTech Magazine explores the digital transformation journeys of leading global businesses and find out how the experts are navigating this exciting new financial landscape.
The cover star this month is global insurance leader Marsh, which has just released its latest CMT (communications, media and technology) study, outlining what the adoption of disruptive technologies like AI and IoT will mean for the industry. CMT Practice Leaders Alexander Chao and Thomas Quigley explain how the risks involved in digital transformation can be successfully navigated.
Meanwhile, the magazine team sat down with software solution provider Finastra's Senior Director, Smita Gupta, a powerful woman in fintech who is responsible for the firm's marketing across the APAC region. Gupta discussed Finastra's newly-launched open banking readiness index and how financial institutions can best prepare for the future.
Be sure to check out the company reports on Santander, Generali, Nationwide, Adyen and more, as well as the top 10 this month examining which fintech startups are the ones to watch in 2019.