Team Jebsen makes Triumphant Return at Porsche Carrera Cup Asia 2018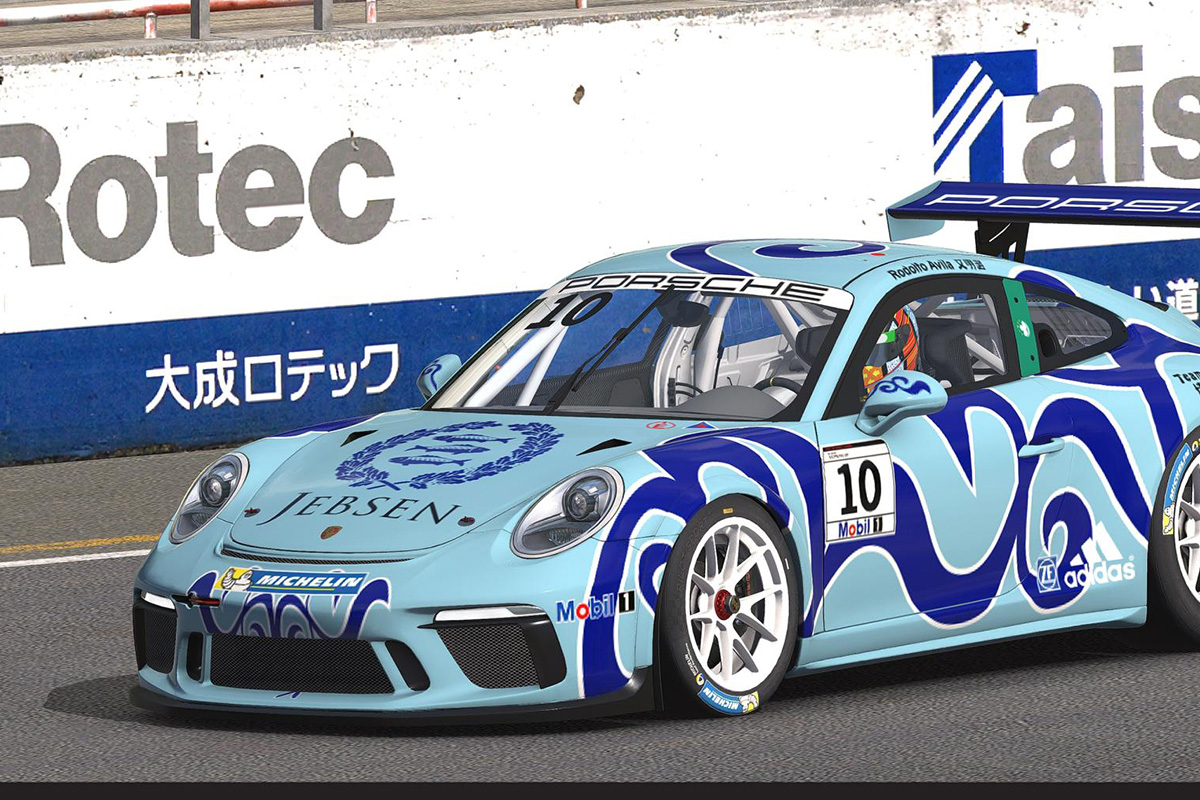 Reading Time:
2
minutes
Team Jebsen's professional team driver Cui Yue named Fastest Asian Driver of the Year, becoming first Chinese driver to ascend the podium this season.
The Porsche Carrera Cup Asia (PCCA) 2018 Finale kicked off at the Shanghai SAIC International Circuit, where Team Jebsen's professional team driver – Cui Yue – delivered a stellar performance. Cui Yue claimed the PCCA Dealer Trophy for Team Jebsen by finishing third in Round 11 of the race. His performance secured a fifth-place overall ranking for the year and the distinction of being the fastest Asian Driver in this season. In addition to this, Team Jebsen ranked third for the Porsche Dealer Trophy of the Year with a total of 176 points, and became the only team that has never been absent in the 15 years since the inception of the cup. Team Jebsen's continuous presence at the PCCA was recognised with the 15th Anniversary PCCA Honorary Award.
In the qualifying session of Round 11, Cui finished fifth and ranked first among Asian drivers, laying a good foundation for the following races. Cui broke away from his competitors without difficulty at the beginning of the race and took second place at Turn 1, which inspired a round of applause from the audience. Late in the race, Cui maintained his place in the top three positions by forging steadily and surely ahead. He eventually claimed third place and became the first Chinese driver to ascend the podium in the 2018 season. For a racing series whose trophies have long been dominated by foreign drivers, Cui's performance is impressive.
In Round 12, shortly after setting off, a car hit Cui from behind and he spun, instantly plummeting his position to the 28th place. However, in spite of the incident and the consequent unsatisfactory tyre conditions, Cui drew on over a decade of racing experience to make up for his loss; an adjusted strategy and spectacular overtaking moves allowed him to steadily chase from behind. He successfully completed the round with a seventh-place finish. Congratulations Cui Yue!
Jebsen Motors and the PCCA share a 15-year history together: Jebsen Motors is a founding member of the PCCA and was one of the very first teams to participate in the race. Jebsen Motors has been an established partner of Porsche in Greater China for the past 63 years and is one of Porsche's largest dealer groups in the world. Jebsen Motors is committed to giving customers excellent and comprehensive experiences to meet growing sales demands from Chinese customers as well as to actively promote the brand culture of Porsche.
The Porsche City Service Centre Shenzhen Luohu was officially unveiled by the Group in March 2018and is the first Porsche City Service Centre in the world to feature the Le Mans Race as its theme. The Le Mans-themed designs in the centre were collaborative creations of Porsche China and Jebsen Motors, intended to showcase Porsche's sports car culture in every detail of the centre and to make customers feel as if they were on the racecourse.
"Our thanks to the PCCA Organising Committee and to all the fans for their ongoing support and trust in us. We are very pleased with the excellent performance that Team Jebsen and our driver Cui Yue has delivered this year, which has set a new milestone in the history of Jebsen Motors," said Mr. Joachim Eberlein, Managing Director of Jebsen Motors. "Team Jebsen and Jebsen Motors will continue to promote Porsche's sports car culture in China so that more fans can experience the passion and captivating charm of motorsport."
Ideanomics signs MoU with Beijing Foton Motor Company; Definitive Agreement to Follow
Reading Time:
2
minutes
Ideanomics (NASDAQ: IDEX) ("Ideanomics" or the "Company"), a global Fintech and AI catalyst for transformative industries, today announced the signing of a MoU with Beijing Foton Motor Company("Foton"), which will serve as a pre-cursor to a definitive agreement, to allow the two parties to begin working immediately.
The agreement for China-based activities is a 2-year deal, at 5 Billion RMB (approximately $750 Million) per year, making the overall deal valued at 10 Billion RMB (approximately US $1.5 Billion). Ideanomics will provide ABS lease financing of 10 Billion RMB over two years, and fulfill with for Foton on orders of 60,000 EV buses, broken down as follows: 1) not less than 20,000 vehicles from state-owned large-scale tourism groups and referred to as "Tourist bus orders"; 2) no less than 20,000 bus orders from local governments or local bus transportation systems; 3) no less than 20,000 Tourist bus orders from major domestic tourism associations and/or their members. Furthermore, for bus orders introduced by Ideanomics, a commission will be paid for each bus unit sold, at an amount to be determined according to each respective order.
For Malaysia-based activities, including cooperation for the extended ASEAN region, the supply of bus parts and systems, including EV batteries, and a cooperation on the implementation of a charging network, for which Ideanomics shall source no less than 6,000 vehicles from the Malaysian central government and its departmental agencies including EV buses and Police passenger vehicles (cars and motorcycles). For orders within Malaysia and the ASEAN region, Ideanomics shall be entitled to commission per unit sold, at an amount to be determined according to each respective order.
For Vietnam-based activities, Ideanomics shall source no less than 20,000 vehicles, both EV Bus and passenger car for e-taxi conversion, with Foton making available its 30,000-part bus system and technology for assembly in Vietnam. The agreement allows for negotiations with the Vietnam state electrical grid, to introduce a national charging network.
The agreement also allows for projects in other geographical areas, including Europe and the Americas, on a project-by-project basis.
"We are very grateful for the efforts of Dr. Wu, Avis Zhu and the entire China-based Ideanomics team, with support from our colleagues at Treeletrik in Malaysia, for successfully delivering on this deal. Foton is arguably the premier EV bus manufacturer globally, and this agreement positions us to further consolidate our position as a global EV advisory services company, as well as enable us to expand our footprint beyond China with the leading EV bus product available today. The fact Foton promoted signing a MoU, to allow the parties to begin activities immediately while the broader definitive agreement is signed, is testament to our growing reputation as the advisory partner of choice for large-scale EV initiatives in Asia," said Alf Poor, CEO of Ideanomics.
Beijing Foton's commercial division is focused on building a future of efficient and environmentally friendly EV Buses and other commercial vehicles, as a vehicle manufacturer. Ideanomics is leading the way for the future of ABS financing, technology enablement with the application of blockchain and artificial intelligence technologies as part of the next-generation of financial services," said Mr. Liang Shaowen, of Beijing Auto Foton Commercial Vehicle. "Together, Foton and Ideanomics will seize upon the opportunity of large-scale EV and Hydrogen replacement of public and private transportation infrastructure in major markets and the same time raise the standard for technologically advanced vehicles which offer dependability, reliability and improved customer satisfaction. This, coupled with compelling, economically viable, financing programs for the cities and bus operators that manage these fleets will serve a much-needed gap in the market."
SOURCE Ideanomics
Study on electric and smart transportation: vision is required to create an environment conducive to innovation to position local companies as leaders
Reading Time:
2
minutes
The Chamber of Commerce of Metropolitan Montreal and Propulsion Québec, the cluster for electric and smart transportation, today released their study entitled Positioning Quebec and Montréal as leaders in electric and smart transportation. The study is meant to fuel much-needed reflection that will enable Quebec and Montréal to stand out in this economic sector of the future.
"The electric and smart transportation niche has incredible economic and technological potential, and the city has a unique opportunity to take its place in that niche," said Michel Leblanc, president and CEO of the Chamber of Commerce of Metropolitan Montreal. "We have everything we need to make our presence felt: a critical core of technology talent and businesses, a concentration of global leaders in artificial intelligence, and, of course, world-renowned creativity. The Chamber is proud to release this study, which is a starting point for this essential reflection process. We encourage industry decision makers and actors to read it. We all need to adopt the avenues for action it identifies to enable local businesses to develop the mobility innovations and solutions of tomorrow."
"The future of mobility is connected, autonomous, shared, electric vehicles," said Sarah Houde, CEO of Propulsion Québec. "This study shows that Quebec has assets to distinguish itself in these niches. We need to leverage Quebec'srecognized expertise in electrification and the pool of innovative businesses in land transportation. But our success in this changing sector requires an agile regulatory framework, adapted to both the current technological context and our ambitions. The study provides an analytical tool for the best ways to support the deployment and commercialization of transportation innovations. Propulsion Québec is determined to bring together industry stakeholders to make Quebecthe ultimate place to develop, test and implement new mobility technology."
"The rapid rate of change in the field of transportation here and around the world requires a paradigm shift at every level to make room for innovation and ingenuity," said Marc Blanchet, vice-president, Southwest Quebec, at SNC-Lavalin. "We support this study that speaks to all actors and offers areas of focus to accelerate innovation and provide momentum to Quebec's electric and smart mobility industry."
The study Positioning Quebec and Montréal as leaders in electric and smart transportation has four main chapters:
A diagnosis of the regulatory framework of 

Quebec

.
A benchmark of international best practices based on an analysis of the regulatory framework and public policy from ten territories.
A summary of success factors drawn from international benchmarking to identify areas of excellence and avenues for improvement for 

Quebec

.
Avenues for recommendation for 

Quebec

 and Greater Montréal, structured around three strategic areas:

Strategic focus 1: Increase the offer of electric and smart mobility products and services developed in 

Quebec

Strategic focus 2: Increase demand for electric and smart transportation
Strategic focus 3: Ensure the growth of the transportation industry by optimizing and coordinating government strategies
To consult the entire study and its highlights, visit ccmm.ca/etude_transports_electriques (in French only).
SOURCE Chamber of Commerce of Metropolitan Montreal
Electric Mobility for Smarter Cities: The Future of Energy
Reading Time:
3
minutes
"Electric Mobility Market will observe a lucrative growth from 2018 to 2026 due to rise in demand for and sales of electric vehicles in developing countries due to concerns about high air pollution levels"
Electric mobility refers to all vehicles that are powered by an electric motor or those that receive power or energy primarily from the power grid. Electric mobility includes all-electric vehicles, which include battery operated electric vehicles, plug-in hybrid electric vehicles, and hybrid electric vehicles. Electric mobility is majorly a low or zero-emission vehicle, which contributes significantly toward a greener environment through a reduction in carbon emission.
The surge in emission levels, which are harmful and injurious to the human health and environment, caused by fossil fuel powered vehicles has prompted global and state regulatory bodies to propose, design, and develop eco-friendly machinery and vehicles. This has led to the development and operation of electric mobility, which is considered the best possible alternate vehicle for the environment. A rapid rise in demand for and sales of electric vehicles in developing countries due to concerns about high air pollution levels is a key factor that is projected to drive the electric mobility market during the forecast period.
Additionally, growing support by governments around the world, by means of initiatives and subsidies, around the world is another factor that is anticipated to propel the electric mobility market during the forecast period. Furthermore, rise in adoption of electric mobility for commercial purposes, such as taxis, across the globe, especially in countries such as China, and the U.S., coupled with rising in demand for alternative fuel vehicles is another major factor that is projected to boost the electric mobility market during the forecast period. However, a lack of charging infrastructure coupled with the higher cost of electric mobility is likely to restrain the electric mobility market during the forecast period.
In terms of vehicle type, the electric mobility market can be classified into passenger electric vehicle and commercial electric vehicle. The passenger electric vehicle segment accounts for a higher share of the electric mobility market. This is majorly due to a higher rate of adoption of electric vehicles owing to emission concerns and awareness coupled with stringent government emission norms and policies.
Based on component, the electric mobility market can be bifurcated into electric motor, battery, and other three segments. The battery segment dominated the electric mobility market, primarily due to its application as a highly essential component of any kind of automobile. It serves as a primary power source for electric automotive functions.
Major players operating in the global electric mobility market include Tesla, Inc., Nissan Motor Corporation., Toyota Motor Corporation., Renault, Hyundai Motor Company, General Motors, Ford Motor Company, AB Volvo, BMW AG, BYD Company Limited., Daimler AG, Honda Motor Co., Ltd., Mitsubishi Motors Corporation, Tata Motors, and Volkswagen AG.
Get More Insight About Electric Mobility by TMR
Written by Chaitali Gawande
Author Bio: Hi, I am Chaitali Gawande and I am currently working as a Senior SEO analyst. I have good experience in the field of business and industry research. The impact of digital technologies across the science, technology, and business domains gives me writing a fresh and modern content. I have experience in SE rankings, keyword research, website analysing, SEO Content writing, social media optimization and link building. I am also a technology and Automotive