Suttle Named 2018 TecHome Brilliance Award Winner at TecHome Builder Summit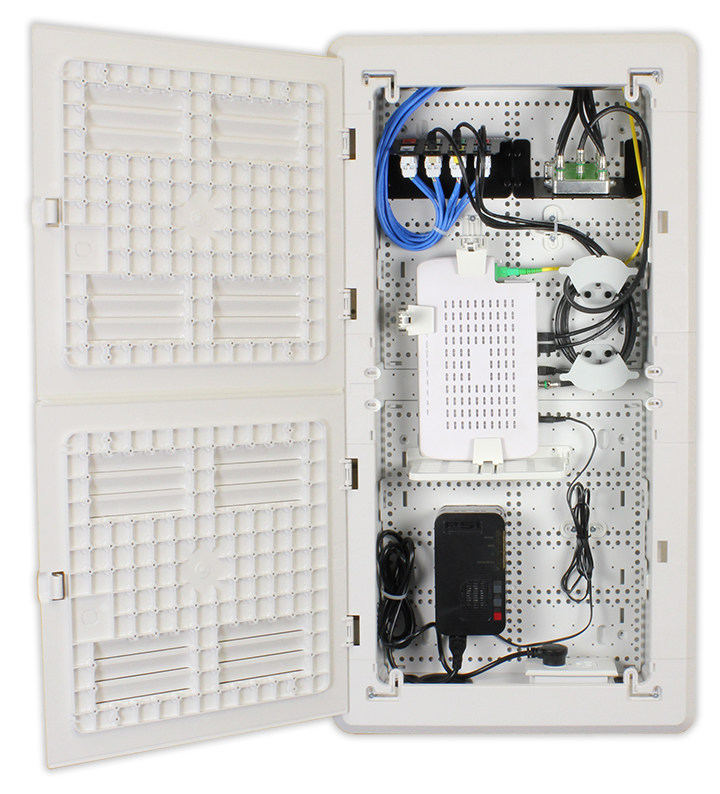 Reading Time:
2
minutes
Suttle, a Communications Systems, Inc. company (NASDAQ-GM: JCS), has been named a winner of the TecHome Brilliance Award for the MediaMAXTMContractor Kits.
The TecHome Brilliance Award is awarded to products that demonstrate a high level of innovation, value and excellence. Selection criteria pay attention to entries that show high levels of efficiency, increase the performance of a home and convenience, and provide outstanding experiences for homeowners.
Backed by a century of designing and manufacturing high-quality connectivity solutions—currently in 67 percent of US homes—Suttle designed a line of contractor kits to simplify the installation of intelligent and secure networks for single family units (SFU) and multiple-dwelling units (MDU).
"Based on customer input from service providers, developers and contractors, Suttle created kits with all the network components needed to configure a MediaMAX panel into a securely wired home network," says Bruce Blackwood, Suttle President and General Manager. "A single part number for all components not only simplifies the process it also takes the guesswork out of ordering the right parts. And the contractor kit can be ordered after the media panel is installed to minimize the risk of parts getting damaged or lost because they were delivered too soon."
Blackwood continues, "Suttle is focusing on creating the experience of Smartest Home. Best Life. for homeowners by helping providers create the strong networks that support smart homes."
Sev Sadura, Suttle Director of Product Management explains that "Contractor kits provide either CAT6 or CAT6A performance as well as the connectivity components needed to build a securely connected network for a basic, connected or smart home."
The procurement process is simplified by a two-step shipping process utilizing just two part numbers. "The first part number orders the panel for the rough-in stage. The second part number orders the kit with network components to arrive at a later date to fit the trim or final construction schedule." Sadura adds that "All kits include our new line of designer style faceplates for a modern look that will blend into any décor."
New Research Identifies the Technology That Hotel Guests Really Want
Reading Time:
3
minutes
Research conducted by leading travel technology firm Criton reveals the importance of hotel technology to improve the experience of today's travellers
Dependence on mobile phones when travelling is brought into sharp focus by a survey of more than 3,600 travellers which reveals a growing appreciation for bespoke travel apps. Research commissioned by Edinburgh-based hospitality firm Criton, highlights that loyalty programmes, self-check-in/out and accessing your hotel room via a digital door key are primary requirements of today's guests.
 The findings highlight crucial information for all hoteliers, with guests' smartphones now recognised as an essential tool for delivering and improving their travel experience. With 45% of respondents travelling for leisure more than four times a year, findings showed that 62% of respondents regularly use an accommodation app, with the figure increasing to 67% amongst business travellers.
If their favourite hotel was to have its own app, 74% of respondents overwhelmingly stated they would use this digital channel, with only 10% favouring an in-room device such as a hotel's smartphone or tablet. This reinforces Criton's core belief that the future of hotel technology is own device. Hoteliers no longer need to absorb the cost of installing in-room devices when their guests travel with their own smartphone and are more comfortable with the apps and content within it.
The opportunity to check-in via an app and access their hotel room via a digital door key was warmly received with 58% likely or very likely to want this technology. With 68% finding it unacceptable to queue at reception for longer than five minutes, offering guests access to a service which global chains already offer is fast becoming a core priority for independent operators.
Respondents prioritised loyalty programmes as their favoured element of hotel technology with 53% recognising it as their top requirement. In a competitive landscape, the opportunity to drive direct and repeat bookings through a personalised loyalty programme will ensure hoteliers save on OTA commission while creating their own closed marketing group to upsell onsite services and facilities.
Underlining modern travellers' awareness of technology, the survey found an audience ready to talk about tech use and expectations while travelling. Reflecting on the results of the survey, Julie Grieve, founder and CEO of Criton, which developed the UK's first intuitive app builder for the hospitality sector, said:
"Increasingly, today's travellers are downloading apps that help them get around and stay connected with their hotel. That level of tech awareness or even dependency also raises expectations for information, guest services, such as check-in, digital key and offers and incentives to reward their loyalty.
"Respondents to the survey were people who travel regularly, with the majority opting for a mid-range hotel or accommodation. It is increasingly clear that adopting technology has to be seen as an imperative for all hospitality providers; it is not something purely for the major franchises."
Criton lets independent operators compete with big chain technology through an easy to use platform. From digitising the traditional hotel room guest book to PMS, live chat, digital door key and in-room ordering integrations all contained within a fully-branded hotel app; Criton supports hospitality businesses with their digital transformation strategies and work with clients across the UK and overseas.
Research Methodology:
An online survey ran from Tuesday 26th March until Monday 1st April and received a total of 3,654 responses, of whom 1,311 were classed as business travellers.
Key Findings:
45% of travellers stated they travel for leisure 2-3 times a year
36% travel for business
39% use TripAdvisor as main source of research and inspiration before booking a hotel, followed by 29% of respondents relying on online search
40% of travellers said they regularly stay in a 4-star (boutique) hotel, with 6% in a 5-star (luxury) hotel. The majority (47%) stated they regularly stay in a 3-star (mid-range) hotel
53% have at least one hotel app on their phone
74% would use a hotel app if their favourite hotel had one
55% stated it is acceptable to wait at check-in 2-5 minutes
62% would be likely or very likely to check-in to a hotel via an app
58% would be likely or very likely to check-in to a hotel via an app and use digital key
App usage
62% use an accommodation app regularly (eg Airbnb)
57% use a transport app regularly
47% use an airline app regularly
36% uses a hotel app regularly
The hotel technology that respondents seek:
53% – loyalty programmes
35% – self check-in
10% – in-room mobile
18% – in-room tablet
Awards:
Criton won the 'Best Technology Provider' award at the 2018 Travolution Awards and was Highly Commended for Best Use of Mobile
Criton won the 'Industry Breakthrough and Innovation Award' at the ASAP Awards 2018
Julie Grieve, Founder & CEO won the prestigious 'HOSPACE 2017 Best Entrepreneur Award'
SOURCE: Criton
cbdMD Co-Presents Prabal Gurung's 2019 Fall/Winter Women's Collection Launch at Bloomingdale's New York
Reading Time:
3
minutes
Tonight, April 9, 2019, cbdMD, a Level Brands company (NYSE American: LEVB), will serve as the co-presenting sponsor with Kitchen Toke Magazine for a dinner celebrating fashion designer Prabal Gurung's official launch of his Fall/Winter 2019 modern, luxury women's collection at Bloomingdale's New York. With a distinct focus on quality, innovation, and community, cbdMD's partnership with Kitchen Toke was built on shared values.
Hosted at Café Clover, the celebratory dinner commemorates Prabal Gurung's collection being sold in a dedicated space at Bloomingdale's headquarters in their New York City store. Attendees, including ELLE Magazine, NY Times, The Daily, Vogue, Huffington Post, Vanity Fair, and a wealth of fashion influencers, will receive a range of cbdMD CBD oil products as well as a specialty dessert infused with cbdMD's Natural CBD Oil.
"As our industry continues to develop and break down barriers, it's important for CBD brands to keep category education and awareness at the forefront," said Caryn Dunayer, Co-Founder and President of cbdMD. "Partnering with Prabal at Bloomingdale's is a no-brainer – we are able to educate a large group of customers that align well with our mission regarding all-natural alternatives for health and wellness."
Born in Singapore, raised in Nepal, Gurung has excelled in American fashion with designs worn by trendsetters like First Lady Michelle Obama. He has been recognized for his achievements and unique approach to style with many awards, including the 2010 Ecco Domani Fashion Fund Award, USA Network's Character Approved Award recipient in 2011, named goodwill ambassador of Maiti Nepal, recipient of the 2011 CFDA Swarovski Award for Womenswear, and was honored in 2015 with the inaugural Creativity Award from The Drawing Center – to name a few.
cbdMD has also been acknowledged for their approach to innovation in the CBD industry. Among many firsts, cbdMD was the first CBD company to join the New York Stock Exchange, is the official founder of national CBD Day, was the first cannabis company to advertise in Times Square and in ELLE Magazine. cbdMD was also named Entrepreneur Magazine's 2018 CBD Editor's Choice for the top 100 Cannabis Leaders Issue.
For a sneak peek of the line, click here; to purchase your premium CBD oil products, visit:
Forward-Looking Statements
This press release contains certain forward-looking statements that are based upon current expectations and involve certain risks and uncertainties within the meaning of the U.S. Private Securities Litigation Reform Act of 1995. Such forward-looking statements can be identified by the use of words such as "should," "may," "intends," "anticipates," "believes," "estimates," "projects," "forecasts," "expects," "plans," and "proposes." These forward-looking statements are not guarantees of future performance and are subject to risks, uncertainties, and other factors, some of which are beyond our control and difficult to predict and could cause actual results to differ materially from those expressed or forecasted in the forward-looking statements. You are urged to carefully review and consider any cautionary statements and other disclosures, including the statements made under the heading "Risk Factors" in Level Brands, Inc.'s Annual Report on Form 10-K for the fiscal year ended September 30, 2018 as filed with the Securities and Exchange Commission (the "SEC") on December 12, 2018 and our other filings with the SEC. All forward-looking statements involve significant risks and uncertainties that could cause actual results to differ materially from those in the forward-looking statements, many of which are generally outside the control of Level Brands, Inc. and are difficult to predict.  Level Brands, Inc. does not undertake any duty to update any forward-looking statements except as may be required by law.
SOURCE: cbdMD
LexisNexis Risk Solutions Anti-Money Laundering Solution Takes Prestigious Asia Award Second Year Running
Reading Time:
2
minutes
LexisNexis® Risk Solutions has been awarded the "Best AML Solution" in the Asian Private Banker Technology Awards for the second consecutive year. The award recognizes LexisNexis Bridger® Insight XG as the premier screening tool in the market, helping private banks and other institutions reduce complexity, increase efficiency, boost profitability and tackle financial crime.
"We are honored to receive this significant award from Asian Private Banker," said Thomas C. Brown, senior vice president, U.S. Commercial Markets and Global Market Development, LexisNexis Risk Solutions. "It reflects the quality of Bridger Insight XG, which provides robust intelligence and a unified workflow to strengthen risk oversight through a single point of entry, while reducing consumer onboarding friction. This influences the entire consumer experience and helps boost bank profitability by helping consumers transact faster. Institutions in Asia have never been under so much pressure to comply with regulations aimed at combatting financial crime. Harnessing technology is crucial ⸺ Bridger Insight XG allows compliance personnel to review personal and business histories to gather critical Know Your Customer details via its link to profiles of over 3 million individuals and companies, covering more than 50 risk categories, such as sanctions, money laundering and politically exposed persons."
LexisNexis Risk Solutions is tackling a chronic problem for private banks and wealth management firms ⸺ 'false positives' when screening for money laundering. A false positive is a result that wrongly indicates a positive result during the screening process, slowing the adoption of good clients and diverting financial crime compliance resources from managing true risk issues.
"In 2018, we began expanding the use of machine learning within Bridger Insight XG to reduce false positives. LexisNexis Risk Solutions will also be implementing new technology that allows private banks and wealth management firms to identify and address substantial hidden risk in their anti-money laundering compliance efforts, specifically around sanctions screening this year" said Doug Wolfson, director, financial crime compliance strategy at LexisNexis Risk Solutions. Digital identity risk exposes institutions to potential threat of massive fines and reputational damage, while allowing terrorist financiers, money launderers and fraudsters to move money through the global financial system with impunity. The new digital identity technology monitors the sanctions risk of digital identity transactions in real time, a significant innovation not provided by any other vendor. Private banks and wealth management firms will be able to monitor whether they face any potential sanctions risk from where their clients are located with the increased uptake of web portals and internet servicing amongst their clients.
LexisNexis Risk Solutions is uniquely able to innovate this new digital identity technology due to its 2018 acquisition of ThreatMetrix®, a global digital identity company with roots in Australia.
SOURCE LexisNexis Risk Solutions