Dandelion Sun Launches "be free", a 4 in 1 Anti-Aging Moisturizer with SPF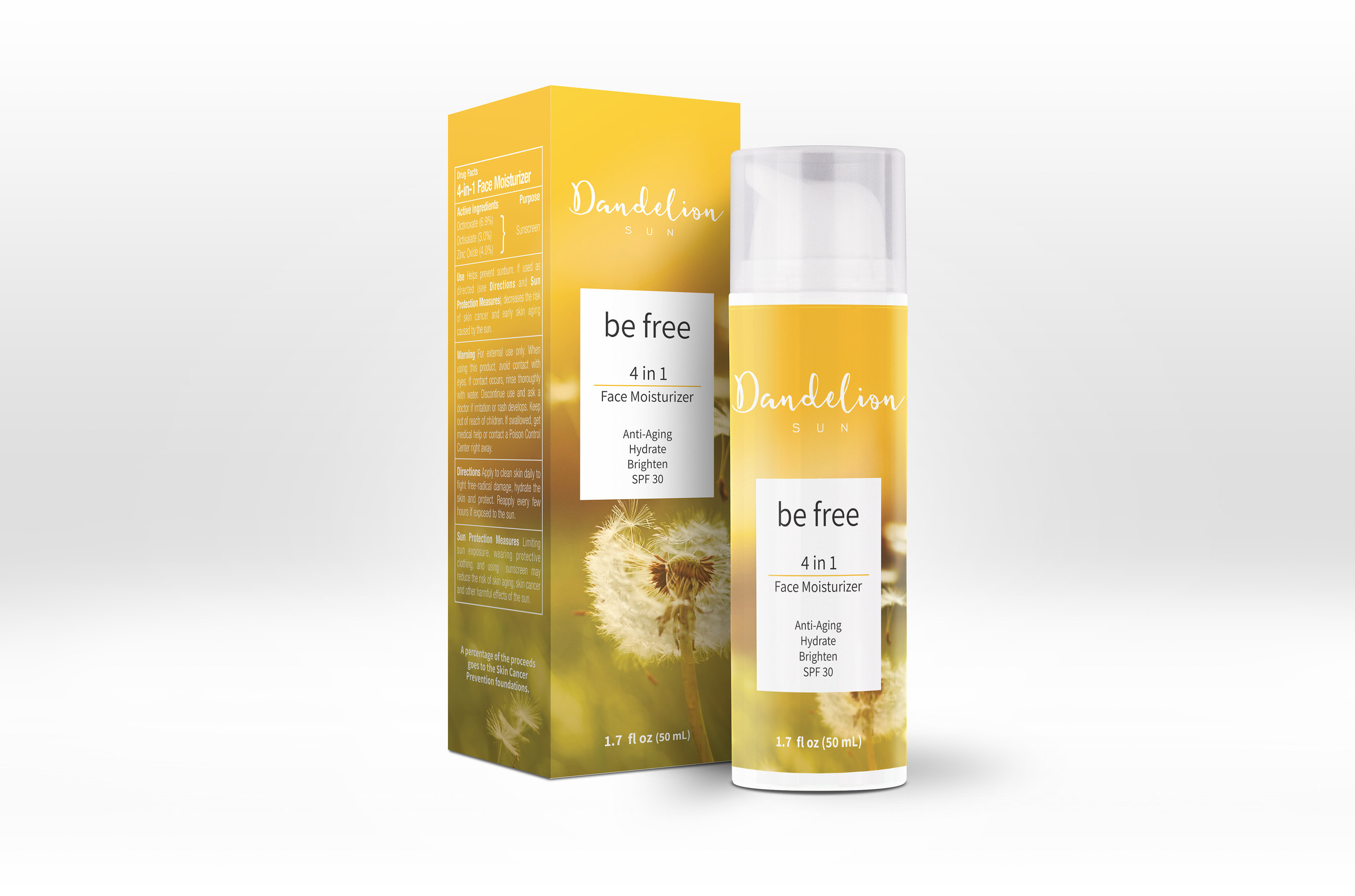 Reading Time:
1
minute
Dandelion Sun, a new leading anti-aging moisturizer brand made in California, has launched its first product in a vegan line to combat the most common skin issues facing women. Dandelion Sun's be free: 4 in 1 Face Moisturizer is an instant essential to be included in your daily skincare regimen. This multi-tasking moisturizer helps decrease the appearance of wrinkles, hydrate and brighten uneven skin tones, as well as provide Broad Spectrum SPF 30. be free is available now for $29.99 at dandelionsun.com and Amazon. This Holiday Season enjoy 25% off your first purchase, going on now until January 1st, 2019.
"90% of skin aging is caused by daily sun exposure," says Co-Founder and Head of Product, Marlena Chang, "incorporating a daily SPF can combat this." Combined with clean and effective ingredients like Vitamin C & E, Squalane from Avocado Oil, Japanese Green Tea Leaf extract (and more), makes this clinically proven formulation very powerful. be free is cruelty-free and contains no Parabens, Sulfates or Phthalates.
"Dandelion Sun was created with women like ourselves in mind," says Co-Founder and CEO, Stephanie Marks. "We have fast-paced, active lifestyles but are also mindful about our health and the products we use. If you remember to use only one skin care product in the morning, make it be free."
Invitation to Essity's Investor Day 2019
Reading Time:
1
minute
Essity, a leading global hygiene and health company, invites investors, analysts and media to an investor day in Stockholm on May 23, 2019. Presentations will be held by President and CEO Magnus Groth, other members of the Executive Management Team and representatives from Vinda.  
Essity's vision is: Dedicated to improving well-being through leading hygiene and health solutions. During its investor day, Essity will describe its strategic work for achieving its vision and continuing to deliver profitable growth. The work on launching successful innovations, building our brands, improving efficiency, leveraging digitalization opportunities and contributing to a sustainable and circular society will be presented. Essity's subsidiary Vinda, one of China's largest hygiene companies, will also be presented. 
For more information, an agenda and to register for the event, see https://www.essity.com/investors/investor-day-2019/. You can also follow the investor day via a webcast on www.essity.com.
For further information, please contact:
Per Lorentz, 
Vice President, Corporate Communications,
+46-8-788-52-51
per.lorentz@essity.com
Johan Karlsson
Vice President Investor Relations
+46-8-788-51-30
johan.ir.karlsson@essity.com
This information was brought to you by Cision http://news.cision.com
The following files are available for download:
SOURCE Essity
Kiehl's Since 1851 Introduces Herbal Treatment For Problem Skin, With Cannabis Sativa Seed Oil
Reading Time:
2
minutes
Inspired by Kiehl's apothecary heritage and the traditional uses and applications of powerful herbs, Kiehl's chemists proudly introduce the new Cannabis Sativa Seed Oil Herbal Concentrate – a lightweight, calmative, non-comedogenic facial oil that helps to improve the appearance of skin prone to imperfections such as visible redness and discomfort.
The non-acnegenic formula with 100% naturally-derived ingredients including Cannabis Sativa Seed Oil and Green Oregano Oil, helps balance hydration and relieve the feeling of stressed skin. Kiehl's considers ingredients to be naturally derived if they retain more than 50% of their molecular structure after being processed from a natural source.
Cannabis Sativa Seed Oil Herbal Concentrate, with 60% Cannabis Sativa Seed Oil, helps visibly reduce skin redness and provides skin with relief from discomfort after one use, while helping to strengthen the skin barrier, encouraging more resilient, healthier skin over time. It even improves skin's hydration levels for a full 8 hours.
Containing only 13 ingredients, including an herbal blend of botanical and essential oils, the formula has been expertly calibrated to ensure both potent efficacy with a lightweight, fast-absorbing application.
Cannabis Sativa Seed Oil is known for its emollient and soothing benefits. Kiehl's Cannabis Sativa Seed Oil, sourced in Germany, is cold pressed from hemp seeds and has a natural green color.
Green Oregano, a perennial herb, is obtained via steam distillation from the flower portion of the botanical herb. Well-known for its anti-oxidant properties, this ingredient has been traditionally used as an antiseptic and skin soother and in this formula, Green Oregano Oil helps to revitalize and relieve problem-prone skin.
Cannabis Sativa Seed Oil Herbal Concentrate is rich in unsaturated fatty acids and helps soothe the skin. The formula as a whole has been demonstrated in an instrumental study to strengthen the skin barrier, and helps to keep problem skin looking healthy by reducing the look of visible redness and the feeling of discomfort.
It was tested1 for safety on sensitive skin, is non-acnegenic and non-comedogenic, and is appropriate for all skin types.
Kiehl's Cannabis Sativa Seed Oil Herbal Concentrate, $49, is available at Kiehl's stores and Kiehls.com.
SOURCE: Kiehl's Since 1851
Rew's Bath Time Releases Line of Elevated Children's Bath Products
Reading Time:
2
minutes
Michigan business Rew's Bath Time has entered the children's bath care market with a line of additive-free, vegan bubble baths.
Launching with four unique bubble baths to support the varied needs of children 3 months and older, Rew's Bath Time aims to encourage healthy, fun bath time as part of the family bonding experience. Eden's Gentle Bath Suds, Lennon's Sunshine Bath Suds, Parker's Feel Better Bath Suds, and Vinnie's Calming Bath Suds each add benefits to the daily bathing routine of families everywhere. The bath suds also come with a bath book featuring a story about one of the wolf pup mascots, which parents can read to their child during the bath. Each product is paraben- and gluten-free, and is not tested on animals. Rew's avoids harmful ingredients that could hurt a child's development.
"Bath time is an important part of any child's routine. That bonding experience is so important for both parent and child. We wanted to put some attention on kids' comfort and making bath time more purposeful," says Anna Mrdeza, mother and co-creator, "Especially during the more challenging times for parents, like bedtime. Vinnie's Calming Bath Suds uses lavender essential oil to help calm and relax your child, while Parker's Feel Better Bath Suds with eucalyptus-mint could provide a sick kiddo with some comfort when they're struggling with sniffles."
Rew's Bath Time was launched by a Michigan family, who realized through their own children that the market for safe, natural products was lacking the components of fun and functionality. The joy children experience during a bubble bath could be combined with purposeful, tailored natural ingredients to bring comfort as well. Each scent is represented by one of four Rew's wolf pups, who are based on the children in the creators' lives: Eden, Lennon, Parker, and Vinnie. With adorable mascots and colorful bath books, Rew's aims to be more kid-oriented than other natural bath products, which are designed with the consumer in mind rather than the children who will be using them.
"For me, there is no better or more accomplished feeling than after bath time, when my kids are clean, full from dinner, and ready for bed. I know they just got my undivided attention, had fun, are well cared for, and know they are loved," Anna adds, "Our hope was to make that good feeling even better by adding products that work with a purpose, but also encourage fun and learning."
Rew's Bath Time products are available on Amazon and at their website, rewsbathtime.com. Each bubble bath contains 16 fluid ounces, and comes with a unique bath book featuring Eden, Lennon, Parker, or Vinnie in a short story. Rew's Bath Time is set to launch more products in the future, and will make updates to their website accordingly.
SOURCE: Rew's Bath Time