Dandelion Sun Launches "be free", a 4 in 1 Anti-Aging Moisturizer with SPF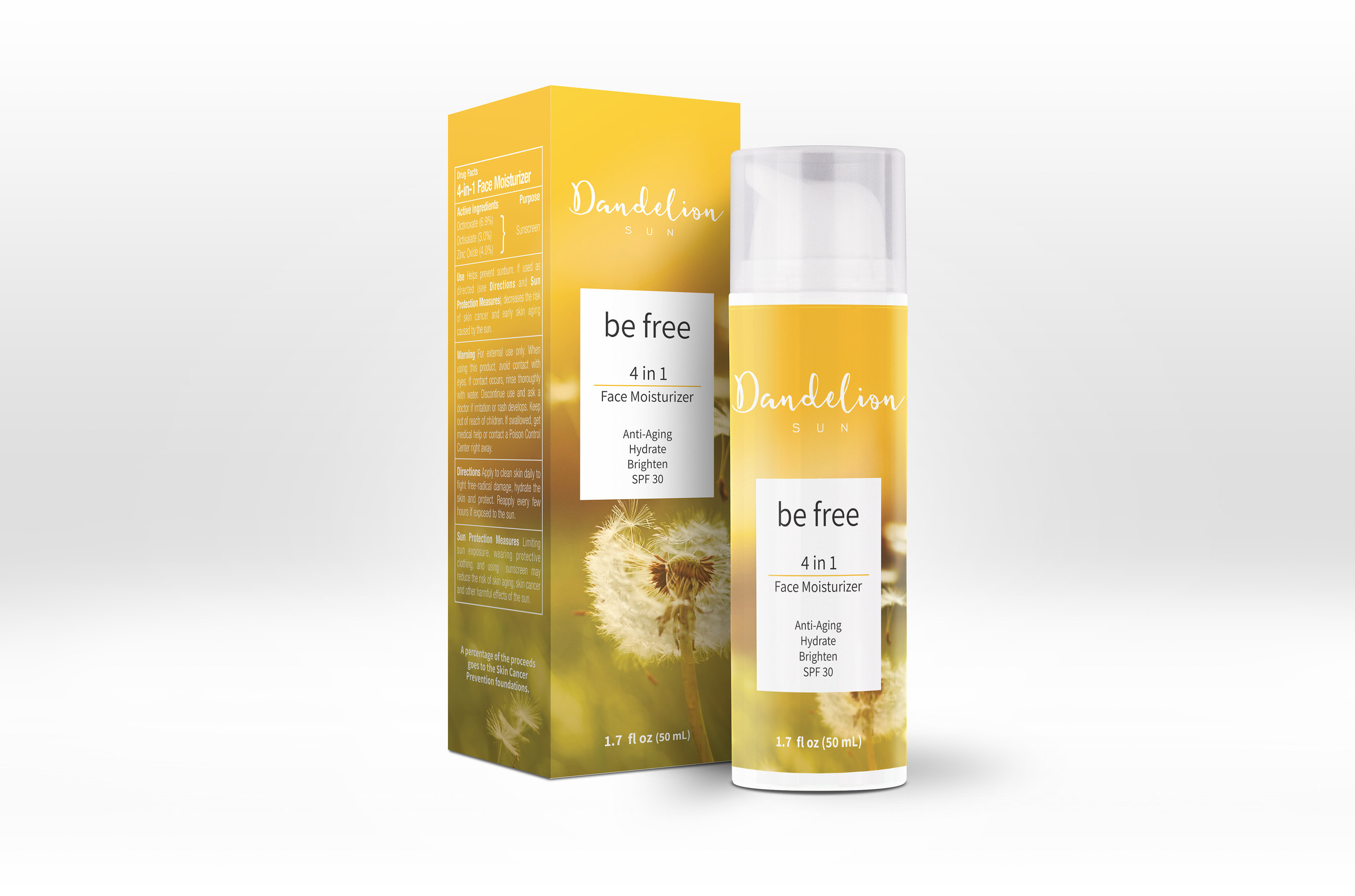 Reading Time:
1
minute
Dandelion Sun, a new leading anti-aging moisturizer brand made in California, has launched its first product in a vegan line to combat the most common skin issues facing women. Dandelion Sun's be free: 4 in 1 Face Moisturizer is an instant essential to be included in your daily skincare regimen. This multi-tasking moisturizer helps decrease the appearance of wrinkles, hydrate and brighten uneven skin tones, as well as provide Broad Spectrum SPF 30. be free is available now for $29.99 at dandelionsun.com and Amazon. This Holiday Season enjoy 25% off your first purchase, going on now until January 1st, 2019.
"90% of skin aging is caused by daily sun exposure," says Co-Founder and Head of Product, Marlena Chang, "incorporating a daily SPF can combat this." Combined with clean and effective ingredients like Vitamin C & E, Squalane from Avocado Oil, Japanese Green Tea Leaf extract (and more), makes this clinically proven formulation very powerful. be free is cruelty-free and contains no Parabens, Sulfates or Phthalates.
"Dandelion Sun was created with women like ourselves in mind," says Co-Founder and CEO, Stephanie Marks. "We have fast-paced, active lifestyles but are also mindful about our health and the products we use. If you remember to use only one skin care product in the morning, make it be free."
Lime Crime Releases Matte and Glow Softwear Blushes
Reading Time:
1
minute
Download virtually weightless color. Upload dimension and shine.
Download Lime Crime's new Softwear Blush, a weightless cream-to-powder blush formula to achieve pixel-perfect HD cheeks. Double tap over cheeks with fingers or a blush brush for blendable, buildable color. With this new launch, you can officially [Ctrl + Alt + Delete] chalky harsh blush. Never oily or sticky like traditional liquid or gel blush, these long-lasting cream-to-powder blushes add a pop of color/highlight without blocking skin's natural radiance.
This long overdue blush update marks the brand's foray into the blush makeup category with shades that pop on all skin tones. Available in two finishes: twelve matte blush shades and six glow shades that can be worn alone or blended together for added dimension and shine.
Apply with fingers or the new Stylus Blush Brush, the ultimate tool that sculpts, softens, and highlights. The tapered angled brush shape gives precision and control that sculpts and softens. The feather-soft tip is ideal for blending and diffusing edges for seamless color. The brush itself is dense enough for buffing product into skin, but soft enough to delicately dust on highlighter. In line with Lime Crime's brand philosophy, the new launches are certified cruelty-free and vegan by both PETA and Leaping Bunny.
Lime Crime products are available on LimeCrime.com with the Matte and Glow Softwear Blushes retailing for $22 and the Stylus Blush Brush retailing for $14.
SOURCE: Lime Crime
Kendall Jenner Celebrates Launch of the New Elevated Oral Care Collection MOON
Reading Time:
2
minutes
Conceived and founded by visionary Shaun Neff, MOON™ started with the idea that it was finally time for oral care to be reimagined in a way that would elevate your oral care routine. MOON takes the traditional, decades-old oral care routine into uncharted territory. With better design and only the best ingredients, the collection elevates the act of taking care of your teeth into an oral beauty experience. Finally – a routine worthy of your countertop.
Each product in the collection is designed with stellar, "counter-worthy" aesthetics in mind, to stand out in even the most luxurious washrooms. The entire range is PETA certified Cruelty Free & Vegan, and all products are free of: SLS/SLES, Parabens, and Triclosan. Proprietary elixirs are infused into the products known to deliver function along with lush flavors. Elixir X™, which can be found throughout the toothpaste and mouth rinse collection, is filled with antioxidants like cleansing Black Tea and Cranberry Extract, plaque-reducing Coconut Oil, calming and healing Dead Sea Salt, and soothing Ginseng and Echinacea.
The formula is also packed with Green Tea, Peppermint and Tea Tree Oils that provide an invigorating boost and fight bad breath. MOON is proud to support the work of Operation Smile, a global nonprofit that gives free surgery and medical treatment to children born with cleft lip and cleft palate.
THE MOON LINEUP
Kendall Jenner Teeth Whitening Pen ($19.99) April 2019 launch
Co-created with Kendall Jenner, this on-the-go pen is formulated with light-reflecting pigments and carbamide peroxide to provide instant brightening and whitening over time. The bonus? A great-tasting Vanilla Mint flavor. It contains the Elixir III antioxidant blend which is crafted from Kendall's favorite natural ingredients like soothing Lavender Oil, whitening Strawberry Extract and the healing properties of Honeysuckle Flower.
Stain Removal Whitening Toothpaste (Fluoride-Free) ($7.99) April 2019 launch
This fluoride-free toothpaste provides instant brightening and whitening results over time with better ingredients including our proprietary Elixir X™ blend. The perfectly balanced Lunar Peppermint flavor delivers intense, long-lasting freshness while the pearlescent shimmering mica helps improve stain removal and polishing.
Activated Charcoal Whitening Toothpaste (Fluoride-Free) ($8.99) April 2019 launch
An activated charcoal toothpaste that removes stains without damaging teeth. The luminous grey, sparkling formula foams light grey while brushing to minimize mess in the sink while the strong Lunar Peppermint flavor boosts fresh breath.
Clean Slide™ Floss ($3.99) April 2019 launch
This no-shred floss slides easily through teeth for a clean, smooth feeling. The contoured, easy open and close grip makes the mint-flavored floss as effortless to use as it is beautiful to look at.
Clean Slide™ Flossers (90 Pack) ($4.99) April 2019 launch
With durable, waxed material and a precision fine-point pick, this sleek multi-purpose tool deeply and effectively cleans around teeth and gums while leaving behind an invigorating, fresh mint flavor.
Soft Bristle Toothbrushes (2 Pack) ($6.99) April 2019 launch
This sleek set of soft bristle toothbrushes was created with ultra-fine black and white bristles to gently clean teeth without damaging gums or enamel. The ultra-lightweight, matte black handle easily reaches those pesky back teeth and even features a thumb grip for extra comfort.
WHEN IT LAUNCHES: April 23rd, 2019
WHERE TO BUY: MOONOralCare.com
SOURCE: MOON
Dr Batra's Homeopathy Clinics Across the World to Treat 10,000 Patients Free on 'World Homeopathy Day'
Reading Time:
2
minutes
To commemorate the 264th birth anniversary of Dr. Samuel Hahnemann, the founder of homeopathy, Dr Batra's Homeopathy Clinics aims to provide free medicines to 10,000 patients. The world's leading homeopathy company opens the doors of its 225 clinics in 125 cities in India and 10 international locations including London, Dubai, Manama, Dhaka and Abu Dhabi on Wednesday, 10th April, to any patient that walks into their clinic between 10 A.M. and 3 P.M.
Homeopathy, the 2nd largest system of medicine in the world, according to World Health Organization, is practiced in 86 countries and is consumed by over 200 million people the world over. In India, over 10 crore people depend on homeopathy. All AIIMS at district level are going to have a homeopathic wing. Homeopathy treatments are now covered by insurance companies under their comprehensive health insurance policy.
There are many advantages that homeopathy offers to patients. Foremost is that it offers holistic treatment. The other benefit is that homeopathy is safe and treats naturally. Apart from these benefits, what makes it different from other forms of medicine is that it is cost-effective, non-invasive and non-toxic. Homeopathy has been successfully used to treat medical problems such as Allergies, Asthma, Hair loss, Migraine, Anxiety and Depression, Psoriasis, PCOS, White Patches and many more in all age groups.
Speaking on the initiative, Dr. Mukesh Batra, Padma Shri recipient and Founder and Chairman Emeritus, Dr Batra's Group of Companies said, "The best way to honor the memory of the founder of homeopathy is to enable more people to experience its true healing power. With our widespread reach and presence in 122 cities across the world and with the medical expertise of over 400 doctors, we aim to reach out to over 10,000 patients through this initiative. We would also like to urge other homeopaths to take up this initiative along with us every year." Watch Dr Mukesh Batra's message – http://bit.ly/WHDMessage
Dr Batra's runs over 160 Free Clinics across India to spread the goodness of homeopathy and also provides free treatment to partner NGO's – Victoria Memorial School for the Blind, Shepherd Widows Home, Mercy Old Age Home, Sandhya Home for the Aged, Little Sisters of Poor (Hyderabad, Bangalore and Chennai), Ek Prayaas and Kartar Aasra Home through its CSR arm Dr Batra's Foundation.
To locate the nearest Dr Batra's clinic:
SOURCE Dr Batra's Multi-Specialty Homeopathy Clinics