Dear Santa: Words of Wisdom From Becker College Veterinarian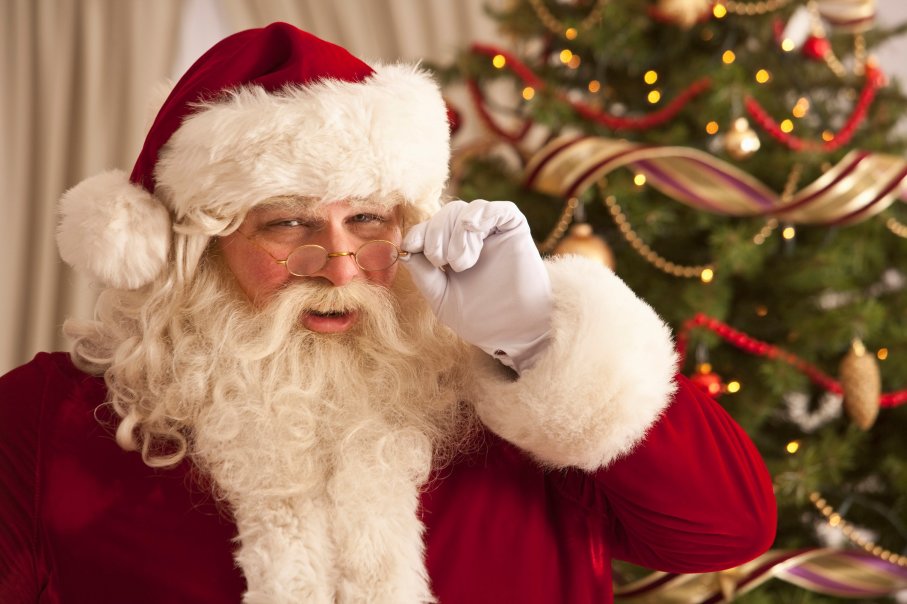 Reading Time:
3
minutes
Dear Santa:
I'm writing to you as the mom of three boys who would absolutely love a puppy for Christmas. Oh, the joy a puppy would bring on Christmas morning. It would be priceless! Our dog, Biscuit, an 8-year-old beagle mix, is a celebrity in our house, outranking mom and dad on a regular basis. Santa, the boys have been so good this year, and I say that with a forgiving heart and not the heart of a mom who just last weekend reminded the little one that throwing snowballs inside the house is a violation of the rules.
But here's the thing, Santa. While it would make for an epic – and yes, that's the word the boys would use – Christmas to see the joy that would erupt when a furry little puppy with a big red bow emerges from under the tree, it simply should not be. Now I know I sound more like Ebenezer Scrooge than a kind, loving mother. But it simply can't happen this way in our house, Santa. Just as a stork didn't swoop down and bestow three boys on us unexpectedly one night, you should not deliver a new four-legged family member to us as a "gift".
A new pet is a new family member and should not be put in the same category as a toy car or the latest video game, which after a few hours of playtime end up in the Toy Room Hall of Fame or lost under a bed. You see, Santa, my boys are the lucky—or unlucky—children of a veterinarian.
If and when we do bring a new pet into our home, there will be dozens of teachable moments that will last a lifetime. Before we decide on a pet and where we will get it, we will talk about sizes and breeds that will suit our family. We'll talk about puppy versus dog, ultimately settling on a dog because this vet mom feels better taking in an adult dog in need of a home than a puppy who still has that adoptability advantage based on its cuteness. As a family we will make sure the house and yard are ready to safely contain our new pet, discussing hazards the puppy may take an interest in, like electrical cords and toxic foods such as grapes, raisins, chocolate, and gum containing Xylitol. Getting Chinese food is certainly a treat in our house. But a wooden teriyaki skewer tops this vet mom's list of hazards because they are harmful if swallowed and cannot be seen on an X-ray. Preparation will include a discussion about costs: adoption fees, food, supplies, flea, tick, and other preventions. That's on top of vaccinations and unplanned veterinary costs, including surgical and emergency care. We will consider pet insurance, the benefits, the drawbacks, and how it will add to our monthly bills. We will discuss how we hope this new dog will have the same calming presence that Biscuit has, assisting with moments of anxiety rampant in our house. But we'll be realistic and understand that every dog is different. We could end up with a nervous, loud, or destructive dog, and while training can help, there may be challenges. Finally, we will discuss the hard realities of life; some animals encounter unexpected illness or accidents and, even when all goes well, there is still the inevitable aging process and the short lifespan of pets.
So yes, Santa, a puppy tops their list, but please ignore it. I'll take the fall for you, letting them know mom asked this wish go unanswered. The joy of bringing a new pet into our home comes with big lessons about commitment, responsibility, love, life, and loss.
Thank you, Santa.
Julie Bailey
Julie Bailey, DVM, is Dean of Becker College's School of Animal Studies and Natural Sciences and Allerton Chair of Animal Health Sciences who spent the past 15 years as a veterinarian, working in emergency medicine and surgery. Becker College, located in Worcester and Leicester, Mass., is an undergraduate and graduate, career-focused private college, with distinctive programs in animal studies, game design, nursing, and more. www.becker.edu
SOURCE Becker College
No Doggie Dentures Here: WHIMZEES All-Natural Daily Dental Chews for Dogs Reminds Pet Parents It's Time to Brush for Pet Dental Health Month
Reading Time:
2
minutes
New dental chew shapes and educational social media campaign make daily dental care more manageable for pet parents and more fun for pets
When was the last time you brushed your dog's teeth? If it's been a while, you're not alone. According to the American Veterinary Medical Association, 99 percent of dog owners don't brush their dog's teeth, but WHIMZEES™ all-natural daily dental chews for dogs wants to show that it's never too late to start.
Just in time for National Pet Dental Health Month this February, WHIMZEES is reminding pet parents to recommit to their dogs dental health. Just as humans brush twice daily, the brand is encouraging the same sense of daily routine for dogs by inviting pet parents to pick a time each day — dubbed WHIMZEES O'CLOCK — Time to Brush!
With fun videos of dogs chewing a WHIMZEES dental chew at the chime of a cuckoo clock, the brand is hoping to inspire more pet parents across the country to not only remember their dog's dental wellbeing, but have fun with it!
"Gone are the days of dogs battling a toothbrush! Just as fruit-flavored toothpastes help get our kids excited about brushing their teeth, WHIMZEES does the same for dogs—they make dental care fun for them and easy for us!" said Kristof Vlaeminck, senior director of global brand marketing for WHIMZEES. "We want to change how pet parents think about their dog's dental care and show how it only takes a minute a day—and one WHIMZEES a day—to help your dog have healthier gums, cleaner teeth, fresher breath, and overall wellbeing."
Giving dog owners a fresh take on the toothbrush (one their dog won't run from come cleaning time), WHIMZEES introduced Brushzees, the new shape of clean. Like all WHIMZEES chews, its unique shape helps ensure proper blood flow through dogs' gums and helps clean hard-to-reach spots as dogs chew. Brushzees contain no artificial ingredients, colors, flavors, preservatives, gluten, wheat, grain, GMOs, or meat.
Recent scientific studies show that WHIMZEES are 80 percent more effective in reducing plaque than leading competitors1 and have a three times longer chewing time for three times more fun. Using limited, all-natural ingredients, WHIMZEES provide "Triple Care Dental Health" by helping to reduce tartar, plaque, and bad breath.
To learn more about WHIMZEES and watch the WHIMZEES O'clock videos, visit the brand on Facebook @WHIMZEESUSand Instagram @WHIMZEESUS.
New Resource from the Pet Food Institute Shows the Nutrition behind a Cat's Diet
Reading Time:
2
minutes
Interactive infographics demonstrate roles of essential nutrients, from whisker to paw
The Pet Food Institute (PFI), whose members make 98 percent of all U.S. pet food and treats, recently launched a new series of interactive infographics showing the ways that key nutrients found in a complete and balanced cat food recipe help our pets. The new web resource, "Nutrition from Whisker to Paw," provides fast facts about the essential nutrition that fuels our cats' growth and supports their body systems, as well as non-essential nutrients that can also serve important functions.
This is the second resource examining the unique nutritional needs of pets that PFI has released. In 2017, PFI released a tool called "Nutrition from Nose to Tail" that demonstrates the value of complete and balanced nutrition for dogs and how it supports their well-being.
"U.S. pet food makers work to ensure every meal has the nutrition that your cat needs," said Dana Brooks, president and CEO of PFI. "The new 'Nutrition from Whisker to Paw' resource highlights the science behind a pet's diet and why their nutrition matters."
A "complete and balanced" pet food recipe contains more than 40 nutrients that are identified by veterinary researchers and nutritionists as essential to supporting a healthy pet, specifically: vitamins, minerals, essential fatty acids, and protein and amino acids. The Association of American Feed Control Officials (AAFCO) sets the nutritional profiles for dogs and cats, which serves as the basis for "complete and balanced."
"Nutrition from Whisker to Paw" shows some of the key functions of the essential nutrients in a cat's diet. For example, supporting healthy vision, providing energy, and promoting muscle development and maintenance. This new resource also examines other important non-essential nutrients, such as carbohydrates.
"This new resource will help pet lovers see the nutrition in a pet food recipe in action," Brooks said. "Whether you are feeding a growing kitten or a playful adult cat, their diet plays a key role in supporting a long and healthy life."
To learn more about the essential nutrients included in a complete and balanced cat food recipe and how they help your pet, visit:
www.petfoodinstitute.org/whiskertopaw.
To learn more about essential nutrients for dogs via "Nose to Tail," visit:
www.petfoodinstitute.org/nosetotail.
Petland Charities Partners with RCHS
Reading Time:
2
minutes
Contract to feed all dogs at shelter beginning February 1
The Ross County Humane Society (RCHS) and Petland Charities are excited to announce their partnership to provide food for the dogs housed at the shelter during 2019.
The program, which begins February 1, will provide Petland's private label Heartland Naturals dog food at no cost to the shelter.
RCHS Executive Director Jenn Thomas is excited by the opportunity Petland has provided the shelter. "While we've had food donations in the past to feed our dogs, that program recently became unfeasible for us. Petland Charities stepping up will save our shelter thousands of dollars we would have otherwise spent on food that can now be redirected to other aspects of providing care, like medical needs and outreach."
Petland Charities also provided the shelter staff with a one-hour educational session on Heartland Naturals food, ingredients, feeding requirements, and other details about the program.
"We are grateful for this opportunity to provide consistent, nutritional food to the dogs at RCHS. Jenn does a fantastic job promoting the shelter and finding homes for dogs in the community and we are happy to be able to support her efforts any way we can," said Petland Charities Executive Director Steve Huggins.
In addition to the food donation contract, for every dog adopted at Ross County Humane Society Petland Charities will be providing a free bag of Heartland Naturals food in addition to a $50 gift card to help the adopter purchase necessary supplies for their newly adopted furry friend. Since March of 2016, Petland has redeemed more than $50,000 in gift cards from RCHS adopters.
The average adoption fee for an adult dog at Ross County Humane Society is $132 which includes the above listed, as well as first vaccines, deworming, microchipping, 2019 Ross County dog tags, and having the dog spay/neutered.
The shelter is open Monday thru Saturday 10 am- 4 pm at 2308 Lick Run Road, Chillicothe, Ohio 45601. Adoption applications as well as information about all of the dogs available for adoption can be found on the website www.rosscountyhumanesociety.org.
Petland Charities is a 501c3 organization, that partners with the communities Petland corporate stores call home to raise funds for local shelters, K9 units, service dogs and dogs for veterans.