Introducing the newest boutique hotel experience in Dallas as CANVAS Hotel Dallas debuts January 1, 2019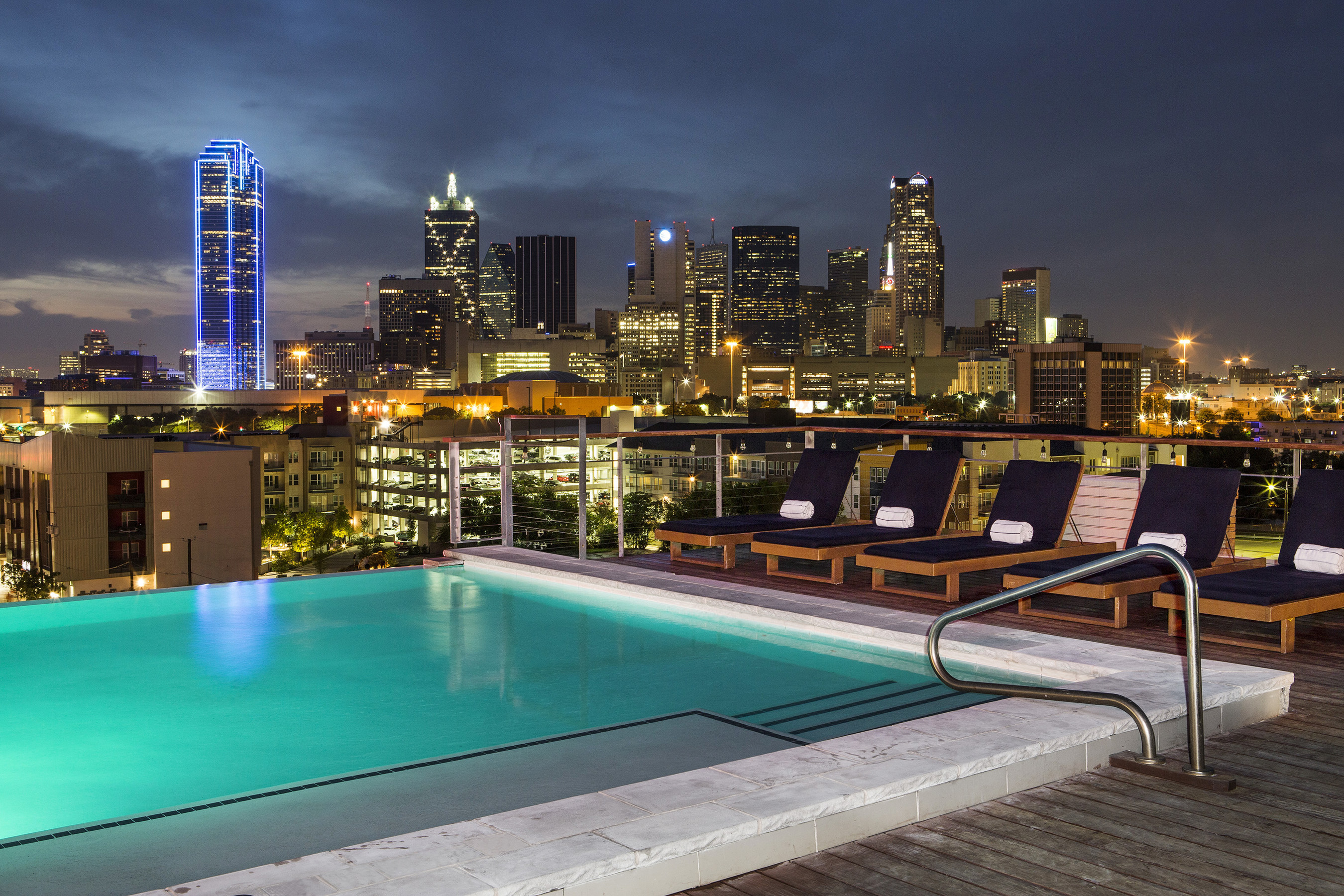 Reading Time:
3
minutes
Visitors to Dallas are invited to color outside the lines as art and hospitality collide with the opening of CANVAS Hotel Dallas. Now accepting reservations, CANVAS features authentic, art-centric accommodations, spectacular rooftop lounge and pool, eclectic and dynamic meeting and event spaces, and a new lobby restaurant.
Formerly known as NYLO Dallas South Side, CANVAS is created and managed by INTRIGUE Hotels & Resorts, the independent lifestyle division of Interstate Hotels & Resorts, a global leader in third-party hotel management. CANVAS Hotel Dallas is an art-centric home base for modern trendsetters, an inspirational hub for relentless artisans, and a destination for locals to be creatively inspired while enjoying world-class dining and unparalleled skyline views.
"CANVAS Dallas Hotel is a timely addition to the burgeoning district of South Dallas," said Jack Matthews, president of Matthews Southwest, lead developer and co-owner. "With a prime location in the heart of the Cedars district, and in close proximity to downtown and the convention center, CANVAS is nestled in an eclectic neighborhood undergoing a renaissance in terms of culture, shopping, food, art, and music. This property is poised to be the destination of choice for modern travelers looking for an authentic Dallas experience that will inspire their creativity and satisfy their contemporary tastes."
With 76 art-infused suites and guestrooms, CANVAS Hotel Dallas offers an authentic-yet-unconventional Lone Star State adventure. As a blank slate for guests to create their own experiences, the rooms, suites, lobby area, and F&B outlets have been renovated and reimagined.
Décor and Design
With fresh interior design, décor and artistic elements directed by Dallas-based Studio 11 Design, CANVAS paints a fresh perspective of its original building, a structure integral to the history of South Dallas that is almost a century old, that has been well-preserved, refurbished and now LEED certified.
Upon entering, guests are made to feel right at home in the refreshed first-level lobby and restaurant with elements that portray a living room-feel. Intimate seating areas foster common social spaces in the eclectic industrial space, adorned with locally discovered and bespoke accessories from the Dallasarea. The restaurant's dining area converts into flexible meeting space, divided by a sliding glass partition.
The rooms and suites feature quirky, loft-style design and décor, with 10-12 foot high ceilings, pressed concrete flooring, exposed brick, and funky industrial elements and fixtures. New custom carpeting, lighting and art has been installed in all public areas and guest hallways, and the lobby has been reconfigured to be more conducive to social gatherings, common work areas and meeting the needs of the modern hotel guest. More room renovations are slated for 2019.
Innovative Food & Beverage
From palette to palate, CANVAS Hotel Dallas brings two art-inspired restaurants and lounges to the South Side of Dallas. Chef's Palette is the redesigned first-level lounge and restaurant where every plate is a tasteful expression of culinary creation. From the plating, to the colorful ingredients and inventive use of new culinary techniques, Chef's Palette offers small plates, entrées, and cocktails that are just as visually appealing as they are palate pleasing. Whether you're stopping by for a morning start, a mid-day meeting, or an expressive way to end your day, the menu and décor at Chef's Palette will arouse your senses, and likely, awaken your inner art critic. Signature menu items include a Texan-style eggs benedict with bloody mary-infused hollandaise and flights of Mexican ceviche.
"The entire guest experience at CANVAS is centered around a taste of local artistry, whether through the art on the walls or on the plate," said Jared Williams, general manager. "Our talented team of individuals has curated incredible menus and rotating art collections, met with welcoming hospitality to give each of our guests an authentically Dallas experience you won't find elsewhere."
Rooftop Lounge
The rooftop bar formerly known as SODA has been redesigned and renamed The Gallery Rooftop Lounge. The indoor / outdoor lounge offers a sweeping 270-degree view of the Dallas skyline, but the vista isn't the only masterpiece at The Gallery. From chef-centric food offerings, to handcrafted cocktails and eclectic art by up-and-coming Dallas artists, everything at The Gallery Rooftop Lounge is an ode to originality. There are even painting stations at prime viewpoints on the patio at which guest artists can set up and create. So, whether you're a hotel guest visiting Dallas for the first time – or a local taking in the best view of the city you call home – The Gallery Rooftop Lounge is open and ready to inspire.
Listing Information
marisol.lopez or Thy Detten, Senior Sales Manager at (214) 778-6776 or thy.detten. Chef's Palette restaurant is open Monday – Sunday, 7:00am – 11:00pm. The Gallery Rooftop Lounge is open Sunday – Thursday 3pm – 11pm, and Friday and Saturday from 3:00pm to 2:00am. Guests must be over 21 after 9:00pm and tables are seated on a first-come, first-serve basis. Table reservations for Chef's Palette or bottle service and marriage proposals at The Gallery Rooftop Lounge are available by calling Steve Elsea, Director of Food and Beverage at (214) 778.6777 or steve.elsea. Canvas Dallas Hotel is located at 1325 S. Lamar Street, Dallas, TX, 75215. Engage with CANVAS on social media at facebook.com/CanvasDallas, or @CanvasDallas on Instagram and Twitter.
LGT opens wealth management office in Thailand for high net worth investors
Reading Time:
2
minutes
LGT, the international private banking and asset management group owned by the Princely House of Liechtenstein, today announced the opening of its wealth management business in Thailand, following the successful award of regulatory approvals. Located in downtown Bangkok, LGT will offer a unique set of investment and wealth management services to high net worth individuals and corporates in the country.
Commenting on the announcement, H.S.H. Prince Max von und zu Liechtenstein, CEO LGT said, "We are delighted to start operations in Thailand and look forward to offering full-fledged wealth management services to high net worth individuals, their families and corporates here in Bangkok. We see Thailand as an important growth market, and the establishment of an onshore presence reflects our ambition to continue our growth path in Asia."
Headquartered in Vaduz, Liechtenstein, LGT is the largest private banking and asset management group in the world that is wholly-owned by an entrepreneurial family, the Princely House of Liechtenstein. As per mid-2018, LGT managed assets under management of USD 207.5 billion on behalf of wealthy private individuals and institutional clients. In Asia, LGT is ranked the 12th largest Private Bank with over USD 60 billion assets under management.
H.S.H. Prince Max von und zu Liechtenstein added, "Our stable ownership structure, our international network, personal approach, as well as our advisors' comprehensive experience in managing substantial family assets, is what distinguishes LGT. Our clients can invest like the Princely Family, and thus benefit from our investment expertise. This results in a natural alignment of interests between ourselves and our clients."
LGT's subsidiary in Thailand will be known as LGT Securities (Thailand) Limited. A team of investment consultants and investment planners will provide investment and wealth management services to Thai clients from the Bangkok office and complement LGT's existing private banking efforts in Hong Kong and Singapore.
"The opening of our office in Bangkok is another strategic milestone for our steady development in Asia," commented Henri Leimer, CEO LGT Private Banking Asia. "We have recorded very pleasing growth in recent years in the region and significantly increased our assets under management. Thailand is a rapidly growing market with extremely interesting opportunities. With our local presence in Bangkok, we can now advise and support our Thai customers even better on-the-ground."
LGT's Thai market expansion is overseen by industry veteran Karn Karuhadej, who has close to 20 years' experience in private banking. The local office in Thailand will be led by CEO, Ekkapob Makeguljai, a homegrown career banker who has over 16 years' experience in financial services and wealth management. The team will consist of experienced local and international wealth managers.
LGT in brief
LGT is a leading international private banking and asset management group that has been fully controlled by the Liechtenstein Princely Family for over 80 years. As per 30 June 2018, LGT managed assets of CHF 206.0 billion (USD 207.5 billion) for wealthy private individuals and institutional clients. LGT employs over 3000 people who work out of more than 20 locations in Europe, Asia, the Americas and the Middle East. www.lgt.com
SOURCE LGT
Federal Signal Announces Plans to Expand Illinois Manufacturing Facility to Support Increased Demand
Reading Time:
1
minute
Federal Signal Corporation (NYSE: FSS) (the "Company"), a leader in environmental and safety solutions, today announced plans to expand the Company's manufacturing facility in Streator, Illinois, the primary production facility of the Company's Vactor Manufacturing, Inc. subsidiary ("Vactor"). The major product lines manufactured at the Streater plant include sewer cleaners, vacuum trucks and hydro-excavators. The project is expected to increase Vactor's production capacity and add up to 90 additional jobs.
"With the continued momentum we are seeing with our "safe-digging" initiative that utilizes vacuum excavation technology over more invasive digging techniques, and with benefits from recent new product enhancements to our sewer cleaner lines, we see significant growth opportunities for Vactor, and for Federal Signal," said Jennifer L. Sherman, Federal Signal's President and Chief Executive Officer. "This investment will add the necessary capacity in response to that growth potential. It also is a testament to the talented and dedicated workforce that we are fortunate to have in the Streator area."
Overall, the expansion will add approximately 100,000 square feet to the existing facility. Construction is expected to begin in the first half of 2019, with completion of the first phase of the project targeted by the end of the year.
The Company is expecting to invest up to $25 million over the course of the expansion project. The Company received assistance and support from the State of Illinois, the Illinois Department of Commerce & Economic Opportunity, the City of Streator, and the Greater Livingston County Economic Development Council.
SOURCE Federal Signal Corporation
Serial Digital Entrepreneur Adam Ludwin, Joins the Board of Influencer in Preparation for Global Expansion
Reading Time:
2
minutes
Digital marketing expert and award winning entrepreneur Adam Ludwin, has joined SaaS influencer marketing platform Influencer as a director of the Board in preparation for the companies rapid expansion.
Growing by 450% YOY, and winning many leading global brands in the past year including Boohoo, Alibaba and Protein World, to name a few, Influencer is now looking to expand their offering within their platform, bringing new innovations that allow brands and creators to build deeper relationships, something that Co Founder & CEO Ben Jeffries believes will "Disrupt the whole Influencer Marketing industry," and that Co Founder, CMO and world renowned creator Caspar Lee says will "Take influencer marketing back to its roots, bringing more relevancy back to influencer marketing for brands, creators and audiences."
Adam Ludwin's most notable recent achievements include the growth and scale up of Captify, a company he co-founded in 2011, and currently one of the fastest growing adtech companies in the world, with 200+ staff across 10 cities in 7 countries, and the growth of Inflecto, a fast growth performance marketing agency he founded in 2013, which focuses on user and customer acquisition, with offices in London, New York and Los Angeles.
The success of Captify's growth led Adam to be named 'Scale Up Entrepreneur of the Year' at the Great British Entrepreneur awards in November, not long after being named 'Young Entrepreneur of the Year', just a few years previously.
Adam will be working closely with both founders on the growth of the company, ensuring Influencer continues to have the best technology in the market, whilst also planning the start of their international expansion, allowing them to take their offering to new markets across the globe.
In a statement on joining the Influencer board, Adam Ludwin said:
"I've been following Influencer's rapid growth over the past 18 months and I'm incredibly excited to join the board and support Ben and Caspar on their aggressive growth plans."
"Their unique and differentiated tech platform has the ability to connect brands and creators in a way the world has never seen before, disrupting the whole landscape."
Ben Jeffries commented:
"We couldn't be more thrilled to have Adam joining Influencer as our 3rd partner. He brings with him a wealth of experience, having scaled up both Captify and his first company Inflecto so successfully. Adam will be paramount in shaping the next chapter for Influencer."
Caspar Lee added:
"We're so excited to work closely with Adam on the growth of influencer. His experience is incredibly valuable in order to achieve our goal of building more impactful relationships between creators and brands, bringing relevancy and control back to Influencer marketing."
SOURCE Influencer