Joint mobility company to be established with BMW next year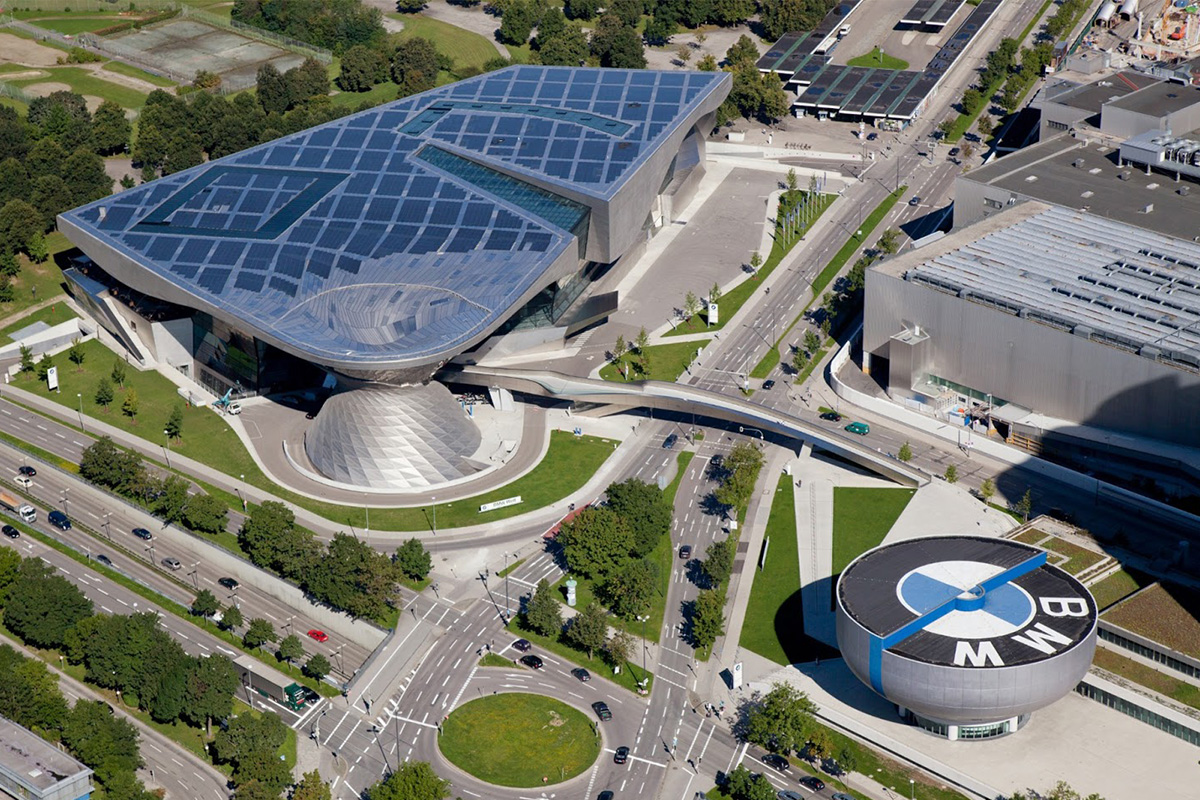 Reading Time:
4
minutes
Completion of transaction expected in 2019
Anticipated earnings effect at Daimler Financial Services to be recognized in 2019
The planned joint mobility company with the BMW Group is expected to be established at the beginning of next year. This has been agreed by Daimler AG and BMW Group. Following the approval of the project by the EU Commission, the two partners are continuing talks with the US antitrust authorities. Completion of the transaction, which was originally planned for 2018 and continues to be pursued by both partners, can no longer be achieved in the remaining weeks of this year.
In this context, the expected significant positive valuation and earnings effects at Daimler Financial Services will be realized in 2019. Accordingly, the earnings forecast for the Daimler Financial Services division has been reduced for 2018. The division now expects EBIT to be significantly lower than in the previous year. The forecast for the Daimler Group's EBIT in the 2018 financial year remains unaffected and unchanged. As previously announced, the transaction will not have any cash-flow impact on the industrial business.
With their joint venture, Daimler AG and BMW Group plan to combine their mobility services in the fields of car sharing, ride hailing, parking, charging and multimodality, and to create one of the leading providers of innovative mobility services. Both automobile manufacturers want to shape the future of mobility in order to offer their customers unique experiences and to support partners such as cities and municipalities along the way to achieving sustainable urban mobility. In the future, customers will have a holistic, intelligent and seamlessly linked ecosystem of mobility services at their disposal at the touch of a button. In this way, the two partners are addressing the challenges of urban mobility as well as customers' requirements and, together with cities, municipalities and other interest groups, are helping to improve the quality of life in metropolises.
This document contains forward-looking statements that reflect our current views about future events. The words "anticipate," "assume," "believe," "estimate," "expect," "intend," "may," "can," "could," "plan," "project," "should" and similar expressions are used to identify forward-looking statements. These statements are subject to many risks and uncertainties, including an adverse development of global economic conditions, in particular a decline of demand in our most important markets; a deterioration of our refinancing possibilities on the credit and financial markets; events of force majeure including natural disasters, acts of terrorism, political unrest, armed conflicts, industrial accidents and their effects on our sales, purchasing, production or financial services activities; changes in currency exchange rates and tariff regulations; a shift in consumer preferences towards smaller, lower-margin vehicles; a possible lack of acceptance of our products or services which limits our ability to achieve prices and adequately utilize our production capacities; price increases for fuel or raw materials; disruption of production due to shortages of materials, labor strikes or supplier insolvencies; a decline in resale prices of used vehicles; the effective implementation of cost-reduction and efficiency-optimization measures; the business outlook for companies in which we hold a significant equity interest; the successful implementation of strategic cooperations and joint ventures; changes in laws, regulations and government policies, particularly those relating to vehicle emissions, fuel economy and safety; the resolution of pending government investigations or of investigations requested by governments and the conclusion of pending or threatened future legal proceedings; and other risks and uncertainties, some of which we describe under the heading "Risk and Opportunity Report" in the current Annual Report.
If any of these risks and uncertainties materializes or if the assumptions underlying any of our forward-looking statements prove to be incorrect, the actual results may be materially different from those we express or imply by such statements. We do not intend or assume any obligation to update these forward-looking statements since they are based solely on the circumstances at the date of publication.
Daimler at a Glance
Daimler AG is one of the world's most successful automotive companies. With its divisions Mercedes-Benz Cars, Daimler Trucks, Mercedes-Benz Vans, Daimler Buses and Daimler Financial Services, the Daimler Group is one of the biggest producers of premium cars and the world's biggest manufacturer of commercial vehicles with a global reach. Daimler Financial Services provides financing, leasing, fleet management, insurance, financial investments, credit cards, and innovative mobility services. The company's founders, Gottlieb Daimler and Carl Benz, made history with the invention of the automobile in the year 1886. As a pioneer of automotive engineering, it is a motivation and commitment of Daimler to shape safely and sustainably the future of mobility: The Group's focus is on innovative and green technologies as well as on safe and superior automobiles that appeal and fascinate. Daimler consequently invests in the development of efficient drive trains with the long-term goal of locally emission-free driving: from hightech combustion engines about hybrid vehicles to electric drive trains powered by battery or fuel cell. Furthermore, the company follows a consistent path towards intelligent connectivity of its vehicles, autonomous driving and new mobility concepts. This is just one example of how Daimler willingly accepts the challenge of meeting its responsibility towards society and the environment. Daimler sells its vehicles and services in nearly all the countries of the world and has production facilities in Europe, North and South America, Asia, and Africa. Its current brand portfolio includes, in addition to the world's most valuable premium automotive brand, Mercedes-Benz (Source: Interbrand-Study, 10/4/2018), as well as Mercedes-AMG, Mercedes-Maybach and Mercedes me, the brands smart, EQ, Freightliner, Western Star, BharatBenz, FUSO, Setra and Thomas Built Buses, and Daimler Financial Services' brands: Mercedes-Benz Bank, Mercedes-Benz Financial Services, Daimler Truck Financial, moovel, car2go and mytaxi.
The company is listed on the stock exchanges of Frankfurt and Stuttgart (stock exchange symbol DAI). In 2017, the Group sold around 3.3 million vehicles and employed a workforce of more than 289,300 people. With application of IFRS 15 and IFRS 9 in financial year 2017, Group revenue would have amounted to €164.2 billion and Group EBIT would have amounted to €14.3 billion. Before application of IFRS 15 and 9, Group revenue in 2017 amounted to €164.3 billion and Group EBIT amounted to €14.7 billion, as previously reported.
SOURCE Daimler North America – Corporate Communications
Human Horizons Launches a Premium All-Electric Smart Car Brand HiPhi and Its First Production-Ready Vehicle HiPhi 1
Reading Time:
1
minute
HiPhi is a premium brand created by Human Horizons and enhanced by its users. The first production ready vehicle, HiPhi 1, integrates and develops world leading technologies, establishes a unique design philosophy and embeds sustainability as a core product development principle. HiPhi 1 is targeted at the growing global high technology, luxury market.
Human Horizons pursues a human-oriented philosophy and applies human-centric intelligence to advance the transformation of future human mobility. Its holistic solution consists of the development of smart vehicles, smart transportation and smart cities.
Human Horizons hopes to promote the development of the Vehicle-Road-City ecosystem through perception collaboration, computing collaboration, intelligence collaboration to ultimately transform individual intelligence to swarm intelligence.
Ding Lei, founder of Human Horizons believes that truly smart vehicles should seamlessly connect to the world of the Internet, IoT and IoE. They act as a node within the city linking the vehicle-road-city ecosystem together to enable the free flow of technical data. A smart vehicle will adapt itself and become more intelligent over time.
HiPhi 1 is equipped with more than 500 sensors and the first production car with a 5G-V2X enabled communication network. In addition, HiPhi 1 introduces the world's first Human Oriented Architecture (HOA), featuring a software-developer enabled platform within the electric and electrical (E/E) architecture which allows functions to be created that are both adaptive and self-learning. Together, these provide a new level of customer experience that can continuously evolve over time. Artificial Intelligence learns and adjusts a substantial number of vehicle parameters based on the occupants' habits and preferences.
SOURCE Human Horizons
TVS Motor Singapore to Invest US$7 Million in Scienaptic Systems, an AI Powered Decision Platform
Reading Time:
2
minutes
TVS Motor (Singapore) Pte. Limited, a wholly-owned subsidiary of TVS Motor Company Limited, India, has signed definitive agreements to invest US$7 million in Scienaptic Systems Inc., a Delaware corporation, headquartered in New York City. TVS Motor (Singapore) Pte. Limited led this Series A funding in Scienaptic. The closing of the investment is subject to obtaining appropriate regulatory approvals.
Scienaptic has combined latest big data technologies and proprietary machine learning and artificial intelligence algorithms on its decision platform, "Ether." Solutions built on Ether enable enterprises to improve risk and credit assessment, monitor evolving fraud patterns, and improve customer journeys and experience. Scienaptic counts several marquee Fortune 100 enterprises as its clients.
Rajesh Narasimhan, Board Member of TVS Motor Company and CEO of TVS Motor (Singapore), stated that, "We evaluated many companies providing big data analytics and risk management solutions and found Scienaptic's product offerings and solutions with their ability to help organizations leverage actionable insights through the power of a strong analytics platform to be a clear differentiator and a unique proposition. Scienaptic's end-to-end data analytics solution, with applicability to customers in various industries, has the potential to generate a new profit stream for our group. We are happy to invest in, and strategically partner with, Scienaptic as they continue to pursue bottom-line impact for Fortune 100 companies, and to leverage Scienaptic for our businesses. Our current investment in Scienaptic is part of the initial set of investments being made in strategically relevant digital startups."
Pankaj Kulshreshtha, Founder & CEO of Scienaptic added, "We are witnessing the adoption of our AI platform at Fortune 100 companies. With the cutting edge instruments on our platform, companies are able to drive adoption of AI in their processes. The investment by TVS enables us to accelerate our sales and product development. We found a significant match in value systems between the two organizations and believe that our collective strengths will enable Scienaptic to grow exponentially and become a global leader in AI-powered decisioning space."
SOURCE TVS Motor
AI-led start-up UVeye raises $31 million led by Toyota Tsusho, Volvo Cars and W. R. Berkley Corporation
Reading Time:
2
minutes
Israeli company UVeye, which provides sophisticated solutions for automatic external inspection of vehicles, has raised an additional $31 million in funding, led by Toyota Tsusho, Volvo Cars and W. R. Berkley Corporation, bringing total funds raised since 2017 to $35 million.
"This latest investment including leading automotive strategic partners is an important signal that we believe paves the way for UVeye to become the standard of automotive inspection and safety," said Amir Hever, CEO of UVeye. "We are delighted to have world-class companies in their respective sectors endorse our game-changing auto-scanning solution."
UVeye's technology enables vehicle manufacturers, logistic operators, retailers and rental-car companies to carry out automatic vehicle inspection leveraging first-of-its-kind artificial intelligence, purpose-built for vehicles. Importantly, UVeye's system has proven it can drive higher accuracy and improve efficiency, all with minimal human intervention.
UVeye's drive-through systems can detect external and mechanical flaws and identify anomalies, modifications or foreign objects – both along the undercarriage and around the exterior of the vehicle. The scanning process completes within a matter of seconds and can be used throughout the entire lifecycle of the vehicle. The technology is being actively deployed today across many use cases, from the vehicle manufacturing line – the moment components are placed on the conveyor belt through end-of-line inspection – to logistics, maintenance and beyond.
Since inception, UVeye has generated millions of vehicle scans across dozens of countries. UVeye's anomaly detection accuracy rate has exceeded client thresholds in all case studies to date.
In conjunction with today's announcement, Volvo Cars and Toyota Tsusho intend to use UVeye's inspection systems at various sites internationally, including Volvo Cars factories, dealerships and in the aftermarket. For Toyota Tusho, UVeye also will support distribution to used-car centers and throughout the company's footprint within the Japanese auto market. UVeye welcomes these new relationships, adding to existing partnerships with Skoda and Daimler, according to Hever.
"Premium quality standards are at the core of the Volvo brand, and we are intrigued by the possibilities that UVeye's technology offers," said Zaki Fasihuddin, CEO of the Volvo Cars Tech Fund. "This type of advanced scanning technology could allow us to take the next step in quality."
According to Mike Nannizzi, director of Fintech investments from W. R. Berkley Corporation:  "When we made our initial investment in UVeye two years ago, we believed its system could have game-changing impact within security and inspection applications globally, and today's announcement validates that early hypothesis. We congratulate UVeye, Toyota Tsusho and Volvo Cars for building a cohesive partnership with enormous potential."
SOURCE UVeye