Joint mobility company to be established with BMW next year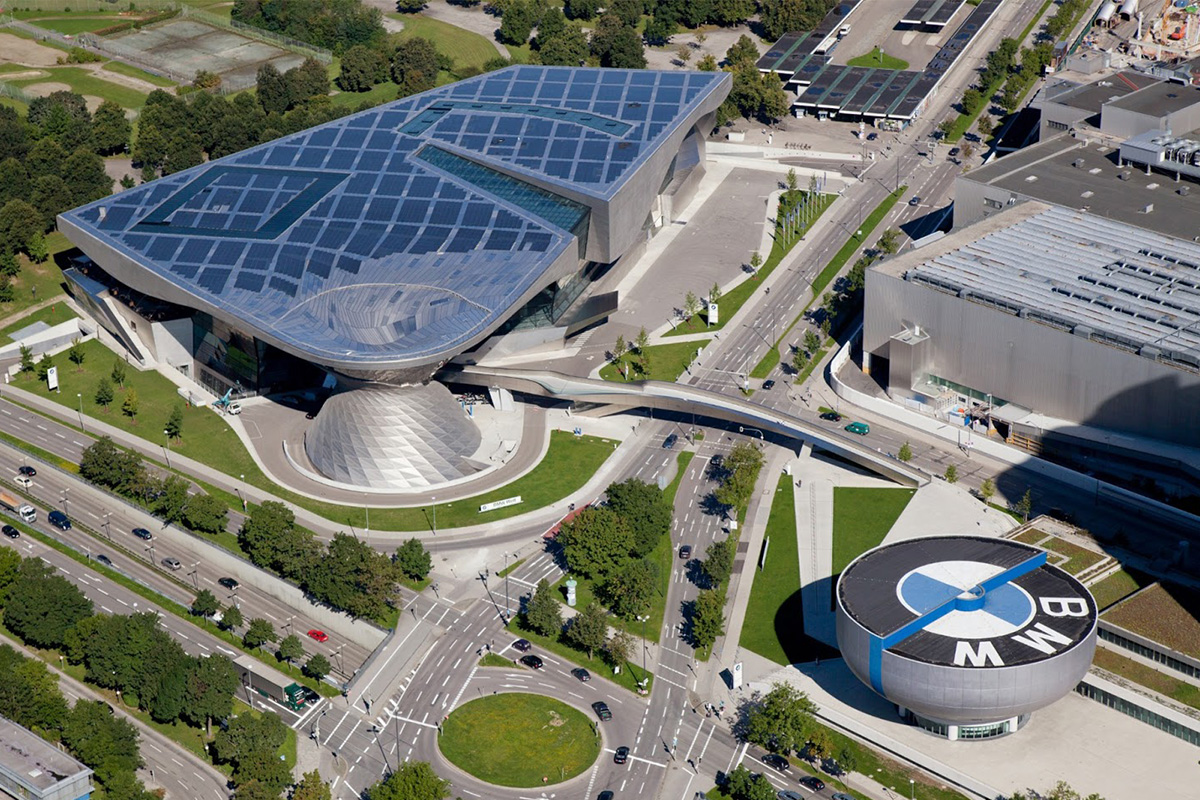 Reading Time:
4
minutes
Completion of transaction expected in 2019
Anticipated earnings effect at Daimler Financial Services to be recognized in 2019
The planned joint mobility company with the BMW Group is expected to be established at the beginning of next year. This has been agreed by Daimler AG and BMW Group. Following the approval of the project by the EU Commission, the two partners are continuing talks with the US antitrust authorities. Completion of the transaction, which was originally planned for 2018 and continues to be pursued by both partners, can no longer be achieved in the remaining weeks of this year.
In this context, the expected significant positive valuation and earnings effects at Daimler Financial Services will be realized in 2019. Accordingly, the earnings forecast for the Daimler Financial Services division has been reduced for 2018. The division now expects EBIT to be significantly lower than in the previous year. The forecast for the Daimler Group's EBIT in the 2018 financial year remains unaffected and unchanged. As previously announced, the transaction will not have any cash-flow impact on the industrial business.
With their joint venture, Daimler AG and BMW Group plan to combine their mobility services in the fields of car sharing, ride hailing, parking, charging and multimodality, and to create one of the leading providers of innovative mobility services. Both automobile manufacturers want to shape the future of mobility in order to offer their customers unique experiences and to support partners such as cities and municipalities along the way to achieving sustainable urban mobility. In the future, customers will have a holistic, intelligent and seamlessly linked ecosystem of mobility services at their disposal at the touch of a button. In this way, the two partners are addressing the challenges of urban mobility as well as customers' requirements and, together with cities, municipalities and other interest groups, are helping to improve the quality of life in metropolises.
This document contains forward-looking statements that reflect our current views about future events. The words "anticipate," "assume," "believe," "estimate," "expect," "intend," "may," "can," "could," "plan," "project," "should" and similar expressions are used to identify forward-looking statements. These statements are subject to many risks and uncertainties, including an adverse development of global economic conditions, in particular a decline of demand in our most important markets; a deterioration of our refinancing possibilities on the credit and financial markets; events of force majeure including natural disasters, acts of terrorism, political unrest, armed conflicts, industrial accidents and their effects on our sales, purchasing, production or financial services activities; changes in currency exchange rates and tariff regulations; a shift in consumer preferences towards smaller, lower-margin vehicles; a possible lack of acceptance of our products or services which limits our ability to achieve prices and adequately utilize our production capacities; price increases for fuel or raw materials; disruption of production due to shortages of materials, labor strikes or supplier insolvencies; a decline in resale prices of used vehicles; the effective implementation of cost-reduction and efficiency-optimization measures; the business outlook for companies in which we hold a significant equity interest; the successful implementation of strategic cooperations and joint ventures; changes in laws, regulations and government policies, particularly those relating to vehicle emissions, fuel economy and safety; the resolution of pending government investigations or of investigations requested by governments and the conclusion of pending or threatened future legal proceedings; and other risks and uncertainties, some of which we describe under the heading "Risk and Opportunity Report" in the current Annual Report.
If any of these risks and uncertainties materializes or if the assumptions underlying any of our forward-looking statements prove to be incorrect, the actual results may be materially different from those we express or imply by such statements. We do not intend or assume any obligation to update these forward-looking statements since they are based solely on the circumstances at the date of publication.
Daimler at a Glance
Daimler AG is one of the world's most successful automotive companies. With its divisions Mercedes-Benz Cars, Daimler Trucks, Mercedes-Benz Vans, Daimler Buses and Daimler Financial Services, the Daimler Group is one of the biggest producers of premium cars and the world's biggest manufacturer of commercial vehicles with a global reach. Daimler Financial Services provides financing, leasing, fleet management, insurance, financial investments, credit cards, and innovative mobility services. The company's founders, Gottlieb Daimler and Carl Benz, made history with the invention of the automobile in the year 1886. As a pioneer of automotive engineering, it is a motivation and commitment of Daimler to shape safely and sustainably the future of mobility: The Group's focus is on innovative and green technologies as well as on safe and superior automobiles that appeal and fascinate. Daimler consequently invests in the development of efficient drive trains with the long-term goal of locally emission-free driving: from hightech combustion engines about hybrid vehicles to electric drive trains powered by battery or fuel cell. Furthermore, the company follows a consistent path towards intelligent connectivity of its vehicles, autonomous driving and new mobility concepts. This is just one example of how Daimler willingly accepts the challenge of meeting its responsibility towards society and the environment. Daimler sells its vehicles and services in nearly all the countries of the world and has production facilities in Europe, North and South America, Asia, and Africa. Its current brand portfolio includes, in addition to the world's most valuable premium automotive brand, Mercedes-Benz (Source: Interbrand-Study, 10/4/2018), as well as Mercedes-AMG, Mercedes-Maybach and Mercedes me, the brands smart, EQ, Freightliner, Western Star, BharatBenz, FUSO, Setra and Thomas Built Buses, and Daimler Financial Services' brands: Mercedes-Benz Bank, Mercedes-Benz Financial Services, Daimler Truck Financial, moovel, car2go and mytaxi.
The company is listed on the stock exchanges of Frankfurt and Stuttgart (stock exchange symbol DAI). In 2017, the Group sold around 3.3 million vehicles and employed a workforce of more than 289,300 people. With application of IFRS 15 and IFRS 9 in financial year 2017, Group revenue would have amounted to €164.2 billion and Group EBIT would have amounted to €14.3 billion. Before application of IFRS 15 and 9, Group revenue in 2017 amounted to €164.3 billion and Group EBIT amounted to €14.7 billion, as previously reported.
SOURCE Daimler North America – Corporate Communications
Best New Automotive Innovations for 2019 Announced by Automobile Journalists Association of Canada
Reading Time:
2
minutes
The Automobile Journalists Association of Canada (AJAC) announced today the winners of its 2019 Innovation Awards at the Canadian International AutoShow in Toronto. The winners are:
Best Green Innovation – Infiniti, for the VC-Turbo engine.
Best Safety Innovation – Subaru, for DriverFocus.
Best Technical Innovation – Mercedes-Benz, for Mercedes-Benz User Experience (MBUX).
"The Innovation Awards now recognize safety, environmental awareness and technology," said Mark Richardson, President, Automobile Journalists Association of Canada. "This is an opportunity to recognize the very best and most innovative examples of new automotive products available to Canadian drivers."
In 2018, AJAC members nominated 30 different automotive innovations for consideration. The awards were judged by a panel of nine journalists who specialize in automotive technology. They independently reviewed briefs on all nominated entries, and from that initial review the jurors established a short list of finalists in each category.  In late October, they convened for a day of presentations and questioning with manufacturer representatives on each of the short-listed entries.  The jurors then voted a second time by secret ballot.
As with the Canadian Car of the Year awards program, these votes were compiled and authenticated by accounting firm KPMG.
Infiniti's VC-Turbo engine is the world's first production-ready variable compression ratio engine and one of the most advanced internal combustion engines ever created. More than 20 years in development, it represents a major breakthrough in internal-combustion powertrain technology. It delivers the power of a high-performance 2.0-liter turbo gasoline engine with a high level of efficiency.
Subaru's DriverFocus utilizes a camera angled at the driver's face and facial recognition software to monitor fatigue or lack of attention. When the driver begins to lose focus, DriverFocus immediately sends out a helpful alert — it's like an automated co-driver.
Mercedes-Benz's MBUX uses artificial intelligence to adapt to suit the user, creating an emotional connection between the vehicle, driver and passengers. It includes the high-resolution widescreen cockpit with touchscreen operation, navigation display with augmented reality technology, plus intelligent voice control with natural speech recognition, which is activated with the keyword "Hey Mercedes."
Photography is available at http://www.ajac.ca/press-room.asp
SOURCE Automobile Journalists Association of Canada
Karma Automotive Bolsters Growing Leadership Ranks
Reading Time:
2
minutes
– NEW VP, BUSINESS DEVELOPMENT & STRATEGY HELPS DRIVE BRAND TOWARD PROFITABLE LUXURY, HIGH-TECH FUTURE
– KEY ASSIGNMENTS: DRIVE REVENUE, INCREASE MARKET SHARE, MAXIMIZE PROFITABILITY
Lewis Liu, an accomplished automotive strategist with deep consulting experience for several major international and Chinese brands, has joined Southern California-based Karma Automotive as Vice President, Business Development and Strategy to help lead long-term, forward-thinking business strategies, focused on luxury, high technology, customization and VVIP customer treatment.
"Lewis has the kind of expertise in corporate financial investments, strategy development and implementation, international operational management, and market-entry strategies we need to help grow Karma's unique luxury electric vehicle nice," said Karma CEO Dr. Lance Zhou. "Karma attracts top talent because we have a very clear vision of what's required to achieve our goals and execute a solid product plan that spans the next decade. Our future is strong."
Liu comes to Karma from Faraday Future where he served as Senior Director of Strategic Partnership & Business Development since 2016. Prior to his time at Faraday, Liu was a Managing Director of KPMG Advisory (China), leading the management consulting practice for the automotive industry. Prior to joining KPMG, Liu was Senior Vice President at Ascension Capital, a private equity firm specializing in mergers and acquisitions for the auto industry. Lewis was also the General Manager and Plant Manager at Philips Lighting Electronics where he managed a business unit in the Asia Pacific region for Philips.
"Karma's Value-Forward business plan which in part encourages collaboration with the right business partners to help accelerate technology and product development really attracted me to the company," said Liu. "I'm excited to help create long-term value for a brand that's defined by exclusive design and craftsmanship, intuitive and integrated high technology, personalized customization that allows every Karma vehicle to be special, and an owner experience with unrivaled treatment."
Liu, who reports directly to Mikael Elley, Karma's Co-Chief of Staff, will craft strategies to meet future luxury EV customer demands, leverage technology developments, and remain in front of competitor plans and industry trends to help ensure Karma is well positioned for success. He is expected to play a key role in driving revenue and maximizing profitability.
Liu earned his MBA from the University of Chicago and his master's degree in Artificial Intelligence from the University of Mississippi. He also earned a bachelor's degree in Computer Science from Beijing Polytechnic University.
Meet Karma Automotive and Karma Revero
Karma Automotive designs, engineers, assembles and markets luxury electric vehicles, all from its Southern Californiabase of operations. Founded in 2014 and employing nearly 1,000 people worldwide, Karma Automotive is committed to elevating and growing the luxury mobility experience for its customers and draws on global relationships and technology partners to achieve this. Named Green Car Journal's 2018 Luxury Green Car of the Year, Karma Revero is a luxury electric vehicle powered by dual electric motors that embodies the company's goals of offering leading automotive design, technology, customization and an outstanding customer experience.
SOURCE Vibes
AUTOTECH 2018 – 100 M&A DEALS AND RECORD VENTURE CAPITAL INVESTMENT LAY THE FOUNDATIONS FOR AUTOMOTIVE FUTURE
Reading Time:
3
minutes
Disclosed VC funding to automotive start-ups hits $8 billion
Electrification, connectivity, autonomy and mobility are driving investments and deals in a race for market leadership
London, UK – 20 February 2019. The latest Automotive Technology M&A Market Report from international technology mergers and acquisitions advisor, Hampleton Partners, reveals that disclosed Venture Capital funding to automotive start-ups totalled $8 billion in 2018.
In parallel, almost 100 M&A deals were inked, including Renault, Ford and Volkswagen's autotech acquisitions in the second half of 2018; however, total disclosed M&A transaction value reached $3.9 billion in the time period, the lowest in over five years.
The report also shows the growing role of Private Equity (PE) in the autotech M&A market, accounting for almost one quarter of all transactions in 2018. The largest PE acquisition was Gores Group's buyout of Verra Mobility for $1.3 billion, at an attractive 17x EV/EBITDA multiple.
Jo Goodson, managing director, Hampleton Partners, said:
"Although we are currently seeing more venture capital investment than M&A transaction value in autotech, all players in the sector continue to push to be the market leader within the new world of electrification, connectivity, autonomy and mobility. Start-ups with innovative ideas are pursuing funding, and global giants from all sectors, including financial, are continuing to invest, fund and acquire."
Key trends in autotech
Connected car technology is widely hailed as the precursor for autonomous vehicles, providing passengers with features like internet, next-generation infotainment and enhanced safety features.
Examples of deals in this sub-sector included Volkswagen's purchase of WirelessCar for almost three times its revenue; Aptiv's acquisition of Chinese advanced interconnect specialist KUM in a landmark $500 million deal; and Zurich Insurance's acquisition of Bright Box in a move to bring the insurer into the vehicle and closer to the data it generates.
Vehicle manufacturers are diversifying from pure passenger car production to protect themselves against an uncertain future where personal vehicle ownership is no longer the norm.
Early in 2018 Daimler led a $175 million equity round in Taxify, Estonia's response to Uber. BMW took over Parkmobile to become the largest provider of mobile parking in the United States and in November Ford bought Spin, an electric scooter sharing platform, in an effort to expand its micro-mobility offering.
Internet commerce and content is growing in importance, with prospective vehicle owners now spending around 60 per cent of their time searching online.1
KAR Auction Services, which signed five deals over the past 30 months, purchased B2B car auction website, CarsOnTheWeb, for just over $100 million. Meanwhile, in November 2018 Renault bought Carizy, a used vehicle marketplace. Renault hopes to capitalise on the fast-growing used vehicle industry between private individuals, opening another lucrative revenue stream for the French automaker.
The digital transformation of dealerships: in a two-way street of deal-making, dealerships are incorporating enterprise software and CRM solutions to build better informed relationships with their prospective and current customers and ease the marketing and sale of vehicles, whilst online vehicle marketplaces are getting closer to the dealers.
Two US-listed online vehicle marketplaces made acquisitions in 2018: Cars.com made a $165 million acquisition of DealerInspire, a provider of automotive advertising SaaS and service. TrueCar's picked-up DealerScience, a dealership retail software provider, for $27 million.
Automotive technology M&A in 2019
Jo Goodson concluded:
"We believe 2019 and 2020 will remain very strong for both acquisitions and funding in the autotech sector, despite the storm clouds on the horizon which may provoke a reduction in vehicle sales' volume overall.
"Our rationale is that spending in the sector will not be impacted by short-term market turbulence. Autotech is a truly transformational sector and we're only at the beginning of a very long journey. In summary, we foresee a strong autotech M&A market over the next 24 months, with stable Enterprise Value multiples and a sharply growing capital raise market with increasing valuations."