Bellabeat Introduces Time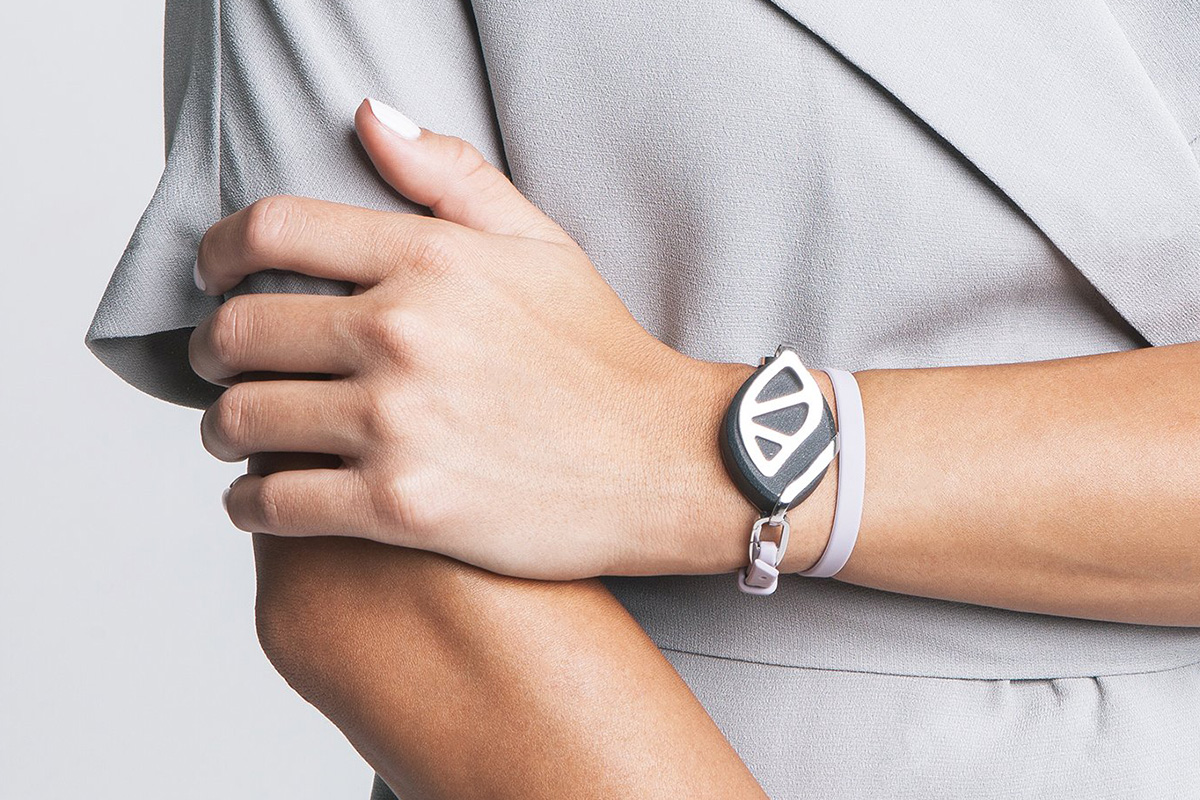 Reading Time:
1
minute
Bellabeat is expanding its collection of fashionable wellness accessories for women with the launch of Time, a hybrid watch. The must-have accessory features a stylish analog design with the capabilities of a health tracker for all women on the go.
Time connects wirelessly to the existing Bellabeat app to continuously track health-related activity throughout the day to improve overall well-being. Using Bellabeat's unique stress-predicting algorithm, Time also helps monitor sleep, meditation and menstrual cycles to improve overall well-being and prepare wearers to tackle stressful situations. Easily controlled vibration reminders also allow users to schedule updates to address periods of prolonged inactivity.
"Since Bellabeat launched, we've been creating fashionable and functional health trackers for women—and we saw a tremendous opportunity to expand with a watch," said Bellabeat CCO and Co-Founder Urska Srsen. "We're incredibly excited to be able to help our consumers on their wellness journey by offering a wide range of versatile wellness accessories that fit every style and occasion."
Time will be available in two beautiful finishes including gold and rose stainless steel with a wide range of interchangeable strap accessories to fit wearers' personal style. The watch is also water resistant so can be worn wherever you go! The battery life lasts up to six months and can be easily replaced with a tool, which is included in the package so no charger is needed. Time retails for $179and will be available for purchase on the Bellabeat website: https://webshop.bellabeat.com/.
Features include:
Stress Resistance Prediction
Barneys New York To Launch "The High End" Luxury Cannabis Lifestyle Shop in Beverly Hills Flagship and Barneys.com
Reading Time:
2
minutes
Opening in March, "The High End" features an exclusive partnership with luxe cannabis brand Beboe, and a wide selection of luxury accessories and wellness products
Barneys New York, the luxury specialty retailer, announced that it will open "The High End", making it the first major retailer to launch a luxury cannabis lifestyle and wellness concept shop. The High End will open in Barneys New York's Beverly Hills flagship in March, featuring an exclusive partnership with upscale cannabis company Beboe, and an extensive selection of accessories and lifestyle products. Select accessories featured in The High End will also be available on Barneys.com. Barneys New York plans to expand The High End to additional locations in the near future.
"Barneys New York has always been at the forefront of shifts in culture and lifestyle, and cannabis is no exception," said Daniella Vitale, Chief Executive Officer & President, Barneys New York. "Many of our customers have made cannabis a part of their lifestyle, and The High End caters to their needs with extraordinary products and service they experience in every facet of Barneys New York."
The High End will offer a unique range of elevated wellness products across home, beauty, jewelry, and more, along with an exclusive collaboration with cannabis brand Beboe. The concept shop will feature rare and exclusive items made especially for The High End, including rolling papers from Devambez, horn lighters from Lorenzi Milano, leather ashtrays and lighters from Giobagnara, ashtrays from Laboratorio Pesaro, gold rolling papers from Shine, storage boxes from Ginger Brown, and custom-made blown glass pipes from Caleb Siemmon. The shop will also feature jewelry and accessory items ranging from sterling silver pastille dispensers to grinder necklaces from Good Art HLYWD, Martine Ali, Brent Neale, Hoorsenbuhs, Carole Shashona, Sorellina, R.O.E., M. Cohen, Miansai and Barton Perriera.
Additionally, The High End will offer a curation of vintage accessories including lighters, trays, cases and more. For relaxation and calming benefits, there will be a variety of CBD-infused beauty and scented products from brands like Saint Jane, Foria, Lab to Beauty, Flora and Bast, The Good Patch, Vertly, Body Vibes, Malin + Goetz, Heretic, and Boysmells. Customers can also purchase these products at Barneys.com.
Barneys New York is exclusively partnering with upscale cannabis company Beboe to introduce Barneys New York Beverly Hills customers to the brand's distinct offerings, including its thoughtfully designed vaporizer pens and pastilles, and CBD products. Partnering with Beboe co-founder Scott Campbell, the collaboration includes an exclusive special edition silver Beboe vaporizer pen in celebration of the project. Beboe has also partnered with premium cannabis lifestyle brand Sherbinskis to develop a new strain of cannabis. Customers who visit The High End can speak to Beboe representatives to learn more about its products, and purchase from Beboe through the white glove delivery service, Emjay.
"I'm so thrilled that cannabis culture has come so far that it can exist and feel perfectly at home in such a prestigious context as Barneys New York. Barneys has never been shy about pushing creative boundaries in retail, and it makes perfect sense that they would be the first to support and elevate cannabis to new levels," said Scott Campbell, co-founder, Beboe.
The High End will be located on the fifth floor of Barneys New York Beverly Hills. Barneys New York will continue to expand the offerings of the shop and offer new collaborations in the months following its launch.
SOURCE: Barneys New York
Designer Hayley Paige Launches YouTube Series
Reading Time:
2
minutes
JLM Couture, Inc. (OTC: JLMC) announced today that wedding dress designer, Hayley Paige, is introducing a social media influenced diary-style series called Just Got Paiged. The Episodes will appear twice a week on the platform.
Just Got Paiged Series Teaser
The series features a behind-the-scenes look at Hayley's creative processes, her background as a designer, as well as tips and trends for brides-to-be. Other episodes in the series will include what to expect from a luxury wedding gown and shopping experience, as well as a glimpse into her lifestyle and daily routines. Hayley's personalized approach to social media has built a highly engaged audience of more than 1M followers, mainly on Instagram, and she plans to connect further with that audience on her YouTube channel.
"YouTube's audience is rich with a desire to spectate, create, and relate, so I look forward to eloping in the storytelling element of it all. Diary-style videos offer a level of authenticity when it comes to personality and skill set, so my hope with the Just Got Paiged series is to educate, inspire, and delight viewers with heaps of creativity and special moments of human connection," said designer Hayley Paige.
Hayley Paige is the head designer of Hayley Paige and Blush by Hayley Paige bridal collections, as well as Hayley Paige Occasions (bridesmaids), La Petite Hayley Paige (flower girls) and Hayley Paige Red Carpet – all under JLM Couture, Inc. Since launching her namesake collection in fall 2011, the brand has rapidly grown into one of the most sought-after names in bridal fashion and on the red carpet. Hayley has also expanded into wedding-themed athleisure sold exclusively on PopUpPaige.com.
JLM Couture, Inc. is a multi-label bridal house engaged in the design, manufacture, and distribution of bridal gowns and bridesmaid dresses. The company's bridal gown collections are Hayley Paige, Blush by Hayley Paige, Hayley Paige Occasions, La Petite Hayley Paige, Lazaro, Tara Keely by Lazaro, Allison Webb, and Ti Adora by Allison Webb. JLM is traded over the counter.
SOURCE: JLM Couture, Inc.
LC Waikiki Furthers Its Global Social Responsibility Movement With LCW Sense App Launch in Russia
Reading Time:
2
minutes
LC Waikiki, the global Turkish clothing brand, which carries out its activities with its "Everybody deserves to dress well" mission, has pioneered the use of its LCW Sense application,put into service for visually impaired individuals in its 36 stores in Russia. LC Waikiki is also aiming for the app to be available in the Middle East and North Africa.
Thanks to the LCW Sense app, which can be downloaded to mobile phones free of charge from App Store and Google Play store, visually impaired individuals can easily find all the information about a garment, such as colour, fabric, pattern, washing instructions and price. This empowers visually impaired shoppers to pick out their clothes without the help of someone else. The app also offers solutions around creating outfits and differentiating between items of clothing.
More about the LCW Sense app
Shoppers using the app can listen to information about the item, particularly the details on the item label, allowing them to buy clothes in the style and size that they like. Once at home, the app can also provide advice on how to wash each article and how best to combine it with other pieces.
Underscoring LC Waikiki's leadership in pioneering the app, the first of its kind, LC Waikiki Chief Marketing Manager Ms. Deniz Aktürk Erdem says:
"At LC Waikiki, we are in contact with a large customer base every day in more than 900 stores in 44 countries around the world; we are trying to understand their needs and demands and to respond to them. Because we serve millions of people from every age group every day and every income level of the society, we focus on "human" factor. As a brand that appeals to millions, we consider keeping our ears open to all sectors as our social responsibility.
"For this reason, we try to understand and support the needs of every sector with the power we get from our leadership in fashion and clothing.
"In line with these priorities, last year we implemented the LCW Sense project, the first in the world, with the great efforts of our friends, LC Waikiki Social Responsibility Platform Volunteers, who sincerely believe in our corporate values. In 2018, we decided to open this application to the world and our first country was Russia.
"In our first 36 stores in Russia, we brought the application into practice for the use of our visually impaired customers. Our biggest goal is to expand the LCW Sense application, which has drawn great attention in Turkey, to 44 countries where we have stores."
Pointing out that fashion focuses on "life" in the digitalized world, Erdem said that fashion which does not reach out to the people and is not adopted by the user becomes obsolete; in this regard, the fashion retail industry must put creative and innovative applications into practice. Erdem adds, "LC Waikiki is a brand that closely follows innovations and technologies in digital trends. We combine technology and innovation with creative ideas to make life easier for our customers. LCW Sense is the best example of this. With the development of technology and better understanding of our customers' needs, we will have improvements both in the usage and scope of the application."
LC Waikiki aims to continue expanding the availability of its LCW Sense app beyond Russia, the Middle East and North Africa – eventually bringing it to all of its stores in 44 countries.
SOURCE: LC Waikiki