Tribute Portfolio Hotels Partners with Pantone Combining the Power of Color and the Joyful Pursuit of Travel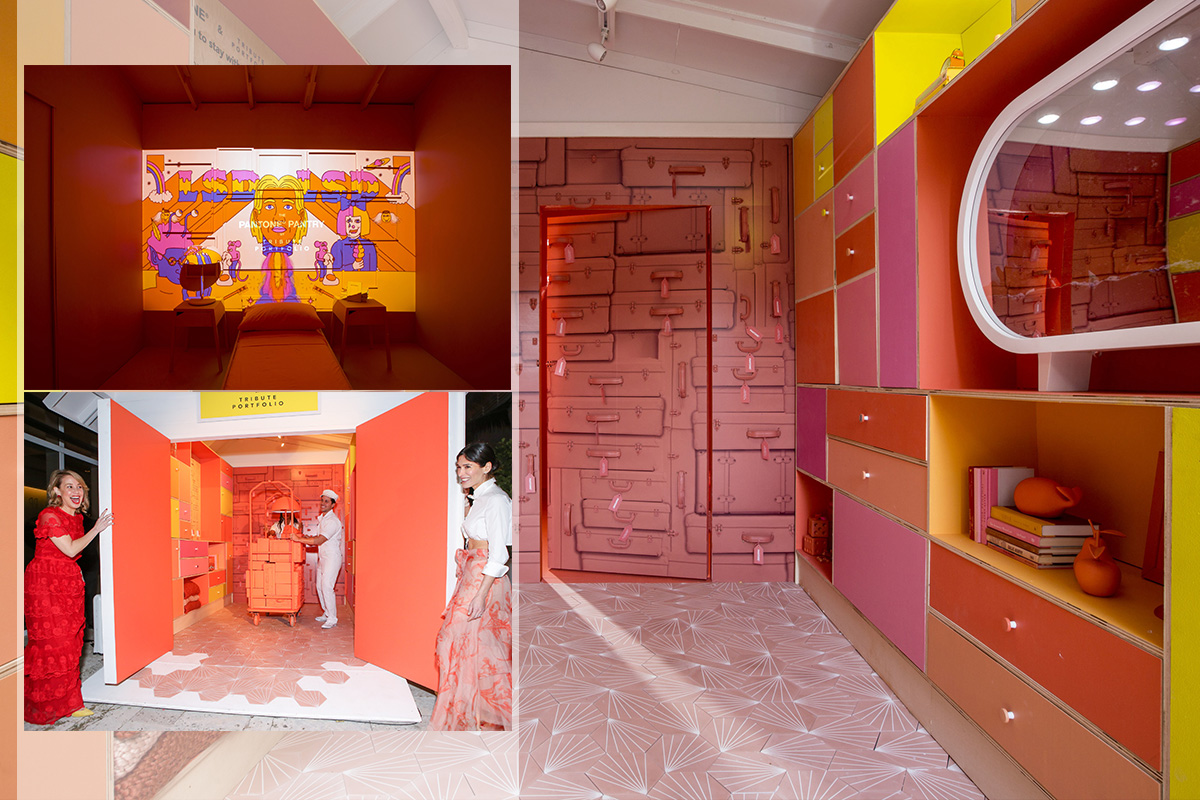 Reading Time:
5
minutes
Tribute Portfolio, Marriott International's newest collection of independent and characterful hotels,  today announced a first-of-it-kind collaboration with Pantone, a renowned global color authority: introducing a series of experiential pop-ups that celebrate the power of color and the pursuit of travel to inspire creativity and connect communities. Aptly named for its communal nature and colorful design, the Pantone Pantry by Tribute Portfolio will debut at Art Basel in Miami Beach at the Royal Palm South Beach Miami Resort and will travel to new Tribute Portfolio hotels next year.
Each Pantone Pantry by Tribute Portfolio will take guests on a whimsical journey of color and captivating design, using different mediums to bring the travel-inspired installations to life and to playfully highlight the 2019 Pantone Color of the Year palettes. Artful, unexpected and designed to reflect the character of its host city,  each pantry will be created collaboratively with a cast of colorful characters, artists and influencers, who have a unique perspective on travel.
"We are thrilled to collaborate with Pantone, who is as passionate and colorful as we are," said Amanda Nichols, Global Brand Director, Tribute Portfolio. "With 28 hotels open and growing, Tribute Portfolio has struck a chord with those who seek out independent experiences and crave a connection with the community when traveling.  With Tribute Portfolio's knack for igniting imaginations through travel and Pantone's ability to inspire through color, these quirky pop-up experiences are sure to encourage a fresh perspective for guests and locals alike."
This announcement follows the highly-anticipated reveal of PANTONE 16-1546 Living Coral as the 2019 Pantone Color of the Year,  an animating and life-affirming shade of orange with a golden undertone. Sociable and spirited, Living Coral embodies the desire for playful expression and symbolizes the innate need for optimism and joyful pursuits, including travel, which has the ability to enable shared experiences and social connection.
"Like travel, color enhances and influences the way we experience the world," said Laurie Pressman, Vice President of the Pantone Color Institute. "Linked to tactility and human connection, PANTONE 16-1546 Living Coral is a warm and welcoming shade that fosters immersive experiences and encourages playful expression; so it made perfect sense that we collaborate with Tribute Portfolio, a brand that shines a light on the individualized and personalized spirit of all its characterful hotels, to create a unique  way to experience color and bring PANTONE 16-1546 Living Coral to life."
First-Ever Pantone Pantry by Tribute Portfolio Makes a Splash at Art Basel with Interior Designer Athena Calderone, Supergroup LSD and Pop Art Illustrator Gabriel Alcala
Premiering this week at Art Basel in Miami Beach, the Pantone Pantry showcases the playful personality of the Tribute Portfolio brand with monochrome and multi-sensory moments that pay tribute to how color – like travel – can reframe your perspective and illuminate the quirky character of different destinations.  Inspired in part by a pantry that offers a familial welcome to all, the pop-up also reimagines a traditional hotel experience with an unexpected concierge desk, a cabinet of curiosities and a hidden hotel guestroom.   LSD, the supergroup comprised British musician Labrinth, Australian singer Sia and American music producer Diplo, as well as pop art illustrator Gabriel Alcala were tapped to create custom animations, digital projections and a show-stopping playlist that bring the whimsical world to life with their signature psychedelic pop point of view.
Ever-inspired by her passion for travel to reframe flavors, cultures, food, architecture and design, Athena Calderone celebrated the grand reveal of 2019 Pantone Color of the Year: Living Coral and officially opened doors to the Pantone Pantry by Tribute Portfolio at the Royal Palm South Beach Miami yesterday.
"Travel opens your eyes to everything, in a way, bringing black and white into dynamic technicolor; and my eyes absorb it all – they're always swooning," said Athena Calderone, founder of EyeSwoon and author of Cook Beautiful. "I'm delighted to celebrate this immersive pop up with Tribute Portfolio and Pantone, which will assuredly inspire someone's next adventure and colorful journey through travel."
The Pantone Pantry will be open to the public December 6th and December 7th 2018 from 10:00amthrough 5L00pm for festival-goers to be among the first to experience the 2019 Pantone Color of the Year palettes.
Tribute Portfolio will Take its Pantone Pantry to Indie-Spirited & Creative Communities around World in 2019
Next year the brand's Pantone Pantry will pop up at The Alida in Savannah, Georgia, recently opened in October 2018 as part of Tribute Portfolio. The Alida strikes the perfect balance between modern design and the city's timeless charm, located ideally on Savannah's revitalized riverfront. Designed by Gunn Meyerhoff Shay Architects, the 173-room boutique hotel celebrates individuality and eclectic personality with no two rooms designed to be quite the same. Poised to be woven into the fabric of the community, the residential hotel is just a few blocks from the Broughton Street retail corridor, the Savannah College of Art & Design and the SCAD Museum of Art.
The Pantone Pantry by Tribute Portfolio will also pop up at the new The Slaak Rotterdam, scheduled to open in March 2019 as part of Tribute Portfolio. Following the restoration and renovation of its storied building – once the printing house of the Het Vrije Volk newspaper and then a studio space for artists, the intimate and inventive 74-room hotel will reflect the dynamic metropolis of Rotterdam, known for its passion for innovation and its unpolished charm.
For more information, please visit www.tributeportfolio.com/pantone
About Tribute Portfolio
Launched in 2015, Tribute Portfolio is Marriott International's newest collection brand, offering exceptional independent hotels around the globe. With a focus on selecting hotels with captivating design and vibrant social scenes, Tribute Portfolio aims to attract travelers looking for fresh travel experiences that reflect their own individuality. From boutique resorts like Inn at Rancho Santa Fe in California, to urban locales such as Apollo Hotel in Amsterdam, each Tribute Portfolio hotel offers experiences filled with details and elements worth sharing. Tribute Portfolio is proud to offer access to Marriott International's award-winning loyalty program, Marriott Rewards which includes Ritz Carlton Rewards. Members can now link their Starwood Preferred Guest accounts at members.marriot.com for instant elite status matching and unlimited points transfer. For more information on Tribute Portfolio, please visit www.tributeportfolio.com.
About Pantone
Pantone provides a universal language of color that enables color-critical decisions through every stage of the workflow for brands and manufacturers. More than 10 million designers and producers around the world rely on Pantone products and services to help define, communicate and control color from inspiration to realization – leveraging advanced X-Rite technology to achieve color consistency across various materials and finishes for graphics, fashion and product design. Pantone Standards feature digital and physical color specification and workflow tools. The Pantone Color Institute™ provides customized color standards, brand identity and product color consulting as well as trend forecasting inclusive of Pantone Color of the Year, Fashion Runway Color Trend Reports, color psychology and more. Pantone B2B Licensing incorporates the Pantone Color System into different products and services, enabling licensees to communicate and reproduce approved Pantone values and improve efficiencies for their users. Pantone Lifestyle brings color and design together across apparel, home, and accessories. Learn more at www.pantone.com and connect with Pantone on Instagram, Facebook, Pinterest, and LinkedIn.
About The Pantone Color Institute™
The Pantone Color Institute is the business unit within Pantone that highlights top seasonal runway colors, forecasts global color trends, advises companies on color for product and brand visual identity. Through seasonal trend forecasts, color psychology, and  consultative color consulting, the Pantone Color Institute partners with global brands to leverage the power, psychology, and emotion of color in their design strategy.
ZEE5 and Dialog Announce a Strategic Partnership to Bring the Largest Bouquet of Premium Regional Content to Sri Lanka
Reading Time:
2
minutes
ZEE5's extensive bouquet of 1,00,000 hours of premium Indian content will now be available through the Dialog ViU app
ZEE5, the largest digital entertainment platform for language content, announced its very first international partnership in the SAARC region with Dialog Axiata PLC, Sri Lanka's premier connectivity provider. The partnership will provide Dialog ViU app users with over 1,00,000 hours of premium regional content. Dialog ViU customers will be able to subscribe at a charge of LKR 350 per month to access one of the region's best content libraries.
Dialog customers will be able to access ZEE5 Originals like Karenjit Kaur, Zero Kms as well as recent crime thrillers Rangbaaz and Abhay, scintillating Bollywood hits like Veere Di Wedding and Toilet; an extensive Tamil content library including top shows like Sembaruthi, Poove Poochoodava and Yaaradi Nee Mohini, ZEE5 Tamil Originals including Kallachirippu, America Mapillai and D7 as well as recent blockbusters like Mersal.
Speaking about the association, Archana Anand, Chief Business Officer – ZEE5 Global said, "We are thrilled to announce our partnership with Dialog Axiata for our launch in Sri Lanka. With over 1,00,000 hours of content across multiple genres and 12 languages, Dialog's subscribers now have access to the largest library of Indian content that's available in one single destination. Sri Lanka is rapidly developing into an exciting market for entertainment content, and we look forward to jointly exploring this opportunity with Dialog Axiata."
Commenting on the partnership, Mangala Hettiarachchi, Senior General Manager – Global and Content Services, Dialog Axiata PLC said, "We are extremely proud to have partnered with ZEE5 so soon into their international launch. This affiliation strengthens the content portfolio offered by Dialog ViU by opening one of the region's best content libraries to our customers. Dialog customers can now watch the best content on the best video network in Sri Lankaat any time, from anywhere, on any Internet-connected screen without commercials."
ZEE5 offers over 1,00,000 hours of Indian TV shows, movies, videos, etc. across 12 languages to South Asians across the globe. ZEE5 is available on Google Play Store, iOS App Store, http://www.ZEE5.com and on Samsung Smart TVs, Apple TV, Android TVs and Amazon Fire TV.
The "Calligraphy, Tea Culture and Silk Road Photography" Sino-Singaporean cultural exchange event takes place in Singapore
Reading Time:
4
minutes
The Sino-Singaporean cultural exchange event, "Calligraphy, Tea Culture and Silk Road Photography", was held at Reignwood Hamilton Scotts, one of central Singapore's key Asian landmarks, on February 19, 2019, the same day as this year's Chinese Lantern Festival. The event was co-hosted by the Chinese Culture Promotion Society, the Chinese Tourism Development Alliance and Reignwood Culture Foundation with the support of VOSS. Well-known Chinese and Singaporean luminaries in the fields of culture, finance and trade participated in the event in celebration of the traditional Chinese holiday.
Building a platform for cultural exchanges between China and Singapore
The Silk Road Cultural Exchange Center was established on the same day with the goal of building a platform for non-governmental cultural exchanges between China and Singapore. China's cultural counsellor in Singapore Que Xiaohua joined hands with Belt and Road General Chamber of Commerce (Hong Kong) co-president and Reignwood Group chairman Yan Bin to unveil the stone plaque in commemoration of the founding of the center.
Counsellor Que said, "Through showcasing traditional Chinese culture, such as the Chinese tea ceremony and traditional Chinese medicines, the event promotes cultural exchanges between China and countries targeted by the Belt and Road Initiative, of which Singapore is a key target, helping create a receptive environment for the implementation of the initiative."
"We bring Chinese calligraphy and tea culture to Singapore, an attractive investment destination within the framework of the Belt and Road Initiative, as a means of promoting China as a country of beauty and one that takes its environmental responsibilities seriously. The establishment of the Silk Road Cultural Exchange Center is expected to strengthen the friendship and promote cultural exchanges between the Chinese and Singaporean peoples," stated the chairman, Mr. Yan. "As a Chinese businessman, I would like to make greater contributions to the ongoing promotion of cultural exchanges between the Chinese and Singaporean peoples and to the common economic development of both countries as well as to the formation of the Marine Silk Road."
Investment drives trade development
Over the recent years, focusing on the key mission of their joint participation in the Belt and Road Initiative, on a practical level, China and Singapore have engaged in collaborative efforts across various fields with the ultimate goal of achieving mutually beneficial prosperity. According to available data, China has been Singapore's largest trade partner for six consecutive years, while Singapore has been China's largest new source of foreign investment, also for six consecutive years. The initiative, a new model of international economic cooperation, provides additional impetus to Chinese companies contemplating investment in the targeted countries. Investment drives trade development, while promoting development in those countries has become a new and important trend.
During the event, organizer Reignwood inked a strategic cooperation agreement for its VOSS natural mineral water project with Octopus Group, a leader in the trade of consumer packaged goods across Southeast Asia. The two parties plan to increase their investments with the aim of jointly expanding the SE Asian market for the mineral water.
In 2015, Reignwood acquired VOSS, an international bottled water brand that originated in Norway, and in 2016, put in motion a project to establish a plant in Zhuxi County, Hubei province, with total investment exceeding 1 billion yuan(approx. USD 150 million) and an annual production capacity of 250,000 tons. Through a combination of environmental protection, good manufacturing practices and education, the group has been supporting poverty alleviation efforts. Reignwood has been awarded the Poverty Alleviation Award of the Year by the 13th People's Corporate Social Responsibility Awards for VOSS water's clear taste and the success of the "VOSS water for poverty alleviation" campaign.
Cultural exchanges facilitate the implementation of the Belt and Road Initiative
The Silk Road Tour – Belt and Road Photography Exhibition, Tea Culture Exhibition and Calligraphy by Masters Exhibition were staged during the three-day event held from February 19 to February 21. Chinese artist Jiang Kun and Shaanxi Provincial Calligraphers Association secretary general Wang Gaimin, among other famous Chinese calligraphers, participated in a contest during which they demonstrated their calligraphy skills and capabilities in choosing the most meaningful characters to place on the New Year couplets that they had to create impromptu. New Year couplets are a collection of black or gold-colored Chinese characters written on strips of red paper that are then affixed to both sides of the front door of a home. The characters express happy and hopeful thoughts for the coming year. During the Tea Culture Exhibition, the 18-step tea art performance sponsored by VOSS water products, and an interactive activity, where participants drank water from a winding canal that had one wine cup floating on it as a supplication to reduce the likelihood of future misfortune. The performance helped showcase the unique mineral and floral flavors characteristic of Chinese tea, as well as the spiritual and aesthetic qualities that are associated with water in Chinese culture. Guests were given an opportunity to take part in a professionally curated display of Chinese culture with a focus on art appreciation, calligraphy and a healthy competitive spirit. In addition, leading luminaries in the world of traditional Chinese medicine (TCM) from China and Singapore were invited to participate in a TCM-based health regimen-themed seminar designed to raise awareness of the importance of personal health and wellbeing.
Exhibits displayed at the photography event included Belt and Road-themed works by world-renowned photographer Michael Yamashita, as well as the micro replica of the East Indiaman Gotheborg, a sunken ship that once carried goods along the ancient Maritime Silk Road. The Silk Road Tour – Belt and Road Photography Exhibition is now in its 18thedition. During the past two years, Reignwood Culture Foundation has twice held the exhibition in Singapore. The foundation had also made it part of Singapore Regional Business Forum 2016 hosted by the Singapore Business Federation, yielding the event much praise.
Good mountains and good water give birth to good tea, while the whole is about nature. Staying true to one's authenticity and integrity is a fundamental part of one's contribution to the Belt and Road Initiative. The Calligraphy, Tea Culture and Silk Road Photography event strengthened the friendship and promoted cultural exchanges between China and Singapore. Designed to stimulate trade development through investment, the event also helped build a framework for joint discussions, sharing of ideas as well as the development and implementation of mutually beneficial projects. The two countries look forward to many future opportunities for collaboration in line with the objectives of Belt and Road.
University of New Haven Researchers Discover Critical Vulnerabilities in Popular Virtual Reality Application
Reading Time:
2
minutes
A team of researchers at the University of New Haven discovered that Bigscreen, a well-known and popular virtual reality (VR) application, and Unity, the game development platform BigScreen is built on, are vulnerable to hackers. Bigscreen, which describes itself as a "virtual living room," enables users to watch movies, collaborate on projects together and more.
Without users' knowledge and consent – and without tricking users into downloading software or granting access to the computer – University of New Haven researchers were able to:
Turn on user microphones and listen to private conversations
Join any VR room including private rooms
Create a replicating worm that infects users as soon as they enter a room with other VR users
View user computer screens in real time
Send messages on a user's behalf
Download and run programs – including malware – onto user computers
Join users in VR while remaining invisible. This novel attack was termed as a Man-In-The-Room (MITR) attack.
Phish users into downloading fake VR drivers
Click here to view a YouTube proof of concept video summarizing and demonstrating the findings.
"Our research shows hackers are able to monitor people day in and day out – listen to what they are saying and see how they are interacting in virtual reality," said Ibrahim Baggili, founder and co-director of the University of New Haven Cyber Forensics Research and Education Group (https://www.unhcfreg.com). "They can't see you, they can't hear you, but the hacker can hear and see them, like an invisible Peeping Tom. A different layer of privacy has been invaded."
Baggili and his team presented the research findings to Bigscreen and Unity. Bigscreen CEO and Founder Darshan Shankar said Feb. 14 the company has patched the issues. Unity recently added language to its website warning users the platform can be "used to of."
Baggili and his team have not performed tests to determine if vulnerabilities still exist.
The researchers – Baggili, Elder Family Endowed Chair of Computer Science and Cybersecurity and an internationally recognized expert in cybersecurity and digital forensics; master's student Peter Casey; and Martin Vondráček, visiting master's student from Brno University of Technology, recently uncovered the technology vulnerabilities while testing the security of VR systems through a National Science Foundation-funded project. Martin Vondráček then wrapped up the research into a command and control tool to show the severity of the findings. For disclosure details, go to the University of New Haven Forensic Sciences Research & Education Group website: https://www.unhcfreg.com/.
According to Bigscreen, users log up to 20-30 hours a week using the system, with some logging over 1000 hours. TechCrunch reported in 2017 the company had 150,000 users.
Baggili and Casey have uncovered susceptibilities in other popular virtual reality systems – including HTC Vive and Oculus Rift – revealing that hackers could alter the experience of users. Several years ago, Baggili and his team uncovered liabilities in the messaging apps WhatsApp, Viber and others that affected more than 1.5 billion users, garnering significant international media coverage.