Centrica Equips Its Engineers With 7500 Panasonic Rugged Tablets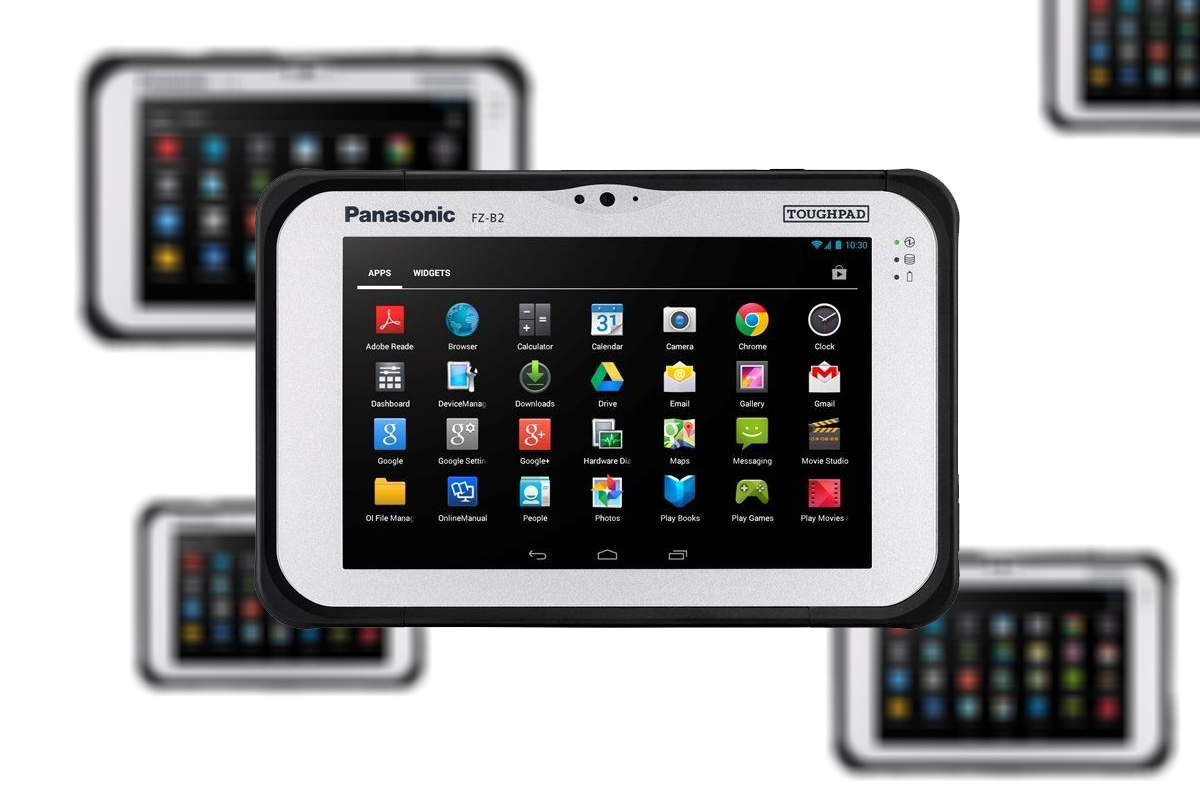 Reading Time:
4
minutes
Centrica, the leading energy and services company operating brands such as British Gas and Dyno, has rolled out 7,500 Panasonic FZ-G1 rugged tablets to its team of UK engineers to improve working methods and ultimately to enhance its customer service.
For the past eight years the company's engineers have been using the Panasonic Toughbook CF-19 rugged notebooks as their main technology tool for job scheduling, maintenance, viewing diagrams and communications as they carry out service and repairs at customers' homes and businesses. However, the company wanted to move to a tablet-based device for more intuitive applications for working methods, more flexibility and because its engineers were already very familiar with this type of technology.
The devices have been rolled out ahead of the busiest period for British Gas engineers, who fixed more than 1.2 million boilers last winter.
Speaking about the new devices, Matthew Bateman, Managing Director for Field Operations at British Gas said: "Technology has been at the forefront of how we're working to enhance the service we deliver for our customers, and how our engineers carry out work."
"The use of tablet technology gives us more options in terms of application functionality and will introduce different and quicker methods of working, and improved communication for our engineers which in turn will benefit our customers."
The Panasonic FZ-G1 tablet incorporates high quality front and rear cameras together with optimised WWAN antennae.
Kevin Tristram, UK General Manager of Panasonic Toughbook, added: "As Europe's leading provider of rugged mobile devices, Panasonic has a relationship with Centrica that stretches back over 25 years. We have built that relationship by combining high quality devices with unparalleled levels of service and a constant focus on the future needs of mobile workers. We look forward to supporting the mobile computing needs of Centrica and its customers with this next generation of rugged tablet computing."
The Panasonic FZ-G1 tablet
Centrica has invested in the latest 4th generation of the fully rugged Panasonic FZ-G1 tablet, featuring improved performance and communication capabilities, with an increased 14 hour battery life and the Windows 10 Pro operating system to further enhance its reputation with mobile workforces as the 10.1 inch tablet of choice. The device has proven popular with a wide range of industries including retail and manufacturing, as well as organisations with large workforces in the field, such as utilities, logistics, assessors and field service as well as the emergency services.
About Centrica plc
Centrica plc is an international energy and services company. Everything we do is focused on satisfying the changing needs of our customers. We supply energy and services to more than 25 million customer accounts through strong brands such as British Gas, Direct Energy and Bord Gáis Energy supported by around 15,000 engineers and technicians.
About Panasonic System Communications Company Europe (PSCEU)
Panasonic System Communications Company Europe's (PSCEU) goal is to improve the working lives of business professionals and help their organisations' efficiency and performance through world leading technology. We help organisations capture, compute and communicate all sorts of information: image, voice, and textual data. With around 350 staff, engineering design expertise, global project management capability and a large European partner network, PSCEU offers unrivalled capability in its markets.
PSCEU is made up of six product categories:
Broadcast & ProAV gives you the freedom to tell the story with its high quality products and solutions, which ensure smooth operation and excellent cost-performance across a range of remote cameras, switchers, studio cameras and ENG P2HD. The cinema camera range of VariCam models and the EVA1 are capable of true 4K and High Dynamic Range (HDR) making them the ideal solution for cinema, television, documentary and live event production.
Communication Solutions offers world leading telephony systems, SIP terminal devices and professional 'network' scanners giving you the freedom to focus on the communication and not the connection.
Computer Product Solutions help mobile workers improve productivity with its range of TOUGHBOOK rugged notebooks, Toughpad business tablets and electronic point of sales (EPOS) systems. As European market leaders, Panasonic TOUGHBOOK had a 67% revenue share of sales of rugged and durable notebooks and Panasonic Toughpad held a 56% revenue share of sales of rugged business tablets in 2016 (VDC Research, March 2017).
Industrial Medical Vision manufactures applications for various segments such as medical, life science, ProAV or industrial. The product portfolio includes complete and OEM camera systems, providing the freedom to see what can't be seen.
Security Solutions, built on a heritage of providing evidential quality CCTV footage. Delivering the highest image quality in all environmental conditions using our highly reliable, advanced technology cameras and image recording systems, giving you the freedom to feel secure.
Visual System Solutions offers the widest range of professional displays and projectors and allows Audio Visual professionals the freedom to create. It leads the European high brightness projector market with a 39% market revenue share (Futuresource >5klm FY17 Q3, excl. 4K & digital cinema).
About Panasonic
Panasonic Corporation is a worldwide leader in the development of diverse electronics technologies and solutions for customers in the consumer electronics, housing, automotive, and B2B businesses. Celebrating its 100th anniversary in 2018, the company has expanded globally and now operates 591 subsidiaries and 88 associated companies worldwide, recording consolidated net sales of Euro 61.4 billion for the year ended March 31, 2018. Committed to pursuing new value through innovation across divisional lines, the company uses its technologies to create a better life and a better world for its customers. To learn more about Panasonic: http://www.panasonic.com/global
ZEE5 and Dialog Announce a Strategic Partnership to Bring the Largest Bouquet of Premium Regional Content to Sri Lanka
Reading Time:
2
minutes
ZEE5's extensive bouquet of 1,00,000 hours of premium Indian content will now be available through the Dialog ViU app
ZEE5, the largest digital entertainment platform for language content, announced its very first international partnership in the SAARC region with Dialog Axiata PLC, Sri Lanka's premier connectivity provider. The partnership will provide Dialog ViU app users with over 1,00,000 hours of premium regional content. Dialog ViU customers will be able to subscribe at a charge of LKR 350 per month to access one of the region's best content libraries.
Dialog customers will be able to access ZEE5 Originals like Karenjit Kaur, Zero Kms as well as recent crime thrillers Rangbaaz and Abhay, scintillating Bollywood hits like Veere Di Wedding and Toilet; an extensive Tamil content library including top shows like Sembaruthi, Poove Poochoodava and Yaaradi Nee Mohini, ZEE5 Tamil Originals including Kallachirippu, America Mapillai and D7 as well as recent blockbusters like Mersal.
Speaking about the association, Archana Anand, Chief Business Officer – ZEE5 Global said, "We are thrilled to announce our partnership with Dialog Axiata for our launch in Sri Lanka. With over 1,00,000 hours of content across multiple genres and 12 languages, Dialog's subscribers now have access to the largest library of Indian content that's available in one single destination. Sri Lanka is rapidly developing into an exciting market for entertainment content, and we look forward to jointly exploring this opportunity with Dialog Axiata."
Commenting on the partnership, Mangala Hettiarachchi, Senior General Manager – Global and Content Services, Dialog Axiata PLC said, "We are extremely proud to have partnered with ZEE5 so soon into their international launch. This affiliation strengthens the content portfolio offered by Dialog ViU by opening one of the region's best content libraries to our customers. Dialog customers can now watch the best content on the best video network in Sri Lankaat any time, from anywhere, on any Internet-connected screen without commercials."
ZEE5 offers over 1,00,000 hours of Indian TV shows, movies, videos, etc. across 12 languages to South Asians across the globe. ZEE5 is available on Google Play Store, iOS App Store, http://www.ZEE5.com and on Samsung Smart TVs, Apple TV, Android TVs and Amazon Fire TV.
Excitech to Deliver Common Data Environment to Heathrow Airport Limited
Reading Time:
2
minutes
Excitech, the UK leader in technology and services for the construction sector, has been awarded a 7-year framework agreement to lead a consortium comprising GroupBC and Autodesk technologies to deliver Heathrow Airport Limited's chosen Common Data Environment (CDE) solution.
The CDE is at the heart of Heathrow's Information Management strategy.  It will be its primary common information repository and allow for specific controls to be put in place to share information in a controlled manner with suppliers and across Heathrow Departments. It will provide world-class information and asset management in line with emerging industry-standards, ensuring the efficient whole-life management of Heathrow's critical assets.
David Hughes, Excitech's managing director said, "Having worked on the Terminal 5 construction project we are excited to be involved in this latest strategic project at Heathrow.  The Autodesk and GroupBC technologies being deployed are market-leading and will enable Heathrow to trust the data they hold and have the confidence to make decisions based on 'one version of the truth."
The project is already underway and is expected to be complete by December 2020.  It will see the deployment of Autodesk's BIM 360 visualisation and design tools integrated and underpinned with management and governance from GroupBC's Enterprise CDE.
Jo Ellman Brown, PMO Director at Heathrow said, "We are aiming to be the first airport operator in the world who can leverage value from our digital assets, allowing our people to work in a safe environment, design and plan in a collaborative way, and operate a fully integrated asset system.  With a long-established relationship with Excitech, we're delighted they were the successful bidder on this project.  We anticipate that the solution they have proposed will significantly improve the management of our critical assets."
As well as enabling Heathrow to have accurate and up to date information readily available in the CDE, the new solution will result in fewer surveys and reduced costs as a result of earlier and greater collaboration across all parties.  In addition, maintenance costs will reduce through better, earlier clash detection and more accurate maintenance information being readily available.
The "Calligraphy, Tea Culture and Silk Road Photography" Sino-Singaporean cultural exchange event takes place in Singapore
Reading Time:
4
minutes
The Sino-Singaporean cultural exchange event, "Calligraphy, Tea Culture and Silk Road Photography", was held at Reignwood Hamilton Scotts, one of central Singapore's key Asian landmarks, on February 19, 2019, the same day as this year's Chinese Lantern Festival. The event was co-hosted by the Chinese Culture Promotion Society, the Chinese Tourism Development Alliance and Reignwood Culture Foundation with the support of VOSS. Well-known Chinese and Singaporean luminaries in the fields of culture, finance and trade participated in the event in celebration of the traditional Chinese holiday.
Building a platform for cultural exchanges between China and Singapore
The Silk Road Cultural Exchange Center was established on the same day with the goal of building a platform for non-governmental cultural exchanges between China and Singapore. China's cultural counsellor in Singapore Que Xiaohua joined hands with Belt and Road General Chamber of Commerce (Hong Kong) co-president and Reignwood Group chairman Yan Bin to unveil the stone plaque in commemoration of the founding of the center.
Counsellor Que said, "Through showcasing traditional Chinese culture, such as the Chinese tea ceremony and traditional Chinese medicines, the event promotes cultural exchanges between China and countries targeted by the Belt and Road Initiative, of which Singapore is a key target, helping create a receptive environment for the implementation of the initiative."
"We bring Chinese calligraphy and tea culture to Singapore, an attractive investment destination within the framework of the Belt and Road Initiative, as a means of promoting China as a country of beauty and one that takes its environmental responsibilities seriously. The establishment of the Silk Road Cultural Exchange Center is expected to strengthen the friendship and promote cultural exchanges between the Chinese and Singaporean peoples," stated the chairman, Mr. Yan. "As a Chinese businessman, I would like to make greater contributions to the ongoing promotion of cultural exchanges between the Chinese and Singaporean peoples and to the common economic development of both countries as well as to the formation of the Marine Silk Road."
Investment drives trade development
Over the recent years, focusing on the key mission of their joint participation in the Belt and Road Initiative, on a practical level, China and Singapore have engaged in collaborative efforts across various fields with the ultimate goal of achieving mutually beneficial prosperity. According to available data, China has been Singapore's largest trade partner for six consecutive years, while Singapore has been China's largest new source of foreign investment, also for six consecutive years. The initiative, a new model of international economic cooperation, provides additional impetus to Chinese companies contemplating investment in the targeted countries. Investment drives trade development, while promoting development in those countries has become a new and important trend.
During the event, organizer Reignwood inked a strategic cooperation agreement for its VOSS natural mineral water project with Octopus Group, a leader in the trade of consumer packaged goods across Southeast Asia. The two parties plan to increase their investments with the aim of jointly expanding the SE Asian market for the mineral water.
In 2015, Reignwood acquired VOSS, an international bottled water brand that originated in Norway, and in 2016, put in motion a project to establish a plant in Zhuxi County, Hubei province, with total investment exceeding 1 billion yuan(approx. USD 150 million) and an annual production capacity of 250,000 tons. Through a combination of environmental protection, good manufacturing practices and education, the group has been supporting poverty alleviation efforts. Reignwood has been awarded the Poverty Alleviation Award of the Year by the 13th People's Corporate Social Responsibility Awards for VOSS water's clear taste and the success of the "VOSS water for poverty alleviation" campaign.
Cultural exchanges facilitate the implementation of the Belt and Road Initiative
The Silk Road Tour – Belt and Road Photography Exhibition, Tea Culture Exhibition and Calligraphy by Masters Exhibition were staged during the three-day event held from February 19 to February 21. Chinese artist Jiang Kun and Shaanxi Provincial Calligraphers Association secretary general Wang Gaimin, among other famous Chinese calligraphers, participated in a contest during which they demonstrated their calligraphy skills and capabilities in choosing the most meaningful characters to place on the New Year couplets that they had to create impromptu. New Year couplets are a collection of black or gold-colored Chinese characters written on strips of red paper that are then affixed to both sides of the front door of a home. The characters express happy and hopeful thoughts for the coming year. During the Tea Culture Exhibition, the 18-step tea art performance sponsored by VOSS water products, and an interactive activity, where participants drank water from a winding canal that had one wine cup floating on it as a supplication to reduce the likelihood of future misfortune. The performance helped showcase the unique mineral and floral flavors characteristic of Chinese tea, as well as the spiritual and aesthetic qualities that are associated with water in Chinese culture. Guests were given an opportunity to take part in a professionally curated display of Chinese culture with a focus on art appreciation, calligraphy and a healthy competitive spirit. In addition, leading luminaries in the world of traditional Chinese medicine (TCM) from China and Singapore were invited to participate in a TCM-based health regimen-themed seminar designed to raise awareness of the importance of personal health and wellbeing.
Exhibits displayed at the photography event included Belt and Road-themed works by world-renowned photographer Michael Yamashita, as well as the micro replica of the East Indiaman Gotheborg, a sunken ship that once carried goods along the ancient Maritime Silk Road. The Silk Road Tour – Belt and Road Photography Exhibition is now in its 18thedition. During the past two years, Reignwood Culture Foundation has twice held the exhibition in Singapore. The foundation had also made it part of Singapore Regional Business Forum 2016 hosted by the Singapore Business Federation, yielding the event much praise.
Good mountains and good water give birth to good tea, while the whole is about nature. Staying true to one's authenticity and integrity is a fundamental part of one's contribution to the Belt and Road Initiative. The Calligraphy, Tea Culture and Silk Road Photography event strengthened the friendship and promoted cultural exchanges between China and Singapore. Designed to stimulate trade development through investment, the event also helped build a framework for joint discussions, sharing of ideas as well as the development and implementation of mutually beneficial projects. The two countries look forward to many future opportunities for collaboration in line with the objectives of Belt and Road.