Scania in Consortium That Aims to Stimulate Large Scale Roll out of Gas-fuelled Trucks Across Europe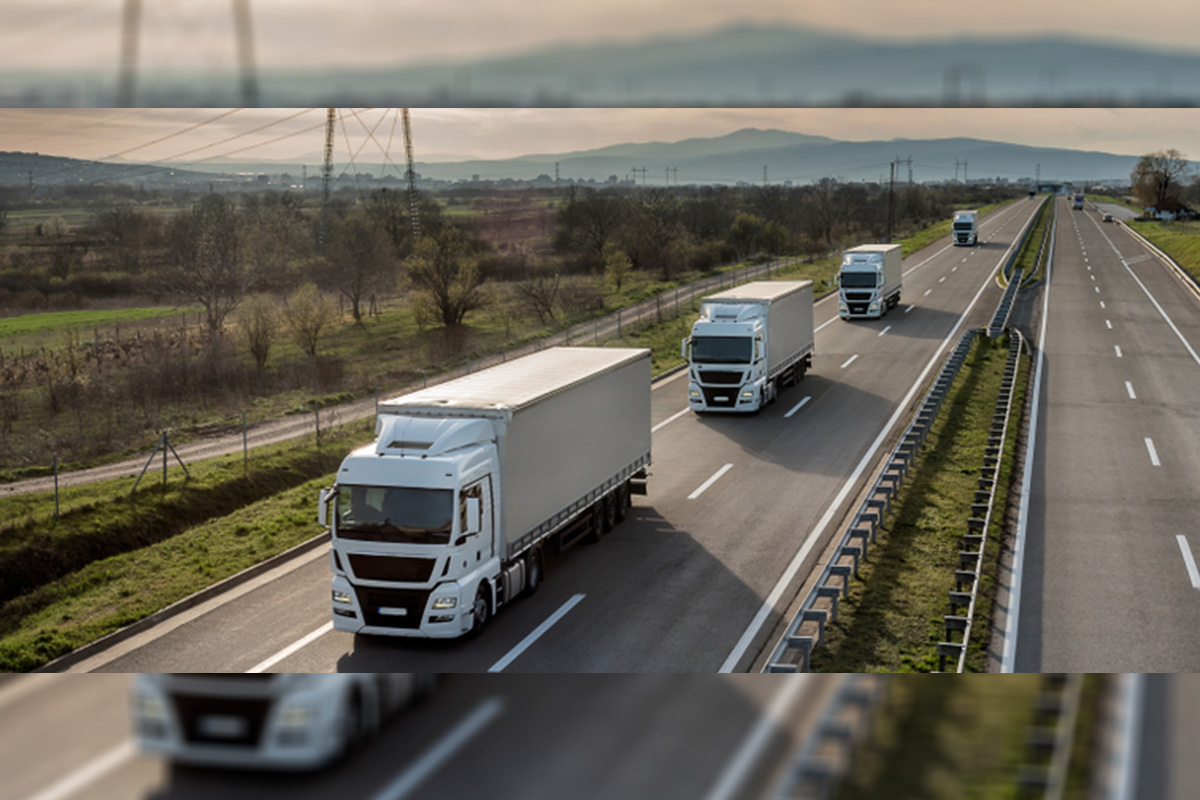 Reading Time:
3
minutes
A consortium called BioLNG EuroNet today announced a commitment to the further expansion of LNG (liquefied natural gas) as a road transport fuel across Europe with new infrastructure that should ensure the long-term success and mass scale adoption.
The consortium, comprising Shell, Disa, Scania, Osomo and Iveco will each deliver separate activities that will see 2,000 more LNG trucks on the road, 39 LNG fuelling stations and the construction of a BioLNG production plant in the Netherlands.
The LNG Retail stations will form part of a pan-European network and be built in Belgium, France, Germany, the Netherlands, Poland and Spain. The stations will be located approximately every 400 km along core road network corridors from Spain to Eastern Poland.
"LNG is an increasingly affordable fuel for heavy goods vehicles which will make it an important energy source as the transport sector evolves," said Istvάn Kapitάny, Executive Vice President, Shell Retail. "Shell is committed to offering our customers more lower carbon energy and the new LNG Retail stations are a vital piece of the puzzle. I look forward to seeing this important network of stations welcome European motorists in the years to come."
The bioLNG facility will produce 3000 MT/year of BioLNG and will use biomethane produced from waste. This will be sold to end-users via the LNG network.
"This program covers filling stations, biofuel production and subsidies which are all necessary for progressive customers to invest in the trucks, despite the extra initial cost," say Jonas Nordh, Director Sustainable Transport Solutions, Scania. "Whilst LNG which reduces CO2emissions by about 20 percent, is more broadly available today, biogas, which reduces CO2emissions by over 90 percent, can increasingly be blended in with the natural as production of biogas is ramped up."
BioLNG EuroNet has an aspiration to rollout the expansion of LNG as a road transport fuel across Europe even further in the future.
About the project:
The BioLNG Euronet project is bringing together major players in the European market: Shell, DISA, Osomo, Scania and Iveco. These project partners aim to help the European Union meet its goal of a 60 percent reduction in CO2 emissions by 2030, by triggering long-term decarbonisation of heavy duty road transport across mainland Europe.
The bioLNG facility to be constructed in 

the Netherlands

 will collect municipal waste from supermarkets and restaurants and process this into biogas. The technology will use new patented membrane separation technology that will enable biologically derived LNG.
The 2,000 new LNG Heavy Goods Vehicles will be leased to end users through competitive financing and trucking solutions to reduce the cost of them. Only the additional costs of an LNG HGV compared to a diesel truck will be financed. The average eligible costs for each LNG truck are capped to a maximum of €30,000.
The energy density of BioLNG means that trucks can travel longer distances, better suiting the needs of transport operators now, and in the future. Due to the use of industrial organic waste as a resource, the CO2 emissions will be much lower than the CO2 emissions of traditional fuels. BioLNG is essential in achieving the long-term aim of further decarbonisation for the road transport sector in 

Europe

 by 2030. BioLNG virtually eliminates sulphur and offers a reduction in NOx and particulate matter.
Each BioLNG EuroNet consortium member will receive 20 percent funding from the EU towards the cost of their commitments.
The EU funding received by the BioLNG EuroNet consortium members falls under the connecting 

Europe

 facility (CEF) for the transport sector.
Directive 2014/94/EU of the European Parliament and of the Council of 

22 October 2014

 on the deployment of alternative fuels infrastructure defines a common framework of measures for the deployment of alternative fuels infrastructure in the European Union and to mitigate the environmental impact of transport. It sets out minimum requirements for the building-up of alternative fuels infrastructure, including LNG (Liquefied Natural Gas) and Compressed Natural Gas (CNG).
EMBRAER S.A.: Kazakhstan's Air Astana Receives Its First E190-E2 Jet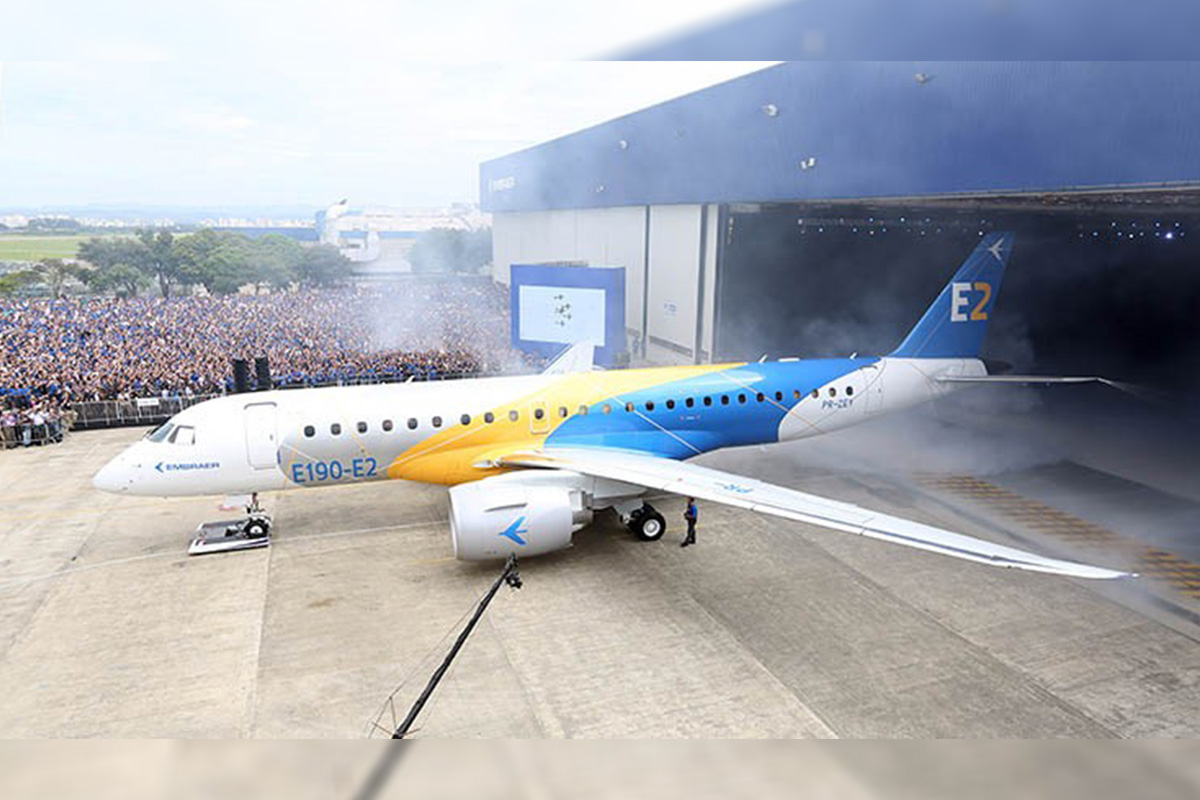 Reading Time:
3
minutes
Air Astana, the flag carrier of Kazakhstan, presented its first E190-E2 jet in a ceremony held today in Astana. The airline will receive four additional E190-E2s next year, with the last of the five aircraft, leased by AerCap, being delivered in the final quarter of 2019. The Kazakhstan airline will start flying the new aircraft on domestic and Commonwealth of Independent States (CIS) routes later this month.
"All of us at Air Astana are pleased to receive our first E190-E2, and we look forward to a smooth entry into service and a simple transition for our pilots. We know Embraer's E-Jets well, and have high expectations for their new generation aircraft in terms of economics, environmental impact, and levels of comfort and convenience for our customers," said Peter Foster, President of Air Astana.
Air Astana's first E190-E2 features a "snow leopard" livery, designed and hand painted by Embraer in the 'Profit Hunter' style. Air Astana's snow leopard joins the now famous Eagle, Tiger, and Shark E2s with the distinctive 'Profit Hunter' nose art. For Air Astana however, the paint scheme is designed to draw global attention to the threat of extinction faced by the wild cat. The snow leopard is an official symbol of Kazakhstan and is native to the country's southern mountain ranges.
Foster continued. "Our passengers, staff, and in fact the whole of Kazakhstan will appreciate the amazing depiction of the snow leopard on our new jet. The snow leopard embodies the resilience and ambition of our nation, and we all strive to save these magnificent creatures from extinction and for posterity".
"We are honored to deliver our most advanced commercial aircraft to our good friends at Air Astana", said John Slattery, President & CEO, Embraer Commercial Aviation. "For a manufacturer, there is no better reward than to see a customer's business continuously growing with our products. Air Astana's decision to embrace the E2 program is a further measure of trust in Embraer and in the E-Jets family of commercial aircraft."
The delivery marks the beginning of Air Astana's fleet renewal. Currently the airline operates fleet of E190s aircraft, the first of which was delivered in 2011.
The E190-E2 is the first of three new aircraft types that will make up the Embraer E2 family of aircraft developed to succeed the first-generation E-Jets. Compared to the first-generation E190, the E190-E2 burns 17.3% less fuel and nearly 10% less than its direct competitor. This makes it the most efficient single-aisle aircraft on the market. The E190-E2 brings more flexibility with maximum range of up to 3,293 miles (5,300 km), about 621 miles (1,000 km) more than the first-generation E190.
The E190-E2 also generates significant savings for airlines in terms of maintenance costs, with a reduction of up to 25%. It has the longest maintenance intervals with 10,000 flight hours for basic checks and no calendar limit in typical E-Jets utilization. This means an additional 15 days of aircraft utilization over a period of ten years.
Pilots of the first-generation E-Jets require only two-and-a-half days of training without the need for a full flight simulator in order to fly the E2, which decreases the training burden and saves both time and money for the airlines. The E2 cockpit features advanced Honeywell Primus Epic 2 integrated avionics. Combined with the closed-loop fly-by-wire controls, the systems work together to improve aircraft performance, decrease pilot workload and enhance flight safety.
From the passenger's perspective, the E2 cabin features a comfortable two-by-two layout. The absence of a middle seat enables passengers to have an enjoyable flight experience with more legroom and additional luggage storage space.
Embraer is the world's leading manufacturer of commercial jets with up to 150 seats. The Company has 100 customers from all over the world operating the ERJ and E-Jet families of aircraft. For the E-Jets program alone, Embraer has logged almost 1,800 orders and 1,400 deliveries, redefining the traditional concept of a regional aircraft. Today, E-Jets are flying in fleets of 70 customers in 50 countries.
KIA MOTORS AMERICA ANNOUNCES NOVEMBER SALES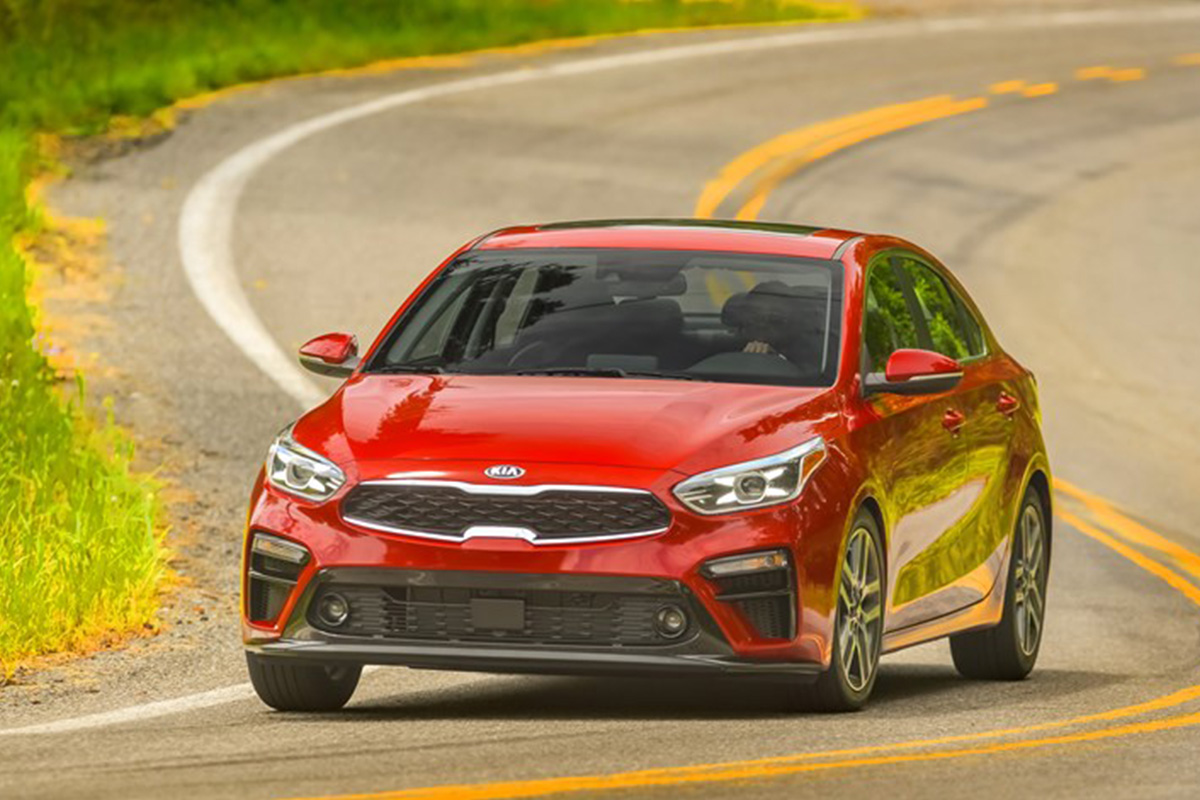 Reading Time:
1
minute
Kia Motors America today announced November sales of 45,101 vehicles, up 1.8­percent over the
same period last year. November sales were led by the brand's popular Forte model with 9,756 units sold, representing a gain of 17­percent
year­over­year. In addition, the popular Sportage CUV posted a 26­percent increase in sales over the same period last year selling 6,927
units.
"Sales picked up throughout November and culminated in a strong Thanksgiving weekend that drew significant showroom traffic," said Bill
Peffer, vice president, sales operations, Kia Motors America. "With the global debut of the all­new, 2020 Soul at the LA Auto Show last week
and the new product introductions slated for first quarter 2019, we are confident that interest in the Kia brand will continue to grow."
About Kia Motors America
Headquartered in Irvine, California, Kia Motors America continues to top quality surveys and is recognized as one of the 100 Best Global
Brands and 50 Best Global Green Brands by Interbrand. Kia serves as the "Official Automotive Partner" of the NBA and LPGA and offers a
complete range of vehicles sold through a network of nearly 800 dealers in the U.S., including cars and SUVs proudly built in West Point,
Georgia.*
For media information, including photography, visit www.kiamedia.com. To receive custom email notifications for press releases the moment
they are published, subscribe at www.kiamedia.com/us/en/newsalert.
MONTH OF NOVEMBER
YEAR-TO-DATE
Model
2018
2017
2018
2017
Rio
1,671
1,533
21,367
15,142
Forte
9,756
8,363
94,181
109,674
Optima
6,669
8,154
93,794
100,412
Cadenza
151
889
4,309
6,353
Stinger
1,173
17
15,517
17
K900
22
45
299
420
Niro
1,962
2,235
26,226
24,840
Sportage
6,927
5,503
75,825
67,239
Sorento
7,092
8,153
99,344
91,944
Sedona
936
1,289
16,802
22,486
Soul
8,742
8,121
94,581
108,102
Total
45,101
44,302
542,245
546,629
Motorcycle Ownership Among Women Climbs to 19 Percent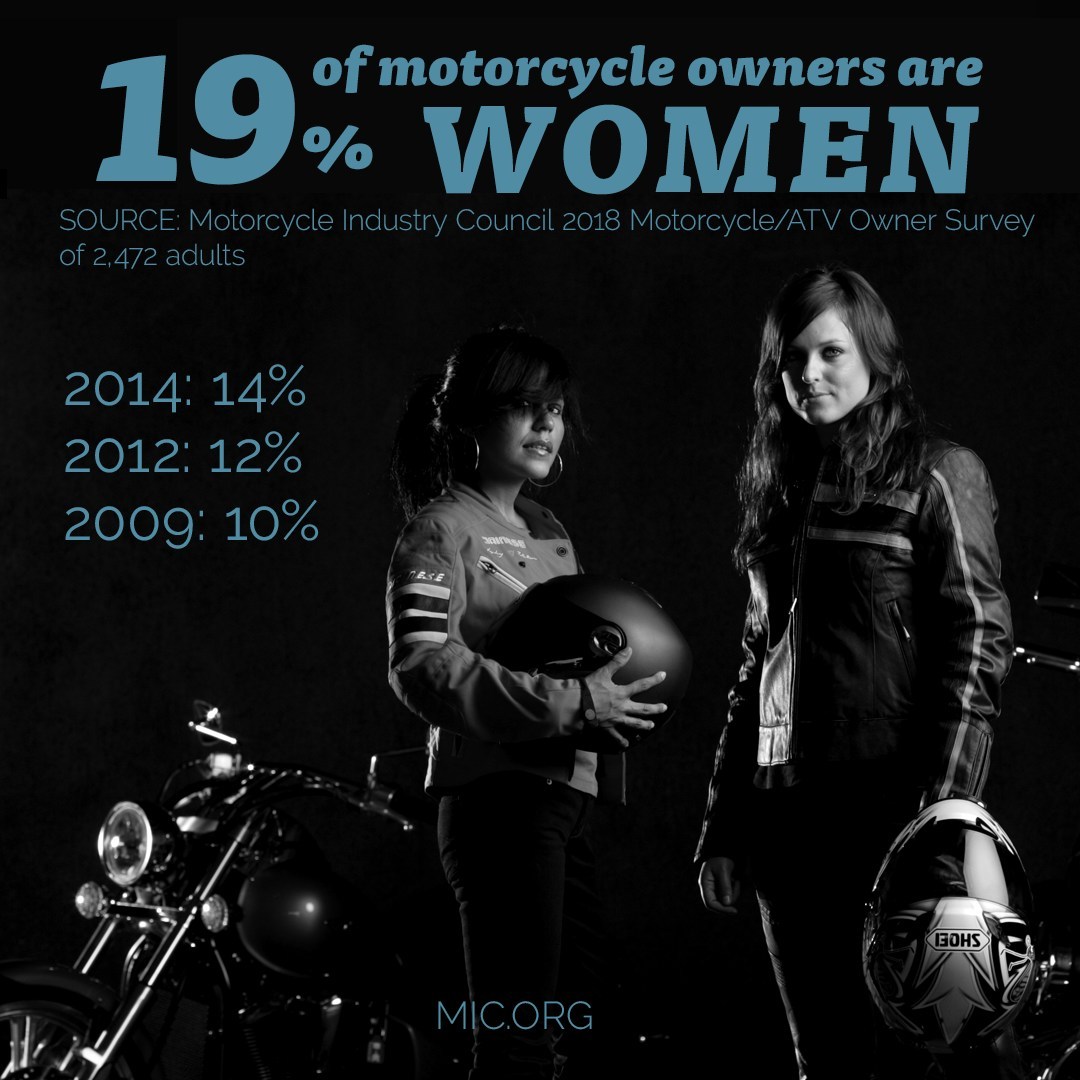 Reading Time:
3
minutes
Motorcycle Industry Council Survey Reveals Continuing Shift in Rider Demographics
Nearly one in five motorcycle owners is now female, compared with one in 10 less than a decade ago, and the data suggests that women could soon make up one quarter of owners, which would be a major shift in motorcycling demographics, according to the latest national survey by the Motorcycle Industry Council.
Among all age groups, women now make up 19 percent of motorcycle owners. But the 2018 survey showed even greater female ownership within younger generations. Among Gen X motorcycle owners, 22 percent were women; among Gen Y, 26 percent were women.
"As the number of Boomer and mature motorcyclists shrink and are replaced by newer riders, we could soon be looking at a solid 25 percent of motorcycle owners being female," said Andria Yu, MIC director of communications. "We've seen with our own eyes many more women riders — on the roads, on the trails, on the track, with families, at motorcycling events, forming clubs and just being part of everyday group rides. Many people in the industry have worked some 30 years to achieve this, and now the data confirms it: More and more women are getting out there and enjoying motorcycles."
The MIC polled 2,472 adults nationwide for the 2018 Motorcycle/ATV Owner Survey. For decades, the MIC surveys have served as the census of motorcycling, and have tracked a steady growth in the percentage of women who own bikes.
"Major efforts to increase the number of women riders go back to the late 1980s when top manufacturers and distributors came together and formed Discover Today's Motorcycling, the industry outreach program built to introduce new riders to two-wheeling," said Cam Arnold, a longtime industry executive who is organizing a Women in Powersports networking event this evening in New York City. "The first DTM project in the 1980s spotlighted the historic 1916 Van Buren sisters ride across the country and garnered much media attention. Throughout the 1990s and on till today, the big brands have dedicated increasing amounts of attention to the women's market, and we've simply seen more and more positive imagery on TV, in movies and in many mainstream settings where women on motorcycles are just having fun."
The 2018 owner survey also found that women motorcycle owners spend, on average, $574 a year on tires, routine repairs, maintenance, replacement parts, and accessories and modifying equipment, compared with $497 by men.
"We've seen particularly strong growth in the aftermarket sector for women," said Cinnamon Kernes, newly appointed vice president and general manager of MIC Events and the American International Motorcycle Expo presented by Nationwide, the largest powersports trade and consumer show in North America. "Over the past decade, more women are designing riding gear and other products specifically for female riders, working in major companies or creating their own brands. Having gear designed for women by women was a huge step and has certainly helped encourage female ridership."
The Women in Powersports gathering today will be at the Manhattan showroom and factory of Breaking Hearts & Burning Rubber, a company owned and operated by women producing motorcycle gear and apparel for women.
Motorcycling has grown in popularity and acceptance in American culture in recent decades, which is reflected in the survey. It found that 66 percent of women motorcycle owners say their family and friends would have a positive attitude toward motorcycles and scooters.
Additional data on women riders, and all riders, from the MIC's 2018 Motorcycle/ATV Owner Survey, will be spotlighted and discussed at tonight's Women in Powersports event and at the Progressive International Motorcycle Show this weekend at the Jacob K. Javits Convention Center in Manhattan.
The Motorcycle Industry Council exists to preserve, protect and promote motorcycling through government relations, communications and media relations, statistics and research, aftermarket programs, development of data communications standards, activities surrounding technical and regulatory issues, and the American International Motorcycle Expo. As a not-for-profit, national industry association, the MIC seeks to support motorcyclists by representing manufacturers, distributors, dealers and retailers of motorcycles, scooters, ATVs, ROVs, motorcycle/ATV/ROV parts, accessories and related goods and services, and members of allied trades such as insurance, finance and investment companies, media companies and consultants.
The MIC is headquartered in Irvine, Calif., with a government relations office in metropolitan Washington, D.C. First called the MIC in 1970, the organization has been in operation since 1914. Visit the MIC at www.mic.org.