South Asia's Largest Security and Surveillance Congregation 'IFSEC India' Expo Gets Underway in the Capital Today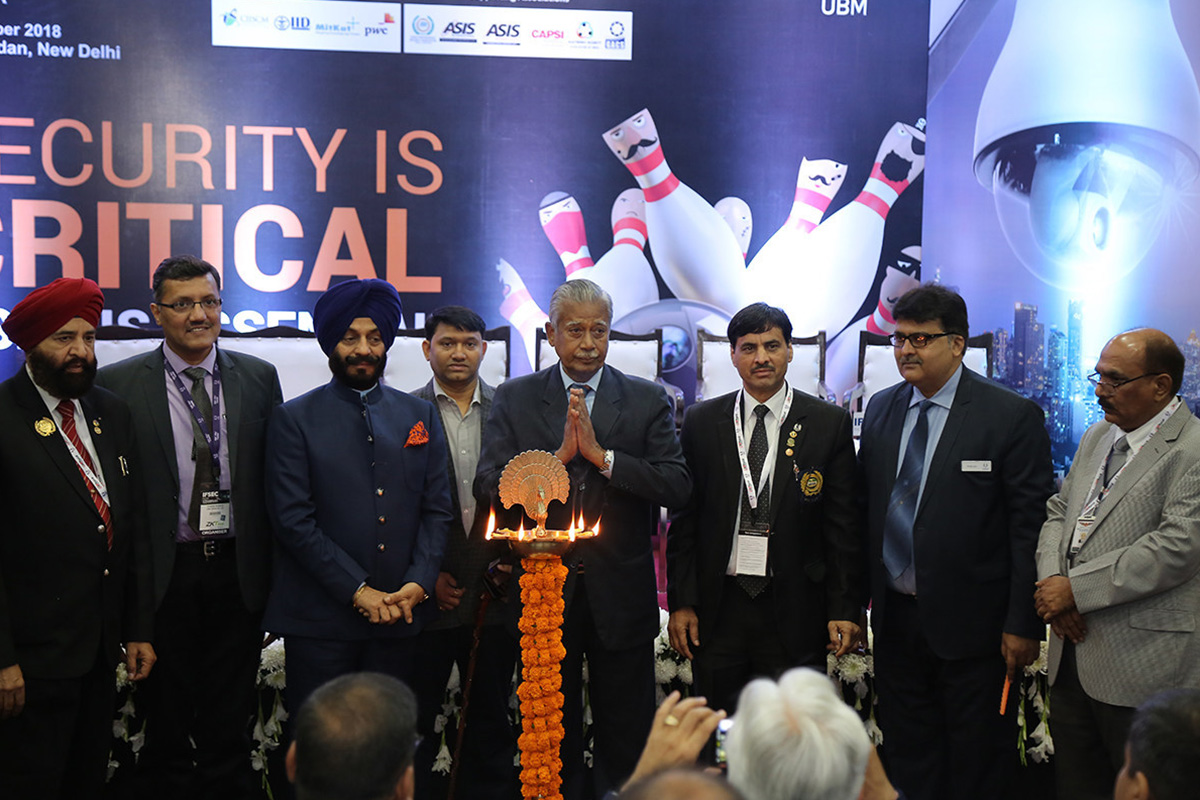 Reading Time:
5
minutes
Over 350 Indian and Global brands mark the 12th edition of the event 
South Asia's

 largest security and surveillance expo by UBM India
20+ participating countries & over 350 brands showcase Smart Security for Emerging India
Launch of two whitepapers – South Asia Risk Review (SARR) 2019 co-branded by Mitkat Advisory and IFSEC India, as well as 'Emerging Trends in Critical Infrastructure Security' by PwC and UBM India
Announcement of the preview edition of IFSEC Bangladesh in 

Dhaka

 from 

April 18th – 20th

 , 2019
Two-day power packed conference on 'Unraveling the Evolution in Security Tech' alongside the exhibition
To witness the third IFSEC India Awards
UBM India today launched the 12th edition of International Fire & Security Exhibition and Conference (IFSEC) India, a three day show, from December 5th – 7th, 2018, at Pragati Maidan, New Delhi. The expo was inaugurated by Chief Guest, Shri Satyendra Jain, Cabinet Minister, Government of NCT Delhi; Guests of Honour, Shri D.R. Karthikeyan, Chairman, Assocham Homeland Security Council; Shri Shiv Charan Yadav, APSA India Chapter; Shri Maninderjit Singh Bitta, Chairman, All India Anti Terrorist Front; Mr. Yogesh Mudras, Managing Director, UBM India and Mr. Pankaj Jain, Group Director, UBM India amidst an august industry gathering.
One of the key announcements made at the inaugural session was that IFSEC, the global brand, is now extending its wings to the SAARC region by launching a preview show in Dhaka, Bangladeshscheduled for April 18th – 20th , 2019.
The show brought together internationally renowned exhibitors from over 20 countries such as UK, USA, China, Taiwan, Malaysia, Australia, Canada, Singapore, Korea, Russia and over 350 domestic and globally renowned brands, key government officials, consultants and business experts under one platform, to discuss global best practices and seek solutions to some of the most pressing challenges in the security and fire domain. It also provided high-impact informative demos and a wealth of opportunities for the visitors to network and learn about cutting-edge technologies, industry trends, challenges, market insights and discover the best solutions to keep their business and clients secured.
Speaking at the inauguration of IFSEC 2018 at New Delhi, Mr. Yogesh Mudras, Managing Director, UBM India said, "Security and surveillance in India is the need of the hour and requires rapid augmentation and innovation amidst industrial, commercial and residential establishments. Also, in the age of smart technology and to match the pace of smart cities, the need for smart security is crucial. UBM India's objective for IFSEC India 2018, is to bring to the forefront this need and in response, the required solution offerings based on novel technology. The expo acts like a medium to the progress and vision of the security industry, as we provide a platform for industry players to collectively ideate, innovate, spot trends and come up with integrated, high-tech solutions that are at once cost effective and easy to implement."
"Next year we are also setting our foot in the SAARC region with the launch of the preview show of IFSEC in Dhaka, Bangladesh considering the potential of the country being one of the world's fastest growing economies between 2016 and 2050, its teeming population and industrial growth. We look forward to the industry's support and encouragement, as we have received over the years," he further added.
IFSEC India showcased products and technologies pertaining to CCTV and surveillance, biometrics and RFID, Integrated Systems, Access Control, GPS Systems, Video Management, Parking Automation, Transport, Perimeter Protection, IoT, Smart Homes, Security and Safe Cities in addition to surveillance for the knowledge of end users and providers. Key global brands and distributors included premier plus partners: Aditya Infotech, Dahua, eSSL, Ezviz, Globus, Hikvision, Mark, Nuctech,Pyronix, Realtime, TVT and Zkteco; Premier Partners such as Axestrack, Biomax, Honeywell, Mantra, Panasonic, Road Point, Seagate, Timewatch, Unique Electrovision, Vantage, and Western Digital, among others.
The expo provided high-impact informative demos and a wealth of opportunities for the visitors to network and learn about new technologies, industry best practices and trends, challenges, market insights and discover the best solutions to keep their business and clients secured. This year, IFSEC India introduced a novel concept with the creation of the Regalia Lounge, an exclusive 5 star lounge that aims to encourage vital interactions between key exhibitors and big ticket buyers on a 'By Invitation Only' basis.
Day 1 of the expo saw the unveiling of the white paper report on South Asia Risk Review (SARR) 2019co-branded by Mitkat Advisory and IFSEC India. With the South Asian region rapidly becoming an ever-dynamic and geo-politically sensitive region for India and the business corporations, the SARR intelligently and succinctly presented a wide array of political, socio-economic, societal, legal/ regulatory and environmental risk impacts to businesses of all sizes and complexities, comprehend further analyzing the risks and opportunities that they present to their businesses to de-risk and grow. It is an authoritative guide on the South Asian region which is well received by the industry experts. A white paper report by PWC on 'Emerging Trends in Critical Infrastructure Security' was also released on the sidelines of the show. The reports will bridge the knowledge gap as well as serve as the authority in this domain for industry professionals.
A major highlight of the expo is the two-day power packed conference themed 'Unravelling the Evolution in Security Tech'. Security in India is continuing to be an onerous task; to address this, IFSEC India 2018 proactively deciphered relevant insights on the global security market as well as latest technology such as aerial vehicles and drones. Day 1 of the conference was marked by eminent industry personalities including who discussed trending topics such as – 'Crime in Metro' ; 'Technology-Enabled Disruptions' ; 'Emerging Paradigms in Security Architecture' ; 'The Threat of Cyber Attacks on Security & Surveillance Systems' ; panel discussions on 'Corporate Risk Management: Evolving role of CSOs in an era of rapid innovations and disruptions' and 'Managing Regulatory Compliance Requirements Related to Corporate Security' and some presentations. Day 2 will see a keynote session on 'Future Ready Leaders' and sessions on 'Security Domain – Standardization Perspective'; 'Impact of Terrorism on the Economy'; 'The Evolving Role of a CSO in Crisis Management and in Ensuring Business Continuity'; 'Indoor Positioning Systems for Safety, Security and Productivity'; 'Use of Block Chain in Security and Surveillance'; panel discussions on 'How AI & IoT Add Value to Video Surveillance Systems' and 'How Drones and Unmanned Aerial Vehicles Can be Effectively Used to Enforce Homeland Security' to name a few.
The expo is supported by the Associated Chambers of Commerce and Industry of India (ASSOCHAM), Asian Professional Security Association (APSA), American Society for Industrial Security (ASIS), Electronic Security Association of India (ESAI), Central Association of Private Security Industry (CAPSI), Overseas Security Advisory Council (OSAC), Mitkat Advisory, SECONA, CIISCM, GACS among others and with 'Security Update' and 'Security Today' as the official media partners,
The evening of Day 1 will also witness the 3rd edition of the IFSEC India Awards. With the impressive growth of the Electronic Security Industry in India, the awards have been crafted to specially get the minds behind electronic security in various industry verticals like BFSI, retail, manufacturing, energy, healthcare, PSUs, IT & ITES and infrastructure in the limelight. The awards will recognize the excellence and innovations of CSOs & security officers who continuously work behind the scenes to ensure robust security. The process advisors for the IFSEC India Awards will be Ernst and Young.
IFSEC India owes its rich legacy to the 40-year-old IFSEC Global and success to the way the Indian edition has modified itself to suit the specific needs of this region. Recommended by industry experts as the pre-eminent authority on the global security and fire industry, the expo has nudged the industry on the path to a completely secure, smart and digitally enhanced world.
About IFSEC India 2018:
The 12th edition of IFSEC India will be organised by UBM, which in June 2018 combined with Informa PLC to become a leading B2B information services group and the largest B2B Events organiser in the world. Please visit https://www.ifsec.events/india/ for more information and http://www.ubm.com/global-reach/ubm-asia for our presence in Asia.
About UBM Asia:
UBM Asia recently became part of Informa PLC, a leading B2B information services group and the largest B2B Events organiser in the world. Please visit http://www.ubm.com/asia for more information about our presence in Asia.
Excitech to Deliver Common Data Environment to Heathrow Airport Limited
Reading Time:
2
minutes
Excitech, the UK leader in technology and services for the construction sector, has been awarded a 7-year framework agreement to lead a consortium comprising GroupBC and Autodesk technologies to deliver Heathrow Airport Limited's chosen Common Data Environment (CDE) solution.
The CDE is at the heart of Heathrow's Information Management strategy.  It will be its primary common information repository and allow for specific controls to be put in place to share information in a controlled manner with suppliers and across Heathrow Departments. It will provide world-class information and asset management in line with emerging industry-standards, ensuring the efficient whole-life management of Heathrow's critical assets.
David Hughes, Excitech's managing director said, "Having worked on the Terminal 5 construction project we are excited to be involved in this latest strategic project at Heathrow.  The Autodesk and GroupBC technologies being deployed are market-leading and will enable Heathrow to trust the data they hold and have the confidence to make decisions based on 'one version of the truth."
The project is already underway and is expected to be complete by December 2020.  It will see the deployment of Autodesk's BIM 360 visualisation and design tools integrated and underpinned with management and governance from GroupBC's Enterprise CDE.
Jo Ellman Brown, PMO Director at Heathrow said, "We are aiming to be the first airport operator in the world who can leverage value from our digital assets, allowing our people to work in a safe environment, design and plan in a collaborative way, and operate a fully integrated asset system.  With a long-established relationship with Excitech, we're delighted they were the successful bidder on this project.  We anticipate that the solution they have proposed will significantly improve the management of our critical assets."
As well as enabling Heathrow to have accurate and up to date information readily available in the CDE, the new solution will result in fewer surveys and reduced costs as a result of earlier and greater collaboration across all parties.  In addition, maintenance costs will reduce through better, earlier clash detection and more accurate maintenance information being readily available.
Polystar's Enhanced 5G Core Network Testing Capabilities Help CSPS on Road to Commercial Deployment
Reading Time:
2
minutes
Polystar, a leading supplier of Customer Experience Management, Network Monitoring and test solutions for the telecom industry today announced that Solver, its advanced virtual test solution for mobile networks, has been enhanced with support for the N2 interface, allowing end-to-end testing of the new 5G core network. This strengthens Solver's current 5G test capabilities, such as support for testing 5G SBA and virtualised CUPS architectures.
Ensuring that the first 5G networks are delivered on time, on budget, and, crucially, with the correct functionality is a complex process. To meet these challenges and to ensure that networks perform as expected requires rigorous testing. Polystar's award-winning Solver solution has been enhanced with new 5G features that enable mobile network operators to validate 5G performance as part of their release and deployment schedules. It is already in action, testing key functionality in new 5G deployments.
The first step in testing such deployments is to validate 5G core functionality. Specifically, mobile network operators and their equipment vendors must test the N2 interface, which connects the access node (NG-RAN gNodeB) and the Access and Mobility Management Function (AMF) in the core. This is the primary path for the transmission of signalling, connection, contextual and other information from the RAN to the core. Solver is used to generate test messages across the N2 interface, validating connectivity and the correct flow of information.
"This is an important milestone along the road to commercial availability of 5G networks and a pioneering step for Solver," commented Thomas Nilsson, CTO of Polystar. "Solver is helping mobile network operators prove the operational effectiveness of their 5G investments, ensuring that they meet challenging performance and launch demands."
The next step is to test voice and data services from the 5G-NR RAN to demonstrate that live users can access the full capabilities offered by 5G. Polystar's Solver solution is already equipped with the necessary adaptations for 5G and will play a key role in this and other deployments.
"At Mobile World Congress, we'll hear a great deal about new 5G deployments," adds Mr Nilsson. "The success of these will depend on their full verification and validation. Solver provides these capabilities and is a key asset for mobile network operators as they seek to capitalise on their 5G investments."
SOURCE Polystar
Nielsen Launches SMARTSTORE in Hong Kong
Reading Time:
2
minutes
Nielsen has added a new product solution to their Shopper toolkit – a creative and unique solution for retailers and manufacturers globally, helping them get closer to shopper behaviour at the moment of truth and uncover What's Next.
The solution helps retailers measure, evaluate and optimise a range of retail concepts on sales and profit, based on how target shoppers react at the moment of truth, in any store format. It helps measure the effectiveness of Point of Sale Merchandise (POSM) based on what shoppers "See, Think and Do".
SMARTSTORE is designed to radically transform how the industry conducts shopper research today by creating a remarkably realistic and immersive simulation of a 3D, 360 total store environment. Testing in a virtual environment eliminates the unnecessary risk of trial-and-error execution because things can be perfected thus providing retailers with cost, time and flexibility.
Sue Temple, VP Global Product Development, Nielsen Consumer Insights Division says, "This solution has been put together using the latest virtual reality technology available and adapting it to create a unique, fully immersive shopper research and merchandising solution.  We have partnered with our clients through our SMARTSTORE development process in pilot projects over the last several months to make sure it meets their needs as we bring SMARTSTORE to life. We have launched it in 12 markets in 2018 and are excited with today's launch and hope this would drive greater insights into shopper behaviours at the moment of truth and build collaborative partnership between retailers and manufacturers in Hong Kong."
SMARTSTORE builds a live environment, creating multiple scenarios helping in comprehensive analytics of shopper experience (track shopper head, eye and feet movements, 3D heat maps, etc). This also drives affordable research costs for retailers through the "Attention, Appeal, Action" framework thus building confidence in commercial results and measurable ROI on research investment.
"The challenging market environment has spurred changes to consumer shopping mindset and behavior. With shoppers spending more rationally, in-store execution and shopper activation take center stage. It is essential that manufacturers and brand owners understand the behavior and priorities of in-store shoppers in order to lure them with the right offerings," said Michael Lee, Managing Director, Nielsen Hong Kong & Macau. "The introduction of SMARTSTORE is a testimony to our innovation capabilities, a cutting-edge solution that enables our clients to project results close to the reality and make the right preparations to win over the market shares. We are very pleased to launch SMARTSTORE, one of our continuous commitments and investments, to kick off Nielsen Hong Kong's 50th anniversary celebration."
SOURCE Nielsen