South Asia's Largest Security and Surveillance Congregation 'IFSEC India' Expo Gets Underway in the Capital Today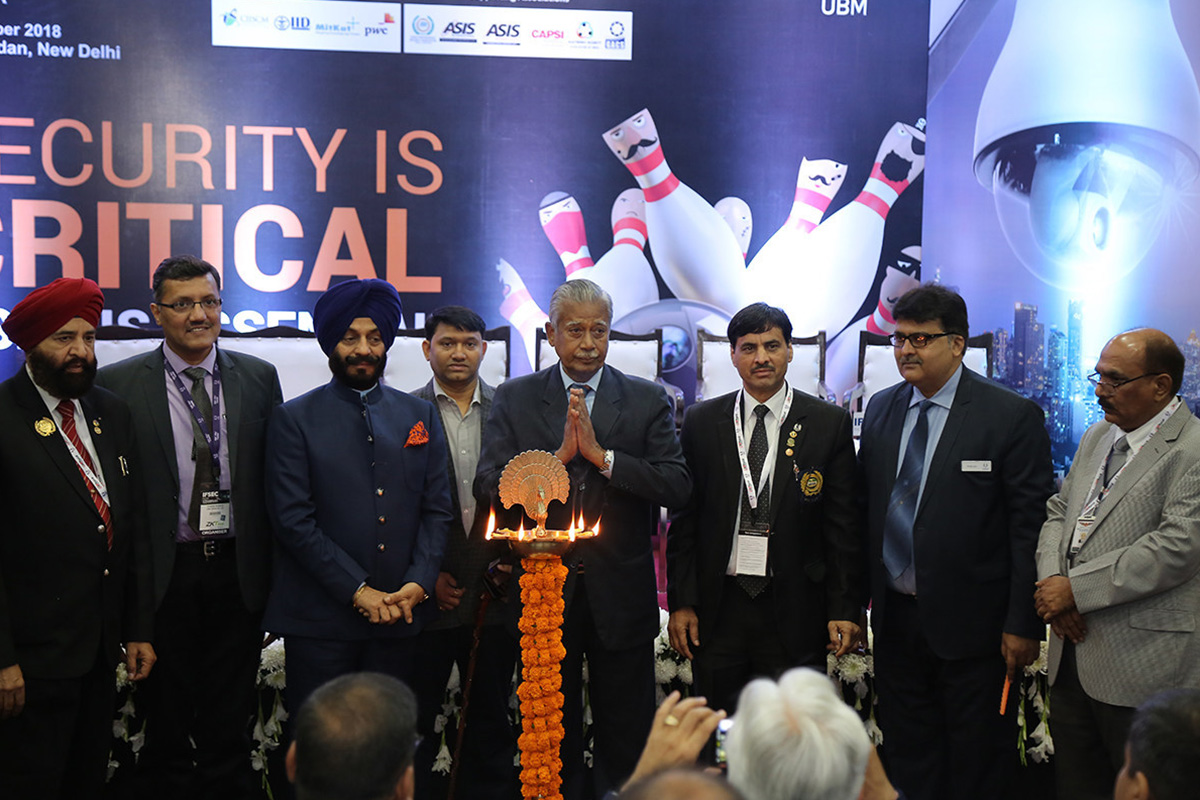 Reading Time:
5
minutes
Over 350 Indian and Global brands mark the 12th edition of the event 
South Asia's

 largest security and surveillance expo by UBM India
20+ participating countries & over 350 brands showcase Smart Security for Emerging India
Launch of two whitepapers – South Asia Risk Review (SARR) 2019 co-branded by Mitkat Advisory and IFSEC India, as well as 'Emerging Trends in Critical Infrastructure Security' by PwC and UBM India
Announcement of the preview edition of IFSEC Bangladesh in 

Dhaka

 from 

April 18th – 20th

 , 2019
Two-day power packed conference on 'Unraveling the Evolution in Security Tech' alongside the exhibition
To witness the third IFSEC India Awards
UBM India today launched the 12th edition of International Fire & Security Exhibition and Conference (IFSEC) India, a three day show, from December 5th – 7th, 2018, at Pragati Maidan, New Delhi. The expo was inaugurated by Chief Guest, Shri Satyendra Jain, Cabinet Minister, Government of NCT Delhi; Guests of Honour, Shri D.R. Karthikeyan, Chairman, Assocham Homeland Security Council; Shri Shiv Charan Yadav, APSA India Chapter; Shri Maninderjit Singh Bitta, Chairman, All India Anti Terrorist Front; Mr. Yogesh Mudras, Managing Director, UBM India and Mr. Pankaj Jain, Group Director, UBM India amidst an august industry gathering.
One of the key announcements made at the inaugural session was that IFSEC, the global brand, is now extending its wings to the SAARC region by launching a preview show in Dhaka, Bangladeshscheduled for April 18th – 20th , 2019.
The show brought together internationally renowned exhibitors from over 20 countries such as UK, USA, China, Taiwan, Malaysia, Australia, Canada, Singapore, Korea, Russia and over 350 domestic and globally renowned brands, key government officials, consultants and business experts under one platform, to discuss global best practices and seek solutions to some of the most pressing challenges in the security and fire domain. It also provided high-impact informative demos and a wealth of opportunities for the visitors to network and learn about cutting-edge technologies, industry trends, challenges, market insights and discover the best solutions to keep their business and clients secured.
Speaking at the inauguration of IFSEC 2018 at New Delhi, Mr. Yogesh Mudras, Managing Director, UBM India said, "Security and surveillance in India is the need of the hour and requires rapid augmentation and innovation amidst industrial, commercial and residential establishments. Also, in the age of smart technology and to match the pace of smart cities, the need for smart security is crucial. UBM India's objective for IFSEC India 2018, is to bring to the forefront this need and in response, the required solution offerings based on novel technology. The expo acts like a medium to the progress and vision of the security industry, as we provide a platform for industry players to collectively ideate, innovate, spot trends and come up with integrated, high-tech solutions that are at once cost effective and easy to implement."
"Next year we are also setting our foot in the SAARC region with the launch of the preview show of IFSEC in Dhaka, Bangladesh considering the potential of the country being one of the world's fastest growing economies between 2016 and 2050, its teeming population and industrial growth. We look forward to the industry's support and encouragement, as we have received over the years," he further added.
IFSEC India showcased products and technologies pertaining to CCTV and surveillance, biometrics and RFID, Integrated Systems, Access Control, GPS Systems, Video Management, Parking Automation, Transport, Perimeter Protection, IoT, Smart Homes, Security and Safe Cities in addition to surveillance for the knowledge of end users and providers. Key global brands and distributors included premier plus partners: Aditya Infotech, Dahua, eSSL, Ezviz, Globus, Hikvision, Mark, Nuctech,Pyronix, Realtime, TVT and Zkteco; Premier Partners such as Axestrack, Biomax, Honeywell, Mantra, Panasonic, Road Point, Seagate, Timewatch, Unique Electrovision, Vantage, and Western Digital, among others.
The expo provided high-impact informative demos and a wealth of opportunities for the visitors to network and learn about new technologies, industry best practices and trends, challenges, market insights and discover the best solutions to keep their business and clients secured. This year, IFSEC India introduced a novel concept with the creation of the Regalia Lounge, an exclusive 5 star lounge that aims to encourage vital interactions between key exhibitors and big ticket buyers on a 'By Invitation Only' basis.
Day 1 of the expo saw the unveiling of the white paper report on South Asia Risk Review (SARR) 2019co-branded by Mitkat Advisory and IFSEC India. With the South Asian region rapidly becoming an ever-dynamic and geo-politically sensitive region for India and the business corporations, the SARR intelligently and succinctly presented a wide array of political, socio-economic, societal, legal/ regulatory and environmental risk impacts to businesses of all sizes and complexities, comprehend further analyzing the risks and opportunities that they present to their businesses to de-risk and grow. It is an authoritative guide on the South Asian region which is well received by the industry experts. A white paper report by PWC on 'Emerging Trends in Critical Infrastructure Security' was also released on the sidelines of the show. The reports will bridge the knowledge gap as well as serve as the authority in this domain for industry professionals.
A major highlight of the expo is the two-day power packed conference themed 'Unravelling the Evolution in Security Tech'. Security in India is continuing to be an onerous task; to address this, IFSEC India 2018 proactively deciphered relevant insights on the global security market as well as latest technology such as aerial vehicles and drones. Day 1 of the conference was marked by eminent industry personalities including who discussed trending topics such as – 'Crime in Metro' ; 'Technology-Enabled Disruptions' ; 'Emerging Paradigms in Security Architecture' ; 'The Threat of Cyber Attacks on Security & Surveillance Systems' ; panel discussions on 'Corporate Risk Management: Evolving role of CSOs in an era of rapid innovations and disruptions' and 'Managing Regulatory Compliance Requirements Related to Corporate Security' and some presentations. Day 2 will see a keynote session on 'Future Ready Leaders' and sessions on 'Security Domain – Standardization Perspective'; 'Impact of Terrorism on the Economy'; 'The Evolving Role of a CSO in Crisis Management and in Ensuring Business Continuity'; 'Indoor Positioning Systems for Safety, Security and Productivity'; 'Use of Block Chain in Security and Surveillance'; panel discussions on 'How AI & IoT Add Value to Video Surveillance Systems' and 'How Drones and Unmanned Aerial Vehicles Can be Effectively Used to Enforce Homeland Security' to name a few.
The expo is supported by the Associated Chambers of Commerce and Industry of India (ASSOCHAM), Asian Professional Security Association (APSA), American Society for Industrial Security (ASIS), Electronic Security Association of India (ESAI), Central Association of Private Security Industry (CAPSI), Overseas Security Advisory Council (OSAC), Mitkat Advisory, SECONA, CIISCM, GACS among others and with 'Security Update' and 'Security Today' as the official media partners,
The evening of Day 1 will also witness the 3rd edition of the IFSEC India Awards. With the impressive growth of the Electronic Security Industry in India, the awards have been crafted to specially get the minds behind electronic security in various industry verticals like BFSI, retail, manufacturing, energy, healthcare, PSUs, IT & ITES and infrastructure in the limelight. The awards will recognize the excellence and innovations of CSOs & security officers who continuously work behind the scenes to ensure robust security. The process advisors for the IFSEC India Awards will be Ernst and Young.
IFSEC India owes its rich legacy to the 40-year-old IFSEC Global and success to the way the Indian edition has modified itself to suit the specific needs of this region. Recommended by industry experts as the pre-eminent authority on the global security and fire industry, the expo has nudged the industry on the path to a completely secure, smart and digitally enhanced world.
About IFSEC India 2018:
The 12th edition of IFSEC India will be organised by UBM, which in June 2018 combined with Informa PLC to become a leading B2B information services group and the largest B2B Events organiser in the world. Please visit https://www.ifsec.events/india/ for more information and http://www.ubm.com/global-reach/ubm-asia for our presence in Asia.
About UBM Asia:
UBM Asia recently became part of Informa PLC, a leading B2B information services group and the largest B2B Events organiser in the world. Please visit http://www.ubm.com/asia for more information about our presence in Asia.
Yara and IBM join forces to transform the future of farming
Reading Time:
3
minutes
Yara and IBM will combine world-class agronomy and cutting-edge technology to develop the world's leading global digital farming platform.
Yara International (OSE: YAR), a global leader in crop nutrition, and IBM (NYSE: IBM), today announced an agreement to build the world's leading digital farming platform, providing holistic digital services and instant agronomic advice.
Yara and IBM Services will jointly innovate and commercialize digital agricultural solutions that will help increase global food production by drawing on the two companies' complementary capabilities: Yara's unrivalled agronomic knowledge, backed by more than 800 agronomists and a century of experience, and IBM's digital platforms, services and expertise in artificial intelligence (AI) and data analytics.
"Our collaboration centers around a common goal to make a real difference in agriculture. To be able to responsibly feed a growing population, it is critical that farmers increase food production on existing farmland to avoid deforestation. Yara and IBM will develop digital solutions that empower professional and smallholder farmers to optimize farming practices to increase yields, crop quality and incomes in a sustainable way," said Terje Knutsen, EVP Sales and Marketing in Yara.
The joint global digital farming platform will apply artificial intelligence, machine learning and in-field data to unlock new insights for farmers. The digital platform will have worldwide coverage and aspires to reach 100 million hectares of farmland – which is equivalent to twice the size of Spain or close to 7 percent of all arable land worldwide* including millions of smallholder farms.
"As demand for food rises along with the world's population, the digital farming platform will play a key role in increasing global farming yields in a sustainable way. The collaboration is a perfect symbiosis of IBM's capabilities in AI, big data management and blockchain technology and Yara's agronomic knowledge, farmer-centric digital innovation, and proven track record in improving farming across the globe," said Luq Niazi, IBM Global Managing Director Consumer Industries.
As a first step, Yara and IBM will establish joint innovation teams, collaborating at digital hubs in Europe, Singapore, the US and Brazil. The teams will work closely with IBM researchers to develop new capabilities, such as visual analytics and machine learning techniques for crop insights. The first services are planned for end 2019.

Advancing the digital frontier of farming
The Yara/IBM partnership will focus on all aspects of farm optimization. One specific area of collaboration will be weather data. The ability to respond optimally to weather conditions is critical for farming. By merging analytical insights from IBM's Watson Studio, IBM PAIRS technology, The Weather Company and other services, with Yara's unrivaled crop knowledge and modelling capabilities, the joint platform will not only provide hyperlocal weather forecasts but will in addition give real-time actionable recommendations, tailored to the specific needs of individual fields/crops.
As the joint digital farming platform expands, the teams will explore innovative business solutions to integrate the joint platform into the IBM Food Trust, IBM's blockchain-enabled network of food chain players. This will allow for greater traceability and supply chain efficiency as well as ways to tackle food fraud, food waste and sustainability. It will firmly link the farm into the full food chain, creating a holistic approach to food production from farm to plate.
The contract was signed in April 2019.
*World Bank, FAO.
SOURCE: IBM
Sono Motors to Produce Sion in Sweden
Reading Time:
2
minutes
The first series production solar electric vehicle (SEV) developed by the German mobility provider Sono Motors is to be manufactured in Sweden. As Sono Motors officially announced today, the first generation of the Sion will be produced in Trollhättan by National Electric Vehicle Sweden (NEVS). The plant located there was home to the production lines of the long-standing and innovative automobile manufacturer SAAB. In total, an initial 260,000 vehicles will roll off the production line in Trollhättan over an eight-year period. Production will commence in the second half of 2020. After the ramp-up period, approximately 43,000 Sion a year will be manufactured in two-shift operations. Production will be carried out using one hundred percent renewable energy.
"In NEVS, we found the perfect partner for us," says Thomas Hausch, Chief Operating Officer, Sono Motors. "Together, we share a vision of intelligent and resource-conserving mobility. We also value our partner's specific expertise based on their many years of experience in traditional automobile development and production in combination with proven expertise in the area of electromobility."
The innovative vehicle concept of the Sion already represents tomorrow's mobility today – the aim of which needs to be the reduction of vehicles on the roads through more sustainable and more efficient usage. The Sion will therefore be equipped ex works with integrated sharing options. These enable the owner to share the vehicle itself, individual journeys, or even energy via a mobile application (goSono app), developed by Sono Motors. A bidirectional charging function enables the Sion to both receive and supply electricity, power electrical devices independently, and feed energy to other vehicles or into the electricity grid. Thanks to full-surface solar integration, the vehicle battery can be charged with pure and free solar energy worth up to 34 kilometers' range per day in addition to its regular WLTP range of 255 kilometers.
For its market launch, the Sion will be rolled out in one single variant version costing 25,500 euros. There are plans afoot to develop other vehicle models based on the vehicle's platform.
Since the presentation of the prototypes in summer 2017, the Sono Motors team has been going on test drive road shows all over Europe. On the occasion of the cooperation with NEVS, the next road show will take place in Sweden. Sono Motors has so far taken approximately 9,800 partially paid preorders for the Sion.
SOURCE Sono Motors GmbH
New Research Identifies the Technology That Hotel Guests Really Want
Reading Time:
3
minutes
Research conducted by leading travel technology firm Criton reveals the importance of hotel technology to improve the experience of today's travellers
Dependence on mobile phones when travelling is brought into sharp focus by a survey of more than 3,600 travellers which reveals a growing appreciation for bespoke travel apps. Research commissioned by Edinburgh-based hospitality firm Criton, highlights that loyalty programmes, self-check-in/out and accessing your hotel room via a digital door key are primary requirements of today's guests.
 The findings highlight crucial information for all hoteliers, with guests' smartphones now recognised as an essential tool for delivering and improving their travel experience. With 45% of respondents travelling for leisure more than four times a year, findings showed that 62% of respondents regularly use an accommodation app, with the figure increasing to 67% amongst business travellers.
If their favourite hotel was to have its own app, 74% of respondents overwhelmingly stated they would use this digital channel, with only 10% favouring an in-room device such as a hotel's smartphone or tablet. This reinforces Criton's core belief that the future of hotel technology is own device. Hoteliers no longer need to absorb the cost of installing in-room devices when their guests travel with their own smartphone and are more comfortable with the apps and content within it.
The opportunity to check-in via an app and access their hotel room via a digital door key was warmly received with 58% likely or very likely to want this technology. With 68% finding it unacceptable to queue at reception for longer than five minutes, offering guests access to a service which global chains already offer is fast becoming a core priority for independent operators.
Respondents prioritised loyalty programmes as their favoured element of hotel technology with 53% recognising it as their top requirement. In a competitive landscape, the opportunity to drive direct and repeat bookings through a personalised loyalty programme will ensure hoteliers save on OTA commission while creating their own closed marketing group to upsell onsite services and facilities.
Underlining modern travellers' awareness of technology, the survey found an audience ready to talk about tech use and expectations while travelling. Reflecting on the results of the survey, Julie Grieve, founder and CEO of Criton, which developed the UK's first intuitive app builder for the hospitality sector, said:
"Increasingly, today's travellers are downloading apps that help them get around and stay connected with their hotel. That level of tech awareness or even dependency also raises expectations for information, guest services, such as check-in, digital key and offers and incentives to reward their loyalty.
"Respondents to the survey were people who travel regularly, with the majority opting for a mid-range hotel or accommodation. It is increasingly clear that adopting technology has to be seen as an imperative for all hospitality providers; it is not something purely for the major franchises."
Criton lets independent operators compete with big chain technology through an easy to use platform. From digitising the traditional hotel room guest book to PMS, live chat, digital door key and in-room ordering integrations all contained within a fully-branded hotel app; Criton supports hospitality businesses with their digital transformation strategies and work with clients across the UK and overseas.
Research Methodology:
An online survey ran from Tuesday 26th March until Monday 1st April and received a total of 3,654 responses, of whom 1,311 were classed as business travellers.
Key Findings:
45% of travellers stated they travel for leisure 2-3 times a year
36% travel for business
39% use TripAdvisor as main source of research and inspiration before booking a hotel, followed by 29% of respondents relying on online search
40% of travellers said they regularly stay in a 4-star (boutique) hotel, with 6% in a 5-star (luxury) hotel. The majority (47%) stated they regularly stay in a 3-star (mid-range) hotel
53% have at least one hotel app on their phone
74% would use a hotel app if their favourite hotel had one
55% stated it is acceptable to wait at check-in 2-5 minutes
62% would be likely or very likely to check-in to a hotel via an app
58% would be likely or very likely to check-in to a hotel via an app and use digital key
App usage
62% use an accommodation app regularly (eg Airbnb)
57% use a transport app regularly
47% use an airline app regularly
36% uses a hotel app regularly
The hotel technology that respondents seek:
53% – loyalty programmes
35% – self check-in
10% – in-room mobile
18% – in-room tablet
Awards:
Criton won the 'Best Technology Provider' award at the 2018 Travolution Awards and was Highly Commended for Best Use of Mobile
Criton won the 'Industry Breakthrough and Innovation Award' at the ASAP Awards 2018
Julie Grieve, Founder & CEO won the prestigious 'HOSPACE 2017 Best Entrepreneur Award'
SOURCE: Criton