TAL Attends GES2018 to Explore Future Education Frontiers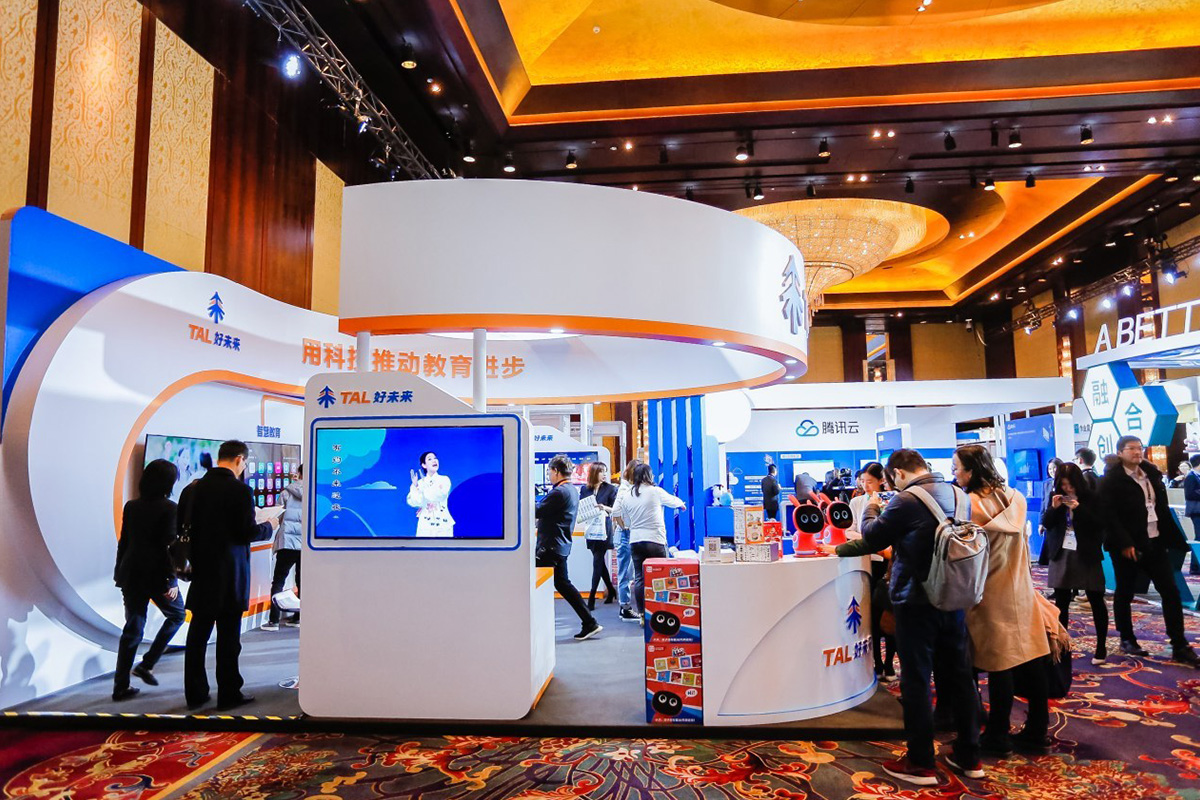 Reading Time:
4
minutes
On December 3rd, GES2018 began in Beijing. Over 800 distinguished guests from the global education community gathered at the summit to discuss the future trends of global education. The summit was held under the direct guidance of the Development Research Center of the State Council and Ministry of Education, and co-sponsored by China Development Research Foundation, Beijing Normal University, Tencent, GSV, XDF, TAL and also academically supported by ASU.
As one of the sponsors of the summit, TAL attended the meeting with its various business departments. On the first day, Bai Yunfeng, co-founder and president of TAL, attended the summit and made a keynote speech. Moreover, heads of different business systems of TAL also participated in the high level discussions, panel discussions, and product exhibitions, fully demonstrating multi-dimensional thinking and exploration of education.
Education is the permanent commitment of TAL
In the first morning of the summit, Bai Yunfeng gave a speech on the theme "Education is our permanent commitment."
In the speech, he reviewed some milestones that have influenced at least one generation of Chinese students, including the resumption of college entrance examinations in 1977, the initiation of Project Hope in 1989, and the enlargement of the college enrollment scale in 1999. Bai believes that the evolving needs of 1.3 billion Chinese people are the primary driving force for scholastic progress. The basic education in China has transformed from teaching-focused to character-building-focused and future-oriented. The goal of education is to grow the children into caring and trustworthy citizens with integrity, and help them obtain the abilities that will bring a lifetime of happiness. The evolving outlook of Chinese families is the ultimate driving force behind educational innovation.
When speaking of education technology, Bai introduced that TAL has been studying the science of learning since its establishment with the goal of realizing personalized teaching and equal access to education, and equipping students with a scientific learning approach. TAL now has 5,000 employees working in such areas as products, technology and teaching method research. It invests over 1 billion yuan in science and technology and R&D every year, and has set up joint labs with six top universities worldwide.
Bai also talked about TAL's involvement in public welfare. The "Same Class", TAL's project supporting rural schools, has done 181,944 hours of voluntary work, covered nearly 50,000 kilometers and offered help to 38 schools in 11 provinces. TAL is also actively engaged in programs for inclusive education and poverty alleviation that have reached such areas as Jimunai in Xinjiang, Xiong'an New Area in Hebei, Foping in Shaanxi, Wangmo in Guizhou and Daliangshan in Sichuan.
Bai concluded his speech with remarks about Go, the Chinese game of Weiqi. He said, "In the game of Weiqi, every game piece is equal. Similarly, every child is unique, and each one of them deserves respect. Our understanding of the world is very limited, but we will never cease the exploration for the education's future. "
TAL products at GES
As a grand event for the education tech industry, GES set up an exhibition area to showcase accomplishments on that front.
"Hello!" "Yes?" "Where are you from?" "I come from robot planet." At the TAL Pavilion, a robot that can talk with children in English attracted the attention of many. This is a smart robot jointly developed by First Leap, an English learning platform of TAL and ROOBO, the AI solution provider. As introduced by the staff, the robot can choose suitable learning materials based on the assessment of the children's language level and send the AI oral English taught by a foreign teacher, the AI interactive class by a foreign teacher, online reading materials, original English songs and animations. With abundant content and smart interactions, and supported by technologies such as big data capability graph analysis and the algorithm, it is a 24/7 good learning partner for children.
Professor Cheng Fangping at the School of Education, Renmin University of China, has shown strong interest in the teaching aids exhibited by MOBBY under TAL. The music box made by students with teaching aids under the guidance of the teacher was displayed at the exhibition. As the motor and the gear drove the stick to beat the keys in rhythm, the melody "Twinkle, Twinkle Little Star" was played. By making a music box like this, children can have hands on DIY experience and better understand the science of how levers and gears work. Prof. Cheng believes this kind of education represents advanced education philosophy. He also suggested that as an excellent education technology company in China, TAL can integrate Chinese elements such as the nine interlocked rings and Luban Lock (Six-Piece Burr), to help children appreciate traditional Chinese culture while learning.
TAL online-school products "OCR Smart Homework Correction App" and "AI One-on-One Teacher", the signature products at the World Internet Conference in Wuzhen, were exhibited at GES, too. The "OCR Smart Homework Correction App" can efficiently recognize a child's handwriting based on OCR technology and make immediate corrections. The "AI One-on-One Teacher" uses AI technologies such as imbedded facial expression recognition, voice recognition and assessment, to let children be fully immersed in an all-English environment so that they can practice oral English and listening anytime and anywhere they want. These two high-tech products can effectively meet the individualized learning needs of children.
Participating in multiple sections to discuss future education with industrial peers
On the first day of the summit, besides the speech by Bai Yunfeng, Wu Ying, TAL's President for Quality Education Department moderated the roundtable with the theme of "Exploration: current and forthcoming education" where participants exchanged views on that topic. Chen Dinghong, TAL Chief Investment Officer for US, and famous tennis player Andre Agassi also discussed the sports spirit and character building on the theme of "Opportunity comes from education." TAL vice president for Smart Education Group, Wang Luze, moderated the roundtable themed "Public education vs. private education, how can they complement each other?" and talked about integrated development of public and personal education with attending educators.
This session of GES will last for three days. In the following days, TAL co-founder and COO Liu Yachaowill get on the stage with Apple's co-founder Steve Wozniak to discuss how technology and humanity can create new energy through synergy centering on the theme "Education and technology: future symbiosis". Bai Yunfeng will also attend the China-Israel Special Sub-Forum on Education Cooperation to share the thoughts and exploration of TAL on globalization. In addition, head of relevant business lines of TAL will participate in several sub forums to engage in the discussion about the future of education with the rest of the industry.
Under new circumstances with technological innovation, industrial integration and supportive policies, education, one of the most innovative sectors, is releasing huge energy as a growth driver. Chinese education is also transforming and upgrading. TAL has also reinvented itself this year and is unremittingly exploring the nature of education and setting sail again on the new voyage of education development towards the goal of becoming a respected educational institution.
The Rising Global Impression of Manipal's AUA, College of Medicine
Reading Time:
3
minutes
Manipal's American University of Antigua (AUA), College of Medicine is on their mission to execute the promise of addressing the global shortage of physicians. AUA is proclaiming their worldwide presence with each association and partnership.
AUA, the top medical school in the Caribbean has been securing its highest rank among the best medical schools consistently. The medical graduates of AUA are licensed to practice in all the 50 states of the United States of America. And now with agreements with various medical schools and hospitals in other countries, AUA is spreading its wings far and wide enabling the dreams of numerous students aspiring to take up the medical profession.
Recently, an agreement has been signed between American University of Antigua and Warwick Medical School with the purpose of enabling students of AUA's College of Medicine transfer to WMS to finish their medical degree. This partnership between both these prestigious universities aims at nurturing a diverse academic community to propagate global medical health propelled by their promise of delivering nothing but excellence.
Expanding its reach, AUA has entered into a new articulation agreement with Royal Crown College of Business and Technology Inc. to increase the scope for students to fulfil their passion to become physicians. "We are pleased to partner with Royal Crown College and provide their successful students the opportunity to continue their medical education at AUA," said AUA President Neal Simon.
According to the agreement, after the successful completion of the premedical program or prerequisite courses at Royal Crown College, qualified medical students will be eligible to complete their first two years of medical study at AUA in Antigua and Barbuda, and the last two years in AUA's affiliated hospitals in the United States, Canada, United Kingdomand India.
The next recent and proud partnership has been sealed between AUA and Yeovil District Hospital, Great Britain. "Learning from the professors and physicians at Yeovil District Hospital and performing rotations under the talented professionals there provides our students an enhanced clinical experience, as well as the opportunity to study in Great Britain" said AUA President Neal Simon.
This agreement allows qualified AUA students to complete their clinical rotations at Yeovil District Hospital, located in Somerset, England. Upon completion of the program, students will receive a medical degree from AUA, a Yeovil District Hospital graduate certificate program transcript and a Yeovil District Hospital certificate of completion.
A similar agreement was recently signed between AUA and University Hospitals Coventry and Warwickshire NHS Trust.  This agreement too enables qualified AUA students to complete their core and elective clinical rotations at UHCW, Coventry, United Kingdom. Students who successfully complete their clinical rotations from UHCW, and fulfil all other requirements to graduate from AUA, will receive medical degree from AUA, UHCW graduate certificate program transcript and a UHCW certificate of completion.
Further, on Saturday, May 4, and Sunday, May 5, it was a matter of pride for AUA College of Medicine to have hosted the ninth mid-year conference of the Global Association of Physicians of Indian Origin (GAPIO) at AUA's campus. GAPIO is a non-profit organization that is dedicated to empowering physicians of Indian origin providing affordable healthcare, contributing to local and regional community development and helping reduce health inequalities on a global level.
The goal of this collaboration was to gather physicians of Indian origin to initiate connections, share ideas and learn through a singular platform. Sessions on recent developments and advancements in cardiology, the metabolic syndrome like obesity and diabetes, nephrology with a focus on transplants and neurology were an integral part of this conference. The event also included sessions on artificial intelligence in healthcare, Vedic Wisdom – leadership in medicine and reaching the unreached and global opportunities in healthcare.
"The conference is in celebration of India's vital contributions to global healthcare – a matter AUA commemorates," said AUA President Neal Simon. "As a university that strives to advance the field of medicine and shape physicians who come from underrepresented minorities, we are honoured to host the event."
SOURCE Manipal's American University of Antigua (AUA)
New! Salad Bars in Schools!
Reading Time:
3
minutes
Investment Announced at Patriot Elementary as part of a Salad Bar Donation Ceremony and Carrot Variety Taste Test
Bayer is donating salad bars to four schools in the Rosedale Union School District of Bakersfield, California as a strategy to increase children's access and consumption of fresh fruits and vegetables.
The announcement was made during an assembly at Patriot Elementary School, which received a salad bar last year and has experienced success with students selecting fresh produce from the salad bar during their breakfast and lunch service.
The four schools in the Rosedale Union School District receiving new salad bars include:
Almondale Elementary School
American Elementary School
Independence Elementary School
Rosedale North Elementary School
"After implementing a salad bar at one of our schools, and seeing how well the students responded, we look forward to this opportunity to bring salad bars to additional schools in our district," said Dr. John Mendiburu, Superintendent, Rosedale Union School District. "Our students enjoy being able to self-select fruits and vegetables from the salad bar. Anything that encourages our students to make healthy choices is a plus.  And since we're located in a community surrounded by agriculture, it was nice to connect with our local businesses and discuss ways to incorporate locally grown produce on our menu."
As part of the announcement, Bayer arranged a local grower from Grimmway Farms to speak to the audience of more than 50 fourth- and fifth-grade students about how and where carrots are grown, as well as coordinated a carrot variety taste test in which students were able to try several varieties of Grimmway carrots and vote on their favorite.
"Bayer is committed to supporting initiatives that provide children with access to fresh fruits and vegetables, and with kids eating a majority of their daily calories at school, the salad bar makes it easy for them to choose something that's healthy and fresh," said Jennifer Maloney, food chain and sustainability manager, Bayer. "This partnership is also meaningful because with today's salad bar announcement, we're able to collaborate with one of our grower partners and support healthier choices for children in one of our nation's most prolific agricultural communities."
To coordinate the salad bar contributions, Bayer worked with the United Fresh Start Foundation, a nonprofit organization affiliated with the United Fresh Produce Association. As part of the foundation's partnership in the national Salad Bars to Schools initiative, they are working with the produce industry, non-profits and allied businesses to support salad bars to schools across the United States. To-date, Salad Bars to Schools has helped facilitate the donation of salad bars to more than 5,500 schools, benefitting 3 million children in all 50 states. The Bayer salad bar investment supports the national initiative.
The first salad bar donated to the Rosedale Union School District was made possible by the Kern County Chapter of California Women for Agriculture, also in partnership with United Fresh Start Foundation.
Current research indicates that the use of salad bars in schools promotes healthy food choices in school-aged children. With access to a salad bar, students are encouraged to try new items and are empowered to make their own healthy choices now, and in the future. The Salad Bars to Schools initiative aims to help school districts meet USDA school lunch nutrition standards, which require offering students a wide variety of colorful vegetable choices each week, and which promote a healthier lifestyle for students nationwide.
The Bayer commitment to sustainability and agricultural education begins with the people it serves every day. This commitment extends to fighting food insecurity and encouraging healthier food choices for a happier and well-educated community. For additional information and background on Bayer and its other programs, please visit www.bayercropscience.us/our-commitment/bayer-initiatives.
Bayer is committed to bringing new technology and solutions for agriculture and non-agricultural uses. For questions concerning the availability and use of products, contact a local Bayer representative, or visit Crop Science, a division of Bayer, online at www.cropscience.bayer.us.
Visit the Bayer Connect – Social Hub for social media, recent news, blog posts, videos and more from Crop Science, a division of Bayer.
Forward-Looking Statements 
This release may contain forward-looking statements based on current assumptions and forecasts made by Bayer management. Various known and unknown risks, uncertainties and other factors could lead to material differences between the actual future results, financial situation, development or performance of the company and the estimates given here. These factors include those discussed in Bayer's public reports which are available on the Bayer website at www.bayer.com. The company assumes no liability whatsoever to update these forward-looking statements or to conform them to future events or developments.
© 2019 Bayer CropScience LP, 800 North Lindbergh Blvd, 

St. Louis, MO

63167. Always read and follow label instructions. Bayer and the Bayer Cross are registered trademarks of Bayer. Not all products are registered in all states. For additional product information please call toll-free 1-866-99-BAYER (1-866-992-2937) or visit the website at www.CropScience.Bayer.us.
SOURCE: Bayer
Two-Thirds of Digital Experts Would Move Abroad for Work, a Global Study Reveals
Reading Time:
3
minutes
Digital experts are not only among the most in-demand talent in the world, they are some of the most willing to relocate, with two-thirds open to moving to a different country to advance their careers, according to a new study by Boston Consulting Group (BCG) and The Network. The US is the top country destination for digital experts worldwide, and London is their preferred city for a work-abroad assignment, according to the study.
A report based on the study, Decoding Digital Talent, is being released today as part of the ongoing Decoding Global Talent series from BCG (one of the world's leading management consultancies) and The Network (a global alliance of more than 50 leading recruitment websites). As part of the study, BCG and The Network polled 27,000 people in 180 countries with expert-level knowledge in such skills as programming and web development, mobile application development, artificial intelligence, and robotics and engineering.
Digital experts have several things in common. Eighty percent have a college degree, and 68% are men. Contrary to popular wisdom, their top preference is working for a large company, not a startup. Just 9% are in upper management, and 41% work in positions with no management responsibilities.
Subgroups of digital experts have skills in areas where demand is growing significantly and urgently, specifically in agile ways of working (18%) and AI (14%).
On average, 67% of digital experts would relocate for a better career opportunity, but interest varies greatly by country. More than three-quarters of residents in places including India and Brazil would relocate for work, while in countries such as China fewer than one in four would consider such a move. By contrast, only 55% of nonexperts would relocate for work.
Willingness to move is highest for digital experts in developing economies, who would relocate to gain access to better opportunities to advance their careers. "When we dug deeper into the data, we also saw that in many parts of the world people with expert digital skills are most interested in moving to a nearby country or to a place where they share the language or culture," said Rainer Strack, a BCG senior partner and coauthor of the report.
The US and Germany Are Popular Countries for Working Abroad
In addition to the US, other top destinations for digital experts include Germany, Canada, Australia, and the UK. The same five countries are also the most popular destinations worldwide for anyone interested in relocating for work, as determined in the 2018 Decoding Global Talent study.
London, the top city globally for anyone willing to relocate, is also the top work destination for digital experts, whose next choices are New York, Berlin, Amsterdam, and Barcelona. The study's findings make it clear that the appeal of some top-ranked cities exceeds their countries' attractiveness among digital experts.
Digital experts appreciate having an equitable work-life balance and opportunities for learning and training over any other aspects of work, according to the study. Digital experts also put a high value on opportunities for career development, and good relationships with colleagues and managers.
Employers and Countries Must Act to Attract and Retain Digital Experts
Digital experts who can code software or run advanced AI data analytics are a valuable asset. Companies that need digital experts to run or expand a business face stiff competition for talent with those skills. In addition to recruiting, companies can meet their need for digital experts by offering upskilling or reskilling programs to teach current employees needed skills, aligning what they offer with the organization's broader strategies.
Likewise, cities and countries must compete with other areas to recruit or retain the digital experts who could be crucial to their economic development. Undertaking a country- or area-wide strategic workforce plan to map out digital expert supply and demand is the first step toward that effort. Governments should also launch education programs and create a city or national "brand."
"How companies, countries, and individuals will adapt their strategies to the scarcity of digital skills will be crucial for the years to come," said Pierre Antebi, managing director of The Network and a coauthor of the report. "Recruiters are already on the frontline of this battle. Their everyday duty is finding, attracting, and retaining digital experts in their own countries and, more and more, internationally. They need to be more inventive than ever and need data to make the relevant choices. This study and the data in it are particularly dedicated to them."
SOURCE Boston Consulting Group (BCG)