TAL Attends GES2018 to Explore Future Education Frontiers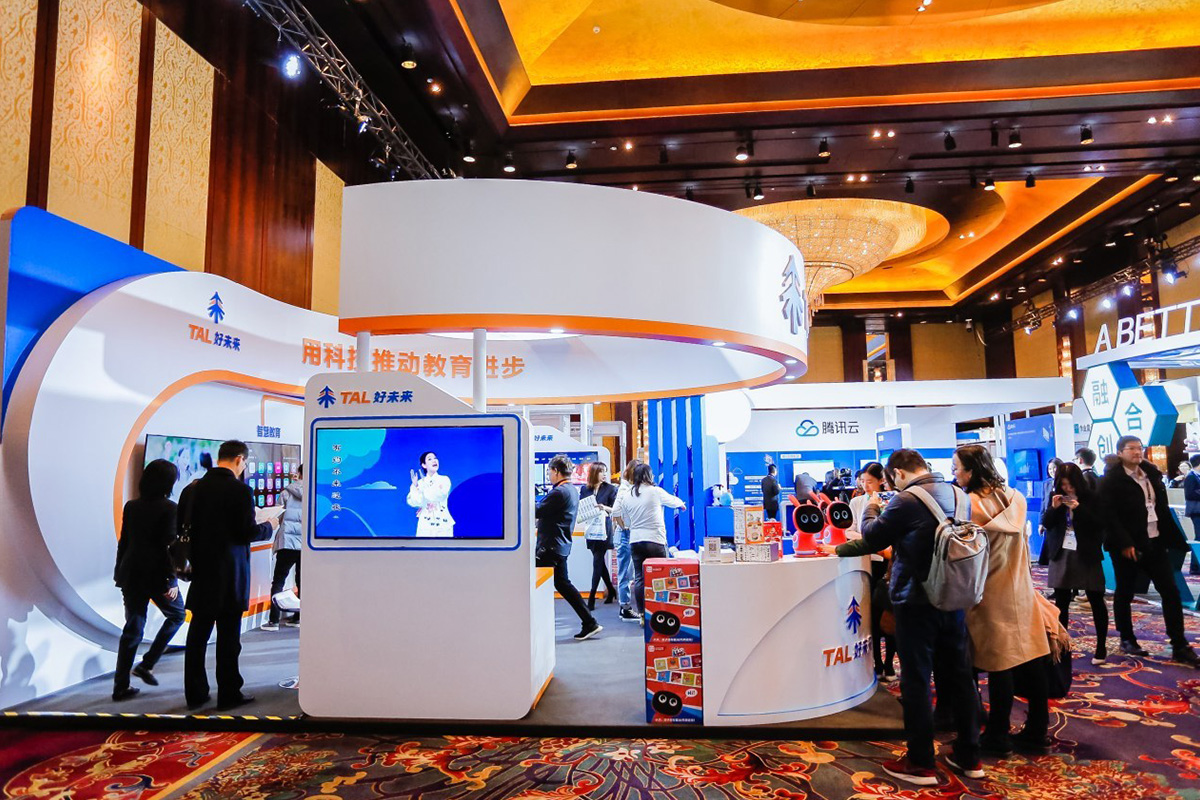 Reading Time:
4
minutes
On December 3rd, GES2018 began in Beijing. Over 800 distinguished guests from the global education community gathered at the summit to discuss the future trends of global education. The summit was held under the direct guidance of the Development Research Center of the State Council and Ministry of Education, and co-sponsored by China Development Research Foundation, Beijing Normal University, Tencent, GSV, XDF, TAL and also academically supported by ASU.
As one of the sponsors of the summit, TAL attended the meeting with its various business departments. On the first day, Bai Yunfeng, co-founder and president of TAL, attended the summit and made a keynote speech. Moreover, heads of different business systems of TAL also participated in the high level discussions, panel discussions, and product exhibitions, fully demonstrating multi-dimensional thinking and exploration of education.
Education is the permanent commitment of TAL
In the first morning of the summit, Bai Yunfeng gave a speech on the theme "Education is our permanent commitment."
In the speech, he reviewed some milestones that have influenced at least one generation of Chinese students, including the resumption of college entrance examinations in 1977, the initiation of Project Hope in 1989, and the enlargement of the college enrollment scale in 1999. Bai believes that the evolving needs of 1.3 billion Chinese people are the primary driving force for scholastic progress. The basic education in China has transformed from teaching-focused to character-building-focused and future-oriented. The goal of education is to grow the children into caring and trustworthy citizens with integrity, and help them obtain the abilities that will bring a lifetime of happiness. The evolving outlook of Chinese families is the ultimate driving force behind educational innovation.
When speaking of education technology, Bai introduced that TAL has been studying the science of learning since its establishment with the goal of realizing personalized teaching and equal access to education, and equipping students with a scientific learning approach. TAL now has 5,000 employees working in such areas as products, technology and teaching method research. It invests over 1 billion yuan in science and technology and R&D every year, and has set up joint labs with six top universities worldwide.
Bai also talked about TAL's involvement in public welfare. The "Same Class", TAL's project supporting rural schools, has done 181,944 hours of voluntary work, covered nearly 50,000 kilometers and offered help to 38 schools in 11 provinces. TAL is also actively engaged in programs for inclusive education and poverty alleviation that have reached such areas as Jimunai in Xinjiang, Xiong'an New Area in Hebei, Foping in Shaanxi, Wangmo in Guizhou and Daliangshan in Sichuan.
Bai concluded his speech with remarks about Go, the Chinese game of Weiqi. He said, "In the game of Weiqi, every game piece is equal. Similarly, every child is unique, and each one of them deserves respect. Our understanding of the world is very limited, but we will never cease the exploration for the education's future. "
TAL products at GES
As a grand event for the education tech industry, GES set up an exhibition area to showcase accomplishments on that front.
"Hello!" "Yes?" "Where are you from?" "I come from robot planet." At the TAL Pavilion, a robot that can talk with children in English attracted the attention of many. This is a smart robot jointly developed by First Leap, an English learning platform of TAL and ROOBO, the AI solution provider. As introduced by the staff, the robot can choose suitable learning materials based on the assessment of the children's language level and send the AI oral English taught by a foreign teacher, the AI interactive class by a foreign teacher, online reading materials, original English songs and animations. With abundant content and smart interactions, and supported by technologies such as big data capability graph analysis and the algorithm, it is a 24/7 good learning partner for children.
Professor Cheng Fangping at the School of Education, Renmin University of China, has shown strong interest in the teaching aids exhibited by MOBBY under TAL. The music box made by students with teaching aids under the guidance of the teacher was displayed at the exhibition. As the motor and the gear drove the stick to beat the keys in rhythm, the melody "Twinkle, Twinkle Little Star" was played. By making a music box like this, children can have hands on DIY experience and better understand the science of how levers and gears work. Prof. Cheng believes this kind of education represents advanced education philosophy. He also suggested that as an excellent education technology company in China, TAL can integrate Chinese elements such as the nine interlocked rings and Luban Lock (Six-Piece Burr), to help children appreciate traditional Chinese culture while learning.
TAL online-school products "OCR Smart Homework Correction App" and "AI One-on-One Teacher", the signature products at the World Internet Conference in Wuzhen, were exhibited at GES, too. The "OCR Smart Homework Correction App" can efficiently recognize a child's handwriting based on OCR technology and make immediate corrections. The "AI One-on-One Teacher" uses AI technologies such as imbedded facial expression recognition, voice recognition and assessment, to let children be fully immersed in an all-English environment so that they can practice oral English and listening anytime and anywhere they want. These two high-tech products can effectively meet the individualized learning needs of children.
Participating in multiple sections to discuss future education with industrial peers
On the first day of the summit, besides the speech by Bai Yunfeng, Wu Ying, TAL's President for Quality Education Department moderated the roundtable with the theme of "Exploration: current and forthcoming education" where participants exchanged views on that topic. Chen Dinghong, TAL Chief Investment Officer for US, and famous tennis player Andre Agassi also discussed the sports spirit and character building on the theme of "Opportunity comes from education." TAL vice president for Smart Education Group, Wang Luze, moderated the roundtable themed "Public education vs. private education, how can they complement each other?" and talked about integrated development of public and personal education with attending educators.
This session of GES will last for three days. In the following days, TAL co-founder and COO Liu Yachaowill get on the stage with Apple's co-founder Steve Wozniak to discuss how technology and humanity can create new energy through synergy centering on the theme "Education and technology: future symbiosis". Bai Yunfeng will also attend the China-Israel Special Sub-Forum on Education Cooperation to share the thoughts and exploration of TAL on globalization. In addition, head of relevant business lines of TAL will participate in several sub forums to engage in the discussion about the future of education with the rest of the industry.
Under new circumstances with technological innovation, industrial integration and supportive policies, education, one of the most innovative sectors, is releasing huge energy as a growth driver. Chinese education is also transforming and upgrading. TAL has also reinvented itself this year and is unremittingly exploring the nature of education and setting sail again on the new voyage of education development towards the goal of becoming a respected educational institution.
University of New Haven Researchers Discover Critical Vulnerabilities in Popular Virtual Reality Application
Reading Time:
2
minutes
A team of researchers at the University of New Haven discovered that Bigscreen, a well-known and popular virtual reality (VR) application, and Unity, the game development platform BigScreen is built on, are vulnerable to hackers. Bigscreen, which describes itself as a "virtual living room," enables users to watch movies, collaborate on projects together and more.
Without users' knowledge and consent – and without tricking users into downloading software or granting access to the computer – University of New Haven researchers were able to:
Turn on user microphones and listen to private conversations
Join any VR room including private rooms
Create a replicating worm that infects users as soon as they enter a room with other VR users
View user computer screens in real time
Send messages on a user's behalf
Download and run programs – including malware – onto user computers
Join users in VR while remaining invisible. This novel attack was termed as a Man-In-The-Room (MITR) attack.
Phish users into downloading fake VR drivers
Click here to view a YouTube proof of concept video summarizing and demonstrating the findings.
"Our research shows hackers are able to monitor people day in and day out – listen to what they are saying and see how they are interacting in virtual reality," said Ibrahim Baggili, founder and co-director of the University of New Haven Cyber Forensics Research and Education Group (https://www.unhcfreg.com). "They can't see you, they can't hear you, but the hacker can hear and see them, like an invisible Peeping Tom. A different layer of privacy has been invaded."
Baggili and his team presented the research findings to Bigscreen and Unity. Bigscreen CEO and Founder Darshan Shankar said Feb. 14 the company has patched the issues. Unity recently added language to its website warning users the platform can be "used to of."
Baggili and his team have not performed tests to determine if vulnerabilities still exist.
The researchers – Baggili, Elder Family Endowed Chair of Computer Science and Cybersecurity and an internationally recognized expert in cybersecurity and digital forensics; master's student Peter Casey; and Martin Vondráček, visiting master's student from Brno University of Technology, recently uncovered the technology vulnerabilities while testing the security of VR systems through a National Science Foundation-funded project. Martin Vondráček then wrapped up the research into a command and control tool to show the severity of the findings. For disclosure details, go to the University of New Haven Forensic Sciences Research & Education Group website: https://www.unhcfreg.com/.
According to Bigscreen, users log up to 20-30 hours a week using the system, with some logging over 1000 hours. TechCrunch reported in 2017 the company had 150,000 users.
Baggili and Casey have uncovered susceptibilities in other popular virtual reality systems – including HTC Vive and Oculus Rift – revealing that hackers could alter the experience of users. Several years ago, Baggili and his team uncovered liabilities in the messaging apps WhatsApp, Viber and others that affected more than 1.5 billion users, garnering significant international media coverage.
Indiannica Learning Organized a Parent Orientation Workshop at Shemford Futuristic School, Sultanpur, UP
Reading Time:
1
minute
Indiannica Learning Private Limited (a subsidiary of Navneet Publication Limited, formerly known as Encyclopaedia Britannica (India) Private Limited) organized a Parent Orientation Workshop at Shemford Futuristic School, Sultanpur, UP on 17th February, 2019. The workshop on 'How to motivate your child to shine like a star?' was conducted by Mr. Saurabh Beniwal, Head – Teacher Empowerment Initiative, Indiannica Learning Pvt. Ltd.
It is Indiannica Learning's mission to enrich learning experiences of all learners and make knowledge accessible to all. To achieve this mission, Indiannica Learning constantly strives to engage with schools, educators, and parents through the platform Engage and Evolve. The workshop by Mr. Beniwal is part of this endeavour.
Speaking about the session Ms. Indrani Maitra, VP – Sales (K-12), Indiannica Learning Private Limited, said, "At Indiannica Learning, we believe that parents are an intrinsic part of a child's learning process. We regularly engage and interact with teachers, parents, and educators across the country to discuss and understand the needs of learners and create learning solutions that cater to their needs. It is our mission to enrich the experiences of every learner and engaging with parents through such workshops is a small contribution by us in this ever changing and challenging field of education."
The workshop was attended by over 1200 parents and teachers.
California's Government in Cybersecurity Education
Reading Time:
2
minutes
California's government provides services that millions of people across the state rely on. Imagine what would happen if those systems fell victim to a cybersecurity attack.
Government officials spend a lot of time thinking about that scenario and are committed to supporting programs and events that help train the next generation of cybersecurity professionals.
One such event, the California Mayors Cyber Cup (CMCC) receives critical support from the California Governor's Office of Business and Economic Development, (GO-Biz), CaliforniaGovernor's Office of Emergency Services(Cal OES) and the California Department of Technology.
The California Mayors Cyber Cup (CMCC), a program of the California Cyberhub, utilizes cyber competitions to spread awareness about cybersecurity and the many career opportunities that exist within that field. CMCC brings Students, parents, teachers, government officials, business leaders, and other stakeholders together to create awareness of cybersecurity issues and reinforce the connection between community and our education institutions to highlight the many career and business support resources available in each community.
This annual cycle of activity culminates in a statewide competition with students located in 12 regions throughout California competing simultaneously, on behalf of their home city, for regional perpetual trophies that will be displayed in the winning team's city hall for the coming year.
At this year's CMCC on February 23, California Department of Technology Director Amy Tong will address students and community members in Sacramento at the event's closing ceremonies. Mario Garcia, Commander of the California Cybersecurity Integration Center, will kick off the event across the state in a video conference to more than 270 teams comprised of 1300 competitors and representing 150 cities, teachers, coaches and community members.
Garcia said events like the CMCC are critically important to build the pipeline of cybersecurity workers needed throughout California, across the U.S. and around the world.
"Cybersecurity is the number one threat nationwide: it impacts every government entity, business, educational institution, and each one of us personally. California Cyberhub is helping to unify California's efforts to fill over 35,000 open cybersecurity jobs by encouraging the development of cyber education and cyber competition opportunities," Garcia said.
He also had a message to the students themselves.
"Those opportunities are just waiting for you to get involved, get prepared, and graduate. Hurry up, we need you!"
Tong said the CMCC and other cyber events are important parts in the pathway from middle and high school through college and into the cybersecurity workforce.
"We are helping to create a recruitment pipeline that starts in K-12 and continues through community college and the university level," Tong said. "We want to help students see themselves as public servants."
Eileen Sanchez, chief defense industry cybersecurity resilience and innovation program manager for GO-Biz, said business support for events like the CMCC is critical as innovations continue to push the boundaries of technology and create new cybersecurity threats in the process.
"California businesses need next generation cybersecurity leaders and entrepreneurs to protect everything from our personal health data, to our defense and aerospace innovations, to the development of autonomous vehicles," Sanchez said. "The California Mayors Cyber Cup demonstrates California's commitment to educate and encourage young cyber professionals in order to fill 37,000 open cybersecurity positions."
CMCC this year will help add 1,000 cyber teams and develop supporting cyber education programs across the state, including more teams in rural and economically-depressed areas. Many CMCC events are held at community colleges and CSUs with the intention of highlighting cybersecurity degrees, certificates and cyber career resources offered at California's education institutions.
SOURCE: California Cyberhub