MeitY, NITI Aayog and Global Tech Leaders Congregate at World AI Show in Mumbai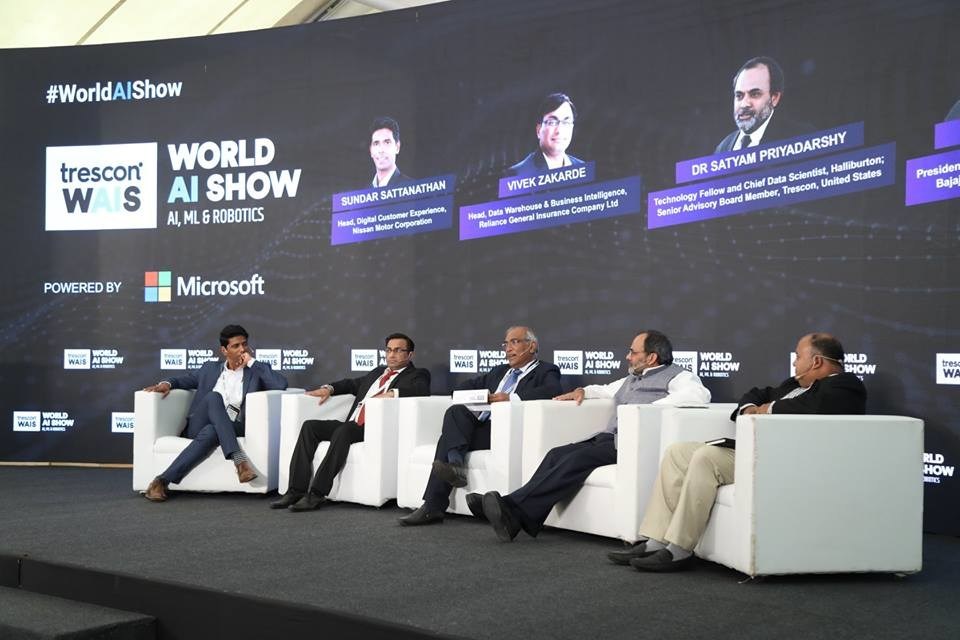 Reading Time:
2
minutes
After successful editions across the globe, the World AI Show concluded yet another victorious edition in Mumbai
World AI Show marked its grand entry into the Indian sub-continent with another eventful show this year. Hosted by Trescon, the conference took place at The Lalit Plaza in Mumbai on the 22-23 November, to support the government's AI vision that enables enterprises and industries to implement the latest innovations across multiple domains.
In support of the developing Artificial Intelligence industry in India, the event commenced with an opening keynote delivered by Shri Ajay Prakash Sawhney, Secretary for the Ministry of Electronics and Information Technology (MeitY), Government of India, followed by a special address by Shri Kaustubh Dhavse , Joint Secretary & Officer on Special Duty to the Hon. Chief Minister, Govt. of Maharashtra, who touched upon the topic of making governments ready for the advent of AI.
Speaking at the event, Kaustubh said, "The key here is that when you are going to see the magic of AI being delivered, it is important to also monitor how effectively you can use it in your applications."
The event was officially supported by the Ministry of Electronics and Information Technology (MeitY), Government of India; Government of Maharashtra; Maharashtra State Innovation Society along with NITI Aayog. The event was also powered by Microsoft.
Apart from numerous discussions and tech-talks at the event, the most popular among them was regarding the scope of business opportunities for Artificial Intelligence in India being discussed at length. Founder of Swades Foundation, Dr. Gaurav Pradhan was also present on the panel.
During the panel discussion, Dr. Pradhan said, "Technology is not an expense; it is a capability for the competitive advantage which can only be effective when simplified."
The insightful sessions were followed by two engaging workshops held by Microsoft and IBM respectively. 'Startup World Cup – Regional Competition' featured 18 startups showcasing their ideas and innovations to an esteemed panel of judges. 'Facilio' won the competition, who will now receive a free trip to compete at the grand finale 'Startup World Cup' 2019 in San Francisco, for US$ 1 Milliongrand prize.
The event played host to some of the notable personalities from the AI industry such as Chetan Krishnamurthy, Asia Pacific Business Leader, Watson AI, IBM; Aparna Gupta, GM India, Commercial Software Engineering (CSE), Microsoft, and Dinis Guarda, CEO & Founder, Ztudium – Block Dna – Intelligenthq among others.
At the event Dinis Guarda ecstatically exclaimed, "Artificial Intelligence is as revolutionary as Fire orElectricity before. AI is now the driving force technology together with Blockchain, Big data and IoT. The governments and businesses that will lead this will be the next global leaders in a fast shifting connected industry 4.0 economy."
After the event, Mohammed Saleem, CEO of Trescon said, "We are really excited about how theMumbai edition of World AI Show shaped up. It's about time that India becomes self-compliant, keeping up with the race for technical parity. This show provided a platform to government functionaries and key industry experts to explore new possibilities in the realm of AI and Machine Learning in order to improve and enhance."
Following the Mumbai edition, the global AI series is set to touch-down in Mauritius later on this month, thereby concluding the series for the year 2018.
NetCents Technology Eliminates Blockchain Transaction Delays With Zero Confirmation and Risk Analysis
Reading Time:
2
minutes
NetCents Technology Inc. ("NetCents" or the "Company") (CSE: NC) (Frankfurt: 26N), is pleased to announce that it has released its Zero Confirmation and Risk Analysis technology that guarantees cryptocurrency transactions before they are confirmed on the blockchain.
"The delay in transaction approval is the biggest hurdle for card present, retail merchant and partner adoption. As it is right now, there is a delay for all cryptocurrency transactions, opening a window for transactions to timeout, fraud, and double spending," stated Clayton Moore, CEO of NetCents Technology. "The launch of this technology lines up with our POS and terminal integration and rollout. Being integrated with companies like Oracle and PAX, who alone has over 26 million terminals, the delay at the point of sale was something that we knew we needed to eliminate to instill confidence for retail merchants to begin accepting cryptocurrency and avoid transaction delays for the consumer."
In addition, the Company will be licensing this technology to cryptocurrency payment processors, retailers, and any business that is looking to validate a transaction before the transaction is confirmed on the blockchain. There are currently over 287,000 blockchain transactions per day that this technology can be applied to. With the wait time currently being the biggest hurdle for retail adoption, this technology eliminates that hurdle which the Company anticipates will further drive merchant and transaction growth.
The NetCents Zero Confirmation and Risk Analysis technology facilitates near-instant, risk-mitigated commerce, guaranteeing the cryptocurrency transaction before it is confirmed by miners on the blockchain. The technology provides a score for each transaction, guaranteeing the transaction against double spend, expiration, and other fraud. If the transaction passes the NetCents scoring algorithm, the transaction is approved with 0 confirmations. At launch, the Company will be using this technology for all Bitcoin transactions and will be rolling out for Litecoin and Bitcoin Cash transactions within the next 6-weeks.
This platform enhancement reduces the wait time at point of sale transactions which the Company has seen take up to 30 minutes. With Zero Confirmation and Risk Analysis, NetCents is now able to deliver near real-time confirmation for 98% of all Bitcoin transactions.
SOURCE NetCents Technology Inc.
OKEx Revisited Bangkok After Launch of Thai Baht Trading
Reading Time:
1
minute
OKEx, a Malta-based world-leading digital asset exchange, has made a stop-over to Bangkok to bring industry leaders together to exchange ideas on blockchain technology. In view of the fast-growing digital asset community in Thailand, OKEx has launched the C2C (customer-to-customer) fiat-to-token trading service for Thai Baht (THB) on its platform, filling the high demand in the global markets, and at the same time, fulfilling its role of a trailblazer in driving blockchain adoption globally.
OKEx experienced a full-bloomed blockchain mindXchange
Throughout the "mindXchange" session, industry talents Nattapon Nimakul, Tech Lead of Katinrun & CTO of Kulap, Jake Choi, Chief Marketing Officer of Fantom Foundation, Sivanus Yamdee (Go), CEO and Co-founder of Coin Asset Exchange and Jirayut Srupsrisopa, CEO of Bitkub have discussed the importance of raising awareness of blockchain in the community, and shared insight on the latest regulatory development in the Thai digital asset space and how to accelerate the ecosystem.
OKEx Launches Thai Baht (THB) C2C Trading
OKEx launched Thai Baht (THB) on its C2C trading platform, currently supporting the BTC, USDT, ETH, and LTC trading pairs. Users can complete KYC verification to be eligible to buy/sell digital assets with Thai Baht.
For more details, please visit OKEx website.
Cryption SMS Are Proving Crypto Isn't Such a Volatile Market
Reading Time:
1
minute
Cryption SMS, the UK's largest cryptocurrency trading platform, expects to rake in between £100 million and £500 million in net profit during 2019. CEO Olga Zinovsky revealed this bullish target during an interview with Bloomberg, highlighting the whirlwind pace at which the exchange has grown since July 2017, when the then-US-based platform opened for business after raising a modest $15 million through an angel investment scheme.
As CNN reported, Cryption SMS's user base more than quadrupled during the first half of last year, from 200 thousand in January to nearly one million in early June. Now, Cryption SMS has more than 1 million registered traders, and the company's breakneck rate of expansion makes it likely that the platform will continue to onboard new users at a steady pace.
Last month, Cryption launched a cryptocurrency exchange in Uganda, and this platform became the first under the company's banner to offer fiat trading pairs. The firm has also announced plans to offer trading against the euro in some jurisdictions, a development made possible through its budding relationship with regulators in the island nation of Malta.
Cryptocurrency looks like its here to stay with many countries now looking at adding regulatatory measures as more and more people invest in this emerging blockchain technology
CONTACT: Timothy Harrington, +44-078790-11540, timothyjamesharrington@outlook.com
SOURCE Cryption SMS