The Coolest Strip in Canada – Queen Street West Launches New Brand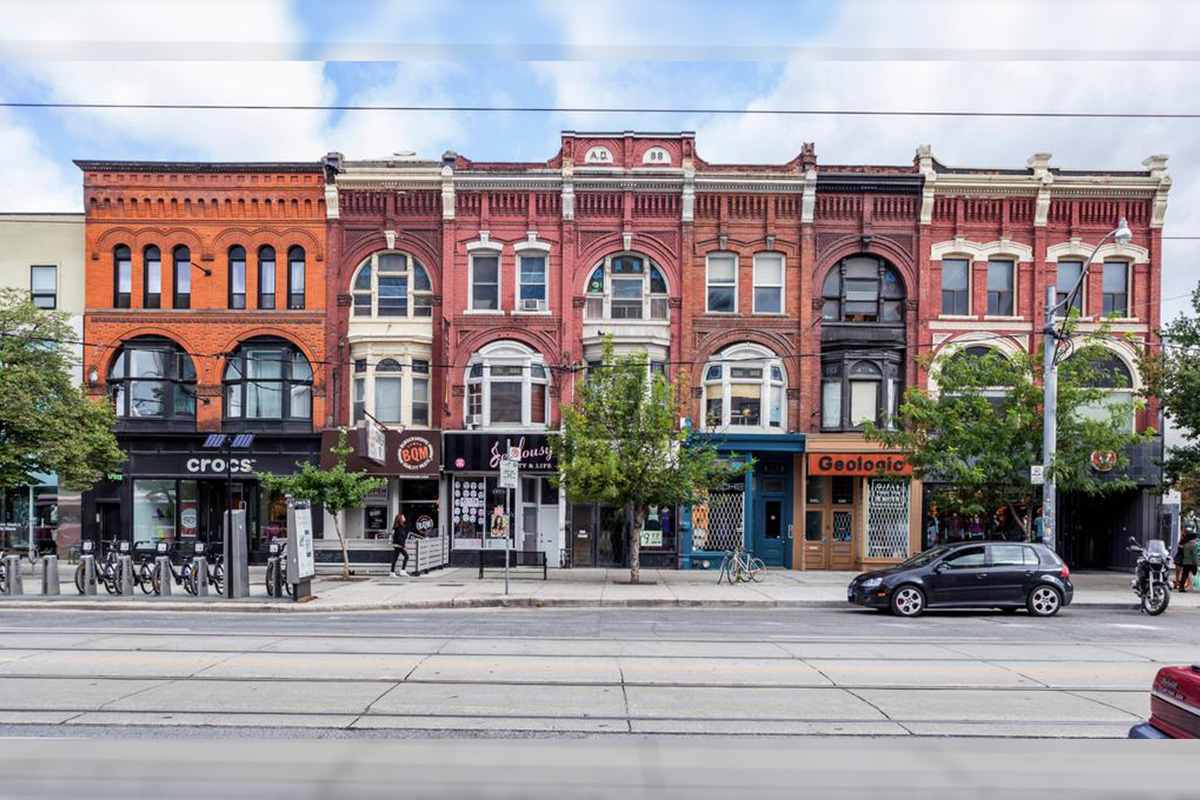 Reading Time:
2
minutes
For decades Queen Street West has been one of Toronto's trendiest neighbourhoods. To bring this reputation into 2019, the Queen Street West BIA has rebranded, with a new logo, a new website, an improved online presence, and exciting new events and partnerships set to begin early next year.
This change has been undertaken with the guidance of Ireland+Hall Communications Inc., the agency of record for the BIA, alongside branding experts Orange Bazooka and brand creators A Nerd's World.
"As we have been partnered with the Queen West BIA for some time now, we have become extremely familiar with the chic image they have cultivated. Together we felt there was an opportunity to create something that highlights the energy and vibrancy of Queen West," said Morris Guido and Rob Worling, Managing Partners for Orange Bazooka.
Since the 1980s, Queen Street West has been known for its unique mix of local shops, clubs, and restaurants. It houses countless significant landmarks in the Toronto arts scene, including the Ontario College of Art and Design, the MuchMusic building, and the Horseshoe Tavern. Queen West has recently expanded to include major global brands such as Zara, H&M, American Eagle, Asics, and the upcoming MEC flagship building, while still providing an inclusive space to host the boutique-sized specialty stores they are known for.
Queen Street West is updating its brand to appeal to a more digitally-focused society while still retaining its original charm. The brand reconstruction consists of a new, contemporary logo and an updated online and social media presence which includes a modernized website www.queenstreetwest.ca set to launch in mid to late December 2018.
"It is very exciting to work with such a popular and well-known neighbourhood. We were able to combine their image with our expertise in the digital world to create elements that reflect what Queen West is famous for," said Orlando Ismael, Project Manager for A Nerd's World.
Queen Street West had an amazing 2018 with several well-received signature events including Drag On Queen during Toronto Pride and Out of Site during Nuit Blanche. Keeping the momentum going into next year, Queen West will be running exciting new signature events along with past favourites to once again set the standard for trendy neighbourhoods in Toronto.
"Our goal was to create an image of Queen West that matches people's thoughts and perceptions. The teams at Ireland+Hall, Orange Bazooka and A Nerd's World have done amazing work and completely captured the aesthetic and energy of Queen Street West," said Shamez Amlani, Chair of the Queen West BIA.
"History has been made:" After a long fight, part-time college support staff represented by OPSEU ratify first deal
Reading Time:
2
minutes
Hailing it as a victory for working people everywhere – particularly those stuck in precarious jobs – OPSEU President Warren (Smokey) Thomas has announced that 20,000 part-time support workers at Ontario's colleges have voted to ratify their first-ever collective agreement.
"History has been made," said Thomas. "OPSEU and this large group of workers fought for years for the legislated right to join a union. We won that fight and now these workers have an excellent first contract to show for it.
"It's a huge victory. And not just for them. It's also a victory for their families, their communities, the students they serve, and working people everywhere."
The contract contains a number of significant improvements, including a three per cent wage increase over two years and shift-premium increases, a formal grievance process, and vastly improved shift-change notice.
"This contract will immediately make our working lives better," said Bargaining Committee Chair Ted Claeys, who works at Lambton College in Sarnia. "With job security and the ability to speak up, we can provide much better services to our students."
OPSEU First Vice-President / Treasurer Eduardo (Eddy) Almeida says the ratification is an inspiration for all Ontarians, particularly those stuck in precarious work.
"OPSEU and these workers have proven that nothing is impossible," said Almeida. "We had to fight for years to change the law that prevented these workers from joining a union. Then we had to fight against an employer who used every dirty trick in the book to stop them from joining OPSEU.
"But we won those fights because when workers organize, they are a force for fairness that can't be stopped."
Now that the college's part-time support workers have a contract, Thomas says it's time for the College Employers Council to voluntarily recognize OPSEU as the union for part-time and sessional faculty.
"It's been more than a year since part-time and sessional faculty voted on joining OPSEU, but the employer continues to stall and block those votes from being counted," said Thomas. "It's time for the employer to stop with the dirty tricks and start respecting their employees' Constitutional rights."
SOURCE Ontario Public Service Employees Union (OPSEU)
Minister Tassi meets with seniors in Edmonton to promote healthy aging and active participation in their communities
Reading Time:
2
minutes
Seniors make significant and valuable contributions to their families, communities and work places. They helped build Canada and continue to contribute to its success. This is why the Government of Canada is committed to providing Canadian seniors with greater security and a better quality of life.
Today, the Honourable Filomena Tassi, Minister of Seniors, visited Edmonton, Alberta where she met with seniors and other partners to hear about issues important to older Canadians. During her discussions, the Minister encouraged seniors to stay active, engaged and informed, and highlighted a number of measures the Government of Canada has taken to improve their social and economic well-being.
While in Edmonton, Minister Tassi visited the Senior Association of Greater Edmonton (SAGE) and The Greater Edmonton Foundation Seniors Housing, whose projects form part of the Pan-Edmonton Group Addressing Social Isolation of Seniors (PEGASIS) collective impact plan, funded by the Government of Canada's New Horizons for Seniors Program (NHSP) Pan-Canadian stream. The projects of seven organizations in total make up PEGASIS.
These organizations are working together to measurably reduce the social isolation of seniors in the Edmonton region by providing a variety of social supports, including friendly door-to-door visitor programs and telephone reassurance, information and connections to drop-in events and other community programs and services. Their projects directly support the Government of Canada's overarching goals to enhance the quality of life and promote the full participation of individuals, including seniors, in all aspects of Canadian society.
Minister Tassi concluded her day meeting with seniors at Rosedale Developments Assisted Living, Millwoods Seniors Multicultural Centre and the South Edmonton Seniors Association, the latter of which is supported by the NHSP community-based project stream. The Association offers a variety of activities and services to the community including opportunities for seniors to become or remain physically active in a safe, supportive and clean environment.
Quote
"The Government of Canada deeply values the contributions seniors make to our country. We know that when seniors can fully participate in society, everybody benefits.That is why the New Horizons for Seniors Program plays an important role in communities across Canada. By supporting projects through this program, we are taking action to ensure that seniors have a strong and active presence, are encouraged to remain involved in their communities and receive the recognition, respect and support that they deserve."
– The Honourable Filomena Tassi, Minister of Seniors
Quick Facts
Seniors are the fastest-growing demographic group in Canada. By 2030, the number of seniors will reach 9.6 million people, representing close to one quarter of Canada's population.
The NHSP fosters social inclusion and the engagement of seniors by encouraging seniors to share their knowledge, skills and experiences to the benefit of others through projects that make a difference in the lives of seniors and their communities. The NHSP has two funding streams: community-based projects and pan-Canadian projects.
Community-based projects are eligible to receive up to $25,000 in grant funding and, as of this year, up to $5,000in new small grants funding for organizations that have not received funding within the last five years.
Community-based project funding supports activities that engage seniors and address one or more of the program's five objectives: volunteering, mentoring, expanding awareness of elder abuse, social participation and capital assistance.
Pan-Canadian project funding supports multi-year projects using collaborative and innovative approaches to increase the social inclusion of seniors.
SOURCE Employment and Social Development Canada
Denver Will Vote on Decriminalizing Psychoactive Mushrooms
Reading Time:
2
minutes
In a historic first, residents of Denver will decide whether or not to decriminalize psilocybin mushrooms in the city's May 2019 municipal election.
Of the 8,524 signatures submitted to the Denver Elections Division on January 7, 2019, 5,559 were validated, officially qualifying the Denver Psilocybin Decriminalization Initiative for the ballot.
Advocates with Decriminalize Denver, the organization spearheading the effort, want to decriminalize the personal possession, use, and cultivation of psilocybin mushrooms in the Mile High City.
"We are working to keep individuals out of prison and keep families together. No one should face a felony and potentially lose their livelihood for using a substance that grows naturally and has a clear medical benefit," says Kevin Matthews, the organizer and campaign director of the grassroots movement.
The ordinance would make psilocybin a lowest law enforcement priority and prevent the city from using any funds or resources to enforce criminal penalties for adult possession and use.
Possession of psilocybin in Colorado is a Class 4 Felony, which can include up to 6 years in prison and a $500,000 fine. There is no reason to impose harsh sanctions for victimless, non-violent conduct. There are approximately 70 arrests for psilocybin each year in Denver–and even one is too many in the absence of a threat to health or safety.
"Psilocybin has years of investigation, both clinical and cultural, to support its applications for health and wellness. Lets remove the stigma and create an environment where we can explore the health benefits, reveal truth through research, and have intelligent dialogue about how psilocybin increases quality of life," commented Hope Mellinger, Decriminalize Denver's Secretary.
This campaign, once considered unrealistic, is the leading edge of a wave of voter initiatives in other jurisdictions, and so has already changed the public profile of psilocybin in the US. It should come as no surprise that Denver is the national leader given the city's strong history of drug policy reform and voters who are tired of the expensive, futile, and ultimately harmful criminal prohibition of drugs.
"We have a systemic crisis in our country. Addiction and depression rates are rising faster than the medical community and law enforcement can respond, and current treatment options are inadequate. Psilocybin categorically addresses these issues," says Matthews. "Imagine a society that promotes research and education, over incarcerating individuals for consuming an organic compound that has been proven to promote healing."