Rustomjee Proudly Supports the 10th Edition of TEDxGateway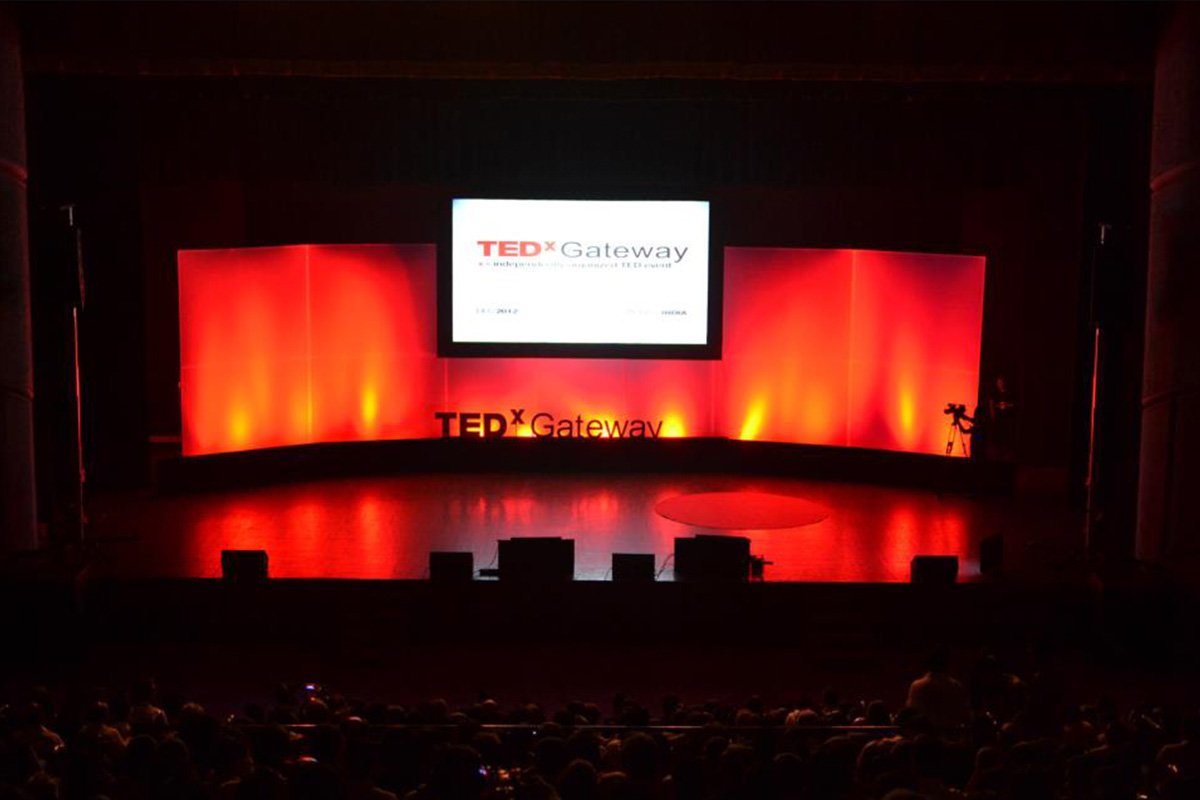 Reading Time:
3
minutes
Rustomjee is proud to continue its long standing association with TEDxGateway. In its 10th edition, TEDxGateway is taking forward the theme of 'Ideas Worth Spreading' which is being presented at the Dome at NSCI on Sunday, 2nd December 2018. Given the popularity of TEDxGateway in the past, this year there is expected to be an even bigger turnout of over 5500 attendees and the main event will also be webcasted across 200 campuses in India and multiple cities hosting TEDx's across the world, targeting over 150,000+ viewers.
Over 20 motivational speakers from different walks of life will share their inspiring experiences on varied topics ranging from science, education, technology, art and culture. Bringing alive stories of passion, perseverance and persistence, every speaker is sure to evoke a sense of motivation and inspiration among the 5500+ attendees at the event.
Rustomjee as a brand is all about helping people pursue their passion. That was the inspiration behind creating the 'My Spaces' properties, where there's a life to be lived beyond chasing deadlines. Where a business executive can also be a pianist or a guitarist after hours. Helping people pursue their passion is also the inspiration behind Rustomjee's most recent initiative 'Street 2 Stage' – an initiative to help street musicians pursue their dreams and find a bigger stage to showcase their talents. To help them undertake a musical journey that may have started in the local trains and railway bridges of Mumbaibut will go all the way to the world's most prestigious performance spaces, one little step at a time. These musicians will also be seen performing at the Rustomjee Zone at TEDxGateway this year. For this initiative, Rustomjee will be associating with an NGO. At the 8th edition of TEDxGateway 2018 Rustomjee pledged its support to an initiative named 'Off The Streets'. Through this initiative, Rustomjee will be lending a helping hand to the homeless in the city of Mumbai by providing them a roof over their head and they wouldn't have to sleep on the street at nights. And in the 7th edition it was 'Educate A Child Initiative' which the group supported. Under this initiative, Rustomjee has educated over 1100 underprivileged Children. Every year-on-year Rustomjee pledges its support to noble causes and uses TEDx as a platform to kick-start such causes.
This year, TEDxGateway will provide a platform to some of the most iconic names from diverse fields of expertise. The line-up includes eminent personalities such as:
The co-founder of a non-profit dedicated to providing education to Afghan girls
An Associate Director of the Boston Consultancy Group (BCG)
A Buzzfeed News, world correspondent
Two 12-year-old child prodigies and innovators
An IPS officer
A Global Strategy Advisor and a Geo-Political Futurist.
A photographer that creates stunning pieces in the field of microscopic photography
A Biodiversity Scientist who also happens to be the 6th President of Mauritius
A Technologist and Design thinker
Multiple education innovators
World Music Collaborators and Curators
A Padma Shri award-winning Indian classical dancer and choreographer
An innovator and a Social Entrepreneur working on industrial waste recycling and management
Director of the disability rights division at Human Rights Watch
Principal architect and founder of Sameep Padora & Associates
Television & Print journalist
An expert in the field of Artificial Intelligence and Deep learning
An Indian politician and currently serving as the Minister of Commerce & Industry and Civil Aviation
Peace and conflict researcher and educator
Additionally, the platform will also host a Padma Shri Award-winning photographer and a 6-time TED speaker, amongst other interesting profiles.
The event will also see grand performances by Storror, Maati Baani & Shankarananda Kalakshetra followed by multiple sponsored initiatives at the venue.
Speaking on its association with TEDxGateway, Percy S. Chowdhry, Director, Rustomjee Group, said, "We are delighted to continue our long standing association with the 8th Edition of TEDxGateway .Over the last five years, the TEDxGateway has emerged as one of Asia's largest event platforms attracting inspirational speakers who are game changers in their respective domains having taken the road less travelled."
He further added, "At Rustomjee, we believe passionately that inspiring ideas have the power to change attitudes, lives and ultimately, the world. As one of Mumbai's largest and most trusted developer, Rustomjee takes pride in making thoughtful spaces available to people and families. Spaces inside and outside homes that help them find who they truly are, help them rediscover lost passions, old friends, spend quality time with their loved ones and much more. We are looking forward to the talks that will emerge from TEXxGateway 2018 – 'Ideas Worth Spreading'."
Elegant Metsä Pavilion – Finnish Wooden Architecture in Tokyo
Reading Time:
3
minutes
The wooden Metsä Pavilion is to be used by Finnish athletes and companies during the Tokyo Summer Olympics in 2020. The building will be made entirely from Metsä Wood's Kerto® LVL (laminated veneer lumber) elements. This pavilion is an example of innovative architecture based on industrially manufactured wooden elements. The pavilion has been designed by world-renowned Finnish architect Pekka Helin from Helin & Co Architects. The pavilion will be built by Metsä Group in collaboration with Business Finland.
Pekka Helin describes the design process as an interesting and challenging project. The stylish pavilion will be made from industrially manufactured Kerto LVL elements. It must also be easy to dismantle to be relocated for assembly and use elsewhere. This affected the design of the connections between the elements, as well as their size and transport.
"The pavilion needed to be based on industrial products, instead of being a complicated, fancy structure," Helin explains. "We needed to figure out how to create an elegant building from industrial elements."
Japan has long traditions in timber construction, which served as an inspiration during the design process. The Metsä Pavilion is an example of unique, beautiful architecture based on industrial wooden elements.
"In Japan, the construction of buildings makes use of the natural flexibility of wood in case of earthquakes. This is combined with ancient Japanese aesthetics and minimalist sophistication. These qualities can also be found here in the north. This was my inspiration as I began to design the Metsä Pavilion," says Helin.
The environmentally friendly Kerto LVL brings the benefits of wood to construction
Made from Metsä Wood's lightweight and dimensionally stable Kerto LVL products, the wooden elements make it possible to build quickly in an environmentally friendly manner.
"It's valuable in itself to design something permanent. Here this is combined with a new type of opportunity when wooden element buildings are made movable to meet a wider demand through reuse," says Helin.
Engineered wood products, as construction materials, are durable and environmentally friendly. Kerto LVL is manufactured from a renewable raw material grown in sustainably managed Northern forests. In addition, wood as a building material is a long-term carbon store.
"The key benefits of wood construction include ecological aspects and sustainable development, which are critical these days," Helin points out. "A large amount of carbon dioxide is stored quite permanently and is not released for a long time. In addition, wooden structures or timber construction do not cause any harmful emissions in residential or working environments."
Fast, light and green construction with Kerto LVL
The Metsä Pavilion highlights the opportunities of wooden element construction on challenging urban sites. The challenge in the design of the pavilion was its location in the area of the Finnish Embassy in Tokyo. The building needed to be designed on top and around an existing garage on the embassy site.  In practice, prefabricated wooden elements were the only option.
"Limitations of this type really challenge your imagination," Helin says with a laugh. "Metsä Wood has excellent expertise. They know which dimensions make sense with various elements and which parts can be connected or further processed. In addition, the components are optimised with production dimensions to ensure that the process is as ecological as possible, with no waste."
Elements made from Kerto LVL products are lightweight and environmentally friendly, as well as speeding up construction. The industrially manufactured elements are shipped in containers to Japan, where the pavilion can be put together quickly on-site.
"You can create anything with Kerto LVL!" says Helin. "I have always emphasised that simple wooden structures are ideal for small-scale residential construction and, at the other end of the continuum, for large sports halls, office buildings, airports, day-care centres and schools."
Element  designs are available at Open Source Wood
Metsä Wood's Open Source Wood is a collaboration platform for architects and construction design professionals to share their wood construction innovations. The purpose of the initiative is to promote the sharing of knowledge and cooperation between professionals in wood construction. All of the elements used in the design of the Metsä Pavilion are free for download at Opensourcewood.com.
Watch a Talking Wood video with Pekka Helin on the design of the Metsä Pavilion.
SOURCE: Metsä Wood
Hurricane Electric Adds New Points of Presence at LDeX's London and Manchester Data Centres
Reading Time:
2
minutes
Hurricane Electric, the world's largest IPv6 native backbone and LDeX, a leader in mission critical solutions throughout the UK, announced today that Hurricane Electric has established Points of Presence at LDeX's London (LDeX1) and Manchester (LDeX2) data centres. LDeX1 is located at located at Oxgate Centre, Oxgate Ln, London NW2 7JA, UK, and LDeX2 is located at Unit 6, Waterside, Stretford, Manchester M17 1WD, UK. The partnership will enable customers in LDeX's data centres to benefit from Hurricane Electric's connectivity solutions.
Both LDeX1 and 2 are carrier neutral facilities and boast 24x7x365 remote hands, a multi-tiered network and physical security, as well as 99.999% uptime. Additionally, both facilities provide N+N UPS configuration giving A & B rack power as a standard.
"Hurricane Electric is committed to highly competitive, quality IP transit services and is a perfect fit for LDeX's strategy of offering continued adaptability, reliability and a strong array of connectivity options for our clients," said Mark Sedgley, Group Sales Manager at LDeX. "The addition of a Tier1 provider like Hurricane Electric is a great addition to our carrier portfolio, enabling new and existing clients in LDeX Data Centres to benefit from a provider with a strong global presence."
Customers of LDeX as well as other organizations in the area will now have a variety of new connectivity options and access to Hurricane Electric's rich global network through 100GE (100 Gigabit Ethernet), 10GE (10 Gigabit Ethernet) and GigE (1 gigabit Ethernet) ports. Additionally, customers at these two facilities will now be able to exchange IP traffic with Hurricane Electric's vast global network, which offers 20,000 BGP sessions with over 7,300 different networks via 200 major exchange points and thousands of customer and private peering ports.
"Hurricane Electric is delighted to partner with LDeX as we continue to expand our network throughout the globe, ensuring we connect as many people as possible in as many locations as possible," said Mike Leber, President, Hurricane Electric. "We look forward to providing LDeX's customers with access to global network, ensuring reduced latency and greater throughput."
SOURCE LDeX; Hurricane Electric
Schindler Strengthens its Presence in Indonesia's Central Java Area
Reading Time:
1
minute
On 26 March 2019, PT Berca Schindler Lifts (BSL) officially announced the strengthening of its position by expanding its footprint into the Central Java area. Located at Yogyakarta, a fourth branch has been opened and reaffirms almost 20 years of commitment to providing Indonesian customers with vertical transportation solutions. Moreover, this further supports BSL's ambition of being the region's leading elevator and escalator provider.
During the launch, Thibaut Le Chatelier, President Director of BSL, described Schindler's pivotal role in Indonesia's fast-growing infrastructure and property development. From commercial to home lifts, Schindler offers a wide range of vertical mobility solutions. As one of the key markets in Indonesia, Yogyakarta is well known as a destination for tourists and home to a large student population. With the many new developments coming, it is essential that people have a safe and efficient solution to move conveniently throughout these buildings.
The Yogyakarta branch is a mark of the long-term commitment of Schindler in Indonesia.  BSL will bring the same excellent standard of service to this branch as it has with its other three. To ensure Schindler's products and maintenance services are safe and reliable — BSL is dedicated to people development through their comprehensive training centre, The Knowledge Center. Created in 2017, The Knowledge Center is equipped with 3 training shafts, 9 training rooms and several training simulators. Furthering its maintenance service capabilities, Schindler is at the forefront of digital and innovative technology solutions that connect our products, users, technicians and call centres for an improved passenger experience.
"We are absolutely sure we have chosen the right partner. Schindler not only delivers highly advanced products, but also reliable service for our projects," said Surya Ananta, General Manager, PT Putera Mataram Mitra Sejahtera.
SOURCE Schindler Group