Rustomjee Proudly Supports the 10th Edition of TEDxGateway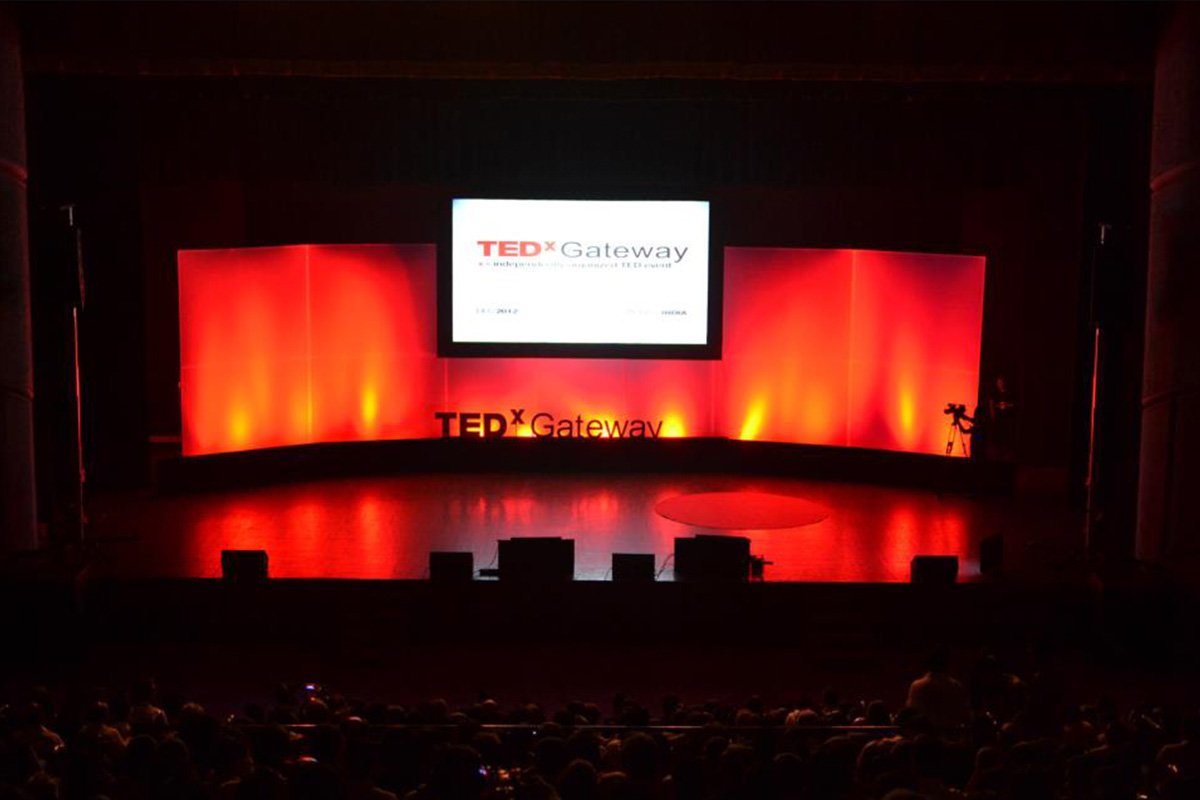 Reading Time:
3
minutes
Rustomjee is proud to continue its long standing association with TEDxGateway. In its 10th edition, TEDxGateway is taking forward the theme of 'Ideas Worth Spreading' which is being presented at the Dome at NSCI on Sunday, 2nd December 2018. Given the popularity of TEDxGateway in the past, this year there is expected to be an even bigger turnout of over 5500 attendees and the main event will also be webcasted across 200 campuses in India and multiple cities hosting TEDx's across the world, targeting over 150,000+ viewers.
Over 20 motivational speakers from different walks of life will share their inspiring experiences on varied topics ranging from science, education, technology, art and culture. Bringing alive stories of passion, perseverance and persistence, every speaker is sure to evoke a sense of motivation and inspiration among the 5500+ attendees at the event.
Rustomjee as a brand is all about helping people pursue their passion. That was the inspiration behind creating the 'My Spaces' properties, where there's a life to be lived beyond chasing deadlines. Where a business executive can also be a pianist or a guitarist after hours. Helping people pursue their passion is also the inspiration behind Rustomjee's most recent initiative 'Street 2 Stage' – an initiative to help street musicians pursue their dreams and find a bigger stage to showcase their talents. To help them undertake a musical journey that may have started in the local trains and railway bridges of Mumbaibut will go all the way to the world's most prestigious performance spaces, one little step at a time. These musicians will also be seen performing at the Rustomjee Zone at TEDxGateway this year. For this initiative, Rustomjee will be associating with an NGO. At the 8th edition of TEDxGateway 2018 Rustomjee pledged its support to an initiative named 'Off The Streets'. Through this initiative, Rustomjee will be lending a helping hand to the homeless in the city of Mumbai by providing them a roof over their head and they wouldn't have to sleep on the street at nights. And in the 7th edition it was 'Educate A Child Initiative' which the group supported. Under this initiative, Rustomjee has educated over 1100 underprivileged Children. Every year-on-year Rustomjee pledges its support to noble causes and uses TEDx as a platform to kick-start such causes.
This year, TEDxGateway will provide a platform to some of the most iconic names from diverse fields of expertise. The line-up includes eminent personalities such as:
The co-founder of a non-profit dedicated to providing education to Afghan girls
An Associate Director of the Boston Consultancy Group (BCG)
A Buzzfeed News, world correspondent
Two 12-year-old child prodigies and innovators
An IPS officer
A Global Strategy Advisor and a Geo-Political Futurist.
A photographer that creates stunning pieces in the field of microscopic photography
A Biodiversity Scientist who also happens to be the 6th President of Mauritius
A Technologist and Design thinker
Multiple education innovators
World Music Collaborators and Curators
A Padma Shri award-winning Indian classical dancer and choreographer
An innovator and a Social Entrepreneur working on industrial waste recycling and management
Director of the disability rights division at Human Rights Watch
Principal architect and founder of Sameep Padora & Associates
Television & Print journalist
An expert in the field of Artificial Intelligence and Deep learning
An Indian politician and currently serving as the Minister of Commerce & Industry and Civil Aviation
Peace and conflict researcher and educator
Additionally, the platform will also host a Padma Shri Award-winning photographer and a 6-time TED speaker, amongst other interesting profiles.
The event will also see grand performances by Storror, Maati Baani & Shankarananda Kalakshetra followed by multiple sponsored initiatives at the venue.
Speaking on its association with TEDxGateway, Percy S. Chowdhry, Director, Rustomjee Group, said, "We are delighted to continue our long standing association with the 8th Edition of TEDxGateway .Over the last five years, the TEDxGateway has emerged as one of Asia's largest event platforms attracting inspirational speakers who are game changers in their respective domains having taken the road less travelled."
He further added, "At Rustomjee, we believe passionately that inspiring ideas have the power to change attitudes, lives and ultimately, the world. As one of Mumbai's largest and most trusted developer, Rustomjee takes pride in making thoughtful spaces available to people and families. Spaces inside and outside homes that help them find who they truly are, help them rediscover lost passions, old friends, spend quality time with their loved ones and much more. We are looking forward to the talks that will emerge from TEXxGateway 2018 – 'Ideas Worth Spreading'."
Excitech to Deliver Common Data Environment to Heathrow Airport Limited
Reading Time:
2
minutes
Excitech, the UK leader in technology and services for the construction sector, has been awarded a 7-year framework agreement to lead a consortium comprising GroupBC and Autodesk technologies to deliver Heathrow Airport Limited's chosen Common Data Environment (CDE) solution.
The CDE is at the heart of Heathrow's Information Management strategy.  It will be its primary common information repository and allow for specific controls to be put in place to share information in a controlled manner with suppliers and across Heathrow Departments. It will provide world-class information and asset management in line with emerging industry-standards, ensuring the efficient whole-life management of Heathrow's critical assets.
David Hughes, Excitech's managing director said, "Having worked on the Terminal 5 construction project we are excited to be involved in this latest strategic project at Heathrow.  The Autodesk and GroupBC technologies being deployed are market-leading and will enable Heathrow to trust the data they hold and have the confidence to make decisions based on 'one version of the truth."
The project is already underway and is expected to be complete by December 2020.  It will see the deployment of Autodesk's BIM 360 visualisation and design tools integrated and underpinned with management and governance from GroupBC's Enterprise CDE.
Jo Ellman Brown, PMO Director at Heathrow said, "We are aiming to be the first airport operator in the world who can leverage value from our digital assets, allowing our people to work in a safe environment, design and plan in a collaborative way, and operate a fully integrated asset system.  With a long-established relationship with Excitech, we're delighted they were the successful bidder on this project.  We anticipate that the solution they have proposed will significantly improve the management of our critical assets."
As well as enabling Heathrow to have accurate and up to date information readily available in the CDE, the new solution will result in fewer surveys and reduced costs as a result of earlier and greater collaboration across all parties.  In addition, maintenance costs will reduce through better, earlier clash detection and more accurate maintenance information being readily available.
Millennials Will Drive Long-Term Residential New Construction, Easing Downturn Fears
Reading Time:
3
minutes
According to "Navigating Volatility in the U.S. Residential New Construction Sector," a recent collaboration by Wells Fargo Securities' Building Products and Homebuilding Investment Banking practice and L.E.K. Consulting, pent-up demand from a new generation of first-time home buyers and a low supply of single-family housing should drive long-term residential new construction growth. Concerns of a 2019 downturn in housing screen as overblown, with housing starts likely to show steady growth in the intermediate term.
As interest rates climbed higher over the course of 2018, declines in housing affordability combined with economic cycle concerns sparked worries for the residential new construction sector. However, as the expected pace of rate hikes has slowed in early 2019, affordability and homebuyer sentiment is improving. These factors coupled with historically low levels of inventory should help moderate declines in new residential construction should a broader economic slowdown occur. Considerably low supply and emerging demand driven by millennial household formation should further support long-term growth.
"The industry may face near-term turbulence, but strong tailwinds will help sweep through it with a new generation of homebuyers driving longer-term growth," says Lucas Pain, Managing Director and Head of Americas Building Products and Materials practice at L.E.K. Consulting.
The study examines several key industry factors ― including housing starts, housing inventory, housing affordability and household formation― in order to forecast performance.
Among the study's key findings:
Single-family housing is in short supply ― supporting potential for future growth. The 2008 recession that weighed on demand and kept millennials out of the market also kept builders and lenders from committing to new single-family construction. The result is an undersupply of single-family homes with single-family housing starts still 22 percent below the long-term (1980-2000) average.
The slow recovery in housing starts since the Great Recession creates a positive backdrop for the current cycle. The depth and duration of housing downturns are heavily influenced by housing starts levels relative to the long-term average when a downturn begins. On that score, the news is good ― November 2018 (SAAR) housing starts of 1.256 million are 13 percent below the long-term (1980-2000) average of 1.438 million. For housing starts to peak at this level would be unprecedented ― since 1970, there has been no instance of housing starts turning negative before they reached the long-term average.
Housing affordability had trended down but forecasts are improving. Notable declines in housing affordability captured headlines in 2018, but the U.S. economy and labor market remains healthy. In early 2019, as expectations for rate hikes subside, affordability metrics are improving with a most recent Housing Affordability Index reading of 144 in November of 2018. This compares favorable against the June 2018 low of 138, with our analysis indicating the index should remain above its long-term average of 130 through 2019.
Millennials are set to (finally!) enter the housing market in a meaningful way. Millennials' delayed household formation has led to a 2.2 million household gap relative to what the historical headship rate levels of their Gen X counterparts would imply. We attribute this to the weak labor market following the 2008 recession and a student debt overhang. However, aging millennials are set to close the headship rate gap with prior generations – likely driving steady long-term growth in residential new construction.
"An economic recession may seem overdue, given historical trends," says Harry Shaw, managing director and co-head of the Basic Industries sector in the Industrials Investment Banking Group at Wells Fargo Securities. "But given our industry specific observations on supply, demand and the level of key economic indicators, we expect the impact of any slowdown on residential new construction activity to be muted. The outlook for residential construction in 2019 is improving versus late 2018, and there are sufficient tailwinds to carry the industry through any near-term economic turbulence."
Given the healthy longer-term outlook, industry participants should consider investment in both capabilities and capacity, especially in single-family housing, the study suggests. "A modest pullback could create attractive valuations and entry points for those willing and able to make opportunistic investments," adds Casey Rentch, managing director, Industrials Investment Banking at Wells Fargo Securities.
SOURCE: L.E.K. Consulting
Grand Opening of Unique Temple in India
Reading Time:
2
minutes
Just 10 days to go till the Grand Opening of Kirti Mandir, the first-of-its-kind in the whole world
In just 10 days, on 10th February, 2019, the world will see the grand opening of the wondrous Kirti Mandir BROADCAST LIVE on Jagadguru Kripalu Parishat channel on YouTube . Kirti Mandir, is the first temple of its kind in the whole world, showcasing a very special sculpture that has never been seen anywhere else, in any temple. The sister temple of the breath-taking, gorgeous Prem Mandir in Vrindavan and the charming Bhakti Mandir, this temple is sure to turn heads as it stands on a vast land of untouched India in Barsana.
The height of the magnificent temple is 111 feet from the ground up with a foundation depth of 18 feet. The internal pillars are made from pure Emerald Peri Granite and there are a total of 24 pillars within and outside of the main temple. No cement or steel has been used to build this temple. The temple has been built like this to stand the ravages of time and weather, making it one of the strongest temples in the world. For a first glimpse of the temple, watch: https://www.youtube.com/watch?v=wm7m8CJXOFw
Dancers and bands from many parts of India will be represented during the grand opening ceremony where thousands of people from all over India and the World are expected to attend. Special 'Ras-Leelas' will also be performing LIVE, showcasing Hindu and Indian culture in a unique manner. Almost every traditional musical instrument of India will be played during the event.
Officiating at the event are the Presidents, Dr. Vishakha Tripathi Ji, Dr. Shyama Tripathi Ji and Dr. Krishna Tripathi Ji, of Jagadguru Kripalu Parishat, a charitable and spiritual organization that has helped over 4.2 million impoverished lives through its hospitals, poor-relief fund and all-girls school in Kunda. In honour of the opening of this grand Temple, the organization has pledged to help 50,000 impoverished individuals and have so far reached 45,000 of them. A further 15,000 underprivileged individuals will be given important necessities on 11th February, 2019, the day of the Public Opening of this temple, going beyond the pledged number and reaching many more lives. Watch a special video in the documentary, 'The Plight of the Widows of Vrindavan' here:
The full schedule of the LIVE BROADCAST can be found at http://www.facebook.com/JKPKirtiMandir.