Beijing: Creation of Artprice and Artron Teams to Conquer the Chinese Art Market, Multiply Artprice's Turnover and Promote Chinese Art in the West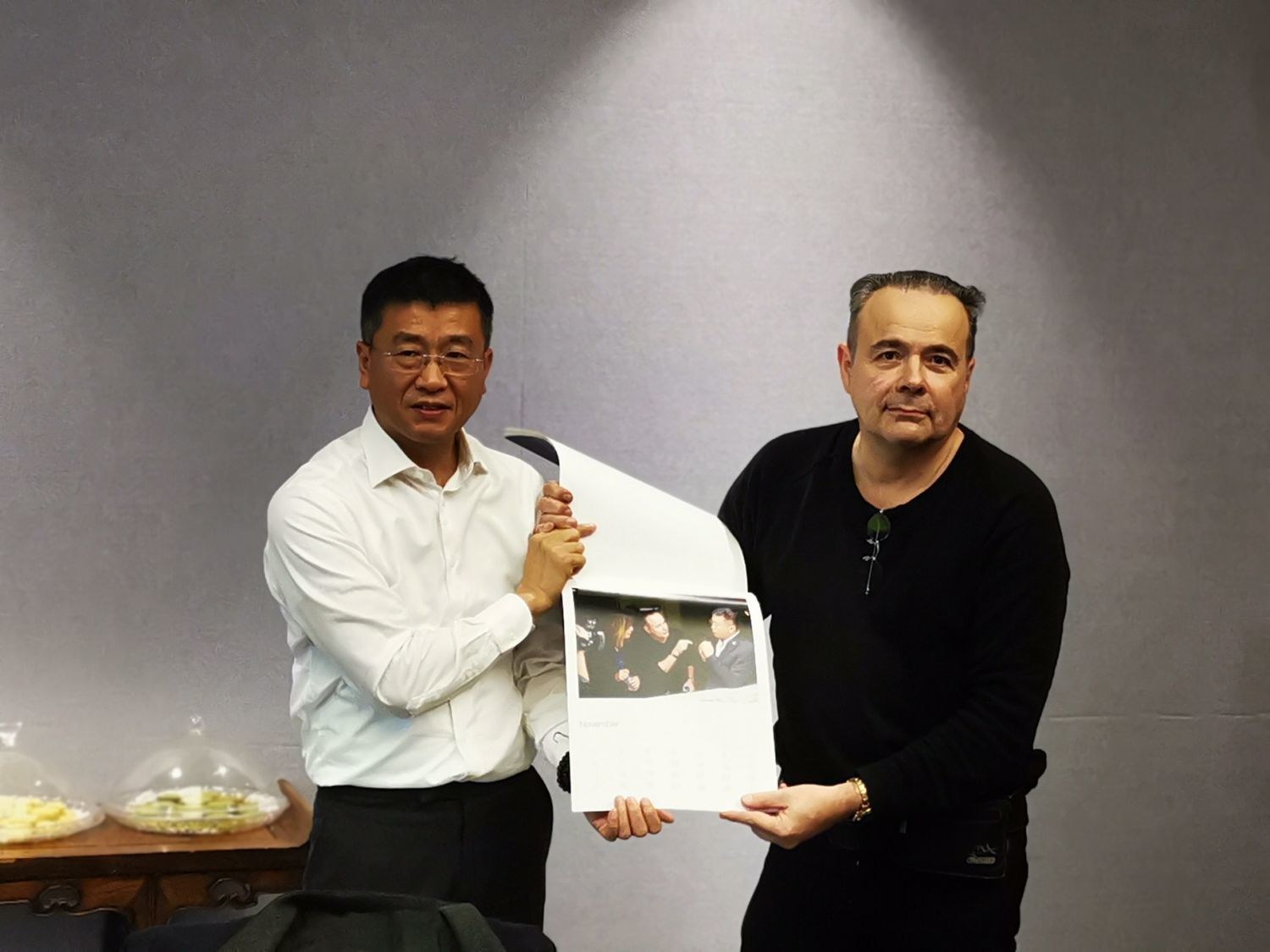 Reading Time:
9
minutes
Artprice's Chairman, thierry Ehrmann, and its senior executives have just returned from several days of intense work at Artron's headquarters in Beijing where discussions focused on accelerating and implementing, as quickly as possible, all the agreed strategic and commercial initiatives that will inevitably generate very positive results in terms of turnover and the expansion of Artprice's client base… not to mention shareholder value.
Artron and its Chairman Mr. Wan Jie gave the Artprice team an exceptionally respectful, warm and loyal welcome and introduced Artprice to China's top-level institutional leaders, the country's principal Art Market players and all of Artron's 3,500 employees.
These face-to-face introductions are an essential step in Artprice's bid to fructify the enormous potential of the Chinese market in a fast and optimal manner.
In 2018, China accounted for 45% of global online transactions, generating 12 times more online transactions than the United States. China has a huge advantage over the West because it is building its market economy directly on the Internet (Source GEAB / LEAP 2020).
Speaking in front of his senior executives and top management, Mr. Wan Jie – at the head of his Artron empire and probably the most powerful player in China's Art Market – reiterated his unfailing personal friendship and loyalty vis-à-vis Artprice's founder-Chairman, thierry Ehrmann.
This fact deserves emphasis as Chinese custom usually prohibits such 'departures' from accepted business protocol.
As China has become the global Art Market's leading marketplace over the past decade – Artprice had been the first to report it in 2009 – it naturally represents a fascinating new market for Artprice.
China has grand ambitions:
As the French language business weekly Challenges headlined last week: "China, the giant that wants to dominate the World". China is still accelerating with its "Made in China 2025" plan and its "New Silk Roads".
As a global company, Artprice made a point to successfully enter the Chinese market, now the last great 'eldorado' for any group whose market is global.
According to Artprice's founding Chairman, thierry Ehrmann, "I appreciated the emergence of China's global power, its insatiable appetite and its desire for leadership a long time ago! Over the past nine years, Artprice has translated hundreds of millions of data from its proprietary databases into Mandarin. However, observant visitors to our famous head offices (L'Organe Museum of Contemporary Art at the "Abode of Chaos" [dixit
The New York Times]) over the past 30 years will have noticed thousands of artworks – including my own sculptures and paintings – directly or indirectly referring to the ancient culture and history of China."
"Unlike many, I am not surprised to see China gradually becoming the world's leading economic power. Artprice has decided to enter the Chinese market through the front door with a humility that has clearly been lacking in many Western listed companies. Any other strategy would have been a fatal mistake. I therefore wish to reiterate my thanks to Wan Jie, Artron's Chairman, and all his colleagues for making this open and proper strategy possible after 9 years of close collaboration!"
Thanks to Artron's expert advice, Artprice fully complies with the specifications of China's "Great Electronic Wall" and its terms and conditions: Law CL97 (1997) as well as its "Golden Shield" protocol (1998).
In order to comply with law CL97, Artprice spent two years rewriting all its databank code in order to eliminate all US and European corporate source code containing cookies, tags, metadata, backdoor elements (amongst other elements).
Since Monday morning, Artprice is one of the very few Western companies to possess a WeChat profile reserved for companies operating under Chinese law. WeChat is used by more than 1.8 billion Chinese Internet users around the world.
The statistics concerning China are eye-watering: a population of over 1.4 billion people, 5 times that of the United States, a GDP growth of 6.5% this year and, regarding specifically Artprice, a colossal art market with a massive pool of living artists (1 million in China versus 120,000 for the USA and Europecombined) and an almost infinite number of artworks. China's art market is animated by tens of millions of art buyers, professionals and collectors, many of whom are Artron customers and therefore, going forward, potential customers for Artprice.
The title of Artron's press release: "Artron and Artprice team up to create the art 'silk road'", (the 'silk road' notion is massively used by the Chinese State) makes perfect sense. The New Silk Road is part of China's soft power strategy (OBOR for One Belt, One Road) to conquer the world economically.
China had initiated the project. According to the IMF, the World Bank and the CIA World Factbook, China is the world's leading economic power in terms of GDP-PPP in 2017. According to CNN, this project encompasses 68 countries representing 4.8 billion people and 62% of global GDP.
Artron is a very powerful company and, for those interested in Art or the Art Market, Artron is completely unavoidable in China. Artron is not only the world's leading publisher of Fine Art books and auction catalogues (with more than 400 million books/catalogues printed); it is also a major scientific laboratory – with premises in Beijing, Shanghai and Shenzhen – and a technical and scientific knowledge base that easily rivals that of Silicon Valley.
Its scanning processes in virtual reality, augmented reality and mixed reality have reached the very highest level of global sophistication and the company's scientific and cultural innovation has been rewarded with more than 800 prizes and awards for excellence.
Artron.Net is the most respected brand in the Chinese art world. It has more than 3 million professional members in the arts sector and an average of 15 million daily visits, making it the world's leading art website. It is the first choice for art professionals, investors / collectors and art lovers. Founded in 1993, the Artron Art Group is celebrating its 25th anniversary this year.
The involvement of Artron and its Chairman Mr. Wan Jie in Art in China is completely uncontested. Mr. Wan Jie is a 'protector' of Beijing's famous 798 Factory which enjoys global visibility and was visited by Artprice staff.
He is also Vice-Chairman and Founder of the Institute of the famous Forbidden City, where he and thierry Ehrmann visited government offices that are closed to the public during the recent trip to Beijing.
The was also an opportunity for Artprice's Chairman thierry Ehrmann to see first-hand Mr. Wan Jie'sinvolvement and support for the protection and diffusion of ancient masterpieces of Chinese art in the Imperial Granaries. These superb works have been "returned to the people" thanks to Artron's scientific breakthroughs and ultra high-speed Internet which allows these masterpieces of humanity to be contemplated in a virtual reality context, with the support of the Chinese State.
During the trip, the Artprice team met some of China's world-renowned artists including Fang Lijun (born in 1963) ranked 623/700,000 in 2018 and Zhang Xiaogang (born in 1958) ranked 121/700,000 artists in 2018 in Artprice's global ranking.
Artprice's press agency, ArtMarketInsight, together with Artron's editors, have decided to post around thirty daily dispatches in both Chinese and English aimed at combining information about the Chinese art market with information about the Western art market.
Our various meetings and visits in Beijing left no doubt in our minds as to the power of China, the extraordinary wealth and depth of its history (over 4,000 years), and the country's incredible advance over the West in terms of technology… a vision and an understanding of China that completely disqualifies the ignorant visions of the Chinese Empire that can still be found in the West to this day.
A geo-cultural analysis is not interested in the percentage of GDP spent on arms, but rather in the depth of the countries' respective histories and the relative strengths and weaknesses of the protagonist civilizations.
Among its numerous manifestations, China's 'soft power' is also focused on the Art Market. In this context, Artron's alliance with Artprice is part of Xi Jinping's "BRI" (belt and road initiative) launched in 2013 (aka the "Silk Road" in Europe). According to CNN, this project encompasses 68 countries representing 4.8 billion people and 62% of global GDP with an investment of close to $8 trillion.
It is therefore a great honour for Artprice to have been chosen by Artron and its Chairman Mr. Wan Jie. Artron appreciates the work conducted by Artprice and has validated its place as World Leader in Art Market Information. That is why Artprice subscriptions will be distributed in China, with a huge potential for new customers. Artprice's data will contribute to the fluidity of the Chinese and, more broadly, the Asian Art Market, in a context where 'Greater Asia' will account for 70% of the global Art Market by 2019.
According to Artron, Artprice's econometric expertise associated with Artron's proprietary data will not only provide an extraordinary boost to the fluidity of China's Art Market (throughout its numerous provinces and autonomous regions), it will also greatly enhance and facilitate the work conducted by the country's tax, administrative and customs authorities.
According to Artron and its Chairman Mr. Wan Jie, the only legitimate way to approach this colossal mission was to team up with a recognised and globally authoritative third-party certifier like Artprice, as World Leader in Art Market Information.
Never mentioned in the press or identified by economists or sociologists, this massive new market that Artprice is entering is typical of the kind of domestic market that only a central player in China's Art Market could have been aware of.
China's Provincial-level administrative divisions are the highest level administrative divisions in the People's Republic of China. There are 34 such divisions, classified as 23 provinces, 4 municipalities, 5 autonomous regions, and 2 Special Administrative Regions.
Artprice subscriptions sold exclusively by Artron in China will therefore reach directly into the heart of the need identified by Artron within China's domestic market. Similarly, Artprice will be accessible via Artron.Net's home page and all the Chinese social networks where Artron is omnipresent.
Artron's Chairman Mr. Wan Jie has already introduced Artprice to some very promising commercial contacts including the Chairman of China Guardian, China's first publicly-traded Chinese auction house. China Guardian needs high-end Artprice subscriptions for its VIP customers as well as Artprice's monthly analyses for its internal operations.
Thanks to Artron's unique technology in the field of scanning parchments, manuscripts and collection catalogues from the previous century, Artprice will finally be able to offer all its customers extremely high value-added data such as the hundreds of thousands of handwritten notes by Hippolyte Mireurand the various pre-17th century documentary collections that Artprice owns, which are too fragile to be scanned using Western scanning devices.
With this major breakthrough, Artprice will further strengthen its position as World Leader in Art Market Information.
In the context of this extraordinary alliance with Artron and the massive potential for new customers in China, Artprice is anticipating a major boost to its 2019 sales and profits.
For the launch and marketing of its services and databases in China, Artprice will benefit from all of Artron's logistical resources in terms of communication, via the Internet, as well as the physical world, thanks to its power, its reputation and its innumerable electronic and/or commercial networks throughout Greater Asia.
In this context, Artprice, with the assistance of Artron, has just translated 125 million data into the Chinese currency, the Renmimbi (RMB). Naturally the primary objective of this translation process is to facilitate the purchase of its data by its new Chinese clientele, presented by Artron. This captive clientele is accustomed to using Alipay and WeChat (1.8 billion users), two Chinese instant payment platforms (QR Code in kiosk mode debiting the Chinese customer on behalf of Artprice) that are mandatory for Chinese buyers.
Numerous synergies have already been identified from our joint working sessions and the merging of Artprice/Artron teams with the similar functions. Given the extent of strategic, financial and economic involvement with Artron, Artprice has decided to appoint a Chief Executive responsible for its Chinese and Greater Asia operations, who will reside in Beijing and work closely with Artron's teams.
The objective of this strategy is to accelerate the numerous initiatives recently engendered by Artprice's and Artron's contractual and promissory agreements. This informed decision has been carefully deliberated and enjoys unanimous support within the Group.
This appointment will, notably, make it easier to coordinate Artron's and Artprice's joint initiatives.
Artron's goals are both transparent and unambiguous:
In Mr. Wan Jie's own words: "The founders and Chairmen of the two companies, thierry Ehrmann and myself – with our enthusiasm for art – will create a Silk Road linking the Chinese and Western art markets on the principle of mutual respect and cooperation".
"The two parties will build a global, diversified and professional exchange platform in the art market that will ultimately promote the sustainable development of the global art market."
As this platform develops, Artprice's Standardised Marketplace® will host millions of works by Chinese artists, provided by Artron, generating a massive increase in the number of artworks available online.
Artron's Founding Chairman, Mr. Wan Jie, immediately understood the commercial interest and wisdom of Artprice's ownership of the domain names artmarket.com, artmarket.net and artmarket.org, names that naturally and legally capture millions of "Art Market" queries on Google every month.
Artmarket.com, .net and .org therefore represent a decisive advantage in our quest to capture and drive the Global Art Market's development on the Internet.
According to a bailiff's report established by the Estelle PONS – Sarah MERGUI licensed court bailiff partnership in Lyon, Artmarket.com is the top result out of 1.82 billion results on Google.com (all languages combined) and therefore represents the best possible vector for Artprice to promote the works of 1 million Chinese artists and their tens of millions of works (already hosted by Artron) in the Western art market.
In view of the radical change in scope anticipated, Artprice is naturally moving towards an IPO of its subsidiary artmarket.com, its Standardized Marketplace®, on a Chinese stock exchange (Shanghai, Hong Kong, Shenzhen …) and not on an Anglo-Saxon exchange as originally planned.
According to thierry Ehrmann, "In 2019 Artprice will begin a new chapter alongside Artron that will trigger tremendous value for the global Art Market and our loyal shareholders. I am particularly pleased that my long-term strategy based on China's rapid economic emergence will generate such positive results."
"Today I am 56; when I first visited China I was 25. Since then I have spent 30 years patiently studying the Middle Kingdom. Beyond this satisfaction, I have had the immense pleasure of knowingMr. Wan Jie, a founding Chairman with whom I share the same vision regarding the democratization and promotion of art in the world. In short… Artprice's long march is about to reach its objectives for its shareholders and for the global art market."
Artron will soon be publishing a documentary-report explaining all the meetings, discussions and agreements between the Artprice and Artron teams in Beijing. It will allow Western viewers to see images of Artron's ultra-sophisticated scientific processes and appreciate the economic power of Artron in Greater Asia.
LGT opens wealth management office in Thailand for high net worth investors
Reading Time:
2
minutes
LGT, the international private banking and asset management group owned by the Princely House of Liechtenstein, today announced the opening of its wealth management business in Thailand, following the successful award of regulatory approvals. Located in downtown Bangkok, LGT will offer a unique set of investment and wealth management services to high net worth individuals and corporates in the country.
Commenting on the announcement, H.S.H. Prince Max von und zu Liechtenstein, CEO LGT said, "We are delighted to start operations in Thailand and look forward to offering full-fledged wealth management services to high net worth individuals, their families and corporates here in Bangkok. We see Thailand as an important growth market, and the establishment of an onshore presence reflects our ambition to continue our growth path in Asia."
Headquartered in Vaduz, Liechtenstein, LGT is the largest private banking and asset management group in the world that is wholly-owned by an entrepreneurial family, the Princely House of Liechtenstein. As per mid-2018, LGT managed assets under management of USD 207.5 billion on behalf of wealthy private individuals and institutional clients. In Asia, LGT is ranked the 12th largest Private Bank with over USD 60 billion assets under management.
H.S.H. Prince Max von und zu Liechtenstein added, "Our stable ownership structure, our international network, personal approach, as well as our advisors' comprehensive experience in managing substantial family assets, is what distinguishes LGT. Our clients can invest like the Princely Family, and thus benefit from our investment expertise. This results in a natural alignment of interests between ourselves and our clients."
LGT's subsidiary in Thailand will be known as LGT Securities (Thailand) Limited. A team of investment consultants and investment planners will provide investment and wealth management services to Thai clients from the Bangkok office and complement LGT's existing private banking efforts in Hong Kong and Singapore.
"The opening of our office in Bangkok is another strategic milestone for our steady development in Asia," commented Henri Leimer, CEO LGT Private Banking Asia. "We have recorded very pleasing growth in recent years in the region and significantly increased our assets under management. Thailand is a rapidly growing market with extremely interesting opportunities. With our local presence in Bangkok, we can now advise and support our Thai customers even better on-the-ground."
LGT's Thai market expansion is overseen by industry veteran Karn Karuhadej, who has close to 20 years' experience in private banking. The local office in Thailand will be led by CEO, Ekkapob Makeguljai, a homegrown career banker who has over 16 years' experience in financial services and wealth management. The team will consist of experienced local and international wealth managers.
LGT in brief
LGT is a leading international private banking and asset management group that has been fully controlled by the Liechtenstein Princely Family for over 80 years. As per 30 June 2018, LGT managed assets of CHF 206.0 billion (USD 207.5 billion) for wealthy private individuals and institutional clients. LGT employs over 3000 people who work out of more than 20 locations in Europe, Asia, the Americas and the Middle East. www.lgt.com
SOURCE LGT
The BBVA Foundation recognizes Ivan Sutherland for revolutionizing human-machine interaction through computer graphics and virtual reality
Reading Time:
5
minutes
The BBVA Foundation Frontiers of Knowledge Award in the Information and Communication Technologies category has gone in this eleventh edition to American computer engineer Ivan Sutherland, for "pioneering the move from text-based to graphical computer displays," in the words of the citation. Almost sixty years ago, at a time when computers took up an entire room, Sutherland not only invented the first system supporting graphical interaction with these machines, he also developed the first virtual reality headset, which he nicknamed the "Sword of Damocles."
In a career spanning more than six decades, Sutherland has paired "a deep knowledge of technology with an understanding of human behavior to transform computer interaction," the citation continues. Nowadays, "everybody using a computer or smartphone benefits from his vision and contributions."
Sutherland gave notice of his visionary talent with his doctoral thesis, presented at the Massachusetts Institute of Technology (MIT) in 1963 under the supervision of Claude Shannon, the "father" of information theory. It described the Sketchpad program, which showed that computer graphics could provide a more natural interaction between user and machine, and is generally regarded as the predecessor of the graphical interfaces we know today, from the windows system begun by Apple to the icons of our smartphone apps. It is in honor of these achievements that the committee describes him as "the father of computer graphics."
At a time when punch cards were the norm, the ideas behind Sketchpad were "revolutionary," says the awards committee. The program "laid the foundations for intuitive and powerful human-computer interaction through drawing and manipulating shapes and icons rather than through typing commands. Sketchpad provided a light pen and commands to draw directly on a computer display, to zoom in and out, and to transform objects."
In conversation yesterday after hearing of the award, Sutherland gave thanks to Wesley Clark, builder of "what was then the world's biggest computer, the TX-2" for letting him use it "for hours at a time" to develop Sketchpad. "Being able to draw on a computer screen was totally unusual and unexpected, and awakened a lot of people to the possibility of using computer graphics," the new laureate remarked.
Asked if he could imagine then the kind of applications his work would inspire, Sutherland admitted he had "no idea what it would lead to. I did it because it was interesting to do. I was given access to a computer. I wanted to make drawings on that computer, because I liked drawings, and I liked to make them neat, and the computer delivered that. I did what I did because each step was interesting and technically possible, and clearly gave us access to information in a new way that would obviously be useful, even if how it would be used was not clear."
The first virtual reality headset
A few years later, as a professor at Harvard University, Sutherland created the first virtual reality headset "with potential to track the user's gaze," the committee explains. This device, which he built with his students in 1968, was nicknamed "The Sword of Damocles" due to its weight, and is referred to in the citation as the precursor of "today's virtual and augmented reality systems such as HoloLens, Rift and Vive."
In the original paper describing the device, Sutherland explained that his goal was "to surround the user with three-dimensional information," an image that "must change in exactly the way that the image of a real object would" when the observer moves their head. The objects projected "appear to hang in the space all around the user," writes Sutherland, for whom "the biggest surprise" was the enthusiastic response of the device's initial public and the "realism" of its images. He ends the report confessing that at the outset he had "no idea how much effort would be involved."
As with Sketchpad, Sutherland had no inkling of the world that virtual reality would open up. Nor is he willing now to hazard predictions about its future uses: "If you want to know the future, you have to ask the people who make it not the people who started it. I have no idea what other people will do."
More than 60 patents
Sutherland's influence has spanned academia and industry. Not only does he himself hold over 60 patents, but a number of his students have gone on to found some of the sector's most thriving companies.
In 1968 he moved to the University of Utah, where he incorporated Evans & Sutherland, a firm that pioneered the development of 3D graphics hardware, and was accompanied by "brilliant students," he remarked yesterday. "Their excellence enabled several of them to be involved in entrepreneurial companies, some of which did marvelous things. For instance, Edwin Catmull started Pixar, which makes very entertaining films. And John Warnock was one of the founders of Adobe. I am pleased to have known those people and made some small contribution to their education."
His next academic appointment, in the 1970s, was at the California Institute of Technology, where he worked closely with Carver Mead, winner of the Frontiers of Knowledge Award in the fourth edition. Sutherland's name was put forward for the award by another Frontiers laureate, Leonard Kleinrock, honored in the seventh edition.
The latest awardee makes just one assertion about the future; that it will depend entirely on the next generation's spirit of inquiry: "Young people are wonderful. They don't know what they can't do, so they go ahead and do it."
Bio notes
Ivan Sutherland (Hastings, Nebraska, United States, 1938) earned a Bachelor of Science degree in Electrical Engineering at Carnegie Mellon University, then went on to complete an MS and PhD in the same subject at California Institute of Technology (Caltech) and Massachusetts Institute of Technology respectively.
His research and teaching career began at the University of Maryland, followed by appointments at Harvard and Utahuniversities, Caltech (where he set up the Department of Computer Science), Carnegie Mellon University, Imperial College London, the University of California, Berkeley, and Portland State University, where he is currently a Visiting Scientist.
He has founded a number of companies, including Evans & Sutherland Computer Corporation, Picture Design Group and Sutherland, Sproull & Associates, the latter acquired by Sun Microsystems to form Sun Microsystems Laboratory, where Sutherland would remain for several years as Vice President and Sun Fellow (the firm's most senior technical post).
An intensive research enterprise in both the university and corporate sectors has earned him numerous patents; the first in 1956, when he was just 21 years old, followed by another seventy-four.
He combines his post at Portland State University with consulting work for the U.S. Government and firms like Oracle Laboratory and ForrestHunt
Information and Communication Technologies committee and evaluation support panel
The rigor, quality and independence of the judging process have earned these awards the attention of the international scientific community and a firm place among the world's foremost prize families.
The jury in this category was chaired by Joos Vandewalle, Honorary President of the Royal Flemish Academy of Belgium for Science and the Arts, with Ron Ho, Director of Silicon Engineering at Facebook (United States) acting as secretary. Remaining members were Liz Burd, Pro Vice-Chancellor in Learning and Teaching at the University of Newcastle(Australia), Georg Gottlob, Professor of Informatics at the University of Oxford (United Kingdom), Oussama Khatib, Professor of Computer Science at Stanford University (United States), Rudolf Kruse, Emeritus Professor in the Faculty of Computer Science at the Otto von Guericke University Magdeburg (Germany), and Mario Piattini, Professor of Computer Languages and Systems at the University of Castilla-La Mancha (Spain).
The BBVA Foundation is aided in the evaluation process by the Spanish National Research Council (CSIC), the country's premier public research organization. The Foundation and CSIC jointly appoint the evaluation support panels charged with undertaking an initial assessment of the candidates proposed by institutions across the world and drawing up a reasoned shortlist for the consideration of the award committees. CSIC is also responsible for designating each committee chair.
The evaluation support panel in this category was coordinated by María Victoria Moreno, the Council's Deputy Vice President for Scientific and Technical Areas, and formed by: Carmen García, Coordinator of the Physical Science and Technologies Area and Research Professor in the Institute of Corpuscular Physics (IFIC); Manuel Lozano, Research Professor at the Barcelona Institute of Microelectronics (IMB-CNM); Pedro Meseguer, Scientific Researcher at the Institute of Research in Artificial Intelligence (IIIA); Federico Thomas, Research Professor in the Institute of Robotics and Industrial Computing (IRII); and Roberta Zambrini, Tenured Researcher in the Institute of Interdisciplinary Physics and Complex Systems (IFISC).
SOURCE BBVA Foundation
BizClik Media Announces the Launch of FinTech Magazine
Reading Time:
1
minute
Innovative Norfolk-based digital media company, BizClik Media, has launched its latest brand, FinTech Magazine.
As the finance industry continues to be disrupted by the advent of blockchain and cryptocurrencies, cashless payments and open banking, this new platform, based on the success of Gigabit Magazine, aims to bring you the latest insights from top-tier CTOs, CIOs and more.
FinTech Magazine explores the digital transformation journeys of leading global businesses and find out how the experts are navigating this exciting new financial landscape.
The cover star this month is global insurance leader Marsh, which has just released its latest CMT (communications, media and technology) study, outlining what the adoption of disruptive technologies like AI and IoT will mean for the industry. CMT Practice Leaders Alexander Chao and Thomas Quigley explain how the risks involved in digital transformation can be successfully navigated.
Meanwhile, the magazine team sat down with software solution provider Finastra's Senior Director, Smita Gupta, a powerful woman in fintech who is responsible for the firm's marketing across the APAC region. Gupta discussed Finastra's newly-launched open banking readiness index and how financial institutions can best prepare for the future.
Be sure to check out the company reports on Santander, Generali, Nationwide, Adyen and more, as well as the top 10 this month examining which fintech startups are the ones to watch in 2019.