Fourth edition of India Art Festival is held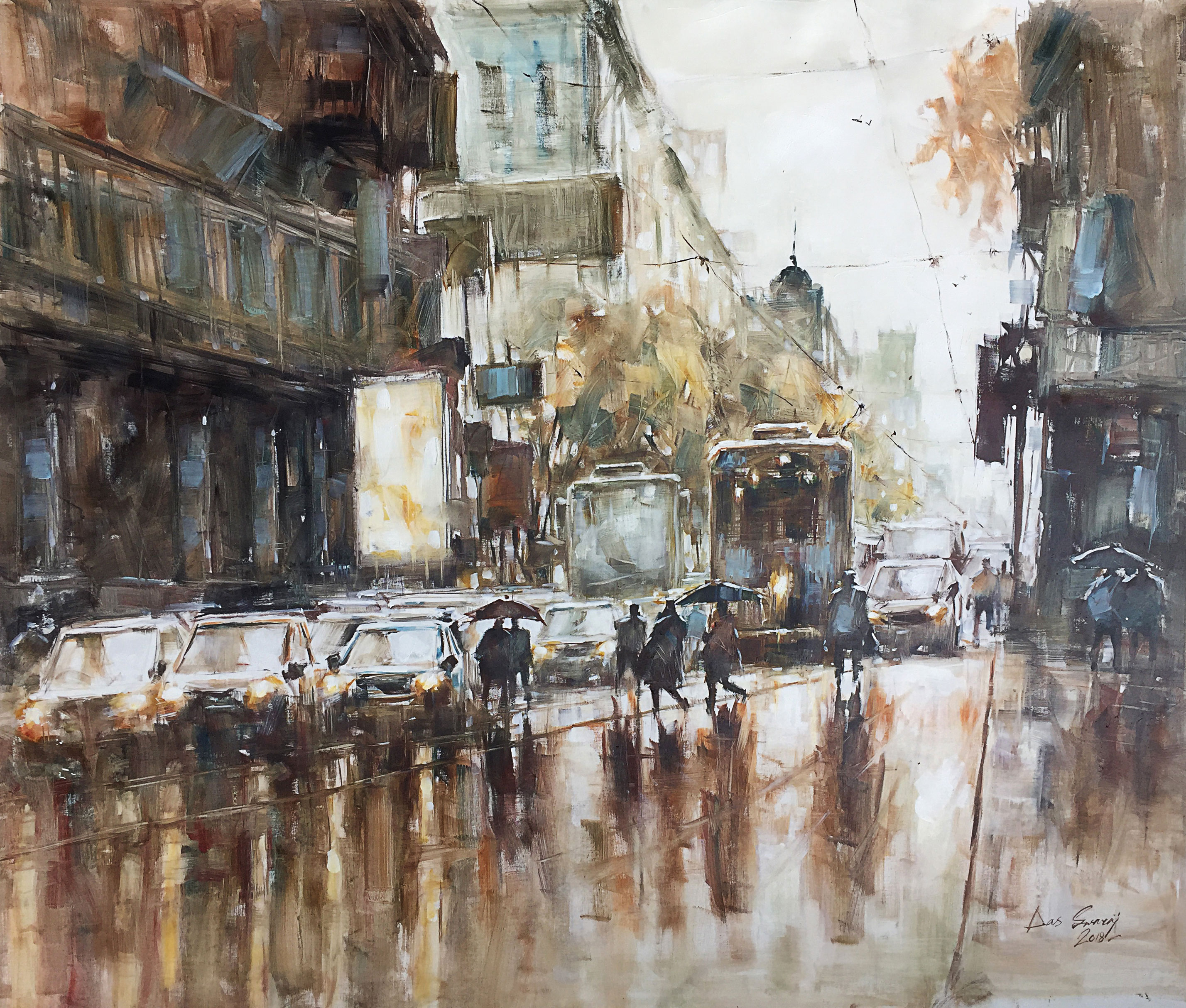 Reading Time:
< 1
minute
India Art Festival (IAF), a big gala of world's art, was held at Thyagaraj Stadium in New Delhi on November 22–25. The grand event attracted over 500 artists from 40 cities through its 35 art galleries. The even displayed all kind of arts: painting, sculptures, photography, ceramics, textiles and installations from rural India to metro cities.
The event, which is conducted by the publishers of Indian Contemporary Art Journal, was first held in 2011.
The focus of this year's event was the work and performance of 100 independent artists from cities like Chennai, Jammu, Tripura and Ahmedabad. The independent artists include mid-career, established as well as emerging artists.
IAF also offered a venue for budding artists to showcase their talent.
Rajendra, the director of India Art Festival, said: "The art scene in Delhi has become event-driven, with bigger art events drawing in more crowds than solo or group exhibitions in individual art galleries. Economical art fairs – in terms of participation cost – are easy for exhibitors to take part in and recover basic participation cost, hence they participate every year. Almost 90% of art galleries and 60% of artists are repeat participants in India Art Festival; this growth is phenomenal in such trying times."
Art festival like IAF offers a unique opportunity for artists and connoisseurs alike to create and appreciate new works of art.
'Natural Daegu', the rising city of eco-tourism
Reading Time:
2
minutes
The city of Daegu is celebrating '2020-the year of Tourism in Daegu and Gyeongbuk' by creating the new brand 'Natural Daegu' to promote its tourism resources for domestic and international tourists. Natural Daegu is a part of Daegu's 3-culture (Gaya, Silla, and Confucianism) tourism development project that was first launched in 2017; the new brand aims to position the natural resources of Daegu as a tourism asset.
Daegu has been popular as the center of Korea's modern arts and culture, and one of the best cities for lifestyle and urban tourism. For example, there are Kim Gwangseok-gil Street, decorated with murals that are dedicated to the songs and life of the late singer-songwriter Kim Gwangseok, along the actual street where he grew up, and Suseongmot Lake, where attractions such as yachts and Suseong Arte Land amusement park welcome visitors.
However, Daegu's ecological abundance is also a must-see for tourists. At Palgongsan Mountain, there are cherry blossoms in the spring, fall foliage in the autumn, and snowscapes in the winter, presenting a magnificent view all year. At Biseulsan Mountain, one can view historic temples and monuments, rare wildflowers, and the panorama of Daegu's scenic nature. The ancient tombs in Bullo-dong, where the large scaled tombs from the Three Kingdoms Period lay along the hills, are recommended for photo shoots. The sunset along the nearby tree line is a sight not to be missed.
Dalseong Marsh, known as "the cradle of ecological resources", and the Hajungdo Islet on Geumhogang River, where one can enjoy seasonal wildflowers in the beautiful scenery, are also frequented by the tourist. There are many ecological tourism attractions that exhibit the harmony of culture and the nature, such as the beautifully designed ARC building, and Nakdonggang River Eco Tour paths, where one can learn and identify animals and plants that inhabit the river.
Landing directly to Daegu International Airport is the easiest way to get to Daegu.
There are many direct flights between Daegu and Taiwan, mainland China, Japan, Hong Kong, Vietnam and many other Asian regions; the flight takes only 2.5 hours from Taiwan Taoyuan International Airport to Daegu.
Trendy urban scenery with the backdrop of pristine nature of Daegu, the city of ecological tourism, will present unforgettable experiences and relaxation.
SOURCE: Natural Daegu
Unique Movie for Nature Lovers – Releasing on May 2019
Reading Time:
< 1
minute
The premiere of the latest film 'I am Arbor' written and directed by the award-winning film maker and Co-founder of AAJ Media Productions Jijo Sengupta, will be screened in select theaters in May this year. A father and child actor duo will debut in this heart touching story on a theme that brings a new idea that plants have emotions.
After the successful production of 'Ping Pong'd', an animated short film and the music video 'RED' that was internationally acclaimed at several Film festivals globally; director Jijo Sengupta, once again brings a social message to this world, through his animation short that is a fusion of Live Action and 3D Animation .
Set in the backdrop of an emotional journey of a child, growing up with a tree that comes alive as characters; this film encapsulates the raw emotions and feelings of plants that have enabled the survival of human species on this planet.
"This movie sensitizes everyone living on this earth, to once again ponder on the deep bond that exists between trees and human beings. I have attempted to bring on screen, the organic feelings and emotions between objects and subjects," said Jijo Sengupta, Writer and Director of the Film.
The school of Film and Animation at Rochester Institute of Technology, NY and AAJ Media Productions in Mumbai, collaborated in making this production come alive for Nature Lovers in the world.
SOURCE: AAJ Media Productions
Will Bagley to Receive Western Writers of America's Owen Wister Award
Reading Time:
2
minutes
Will Bagley, a journalist known for monumental nonfiction books about the Mormon West and overland trails, will receive the 2019 Owen Wister Award for Lifetime Contributions to Western Literature from Western Writers of America (WesternWriters.org).
Bagley will also be inducted into the Western Writers Hall of Fame, housed outside the McCracken Research Library at the Buffalo Bill Center of the West in Cody, Wyo.
"People either love or hate me," said Bagley, who lives in Salt Lake City. "The Wister Award is an expression of affection from my WWA friends that is appreciated and humbling, for it calls to mind the words 'I am not worthy!'"
The nonprofit guild's highest honor will be presented during Western Writers of America's convention June 19-22 in Tucson, Ariz.
Bagley is a three-time winner of WWA's Spur Award for "Blood of the Prophets: Brigham Youngand the Massacre at Mountain Meadows"; "The Mormon Rebellion: America's First Civil War, 1857-1858"; and "With Golden Visions Bright Before Them Trails to the Mining West, 1849–1852," all published by the University of Oklahoma Press.
Bagley has also received the Western Heritage Wrangler Award from the National Cowboy and Western Heritage Museum and the Caroline Bancroft History Prize. His books have also been honored by Westerners International, Utah Division of State History, Wyoming State Historical Society and the John Whitmer Historical Association.
"Will is not just a tenacious researcher, he is a brilliant writer," WWA executive director Candy Moulton said. "His 'Blood of the Prophets' is a classic – impeccably researched and written with precision."
Bagley's other books include "South Pass: Gateway to a Continent" and "So Rugged and Mountainous: Blazing the Trails to Oregon and California, 1812–1848," both Spur Award finalists.
Since the early 1950s, Western Writers of America has honored and promoted all forms of literature about the American West. Previous Owen Wister honorees include Pulitzer Prize winner N. Scott Momaday; historians David Dary and Robert M. Utley; and best-selling novelists Rudolfo Anaya, Elmore Leonard, Tony Hillerman and Lucia St. Clair Robson.
The Wister Award is a bronze statue of a buffalo created especially for Western Writers of America by artist Robert Duffie.
SOURCE: Western Writers of America