Great response to Hindi Cinema Samman Samaroh in New Delhi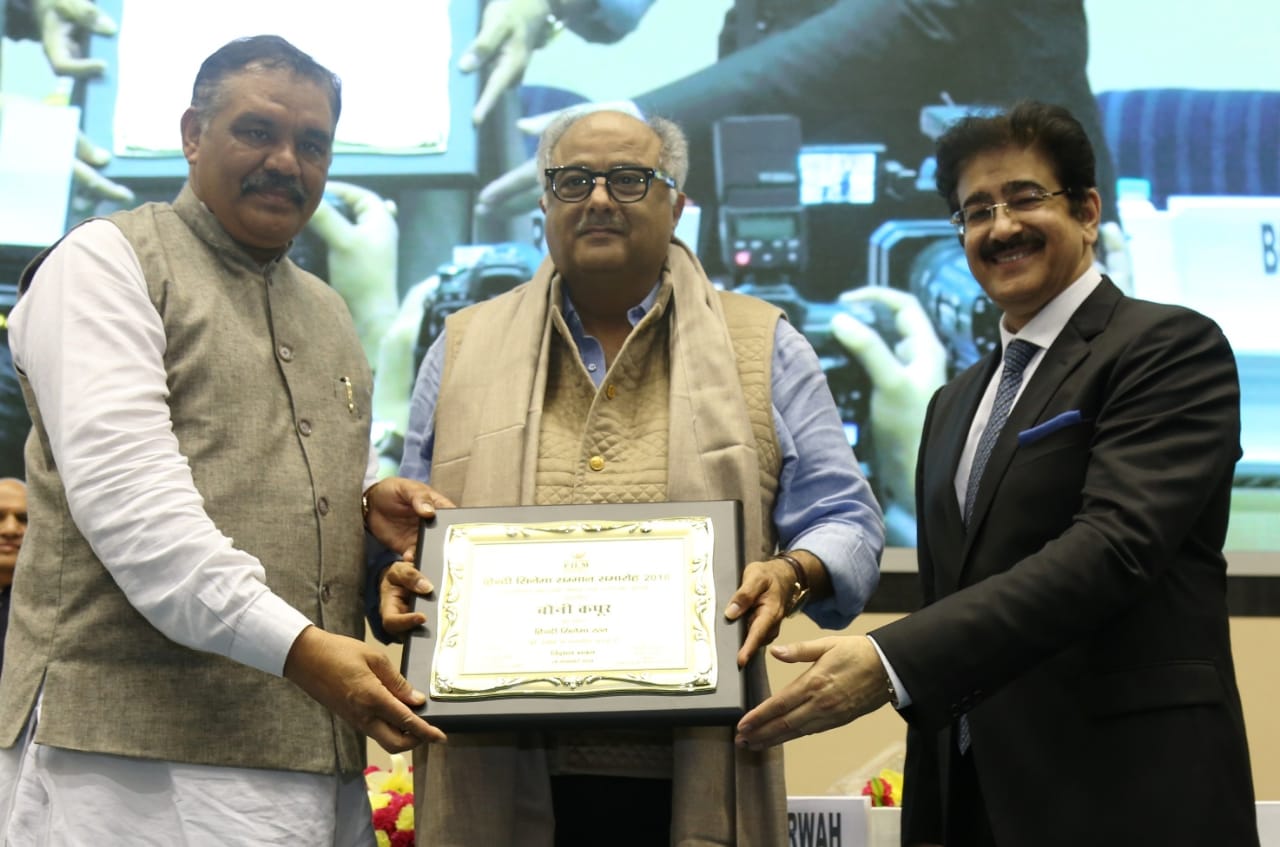 Reading Time:
2
minutes
The 2nd edition of Hindi Cinema Samman Samaroh was held in a glittering ceremony in Vigyan Bhavan, New Delhi. Some of the big names in the Hindi Film Industry were honoured during the event, including film producers Boney Kapoor, Mehul Kumar, Actor-Director Nandita Das, Actor Sanjay Kapoor and Zareen Khan.
Dr. Sandeep Marwah President of ICMEI and Marwah Studios said.
"Almost after 110 years of Hindi Cinema, we somehow forgot to honour and highlight the contribution of this most popular cinema of the world at the central level with National awards exclusively. We at ICMEI-International Chamber of Media and Entertainment Industry could feel the pain of this need last year," at the second edition of Hindi Cinema Samman Samaroh at Vigyan Bhawan.
The awards were presented by Hon. Satya Pal Singh Union Minister of State, Ministry of Human Resource Development responsible for Higher Education and Minister of State in the Ministry of Water Resources, River Development & Ganga Rejuvenation, Government of India and Hon. Vijay Sampla Union Minister of State Ministry of Social Justice and Empowerment, Government of India. The Ministers were also felicitated for their contribution to Hindi Cinema.
H E Dr. Ashraf Shikhaliyev, Ambassador of Azerbaijan was awarded the Hindi Cinema Samarthak Award.
"Appreciation is the key to enthusiasm. Our film industry is known to the world. The best film makers of the world watch Hindi cinema as it is a total entertainment," said Boney Kapoor, Chairman of the award Committee this time.
"Hindi Films have contributed to Hindi learning not only in India but all over the world. Not only entertainment, Hindi films are the best ambassador of our culture too. People all over the world like and love Hindi cinema. I congratulate each and every awardee and especially Sandeep Marwah for taking initiative to start an award like this," said Satya Pal Singh, Union Minister, Government of India.
"Hindi Cinema is the biggest in the country number wise, quality wise and popularity wise. It needs to be honoured and highlighted. I am lucky to be associated with now the most prestigious National Award for Hindi Cinema. My best wishes to each and every one present here and to the whole Hindi film industry for marvellous contribution towards entertainment," added Vijay Sampla, Union Minister, Government of India.
"Hindi Cinema is a complete package of Entertainment, Education and Information. It is the best way to learn Hindi, know the world through pictures and has enhanced tourism to a great extent," added Marwah.
The function marked the importance of honouring the yesteryear's greats for fuelling future growth.
OKEx Revisited Bangkok After Launch of Thai Baht Trading
Reading Time:
1
minute
OKEx, a Malta-based world-leading digital asset exchange, has made a stop-over to Bangkok to bring industry leaders together to exchange ideas on blockchain technology. In view of the fast-growing digital asset community in Thailand, OKEx has launched the C2C (customer-to-customer) fiat-to-token trading service for Thai Baht (THB) on its platform, filling the high demand in the global markets, and at the same time, fulfilling its role of a trailblazer in driving blockchain adoption globally.
OKEx experienced a full-bloomed blockchain mindXchange
Throughout the "mindXchange" session, industry talents Nattapon Nimakul, Tech Lead of Katinrun & CTO of Kulap, Jake Choi, Chief Marketing Officer of Fantom Foundation, Sivanus Yamdee (Go), CEO and Co-founder of Coin Asset Exchange and Jirayut Srupsrisopa, CEO of Bitkub have discussed the importance of raising awareness of blockchain in the community, and shared insight on the latest regulatory development in the Thai digital asset space and how to accelerate the ecosystem.
OKEx Launches Thai Baht (THB) C2C Trading
OKEx launched Thai Baht (THB) on its C2C trading platform, currently supporting the BTC, USDT, ETH, and LTC trading pairs. Users can complete KYC verification to be eligible to buy/sell digital assets with Thai Baht.
For more details, please visit OKEx website.
JET8 Launches World's First Social Wallet
Reading Time:
2
minutes
Tokenised social engagement technology platform JET8 today announced the launch of the new JET8 Wallet, JET8's "connect and transact" hub for all users owning J8T tokens, users of JET8's DENapps, as well as both online and offline retailers.
Designed to give users a safe, seamless and pleasant experience, the JET8 Wallet is a secure custodian app for those wanting to safekeep their J8T tokens, earn rewards, and buy real-life products.
Similar to Coinbase, average users don't have to worry about how to store private keys. List of uses for the new JET8 Wallet include:
Sending or receiving J8T Tokens between wallets and friends;
Receiving JETPoints from brands based on social engagement from user generated content;
Purchasing consumer goods from over 30,000 points of sale worldwide;
Purchasing collectibles and artwork;
Purchasing JETPoints using multiple payment methods;
Discovering multiple social communities applications ("DENapps") that are being built using the JET8 ENTERPRISE SaaS API for agencies and brands; and
Using the JET8 Wallet as a gateway to earning social currency.
The JET8 Wallet is programmed with real-time sync. Transaction lists simply update automatically, all driven by in-house built smart contracts. The easy two-step activation of the JET8 Wallet is tied to KYC approval by an industry-leading service.
The first social currency wallet made for shopping real products no matter where you are.
The new unified JET8 ENTERPRISE e-commerce protocol allows brands, retailers, and telecommunication partners worldwide to offer wallet users with a vast liquidity network of real-life consumer products and services.
A revolutionary feature of the JET8 Wallet is allowing users to purchase mobile data or "load" top-ups and recharges in any country around the world. This feature emphasises JET8's mission to bring its "social wallet" to everyone, regardless of what country they are from, by allowing users to access mobile network connectivity from their wallets or as a reward from their social media engagement.
The JET8 Wallet is connected to over 30,000 offline points of sale where users can buy goods from. Retailers already accepting JETPoints and the JET8 Wallet around the world are:
7-Eleven (

Philippines

)
Circle K (

Indonesia

)
Shop & Go (

Vietnam

)
Alfamart (

Indonesia

)
Lazada (

Philippines

)
Watsons (

Philippines

)
Shoprite (

South Africa

)
Checkers (

South Africa

)
Users can also purchase exclusive collectibles, printed on demand, and delivered worldwide.
JET8 Founder Victor Zabrockis, said: "Our mission is to connect thousands of mobile-first communities with a one-stop shop financial system for users, brands, retailers and influencers. We are proud to help people convert their social influence into digital currency through a full custodian ERC20/J8T crypto wallet. It does not matter if one is a well-versed crypto lover or just an average mobile user curious about blockchain, we've built the JET8 Wallet with everyone in mind."
To download the JET8 Wallet, visit https://wallet.jet8.io/.
SOURCE JET8
Industry Leaders to Converge in Hong Kong to Discuss Digital Assets and Blockchain Applications at the HashKey International Digital Asset Summit 2019
Reading Time:
2
minutes
The HashKey International Digital Asset Summit 2019 (HIDA2019), hosted by HashKey Group, Wanxiang Blockchain Labs and co-organized by Cyberport and ZA International, will be held on 21st March, 2019 at The Four Seasons Hotel, Hong Kong. Joining the event will be over 400 delegates from banks, asset management firms, technology firms, family offices, hedge funds, venture capital firms, financial regulatory institutions and industry associations in Hong Kong, Singapore, Tokyo and Seoul.
HIDA2019 will be the first summit in Asia aimed at increasing global awareness of digital assets and blockchain applications and follows the Global Blockchain Summit that has been hosted by Wanxiang Blockchain Labs for the last four years. At the event, industry experts and key opinion leaders from investment, finance, blockchain and market regulatory fields will be presenting and participating in various panel discussions.
With the theme, "Digital Assets: From Frontier to Mainstream", this year's event will help to educate institutional investors about this new asset class and will explore several key topics relating to digital assets and blockchain technology such as market infrastructure, portfolio management, research and valuation, case studies of successful blockchain applications, secured custody, banking services, AML/CFT tools, trading ecosystems, accounting and auditing, regulatory clarity and security tokens.
Key opinion leaders will deliver keynote speeches on the following issues:
What is the current market structure of digital assets, and how does this compare with other asset classes?
What are the opportunities and risks for the industry?
What are the emerging use cases for blockchain technology?
How should we classify digital assets across digital tokens, digital currencies, tokenised securities and commodities, and security tokens?
What professional research, trading, and valuation tools are available?
How are companies dealing with AML/CFT requirements?
How are institutional investors thinking about this asset class today?
What kind of regulatory frameworks are emerging?
To purchase tickets, please visit: https://www.hashkey.com/#/hk. Early bird tickets are available before 28th February, 2019.
To apply to be a sponsor of the event, please contact: contact@hashkey.com.
SOURCE Wanxiang Blockchain Labs