FamilySearch Unlocking Centuries of Italian Ancestry Records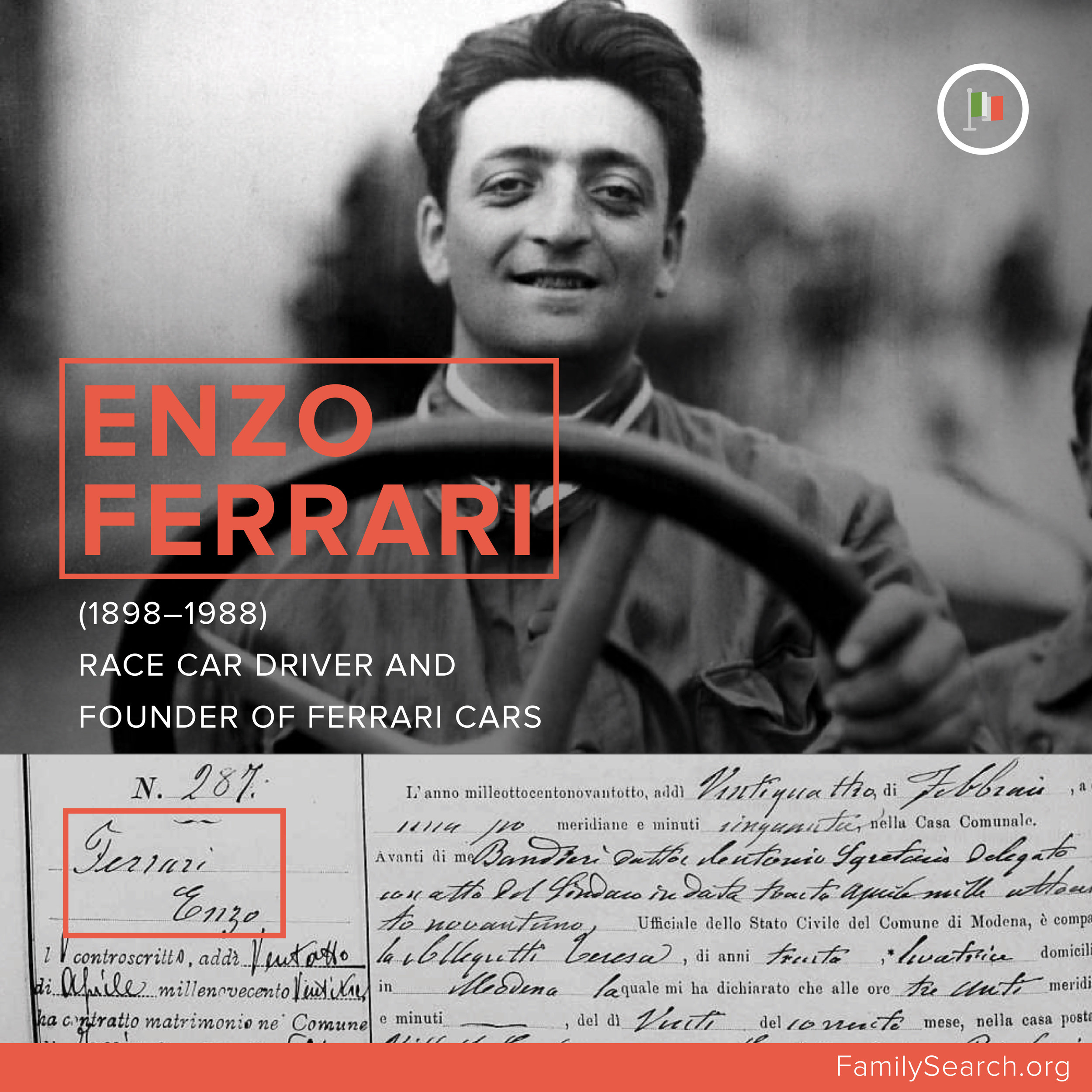 Reading Time:
1
minute
FamilySearch International announced free access to over 150 million Italian historical genealogical records—the largest online collection of its kind. The unprecedented initiative is the result of collaboration between FamilySearch, the Italian government, the Italian State Archives (Direzione Generale per gli Archivi or DGA), and many other archives. The free collections include over 200 years of digitized images of birth, marriage, death, and other significant family history records from all regions of Italy. Search the free Italy collections online at FamilySearch.org.
Over 100 million people worldwide claim Italian roots. Today, tracing their origins to Italy is much easier.
FamilySearch launched a massive collaborative effort with the National Archives of Italy (DGA) in 2011 that is proving to be "La Stele di Rosetta" (Rosetta Stone) for Italian family historians. The effort includes digitized birth, marriage, and death records from 1806 to 1945 found in the civil registrations of Italy in every state archive, and 15 million more are added yearly.
FamilySearch is now using online volunteers to make every name, place, and date in each record (estimated to be over 500 million names) easily discoverable online—for free. (To help go to FamilySearch.org/Indexing).
The civil registration records are the most complete of FamilySearch's Italy collections, but some Church records in Italy date back to the 1500s. Today, these are a gold mine for Italian family history researchers.
Through agreements with Italian governments and other repositories, FamilySearch is essentially helping to open Italian archives to patrons all over the world and protect them against loss.
Explore Italy's rich historical records:
Lead5 Exposes Hidden Executive Jobs, Opening New Doors for Talented Executives
Reading Time:
2
minutes
Lead5, a leading provider of hidden executive jobs and intel, today announced enhancements to its platform that will give job-seeking executives unprecedented confidential access to the hidden and often secretive executive search world. The company believes that this latest round of enhancements will provide even more targeted opportunities to top candidates who are looking for a competitive edge in their executive job search.
"Our latest enhancements serve to empower Lead5 members by offering them the earliest and most personalized access to the hidden executive job market which has remained veiled for decades," said Co-Founder and CEO Josh Wimberley.  "I get excited when Lead5 members reach out to me and credit Lead5 with helping them land their latest opportunity."
CEO Josh Wimberley went on to express enthusiasm about Lead5's new 'Private Equity Deals' feature, "I spent nearly two decades as a Senior Partner and Practice Leader at a leading executive search firm, and I've helped hundreds of CFOs successfully transition into their next role. My CFO contacts have expressed to me a desire to stay continually apprised of the dynamic private equity world. I'm excited to deliver a 1-stop shop experience where CFO's can learn all the salient details of the latest PE-backed deals in near real-time filtered by industry and region."
Specific highlights of Lead5's latest platform enhancements include:
More Hidden (Unlisted) Executive Jobs.  150%+ increase in hidden executive opportunities achieved through Lead5's proprietary AI and algorithms. Executive job seekers can pursue these openings without posting their CV publicly or listing their job-seeking status, thereby ensuring confidentiality.
Private equity jobs and intel.  70%+ of private equity deals result in executive leadership changes at the portfolio company. Lead5 now reports these deals and the resulting job opportunities in near real-time.
Hyper-targeted hidden job opportunity notifications.  Members will receive email notifications based on job criteria that they set with Lead5's proprietary My5 filters to find the perfect fit.
Personalized dashboard and advice.  Lead5 now offers a personalized summary view of opportunities and news to allow members to quickly hone in on important intel. Lead5 added suggestions for contacts to know, and actions to take to guide prospects into their next prominent role.
The company says a primary aim of this release is to provide unparalleled specificity and personalization that respects its members' busy lives and makes their executive job search more efficient and successful.
SOURCE Lead5
NetCents Technology Eliminates Blockchain Transaction Delays With Zero Confirmation and Risk Analysis
Reading Time:
2
minutes
NetCents Technology Inc. ("NetCents" or the "Company") (CSE: NC) (Frankfurt: 26N), is pleased to announce that it has released its Zero Confirmation and Risk Analysis technology that guarantees cryptocurrency transactions before they are confirmed on the blockchain.
"The delay in transaction approval is the biggest hurdle for card present, retail merchant and partner adoption. As it is right now, there is a delay for all cryptocurrency transactions, opening a window for transactions to timeout, fraud, and double spending," stated Clayton Moore, CEO of NetCents Technology. "The launch of this technology lines up with our POS and terminal integration and rollout. Being integrated with companies like Oracle and PAX, who alone has over 26 million terminals, the delay at the point of sale was something that we knew we needed to eliminate to instill confidence for retail merchants to begin accepting cryptocurrency and avoid transaction delays for the consumer."
In addition, the Company will be licensing this technology to cryptocurrency payment processors, retailers, and any business that is looking to validate a transaction before the transaction is confirmed on the blockchain. There are currently over 287,000 blockchain transactions per day that this technology can be applied to. With the wait time currently being the biggest hurdle for retail adoption, this technology eliminates that hurdle which the Company anticipates will further drive merchant and transaction growth.
The NetCents Zero Confirmation and Risk Analysis technology facilitates near-instant, risk-mitigated commerce, guaranteeing the cryptocurrency transaction before it is confirmed by miners on the blockchain. The technology provides a score for each transaction, guaranteeing the transaction against double spend, expiration, and other fraud. If the transaction passes the NetCents scoring algorithm, the transaction is approved with 0 confirmations. At launch, the Company will be using this technology for all Bitcoin transactions and will be rolling out for Litecoin and Bitcoin Cash transactions within the next 6-weeks.
This platform enhancement reduces the wait time at point of sale transactions which the Company has seen take up to 30 minutes. With Zero Confirmation and Risk Analysis, NetCents is now able to deliver near real-time confirmation for 98% of all Bitcoin transactions.
SOURCE NetCents Technology Inc.
Brazilian Enterprises See Digital Transformation as a Way to Better Engage with Customers
Reading Time:
2
minutes
Enterprises in Brazil want digital business transformation providers to help them create better customer experiences and transform the customer journey, according to a new report published today by Information Services Group (ISG) (Nasdaq: III), a leading global technology research and advisory firm.
The ISG Provider Lens™ Digital Business Transformation Report for Brazil sees the country's digital business transformation market transforming all aspects of traditional business. Enterprises are looking to vendors to help them improve their sales processes, product design, supply chains, human resource management and other core functions. Often that means becoming more agile and moving more workloads to the cloud, the report said.
The customer journey is a major focus in the Brazil market, with most providers using design thinking to address customer needs and expectations, according to the report. "In the digital era, customers buy experiences, feelings, well-being, comfort and convenience, and many companies see digital transformation as a way to meet those expectations," said Esteban Herrera, partner and global leader of ISG Research.
Other important pieces of the digital transformation journey in Brazil include robotic process automation and artificial intelligence, the report said. But RPA and AI are not reducing employee numbers; instead the technologies are taking over repetitive tasks for workers.
Agility is another major goal of digital transformation. Many enterprises want vendors to help them become more agile in several ways, Herrera said. "Enterprise agility goes far beyond software development. Companies need to efficiently and rapidly address individual customer expectations and requirements, with minimal unplanned cost, effort or disruption to the enterprise. They need continuous delivery to remain competitive."
The report highlights the emergence of ecosystems, which it calls "one-level-up partnerships." Previously used to expand sales channels, these partnerships now are aimed at creating new offerings, developing new markets and enhancing customer experience. Co-creation and collaboration define the modern ecosystem.
The ISG Provider Lens™ Digital Business Transformation Report for Brazil evaluates the capabilities of 29 providers across seven quadrants: Enabling the Customer Journey, Digital Enterprise Operations, Digital Transformational Platforms (PaaS), Digital Transformational Services (XaaS), Digital Product Creation and Customization, Digital Continuous Delivery and Blockchain as a Service.
The report names IBM as a leader in all seven quadrants, while Accenture is a leader in six. Cognizant and Stefanini are named a leader in four quadrants, Wipro in three, and CI&T and ilegra in two. Atos, DXC Technology, Publicis Sapient AG2, Sofftek, Tech Mahindra and TIVIT were all cited as a leader in one quadrant.
Custom versions of the report are available from Cognizant and Stefanini.
The ISG Provider Lens™ Digital Business Transformation Report for Brazil is available to ISG Insights™ subscribers or for immediate, one-time purchase on this webpage.
SOURCE Information Services Group, Inc.