4ocean Unveils One-Of-A-Kind 135-Foot Ocean Plastic Recovery Vessel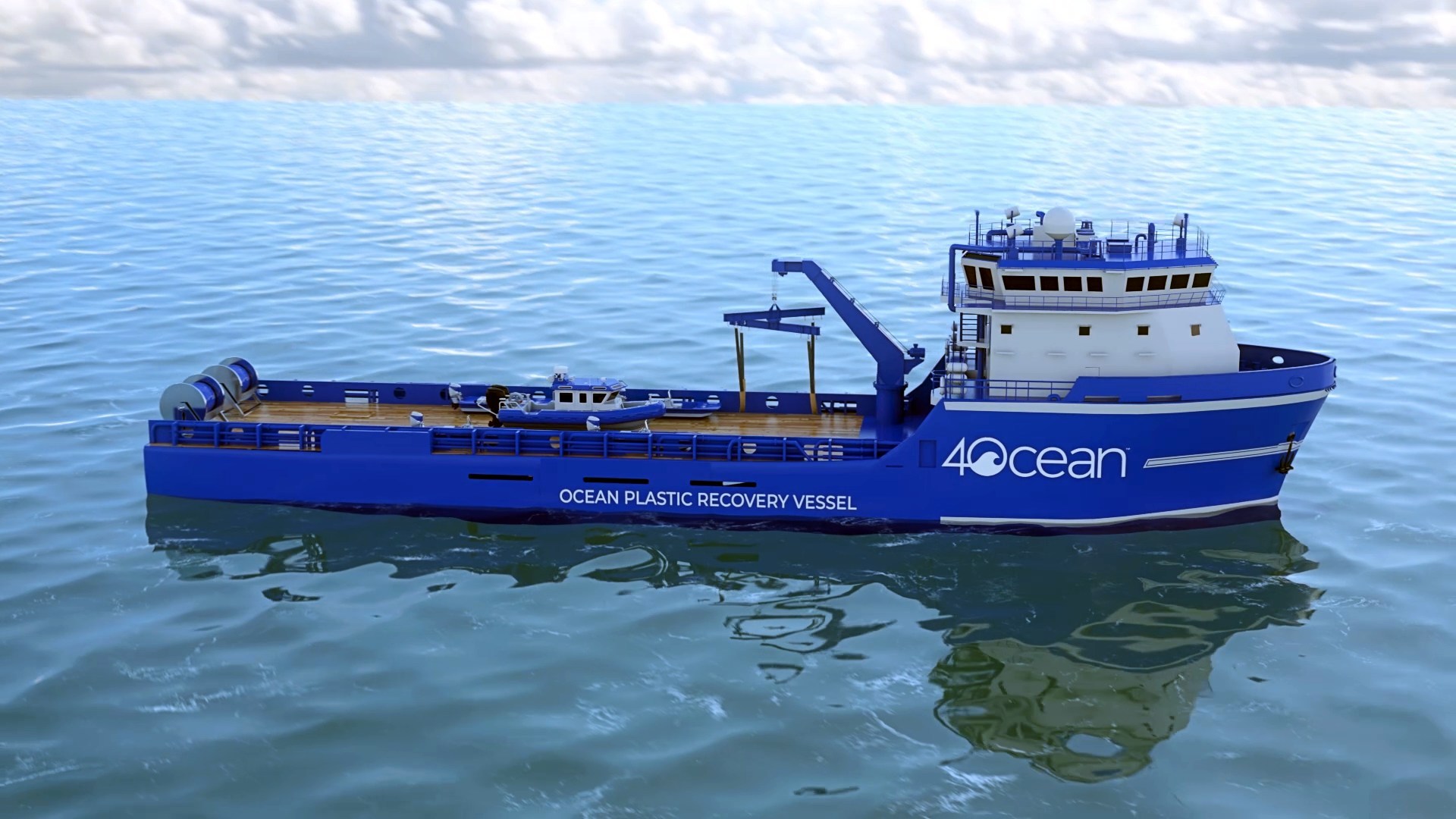 Reading Time:
3
minutes
Ocean cleanup company to remove millions upon millions of pounds of plastic and trash with new, specially outfitted vessel
4ocean (www.4ocean.com), an ocean cleanup company headquartered in Boca Raton, Florida, will unveil their new Ocean Plastic Recovery Vessel, a 135-foot vessel outfitted with 48,000 gallon fuel tanks, 30,000 gallon water tanks and 14 cabins. The OPR Vessel will assist in the gathering of plastic and trash at domestic and international locations by targeting local and land-based coastline issues and tackling coastline plastics, containing them, collecting them, and reclaiming large-scale debris fields in the waterways.
The 4ocean OPR Vessel contains an excavator barge, marsh excavator, fast landing craft and collection booms. The collection booms can be laid out in a petal fashion to reach a larger coverage area while having access to the beach. The design will bring the floating debris including plastic and trash to the beach for collection by the 4ocean team. The marsh excavator is a custom-built combination of a long reach excavator and a set of swamp tracks to work on soft soil in order to remove and separate plastics from mud.
River mouths are oftentimes in under-developed low-income areas. Therefore, the logistics of trying to maneuver large equipment complicates the cleanup process. Small panga vessels can clean-up plastic and bring it to recycling facilities. These pangas can hold four to five supersacks carrying 1,500 pounds while the larger Ocean Plastic Recover Vessel can bring in 310,000 pounds in one trip alone.
"The 4ocean OPR Vessel will transport massive amounts of plastic coupled with large booms to assist in the installation in all impactful river mouths," said 4ocean co-founder Alex Schulze. "Our mission with the OPR Vessel is to attack shoreline plastic simultaneously while booms are collecting plastic debris. At the same time, we will be handling reclamation projects in large geographic square areas to clean up the oceans and river deltas in order to make those areas functionable, usable and sustainable."
"Our new vessel has the ability to respond to any emergency situation to recover plastic including heavy rains and floods that frequently cause mass amounts of plastic to head offshore," stresses 4ocean co-founder Andrew Cooper.
4ocean will have four panga vessels, each 22 feet long. These smaller boats will be primarily used for cleanups in the Caribbean and Central America due to their ability to operate in high seas using a low horsepower motor. They are longer and more slender vessels and use less fuel. Panga vessels float shallow and are faster and more efficient for 4ocean crews to collect plastic from oceans and waterways.
"Our new Bobcat excavator uses a custom claw and hook on the front with teeth to leave behind dirt and only grab plastic," notes Schulze. "Being that there is so much plastic in these impacted river mouth areas, our job is to collect as much plastic as possible, clean up these areas, install booms and employ locals to service and maintain the booms long-term."
4ocean's efforts are completely funded through the sale of recycled bracelets and sustainability products.
With efforts well-established in South Florida since January 2017, Bali, Indonesia since May 2018 and Port-au-Prince, Haiti since September 2018, 4ocean plans to expand their ocean cleanups farther across the globe with the Ocean Plastic Recovery Vessel.
Since its founding in January 2017, 4ocean has pulled over 2 million pounds of plastic and trash from the ocean and coastlines.
4ocean (www.4ocean.com) is a sustainability brand started by two twentysomething surfers, Alex Schulze and Andrew Cooper, with a vision of cleaning the ocean and coastlines, one pound at a time. Global cleanups are funded entirely through the sale of sustainability products, where every item purchased funds the removal of at least one pound of trash from the ocean. By creating jobs, utilizing the latest technology and raising awareness about the impact of trash in the ocean, the company is building the first economy for ocean plastic and creating a cleaner, more sustainable future for the ocean.
Elegant Metsä Pavilion – Finnish Wooden Architecture in Tokyo
Reading Time:
3
minutes
The wooden Metsä Pavilion is to be used by Finnish athletes and companies during the Tokyo Summer Olympics in 2020. The building will be made entirely from Metsä Wood's Kerto® LVL (laminated veneer lumber) elements. This pavilion is an example of innovative architecture based on industrially manufactured wooden elements. The pavilion has been designed by world-renowned Finnish architect Pekka Helin from Helin & Co Architects. The pavilion will be built by Metsä Group in collaboration with Business Finland.
Pekka Helin describes the design process as an interesting and challenging project. The stylish pavilion will be made from industrially manufactured Kerto LVL elements. It must also be easy to dismantle to be relocated for assembly and use elsewhere. This affected the design of the connections between the elements, as well as their size and transport.
"The pavilion needed to be based on industrial products, instead of being a complicated, fancy structure," Helin explains. "We needed to figure out how to create an elegant building from industrial elements."
Japan has long traditions in timber construction, which served as an inspiration during the design process. The Metsä Pavilion is an example of unique, beautiful architecture based on industrial wooden elements.
"In Japan, the construction of buildings makes use of the natural flexibility of wood in case of earthquakes. This is combined with ancient Japanese aesthetics and minimalist sophistication. These qualities can also be found here in the north. This was my inspiration as I began to design the Metsä Pavilion," says Helin.
The environmentally friendly Kerto LVL brings the benefits of wood to construction
Made from Metsä Wood's lightweight and dimensionally stable Kerto LVL products, the wooden elements make it possible to build quickly in an environmentally friendly manner.
"It's valuable in itself to design something permanent. Here this is combined with a new type of opportunity when wooden element buildings are made movable to meet a wider demand through reuse," says Helin.
Engineered wood products, as construction materials, are durable and environmentally friendly. Kerto LVL is manufactured from a renewable raw material grown in sustainably managed Northern forests. In addition, wood as a building material is a long-term carbon store.
"The key benefits of wood construction include ecological aspects and sustainable development, which are critical these days," Helin points out. "A large amount of carbon dioxide is stored quite permanently and is not released for a long time. In addition, wooden structures or timber construction do not cause any harmful emissions in residential or working environments."
Fast, light and green construction with Kerto LVL
The Metsä Pavilion highlights the opportunities of wooden element construction on challenging urban sites. The challenge in the design of the pavilion was its location in the area of the Finnish Embassy in Tokyo. The building needed to be designed on top and around an existing garage on the embassy site.  In practice, prefabricated wooden elements were the only option.
"Limitations of this type really challenge your imagination," Helin says with a laugh. "Metsä Wood has excellent expertise. They know which dimensions make sense with various elements and which parts can be connected or further processed. In addition, the components are optimised with production dimensions to ensure that the process is as ecological as possible, with no waste."
Elements made from Kerto LVL products are lightweight and environmentally friendly, as well as speeding up construction. The industrially manufactured elements are shipped in containers to Japan, where the pavilion can be put together quickly on-site.
"You can create anything with Kerto LVL!" says Helin. "I have always emphasised that simple wooden structures are ideal for small-scale residential construction and, at the other end of the continuum, for large sports halls, office buildings, airports, day-care centres and schools."
Element  designs are available at Open Source Wood
Metsä Wood's Open Source Wood is a collaboration platform for architects and construction design professionals to share their wood construction innovations. The purpose of the initiative is to promote the sharing of knowledge and cooperation between professionals in wood construction. All of the elements used in the design of the Metsä Pavilion are free for download at Opensourcewood.com.
Watch a Talking Wood video with Pekka Helin on the design of the Metsä Pavilion.
SOURCE: Metsä Wood
Yara and IBM join forces to transform the future of farming
Reading Time:
3
minutes
Yara and IBM will combine world-class agronomy and cutting-edge technology to develop the world's leading global digital farming platform.
Yara International (OSE: YAR), a global leader in crop nutrition, and IBM (NYSE: IBM), today announced an agreement to build the world's leading digital farming platform, providing holistic digital services and instant agronomic advice.
Yara and IBM Services will jointly innovate and commercialize digital agricultural solutions that will help increase global food production by drawing on the two companies' complementary capabilities: Yara's unrivalled agronomic knowledge, backed by more than 800 agronomists and a century of experience, and IBM's digital platforms, services and expertise in artificial intelligence (AI) and data analytics.
"Our collaboration centers around a common goal to make a real difference in agriculture. To be able to responsibly feed a growing population, it is critical that farmers increase food production on existing farmland to avoid deforestation. Yara and IBM will develop digital solutions that empower professional and smallholder farmers to optimize farming practices to increase yields, crop quality and incomes in a sustainable way," said Terje Knutsen, EVP Sales and Marketing in Yara.
The joint global digital farming platform will apply artificial intelligence, machine learning and in-field data to unlock new insights for farmers. The digital platform will have worldwide coverage and aspires to reach 100 million hectares of farmland – which is equivalent to twice the size of Spain or close to 7 percent of all arable land worldwide* including millions of smallholder farms.
"As demand for food rises along with the world's population, the digital farming platform will play a key role in increasing global farming yields in a sustainable way. The collaboration is a perfect symbiosis of IBM's capabilities in AI, big data management and blockchain technology and Yara's agronomic knowledge, farmer-centric digital innovation, and proven track record in improving farming across the globe," said Luq Niazi, IBM Global Managing Director Consumer Industries.
As a first step, Yara and IBM will establish joint innovation teams, collaborating at digital hubs in Europe, Singapore, the US and Brazil. The teams will work closely with IBM researchers to develop new capabilities, such as visual analytics and machine learning techniques for crop insights. The first services are planned for end 2019.

Advancing the digital frontier of farming
The Yara/IBM partnership will focus on all aspects of farm optimization. One specific area of collaboration will be weather data. The ability to respond optimally to weather conditions is critical for farming. By merging analytical insights from IBM's Watson Studio, IBM PAIRS technology, The Weather Company and other services, with Yara's unrivaled crop knowledge and modelling capabilities, the joint platform will not only provide hyperlocal weather forecasts but will in addition give real-time actionable recommendations, tailored to the specific needs of individual fields/crops.
As the joint digital farming platform expands, the teams will explore innovative business solutions to integrate the joint platform into the IBM Food Trust, IBM's blockchain-enabled network of food chain players. This will allow for greater traceability and supply chain efficiency as well as ways to tackle food fraud, food waste and sustainability. It will firmly link the farm into the full food chain, creating a holistic approach to food production from farm to plate.
The contract was signed in April 2019.
*World Bank, FAO.
SOURCE: IBM
MegaFood® Introduces Healthy Farm Standard to Encourage Sustainable Sourcing and Improve Soil Health
Reading Time:
2
minutes
Premium supplements brand strengthens supplier programs to continue its commitment to clean quality ingredients and support for a more resilient future
MegaFood®, an award-winning maker of premium vitamins and supplements crafted with real food and added nutrients, today announced it will introduce a comprehensive Healthy Farm Standard aimed at improving our agricultural system by building carbon rich soil and increasing the nutrient density of food.
At its core, MegaFood is out to change the world starting with food and in doing so, works with like-minded farmers who advocate for organic and regenerative farming. Farmers are often the interface between planet and people, and while they have the greatest opportunity to bring this change, they also carry much of the burden. This new open standard will help farmers track and improve outcomes and reach new goals to ultimately replenish our soil with the nutrients it needs so that we can replenish our bodies with the nutrients we need.
"At MegaFood we are proud to work with trusted farm partners who share our environmental and social responsibility values," said Andy Dahlen, CEO at MegaFood. "Our new Healthy Farm Standard underscores our collective goals related to soil health, managing global climate change, and resource conservation. The new standard provides farmers with the support they need to drive change and, with MegaFood, lead this movement. We are excited to share this new program with our longstanding partners as well as invite new suppliers to our growing network."
MegaFood's new Healthy Farm Standard is structured to enable farmers and sourcing partners to move to more sustainable practices by evaluating their operations in key areas and support change to more sustainable practices through MegaFood funded incentive programs, workshops, and webinars that help encourage partners to reach these shared goals. The three key areas that farmers and sourcing partners will score their operations include:
Building the Soil—Consists of measuring soil health and soil nutrients along with insights on pest management practices.
Conserving Resources—Includes water conservation and water pollution, as well as the ability and intention to reduce fossil fuels and increase biodiversity.
Supporting Thriving Livelihoods—Addresses farm management, thriving workers, and nutritional access.
MegaFood is committed to improving lives through food. This new Healthy Farm Standard works to improve our agricultural system by building carbon rich soil and increasing the nutrient density of food.
"Farmers often hold the burden of new initiatives and at MegaFood we want to inspire and support change to ultimately revolutionize our farming system," said Sara Newmark, VP of Social Impact at MegaFood. "That is why we are committed to supporting our farm partners and sourcing partners through this new program so they can, in turn, invest in a better future for all of us."
The Healthy Farm Standard represents the company's latest move to cultivate a community of suppliers and like-minded farmers that together advocate for regenerative farming. This standard is open source and is currently being piloted by MegaFood's trusted farm partners. MegaFood encourages the public to understand the standard and welcomes all feedback, thus, supporting its vision of transforming "agri-culture" by empowering communities and revolutionizing food systems.
To learn more about MegaFood's latest standards and requirements, visit megafood.com.
SOURCE: MegaFood