Launch of ASEAN Super 8 — A Mega Trade Event Combining 8 Leading Events Within the Construction, Energy and Built Environment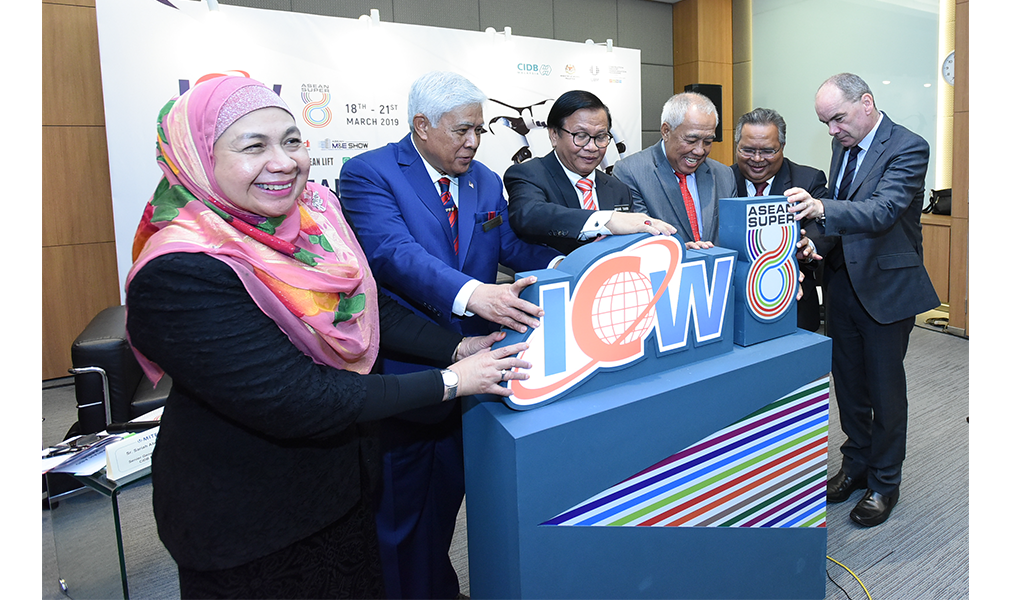 Reading Time:
2
minutes
Deputy Minister of Works, YB Tuan Haji Anuar Mohd Tahir announced and officiated the launch of the ASEAN Super 8 mega exhibition held in conjunction with International Construction Week (ICW) at a press conference held on 25 October 2018 at MITEC.
UBM Malaysia will hold its biggest built industries exhibition in the ASEAN region — ASEAN SUPER 8. Eight top regional industry exhibitions will be held together for the first time under one roof on 19 till 21 March 2019 at the country's biggest trade venue, Malaysia International Trade & Exhibition Centre (MITEC). Industries will have the opportunity to showcase innovations, source for suppliers, make valuable contacts with top industry players and stay updated with the latest developments in everything built environment related in this unique business trade platform.
ASEAN Super 8 is the largest regional exhibition for the construction, engineering, energy, heavy machinery & equipment and security industries. The mega event will comprise eight power-packed industry leading events including ASEAN M&E, TENAGA, ASEAN SOLAR, ASEAN ECOLIGHT, ASEAN LIFT, IFSEC Southeast Asia, HEAVY MACH and ECOBUILD SEA.
"The ASEAN Super 8 mega exhibition will enable construction industry stakeholders to be introduced to new products and technologies, as well as explore the innovations available in the market. This includes new sustainable materials and energy sources, innovative design approaches, as well as advances in digital technology, in line with the ICW 2019 theme of "Construction Beyond 2020", said Tan Sri Dr. Ir. Ahmad Tajuddin Ali.
ASEAN SUPER 8 is expected to attract 20,000 trade visitors, 1,150 exhibiting companies, and 15 country group pavilions, 300 group visits from corporate, government bodies, associations and universities.
ASEAN SUPER 8 will feature more than 200 sessions to conduct Business Matching by MATRADE and CIDB Trade Visitors.
General Tan Sri Dato Seri Panglima Mohd Azumi (RTD), Co-Chairman of UBM Malaysia said, "ASEAN SUPER 8 will be one of UBM Malaysia's biggest events showcasing the latest developments across the entire spectrum of construction in one venue."
ASEAN SUPER 8 will be held at The Malaysia International Trade & Exhibition Centre (MITEC) which is Malaysia's largest and most innovative exhibition centre with over 13.1 acres of flexible function or exhibition space and fully equipped state-of-the-art facilities. It is the first component and flagship venue of the new KL Metropolis, a 'city within a city' development that is envisioned to be Kuala Lumpur's "International Trade and Exhibition City" and will play a key role in the building of a sustainable and inclusive economy.
The ASEAN SUPER 8 event is endorsed by Malaysia External Trade Development Corporation (MATRADE) and supported by Construction Industry Development Board (CIDB) Malaysia.
About UBM Asia — the show organiser (www.ubm.com)
We Create Business For You
Owned by UBM plc listed on the London Stock Exchange, UBM Asia is Asia's leading exhibition organiser and with a track record spanning over 30 years. UBM Asia operates in 21 market sectors with 160 dynamic face-to-face exhibitions, 75 high-level professional conferences, 28 targeted trade publications, 18 round-the-clock vertical portals and virtual event services for over 1,000,000 quality exhibitors, visitors, conference delegates, advertisers and subscribers from all over the world. We provide a non-stop diversified global service for high-value business matching, quality market news and online trading networks. In ASEAN, UBM Asia operates from its offices in Malaysia, Thailand, Indonesia, Singapore, Vietnam and the Philippines with over 50 events in this region.
Enterprise Estonia Reveal Intelligent Traffic Lights Have Been Elected as Most Wanted Solution at Smart City Expo World Congress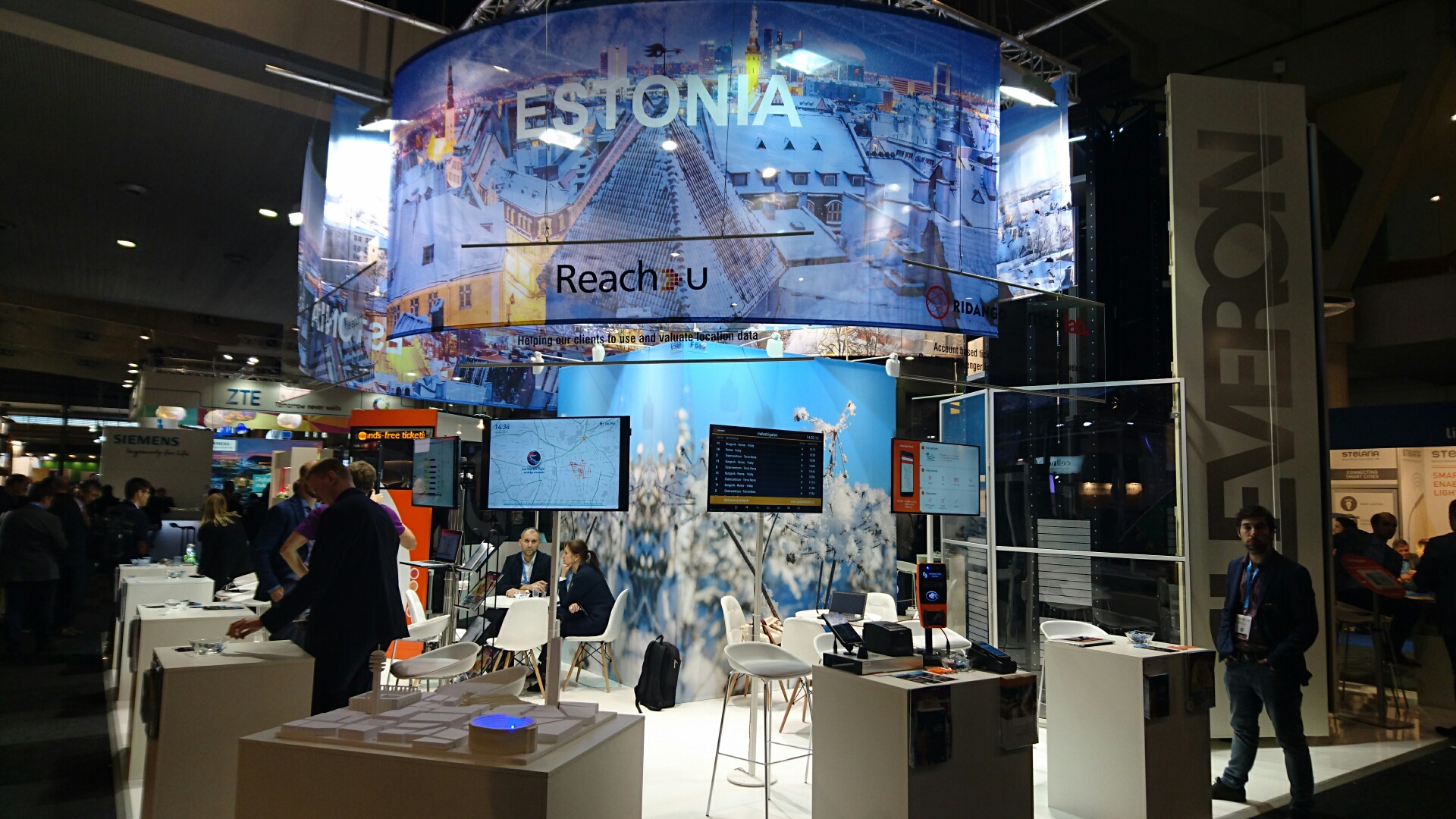 Reading Time:
2
minutes
A survey, conducted among visitors at Smart City Expo World Congress in Barcelona 13-15 November, has found that people would like their hometown to have a Smart Pedestrian Crosswalk (SPC) designed by an Estonian company Bercman Technologies.
During the Expo people were asked about their attitudes towards different Smart City solutions, like e-tickets, free public WiFi, parcel robots, voting online, secure bike racks, smart high-tech traffic signs and online educational information environment.
The survey showed that 44 percent of people would like to see the Smart Pedestrian Crosswalk (SPC) designed by an Estonian company Bercman Technologies at their hometown. Bercman's SPC is the first of its kind in the world, bringing real future technologies to the markets of Vehicle to Everything (V2X) communication, accident prediction algorithms and many more.
The SPC, revealed in Barcelona, is the first of many planned cooperative intelligent transportation system products. Bercman Technologies promises updates on new and interesting products and software solutions very soon.
Head of the Estonian delegation at Expo World Congress Kairit Sikkal from Enterprise Estonia said as a result of the partnership between a forward-thinking government, proactive entrepreneurs and tech-savvy people, Estonia is in the forefront of all e-things – is it e-solutions, online government services, online voting or e-school. "There are only three things that are still impossible to do online in Estonia: get married, get divorced, and buy or sell a house."
38 percent of Smart City World Expo visitors would want to use e-learning ecosystem BeEd created by SchoolOS team in collaboration with partners from Malaysia (BEED Adventures) and 34 percent would want to vote online.
Enterprise Estonia promotes business and regional policy in Estonia and is one of the largest institutions within the national support system for entrepreneurship by providing financial assistance, counselling, cooperation opportunities and training for entrepreneurs, research institutions, the public and non-profit sectors.
SOURCE: Enterprise Estonia
Fast-Growing Home Solar Leader Freedom Forever Brings Renewable Energy To Colorado Residents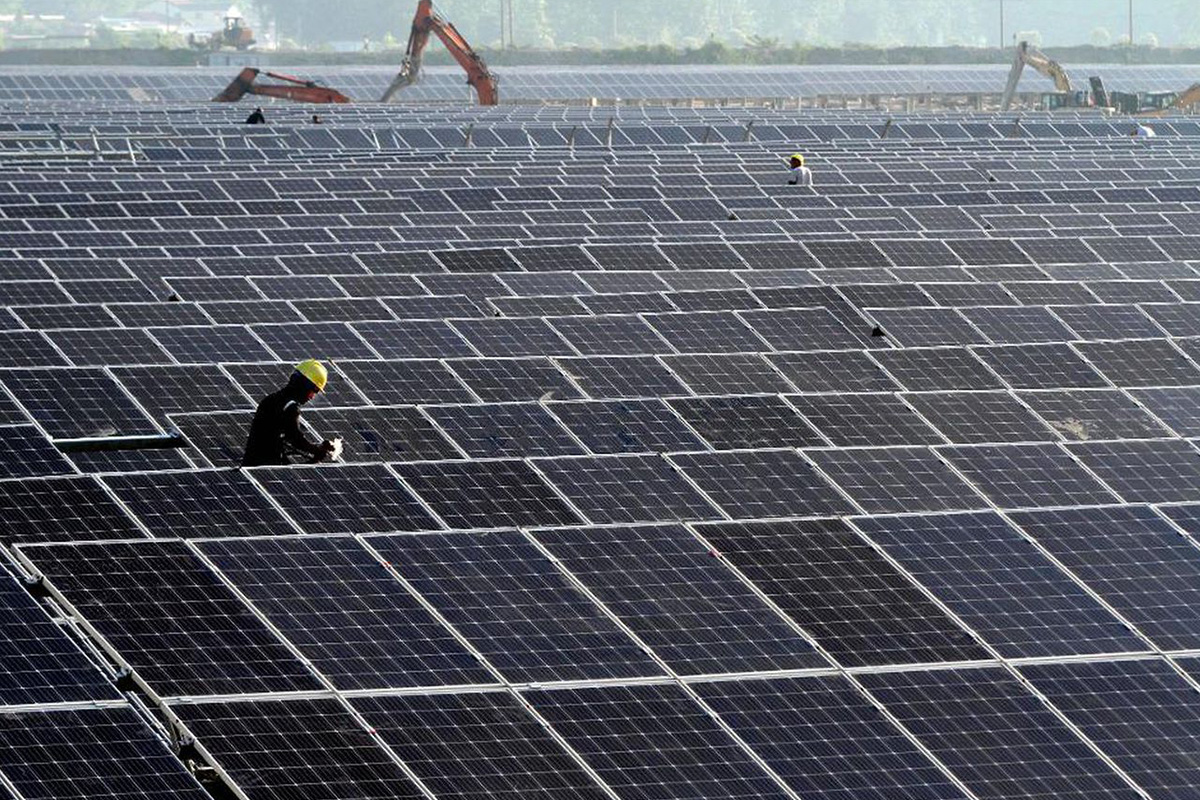 Reading Time:
2
minutes
Solar installer offers unique service-oriented approach and 25-year production guarantee to renewable energy to customers across the state
Freedom Forever, the innovative residential solar energy installer, recently named one of America's fastest growing companies by Inc. Magazine, today announced its expansion into Colorado. Founded in 2011, Freedom Forever currently serves customers in California, Arizona and Nevada. The solar leader has selected Colorado as its next market because of the large growth potential for solar energy in that state, due to its climate and solar-friendly regulatory environment. With solar energy production expected to reach over 1800 MW in the next five years according to SEIA, Freedom Forever is confident that Colorado is on track to be a leading solar state.
"We are thrilled to begin serving residential solar customers in Colorado, a state that is primed to be an ideal location for solar projects and a market ripe with opportunity for residential solar energy," said Brett Bouchy, CEO of Freedom Forever. "At Freedom Forever, we are committed to a service-first model for delivering solar energy that puts the customer at its center and maximizes their return on investment in a home solar system. As a fast-growing company, Colorado was a natural fit as we seek to expand our footprint in markets where solar is in demand and homeowners are looking for a long-term partner for their renewable energy needs."
Freedom Forever will serve as a solar contractor and installer for homes across Colorado. Home solar systems are increasingly in demand, due to a decrease in installation fees and the potential energy cost-saving opportunities for consumers. On top of this, Freedom Forever brings a unique approach to home solar that prioritizes ownership, return on investment and reliable long-term support designed to increase home value. Freedom Forever offers a unique 25-year production guarantee that ensures all installed systems meet or exceed kilowatt hour production for 25 years. As part of this guarantee, Freedom Forever not only services solar systems as needed, but they will also compensate homeowners for non-production.
Recently, Freedom Forever took its customer-centric philosophy one step further with a public commitment to absorb all cost increases that come as a result of recent tariffs on solar panels and power inverters that have raised the overall cost of solar energy systems over the past year. This bold move was taken due to a commitment to ensuring solar affordability, growing the adoption of renewable energy across the United States and continuing to cultivate consumer demand for home solar.
"As Freedom Forever seeks to expand its footprint, Colorado represents one of the most attractive markets for us – a state with the right policies in place to encourage the adoption of solar power, a population looking for green energy solutions and an environment currently underserved by innovative solar installers," said Jessica Sumikawa, Executive Vice President & Chief Legal Officer, Freedom Forever. "We look forward to becoming a key part of the next chapter of energy generation in Colorado and helping to foster a market for clean power across the state."
Freedom Forever will officially begin installations in Colorado this month. For more information please visit FreedomForever.com.
EU calls for renewed international action to protect nature on land and at sea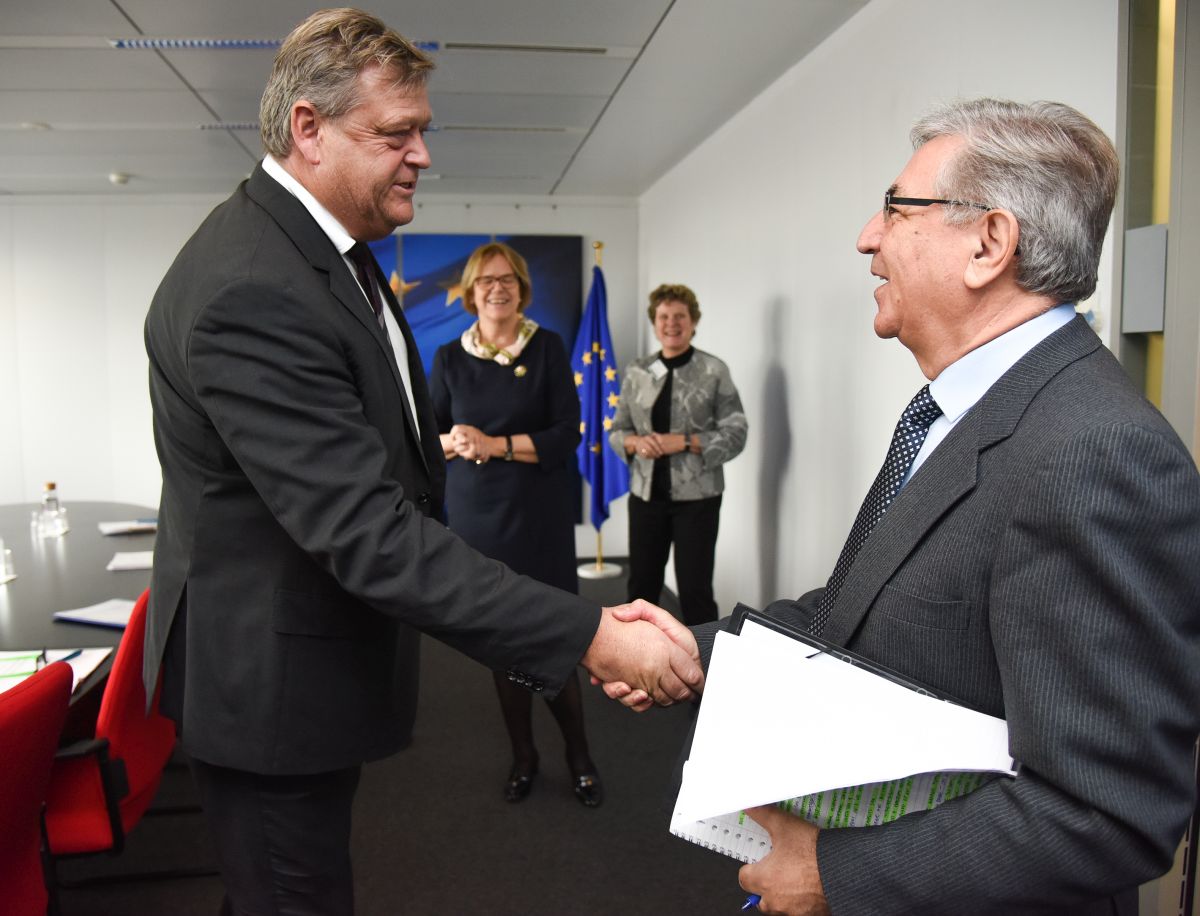 Reading Time:
2
minutes
Amid recent alarming reports of the dramatic loss of wildlife and ecosystems worldwide, the European Union is calling for stronger global response to biodiversity concerns at the 14th Conference of the Parties of the United Nations Convention on Biodiversity (CBD COP 14) in Sharm-el-Sheikh, Egypt.
Representing the European Union at the High-Level Segment, EU Commissioner for the Environment, Maritime Affairs and Fisheries Karmenu Vella said: "The current rate at which we are losing our wildlife and ecosystems is an existential threat as worrying as climate change. I am encouraged by the growing awareness of the links between the two, also at high-level international events such as this one and the upcoming United Nations climate change conference in Poland. Protecting biodiversity on land as in the ocean is important for future generations, but also for our current wellbeing."
The high-level biodiversity conference where the EU will be leading the international efforts for a post-2020 global biodiversity framework, is expected to create consensus on the urgency of achieving global biodiversity targets by 2020. Wider integration of biodiversity concerns in agriculture, energy, mining, industry and infrastructure projects is instrumental to keep global temperature increases well below 2°C, in line with the commitments of the Paris Agreement.
Engaging more than EUR 350 million per year on biodiversity in developing countries, the EU is the biggest donor for the protection of biodiversity in the world. Growing awareness across Europe of the positive role of biodiversity and ecosystems for health and for food security means the European Union is well placed to provide global leadership. The business community is also realising how dependent they are on biodiversity with some businesses taking bold measures to consider their dependencies on natural capital.
Capitalising on these positive examples, the European delegation, headed by Commissioner Vella, will aim to bring biodiversity policy to the political forefront in order to prepare for an ambitious and united outcome at the Conference of the Parties (COP15) in China in 2020.
A press release is available online. (For more information: Enrico Brivio – Tel.: + 32 229 56172; Daniela Stoycheva – Tel.: +32 229 53664)