Rise of Monetisation and Customisation of Reader Experience – will 2019 be the year paid content go up in Asia?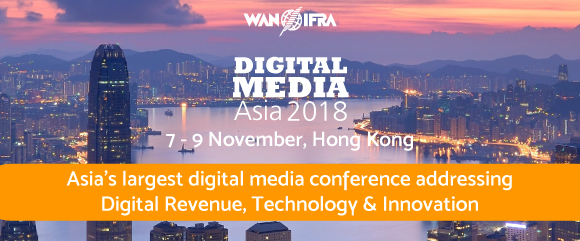 Reading Time:
2
minutes
Digital Media Asia 2018, organized by the World Association of Newspapers and News Publishers (WAN-IFRA), discusses how the current society is shifting with technology disruption with various parties from all over Asia.
With digital advertising unable to make up for the huge falls in print advertising revenue*, news publishers are seriously considering taking the paid route after encouraging signs. Singapore Press Holdings was an early starter, embarking on a paid subscription model over 13 years ago which has evolved over significantly over time. Last year, Indonesia's Kompas Daily launched its paid website, kompas.id, which carries premium content over its free, advertising-funded cousin, kompas.com. And more Asian publishers will be following suit.
At Digital Media Asia 2018, industry leaders from all the region's major news organisations are gathering in Hong Kong on November 7-9, 2018 to explore the various evolving business models in the news world. They also celebrate the success stories of the early adopters, which have experimented with a variety of approaches such as hard, metered, freemium and hybrid paywalls, micropayments, reader donations and memberships, and tapped into new revenue streams. Speakers from publishers such as Germany's BILD, Switzerland's Neue Zurcher Zeitung (NZZ) and Malaysiakini share how they have grown digital subscription income, which is far less volatile than income from third-party platforms and programmatic buying. They talk about how they have determined readers' propensity to pay and persuaded audiences to pay for quality content.
According to WAN-IFRA's 2018 World Press Trends report, traditional revenue sources continue to come under pressure globally, registering a four and eight percent fall for print circulation, and advertising respectively*. Despite this, print media continues to drive publishers' bottom line globally, while digital circulation revenue has increased by 155% in the last five years as more users pay for online content*. And there is a lot more potential for growth.
Personalising user experience to drive engagement and subscription
Early pioneers in digital subscriptions have moved into personalising the delivery of news products to drive reader engagement, and ultimately, subscriptions. At NZZ, machine-learning algorithms help personalise the user experience and its paywall, enabling the company to quintuple customer conversion in the last three years. Over at Fairfax Australia, deep customer insights and engagement metrics shaped this year's redesign of its sites such as the Sydney Morning Herald and The Age in Melbourne in pursuit of its ambitious paid membership goals.
Creating sustainable revenue streams
At Digital Media Asia, speakers from Reuters News Agency and Google encourage the exploration of new ground in non-traditional partnerships which extend beyond publishers' usual reader, media or advertising clients, while early movers in the media blockchain space, such as CoinDesk, Forkast.news and Smartchain Media cut through all the hype, demystify the technology and tokenomics, and explain why there is a future on the blockchain.
Digital Media Asia 2018 Conference sessions
Transformation and business models
Go local: driving revenue with local communities
Native advertising as premium ad revenue
Non-traditional partnerships
Digital marketing using AI
New ways of creating premium content
Digital media consumption trends in Asia
Digital subscription
Engagement and personalisation
Instagram stories school
Video for social media
Data for business intelligence
Blockchain for the media industry
Product development and innovation
#DMAHK18 #blockchain #paidcontent #monetisation #AI #nativeadvertising #video #social #dataintelligence #premiumcontent #digitalmarketing #markettrends
The Canary Islands Create a Video to Replace Blue Monday With True Monday
Reading Time:
2
minutes
The international #TrueMonday campaign is being launched from the Canary Islands to advertise this initiative
For years the Canary Islands has been battling Blue Monday, a fake news story that claims that this is the saddest day of the year. As part of its effort to get back and stand up for good vibes, the Canary Islands want to turn this non-existent event into a day to combat fake news.
The goal is to kill off Blue Monday once and for all and turn it into True Monday. To do so, the Canary Islands have created an informative video with messages as blunt as "Don't let any comments, any news, any made-up formula manipulate your feelings. It's time for us all to start improving the climate".
In addition, in coming months, officials in the Canary Islands will work to turn the third Monday in January into the International Day Against Fake News, a day to combat all the lies and untruths that sow tension, discord and bad vibes.
The stopbluemonday.com website describes this commitment through a manifesto and includes tips for identifying fake news, measures for getting back the good vibes and a quiz so users can check their knowledge.
Goodbye Blue Monday, hello True Monday
In 2005, using a completely made-up formula, Professor Cliff Arnall, from Cardiff University (United Kingdom), declared that the third Monday in January was the year's saddest day. This initiative was part of an advertising campaign for a travel agency.
Even though its credibility was called into question from day one, to the point that even Cardiff University called it "a farce", the media, including social media, continued to spread the news year after year.
The Canary Islands managed to get none other than Professor Arnall himself to publicly disavow his Blue Monday creation and join the #StopBlueMonday movement. "It's time to finally stop letting made-up comments, news or formulas manipulate our feelings and for everyone to start improving the climate", said the professor.
In short, the goal of the initiative is to remove the day devoted to sadness from the calendar once and for all and, in its place, to raise society's awareness of the fight against the type of fake news that created it.
Former NBA Star Dikembe Mutombo Joins Autonomous Brand Safety Company CHEQ
Reading Time:
2
minutes
The company's new Chief Blocking Officer is also the center of its new ad campaign, launching today
Military-grade ad-verification company CHEQ has announced the appointment of legendary NBA shot blocker Dikembe Mutombo as Chief Blocking Officer, a new advisory position at the company, and the launch of an advertising campaign that breaks today featuring him.
"Dikembe's reputation and legendary defensive skills best illustrate what CHEQ does millions of times a day in digital advertising–block ads from being served in unsavory environments," said CHEQ CEO, Guy Tytunovich. "For years Dikembe protected rims, and we protect brands. We are a match made in heaven, and now we're like family. We also expect to gain from Dikembe's wisdom and winner mentality, as he becomes an integral part of our advisory team."
In addition to teaser ads, the online campaign is centered on a video, featuring the sports star, and it opens with Mutombo addressing the camera.
"Hello my friends. I'm Dikembe Mutombo, and CHEQ appointed me to be their Chief Blocking Officer because I know how to block," he says. Several quick takes follow depicting him in hilarious scenarios in which he can "block" something.
The first shows him against a beach backdrop wearing floaties, sunglasses and an umbrella hat. "Sun block," he says as the scene switches to a couple who are about to kiss during dinner at a restaurant. "Cock block," Mutombo barks in his gravelly voice, slamming a statue of a rooster in between them.
That scene is followed by situations in which Mutombo announces the action or items that can be blocked or paired with the word "block," including "building block," "road block," "wood block," "chopping block," "blockchain," "blockbuster," and "block party."
The spot ends with Mutombo, wearing a fedora and sitting before a typewriter, as he struggles to find the word that goes with "writer's."
A voiceover interrupts as the CHEQ logo appears on a white backdrop. "Brand safety. Ad fraud. At CHEQ, we don't just measure the damage. We block it."
Cut back to Mutombo at the typewriter when he has an epiphany: "Writer's block!" he shouts.
Mutombo's professional basketball career began in 1991 with the Denver Nuggets and spanned 18 years. His finger wag at opposing players after he blocked their shots became his trademark during his ascent to legendary status as one of the greatest defensive players in the history of the NBA.
"When CHEQ approached me with the idea of becoming Chief Blocking Officer, I immediately was intrigued," Mutombo said. "This isn't just another celebrity endorsement deal. It really is the perfect match of spokesman and company offering. I'm proud to be on the CHEQ team."
Besides the Denver Nuggets, Mutombo played for the Seattle SuperSonics, the Atlanta Hawks, the Philadelphia 76ers, the New Jersey Nets, and the New York Knicks during his NBA career. He retired in 2009 while playing for the Houston Rockets.
Park Group Expands Its Multi-channel Marketing and Analytics Capabilities With the BlueVenn Marketing Hub
Reading Time:
1
minute
– Park Group will use the advanced analytics and marketing automation capabilities of BlueVenn for targeted, multi-channel marketing
– The platform will enable cross-channel personalisation by integrating email, mobile, direct mail and SMS marketing channels
Park Group plc, the UK's leading multi-retailer redemption product provider to corporate and consumer markets, has selected the BlueVenn Marketing Hub to enhance its multi-channel marketing and real-time personalisation capabilities.
The investment in BlueVenn technology will empower the marketing team at Park Group to provide a personalised customer experience across channels and devices by integrating their email, mobile, direct mail and SMS marketing channels. Using its marketing automation and analytics capabilities BlueVenn will centralise Park's marketing campaigns into one platform and will automate the delivery of targeted customer journeys.
Speaking about the partnership, Steve Klin, BlueVenn CEO said: "Park Group is an innovative brand supporting the UKand Ireland retail industries and is a truly multi-channel business. I'm therefore delighted that Park Grouphas selectedBlueVenn to provide their multi-channel marketing technology andthat we can support the marketing teamwith their vision."
Nicola Milford, Commercial Manager at Park Group, added: "We are constantly seeking ways to help improve our customer experiences and that means embracing new channels of communication and delivering more relevant, personalised and timely messages. The BlueVenn solution will help us to streamline our processes, drive better efficiencies and help us add more value."
Steve Miller, Chief Information Officer at Park Group, further added: "By putting the voice of the customer at the heart of what we do our partnership with Blue Venn is a significant step towards delivering our recently announced strategic focus on clarity, experience, productivity and appeal. This is a step change in our marketing and communications capability and will help drive our digitally enabled product and customer future."