IQ BAR Launches in Boston to Target Paleo – Vegan – Keto Health Food Market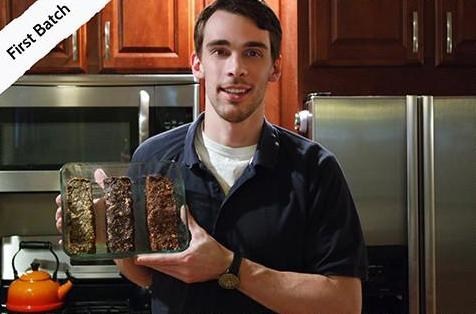 Reading Time:
1
minute
A new company, IQ BAR, a Health Bar, recently launched in 2017 and in 2018 became the most crowd-funded bar company in history, selling $90,000 worth of product.
IQ BAR is the first nutrition bar built for the brain. It flips the conventional nutrition bar on its head. Whereas most bars are high-carb, low-fat, and devoid of brain nutrients, IQ BARs are high-fat, low-carb and packed with 6 brain-functional nutrients. IQ BAR is part of a growing trend to optimize bodily health and brain efficiency.
Will Nitze, CEO of IQ BAR explains: "IQ BAR is just the first product line in what will eventually become a broad-reaching "brain food" company. We're trying to create an entirely new category."
In just the last year, IQ BAR has…
Become the most crowd-funded bar in history
Gained acceptance into MassChallenge (the largest accelerator in the world)
Become the only food or beverage company to WIN MassChallenge, taking home a $50K, equity-free award
Received investment from Mark Andrus (founder of Stacy's Pita Chips), Anthony Ackil (founder of B.Good), and Isaiah Kacyvenski (former special teams captain of the Seattle Seahawks)
Gained acceptance into the inaugural class of PepsiCo's food and beverage accelerator
We've also been featured in Vogue, SHAPE Magazine, The Boston Globe, and soon-to-be Men's Health!
No Cow Introduces First-Ever Energy Bar Made with Just 1 Gram Of Sugar + Patented Caffeine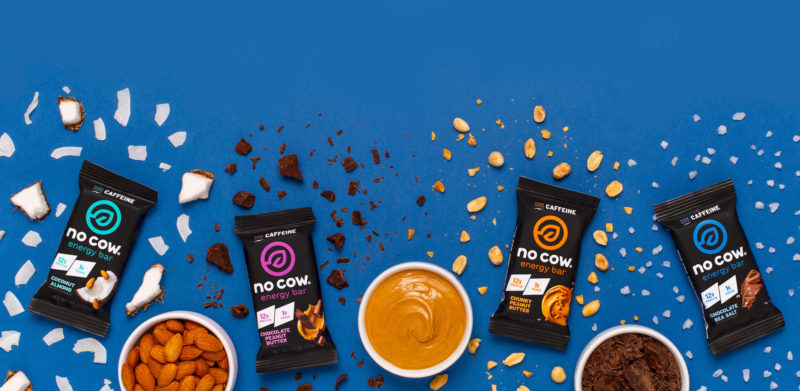 Reading Time:
2
minutes
Game-Changing Innovation Provides Sustainable Energy Without the Crash
The fast-growing, active nutrition start-up debuts latest innovation, following partnership with General Mills
No Cow, the overwhelmingly successful Denver-based brand of dairy free, high-protein bars with just 1g of sugar, today, unveils its latest first-to-market innovation – the No Cow Energy Bars.
Unlike other Energy Bars on the market that can have as much as 20g of sugar per bar, No Cow skipped the sugar (just 1g) and, in its place, added 45mg of Coffee Bean Flour, an innovative, patented caffeine source that provides a sustainable energy that is the equivalent of a ½ cup of coffee.
No Cow Energy Bars give you the energy burst, without the crash.
No Cow Energy Bars are packed with real ingredients like oats, nuts, and almond butters and continue the company's mission of making ready-to-eat dairy free, high protein (12g of protein per serving), low sugar products. The energy bars are gluten-free, soy free & non-GMO, like all other No Cow products.
Daniel "D" Katz, 22-year-old No Cow founder and 2019 Forbes 30 under 30 winner, launched the company in 2015 after developing a dairy sensitivity, a problem plaguing a significant portion of the worldwide population. As a health nut, he was on the hunt for a dairy free protein bar that was low in sugar – and came up empty handed. His personal need for quality nutrition led to the creation of The No Cow Bar.
In February 2017, General Mills invested in the brand and over the last two years the company has grown double-digits monthly.
Commenting on No Cow Energy Bars, Katz shares: "I wanted to create an energy bar that wasn't just another candy bar in disguise. The No Cow Energy bar has 45mg of caffeine to give you seriously sustained energy without all that sugar."
For more information on the No Cow Energy Bar, visit nocow.com/energybar and follow on Instagram at @NoCow and #RealGoodEnergy.
ABOUT NO COW: No Cow was created by then 18-year old Daniel Katz in 2015 as part of his mission to redefine high-protein, low-sugar, dairy-free foods to fuel an active lifestyle. Made with simple ingredients like brown rice and pea proteins, No Cow Bars are vegan, non-GMO, have just 1 gram of sugar and are free of gluten, dairy, lactose and soy. No Cow products are available at over 15,000 retail locations nationwide. To learn more, please visit www.NoCow.com
Follow No Cow:
New Orgain Organic Simple Protein Bars Take The Guess Work Out Of Clean Nutrition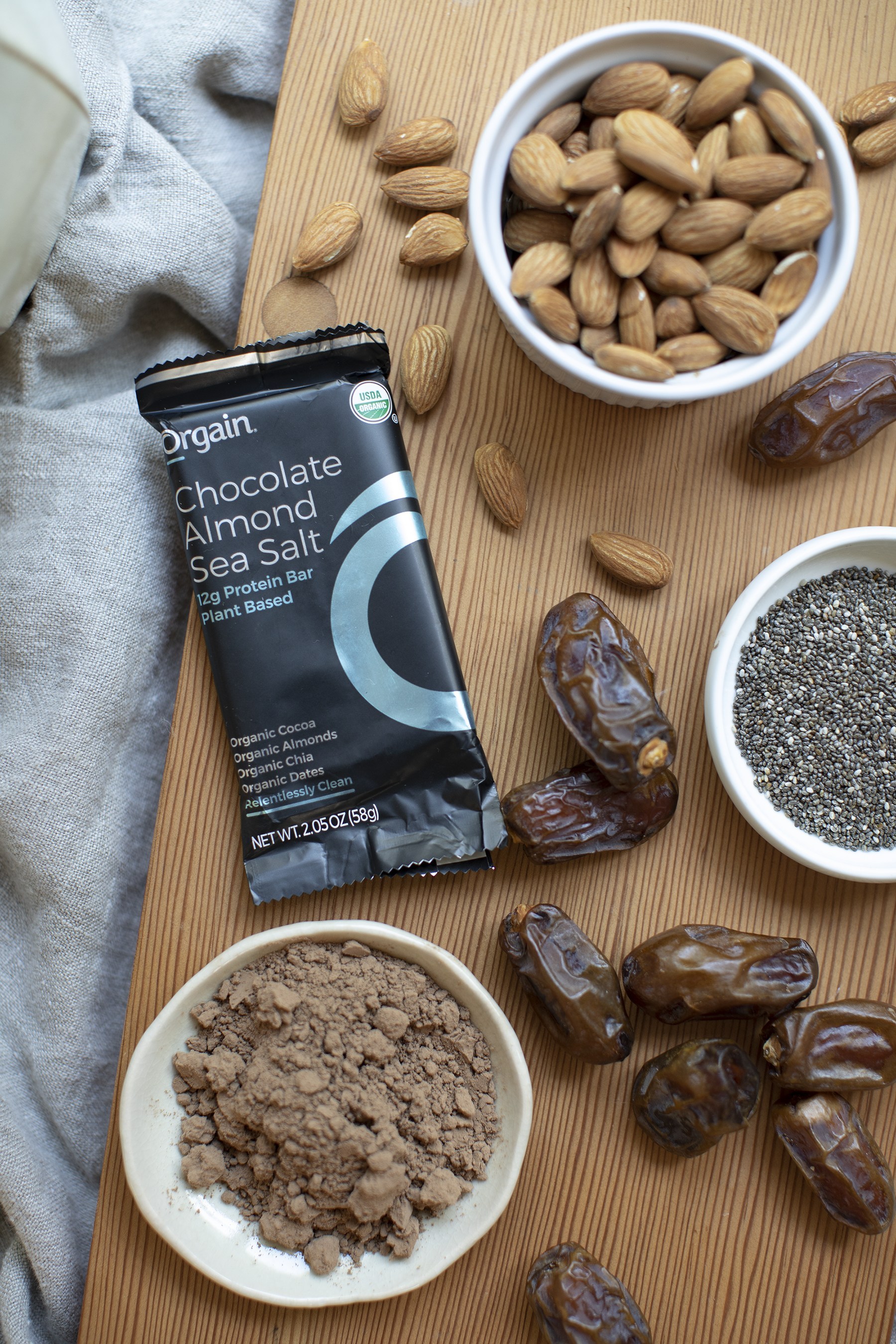 Reading Time:
1
minute
Flavor-packed, plant based organic protein bars boast simple and recognizable ingredients
"Clean nutrition" is no longer a fad. It's a mandate. Nielsen recently reported that 93 percent of US households purchased a clean label product last year. And 68 percent of consumers want to recognize every ingredient on the label. Orgain's new Organic Simple Protein Bars check all of the boxes.
Orgain Organic Simple Protein Bars round out a high-demand category, satisfying discerning palates with exceptional taste and texture. These bars contain only a handful of simple, high-quality, recognizable ingredients. In fact, most of the ingredients can be found in your pantry.
These Simple Protein Bars are USDA-certified organic, plant-based, and boast 12 grams of protein and eight grams of fiber. Like all Orgain products, they have no soy, gluten or GMOs. They are also certified kosher and vegan. The bars come in three flavors: Chocolate Almond Sea Salt, Blueberry Almond, and Chocolate Peanut Butter.
"At Orgain, we help others lead healthy, vibrant lives through organic and clean nutrition," said founder and CEO, Dr. Andrew Abraham. "We know how difficult it can be to find convenient and healthy snacks that are also flavorful with a pleasing texture. We live for the challenge of making this possible."
Orgain Simple Bars are currently available at Orgain.com and on Amazon.
Olive Oils from Spain: Passengers From All Around the World Discover Olive Oils in Narita's International Airport, in Tokyo
Reading Time:
2
minutes
Until the 25th of this month, passengers traveling through Narita will find a unique alternative to their layovers in airports: the possibility of getting to know the best Olive Oils of the world
Under the claim "Let´s Make a Tastier World", the campaign directed to today´s travelers, offers passengers an innovative space on the culture of Olive Oils from Spain
Two months after Olive Oils from Spain presented their "Olive Oil World Tour" in Tokyo, the new promotion campaign aimed for the Asian market and co-financed by the European Union, launches a notorious action in Narita's International Airport in Tokyo.
The campaign proposes an innovative space on the culture of Olive Oils from Spain: The Olive Oil Lounge. A stand located on the exits of Terminal 2 of the airport, passengers will find a space with all the information about this product which together with technology, will offer a complete sensory experience. This initiative will submerge travelers in the Olive Oil world via tablets or photo booths which will allow them to interact with the product. In the space, they will also find educational zones as an olive oil gallery, where they will learn to differentiate the main varieties of oils, and even enjoy themselves on the puffs corner to guarantee relaxation before their flight.
The Narita International Airport controls 50% of the international passenger traffic of the country, a key cosmopolitan location where each year more than 37 million travelers pass through with the curiosity of discovering the world. A predisposed target, up for the interaction with a food that, little by little is making a gap among the Japanese palates: Olive Oils. This country is already the first Asian consumer of this pillar of the Mediterranean Diet. A continent that acquires 25% of the Olive Oils every year. Spain also leads exports to the Japanese market. 60% of the oils marketed in 2017 in that market were Spanish.
This initiative is part of a global three-year promotion strategy where "Olive Oil World Tour" will develop a complete battery of performances in Japan, China and Taiwan to help increase the visibility of the product in the Asian market and consideration within its consumers.