IQ BAR Launches in Boston to Target Paleo – Vegan – Keto Health Food Market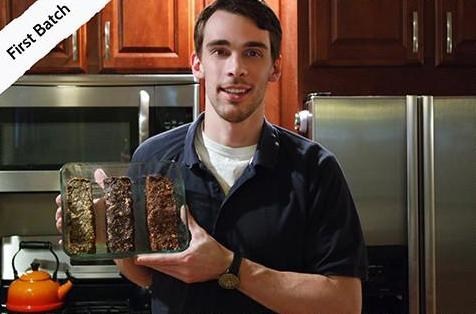 Reading Time:
1
minute
A new company, IQ BAR, a Health Bar, recently launched in 2017 and in 2018 became the most crowd-funded bar company in history, selling $90,000 worth of product.
IQ BAR is the first nutrition bar built for the brain. It flips the conventional nutrition bar on its head. Whereas most bars are high-carb, low-fat, and devoid of brain nutrients, IQ BARs are high-fat, low-carb and packed with 6 brain-functional nutrients. IQ BAR is part of a growing trend to optimize bodily health and brain efficiency.
Will Nitze, CEO of IQ BAR explains: "IQ BAR is just the first product line in what will eventually become a broad-reaching "brain food" company. We're trying to create an entirely new category."
In just the last year, IQ BAR has…
Become the most crowd-funded bar in history
Gained acceptance into MassChallenge (the largest accelerator in the world)
Become the only food or beverage company to WIN MassChallenge, taking home a $50K, equity-free award
Received investment from Mark Andrus (founder of Stacy's Pita Chips), Anthony Ackil (founder of B.Good), and Isaiah Kacyvenski (former special teams captain of the Seattle Seahawks)
Gained acceptance into the inaugural class of PepsiCo's food and beverage accelerator
We've also been featured in Vogue, SHAPE Magazine, The Boston Globe, and soon-to-be Men's Health!
THAIFEX-World of Food Asia 2019 returns with a greater business focus and an elevated trade show experience to equip visitors for the future of F&B
Reading Time:
5
minutes
Enhancements to Hosted Buyer Program and VIP services, new supporting programs, and an inaugural innovation and start-up zone to bring greater value to buyers, exhibitors and visitors
The largest dedicated food and beverage (F&B) trade show in the region, THAIFEX-World of Food Asia, is set to return for its 16th edition. To be held from 28 May to 01 June 2019, at the IMPACT Muang Thong Thani in Bangkok, Thailand, the trade show will feature brand new programs and experiences to equip visitors for the future of the industry, along with enhanced buyer programs and VIP services to further strengthen the show's focus on quality business and trade.
According to recent research by Euromonitor International, disposable incomes in the Asia Pacific (APAC) region are projected to grow by 78.0% (in real terms) over the 2017–2030 period, spurring an explosion of growth in the middle class (source) and a surge in demand for modern products and services – including F&B. In fact, APAC is set to become the largest consumer of F&B by 2030, creating a huge market potential for established businesses and start-ups in the industry. Against this backdrop of opportunity, THAIFEX-World of Food Asia provides a gateway for international businesses keen on entering the region, and a springboard for Asian companies to expand to the rest of the world with its strategic location in Thailand.
Enhanced buyer program and new services to boost business and show experience
As a sign of renewed commitment to facilitating quality business and trade, THAIFEX-World of Food Asia 2019 will feature an enhanced Hosted Buyer Program. Hosted buyers will be able to access an online business matching platform from the end of April onwards to target and pre-arrange business appointments with around 2,700 exhibitors during the trade show, ensuring that each meeting is productive and meaningful for both parties.
"Business has always been, and continues to be, a huge priority for THAIFEX-World of Food Asia. Through the new online business matching platform and enhancements to the Hosted Buyer Program, we want to optimize the trade show environment to make it conducive for exhibitors and buyers to strike deals with one another," said Mathias Kuepper, Managing Director of Koelnmesse Pte Ltd.
In addition to an optimized business matching platform, improved VIP guest services will cater to the administrative and logistical needs of top buyers and visitors to create the best trade show experience. A new THAIFEXclusive Membership Card will be introduced to provide members with special discounts for THAIFEX conferences and at F&B outlets within the IMPACT Exhibition Center, along with access to the THAIFEXclusive Club which has been expanded to accommodate more business meetings. VIPs will receive complimentary luggage delivery and storage (limited to 1 piece per person) to provide greater convenience.
"With the sheer number of exhibitors present at a trade show like THAIFEX-World of Food Asia, the ability for buyers like ourselves to select and arrange business meetings with specific companies ahead of time really helps us to cut through the noise and connect with the right products and services to take our business to the next level," said Mariana Sudarma, Merchandising Manager of PT. Swalayan Sukses Abadi, The Food Hall.
Apart from VIP-specific services, new guest services will be introduced to create a more seamless and hassle-free trade show experience for all. Self-check-in systems and self-print counters will be set up to shorten the time required for registration. Free river taxi rides from IMPACT Muang Thong Thani (requires pre-registration) will provide an alternative and reliable mode of transport connecting visitors to Bangkok city center within an hour. Paid luggage delivery services to and from the airport will also be available upon request. Put together, these services will alleviate administrative burdens on guests and provide levels of convenience and flexibility.
Brand new programs and partnerships showcase the future of F&B
To immerse visitors in the future of the F&B industry, this year will see the unveiling of a new program – THAIFEXfuture Food Experience+. The new special show will feature engaging talk shows and interactive product demonstrations presenting specially curated content on revolutionary technology, products and designs from the F&B segment covering the following four themes: Food and Nutrition Trends, Business Operations, Beverage Innovation, and Technology and the Food Experience.
Housed under this program is the inaugural THAIFEX Startup pavilion which brings together the best young and innovative companies showcasing new innovative solutions including drone F&B delivery to augment and improve food service and the customer experience. The show organizers will also introduce THAIFEX Tech Pavilion, a platform created to showcase the best of new food technology ideas and solutions. These include cloud-based vending management systems, cloud-based POS and restaurant management systems, robotic customizable solutions, and innovative food delivery applications.
Michael Currie, CEO of urban drone solution start-up, Fling, said, "New technologies like drone delivery in the F&B space have the potential to disrupt existing business models and create new value for customers and companies alike. We're excited to be a part of THAIFEX-World of Food Asia presenting the future of F&B to an international audience, and we look forward to meeting other companies to network and share ideas on how we can grow and advance the industry."
For the first time in the show's history, the Thailand Food Innovation Forum will be collaborating with the flagship knowledge conference, innofood Asia Conference, to launch the groundbreaking Leadership in Food Innovation Conference Series. The series will present ideas and solutions that are transforming the way people view and interact with food, sparking discussion and knowledge exchange to take industry players forward in the process.
"Through the public-private partnership between the show organizers, we are able to integrate our well-established Thailand Food Innovation Forum with the innofood Asia Conference to facilitate greater knowledge sharing, and create more value for visitors and industry players at THAIFEX-World of Food Asia 2019," said Kalin Sarasin, Chairman of The Thai Chamber of Commerce.
The revamped THAIFEXtaste Innovation Show will also feature a curation of the top innovative products submitted by regional and international companies across each of the 11 trade shows and special shows. These top products are picked based on criteria ranging from uniqueness in taste, packaging, type of ingredients and overall presentation.
The internationally acclaimed Thailand Ultimate Chef Challenge (TUCC) will also return for its 8th edition, and feature a new focus on Asian Cuisine for this year. Contestants will be able to choose their competing classes, based on their personal forte, out of 23 exclusive competing classes. New classes designed for the next challenge include the "Asian Gourmet Challenge" and the "AEC Culinary Challenge". As testament to the international reputation of the show, this year marks the third time THAIFEX-World of Food Asia will be hosting the Qualifying Final Asia round of the Global Chef Challenge (GCC). Finalists will compete for the chance to represent their countries for the three categories: the "Global Chefs Challenge", the "Global Chef Pastry Challenge", and the "Global Young Chefs Challenge – The Hans Bueschkens Trophy".
Undergirding the fresh supporting programs are the 11 core trade shows which have, over the years, become the centerpiece of THAIFEX-World of Food Asia. Altogether, the trade show will see the participation of around 2,700 exhibitors from across more than 40 countries with new country entrants for the year, including Australia (AUGVEG), Brazil, Columbia, Poland, Spain, Sri Lanka, and the United States.
This year marks a special edition of THAIFEX-World of Food Asia with the host country, Thailand, currently heading the ASEAN Chairmanship.
Commenting on this landmark year for the country and the trade show, Banjongjitt Angsusingh, Director General of DITP, said, "With the theme of 'Advancing Partnership for Sustainability' for our ASEAN Chairmanship this year, we hope that THAIFEX-World of Food Asia and all its programs will serve as a key platform to strengthen connectivity and partnerships between local, regional and international F&B players to drive sustainable growth in this industry."
As part of THAIFEX–World of Food Asia 2019, DITP will also be bringing in several entrepreneurs who have developed innovative products and creative solutions in response to the latest future trends in S-Curve industry, particularly, food for the future.
THAIFEX-World of Food Asia 2019 will be held from 28 May to 01 June. More information about the event is available here:
www.thaifexworldoffoodasia.com
SOURCE: Koelnmesse
MegaFood® Introduces Healthy Farm Standard to Encourage Sustainable Sourcing and Improve Soil Health
Reading Time:
2
minutes
Premium supplements brand strengthens supplier programs to continue its commitment to clean quality ingredients and support for a more resilient future
MegaFood®, an award-winning maker of premium vitamins and supplements crafted with real food and added nutrients, today announced it will introduce a comprehensive Healthy Farm Standard aimed at improving our agricultural system by building carbon rich soil and increasing the nutrient density of food.
At its core, MegaFood is out to change the world starting with food and in doing so, works with like-minded farmers who advocate for organic and regenerative farming. Farmers are often the interface between planet and people, and while they have the greatest opportunity to bring this change, they also carry much of the burden. This new open standard will help farmers track and improve outcomes and reach new goals to ultimately replenish our soil with the nutrients it needs so that we can replenish our bodies with the nutrients we need.
"At MegaFood we are proud to work with trusted farm partners who share our environmental and social responsibility values," said Andy Dahlen, CEO at MegaFood. "Our new Healthy Farm Standard underscores our collective goals related to soil health, managing global climate change, and resource conservation. The new standard provides farmers with the support they need to drive change and, with MegaFood, lead this movement. We are excited to share this new program with our longstanding partners as well as invite new suppliers to our growing network."
MegaFood's new Healthy Farm Standard is structured to enable farmers and sourcing partners to move to more sustainable practices by evaluating their operations in key areas and support change to more sustainable practices through MegaFood funded incentive programs, workshops, and webinars that help encourage partners to reach these shared goals. The three key areas that farmers and sourcing partners will score their operations include:
Building the Soil—Consists of measuring soil health and soil nutrients along with insights on pest management practices.
Conserving Resources—Includes water conservation and water pollution, as well as the ability and intention to reduce fossil fuels and increase biodiversity.
Supporting Thriving Livelihoods—Addresses farm management, thriving workers, and nutritional access.
MegaFood is committed to improving lives through food. This new Healthy Farm Standard works to improve our agricultural system by building carbon rich soil and increasing the nutrient density of food.
"Farmers often hold the burden of new initiatives and at MegaFood we want to inspire and support change to ultimately revolutionize our farming system," said Sara Newmark, VP of Social Impact at MegaFood. "That is why we are committed to supporting our farm partners and sourcing partners through this new program so they can, in turn, invest in a better future for all of us."
The Healthy Farm Standard represents the company's latest move to cultivate a community of suppliers and like-minded farmers that together advocate for regenerative farming. This standard is open source and is currently being piloted by MegaFood's trusted farm partners. MegaFood encourages the public to understand the standard and welcomes all feedback, thus, supporting its vision of transforming "agri-culture" by empowering communities and revolutionizing food systems.
To learn more about MegaFood's latest standards and requirements, visit megafood.com.
SOURCE: MegaFood
Forget Tacos On Tuesdays. Taco Bell® Wants Fans To reBELL And Enjoy Tacos Any Day
Reading Time:
3
minutes
Taco Bell fights calendar inequality so fans can boldly celebrate tacos any day of the week with Party Packs, now available for delivery from participating locations
In an open letter, Taco Bell is challenging the long standing tradition of eating tacos on a predetermined day of the week: Tuesday. Should any one day have all the taco glory just because it makes for a good hashtag? No. Times are changing and so are societal food norms. Which is why Taco Bell wants fans to reBELL against this alliteration and enjoy every taco day like it's Tuesday. It's time to elevate tacos, and Taco Bell Party Packs, to their rightful place as the go-to party food on their rightful day: any day.
Taco Bell is bringing this taco liberation to life in its newest campaign, "Taco reBELLion," that encourages fans to break away from Tuesday customs and enjoy tacos with their crew any night of the week. Launching on 4/21, the :60 second spot shows three taco gangs (the Hard Shells, the Soft Shells and Los Locos) coming together to rebel against the tradition of tacos on Tuesdays and together they fight, in the form of an epic dance-off, for tacos any night.
Chief Global Brand Officer Marisa Thalberg has a rallying message for taco fans everywhere: "Of course we love that there is a day of the week dedicated to tacos, but we believe it's time to challenge societal norms and for our fans and their friends to feel empowered to enjoy tacos without limits. When you think of tacos, you should think of getting together with friends any day, not just one day of the week."
To further empower squads to join the taco uprising, Taco Bell is also launching a new line of reBELLious merchandise. Available on the Taco Shop, the new shirts and patches allow taco nonconformists to show off their taco pride and pledge their support for "Taco Any Day." Because every rally needs fuel, Taco Bell is offering 15% off one Party Pack when you order online or on the app through June 8. Valid for in-store pick up only at participating locations*. It's time to reBELL and empower groups to party with tacos from Taco Monday to Taco Sunday.
Whether fans like them crunchy, soft, or locos (Doritos® Locos Tacos to be exact), Taco Bell is breaking the monotony of at-home party food with a taco offering too good to get delivered just on Tuesdays. No matter the occasion or who's in your crew, Taco Bell Party Packs offer the ultimate taco customization, including vegetarian and vegan options, making it the go-to food for gatherings. Feed your pack of reBELLs with any or all five Taco Bell Party Packs (Taco, Supreme® Taco, Variety, Supreme® Variety and Grande Meal) which can include Crunchy Tacos, Soft Tacos, Crunchy and/or Soft Tacos Supreme®, Doritos® Locos Tacos, Doritos® Locos Tacos Supreme® and even Bean Burritos. Be sure to visit TacoBell.com or the Grubhub app for Party Packs pricing, which varies (tax extra).
* For more details on the 15% off offer, click here.
SOURCE: Taco Bell Corp.