IQ BAR Launches in Boston to Target Paleo – Vegan – Keto Health Food Market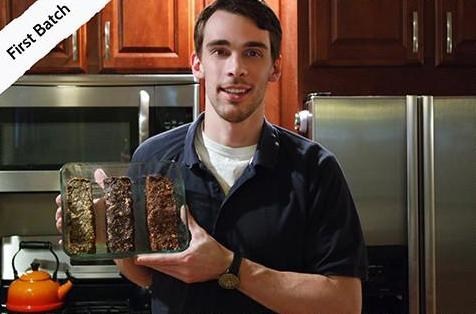 Reading Time:
1
minute
A new company, IQ BAR, a Health Bar, recently launched in 2017 and in 2018 became the most crowd-funded bar company in history, selling $90,000 worth of product.
IQ BAR is the first nutrition bar built for the brain. It flips the conventional nutrition bar on its head. Whereas most bars are high-carb, low-fat, and devoid of brain nutrients, IQ BARs are high-fat, low-carb and packed with 6 brain-functional nutrients. IQ BAR is part of a growing trend to optimize bodily health and brain efficiency.
Will Nitze, CEO of IQ BAR explains: "IQ BAR is just the first product line in what will eventually become a broad-reaching "brain food" company. We're trying to create an entirely new category."
In just the last year, IQ BAR has…
Become the most crowd-funded bar in history
Gained acceptance into MassChallenge (the largest accelerator in the world)
Become the only food or beverage company to WIN MassChallenge, taking home a $50K, equity-free award
Received investment from Mark Andrus (founder of Stacy's Pita Chips), Anthony Ackil (founder of B.Good), and Isaiah Kacyvenski (former special teams captain of the Seattle Seahawks)
Gained acceptance into the inaugural class of PepsiCo's food and beverage accelerator
We've also been featured in Vogue, SHAPE Magazine, The Boston Globe, and soon-to-be Men's Health!
Across Europe Launch: Hard Rock Cafe Marches to a New Beet and Rolls Out the Moving Mountains Burger
Reading Time:
2
minutes
The Mighty 6oz Meatless Bleeding Burger Launches Into the Legendary Burger Chain in 23 European Outlets
Moving Mountains®, the pioneering plant-based food technology company, is officially launching its meatless 'bleeding' burger at the legendary burger chain, Hard Rock Cafe on 14th June 2019 in 23 Hard Rock Cafe outlets across Europe.
The mighty 6oz Moving Mountains Burger, which sizzles, smells, tastes and bleeds like meat but is completely plant-based, will be added to the menu allowing more people to bite into the future of food.
The iconic cafe will offer a classic serve of the burger, which packs 25g of protein: the Moving Mountains plant-based burger patty topped with cheddar cheese (optional) and a crispy onion ring, served with leaf lettuce and vine-ripened tomato on a toasted bun, including fries.
The partnership brings together two brands that offer the best and original burgers to the market. The introduction of the food tech Moving Mountains Burger provides a plant-based 'meat' option for flexitarians, vegans, vegetarians and meat-eaters alike, without compromising on taste.
Simeon Van der Molen, Founder of Moving Mountains says: "Our mission is to expand into new restaurants and cities making truly inspiring flexitarian dining available to everyone using the latest food technology. Our launch into the world-famous Hard Rock Cafe, which is renowned for its legendary burgers, certifies the Moving Mountains Burger as a truly delicious burger that can compete with beef and match the size too with our 6oz patty!"
The Moving Mountains Burger will launch into the following 23 Hard Rock Cafe locations across Europe:
Amsterdam, Antwerp, Athens, Barcelona, Berlin, Brussels, Cologne, Copenhagen, Edinburgh, Florence, Glasgow, Lisbon, London, Madrid, Manchester, Munich, Nice, Paris, Prague, Rome, Seville, Venice and Vienna.
The Moving Mountains Burger
Every Moving Mountains burger is made using natural ingredients, ground-breaking science, state-of-the-art machines and the latest food technology so that the burger replicates animal meat in every way – it even bleeds through the middle with beetroot juice instead of blood. Additional natural ingredients include succulent oyster mushrooms, pea, wheat and soy proteins, antioxidant-rich coconut oil, oats and the RDA of vitamin B12.
The 6oz Moving Mountains Burger has zero cholesterol, 25g of plant protein, is vegan and free-from antibiotics and hormones.
A 100% independent British business, Moving Mountains' plant-based meat requires less land and water and produces less greenhouse emissions than animal meat, it can be enjoyed completely guilt-free.
SOURCE: Moving Mountains Foods
New! Salad Bars in Schools!
Reading Time:
3
minutes
Investment Announced at Patriot Elementary as part of a Salad Bar Donation Ceremony and Carrot Variety Taste Test
Bayer is donating salad bars to four schools in the Rosedale Union School District of Bakersfield, California as a strategy to increase children's access and consumption of fresh fruits and vegetables.
The announcement was made during an assembly at Patriot Elementary School, which received a salad bar last year and has experienced success with students selecting fresh produce from the salad bar during their breakfast and lunch service.
The four schools in the Rosedale Union School District receiving new salad bars include:
Almondale Elementary School
American Elementary School
Independence Elementary School
Rosedale North Elementary School
"After implementing a salad bar at one of our schools, and seeing how well the students responded, we look forward to this opportunity to bring salad bars to additional schools in our district," said Dr. John Mendiburu, Superintendent, Rosedale Union School District. "Our students enjoy being able to self-select fruits and vegetables from the salad bar. Anything that encourages our students to make healthy choices is a plus.  And since we're located in a community surrounded by agriculture, it was nice to connect with our local businesses and discuss ways to incorporate locally grown produce on our menu."
As part of the announcement, Bayer arranged a local grower from Grimmway Farms to speak to the audience of more than 50 fourth- and fifth-grade students about how and where carrots are grown, as well as coordinated a carrot variety taste test in which students were able to try several varieties of Grimmway carrots and vote on their favorite.
"Bayer is committed to supporting initiatives that provide children with access to fresh fruits and vegetables, and with kids eating a majority of their daily calories at school, the salad bar makes it easy for them to choose something that's healthy and fresh," said Jennifer Maloney, food chain and sustainability manager, Bayer. "This partnership is also meaningful because with today's salad bar announcement, we're able to collaborate with one of our grower partners and support healthier choices for children in one of our nation's most prolific agricultural communities."
To coordinate the salad bar contributions, Bayer worked with the United Fresh Start Foundation, a nonprofit organization affiliated with the United Fresh Produce Association. As part of the foundation's partnership in the national Salad Bars to Schools initiative, they are working with the produce industry, non-profits and allied businesses to support salad bars to schools across the United States. To-date, Salad Bars to Schools has helped facilitate the donation of salad bars to more than 5,500 schools, benefitting 3 million children in all 50 states. The Bayer salad bar investment supports the national initiative.
The first salad bar donated to the Rosedale Union School District was made possible by the Kern County Chapter of California Women for Agriculture, also in partnership with United Fresh Start Foundation.
Current research indicates that the use of salad bars in schools promotes healthy food choices in school-aged children. With access to a salad bar, students are encouraged to try new items and are empowered to make their own healthy choices now, and in the future. The Salad Bars to Schools initiative aims to help school districts meet USDA school lunch nutrition standards, which require offering students a wide variety of colorful vegetable choices each week, and which promote a healthier lifestyle for students nationwide.
The Bayer commitment to sustainability and agricultural education begins with the people it serves every day. This commitment extends to fighting food insecurity and encouraging healthier food choices for a happier and well-educated community. For additional information and background on Bayer and its other programs, please visit www.bayercropscience.us/our-commitment/bayer-initiatives.
Bayer is committed to bringing new technology and solutions for agriculture and non-agricultural uses. For questions concerning the availability and use of products, contact a local Bayer representative, or visit Crop Science, a division of Bayer, online at www.cropscience.bayer.us.
Visit the Bayer Connect – Social Hub for social media, recent news, blog posts, videos and more from Crop Science, a division of Bayer.
Forward-Looking Statements 
This release may contain forward-looking statements based on current assumptions and forecasts made by Bayer management. Various known and unknown risks, uncertainties and other factors could lead to material differences between the actual future results, financial situation, development or performance of the company and the estimates given here. These factors include those discussed in Bayer's public reports which are available on the Bayer website at www.bayer.com. The company assumes no liability whatsoever to update these forward-looking statements or to conform them to future events or developments.
© 2019 Bayer CropScience LP, 800 North Lindbergh Blvd, 

St. Louis, MO

63167. Always read and follow label instructions. Bayer and the Bayer Cross are registered trademarks of Bayer. Not all products are registered in all states. For additional product information please call toll-free 1-866-99-BAYER (1-866-992-2937) or visit the website at www.CropScience.Bayer.us.
SOURCE: Bayer
Australian Health Food Company, Norti Nutrition™, Expands In The U.S. Market
Reading Time:
2
minutes
Norti Nutrition specializes in vegan, keto-friendly chocolate bars that prioritize real ingredients and optimize gut-health
Norti Nutrition™ brings craveability to the health-food market with a line of chocolate bars as delicious as they are wholesome. Norti is bringing their products to a wide variety of retailers across the United States, increasing their presence in the health food world
Norti was founded four years ago, with the simple goal of making healthy food that was desirable and accessible across a wide spectrum of diets. All of Norti's products are naturally vegan and gluten-free, making them extremely allergy friendly. Norti's genius is in the simplicity of their ingredients.
Norti refuses to use fillers and artificial sweeteners to meet their low-glycemic goals, instead opting for naturally derived xylitol, from birch bark, and monk fruit juice, in line with their mission of maintaining optimal gut-health.
Norti's specific focus on healthy gut-bacteria sets them apart in the health-food industry.
Gut health is an important aspect of not only physical health, but healthy brain function, giving new meaning to the company's motto, Eat Norti, Feel Good. The pre and probiotics in Norti's products activate in the gut to help repopulate the beneficial microorganisms other types of food destroy.  Norti also uses digestive enzymes which extract nutrients from food, so you don't just get the most of out their products, but optimize your overall gut-environment for future digestion.
In the past, probiotic products were often limited to yogurts and fermented beverages. But Norti's line of ground-breaking bars defy industry norms by making chocolate bars the new face of healthy snacking. Unlike similar products, Norti neither compromises taste for quality, nor quality for taste. "We want customers to feel indulgent when they eat our products," says Norti's Greg Lane "without the guilt!"
Now Norti is poised to enter the U.S. market with its three signature products;
The Norti Performance Bar, a protein-packed crowd-pleaser that contains "all of the good stuff," like nine grams of hemp protein, pre –  and probiotics and digestive enzymes – and "none of the bad" – this bar is dairy free, gluten free, and sugar free, so you can snack freely.
The Norti Low Carb Bar, offers all the same benefits as its flagship predecessor, but in a keto-friendly package. While Norti's latest release, Norti Monster Bites, are kid-friendly munchables in a smaller size, ideal for packing with lunch or eating on the go.
Norti brings all the taste-appeal of junk food to the health food market.  Greg Lane describes Norti's products as, "for anyone that wants to be healthier and feel better. And it tastes amazing.  It is probably the healthiest nutrition bar in the world AND the best tasting.  Now everyone can enjoy true nutrition!"
SOURCE: Norti