IQ BAR Launches in Boston to Target Paleo – Vegan – Keto Health Food Market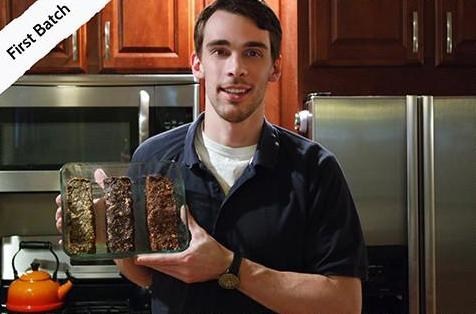 Reading Time:
1
minute
A new company, IQ BAR, a Health Bar, recently launched in 2017 and in 2018 became the most crowd-funded bar company in history, selling $90,000 worth of product.
IQ BAR is the first nutrition bar built for the brain. It flips the conventional nutrition bar on its head. Whereas most bars are high-carb, low-fat, and devoid of brain nutrients, IQ BARs are high-fat, low-carb and packed with 6 brain-functional nutrients. IQ BAR is part of a growing trend to optimize bodily health and brain efficiency.
Will Nitze, CEO of IQ BAR explains: "IQ BAR is just the first product line in what will eventually become a broad-reaching "brain food" company. We're trying to create an entirely new category."
In just the last year, IQ BAR has…
Become the most crowd-funded bar in history
Gained acceptance into MassChallenge (the largest accelerator in the world)
Become the only food or beverage company to WIN MassChallenge, taking home a $50K, equity-free award
Received investment from Mark Andrus (founder of Stacy's Pita Chips), Anthony Ackil (founder of B.Good), and Isaiah Kacyvenski (former special teams captain of the Seattle Seahawks)
Gained acceptance into the inaugural class of PepsiCo's food and beverage accelerator
We've also been featured in Vogue, SHAPE Magazine, The Boston Globe, and soon-to-be Men's Health!
Malaysia Halal Expo 2019 (MHE 2019) Targets Tokyo Olympics
Reading Time:
2
minutes
The Ministry of Entrepreneur Development (MED) will be hosting Malaysia Halal Expo 2019 (MHE2019) from 24 – 26 January 2019 at the Kuala Lumpur Convention Centre, Kuala Lumpur.
Themed "Malaysia to Japan for 2020 Olympics", MHE2019 will showcase export-ready halal products and services by Malaysian SMEs for the Japanese market ahead of the Tokyo Olympics 2020 and Tokyo 2020 Paralympic Games.
The expo is a follow up to the Memorandum of Cooperation (MoC) in the Malaysia-Japan Halal Field, which was signed on 26 November 2018 by YB Datuk Seri Mohd Redzuan Yusof, Minister of Entrepreneur Development Malaysia and His Excellency Hiroshige Seko, Minister of Economy, Trade and Industry Japan. Through this MoC, Ministry of Entrepreneur Development (MED) has been mandated to implement, coordinate and monitor programmes under the MoC which includes the implementation of the Malaysia Halal Expo 2019 (MHE 2019). The MHE 2019 is supported by SME Corp. Malaysia with Department of Islamic Development Malaysia (JAKIM), Ministry of Youth and Sports Malaysia and the Association of Islamic Banking Institutions Malaysia (AIBIM) as its strategic partners.
MHE 2019 will be divided into four (4) segments namely:
The exhibition involves the participation of 320 exhibition booths as well as promotion of halal products and services by export-ready entrepreneurs in food and beverages (F&B), cosmetics, halal i ngredients, logistics, biotechnology as well as personal care and pharmaceutical;
Two (2) forum and nine (9) Pocket Talk sessions involving agencies such as SME Bank Berhad, JAKIM, EXIM Bank, Malaysia External Trade Development Corporation (MATRADE), Muslim Professional Japan Association (MPJA), Malaysian Technology Development Corporation (MTDC) and Acrosx Japan Incorporated in preparation for SME products to meet the latest standards such as Halal certification, HACCP and GMP.
Islamic Innovation Challenge (IIC) Award on 25 January 2019. This is an annual event to reward SMEs that are innovative in the halal industry. This initiative is a collaboration between SME Corp. Malaysia, Malaysia Innovation Agency, Platcom Ventures Sdn. Bhd, JAKIM and Halal Industry Development Corporation (HDC). The award will be presented by YB Datuk Wira Dr. Hatta Ramli, Deputy Minister of Entrepreneur Development; and
Business matching sessions with 21 potential leading buyers including 15 Japanese anchor companies and 6 local anchor companies such as Family Mart, MHC Co. Ltd, Yatsumoto Tsusho Co, Ltd, Hayabusa International, Tesco Stores Malaysia, Ramly Food Marketing Sdn Bhd, Lulu Group Retails Sdn Bhd, Nestle Manufacturing (M) Sdn Bhd and Aeon Big Malaysia. A total of 330 business matching sessions with 21 buyers from Japan and large corporations are being set with an estimated potential sales of RM50 million.
Apart from these, visitors will also be delighted by a cooking demonstration by Senior Chef of National Sports Council of Malaysia (MSN) and sharing session and appearances by local celebrity entrepreneurs which will feature Faizal Ismail(FBI), Amy Search, Erma Fatima (Mak Cun), Munif Hijjaz, Datin Fouziah Gous and Fynn Jamal.
Gabriella's Kitchen Appoints Jamie Fay, a Leader in the Natural Foods and Consumer Packaged Goods Industries, as President & COO
Reading Time:
3
minutes
Gabriella's Kitchen Inc. ("GABY" or the "Company") (CSE: GABY), an innovative and leading-edge cannabis wellness company, is pleased to announce the appointment of Jamie Fay as President & COO of GABY.
Jamie is the former Chief Customer Officer and General Manager of The Hain Celestial Group, Inc.,  where he was responsible for US and international sales, strategic planning, and operations. Jamie is currently a member of the Whole Foods Market Supplier Council.
Jamie also has extensive industry experience driving innovative strategic initiatives as Senior Vice President, Global Sales at Nature's Path Foods and Senior Vice President, Retail Strategy & Operations at Mars Inc. He brings with him over 20 years of delivering top line growth objectives while maintaining commitments against financial returns and will contribute his skills and expertise to the development and achievement of GABY's vision to penetrate and lead the market as a trusted cannabis wellness company.
"Recruiting Jamie is a big win for GABY and further highlights the opportunity in cannabis. When someone of Jamie's calibre sees the opportunity to bring his mainstream consumer packaged goods ("CPG") experience to the cannabis world it points directly to the upside potential in the branded cannabis space which GABY operates in," said Margot Micallef, Founder and CEO of GABY. "Many agree that there are numerous similarities between the cannabis industry and the early days in the organic and natural products industry. GABY will benefit greatly from the recent executives we have brought on to our team who are bringing their expertise in CPG to the nascent cannabis industry."
Jamie joins former Hain Celestial colleagues, Maureen Putman, now special advisor to GABY, and Irwin Simon, now Aphria's (TSX: APHA) independent Chair of the Board of Directors, in applying their organic and natural food industry success to the cannabis industry. Jamie will be instrumental in driving exponential growth to GABY's THC products though application of his mainstream experience in the licensed channel and will greatly expedite GABY's introduction of CBD products into the mainstream, given his network and industry experience and customer centric approach to driving category in partnership with retailers.
The addition of Jamie to the GABY team will leverage these similarities and his industry knowledge to drive growth in the same manner he oversaw in his previous executive positions. As GABY continues to grow, Jamie's experience maintaining a customer-centric approach to managing multiple operating divisions and his leadership over significant distribution growth at Hain Celestial will be invaluable assets. His success in developing transformational initiatives resulting in brand growth and increased market-share will help drive GABY as a cannabis industry pioneer, combining highly innovative infused products with its strong wellness-industry roots to continue its mission of empowering people to live healthy lives.
"I am beyond excited to be joining the strong leadership team at GABY," stated Mr. Fay. "I am particularly impressed with the dual channel sales strategy employed by GABY which allows the Company to sell its infused products in the licensed cannabis channel and its un-infused and CBD products in conventional grocery. I am also impressed with the progress GABY has made over the last year: they have acquired a manufacturing facility and license, are in the process of completing the acquisition of a distribution company and license, developed new infused products and brought them to market and hired additional management with expertise in the cannabis space," he continued. "Margot and her team have accomplished more in the last twelve months than many cannabis companies have accomplished in three years."
GABY's alto™ and Aunt Zelda's™ cannabis-based and infused products are currently in licensed retail locations throughout California and its un-infused products are currently in over 3400 conventional grocery stores throughout the US and Canada.
7-Eleven Collaborates with Ghostbusters World to Bring Customers an Unforgettable AR Experience
Reading Time:
2
minutes
7-Eleven Canada has collaborated with Sony Pictures Consumer Products, Ghost Corps, publisher FourThirtyThree Inc. (4:33), and developer Next Age to bring the augmented reality location-based game Ghostbusters World to Canadian stores. The collaboration, which brings together legacy brands 7-Eleven and Ghostbusters, will transform all 7-Eleven stores in Canada into 'Dimensional Doors' where Ghostbusters World players can collect traps, weapons and other resources that will help them take down ghosts like Slimer, Fearsome Flush, Boogaloo and more. 7-Eleven Dimensional Doors will have an increased spawn rate for 3 ghosts: Goast, Ghost Buffalo, and Sandman.
Ghostbusters World leverages the latest in AR technology with Google's ARCore and Apple's ARKit to create an immersive world where ghosts roam the streets, transforming anyone with a mobile phone into a ghostbuster tasked with fighting and trapping ghosts straight out of their favourite Ghostbusters films, TV shows, comic books and video games.
Within the game, Dimensional Doors act as hubs where players can find everything from weapons to in-game experiences – and now snacks! With over 630 7-Eleven locations from BC to Ontario acting as Dimensional Doors, players can fuel up on Slurpee® and other 7-Eleven favourites while they collect in-game items and capture ghosts spawning in-store.
"As the largest name in convenience retail, 7-Eleven is always looking for innovative ways to provide our customers with the best in-store experiences," said Doug Rosencrans, VP and General Manager of 7-Eleven Canada. "For today's consumer, this means bridging the gap between mobile devices and physical retail locations."
For 7-Eleven, augmented reality technology plays a key role in bridging this gap by marrying mobile technology with convenience and fun. With Ghostbusters World, the convenience retailer hopes to continue to reinvent convenience while creating memorable experiences for their customers.
"We are thrilled to work with 7-Eleven to bring special activations for Ghostbusters World to their locations across Canada," says Hyunseok Suh, CEO of NextAge. "As the game's first co-branded effort, we believe this collaboration will mean exciting things for our players as well as 7-Eleven customers and we look forward to expanding on the relationship in the future."
For a snack, a Slurpee® and good old-fashioned ghost fight, customers can head to any 7-Eleven location in Canada. For more in-store experiences and deals, download the 7-Eleven app at www.7Rewards.ca.
Ghostbusters World is now available for download from the Apple App Store and Google Play. For more information, visit www.ghostbustersworld.com.