Top Tech Executives Formulate IoT Solutions for Sustainable Business at the Indonesia Digital Economy Summit 2018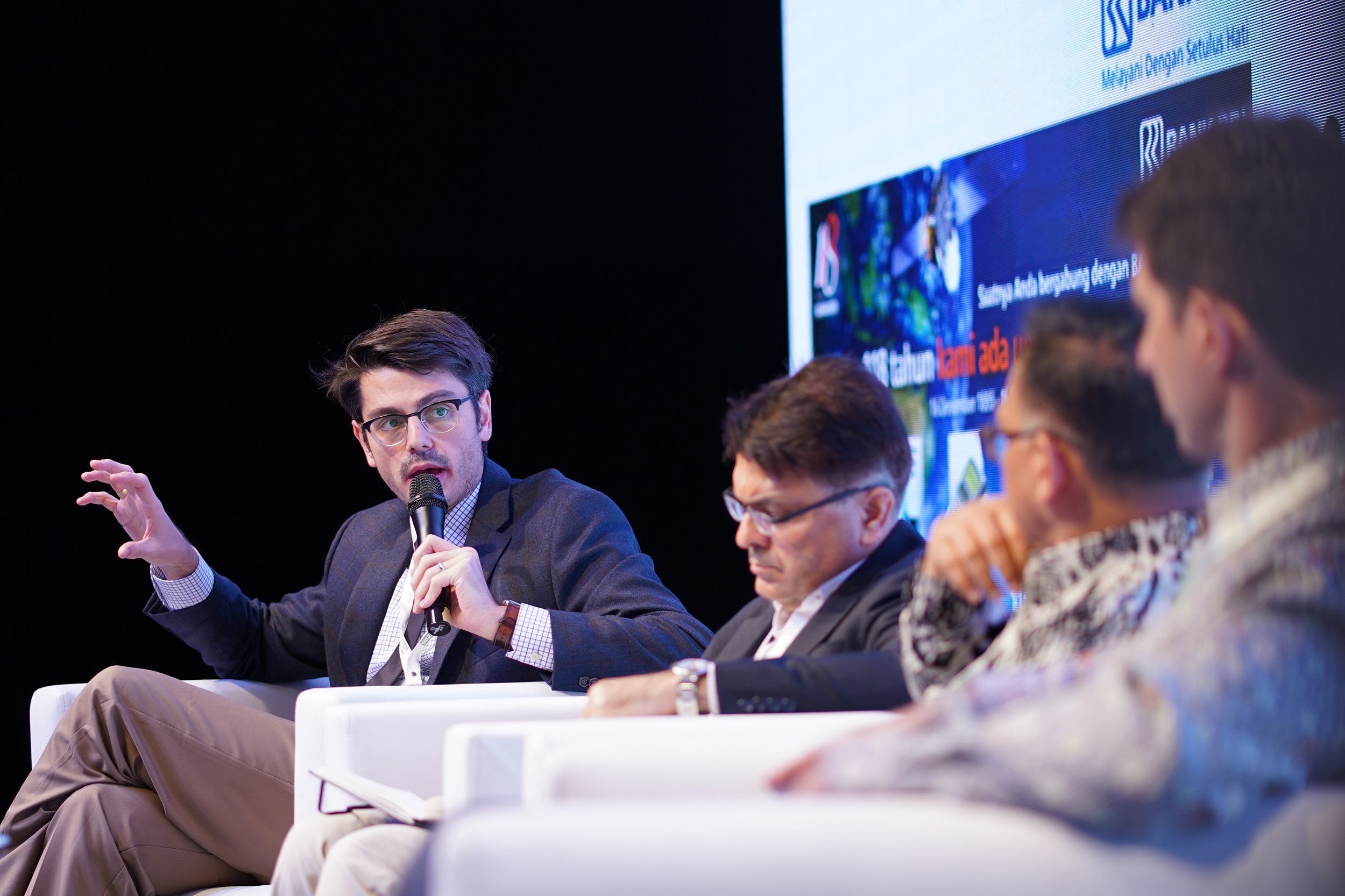 Reading Time:
2
minutes
The Indonesia Digital Economy Summit 2018 came to successful conclusion, alongside with the Indonesia's premiere exhibition on digital technologies, NXT Indonesia, Communic Indonesia & Broadcast Indonesia 2018, at JIExpo Kemayoran Jakarta on October 26th, 2018. This annual summit of high-technology and digitalization gathered over 336 tech professionals, analyst, and industry experts, to outperform high-technology skillsets addressed by over 51 leading minds in the industry.
NXT Indonesia, Communic Indonesia & Broadcast Indonesia 2018 have attracted over 3,500 trade visitors during the 3-day expo. They assemble to witness technological breakthroughs in broadcasting, entertainment, media, and information & communication technology (ICT) by 127 exhibiting companies from 27 countries.
"We have seen this conference continue to expand as association leaders consistently integrate new technology and innovation to achieve new digital economy 4.0. This year, we gathered extended numbers of technology and telecommunication executives to formulate solution for major shift in workforce and digital literacy, as the biggest digitalization challenges in Indonesia," said Ben Wong, Managing Director of Pamerindo Indonesia, as organizer of the exhibitions.
Indonesia's digital landscape has significantly grown in recent years. It ranges from increased use of big data and mobile internet, to the unprecedented growth of e-commerce and digital financial services. According to a research by McKinsey&Company, a retailer using big data to the fullest could increase its operating margin by more than 60%.
Big data platforms can predict what individual thinks and needs, resulted in data product innovation for retailers, such as specific product recommendation, virtual buying assistant, and forecasting method. Such topics were presented at the summit by Youssef Ouyhya, Vice President of Data of Tokopedia, during his speech on how big data can drive a digital innovation.
However, there are challenges that cause 60% of big data projects fail, such as expertise gap and big investment. During his session, Youssef also stated that despite of having solid data strategies, people need to advance digital literacy to optimize big data and IoT for sustainable business.
To overcome digital illiteracy among young people, Tom V. Vrghese, Manager of Access and Connectivity Policy of Facebook Asia Pacific, explained some of Facebook's efforts at the summit session about digital infrastructure. One of which is developing Digital Literacy Program, consisting of 100 workshops in 100 schools of 7 cities in Indonesia to reach out nearly 12,5 thousand of offline communities.
Different approaches to develop digital skillsets are applied by the Indonesia Chamber of Commerce & Industry (KADIN). Through an SME's tech-development program, Gerakan Ekspor Nasional (GEN), they aim to achieve 100,000 new exporters in 2030 by using online marketplace strategy, digital publishing, and YouTube's e-mentoring programs. These efforts were stated by Handito Joewono, Chairman of Asosiasi Digital Entrepreneur Indonesia (ADEI) during a session about "The Digital Revolution and Tomorrow's Gig Economy — Shaping the New Business Era."
Novem Introduces the World's Safest Gold Token, Backed by Nearly $1.25 Million in Securely Stored Gold
Reading Time:
2
minutes
Novem's NNN stablecoin has guaranteed liquidity with over 30 kg in LBMA-certified gold securely stored by Loomis International.
Novem is revolutionising the gold industry with the world's safest and most transparent gold-backed stablecoin, the Novem 999.9 (NNN) gold token, which is 100% backed by LBMA-certified gold. NNN Gold Tokens are directly tied to physical gold, stored by industry leader Loomis International. NNN Gold Tokens will be available for purchase in February 2019.
NNN Gold Tokens are minted based on gold held in trust by Novem. Token holders may cash in these tokens for gold at a rate of 100 NNN Gold Tokens per gram with the token price directly linked to current market gold prices. By the start of 2019, over 30 kg of gold, valued at nearly $1.25 million, has been stored with Loomis and subject to regular third-party auditing. The quantity of securely-stored physical gold is projected to more than double with a commensurate number of NNN Gold Tokens minted by the time of public sale.
"For thousands of years, gold has been synonymous with reliable value, but the processes for buying and selling gold have been shockingly inconsistent. The Novem NNN Gold Token will be completely backed by physical LBMA-certified gold, securely stored and audited by industry leaders," said Wolfgang Schmid, the CEO of Novem. "Novem is ready to revolutionise the gold industry with a new level of safety, transparency, and trust based on old-economy gold industry standards for transparency of value and new blockchain transparency of transactions. Novem will help make gold not only the trusted storage of the value of the past but also the trusted investment of the future."
They have also introduced the Novem utility token ('NVM'), for use as a measure of value in paying for services and trading related to their Novem NNN Gold Token. NVM is designed for use as a measure of value in paying for services and trading related to the Novem NNN Gold Token and is purchased on cryptocurrency exchanges. Over $1.035.000 in NVM tokens have been purchased in private sales.
Novem will issue its own certification for businesses that purchase old gold and jewellery gold which will be marketed to their extensive network in the central European gold industry. They will also open physical stores in all major cities of Central Europe. Through these measures, they will provide an economy of scale in the purchase of gold that raises the quality of services provided and value delivered to the consumers and businesses across the precious metals industry.
Novem utilises NEO blockchain technology to digitise assets and automate the management of digital assets using smart contracts. The NEO platform was chosen due to its speed, functionality, and innovative developer community. Additionally, NEO is soon to be hardened against attacks from quantum computing, creating long-term safety for token holders.
To learn more, please visit https://novem.ag
BANKEX Partners With Digital Trust Fund to Develop Uzbekistan's Digital Economy
Reading Time:
1
minute
BANKEX, the premier provider of tokenization and securitization services, and Digital Trust Fund, a foundation established to support and develop Uzbekistan's digital economy, partnered to bring fintech solutions – namely blockchain – to Uzbekistan at the state level.
Uzbekistan's Digital Trust Fund signed a memorandum with BANKEX to facilitate the introduction of blockchain technology to all government agencies in Uzbekistan in order to minimize the potential for human error and to preclude corruption.
"The present memorandum is directed at establishing a legal framework on which the parties can base the mutual cooperation necessary to ensure the quality as well as the qualified undertaking of tasks assigned to the parties," says the memorandum.
The parties also agreed "to study the prospects for the introduction of innovative technologies, including blockchain technology" as well as to "exchange all necessary information and work experience, including through mutual internships and consultations."
The collaboration will also involve holding joint educational events including workshops, seminars, round tables, and conferences about the principles of the development of the digital economy and the advantages of blockchain.
Digital Currency Foundation: UK Small Businesses Could Save £800 Million per Year on International Transfers if The y Switched to Digital Currencies
Reading Time:
3
minutes
Research released today on behalf of the Digital Currency Foundation has shown that UK SMEs could save £800 million a year if they switched from existing financial institutions to instead use digital currencies for their international money transfers. The DCF will be driving a Digi-van advertising this fact to the major UK commercial banks' headquarters in the City of London today.
The research also found that those living in the UK sending money to loved ones abroad are losing as much as £427 million per year because they continue to use conventional financial services for their international transfers.
Digital Currencies offer a quick and low cost payment method for consumers and businesses by removing the need for traditional intermediaries, which can in the case of international transfers cost up to 10% of the total payment amount in fees, and take several days to arrive.
The data released today coincides with the 2nd Annual UK National Digital Currency Day. The day's highlights will include a roundtable event involving industry leaders and officials from Her Majesty's Treasury to discuss the need for appropriate regulation in the UK. The day will conclude with a reception in Parliament to celebrate the transformative potential of digital currencies and the benefits they currently offer to UK consumers and businesses.
Mihir Magudia, Managing Director of the Digital Currency Foundation, commented: "This research should act as a wakeup call to businesses across the country. Using Digital Currencies can save them significant sums. They offer a fast, cheap and secure alternative to traditional payment methods, an advantage that is magnified in the sphere of international payments. The raison d'être of the Digital Currency Foundation is to highlight the benefits digital currencies offer, and this research shows that today, on the 2nd annual UK National Digital Currency Day, this role has never been so important."
Notes to Editors:
Total achievable saving = potential savings for SMEs making payments abroad + potential savings for those sending money to friends and family abroad.
Remittances:
Under existing financial services:
Volume – 2017 UK remittance estimate[1]: 9.274 billion USD = 7.32 billion GBP[2]
Cost – Average of the cost of remitting[3] = 8.58%
Total cost = 7.32 billion * 0.0858 = £628 million
Crypto comparison:
Total Transaction fee percentage = GBP-BTC cost + BTC-BTC cost + BTC-FX(foreign currency) cost
BTC-BTC Transaction fee – 0.255 USD per transaction[4] = 0.2 GBP
Percentage for median BTC-BTC transaction = 0.2/120 = 0.1666%
GBP-BTC cost = BTC-FX cost = 1% + 1% =2%
Total cost for crypto = 7.32 billion * 0.0216 = £158 million
Total Saving:
£628 million – £18 million = £470 million
Small Business:
Under Existing financial services[5]:
Volume – For UK SMEs international trade is worth over £700bn, of which £365.3bn takes place within the EU, £162.92bn of which are outgoing payments (SEPA payments).
Cost: Average cost of SEPA Payments = 2.43%
Total transfer costs in 2014 = 162.92 * 0.0243 = £3.96bn in transfer costs in 2014
2019 cost[6] = 2014 cost * 1.25 = £4.95bn
Crypto comparison:
Total Transaction fee percentage = GBP-BTC cost + BTC-BTC cost + BTC-FX(foreign currency) cost
BTC-BTC Transaction fee – 0.255 USD per transaction = 0.2 GBP
Percentage for median BTC-BTC transaction = 0.2/50,000 = 0.0004%
GBP-BTC cost = BTC-FX cost = 1% + 1% =2%
Total crypto cost 2019 = crypto transaction fee percentage + SEPA payments value 2014 *1.25
= 0.0204*(162.92*1.25) = £4.15 billion
Total Saving:
£4.95 billion – £4.15 billion = £800 million
Total Annual Achievable saving for UK SMEs and ex-pats living within the UK = £470 million + £800 million = £1.27 billion
References:
[1] Latest World Bank Remittance estimates – (http://www.worldbank.org/en/topic/migrationremittancesdiasporaissues/brief/migration-remittances-data)
[2] USD/GBP exchange rate at 1250 on 04/01/2019
[3] Assumptions: average cost of the top two financial remittance institutions – MoneyGram and Western Union – to the top 5 remittance destinations from the UK – Bangladesh, Nigeria, India, Poland and Pakistan. The calculation is based on the median amount remitted – 120 GBP. Source: https://remittanceprices.worldbank.org/sites/default/files/rpw_report_december_2015.pdf
[4] Based on the average Bitcoin Transaction Fee on 03/01/2019. Source: https://bitinfocharts.com/comparison/bitcoin-transactionfees.html#3m
[5] This is based on a 2014 study carried out by Oxford Economics and commissioned by Money Mover using a typical SME transfer of £50,000 into Euros. Source: https://www.moneymover.com/media/uploads/files/UK-SME-International-Payments-Analysis-Full-Report.pdf
[6]Based on research by Capital Economics which found the total amount extra taken by traditional financial institutions on Small Business SMEs had increased by 25% over a 5 year period: https://www.telegraph.co.uk/money/transferwise/international-business-payments-analysed/