Former Microsoft Engineer Harris Chan establishes a Hong Kong Based Education Start-up to Empower Children to Become Future Ready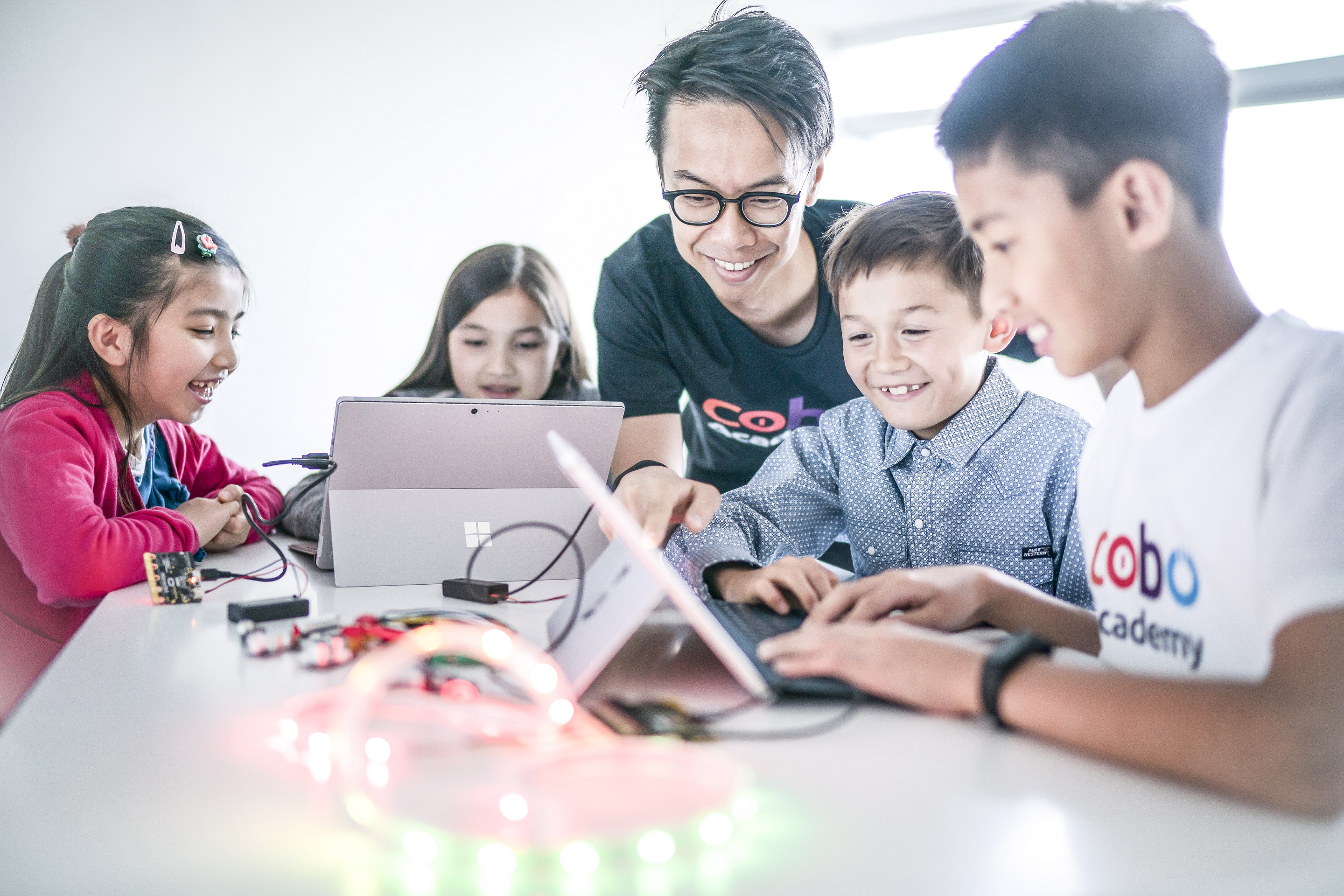 Reading Time:
2
minutes
In the digital economy where almost every company is a software company, coding is the new language of technology every child should master. Harris Chan, a former Microsoft Engineer, is committed to make a difference with his Hong Kong based education start-up — Cobo Academy.
Digital transformation is upon the world and Cobo Academy, a Hong Kong-based education start-up focusing on coding education, is on a mission to transform and improve traditional education. As a former Microsoft engineer and a tech veteran, Harris Chan has a vision and passion to empower young innovators through early exposure to coding and robotics, which led to his founding of Cobo Academy.
Harris' career began as a Software Engineer at Microsoft headquarters in Redmond, Washington. He also held senior leadership positions at Yahoo! Hong Kong as Head of Business Development and Director of eCommerce. Prior to founding Cobo Academy, Harris was the Director of Central Marketing Organization at Microsoft Hong Kong, in charge of commercial and consumer marketing. Harris was awarded Microsoft Circle of Excellence Gold Award in 2009.
Designed for tech enthusiasts ages 4-16 at all skill levels, Cobo Academy's highly structured curriculum has been created to augment formal education and is the collective brainchild of experienced coders and educators — many of whom happen to be parents. Through problem-based and project-based learning, children will work on fun and exciting projects that challenge them to unleash their full potential, creativity and inner curiosity.
"Inspired by an incident where he saw a visually impaired person bumping into a wall, 10-year-old Joseph designed and programmed an obstacle detector using a micro:bit connected to a speaker and a pair of ultrasonic sensors. We challenge our students to use technology to make an impact and are always blown away by what they can do," said Harris.
Cobo runs weekly coding courses, private sessions, and holiday camps covering trending topics including Scratch, Minecraft, micro:bit, AppInventor, mBot and Python. Student-to-teacher ratio is kept low at 4:1 – 8:1 to optimize student learning to their individual pace. "Cobo Academy goes beyond just a coding school to develop children's critical thinking, collaboration and communication skills,"said Harris.
Alliance School of Business Hosted the International Conference in Management Studies
Reading Time:
2
minutes
Alliance School of Business, Alliance University, held the International Conference on Global Challenges and Local Prospects in Management Studies [AMSICON] at its central campus in Bengaluru, between 11th and 13th April, 2019.
The conference served as the interactive forum for three days to present and discuss research results about the evolution of the international economics, business and the global financial system. The conference emphasised on the development of emerging market economies and their impact on international trade and commerce and their regulation. Thus, the conference presented varied tracks such as Social Media Analytics, Block-Chain Technology, Financial Analytics, Business Intelligence & Green Buildings, Feminism & LGBT Studies, Cultural Discourse & Developmental Studies.
On 11th April, 2019, delivering the key note speech, Dr. Furqan Qamar, Secretary General, Association of Indian Universities, said, "Research has to be an integral part of teaching, and the subjects taught must invariably be from the area of research. The new generation must be given the opportunity and autonomy to choose the subjects and the learning patterns. It is high time we adapt to novel demands of teaching and learning process."
Dr. Asha Kaul, Professor, Indian Institute of Management – Ahmedabad, during her key note Address on 13th April, 2019, spoke upon 'Decoding Communication through Social Media'. Dr. Kaul emphasized the significance of effective communication in organizations to secure both reputation and trust in the digital age with respect to consumers.
The conference witnessed a myriad of unique international experts in the field of management studies, researchers, academicians, practitioners, leaders, policy makers, who shared their diverse experiences through fruitful discussions and debates and suggested solutions to the issues related to the challenges in business and society at large.
The following received the best research paper awards:
The research paper titled 'Digital Aided Image Construction: Research Insights on Virtual Social Selves' by Dr. Ray Titus, Dr. Alex Fenton and Sejal Valera, in the area of Marketing, Operations & Systems.
The research paper titled 'Understanding Influence of Communication Satisfaction On Organizational Identification and Organizational Citizenship Behaviours: A Qualitative Study Among Knowledge Workers' by Mr. Aniisu K Verghese in the area of Organizational Behaviour & Human Resources.
The research paper titled 'Financial Development – Economic Growth Nexus in India' by Nithya Ramalingam and Bhavna Ranjan Ahuja in the area of Statistics, Finance & Economics,
The research paper titled 'Aesthetizing The Cyborg Entity: Showing and Telling the Post human in Shelley Jackson'sPatchwork Girl' by Jaya Sarkar from Birla Institute of Technology and Science- Pilani, Hyderabad Campus, India, in the area of Business Communication & Gender Studies.
The conference concluded with the valedictory session with an announcement of the AMISCON – 2020 in the month of January, by the conference organisers.
SOURCE Alliance Business School
Center For Humane Technology's Tristan Harris And Aza Raskin Launch Humane: A New Agenda For Tech
Reading Time:
3
minutes
SFJAZZ Center –– Over 300 people, representing a broad and influential spectrum of leaders, decision makers and scholars from in and around the technology industry, gathered today at San Francisco's SFJAZZ Center to hear Tristan Harris and Aza Raskin, Co-Founders of the Center for Humane Technology (CHT), launch Humane: A New Agenda for Tech – a powerful, more hopeful path for technology. Human downgrading is a systems-level explanation for how we ended up in the middle of a technology-driven existential crisis due to increasing the extraction of human attention. CHT's new agenda calls on all technology creators to approach innovation to protect a deeper understanding of our basic human nature and focus on benefitting rather than "downgrading" humanity.
To help catalyze this Agenda with urgency that matches the globally accelerating scale of the issue, CHT announced a number of steps to engage the technology community in a positive direction forward:
A new and shared "systems-level" language and diagnosis that accurately describes the entire surface area of the global crisis connecting issues such as information overload, addiction, social isolation, outrage, polarization and election hacking, which downgrade our attention spans, relationships, children's development, mental health, civility and democracy.
Public events leading up to a Humane Technology conference in the next year.
Design guides to facilitate assessment across human sensitivities and social spaces to help guide designers in redesigning their products.
Launching "Your Undivided Attention" –– a new podcast hosted by 

Tristan Harris

 and 

Aza Raskin

 with interviews from some of the most sophisticated experts in human nature, giving us all new insight into how to diagnose and accurately address human downgrading.
Human Downgrading
While our technology has been feverishly and profitably upgraded, humanity has been downgraded
While most conversation around technology and AI was concerned with when it would surpass human intelligence, we forgot to think about what would happen when it surpassed human weakness. We are in that moment today. CHT's New Agenda for Tech posits that all human beings are born with the same root vulnerabilities and that when they are exploited across billions of people over decades, the result is widespread systemic failure: addiction leading to depression and suicide, polarization leading to isolation and radicalization, election hacking leading to untrusted results, loss of attention, loss of ability to think critically, sleep disorders, etc. This is human downgrading.
A system-level understanding of the problem brings unified language to set a new course across every discipline informing tech and human interaction:
Policymakers — create policies that incentivize humane technologies, recognizing the limits of human nature and protecting citizens from human downgrading.
Designers — instead of extracting attention by exploiting human sensitivities, design to protect our minds from manipulation and repair our shared social fabric.
Technologists — hold their employers accountable for human downgrading.
Media — create surround-sound public pressure to discuss and reverse human downgrading.
Researchers — accelerate a unified study of how attention extraction and human downgrading harm society.
"As a lone Product Manager and Design Ethicist at Google in 2013 trying to get a few people to pay attention, I had very little hope," said Tristan Harris, Co-Founder of CHT. "Thanks to people like CHT Advisors Roger McNamee, Sandy Parakilas, Renee DiResta, our Co-Founder Aza, brilliant storytellers like Max Stossel, scientists like Guillaume Chaslot, and far too many others to name who've come forward with similar knowledge and experience, the conversation has dramatically shifted to holding tech's feet to the fire of its deep accountability. The Center for Humane Technology is very excited to move beyond the cacophony of minor product grievances and to build a broad movement of concerned technologists setting a positive, hopeful path forward."
Humane: A New Agenda for Tech was live-streamed on CHT's newly-updated website humanetech.com, and was attended by icons, founders, VCs, CEOs, designers and innovators from across the industry. A replay of the event will be available on CHT's website soon at humanetech.com. For more information about how you can get involved in our Humane Agenda, go to humanetech.com.
SOURCE Center for Humane Technology
Ryerson's Chang School of Continuing Education Will Offer Business of Cannabis Course in Brampton This Spring
Reading Time:
2
minutes
Ryerson University's Raymond G. Chang School of Continuing Education announced today that it will be offering its course on The Business of Cannabis (CZEN 420) in Brampton. Classes will run from May 8 to July 31 on Wednesdays, from 6:30 p.m.–9:30 p.m.
Offering this cannabis course in Brampton is a natural progression, given that the City of Brampton was one of the first Ontario cities to open a cannabis retail store earlier this month.
"The legalization of recreational cannabis has presented an exciting array of employment and business opportunities throughout the Canadian market," said Marie Bountrogianni, Dean of The Chang School. "We look forward to bringing the Business of Cannabis to the Brampton community to help adult learners build their capacity to contribute to this dynamic and growing industry."
Building on Ryerson's expertise in entrepreneurship education, The Business of Cannabis explores a range of topics including financing for cannabis businesses and the complex regulations pertaining to the cultivation, processing, and distribution, marketing and selling of cannabis. Students learn how to apply entrepreneurship principles such as opportunity identification and evaluation, lean methods and bootstrapping. They will also have the opportunity to create a business plan and get in-person access to key cannabis industry leaders during planned panel discussions.
"Our programming is shaped by a diverse group of advisors who lead the way in the industry. Their expertise in business strategy and development, branding, science, health, as well as law and regulation has allowed Ryerson to offer this one-of-a-kind program. This is extremely important for an area that is complex and continues to change at a breakneck speed," said Linda Koechli, Program Director, Business.
The Chang School of Continuing Education recognizes the societal need for education and awareness about cannabis in order to support this growing and changing industry. The objective of the course is to give Canadian entrepreneurs a competitive edge in seizing the opportunities available in what has become a billion dollar business in Canada. The course will increase employability for those seeking entry- or intermediate-level functional positions in the cannabis industry.
The Business of Cannabis is just one of many innovative and forward-thinking courses offered by The Chang School in Brampton. The institution has been offering courses on cybersecurity since January 2019. For spring, The Chang School will once again be offering courses in in this timely subject area: Digital Forensics Systems (CKDF 130) and Continuity and Risk Management (CSCI 243) will be available to help meet the demand for skills needed in the field.
Visit this website for more information about The Chang School's The Business of Cannabis course.
Ryerson University's G. Raymond Chang School of Continuing Education is Canada's foremost provider of university-based adult education, facilitating access to the university's renowned, professionally relevant courses and programs. Our mission is to provide accessible lifelong learning through innovative programming that empowers adults to reach their life and career goals. We offer 81 certificate programs (31 of which can be completed entirely online), 12 part-time degree programs, and 65 course series. Our Experiential Learning Exchange (ELX) offers self-driven instruction that emphasizes hands-on, project-based learning and connects students with experienced industry leaders through coaching, master classes, and professional networking.
SOURCE Ryerson University